(Last Updated On: February 23, 2021)
Sometimes I need a quick and easy dinner idea. One that can be made quickly that we all enjoy. That's exactly why I love this Easy Chicken Parmesan Recipe!
Disclosure: This post is sponsored by Cans Get You Cooking. All opinions and this recipe are 100% my own.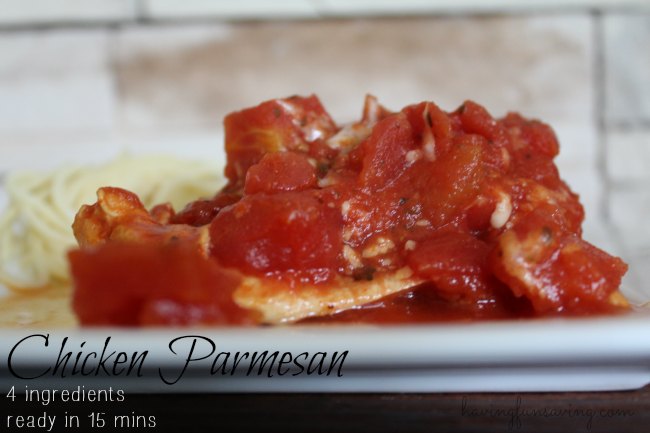 Easy Chicken Parmesan Recipe – Ready In 15 Minutes
I don't know about you, but some night I need a quick and easy dinner idea. One that can be made quickly that we all enjoy is a plus too 😉 That's exactly why I love this version of Chicken Parmesan!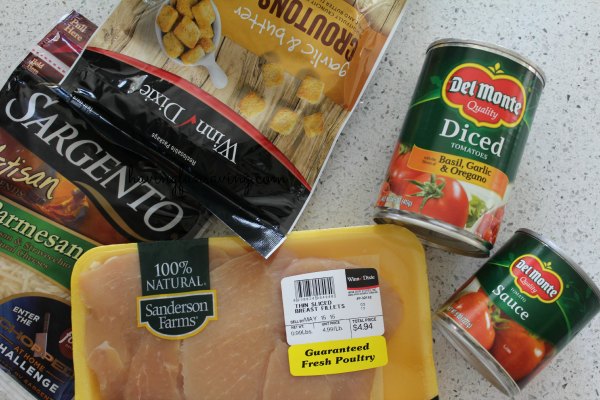 You only need a few ingredients, and you may have them in your pantry! As you can see, I have croutons pictured up there…in this recipe I don't bread the chicken like you usually see, so if you like some added crunch – the croutons are perfect.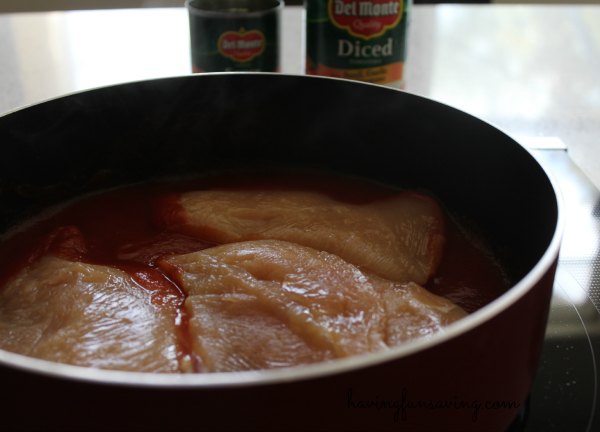 I actually needed to run to the store to grab the Del Monte Diced Tomatoes and Sauce. I rode my bike (yes, rode my bike – I figured I met as well get some exercise in too!) up to Winn-Dixie and got what I needed. You can easily make this meal for less than $10 and feed a family of four.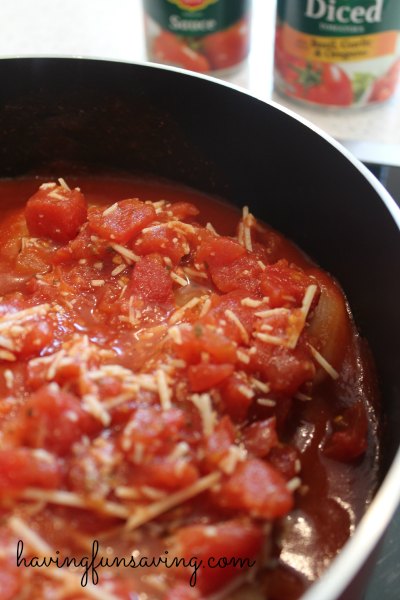 I love that the seasonings are already in the tomatoes…saves me a couple extra steps. And I am all about saving time! Plus, since two of the main ingredients are cans, you can grab a few extra when you are at the store and not have to worry about them going bad. You are going to want to make this one again soon…so grab 2 of each 😉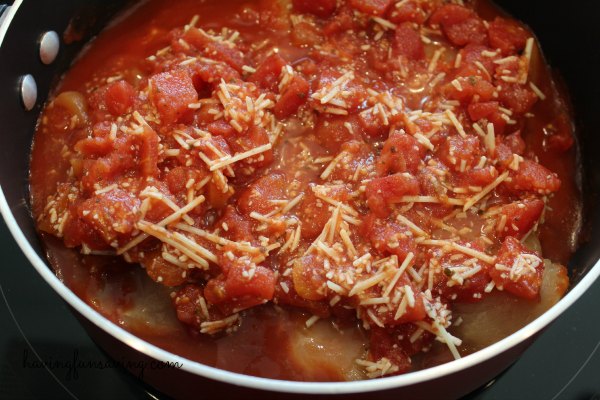 I love that we make this whole recipe in just one pan, that means no extra pans to clean 🙂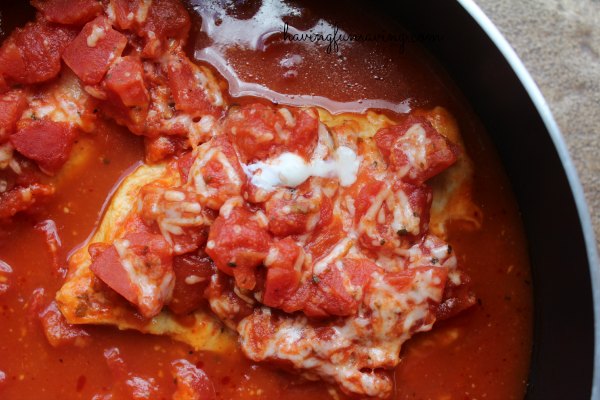 I only used a 1/4 cup of Parmesan cheese in the recipe, I didn't see the need to cover it with lots of cheese and extra calories when the flavor is fantastic without it.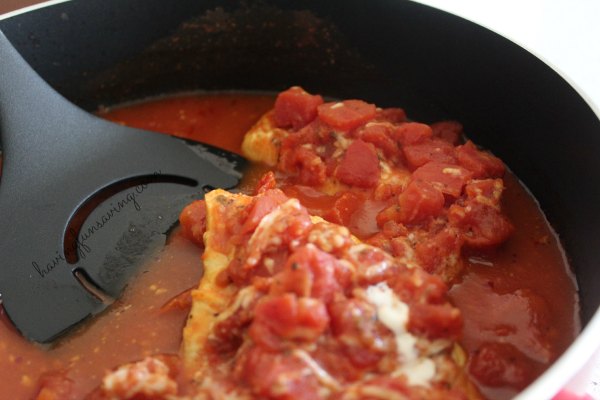 Doesn't that look yummy? Ready to make it for dinner tonight?
Well, here is my Chicken Parmesan Recipe. Be sure to Print It and Pin It so that you can make it again and again.
Chicken Parmesan
Author:
Prep time:
Cook time:
Total time:
Ingredients
1 can Del Monte Garlic, Basil, and Oregano Diced Tomatoes
1/4 cup shredded Parmesan cheese
1 lb thinly cut chicken breasts – skinless
1 can Del Monte Tomato Sauce (8 oz)
2 cups small garlic- or Italian-flavored croutons, crushed slightly
Instructions
Combine tomatoes and cheese in a bowl and set aside
Pour tomato sauce into large skillet
Bring to a simmer
Add chicken
Top with tomato/cheese mixture
Reduce heat to medium-low, cover and cook 15 minutes or until chicken is cooked thoroughly (no pink!)
Top with croutons just before serving for a little extra crunch if desired
Enjoy!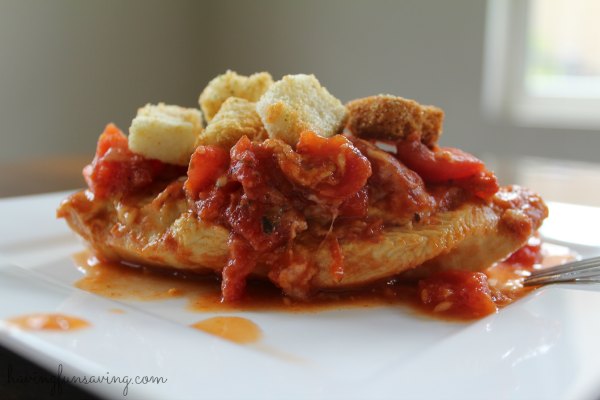 I hope your family enjoys this Easy Chicken Parmesan Recipe as much as we do! It is perfect for a nutritious and quick weeknight meal.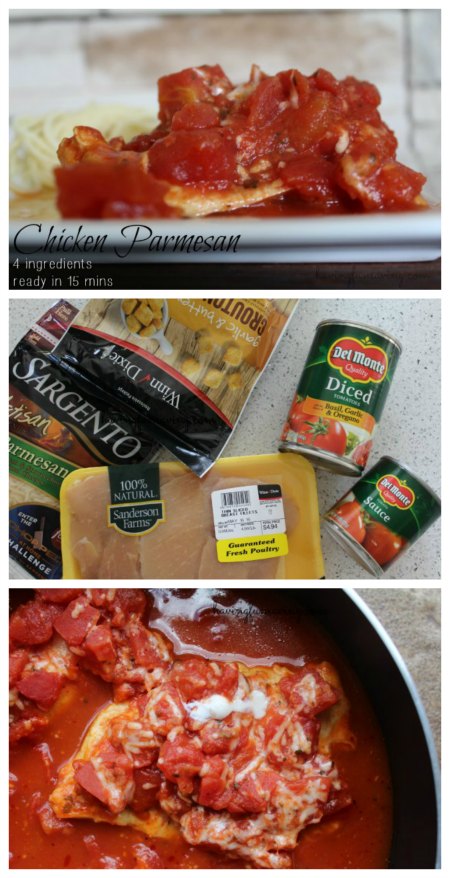 You can serve this with a side of pasta topped with the sauce left in your pan, or you can try one of these fabulous Pasta Sauce Recipes!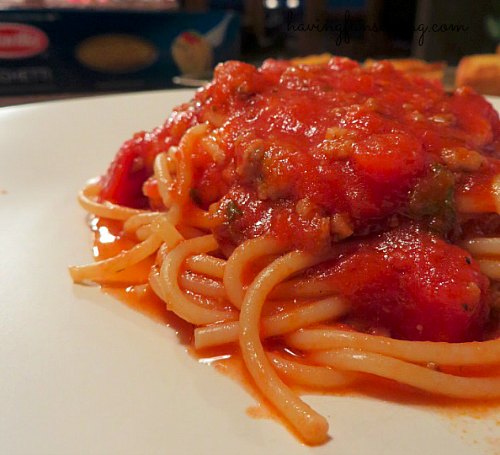 In fact, check out all the delicious recipes on Food Wine Sunshine and follow me on Facebook, Twitter, Pinterest, Google + and Instagram.
Visit CansGetYouCooking.com and be sure to follow on Facebook, Twitter, Pinterest, and YouTube to get even more delicious recipe ideas!