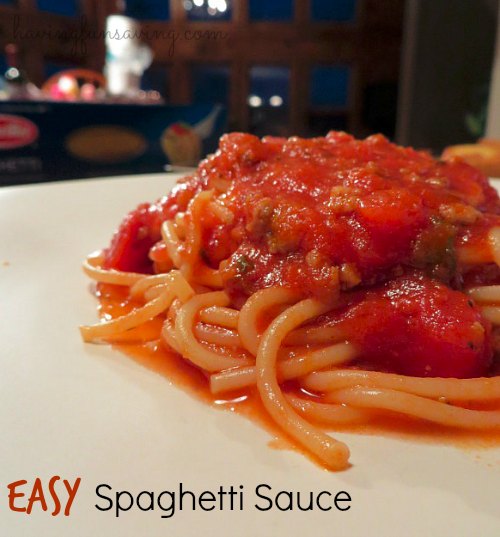 Easy Spaghetti Sauce Recipe – Just 5 Ingredients
Confession, I have never made homemade spaghetti sauce. Well, until just recently. My husband wanted to make it…from scratch. I am not one to stop my husband from cooking, so when he went to the store and spent a bunch on tomatoes, peppers, onions, and garlic I didn't complain. Until they all ended up in my trash 2 weeks later 🙁 He told me not to try to make the sauce it because he really wanted to…well, he got busy and we just ran out of time. The produce went bad.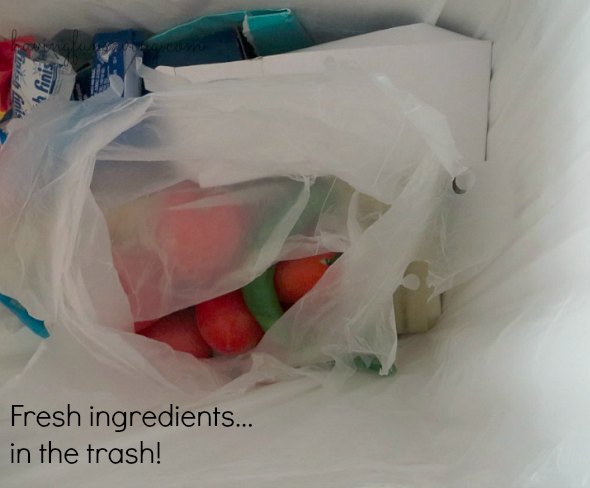 That didn't stop our desire to have homemade spaghetti sauce, but this time I was in charge of making it 😉 My friend has told me on several occasions how easy it is and much it makes, so I was determined to give it a try. She gave me a list of ingredients to grab at the store, but I will be honest..I was scared away from the produce. So, I looked for canned products that had the ingredients that she mentioned. I did NOT want anything ending up in the trash again. I absolutely hate wasting money!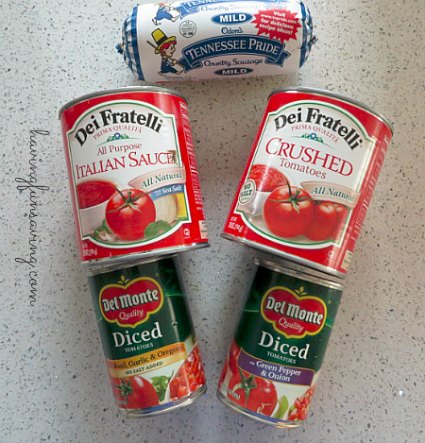 I went to Publix and found all my ingredients on sale! The sauce and crushed tomatoes were just $1.50 per can, the Del Monte diced tomatoes were Buy One Get One Free, and the sausage was just $3. I managed to get everything for under $8. Which is less than the produce I threw away and about the same as two really good jars of sauce, so I was happy.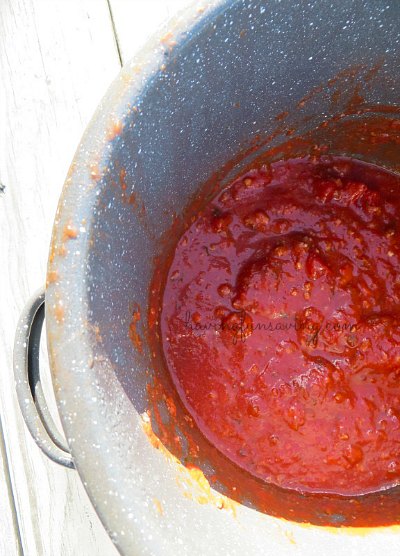 I like my sauce with meat in it, and I figured the sausage would add great flavor…and it did. I didn't use ANY additional seasonings. The prep on this recipe is so easy and it makes a TON. My husband told me on several occasions that it was the best sauce he has ever had. I love it when I get compliments like that 🙂
Now, here's the recipe, remember to print it for pin this post for later, so you can make it again and again.
Easy Spaghetti Sauce Recipe – Just 5 Ingredients
Author:
Prep time:
Cook time:
Total time:
Ingredients
1 Large Can of Crushed Tomatoes
1 Large Can of Italian Sauce
1 Can of Diced Tomatoes with Green Peppers and Onions
1 Can of Diced Tomatoes with Basil, Oregano, and Garlic
1 package of Mild Sausage
Instructions
Cook the sausage in a large pot
Once it is cooked, all in all the remaining ingredients
Simmer for approx 25 min (longer is fine, just over it)
Serve over your favorite pasta
Enjoy!
We had it for dinner with my parents one night (4 servings), then again as a family the next night (4 servings again), and then again for lunch (another 4 servings) before I ended up putting a decent amount in the freezer. Since we use at least a half of jarred of sauce when we have spaghetti, this recipe ends up being a huge money saver as well.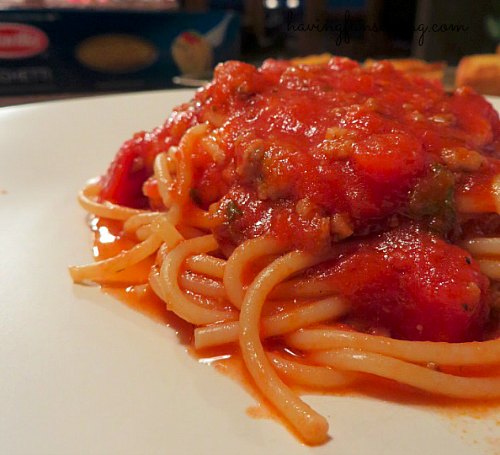 I will definitely be making this Spaghetti Sauce recipe again and again. I don't think I will go back to jar sauce (or trying to make it from scratch) any time soon!
Disclosure: This is a sponsored post by Cans Get You Cooking, I am a proud Canbassador! This recipe and all opinions are my own.
Be sure to check Cans Get You Cooking out online, on Facebook, on Twitter, Pinterest, and even YouTube!
While you are at it – make sure to find Food Wine Sunshine on Facebook, Twitter, Pinterest, and Google + for more Florida Fun, reviews, recipes, and more!