(Last Updated On: January 22, 2021)
This post was sponsored by RITZ as part of an Influencer Activation for Influence Central and all opinions expressed in my post are my own. Whether you are traveling near or far, these Road Trip Essentials will make sure you have everything you need. Be sure to grab the free road trip must haves printable too!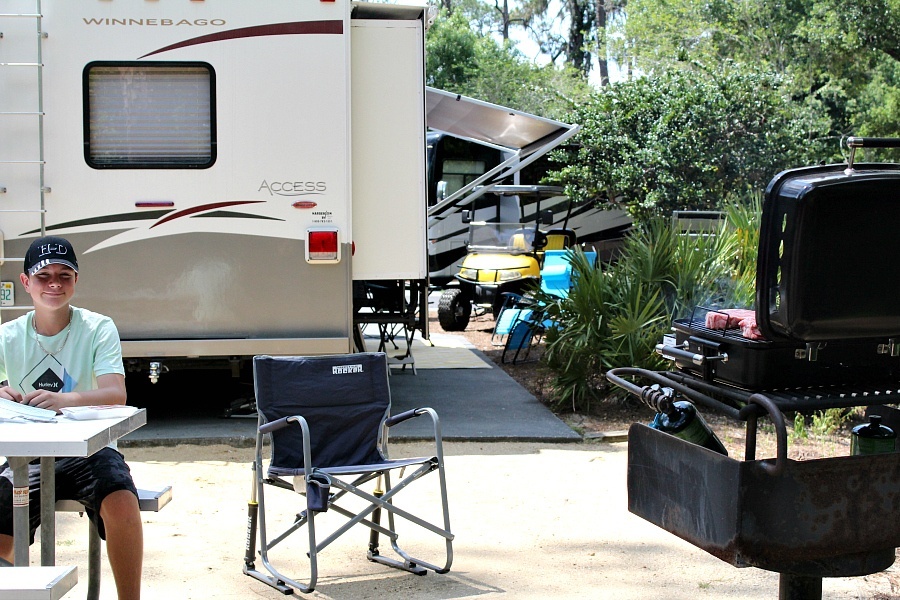 20 Road Trips Essentials + Free Road Trip Checklist Printable
School's out for summer! School's out for-ever! We are counting down the last few days of school and kids have been asking for weeks what our plans are. What can we do, what can we see, who can come with us. It's prime ROAD TRIP time. Whether is almost summer or middle of the winter, everyone loves a good road trip, but if you want your road trip to be a successful adventure, you need to make sure you have all the road trip essentials. That's why I made you all this list and free road trip checklist printable…you're welcome 🙂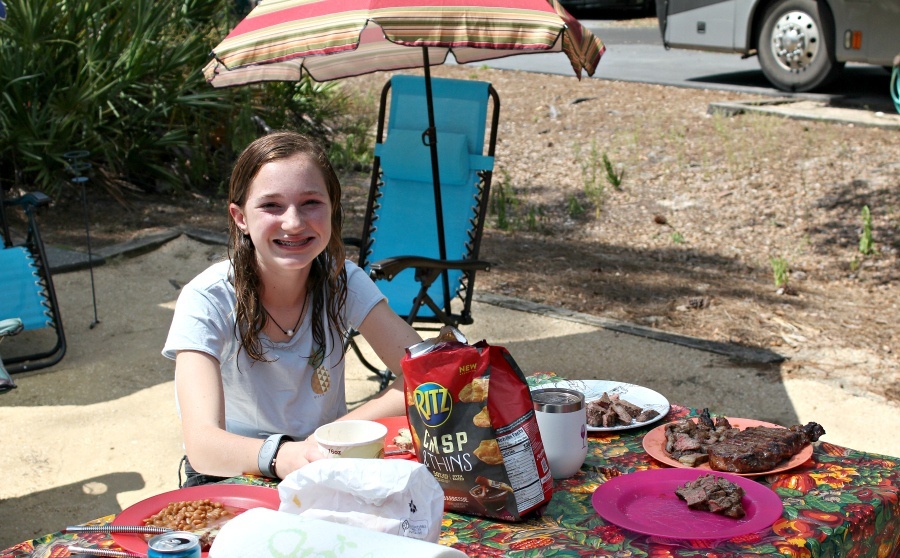 A lot of our road trips include camping, whether it's a quick trip to Disney or a long drive up to Michigan, we love being able to pack up the camper and stay for awhile and enjoy the outdoors. Isn't that what taking a road trip is all about? A little adventure, a little extra family time, and enjoying the open road! Road trip planning can seem like a daunting task, and that's why I made the printable, that way you have a checklist to help with your road trip packing and planning.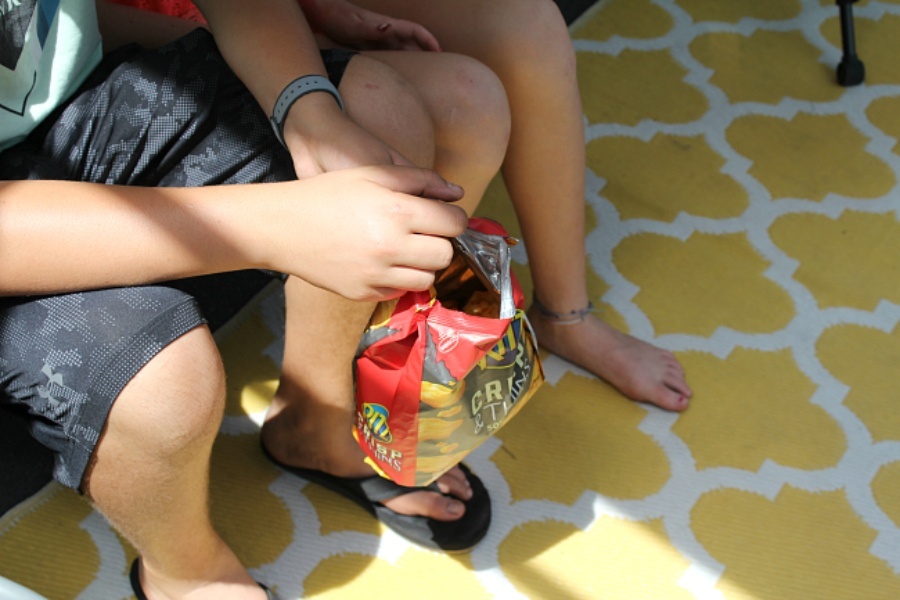 Here are 20 Road Trip Essentials that you will need for your next adventure:
License, Registration, Insurance Card and contact #s – Obvious, yes, but do NOT leave home without them.
Car Manual – Just in case!
Spare Tire – We hope you don't have to use it, but if you do, you will want it. And don't forget to check that it's in good condition.
Roadside Emergency Kit – Look to make sure it includes a Swiss Army Knife or a multi-tool.
First Aid Kit – You want to make sure you have the basics such a band-aids, antiseptic, etc. Be sure to toss in some Dramamine (motion sickness pills) and pain relievers (ibuprofen etc).
Paper Maps/Maps.Me App – Just in case you lose cell service! Maps.Me is a free app that lets you download detailed maps which can be used offline and without mobile service and acts as GPS.
Phone chargers/USB cord – Again, an obvious, but don't leave without them!
Money – We all may rely on our phones and credit cards, but money works on tolls, parking meters and other place that doesn't accept credit cards
Flashlight – Gotta be safe. If you break down at night, a flash light is a must.
Large Water Bottles/Reusable Bottles/Travel Mug – You are going to want something to drink! And be sure to have a few extra bottles of water just in case you get stranded.
Snacks – Road trip snacks are a must. Hunger strikes at any time, and not always when a fast food place is 5 minutes away. We always have some protein (nuts, beef jerky etc) and RITZ Crisp & Thins. Our current favorite varieties are Barbecue and Cheddar. They are so light and crunchy and I can always find them at Walmart when I can grabbing my other road trip essentials.
Boredom Busters – Magazine, mad libs, a good book, road trip games.
Sunglasses – You can totally survive without them, but you will be happier with them.
Travel Pillow – Keep your travel companions comfy.
Hand sanitizer – Well, for everything you touch outside of the car.
Mints – My dad swears that mints help him stay alert while driving. Plus, there is nothing wrong with fresh breath 😉
Wet wipes or Baby wipes – These are perfect to clean your hands after snacks or cleaning up small spills.
Trash Bags – A simple plastic grocery bag will do, you don't want to have trash all over the car.
Pen and paper – You never know when you will need it.
Bug Spray & Sunscreen
Ice Scraper if you are traveling somewhere cold, or during the winter in somewhere other than Florida 😉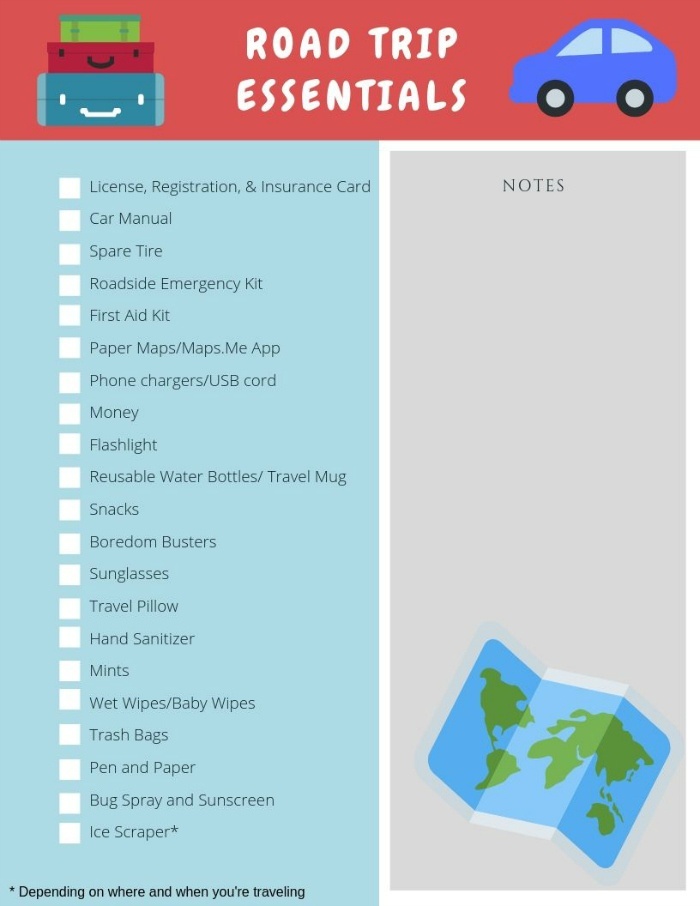 Now that you have all the road trip essentials, where will your next road trip be? The beach? The mountains? A friend's house? No matter where we seem to go, the kids always make sure I have RITZ Crisp & Thins in the car. It's their (and my) favorite snack because they are so light yet full of flavor…no dips needed! Plus, they are always coming out with new flavors to try.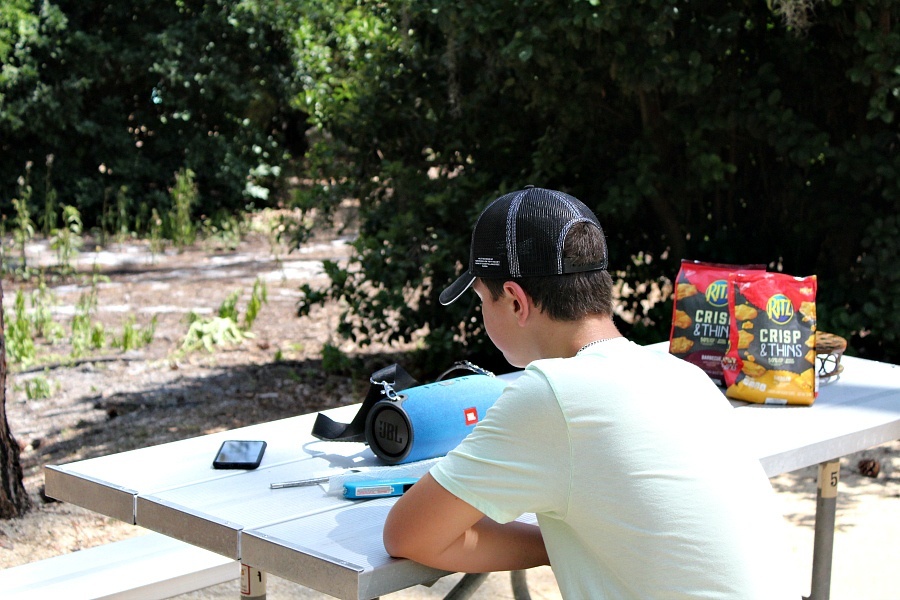 Don't forget to snag the free road trip essentials checklist printable, in fact, print a few copies now and toss one in each car now so that you can refer to as needed and use the Notes section to jot anything down that I may have missed. Oh, and be sure to tell me too, that way I can add it to my list!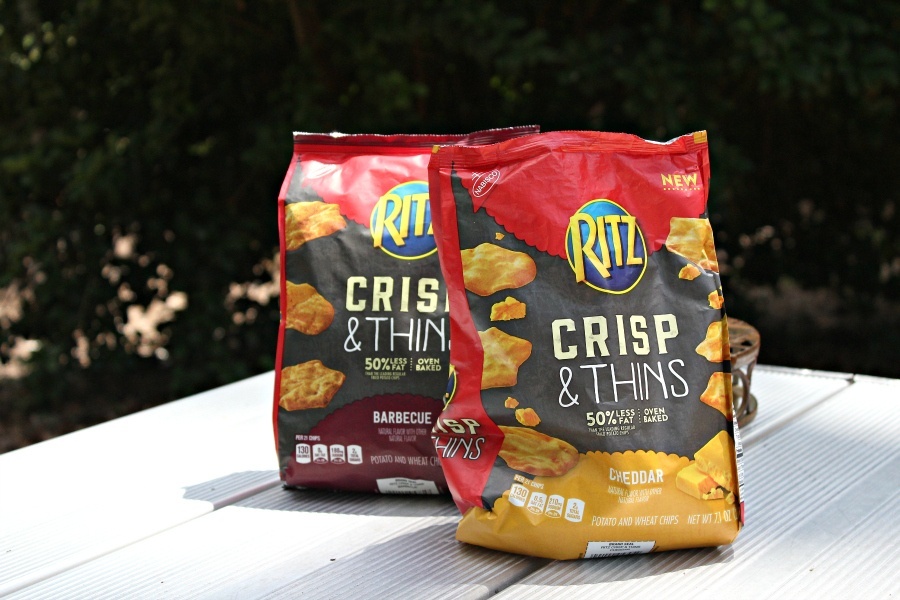 I grabbed our favorite road trip snacks at Walmart, the kids and I love easy snacks and having them on hand not only saves us time from stopping and getting food, but it helps saves money because we aren't eating out.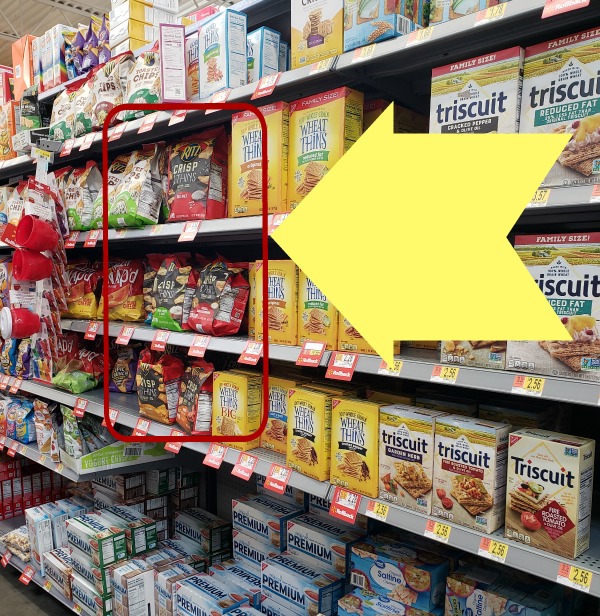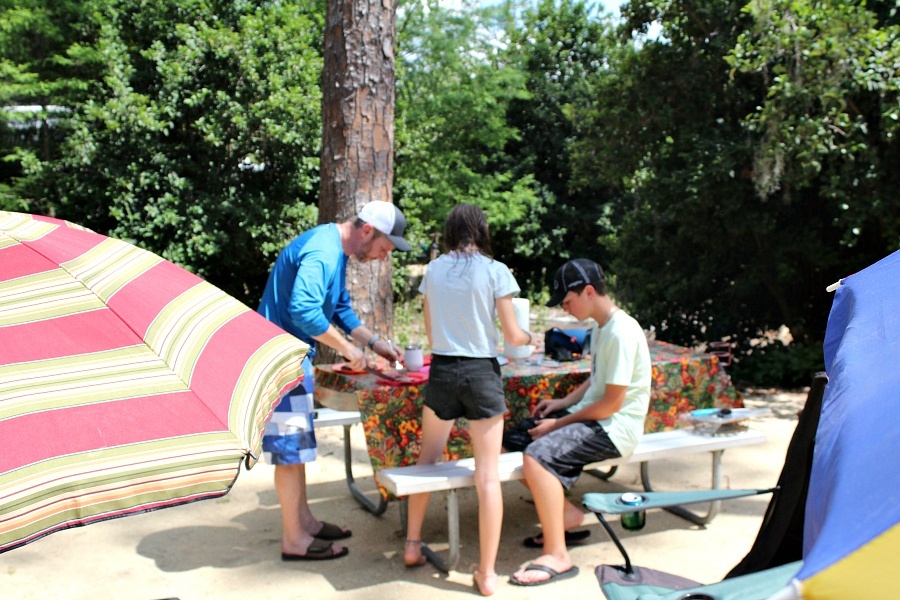 What are some of your Essentials for Road Trips?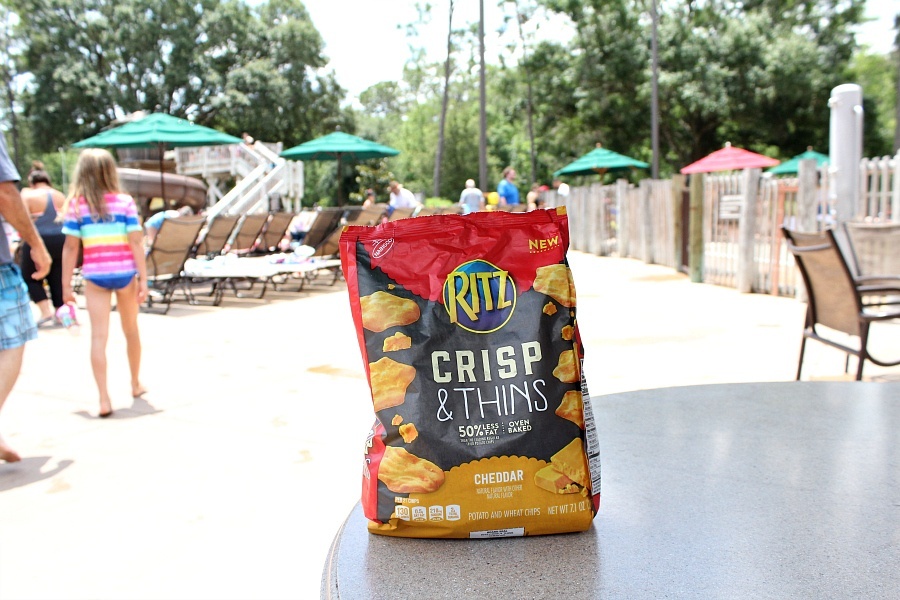 Be sure to follow Food Wine Sunshine on Facebook, Twitter, Pinterest, Google + and Instagram for more helpful tips, things to do in Florida, and family fun.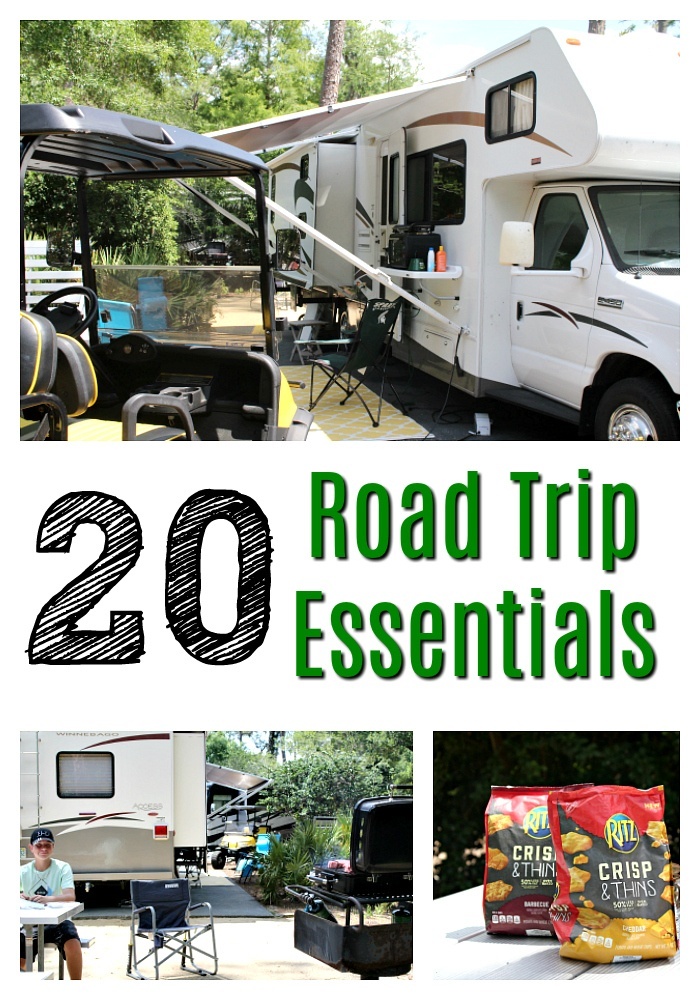 Safe travels on your next road trip!