(Last Updated On: September 4, 2019)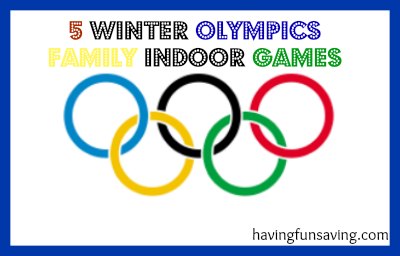 Winter Olympics Family Indoor Games – Frugal Family Fun
Are you ready to have some creative fun inside? If you live where it's chilly, I am sure you are looking for some entertainment for the kids. These Winter Olympics Family Indoor Games are sure to be family fun for everyone 🙂
Figure Skating – Step on some Paper plates and glide and spin on along the hard floors in your house
Cross Country Skiing – Ready for a workout? Grab some carpet squares…if you don't have any at home, most carpet Carpet stores will give you old samples for FREE – Now, put the carpet side down, step on them and cross country ski around the house! You can add in some empty wrapping paper roles for ski poles if you would like
Hurdles – Do UNDER-Hurdles! – Grab a broom stick or wrapping paper roll and limbo under it. Do multiples for more of a challenge
Toga Relay – Grab a Plastic cup or a cone and a ball and a sheet! Use the sheet to make your Toga for your participants. Now put the ball in the cup/cone and have a relay race. Each team should have 2+ members. Why a Toga? The Olympics started in Greece!
Olympics Ring Pass – Grab some Hula Hoops and have everyone hold hands and stand in a line – Pass the hula hoop down the line without letting go of hands…You will have to raise hands up and down, step over the hula hoop…and HAVE FUN!
Have fun creating your own Indoor Winter Olympic Games!
Looking for more indoor fun on these chilly days?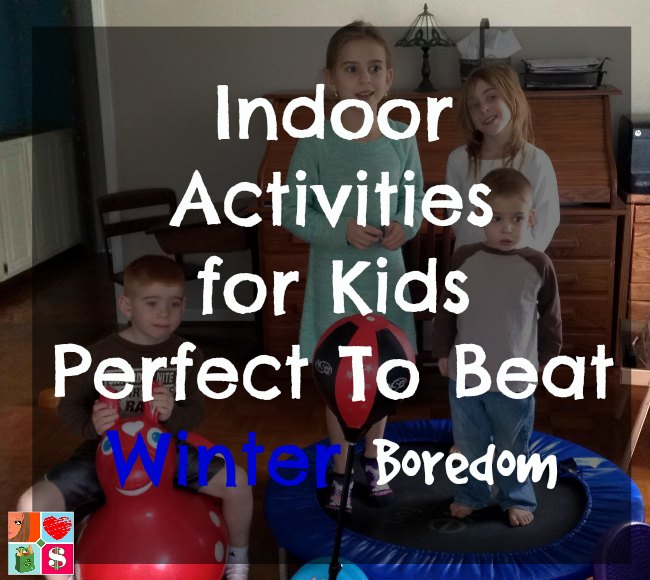 Check out these Indoor Activities for kids that are Perfect to Beat Winter Boredom.
Be sure to follow Food Wine Sunshine on Facebook, Twitter, Pinterest, Google + and Instagram for more tips, fabulous recipes and more!