(Last Updated On: September 4, 2020)
If the weather is keeping your kids indoors, here is a great list of indoor activities for kids. This list is perfect to help kids…and parents…beat winter boredom!

Indoor Activities for Kids – Perfect To Beat Winter Boredom!
It's hard to believe that we're only a few short days from the official first day of winter. Up here in Michigan, by now we've usually been buried once or twice by snow and are spending a lot more time indoors trying to keep warm. Luckily, this year has started of mild! Though I'd like to think our warm weather streak is going to continue, I know better. We've been using this time to play outside (a lot) and to put together our favorite activities to use when the impending cold and snow finally make it our way!
Here's a list of some of our favorites: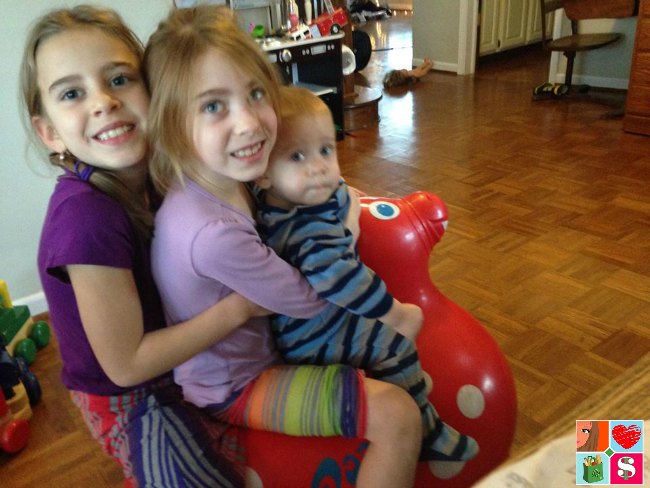 Rody Max
This guy us a larger version of the original Rody, and he has served our family well over the past three years. Our 5 kids use it many times throughout the day to chase each other or get their wiggles out. We've even come home to our teenage babysitters making a few rounds around the house. Truth be told, my husband and I have had our fair share of turns too. This guy has held up under a lot of use and has helped us break the tension when people get stir crazy.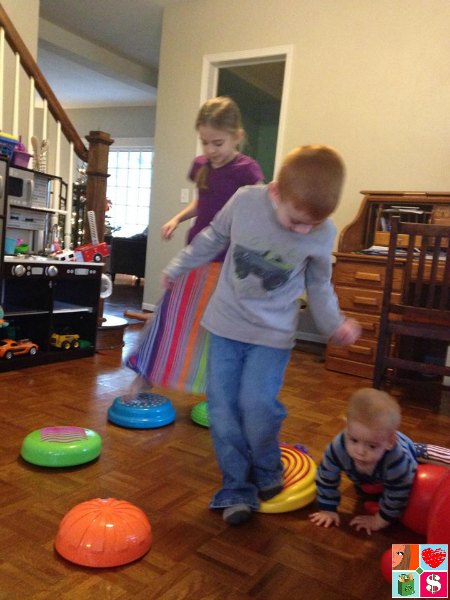 Sensory Stonez & Stepperz Balancing Toy
My kids love to hop, skip, and jump on these and I love that they are working on their balance and core strength. Many an obstacle course can be created, and even my one year old loves to play with the different stones.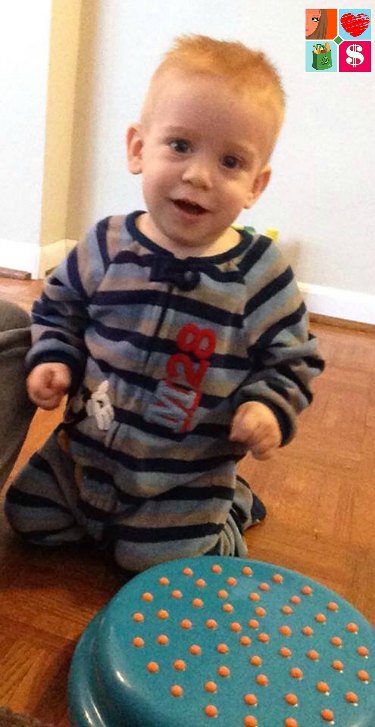 He likes explore the different patterns, colors and textures. There is a lot for sensory stimulation here which is a huge benefit for some of my kiddos!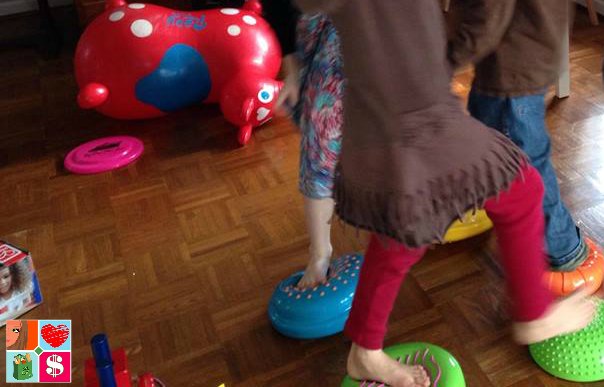 I love that they can provide endless fun, and yet can be quickly put away in one of our storage cubes when it's time to clean up. The Sensory Stonez & Stepperz Balancing Toy can be found at One Step Ahead.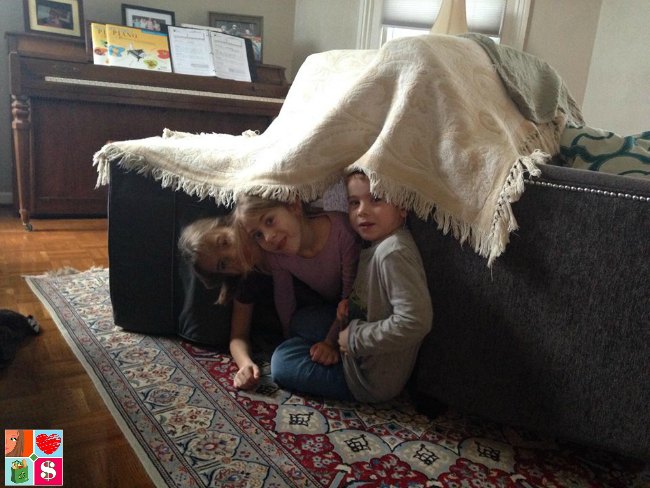 Supplies to make Tunnels and Forts
We have a lot of activity in our house between our 5 kids, and one of their favorite things to do is to build forts. Whether your using sheets and blankets on your furniture, or a premade fort, many hours can be spent constructing and then playing in your kingdom. And what's a fort without a grand entrance or a monster to protect it from? Enter our tunnels. We were gifted a couple of tunnels that our kids have not let us part with. Most of the time, someone is the monster trying to attack the fortress, but every once in a while it is used for its intended purpose. My husband grew up using expandable ducting for his tunnel, and the games always stayed the same. I love the hours of imaginative play we get from our forts and tunnels!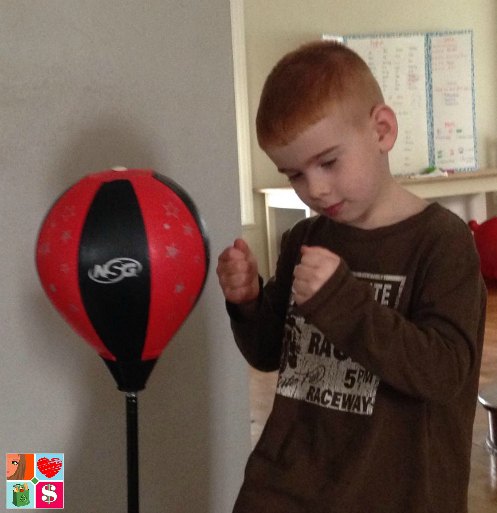 Punching Bag with stand and gloves
I have three boys, 5 and under, and you can imagine the energy in our house! If they start getting cabin fever, I send them to their punching bag! It gives my kids a healthy, indoor energy release. This is rugged, stable, and self-standing; all you have to do is fill the base with sand or water to anchor it securely.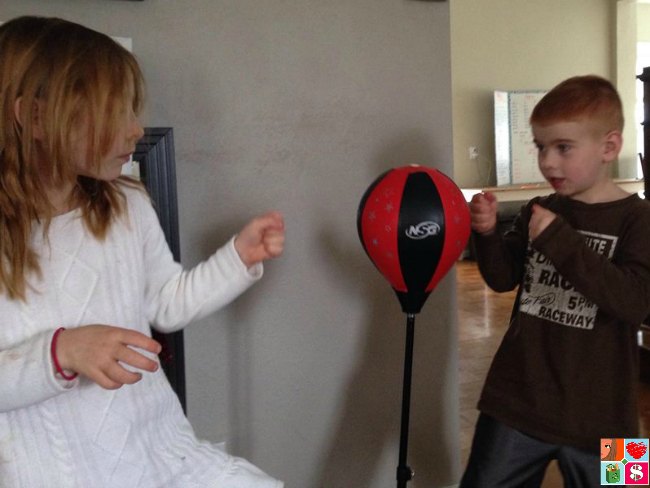 All five of my kids love to take swings at the punching bag, and for once, not get in trouble for hitting something! This will get lots of use this winter. Mom may even take a swing or two!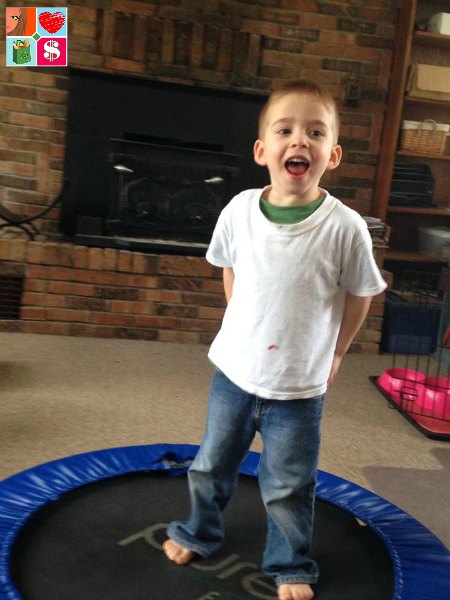 Indoor Trampoline
My kids love to move, and they love to exercise with Mom (when I can). We have had a small indoor trampoline, (made for adults but comes with a handle for kids) for about 2 years, and I can think of no better way to quickly expend some energy. They'll jump on the trampoline while I run on my treadmill, or take a few jumps if they need get some pent up energy out. My 6 year old loves to take turns practicing her reading, and jumping, reading and jumping. It works wonders for her! Remember to always use caution and only let your kids use it under supervision. Used safely, it's a great option to get all those mid-winter wiggles out.
We're always on the look out for activities to do and we're off to a great start for this winter. Now, if only the snow would start falling….
What are some of your favorite Indoor Activities for Kids?
While Food Wine Sunshine did receive some of the products listed above for review, all opinions are 100% our own.
Where to buy:
When you do venture outside, don't forget about these Winter Essential Activities for Families!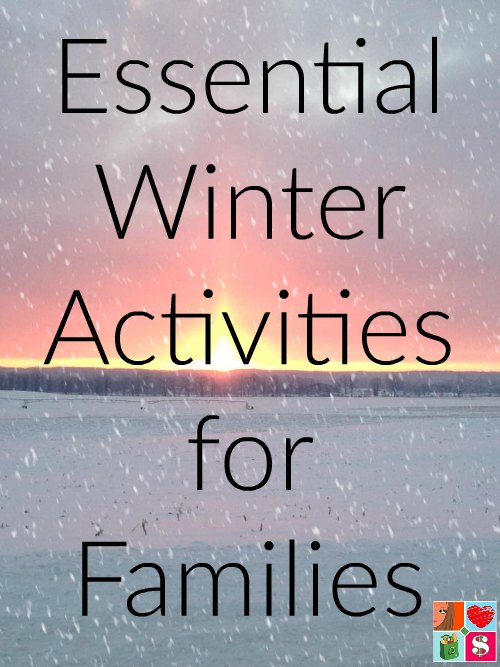 Be sure to follow Food Wine Sunshine on Facebook, Twitter, Pinterest, Google + and Instagram for more tips, fabulous recipes and more!