(Last Updated On: April 4, 2020)
If you are planning a dream vacation to The City of Lights, be sure to read on to see the Top Free Things To Do In Paris. A trip to Paris won't be cheap, but there are plenty of things to do and see in Paris that are free.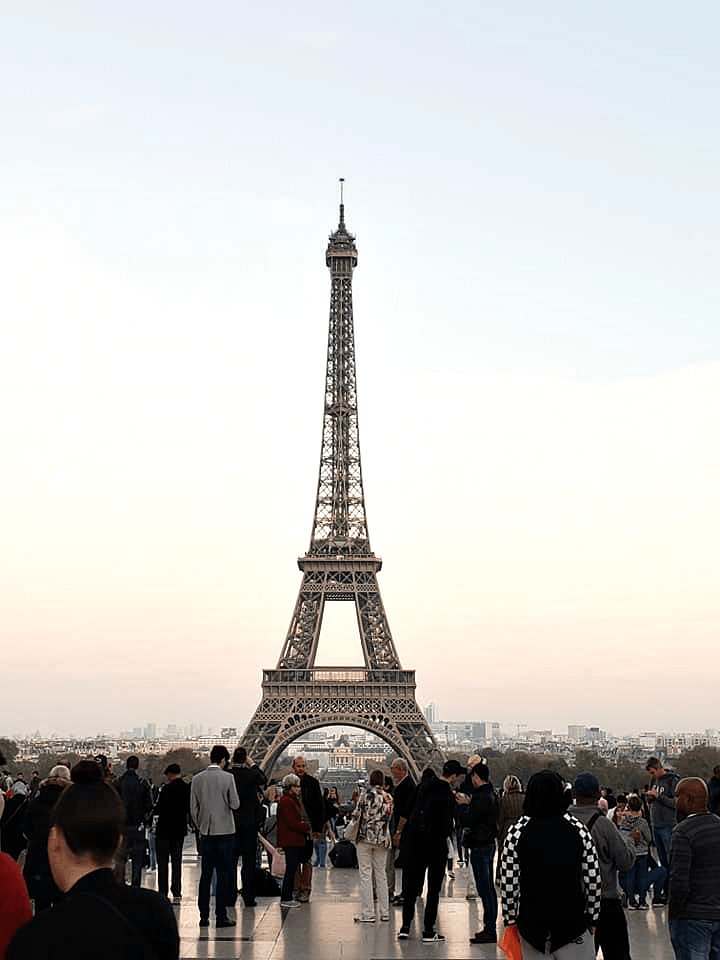 Top Free Things to Do in Paris
France's capital contains centuries of culture, history, and diplomacy. With so much to see, it's easy to see why 23 million people visited Paris in 2017. This city is filled with famous landmarks that many people only dream of seeing in person, and thankfully there are many things to do in Paris for free . If you've booked plane tickets to this beautiful city, you're in for a memorable trip.
As one might expect from a city with world-renowned attractions and a high standard of living, Paris is an expensive place to visit. The average cost of a 7-day vacation in Paris is $4,882 for a family of 4, and it may seem hard to bring that cost down without taking important activities off of your itinerary. You will definitely want to save some vacation funds for the food, after all, what's a Parisian vacation without authentic French dinners and incredible desserts?
Thankfully, tourists have discovered ways to save when traveling to Paris, like visiting in mid-January. Even if you travel to Paris during the off-season, you can still expect to spend thousands on your trip. However, you can save hundreds of dollars by skipping the overpriced attractions and sticking to the fun things to do in Paris for free. You can visit many of Paris's iconic landmarks for free, so why pay more?
Best Free Things To Do In Paris France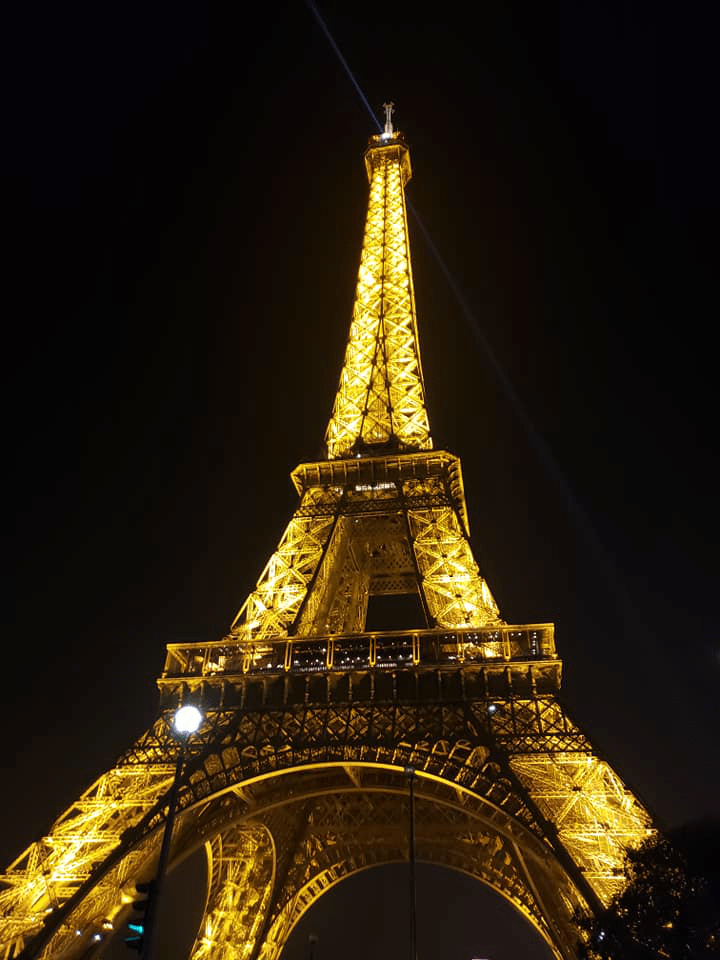 Eiffel Tower
Although you have to pay to go inside the Eiffel Tower, it's free to take photos of it and walk all around it! Since the structure is so tall, there are many places to view it in Paris. Free viewing spots include the Trocadero Gardens, the Seine Banks, and Square Rapp. For the best photos, head to these spots early in the morning.
You'll have to wait in line and pass a security checkpoint, to get underneath it visitors are still free to marvel at the Iron Lady up close. When we were there, I didn't wait in the line to take my pictures and I found it beautiful all the same! So, once you are there, you can make the decision if the line it worth it. I probably have 50+ pictures of the Eiffel Tower, it's like a dream come true to see it in person! And be sure to not miss when the Eiffel Tower lights up, this is definitely one of the free things to do in Paris at night that you have to take advantage of! It's simply magical. The Eiffel Tower Light Show is every hour on the hour from sunset to sunrise and lasts for about 5 minutes.
This must-see historic avenue is approximately 2 km long, running from from Place de la Concorde to the majestic Arc de Triomphe. Also known as 'the world's most beautiful avenue', you will find luxury shops, restaurants that will delight every foodie, clubs, cinemas, Theatre and so much more.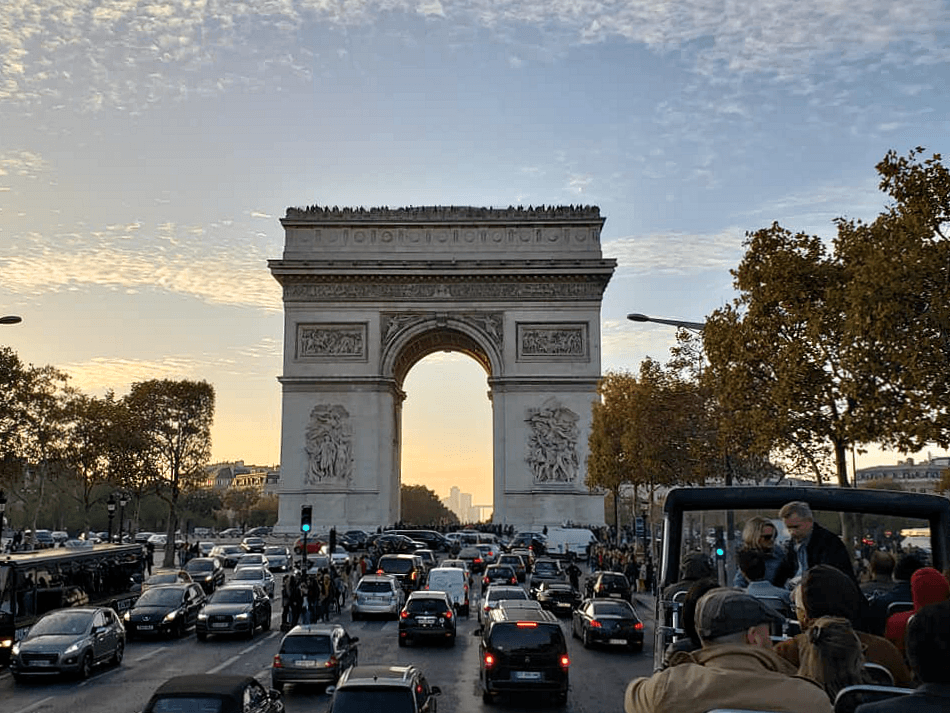 To visit this historic monument located at one end of The Avenue des Champs-Élysées it normally costs 13 euro, however on special days it is possible to go up Arc de Triomphe for free. You can climb this beautiful monument free on the 1st Sunday of every month from 1 January to 31 March and from 1 November to 31 December. You will have a majestic view of the city of Paris from the top.
You can see all free dates specifics for Arc de Triomphe here, it is also free to children under 18 to visit al year long.
Even if you don't climb Arc de Triomphe, you must see it! Here's a bit of history on Arc de Triomphe: Wanted by Napoleon in 1806, the Arc de Triomphe was inaugurated in 1836 by French king, Louis-Philippe, who dedicated it to the armies of the Revolution and the Empire. The Unknown Soldier was buried at the base of the arch in 1921. The flame of remembrance is rekindled every day at 18:30.
Take a free self-guided tour of the largest cemetery in Paris, where many famous people were buried. As you walk along the cemetery's paths, you'll discover Jim Morrison's final resting place – perhaps the most popular tombstone to visit. You can also pay your respects to Chopin, Oscar Wilde, and the everyday people with a plot on Pere Lachaise's 110 acres.
Despite Pere Lachaise being a place of remembrance, it's usually bustling with activity. You'll probably find Jim Morrison's tombstone right away, since so many people gather around it!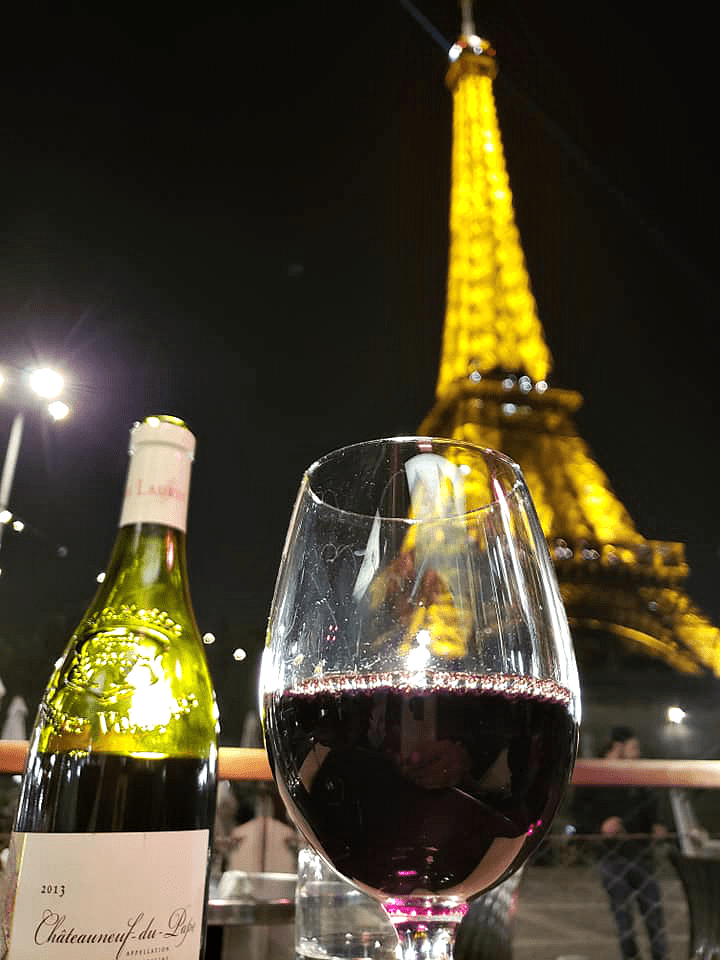 Trocadero Gardens
Enjoy 10,000 square meters of beautiful green gardens right by the Eiffel Tower. In addition to getting a great view of the Iron Lady, you can also marvel at the Warsaw Fountain. The fountain's 20 cannons line up with the Tower, which makes for some gorgeous photos. If you visit the gardens at night, you can watch the Eiffel Tower light show!
Other must-see sights at the Trocadero Gardens are the L'homme and La Femme statues. These works were commissioned for the Universal Exhibition in 1937, also known as the World Fair.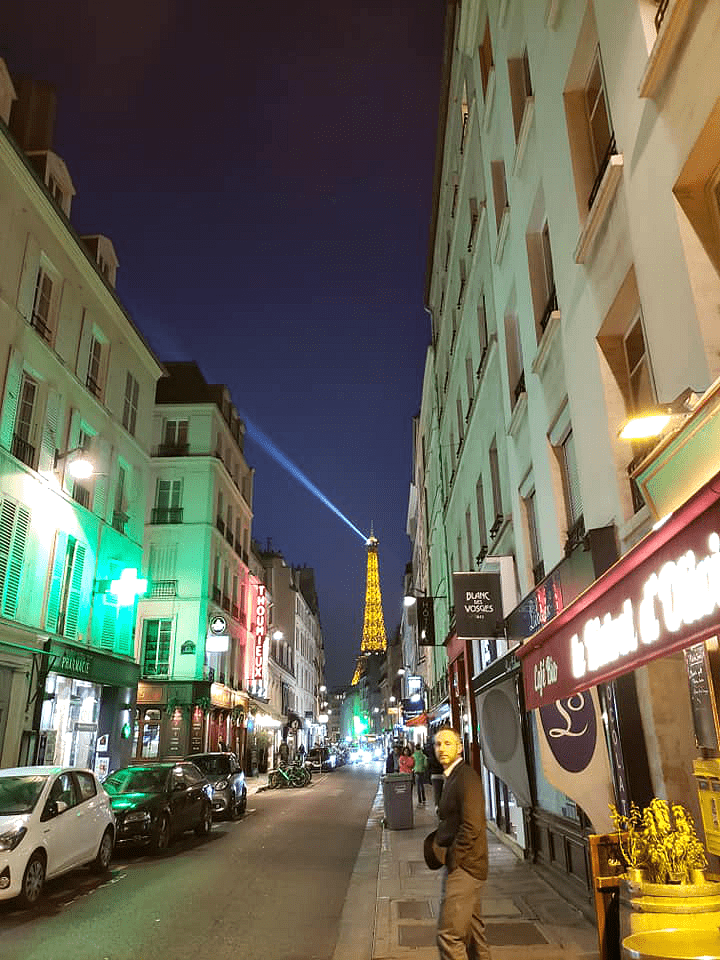 Embark on a free, guided walking tour of Paris with a local guide. Each tour is three hours long, starting at the Saint Michel Fountain and ending at the Louvre. Along the way, you'll be introduced to the Notre Dame, Sainte Chapelle, and other important landmarks. Hear the stories behind each of Paris's most famed attractions as you take in the city's glory!
While tipping your tour guide is appreciated, it isn't mandatory.
You can also take yourself on a self-guided walking tour. That's what we did. There is so much to see in Paris, that you will find something majestic everywhere you look, so you won't be disappointed. We walked for hours everyday, and when our feet hurt too much to walk anymore we would find a cafe and enjoy a glass of wine.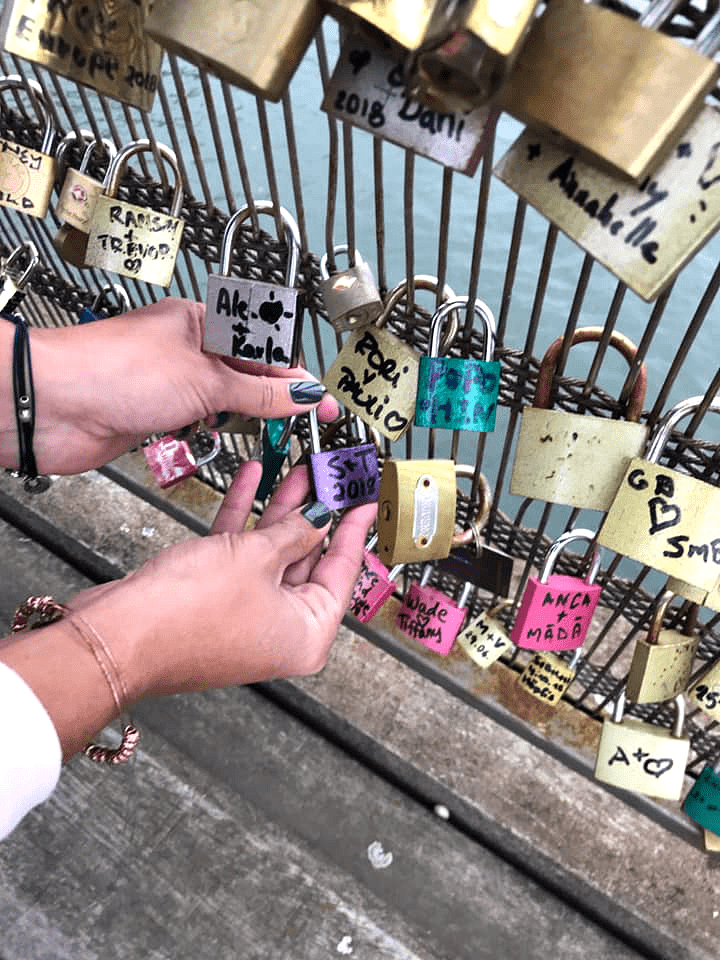 Pont des Arts
You have heard the stories, or maybe seen it in the movies. Lock up your love and throw away the key! We did 🙂 The Pont des Arts is known as the Lock Bridge in Paris. You can attach personalized locks to its railing and throw the keys in the Seine River. If you happen to forget a lock and a marker, don't worry, there are plenty of vendors selling them on the bridge. When you are done proclaiming your love, we sure to walk the Siene River, or sit down and marvel at the fact you are in Paris at the Siene River.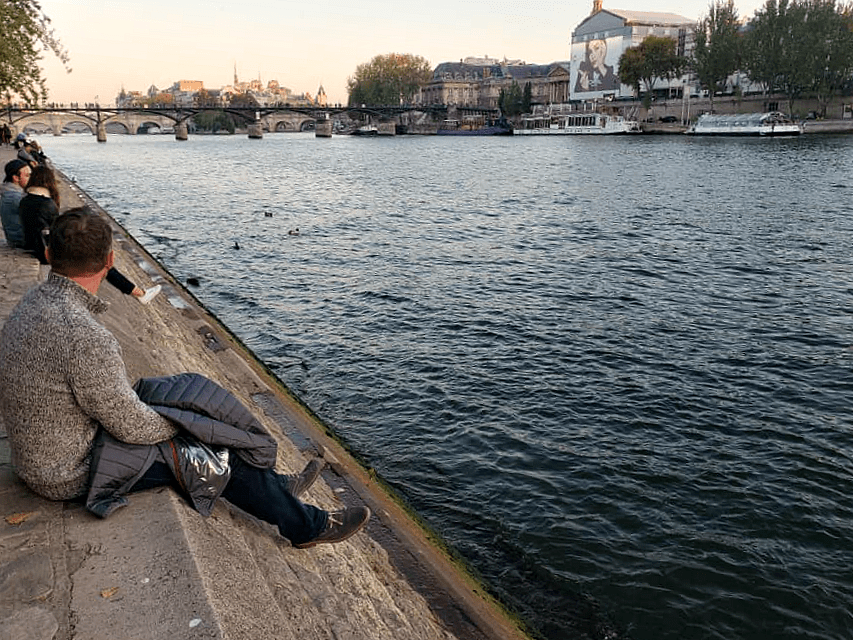 This village in Paris dates back to the 7th century! Back then, 300 nuns permanently lived there. Now, the Market of Saint-Paul houses over 80 businesses that drive locals and tourists to the neighborhood. Browse the art galleries, antique shops, and design showcases before eating dinner at one of the surrounding restaurants!
Within Saint Paul Village, you'll find Pinot Grigio, a famous Italian restaurant. If you're looking for a fine dining experience in Paris, stop in to check out their menu.
The Galeries Lafayette is a large department store in Paris with much more than just shops. It's also a venue for cultural exhibits, events, and classes. Shoppers (and window shoppers) can walk across a 9-meter-long glass walkway suspended 16 meters in the air, which offers spectacular views from every angle. You can also visit a fashion design exhibition space on the first floor for free.
For a luxurious window-shopping experience, check out the high-end stores while you're here. Step inside Alexander McQueen, Dolce & Gabbana, Louis Vuitton, and many other designer boutiques!
This 61-acre space is filled with fun things to do! Here, you can marvel at over 100 sculptures, including a replica of the Statue of Liberty. Bring your kids to the Luxembourg Gardens to let them float boats in the Grand Basin, ride the carousel, or to simply let them run around.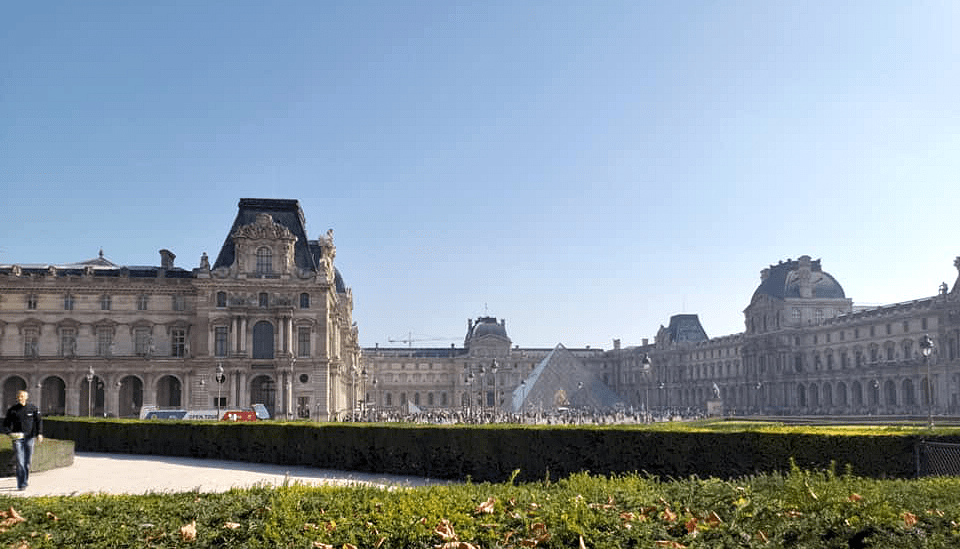 The Louvre is a must-see on any trip to Paris. In addition to the rotating exhibitions that you'd find at a typical art museum, you'll find masterpieces that shaped art history. See some of the world's most famous works, like the Aphrodite statue, Mona Lisa, and the Law Code of Hammurabi!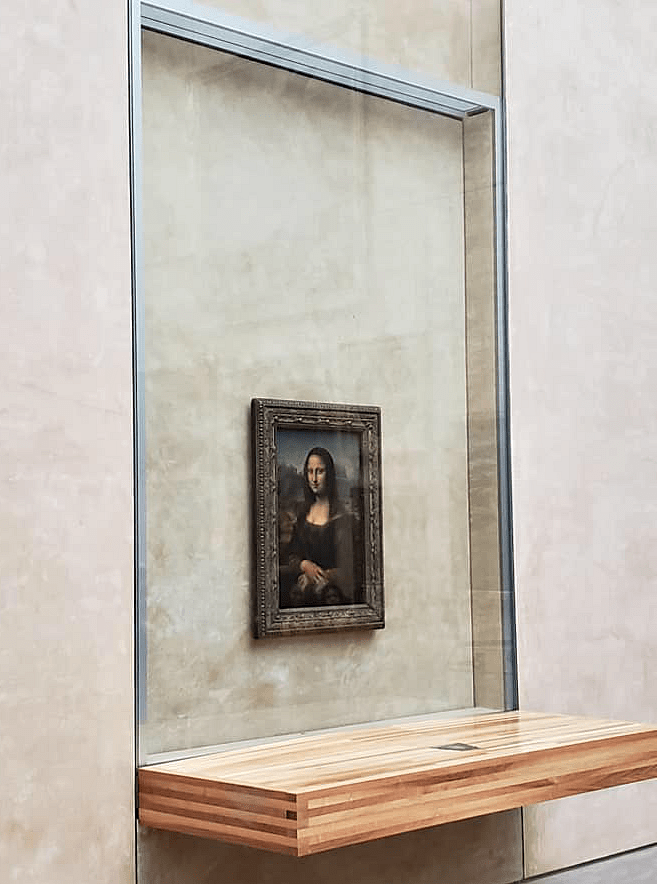 The Louvre is over 650,000 square feet and has over 380,000 objects and 35,000 art pieces, so don't count on being able to see it all in one day unless you are spending the entire day there. It's huge! And beautiful. They do sell food and beverages inside if you happen to be wandering around and miss a meal. There are also stores inside that you can window shop at on your way out.
While ticket prices for the Louvre are reasonable, there are a few opportunities to visit the museum for free. Visitors under age 18 never pay for admission, and adults between the ages of 18-25 from the European Economic Area also enter for free. On Fridays from 6:00pm-9:45pm, all visitors under age 26 can visit the Louvre for free (regardless of their country of origin). The best deal in the house is free admission for all on the first Saturday of each month, from 6:00pm – 9:45pm.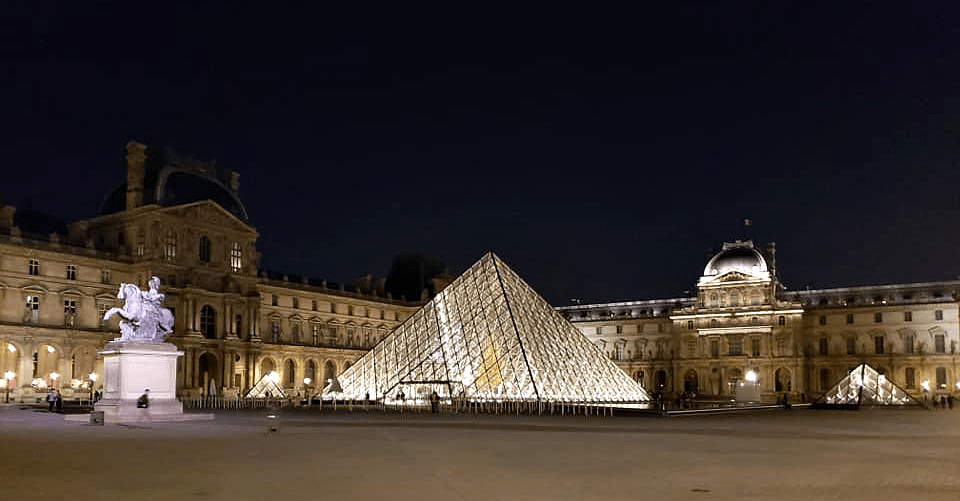 Carrousel & Tuileries Gardens
Right outside the Lourve are beautiful gardens. Take your sandwich outside and eat it on the lawn, or simply walk around and enjoy the scenery. We walked around these gardens for hours.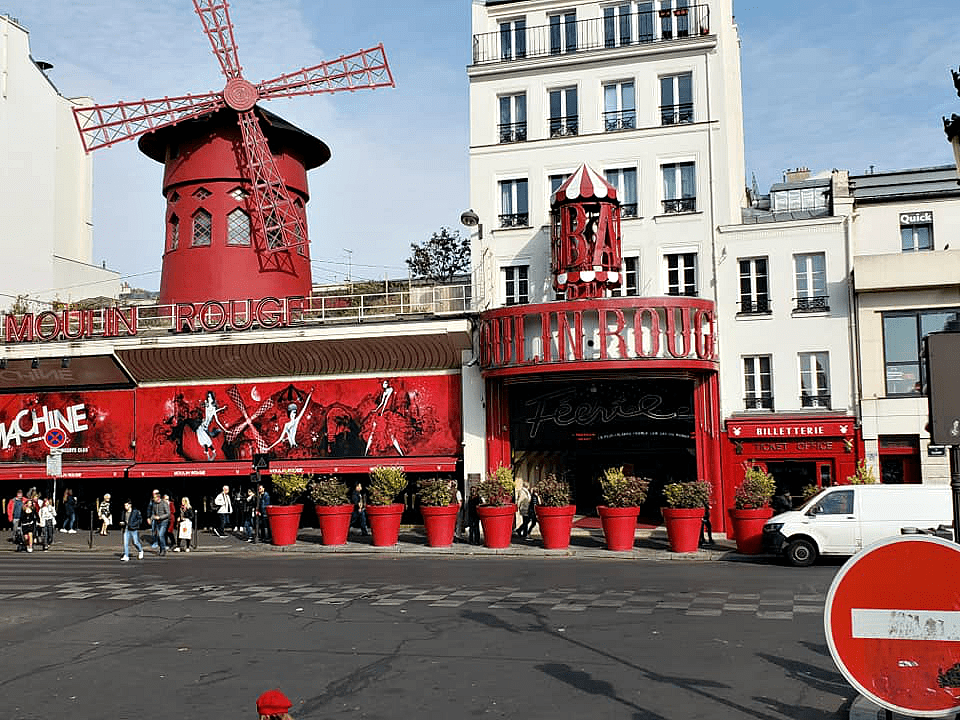 Montmatre
This one was of our favorite little areas in Paris, I just love a market and finding local art pieces. Artists and creative professionals used to claim this Parisian neighborhood as their own. Nowadays, the streets of Montmatre are lined with gift shops and cafes. If Moulin Rouge is out of your budget, there are a few free things to do in the area. Check out the Wall of Love, a large mural that says "I love you" in different languages!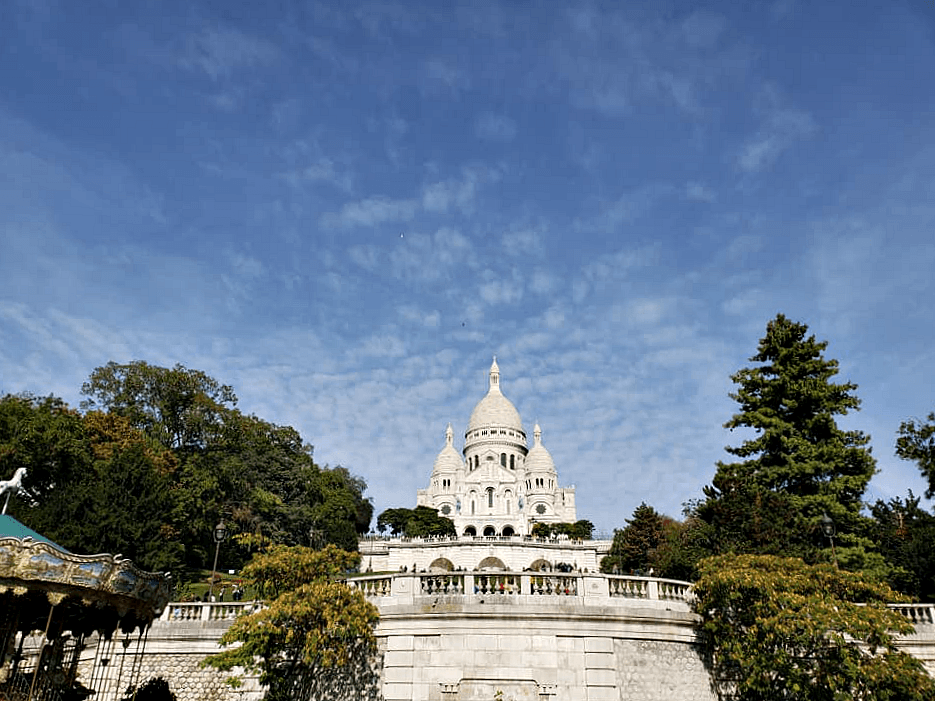 Colonnes de Buren
This controversial art installation is located within the Palis Royal. It consists of 260 black and white striped columns that are rooted in the basement and emerge from the ground. Of course, these columns are nothing like the architecture that surrounds them. This installation is a testament to how much effort artists put into preserving controversial art. Stop by to marvel at a piece of art history!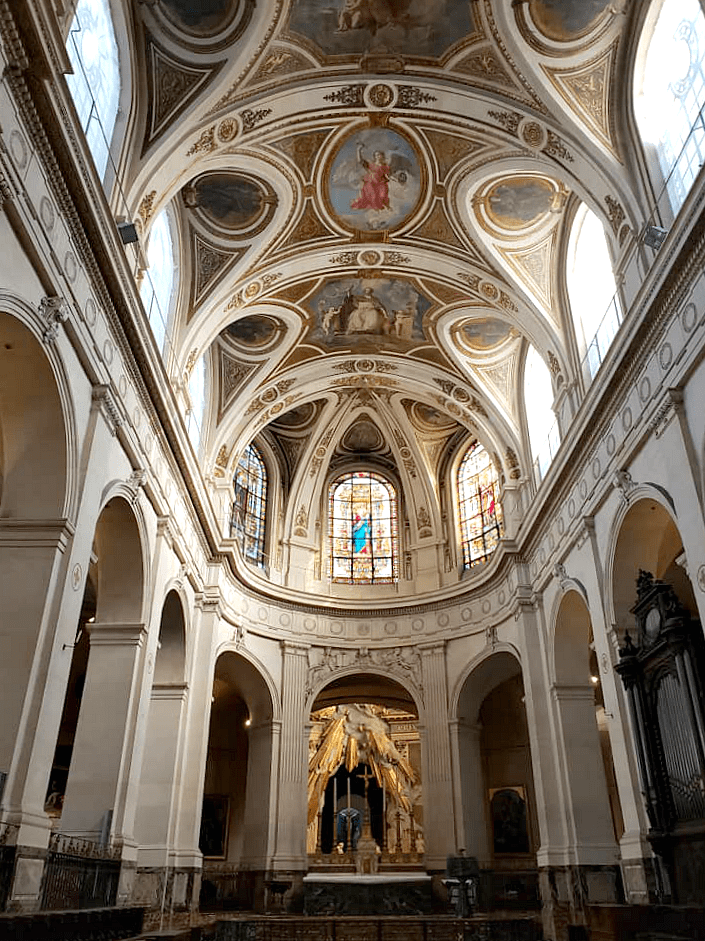 Churches
Paris is filled with churches that are much older than anything you will find in the States. Take notice of the hours on the door, and if it is open they are free to walk in and appreciate the artwork, stained glass and history. Be respectful when you are there though, remember it is a church. Some will request that you take no pictures, and be sure to talk in hushed voices.
Fort de Sucy was built between 1879 and 1881. It is one of the last and finest examples of late 19th-century dressed stone military architecture. Since 1996, volunteers have been working to restore the fort to its former glory and organize various events during the year. The guided tour will take you around the remarkably well-conserved entrance gateway with its movable bridge, the moat and casemates, the gun platforms, an old bread oven and the stables.
Drancy deportation camp is a Parisian place of memory and remembrance about French history. Between March 1942 and August 1944, about 63,000 Jews were deported from Drancy. Sculptor Shlomo Selinger's commemorative monument was unveiled in 1976 and the memorial freight car arrived at the site in 1988. In 2001, the Cité de la Muette became a designated national historic landmark.
Paris is expensive, but your activities don't have to be. Spending less on attractions will leave you with more money to spend on crepes, croissants, bread and crème brûlée and wine. The baked goods…bread included…were unlike anything I have ever had here in the United States, so fresh, light and just incredible. Eat as many as you can! So if you have ever wondered What To Do In Paris For Free? I hope I helped you answer that and more! It's time to make memories in the capital of France without breaking the bank!
When we were in Paris, we decided to do the Big Bus Tour, in fact, we do that in just about every foreign city we visit as it gives us a stress-free way to see the city and many of the attractions. You can decide it you want to get off the bus or stay on it, and if you decide to get off, there are easy spots to get back on the tour. With the Big Bus Tour that we did, we got off at Notre Dame (which is currently closed to the public due to the fire in 2019), Montmatre, we drove down The Avenue des Champs-Élysées, saw the Arc de Triomphe and so much more. Your hotel may be able to help you book your Big Bus Tour, they may even have a discount available.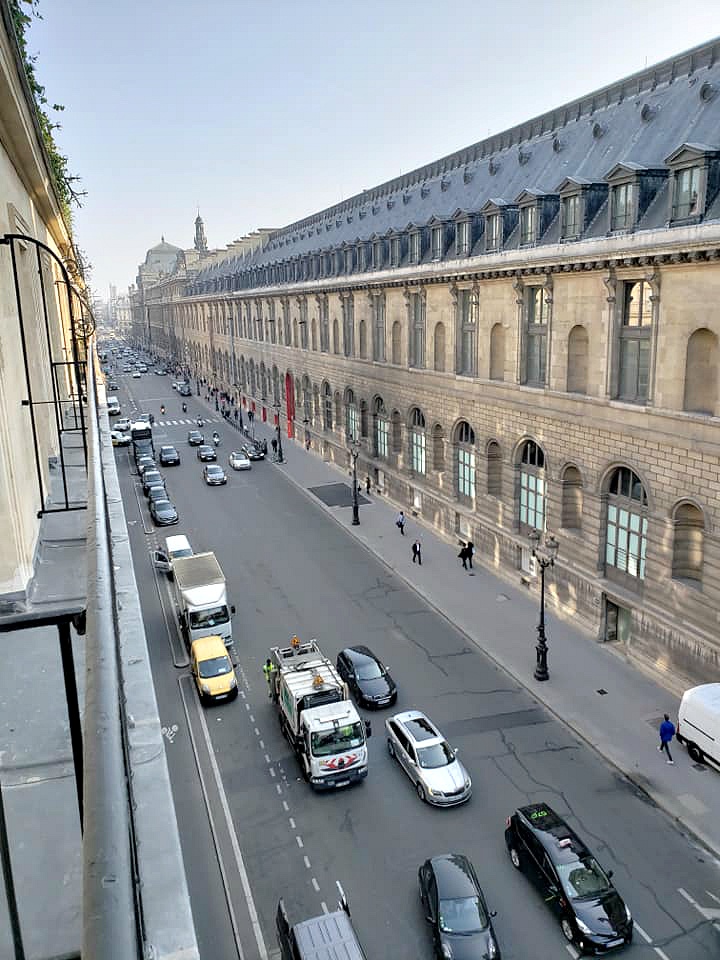 Speaking of hotels, there are many options all over Paris to choose from. When we visited Paris, one of the most important things for us was location, we wanted to be able to walk to all the popular areas, including the Louvre and the Eiffel Tower. We also wanted a good view and a quaint hotel lobby with a bar so we could sit after a long day of sightseeing and enjoy a glass of wine. While in Paris we stayed at Hotel Regina Louvre, which is directly across the street from the Louvre and had everything we could have asked for. It is an absolutely stunning property that is exquisitely Parisian and definitely justifies it's 5-star rating.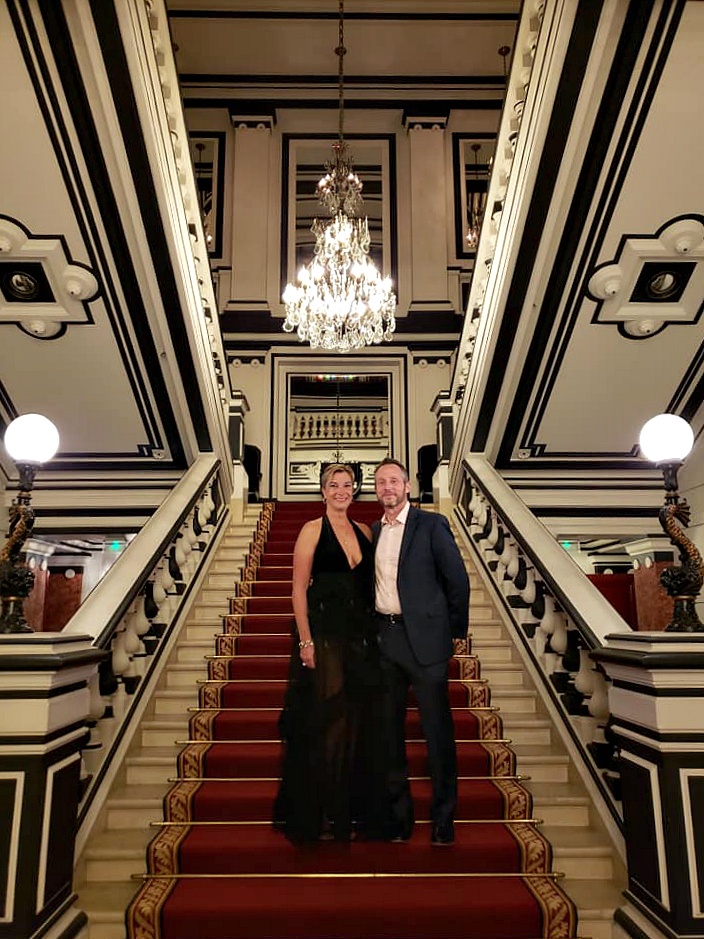 If you are looking for more of a boutique hotel that is not directly in the heart of Paris, I can also highly recommend Saint James Paris. This unique hotel was once a private home and is now a masterpiece in every sense of the word. Saint James Paris is located in the middle of Paris' coveted Rive Droite, and is waking distance from the Arc de Triomphe and Trocadéro.
The Residence Charles Floquet has unbelievable Eiffel Tower views, I mean it's literally right outside your window! The Residence Charles Floquet is actually an apartment, therefore you will have more room during your visit, so if you are traveling with children (or without!) this is an incredible option.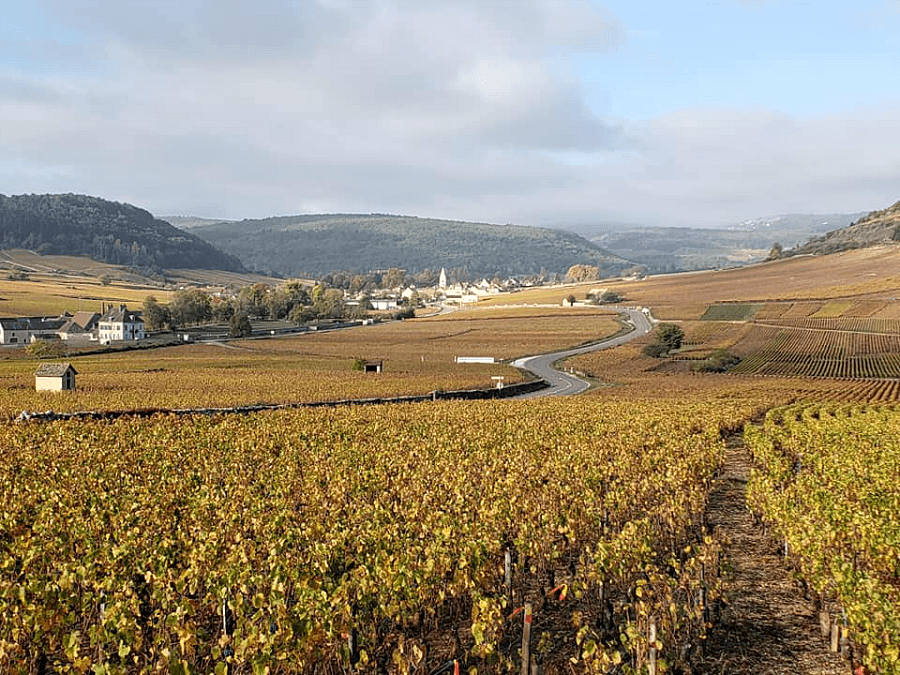 If you are planning a trip to Paris, you may also be thinking about exploring other parts of France while you are there, we did! From Paris we took the train to Beaune, where we were immersed in French wine and a much slower pace and a lot less people. The train ride took us through the country side and was actually a very cost effective way to travel. They make travel fairly easy in European countries, you will find trains, buses and cheap flights to other parts of the country or other countries!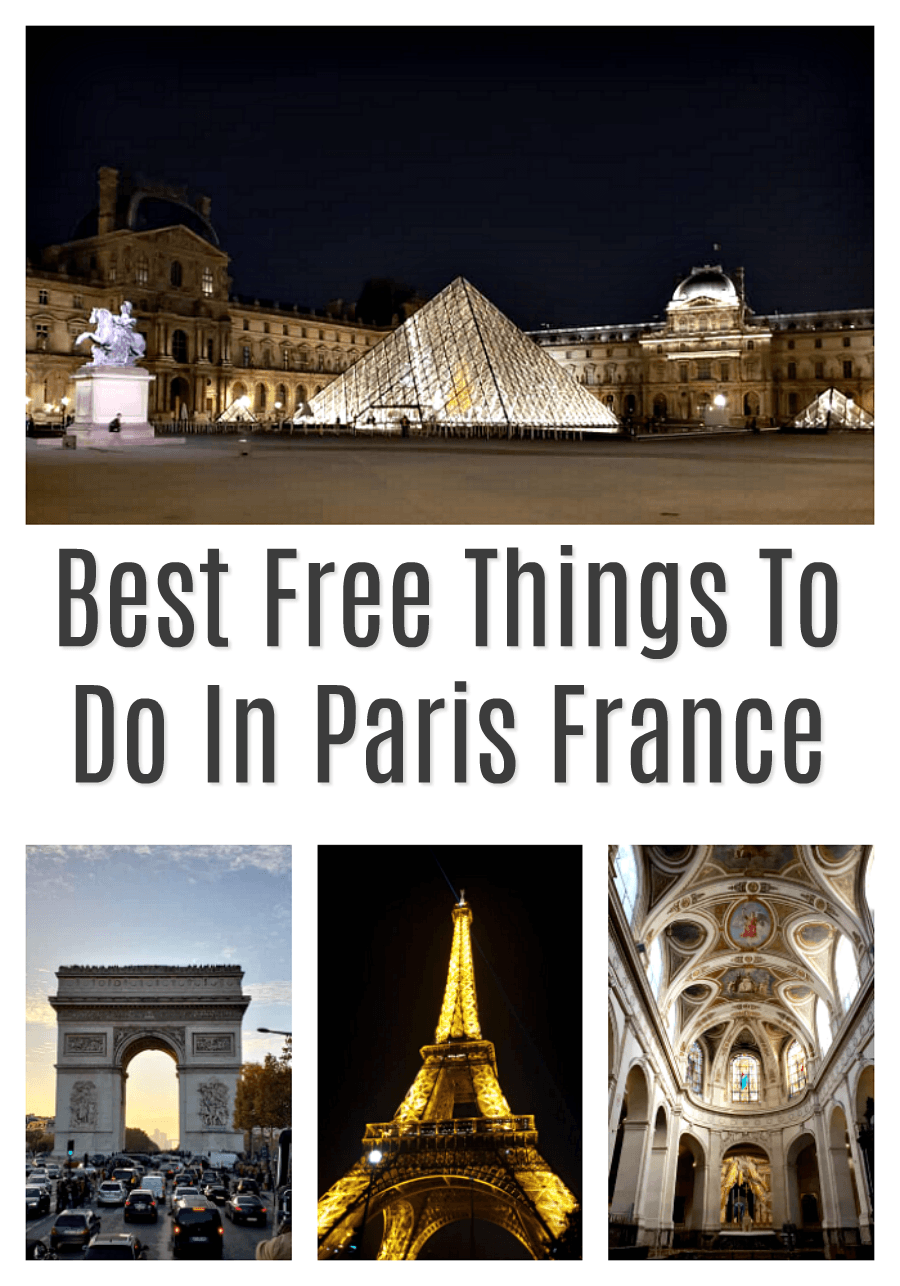 Have you been to Paris? What is one of your top free things to do in Paris?
If you are looking for an unique and affordable tour in Paris, you may want to check out these:
Follow your guide and discover Paris from a new angle! We take you to discover the places that inspired Woody Allen for his film "Midnight in Paris". Go back to the 20's and stroll through the streets of the Latin Quarter during this guided walking tour.
The cost for the Midnight in Paris Movie Tour is 15€.
Come and discover the largest antiques and second-hand market in the world! Enjoy an out of time walking tour in this particular atmosphere. The market is a French institution and a sight for sore eyes. Lovers of art or vintage, don't wait anymore.
The cost to explore the Paris Saint-Ouen flea market is 17€.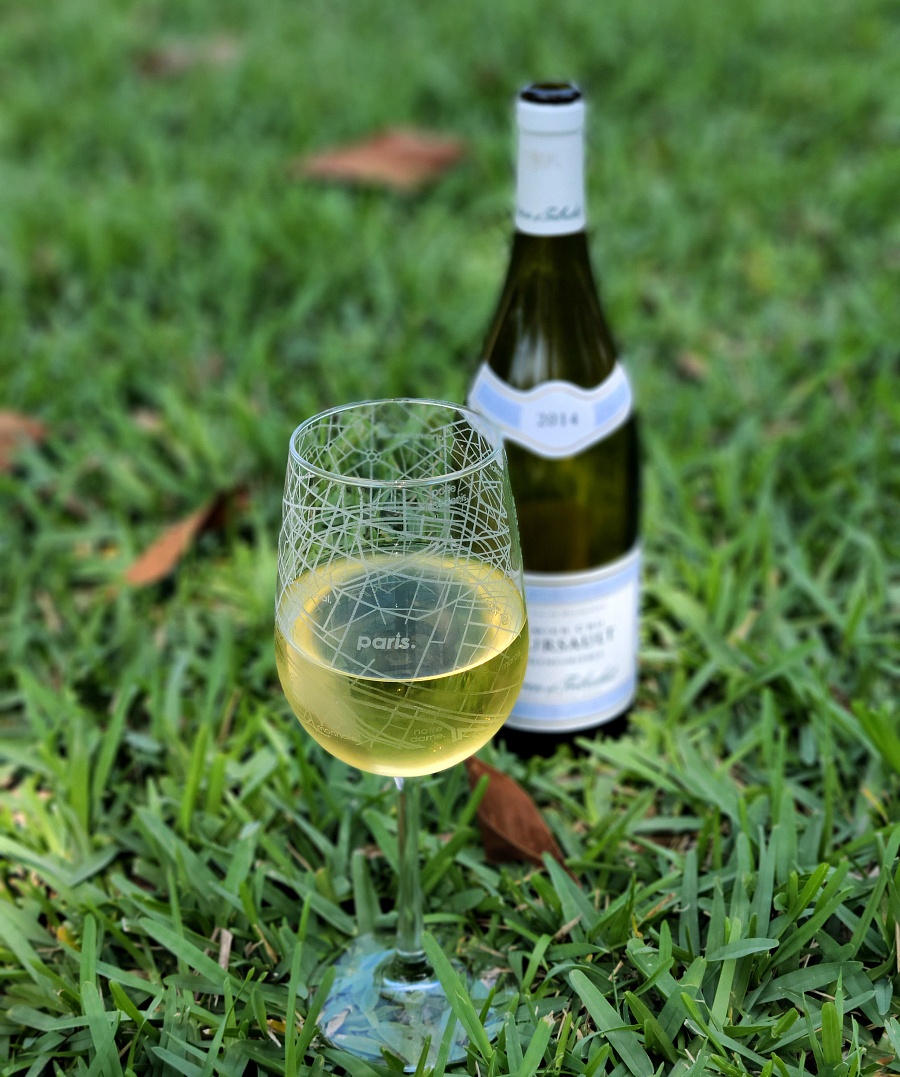 If you are looking for an unique way to remember your trip, or if you would like to simply dream of Paris while sipping French wine (or any wine) be sure to visit Well Told. I received these Paris Wine Glasses, which actually have a map of Paris on them. So, every time I look at them or open a bottle of wine that we shipped back from France I dream about our magical visit and all the amazing things to do in Paris. Well Told glasses and stemware have intricately designed map that is etched into the glass and wraps entirely around it. They offer other cities and towns as well, internationally and within the United States, so wherever you would like to dream about going or remember where you have been, Well Told Design will help you celebrate the moment.
Be sure to follow Food Wine Sunshine on Facebook, Twitter, Pinterest, and Instagram for more wine tips and experiences, healthy recipes, and travel.