(Last Updated On: October 15, 2020)
Hiking can be fun for the whole family, but before you go out exploring, be sure to visit these tips for hiking with kids. Have fun and be safe!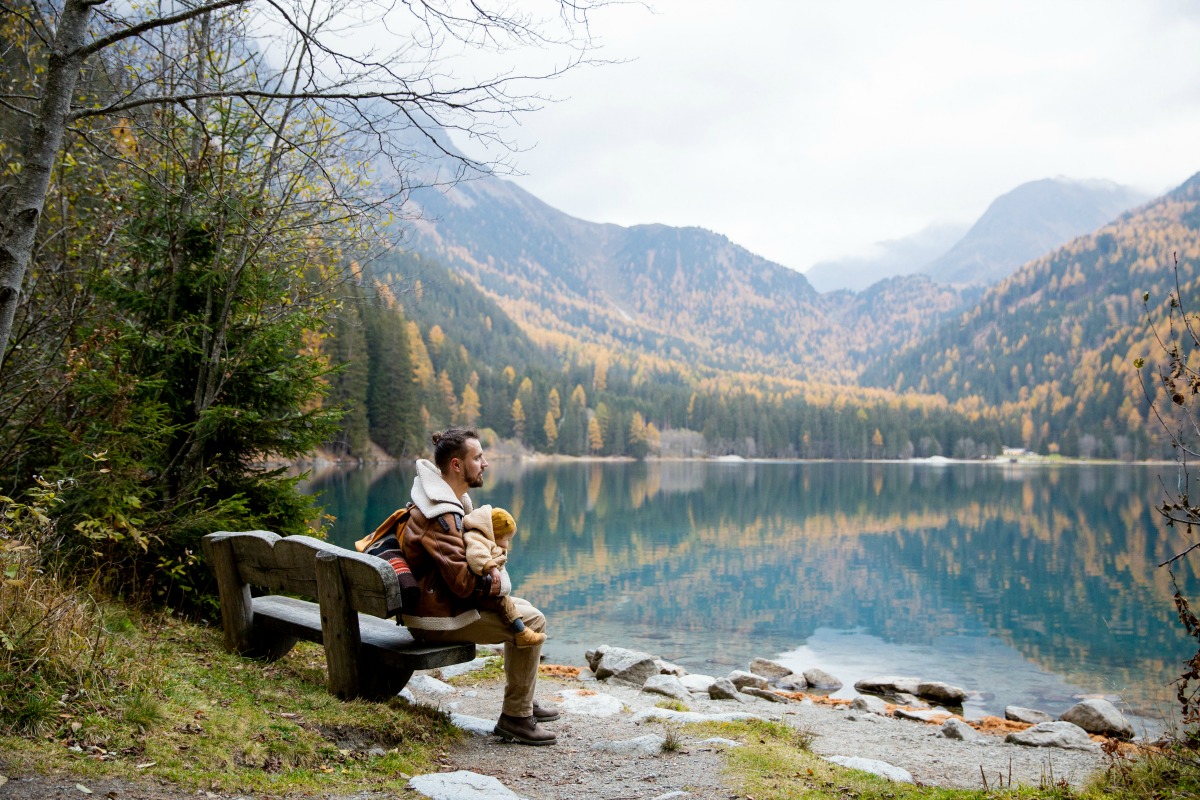 Tips For Hiking With Kids
Spring is in full swing around here and it is time to get outdoors and take a hike. Taking a hike is a fun, physical activity that the whole family can enjoy together, and bonus, it's free. Even if it's still a little chilly outside where you are, you can still go on a short walk in the great outdoors to see what you can find.
When you are hiking with kids, your #1 goal should be to simply have fun. This means you are going to have to be flexible. Being flexible means that you may go slower on your hike than if you were by yourself, it means that the kids may want to look at something that you may not, it may mean that they want to take breaks a little more frequently than you. But that's okay. Your goal when hiking with your kids is to have fun.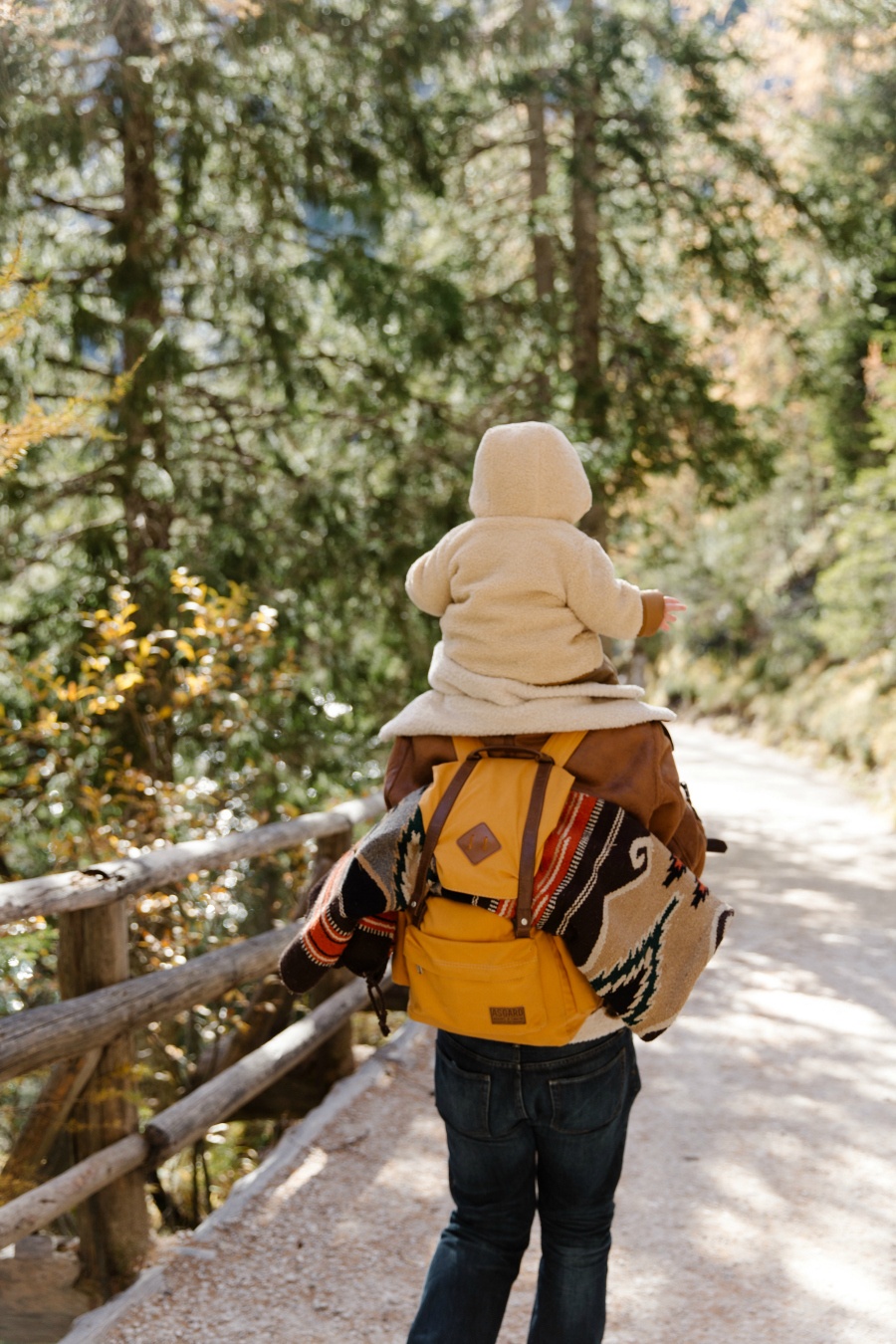 Here are some tips for hiking with kids:
Be flexible
As I mentioned, your #1 goal is to have fun and explore, so let the kids set the pace.
Bring water and snacks
It's easy to lose track of time when you are having fun, so make sure to stop frequently and have snack and water breaks. Consider packing high protein snacks to keep everyone fueled longer.
Be aware of the temperature
If you are starting your hike and it's chilly, you will want to dress in layers because as the day goes on it may warm up, or your body temperature will due to the exercise.
Don't forget bug spray and sunscreen
The woods are usually filled with lots of bugs, so it doesn't hurt to have a bit of bug spray. Sunscreen is always important when you are outside, and don't forget to reapply your sunscreen.
Pick a short trail
Don't take the kids out on a 10 mile journey for their first hike, pick a short one that will have lots of interesting things to see. If you have a pond/lake/waterfall near by, even better!
Bring a map
Yes they still exist! And now is a great time to show your kids what they are and how to read them. You can even bring a compass and teach your kids how to read a compass.
Safety First
Have your child carry a small water bottle and a snack on their own, heaven forbid you get separated, they need to have something will them. Make sure each child has a safety whistle with them, attached is best so it doesn't get dropped. Every single time you go out for a hike wit your kids discuss what happens if you do get separated. Make sure your child(ren) that they know don't move – stay where they are – and blow their whistle 3 times in sharp bursts. Tell your child that blowing the whistle will help mom and dad find them.
Clean up after yourself
Make sure to tuck a plastic bag in your and your child's their pack so that they can carry out any trash they might find on the trail. They are never too young to teach them about being good stewards of the environment.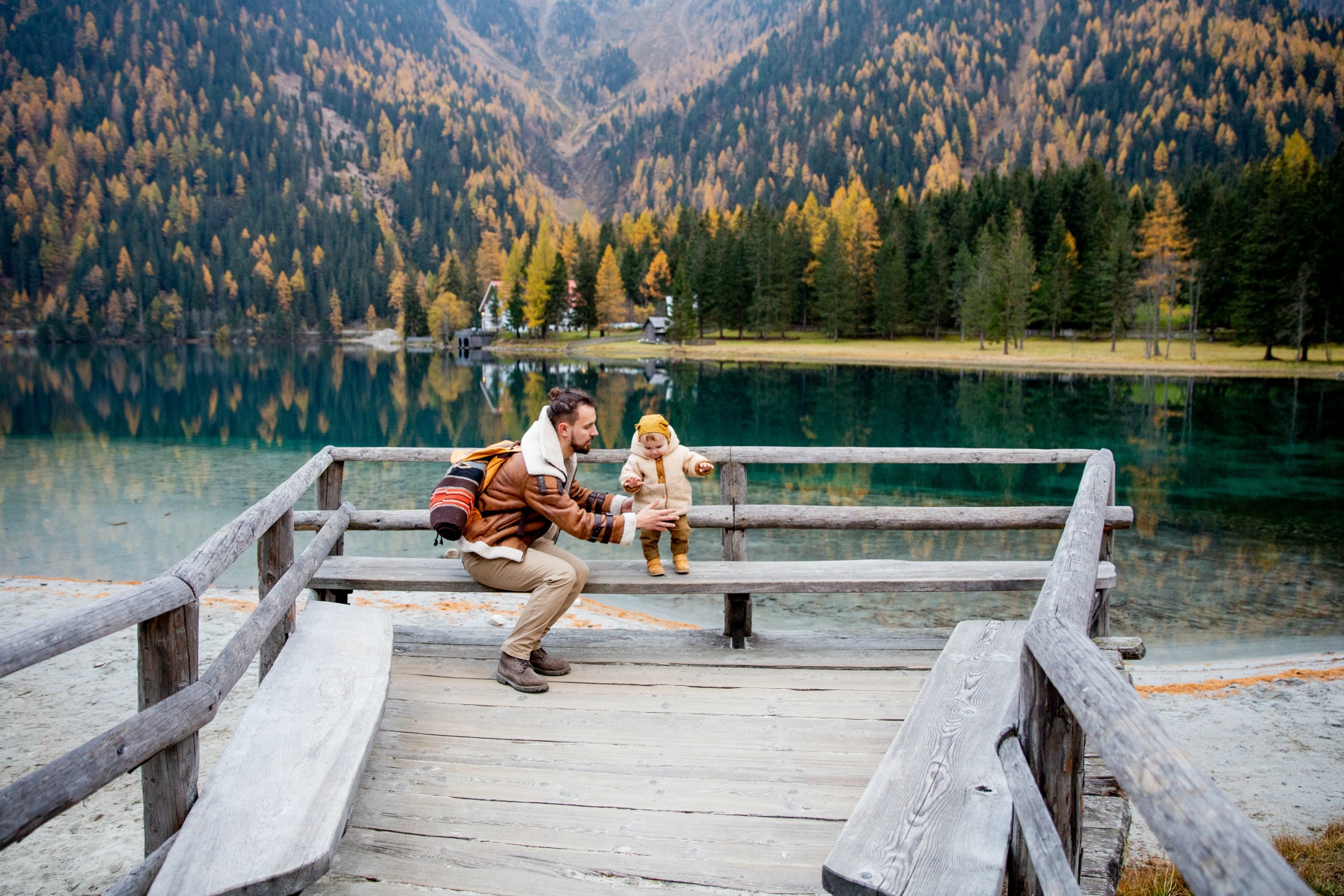 Now that you and your family are ready to go out on your hike, here are some fun things for you to do while you are out on your hike:
Ask your kids to look for ten things of a certain color.
Whoever finds ten items of one color first gets to pick the next color to search for.
Before heading out make a list of sights, sounds, and smells that you might encounter on your hike.
When you find those things check them off of the list you made together. You can search for pine cones, acorns, rocks in different shapes, flowers, or running water.
Collect interesting bits of nature on your hike and bring them home for an art project.
Don't take anything living though. Some ideas of things you might collect are leaves, interesting rocks, pine cones or sticks. You can put all of your finds together in a mason jar to depict a memory of your walk, or you can glue your items to cardboard and have your children write memories about the hike on it for a fun show and tell project. With your help, and depending on how many rocks you find, you can make your own Rock Flower Art.
Play I spy as you walk along the trail.
I spy is always a fun game to play and it keeps kids engaged as they walk along the trail.
Use your imaginations
Let the kids pretend that they are animals as they walk along the trail. If they don't want to be animals, why not super heroes? You can pretend that you are on a mission to save the world and you have to reach the end of the trail by a certain time!
Play follow the leader
If you are on a well marked trail take turns letting your kids be the "leader". It makes the hike more fun for little guys if they know that in a few minutes they will get to lead the group.
Have a scavenger hunt
Make a list of things to search for while you are on your hike. You may even want to have a small prize or treat for whoever finds all of the items on the list first. You can print a fun (and free) scavenger hunt printable here.
Spending time outdoors and hiking can be hungry work especially for the kids so make sure that you pack plenty of healthy snack and drinks to enjoy along the way, and it doesn't hurt to have a cooler in the car with sandwiches ready to go when you get back.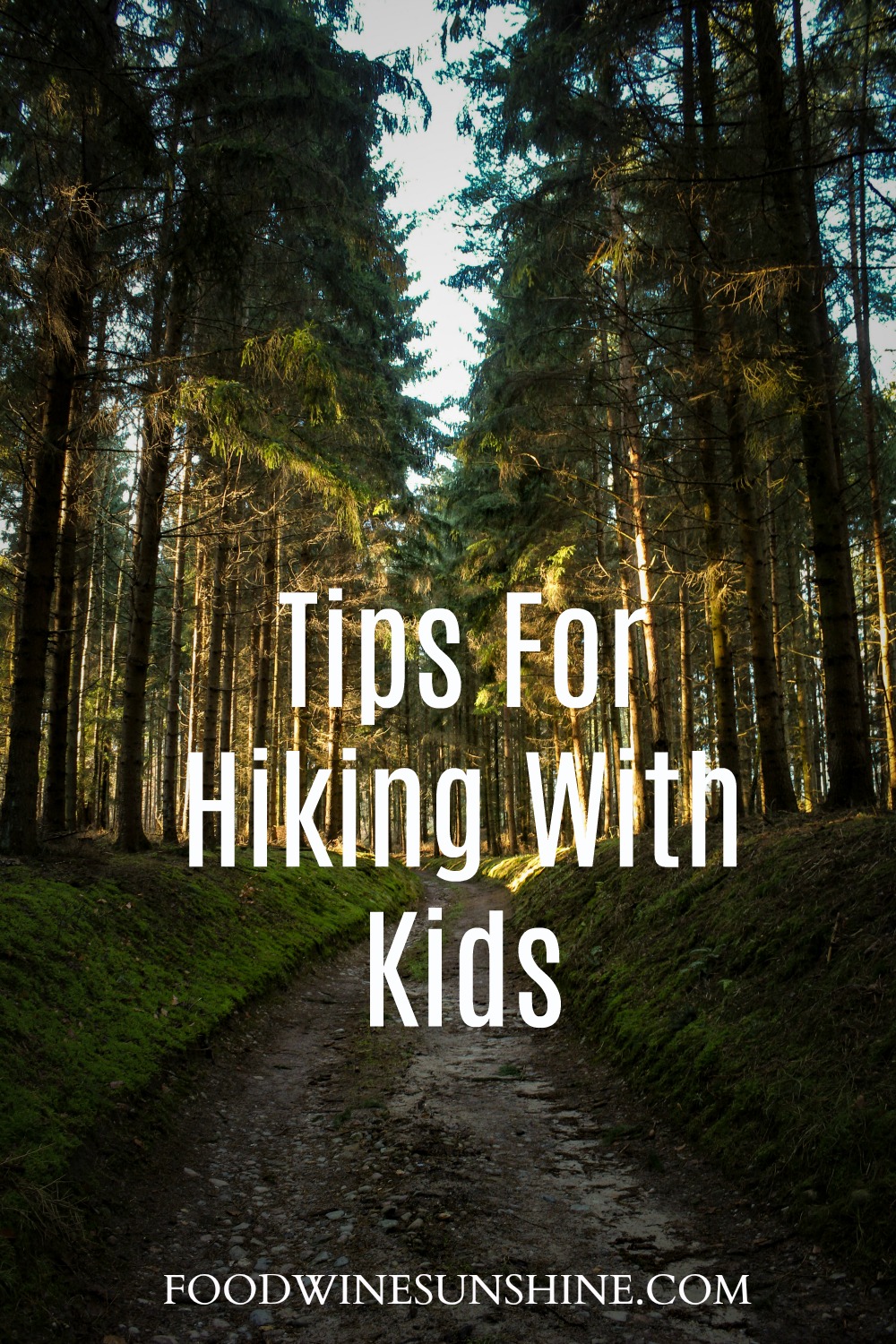 Get outside, spend time together outdoors exploring and hiking, and enjoy this beautiful spring weather we are having.
Looking for more fun activities for families?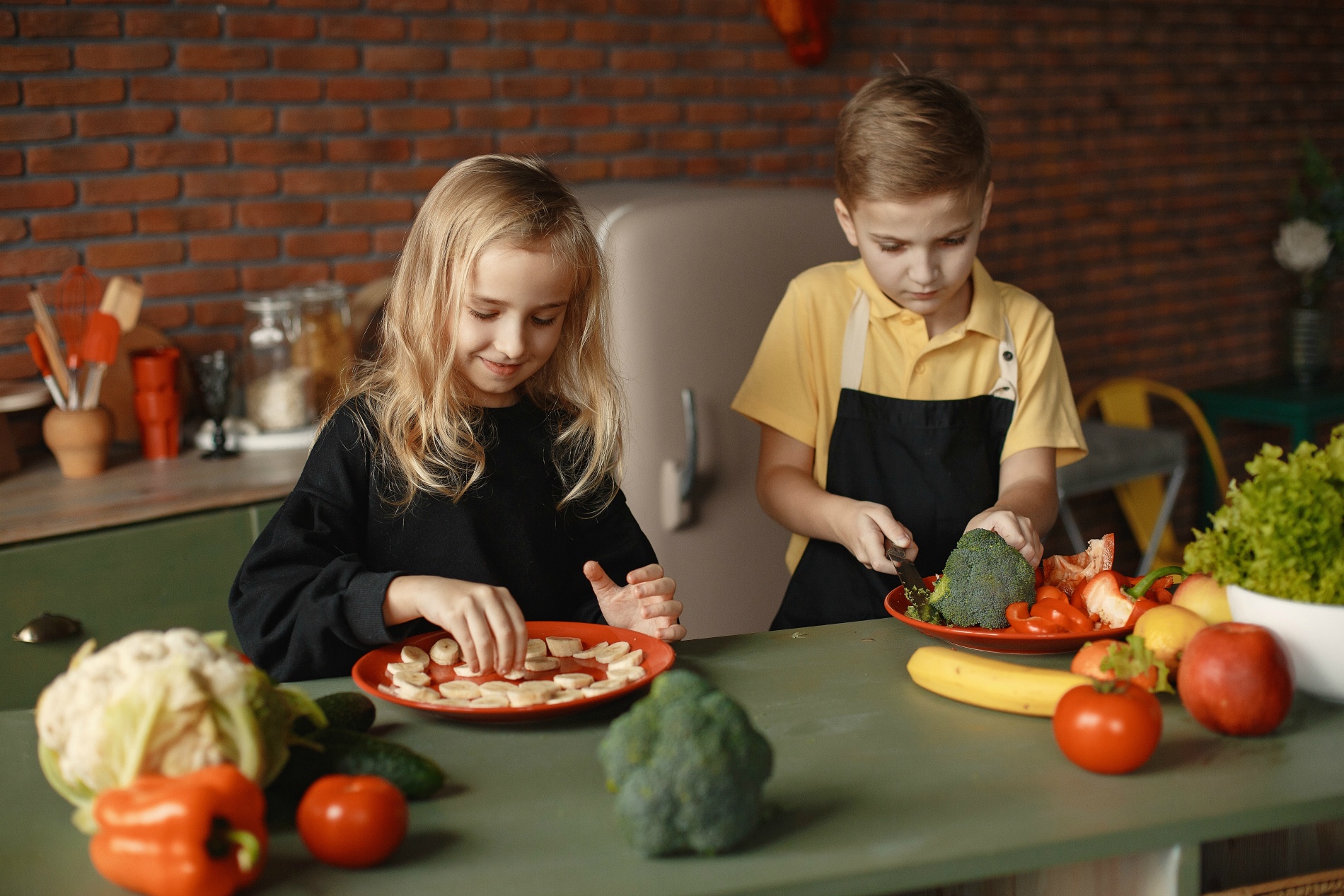 Plan a Family Cooking Competition
Check out all the delicious recipes on Food Wine Sunshine and things to do and be sure follow me on Facebook, Twitter, Pinterest and Instagram.