(Last Updated On: April 4, 2023)
The oldest city in the United States is bound to be filled with amazing places to eat. And it is. Here are 15 of the best places to eat in St. Augustine Florida.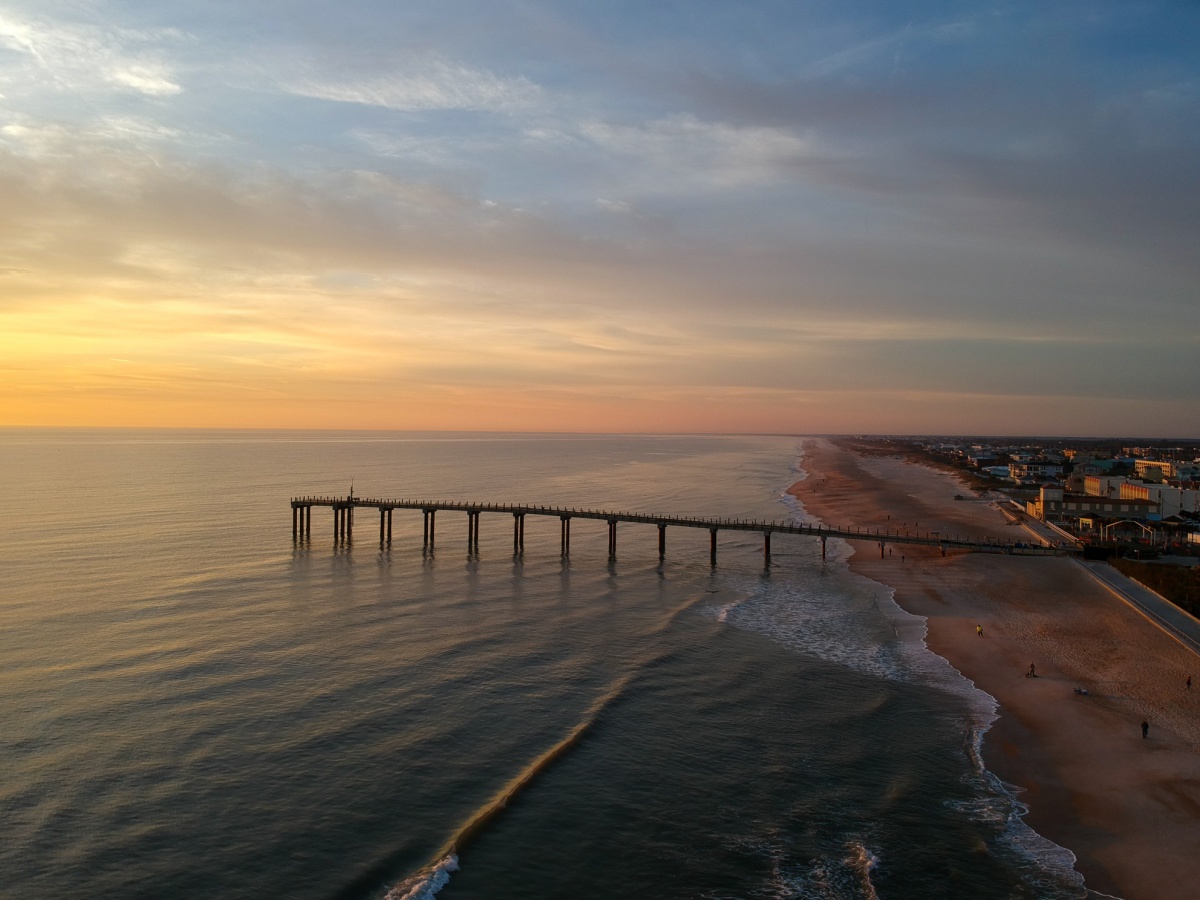 15 Best Places To Eat in St. Augustine Florida
St. Augustine, Florida is full of history, I mean, it is the oldest city in the United States! That means there are plenty of fun things to do and lots of incredible places to eat. Whether you want to dine on the water or in the St. Augustine historic district here are some of the best places to eat in St. Augustine. We stay in St. Augustine when we head to east coast for the Daytona 500 and every year for Spring Break. We have been vacationing in St. Augustine for over 20 years. St. Augustine is an easy Florida road trip for us, it's only about a 3 hour drive from Tampa Bay.
Best Restaurants In St. Augustine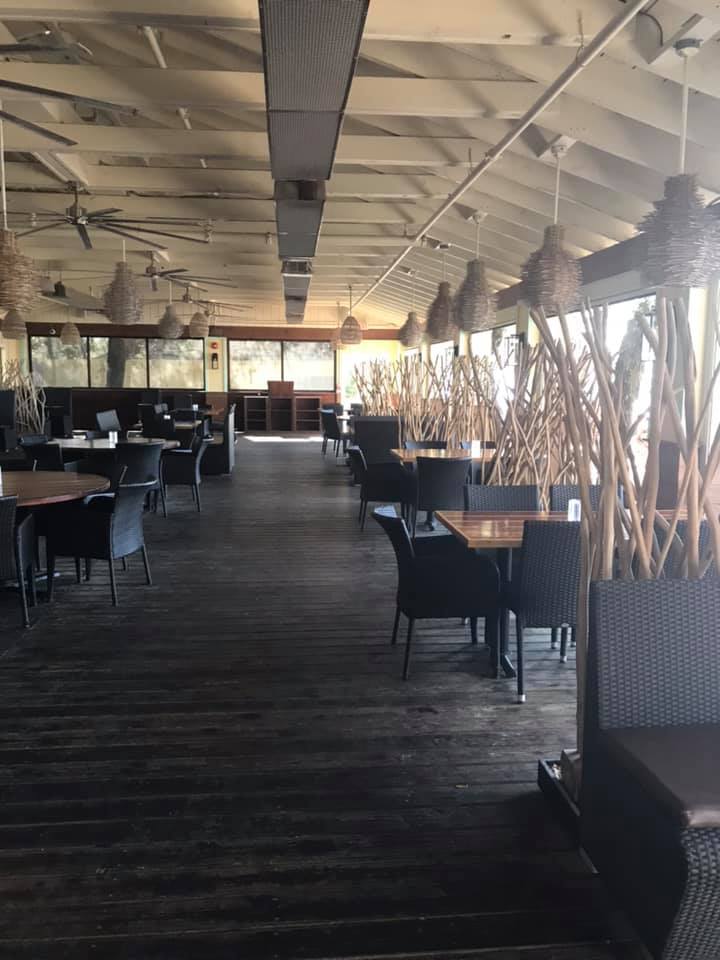 While Caps On The Water has been there for awhile, we have only been visiting for the last few years and it has quickly become a favorite. Caps On The Water is an incredible outdoor dining experience right on the river. You can sit and watch the boats go by while enjoying a great meal. I recommend the fish and chips and jambalaya.
Location: 4325 Myrtle Street St. Augustine, FL 32084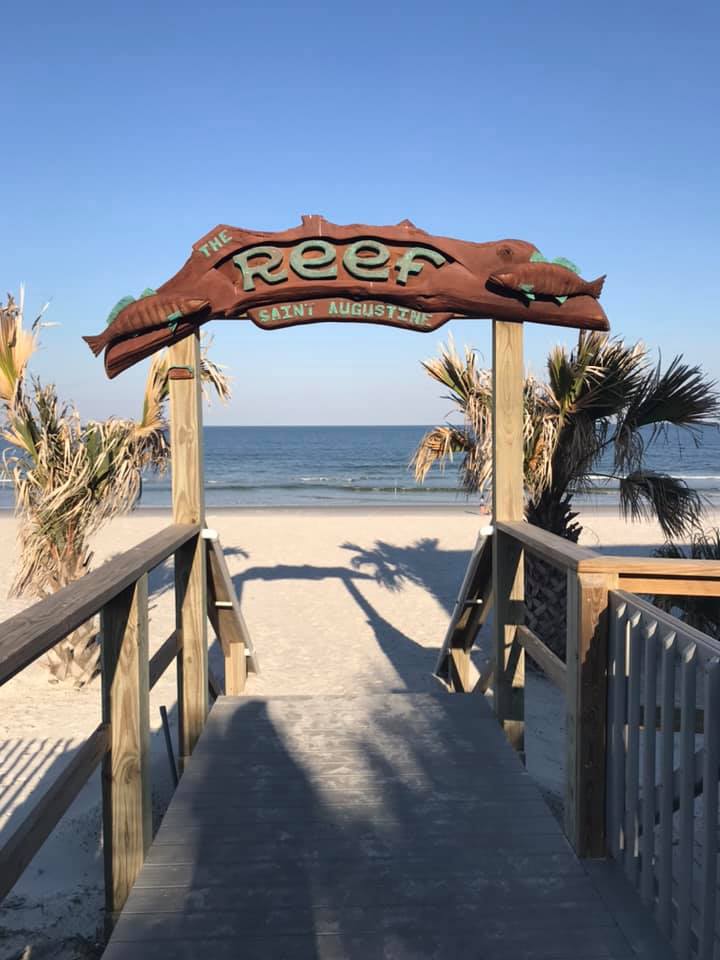 Here you will find seasonal foods cooked well and served up with an unbeatable view of the ocean. They have great happy hour deals, so be sure to stop in and enjoy those from 3:00-7:00PM Monday – Saturday and on Sunday from 4:30-7:00PM.
Location: 4100 Coastal Highway St. Augustine, FL 32084
This quaint family-owned Mexican restaurant is located right across the water. Come for the authentic Mexican food and stay for the hospitality. Grandpa is usually singing and playing the guitar making you feel like you are a part of the family. The queso with chorizo is delish!
Location: 105 D St Saint Augustine, FL 32080
Panama Hatties recently underwent a huge renovation, so stop in and see what it's all about! They offer a wide variety of your favorite foods; such as coconut shrimp, crab cakes, burgers, unique sandwiches, and specialty cocktails. If it's not too hot, I recommend sitting on the deck upstairs for the best views.
Location: 361 A1A Beach Blvd St Augustine Beach, Fl 32080
One of my favorite restaurants in Tampa also has a location in St. Augustine. Right in the heart of the historic district of St. Augustine you can enjoy the infamous 1905 salad and delicious Cuban-inspired cuisine.
Location: 98 St. George Street St. Augustine, FL 32084
St. Augustine Seafood Company located in the Historic downtown area is a great stop to catch a quick bite to eat. The St. Augustine Seafood Company has a Nautical atmosphere and is casual atmosphere. You will find many great fish selections all of which are American wild caught fish, many are local as they partner with local fisherman and markets. Their fresh catch of the day is always a good choice, and there are many options for how it is prepared. We really enjoy the Conch Fritters as well as the New England Clam Chowder, or if you like they also have a Minorcan Conch Chowder. If you are not sure which one to choose they will serve you a ½ serving of each! If you happen to be here closer to dinner time, be sure to check out their live music offered in the Colonial Oak Music Park which is located right next door for some night life entertainment. It is a fun ambience in the sitting area, be sure check for the scheduled entertainers.
Location: 33 St George St, St. Augustine, FL 32084
Meehans Irish Pub and Seafood House
Looking for some Irish fare with Florida flare, check out this restaurant for traditional Irish selections such as Shepherds Pie, Corned Beef & Cabbage, Bangers and Mash and a family favorite is their Fish & Chips which is Guinness Blonde Battered and fried. The Irish Cuban has a nice kick and is a favorite of my mom's. Be sure to stop in to their Backyard Island Café located behind the restaurant where the conch fritters are delicious, the cocktails have an island flare and the tables that have fire insets.
Location: 20 Avenida Menendez St. Augustine, FL 32084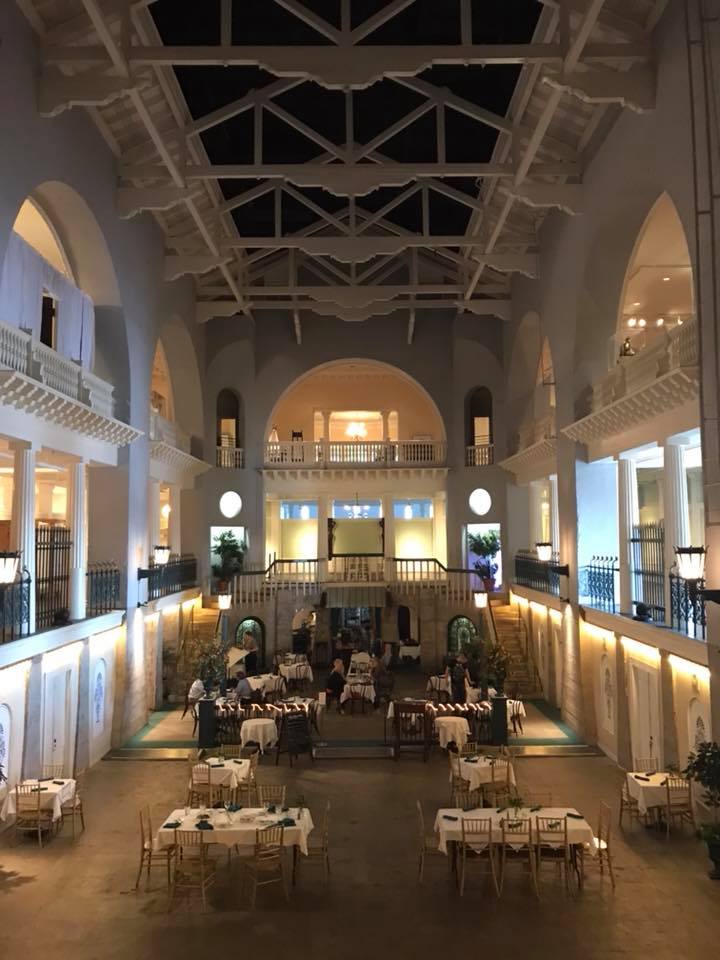 Café Alcazar is located in the Lightner Museum. Actually, the Café is located inside (yes inside) what was once the largest indoor swimming pool of the historic Alcazar Hotel build in 1887. More of an elegant setting where you will be entertained by a Piano player as you enjoy visualizing yourself swimming in this grand pool area. They have a menu that gives you beautifully presented entrees, I recommend the Shrimp Giovanni. But you will also see offerings of sandwiches and salads, as well as a children's menu. It is worth the visit to walk through the shops in the surrounding courtyard and if so inclined go through the Lightner Museum for a nominal fee for an added attraction to your day. You can walk around some areas for free, you just can't enter the actual museum without paying a fee.
Location: 25 Granada Street St. Augustine, FL, 32084
To follow along historical buildings this unique eatery dates back to 1927 when it was a functioning ice plant serving many in the area at that time. The walls have many tools from that era which they have kept and placed on the walls throughout. They offer imaginative cocktails and farm to table offerings equally unique and delicious. Since you are in the area go next door and check out The Distillery! A free tour will give you more on the process of distilling and more history of the ice manufacturing from 1917. Tastings are also offered.
Location: 110 Riberia Street St. Augustine, FL 32084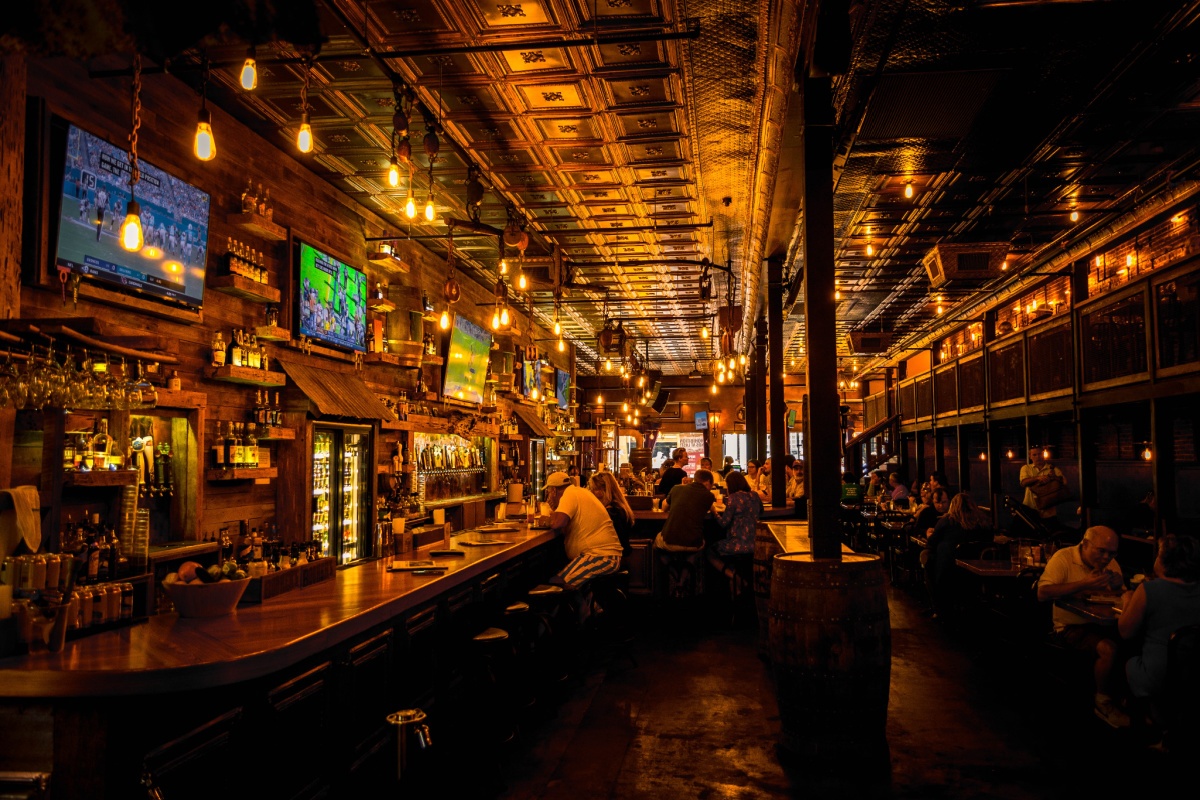 Our family's favorite spot for a great burger, the PK Signature Burger you will not be disappointed! The kids love the German Style Pretzel that is huge and their handspun Milkshakes are fun and delicious.
Location: 119 Saint George Street St. Augustine, FL 32084
Now if you have enjoyed all the history that downtown St. Augustine has to offer and would like to experience the beautiful beaches head south over the Bridge of Lions and follow signs to The Beaches one of our favorite restaurants is right off the beach. The Beachcomber is very casual, if you have kids they have a large sand area they can play in while you enjoy a tropical cocktail. They offer great burgers, and sandwiches my favorite is The Big Fish Reuben made from the Catch of the Day! Sandwiches are large enough to share, especially if you would like to try one of their great appetizers, which include Steamed Shrimp, Gator Tail, or their house made smoked Fish Dip.
Location: 2 A Street St Augustine Beach, FL 32080
Head over to The Conch House Restaurant and Lounge if you are looking for a truly unique tropical dining experience. You can choose to sit in a thatched tree house over looking the water or if you prefer, outdoor and indoor seating is also available. This is definitely my favorite spot for conch fritters which are served with key lime mustard sauce. The menu has something for everyone from Caribbean flare to Jamaican Jerk Chicken and an incredible Conch House Cuban. This fun restaurant is well worth the stop for good food and an amazing atmosphere. It's a great spot to watch the pelicans and be sure to visit the in house alligators. Live entertainment is also offered on scheduled nights.
Location: 57 Comares Ave, St.Augustine, FL 32080
Located right across the street with spectacular views and incredible Happy Hour specials, this is a great one to add to your list for fun times and relaxation. Sit outside and watch the locals and vacationers play volleyball while listening to live music. Sushi night is my favorite night to go!
Location: 321 A1A Beach Blvd. St. Augustine Beach, FL 32080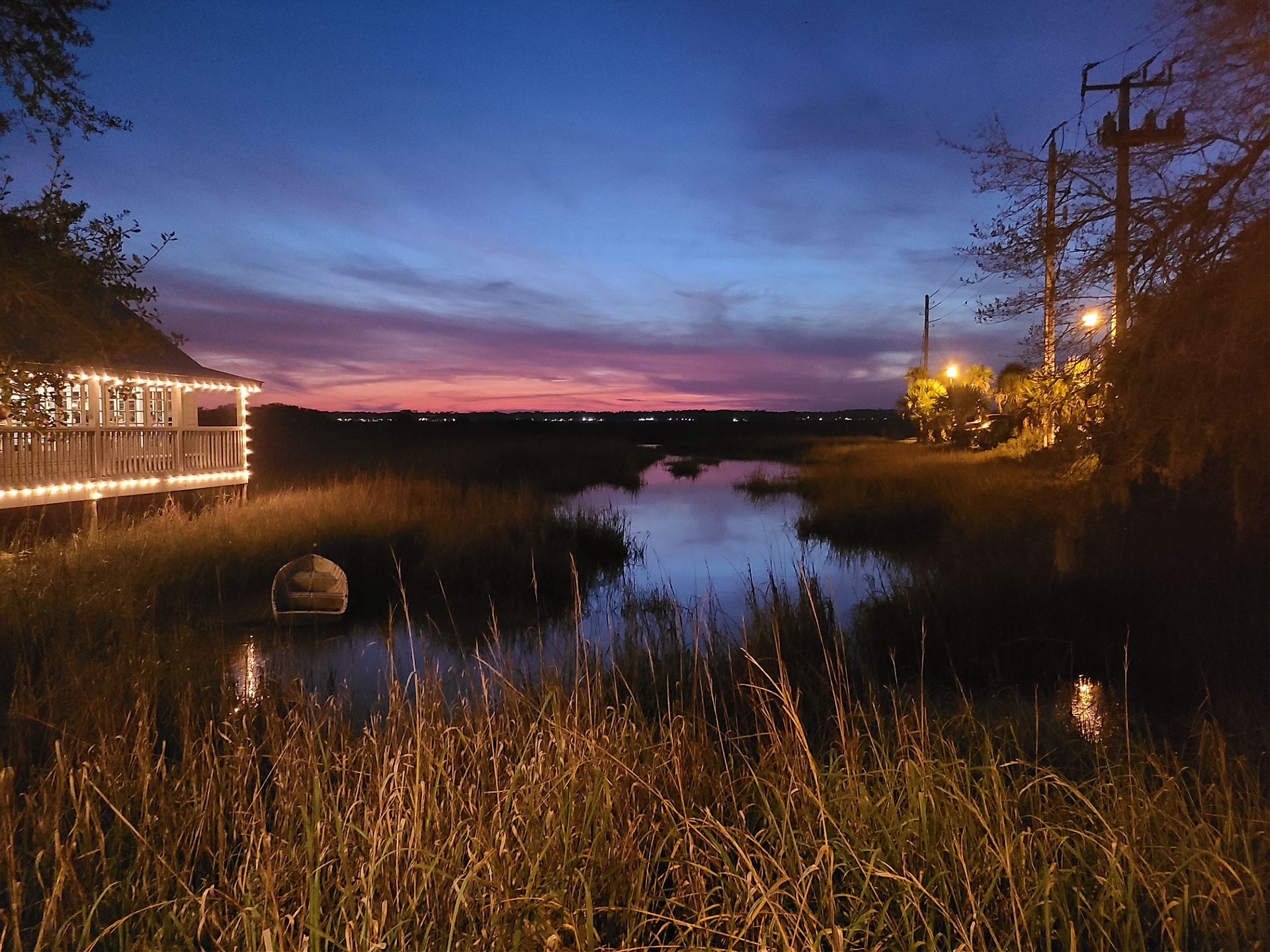 This have been a favorite of your family for many years. Many years. They open at 5:00 P.M. – 9:00 P.M. only and they are busy about 100% of the time. Reservations are recommended, you can also call ahead. We love getting the bucket of crawfish for an appetizer and you can't go wrong with the ribs for dinner. I also love the Cucumber Fish, I definitely recommend getting the fish blackened as the cool from the cucumber sauce is the perfect balance to the spice of the blackening. And be sure to catch the sunset while you are there!
Location: 299 Dondanville Rd, St. Augustine, FL 32080
Les Petits Pleasures. French Pastry and Bakery
This wonderful bakery is situated at 125 A1A Beach Blvd. Open from 7 am to 2pm only. If you love authentic French inspired food you have got to stop here even if it is just to pick up a fresh loaf baguette bread and I guarantee you won't leave without taking home one or many of their amazing pastries. We love their breakfast offerings, the crepes are made just as if you were in France, omelets, and the croissants all excellent. Speak French? Have fun chatting with the staff, I know I tried to remember a few things from when we last visited.
Location: 125 A1A Beach Blvd, St. Augustine, FL 32080
Here are a few bonus mentions for you to visit while vacationing in St. Augustine
Now, I haven't been here yet, but every time I drive by, there's a line out the door! This is a cash-only restaurant that is all about the fried seafood…especially shrimp! And they must be doing it right as it's been around since 1965. They are closed Sunday and Monday.
Location: 205 Anastasia Blvd. St. Augustine, FL 32080.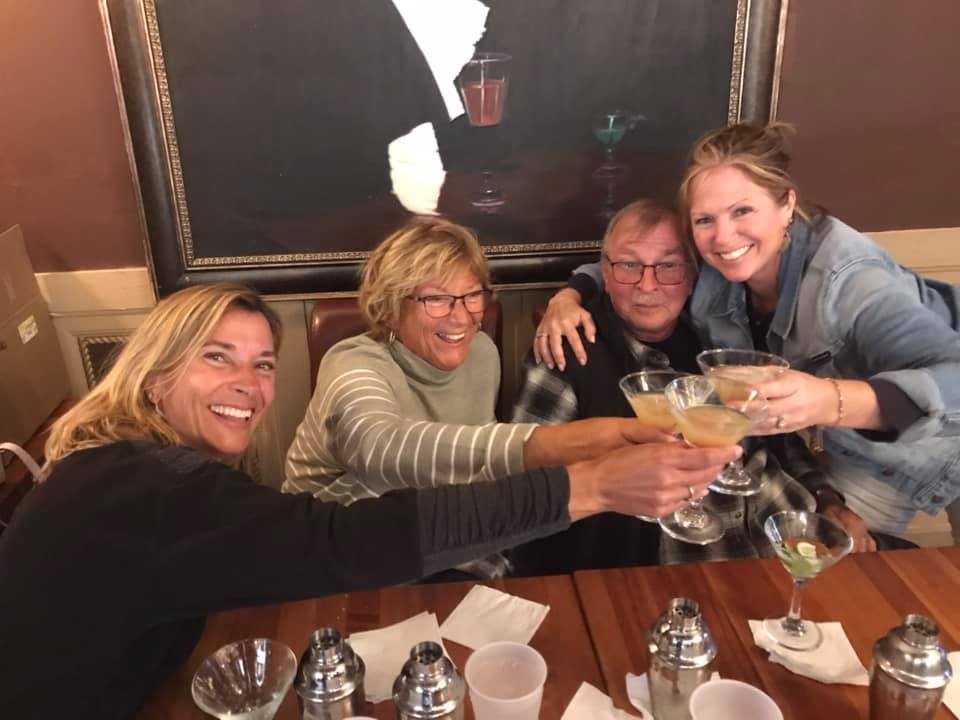 A quick mention to a great stop if you need a martini at the end of a long day, the Tini Martini Bar in the historic Casablanca Hotel. Selection of a wide of variety of Martinis and made special to your required taste. Quite possibly the best martini I have had! We drop in several times when we are visiting St. Augustine. This year we enjoyed the Bikini Martini, Pear Martini, the Espresso Martini and…well, you get the idea 😉 *No food is served here
Location: 24 Avenida Menendez, St. Augustine, Florida 32084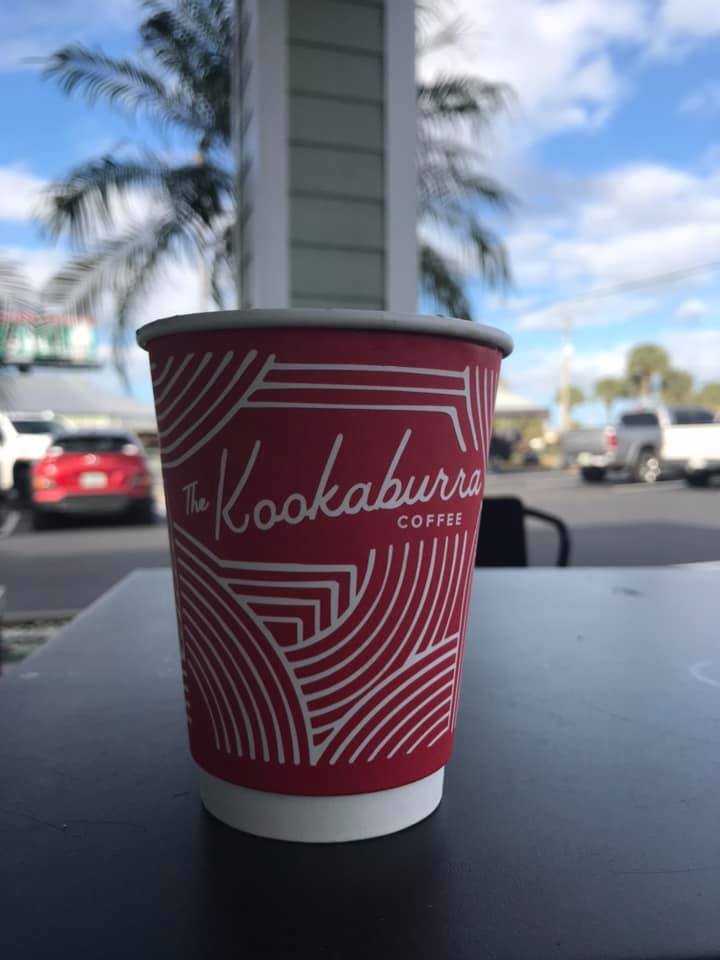 For a good cup of coffee and homemade aussie pies stop at one of the three St. Augustine locations. They also have a Happy Hour where you can get half price beer, wine and any baked goods that still left from the morning.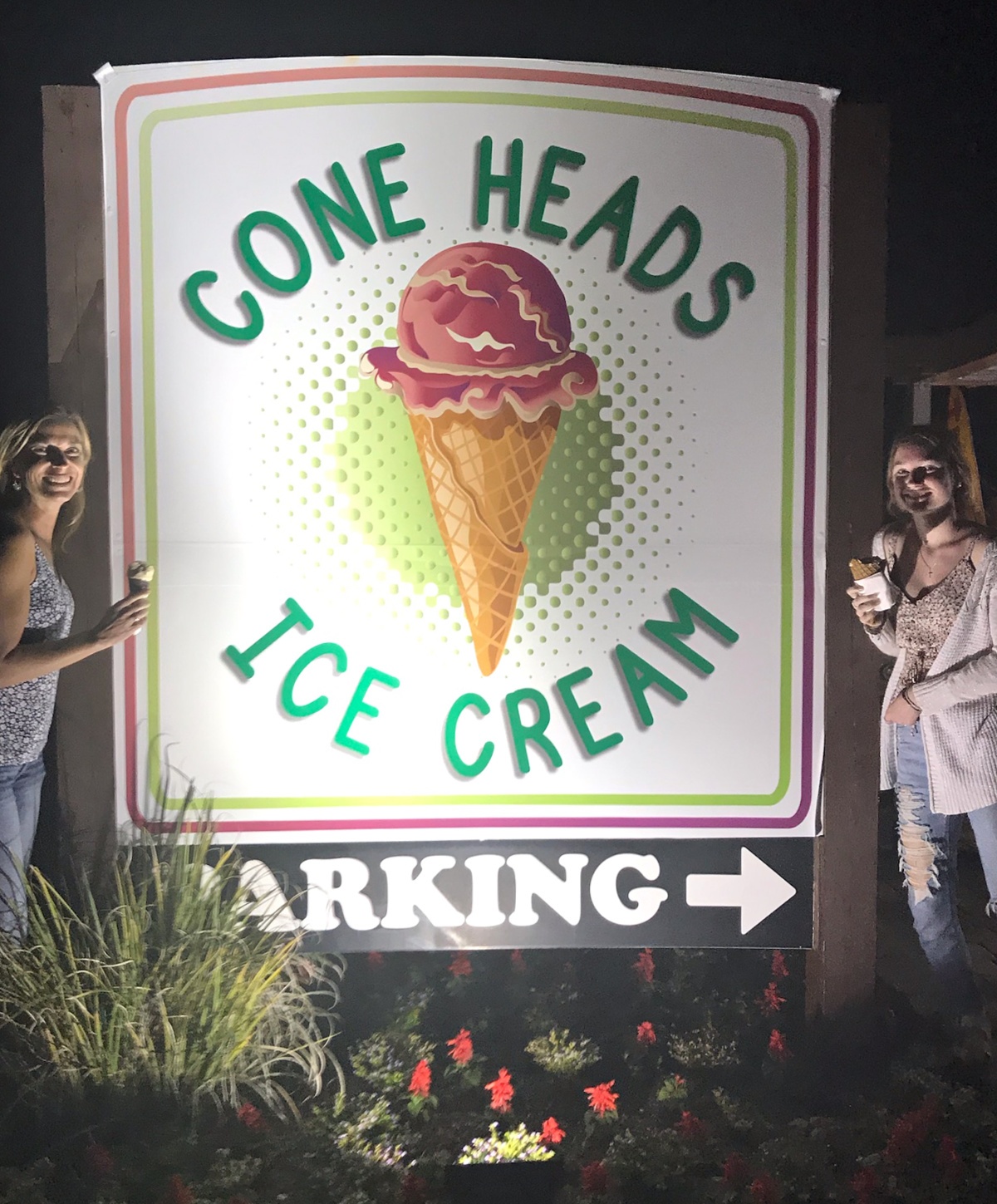 If you just want some incredible ice cream, go to Cone Heads. We go at least 2-3xs each visit to stock up on pints and enjoy a cone filled with our favorite flavors.
Location: 605 A1A Beach Boulevard Parking, 605 A1A Beach Blvd, St Augustine Beach, FL 32080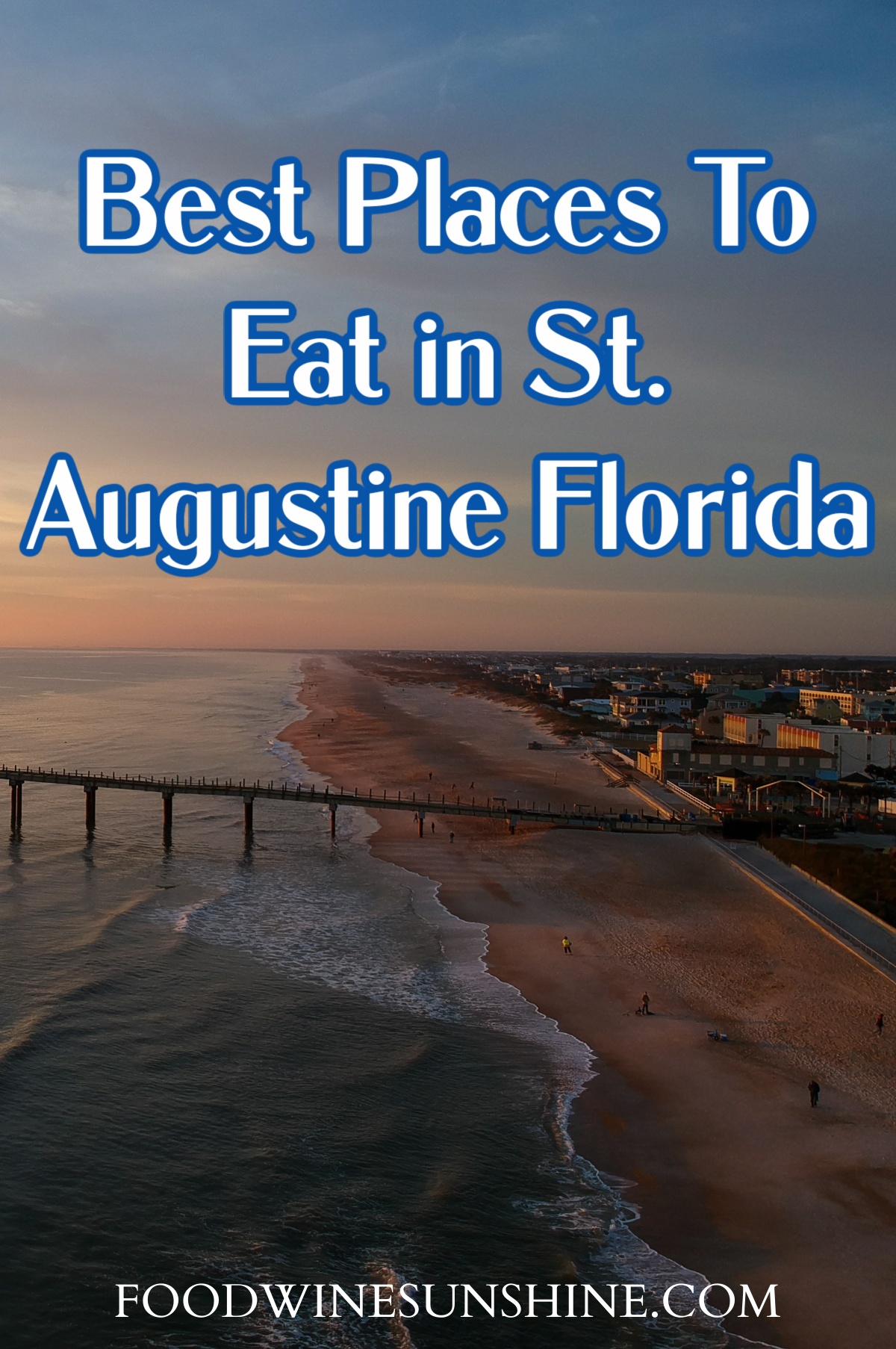 As you can see, there are plenty of amazing places to eat in St. Augustine!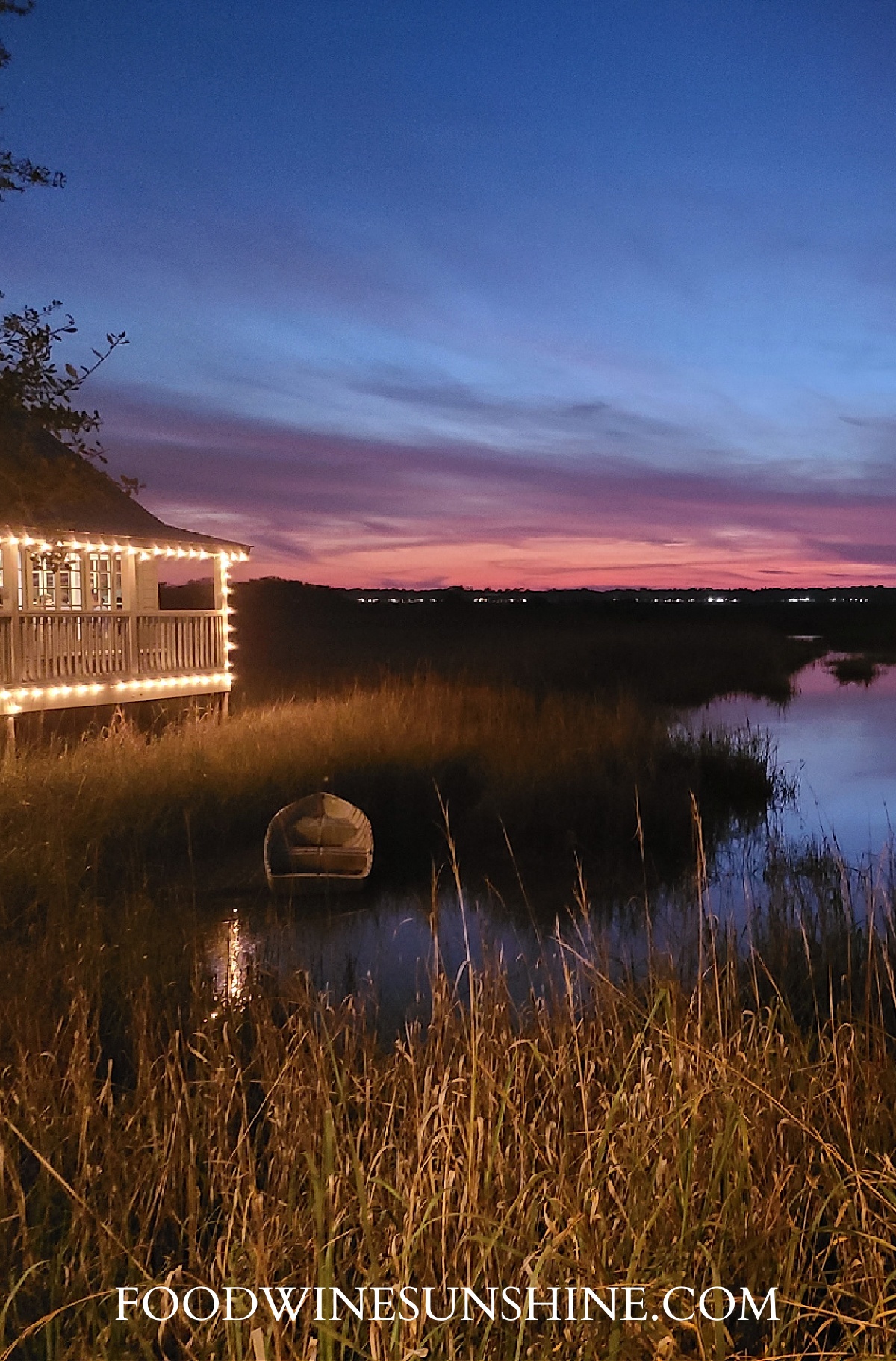 Have you been to St. Augustine Florida? What is one of your favorite places to eat in St. Augustine?
Be sure to follow me on Facebook, Twitter, Pinterest, and Instagram for more things to do in Florida, healthy recipes, and more.