(Last Updated On: July 3, 2019)
There is a whole world of fun happening at SeaWorld this year! Check out the SeaWorld Orlando Calendar of Events and be sure to mark your calendar with all your favorites.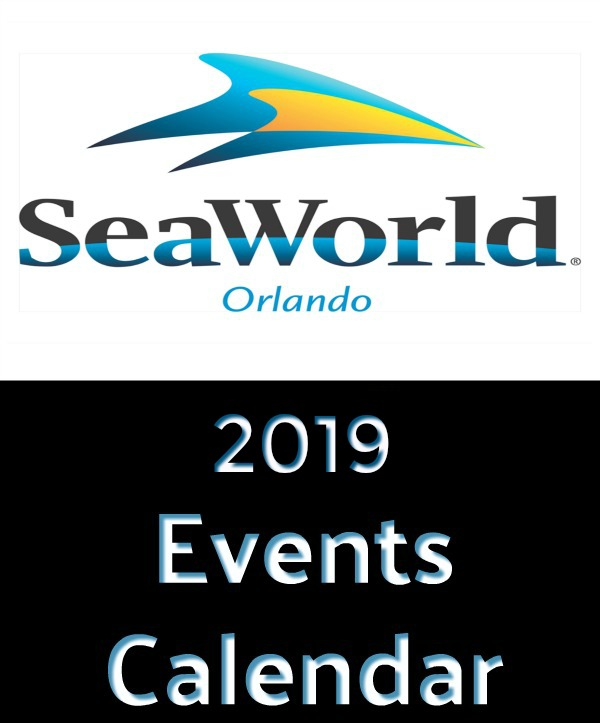 2019 Seaworld Orlando Calendar Of Events
There is something amazing happening at SeaWorld all year long! I have the SeaWorld Calendar of Events to share with you all so you don't miss a thing. The 2019 lineup includes the following exciting, tasty and family-friendly events, all included with an Annual Pass and theme park admission.
SeaWorld Orlando Calendar of Events:
Three Kings Day Celebration: Daily, Jan. 1 – 6
Families are invited to help commemorate the arrival of the Three Wise Men during SeaWorld's Three Kings Day celebration. This festive event brings SeaWorld's holiday season to an incredible close with specialty cuisine and celebratory experiences that honor the cherished traditions of Latin cultures.
NEW – Inside Look: Weekends, Jan. 12 – 27 and Weekends, May 11 – 19
Taking place twice in 2019, guests can go behind the scenes and visit areas never opened to the public during this new event. SeaWorld's renowned veterinarians and animal experts will offer an intimate look at the day-to-day care they provide for animals large and small. Visitors will also get to meet the SeaWorld Rescue Team and learn more about their life-saving work.
NEW – Elmo's Birthday Weekend: Feb. 2 – 3
SeaWorld is the place to be for Elmo's Birthday Celebration, featuring an interactive DJ dance party, fun party games and surprise visitors. Don't miss this weekend-long party for Elmo as we prepare to welcome our brand new Sesame Street at SeaWorld in the spring of 2019!
Seven Seas Food Festival: Weekends, Feb. 9 – May 5
The popular Seven Seas Food Festival is returning to SeaWorld in the spring with more to love. As guests sip and sample their way through the park, they will discover globally inspired flavors while enjoying local craft beers and beverages from around the world. The fun goes beyond the food with live performances at Bayside Stadium featuring top artists.
Sesame Street at SeaWorld GRAND OPENING, March 27
Sesame Street at SeaWorld Orlando, which brings all of the fun, laughter and learning of Sesame Street to the Orlando park in a highly interactive and immersive way, is officially open. The land features the iconic Sesame Street neighborhood including Abby Cadabby's Garden, Big Bird's Nest, Mr. Hooper's Store and the famous 123 Stoop, as well as everyone's favorite Sesame Street friends.
Sesame Street's Elmo, Abby Cadabby and Rosita kicked off the opening at a special preview event earlier this week. The debut of this highly-anticipated, six-acre world class attraction is the largest Sesame Street land inside of any of the SeaWorld parks and an exciting part of Sesame Street's year-long 50th anniversary celebration.
Sesame Street at SeaWorld Orlando brings together fun and learning through several educational interactive experiences. Elmo's Window invites guests to play, dance, and sing with everybody's favorite furry red monster and his friends. In Cookie Monster's Foodie Truck Challenge, guests follow video instructions to whip up some delicious meals with Cookie Monster and Gonger.
In addition, Sesame Street at SeaWorld Orlando includes six colorful, themed rides: Abby's Flower Tower, Cookie Drop!, Slimey's Slider, Big Bird's Twirl 'n' Whirl, Elmo's Choo Choo Train and Super Grover's Box Car Derby. Another favorite of the new land is the Rubber Duckie Water Works wet play area. Scheduled daily highlights in the neighborhood include Storytime with Big Bird at his nest and the award-winning Sesame Street Party Parade. This celebration features Elmo, Big Bird and all of their friends, colorful floats, and special surprises along the way.
No visit is complete without a bite to eat! Sesame Street at SeaWorld Orlando serves up fun favorites at Eats on the Street, where food trucks and a specialty drink stand offer guests a delicious variety of healthy choices and sweet treats.
FURRY FRIENDS FUN RUN, May 11
Participants can enjoy the sights, sounds and everyone's favorite Sesame Street friends while traveling 3 miles around the park's picturesque pathways and right through the iconic Sesame Street neighborhood. Sesame Street-themed awards, medals for racers and plenty of Sesame Street surprises at the end-of-race event guarantee a memorable day for racers of all ages.
The Furry Friends Fun Run will take place at 7007 Sea Harbor Drive, Orlando FL, 32819 and begins at 7:15 a.m. Advanced registration begins now through April 27, starting at $35 per person. Regular registration is from April 28 through May 10 at $40 per person followed by $45 per person the day of the race. A 10% discount will be applied for children under seven, military and SeaWorld Orlando Annual Pass Members. Race participants and guests can stay and play following the race with a special day-of ticket offer. Participants can register here.
This family-friendly fun run benefits the Sesame Street Yellow Feather Fund to help kids everywhere grow smarter, stronger and kinder through critical early education, social impact programs and a large dose of fun! Learn more at www.yellowfeatherfund.org.
Electric Ocean: Select nights, May 24 – Sept. 1
As the sun goes down, the park comes alive with the glow of Electric Ocean at SeaWorld, returning next year for another summer of fun. With exciting nighttime shows and electrifying music, guests are immersed in a sea of wonder that ends in "Ignite," a spectacular finale with fireworks, lasers and fountains.
Craft Beer Festival: Weekends, Sept. 7 – 29
The SeaWorld Craft Beer Festival extends to four weekends in 2019, featuring 100+ brews on draft at locations around the park. Guests will enjoy unique food items designed to perfectly pair with the festival's brew selection.
SeaWorld's Halloween Spooktacular: Weekends, Sept. 21 – Oct. 27
New surprises await at Orlando's biggest family-friendly Halloween event. Guests of all ages can celebrate with the all-new Sesame Street Halloween Parade, featuring fantastic floats, crowd-pleasing performances and everyone's favorite furry friends. Families will also enjoy a Halloween Dance Party, trick-or-treating around the park and the opportunity to meet whimsical characters inspired by the sea.
Praise Wave: Weekends, Nov. 2 – 17
With the return of Praise Wave, guests can celebrate Christian fellowship and inspiring music. Uplifting live concerts from the hottest names in Christian music will light up the stage at SeaWorld.
SeaWorld's Christmas Celebration: Nov. 23 – Dec. 31
The joys of the holiday season come to life at SeaWorld. More than 3 million lights blanket the park in holiday cheer as guests immerse themselves in the sight, sounds and tastes of the season. The event features stunning live shows, scrumptious holiday treats and opportunities to visit Santa Claus and Rudolph the Red-Nosed Reindeer.
Best Way to Play:
With fun-filled events all year round, the best way for guests to experience seasonal opportunities at SeaWorld Orlando is with an Annual Pass.
To learn more about all of SeaWorld's ticket offers and events, visit SeaWorldOrlando.com.
Events and times are subject to change. Follow SeaWorld on Facebook, Twitter and Instagram for the latest special event information.
While you are at it make sure to check out Food Wine Sunshine on Facebook, Twitter, Pinterest, Google + and Instagram for more fun things to do in Florida, recipes, and more.
Looking for more fun things to do in Florida?