(Last Updated On: June 8, 2021)
There is a whole world of fun happening at SeaWorld this year! Check out the SeaWorld Orlando Calendar of Events and be sure to mark your calendar with all your favorites.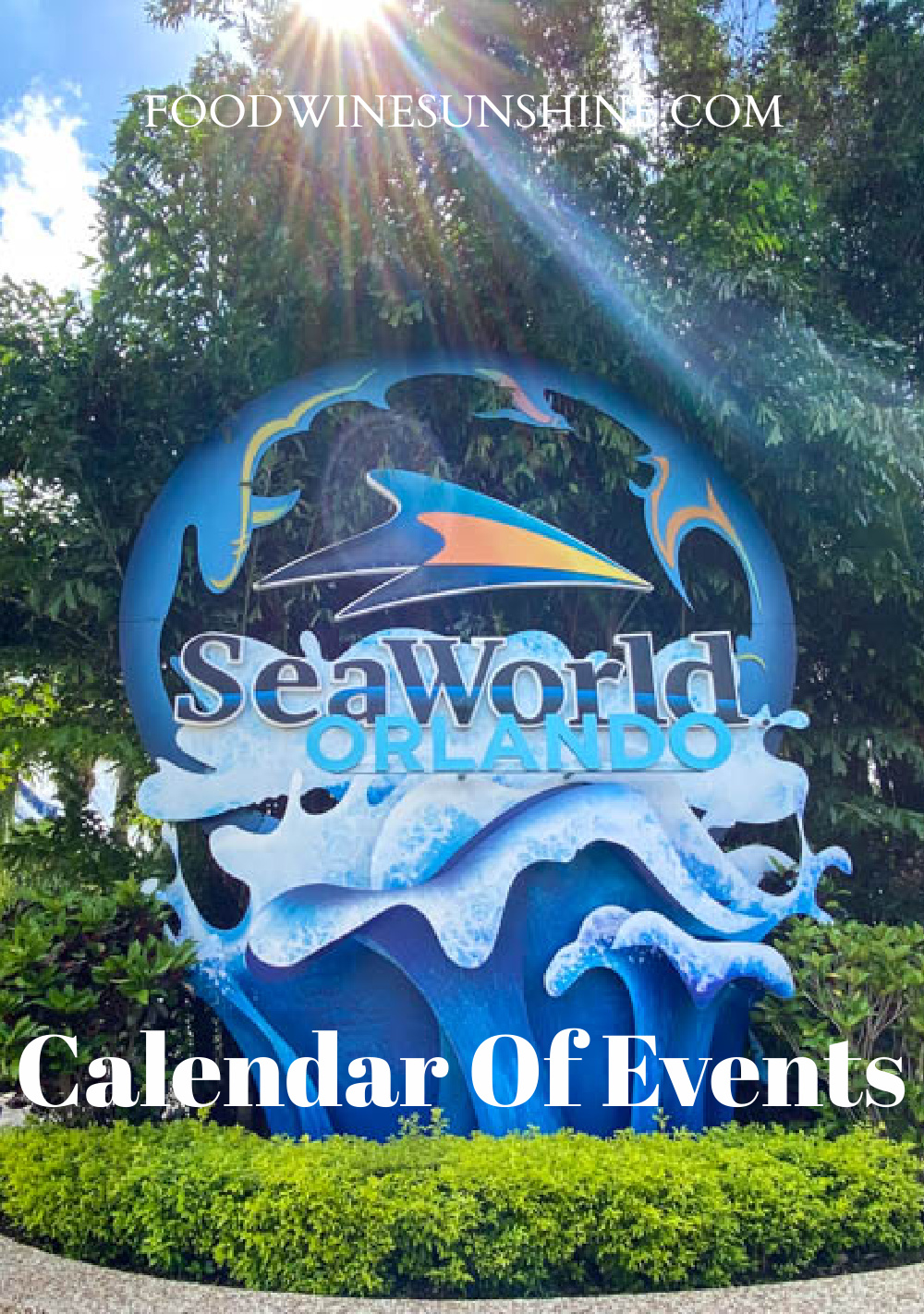 2021 Seaworld Orlando Calendar Of Events
There is something amazing happening at SeaWorld all year long! I have the SeaWorld Calendar of Events to share with you all so you don't miss a thing. The 2021 lineup includes the following exciting, tasty and family-friendly events, all included with an Annual Pass and theme park admission.
SeaWorld Orlando Calendar of Events:
Seven Seas Food Festival: Weekends, Feb. 5 – May 9

The popular Seven Seas Food Festival is returning to SeaWorld in the spring with more to love. As guests sip and sample their way through the park, they will discover globally inspired flavors while enjoying local craft beers and beverages from around the world. The fun goes beyond the food with live performances at Bayside Stadium featuring top artists.
Mardi Gras: February 12-16 and 19-21 during the Seven Seas Food Festival
It's carnival time in Orlando as SeaWorld celebrates Fat Tuesday during the Seven Seas Food Festival for one week only with all of the sights, sounds and flavor of New Orleans' favorite time of year—Mardi Gras!
Celebrate Mardi Gras during the Seven Seas Food Festival February 12-16 and 19-21 at select times from 12:30-6:00 p.m.
Pop-Up Parade: SeaWorld's Wild Arctic Plaza comes to life as entertainers, bead captains, stilt walkers, and musicians bring the Mardi Gras spirit to SeaWorld during this special pop-up parade.
Jazz Band: Immerse yourself in the music of New Orleans as this band brings the Cajun sound and jazz classics to Orlando.
Street Party: The sights and sounds of Bourbon Street will fill the air in Wild Arctic Plaza with a DJ, street performers and physically distant dance party.
Gulf Coast Flavors: Enjoy classic Gulf Coast flavors as part of the Seven Seas Food Festival including New Orleans favorites like beignets, po-boys and southern libations. 11:30 am through park close.
MORE CONCERTS ANNOUNCED:
In addition to adding Mardi Gras festivities to Seven Seas, guests can check out the Seven Seas Food Festival concerts taking place at Bayside Stadium on select Mardi Gras days:
Saturday, February 13 TRIBUTE: Absolute Queen/U.S. Stones/Let It Be
Sunday, February 14 TRIBUTE: Lady Gaga/Britney Spears/Jennifer Lopez
Saturday, February 20 TRIBUTE: Smokin'/Renegade/Best of Both Worlds
Sunday, February 21 Chris Janson
Viva La Musica at SeaWorld Orlando: Saturdays and Sundays May 13-23
From the hottest Latin entertainment to the coolest attractions and animal adventures, these will be two unforgettable weekends at SeaWorld. Don't let the sound, spice, and spirit of this special event pass you by!
Live Music: Dance to red-hot local entertainment featuring salsa, bachata, reggaetón, and more with plenty of open spaces for guests to groove and move.
Fresh & Festive Food & Beverage Selections: Discover authentic cuisine inspired by the colorful flavors of the Caribbean, Spain, and Central & South America. Celebrate Latin tradition with chef-curated dishes such as seafood paella, Bacalaitos, and Mojo Roasted Pork.
Shopping and More: Shop our pop-up market of authentic gifts by local artisans.
Visit https://seaworld.com/orlando/events/viva-la-musica/ for more event information
Electric Ocean: Select nights, May 24 – Sept. 1
As the sun goes down, the park comes alive with the glow of Electric Ocean at SeaWorld, returning next year for another summer of fun. With exciting nighttime shows and electrifying music, guests are immersed in a sea of wonder that ends in "Ignite," a spectacular finale with fireworks, lasers and fountains.
Craft Beer Festival: Weekends, Sept. 7 – 29
The SeaWorld Craft Beer Festival extends to four weekends in 2019, featuring 100+ brews on draft at locations around the park. Guests will enjoy unique food items designed to perfectly pair with the festival's brew selection.
SeaWorld's Halloween Spooktacular: Weekends, Sept. 21 – Oct. 27
New surprises await at Orlando's biggest family-friendly Halloween event. Guests of all ages can celebrate with the all-new Sesame Street Halloween Parade, featuring fantastic floats, crowd-pleasing performances and everyone's favorite furry friends. Families will also enjoy a Halloween Dance Party, trick-or-treating around the park and the opportunity to meet whimsical characters inspired by the sea.
HOWL-O-SCREM: Select Friday, Saturday and Sunday nights September 10 – October 31st
A visit to SeaWorld Orlando will turn frightful on select evenings this fall when the park unleashes the ALL-NEW Howl-O-Scream. Guests will evade roaming haunts rampaging through scare zones and seek shelter indoors, only to find they have entered a house of horrors. Adventuresome guests can deepen the thrills with terrifying coaster rides in the dark, quench their thirst for fear at a fiendishly interactive bar and feel the monstrous electricity of a live show.
The separate-ticketed event goes on sale today including exclusive discounts for Annual Pass Members, with the lowest prices of the year for what promises to be an immediate fan-favorite terrifying Halloween event taking place with 27 fright-filled nights of haunted houses, scare zones, and terrifying shows on select nights Friday, September 10 through Sunday, October 31 from 7 p.m. to as late as 2 a.m.
Howl-O-Scream joins the park's already impressive fall line-up of events including the return of family-friendly Halloween Spooktacular which boasts daytime trick or treating for kids of all ages. Spooky fun for the entire family with Spooktacular during the day and terrifying thrills by night with the launch of Howl-O-Scream make SeaWorld Orlando the place to be this Halloween season.
"SeaWorld Orlando fans love our extensive event line-up which includes a special event taking place every weekend of the year. Adding Howl-O-Scream to the calendar provides the missing element of a fright-filled Halloween event that we know our guests will welcome. With this addition, we become the only theme park in Orlando to offer both a daytime family-friendly Halloween and a nighttime horror Halloween for thrill seekers," says SeaWorld Orlando Park President Kyle Miller. "We are very excited to announce Howl-O-Scream today and look forward to sharing all of the amazing details of the event over the next few months."
Howl-O-Scream Elements:
Haunted Houses: Hear every bloodcurdling shriek. Feel every spine-tingling terror. Get ready for the haunted houses of SeaWorld's Howl-O-Scream. There's no turning back as guests brave dark passageways and round dimly lit corners, hoping they can avoid what's lurking in the depths. The legends are true, the fear is real, and the only way out is through the fear.
Scare Zones and Roaming Haunts: There are no safe zones. There are no places to hide. The scares are everywhere, and the roaming haunts never weaken. Get ready for immersive terror at every turn during SeaWorld's Howl-O-Scream. Guests should stay alert and be prepared for anything, because you never know what's waiting up ahead (or creeping up behind you).
Frightful Shows: Even amid so much mayhem, the show must go on. Duck inside and be mesmerized by a raucous, high-energy musical dance show. Or discover who's behind all the terror washing over the park at an outdoor show complete with special effects. Guests will also find DJs and party zones that are perfect for a dance break between frights.
Monster Coasters in the Dark and Haunting Experiences: It wouldn't be a SeaWorld visit without a ride or two, but it wouldn't be Howl-O-Scream without a dose of nighttime terror. Guests up to the challenge are invited to ride their favorite attractions in the dark. Meanwhile, sinister interactive surprises await at their favorite bar haunts. Keep watching to see how this once-peaceful park transforms with fear after nightfall.
Fans of fear can sign-up at www.HowlOScream.com/Orlando to be the first to receive more dark details on new houses, experiences and more coming to Howl-O-Scream at SeaWorld Orlando as additional gruesome details are announced.
Praise Wave: Weekends, Nov. 2 – 17
With the return of Praise Wave, guests can celebrate Christian fellowship and inspiring music. Uplifting live concerts from the hottest names in Christian music will light up the stage at SeaWorld.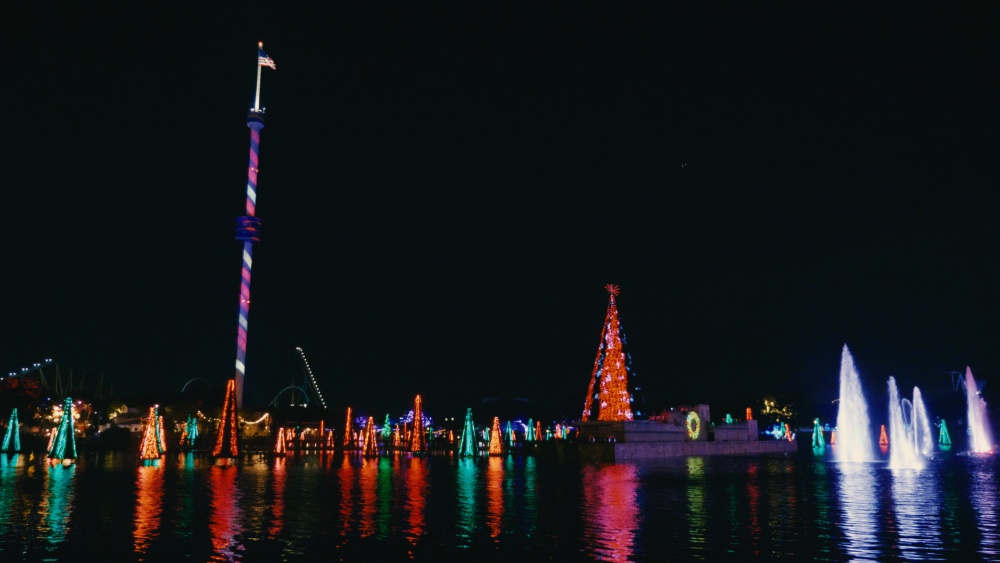 SeaWorld's Christmas Celebration: Nov. 14 – Dec. 31
Gather your family and meet your festive friends at the award-winning SeaWorld's Christmas Celebration, taking place November 14 through December 31. Safely experience this year's holiday spirit as the park is turned into a winter wonderland with more than three million sparkling lights and park-wide holiday activities, in addition to SeaWorld's one-of-a-kind attractions, thrilling coasters and up-close animal interactions, all with physical distancing measures in place, that make SeaWorld the best place to celebrate the holidays.
To bring the merriment to life, SeaWorld's creative team consulted with medical experts to offer a modified event with required reservations and limited capacity that celebrates the spirit of the season safely. This seasonal event features open-air entertainment and experiences as well as enhanced health, safety measures, including increased cleaning and sanitation, temperature checks, face covering requirements and physical distancing. Included in park admission, park guests can safely enjoy the sights, sounds and tastes of the holiday season with specialty shopping, physically distant holiday shows, tasty holiday treats, and beloved holiday traditions.
New! It's a Wonderful Night: A New Story to Tell
You haven't experienced the spirit of the season quite like this before. SeaWorld is bringing over 30 of your favorite Christmas carols back to the stage with new clever surprises and lighthearted laughs. Check back soon for details on this reimagining of an old favorite for SeaWorld's Christmas Celebration, coming to the Nautilus Theater with limited capacity and physical distancing.
New! Ice Skating at Bayside Stadium
All-new for this year, guests can now experience outdoor ice skating! You and your family can skate alongside the water of SeaWorld's central lagoon throughout the day in our beautiful winter wonderland. Capacity will be limited to promote physical distancing and all guests must wear crew length socks and gloves. Additional charge required which includes rental of ice skates, socks and gloves can also be purchased.
New! Hanukkah Celebration
This year, SeaWorld will be celebrating more holidays than ever before. For the first year ever, join us as we honor the festival of lights! From December 10 through 18, gather with your friends and family in a socially distant experience to view the traditional lighting of the menorah throughout Hanukkah.
New! Kwanzaa Festivities
Another new experience for the holidays this year, SeaWorld will celebrate the festivities of Kwanzaa! Taking place December 26 through January 1, guests can enjoy a joyous time of reflection and celebration of African heritage with the nightly lighting of the kinara.
New! Photos with Santa Claus
Take a visit to the top of the world to meet the Arctic's most famous resident, Santa Claus, at SeaWorld's Wild Arctic for a safe alternative to family photos with everyone's favorite jolly elf! One party at a time will greet Santa in the expansive family room and have the opportunity to sit (physically distant) in Santa's sleigh with Santa seated above and behind, separated by a plexiglass partition. *Photo packages available.
New! Happy Holidays from Sesame Street Land
It's furry and bright on our favorite street! Join us as we celebrate Christmas, Hanukkah, and Kwanzaa with our Sesame Street friends as they sing and dance to their favorite holiday songs.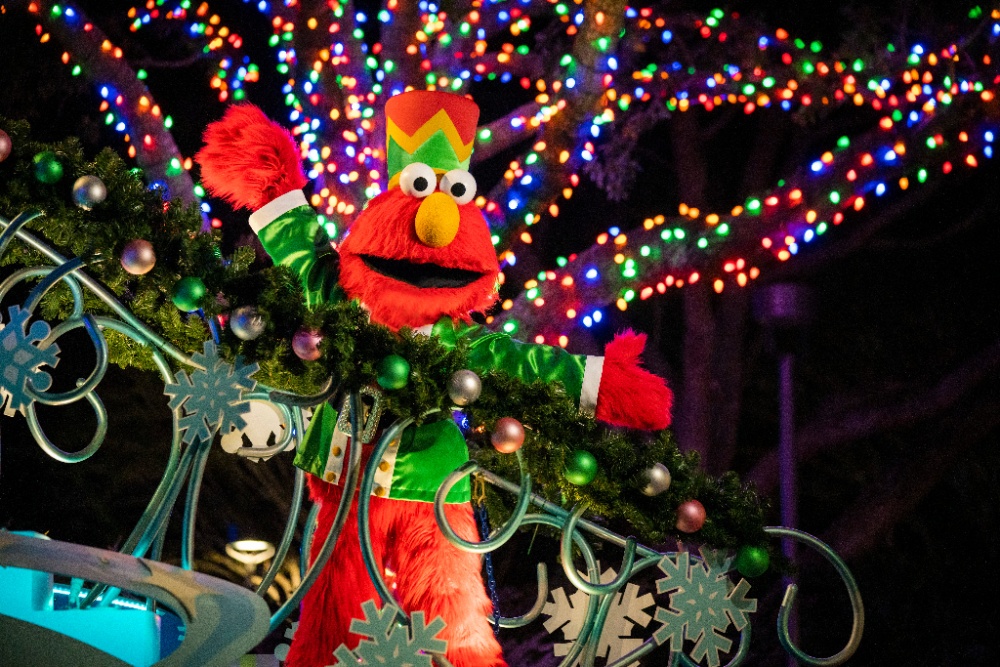 Holiday Shows
Rudolph's Movie Experience
Rudolph and his friends star in this movie that will get the entire family in the holiday spirit, playing daily in the Sea Port Theater with limited capacity and physical distancing. This special movie experience is approximately 10 minutes long and begins every 30 minutes.
Sea of Trees
Take a walk through a wintery, watery wonderland and immerse yourself in the expansive holiday Sea of Trees Located in SeaWorld's lagoon where the glistening forest sparkles to music and lights up the water—and your eyes. With 360-degree views from around the park, there is plenty of space to enjoy with safe physical distancing. As the lights dance to holiday classics, your heart will soar with wonder and delight at this truly awe-inspiring Christmas treat. Plus, a magnificent centerpiece towers 70 feet above the water.
Winter Wonderland on Ice
Christmas comes to life on a stage of ice, jewels and lights as skaters dazzle and delight in a show-stopping, ice skating extravaganza with physically distant seating arrangements. A sea of sparkling trees and towering fountains dancing in the background come together to create a don't-miss experience for the holidays that the entire family will enjoy.
Special Events
Rudolph's Christmas Town
Returning for another year of festive fun, guests can immerse themselves in the story of Rudolph the Red-Nosed Reindeer at Rudolph's Christmas Town. Stroll outdoors past life-size story book vignettes featuring the classic tale, and meet beloved characters including Rudolph and Bumble. This attraction has limited capacity to promote physical distancing.
Christmas Market
Nestled along the park's Bayside Pathway, the Christmas market features festive entertainment and delicious culinary delights from an all-NEW chef and mixologist created holiday menu. Guests will also encounter playful elves and a charming model train village. Relax near the warm glow of the fire pit with a fan-favorite seasonal beer or mulled wine, or chose from a variety of NEW unique holiday inspired beverages rooted in classic Christmas traditions. Limited capacity and physical distancing measures will be in place. These unique limited time options include specialty cocktails like the "Winter Wonderland Hot Toddy" made with winter cider, honey whiskey and a chain infusion and the festive "Peppermint Cocoa" made with peppermint schnapps.
The spirit of the season is in every bite of holiday food pairings throughout the park such as the ale-cured and smoke-cured pork slider, the mini chicken philly or the "Traditional Christmas Dinner Stack" which layers roasted turkey, stuffing, mashed potatoes, gravy, and cranberry sauce over texas toast. The market also features a variety of peppermint desserts like the peppermint bark cheesecake. The best way for guests to savor and save during the holidays is with a Christmas Celebration Tasting and Brew Sampler Lanyard, starting at ONLY $35.00 for a 5-punch lanyard or a 10-punch lanyard for $50.00.
Best Way to Play:
With fun-filled events all year round, the best way for guests to experience seasonal opportunities at SeaWorld Orlando is with an Annual Pass.
To learn more about all of SeaWorld's ticket offers and events, visit SeaWorldOrlando.com.
Events and times are subject to change. Follow SeaWorld on Facebook, Twitter and Instagram for the latest special event information.
While you are at it make sure to check out Food Wine Sunshine on Facebook, Twitter, Pinterest, and Instagram for more fun things to do in Florida, recipes, and more.