(Last Updated On: November 30, 2020)
Looking to serve up your favorite holiday dessert or cocktail in an extra festive way this holiday season? Make these peppermint candy cups or peppermint candy shot glasses if you prefer 😉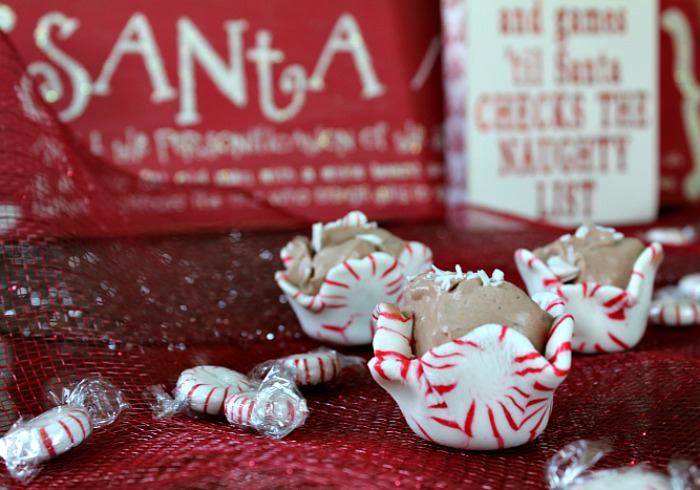 Peppermint Candy Cups
Peppermint Candy Shot Glasses
I was pondering my December work schedule when my mom texted me this picture adorable picture of cups made from peppermint candies. Isn't she good at staging??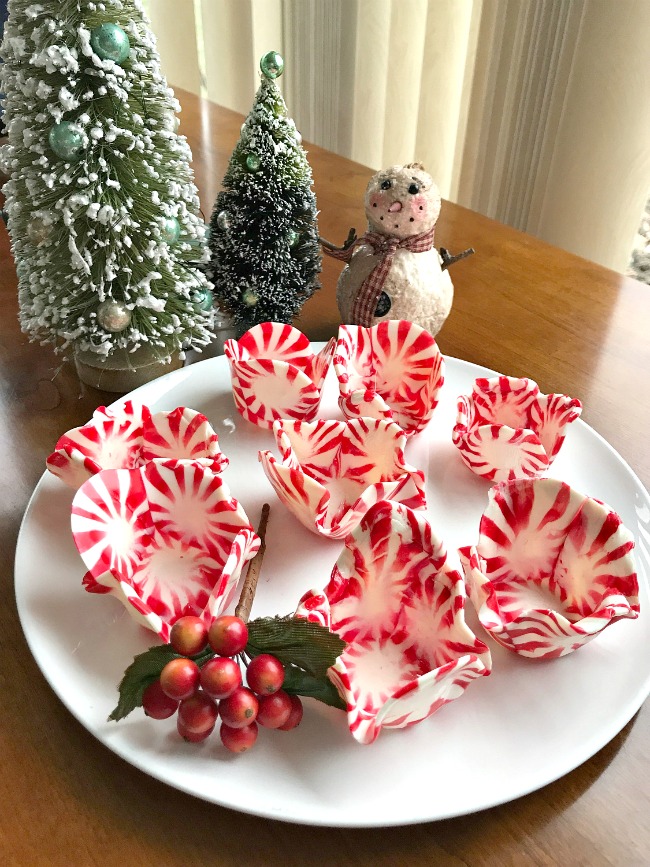 HOW CUTE ARE THOSE???? I called her immediately. She made peppermint candy shot glasses for my family's annual Christmas tree hunt and I decided I HAD to make them. Now, she will be filling hers with peppermint vodka or bailey's but I decided that these adorable peppermint candy cups would make for the perfect "bowls" for dessert too! You all know my love of chocolate and peppermint, so what better filling for these peppermint candy cups than an easy chocolate mousse?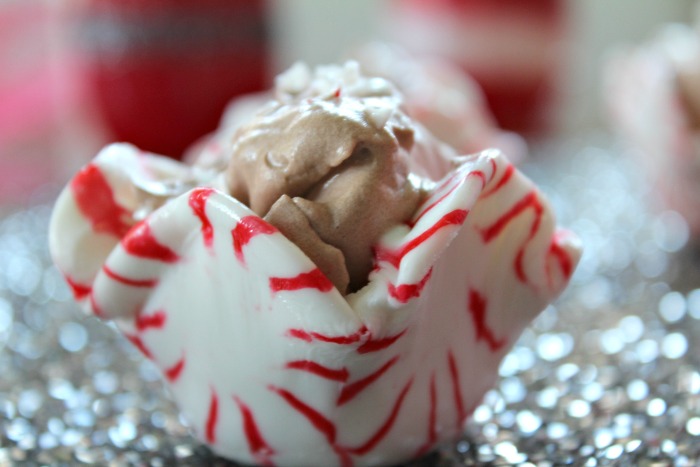 And when I say easy…you will have this chocolate mousse ready in about 5 minutes. Now, the peppermint candy cups…those take a little more effort.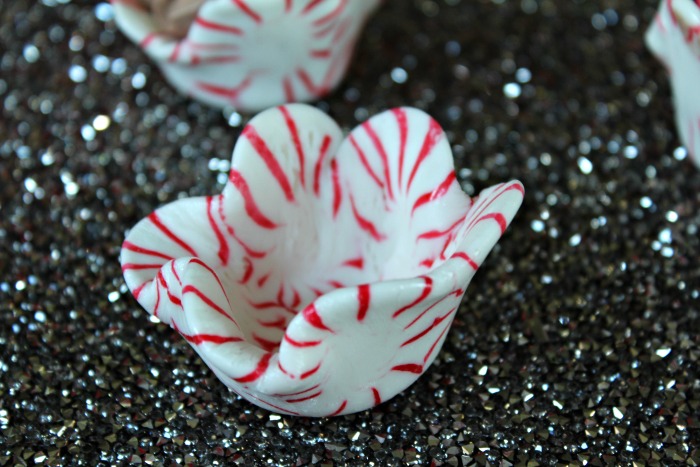 I am not saying that they are hard to make…or that they aren't worth the effort. Because they are fairly easy to make, and they are totally worth the effort but there is a bit of a science to the timing to make them work. I will openly admit that my first 3 peppermint cups ended up in the trash. I tried to peel them off the parchment paper to early that they were too sticky. When I called to mom to pout, she said that I could re-melt them, but since I kinda destroyed them I didn't give that a try.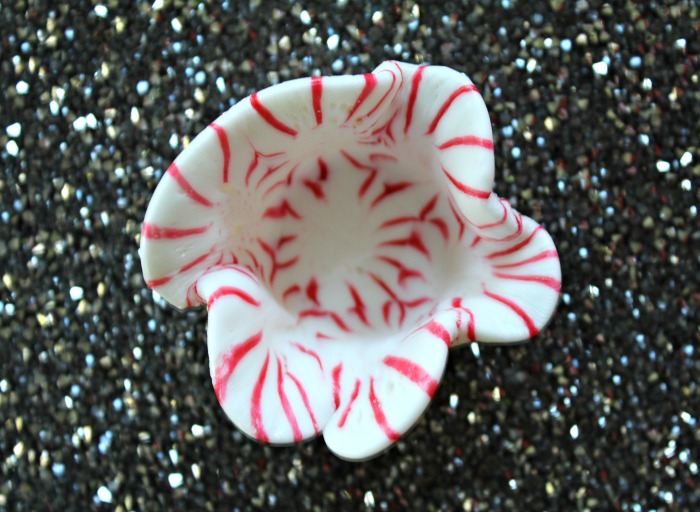 Then my 4th peppermint candy cup melted perfectly and I peeled it off the parchment paper with ease but then I pressed it a little too firming against the shot glass to cool, so when I went to take it off the glass the peppermint candy bowl broke.
Fifth time is a charm 😉 So, from my previous failed attempts I learned:
Allow your melted candies to cool for right around ONE MINUTE on the pan before you attempt to peel them off. If you try to peel them off too soon, it will be a sticky mess. If you try to peel them off much after one minute they will start to harden.
When you place your melted candies over the bottom of the shot glass to form and cool, do not press the candies so tight to the glass that you won't be able to take it back off.
My mom used 5 candies per peppermint shot glass, I used 7. You place one in the middle, then place the other candies around it, you want them all to be touching so that you don't end up with any holes in your glass/cup.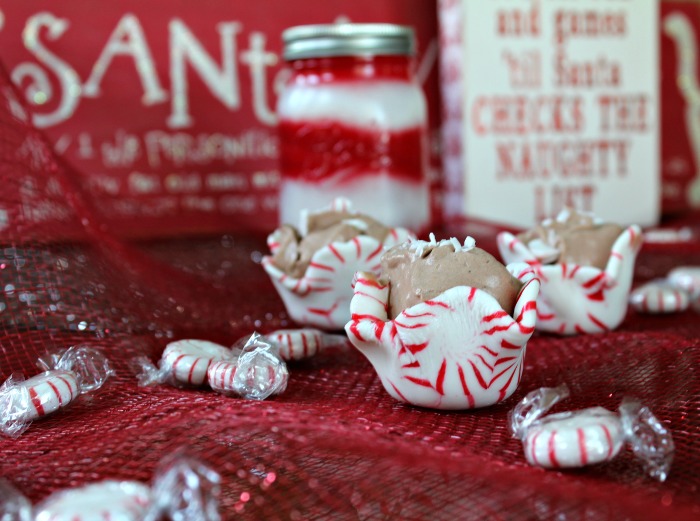 I used parchment paper, my mom did not. I did try it both ways and in my opinion, using parchment paper was indeed easier. After letting the candies cool for the one minute, I picked up the paper and just used my fingers to gently peel the melted peppermints away. If you don't use parchment paper you have to use a spatula. Which is totally doable, that's how my mom did it, I just found the parchment paper way easier.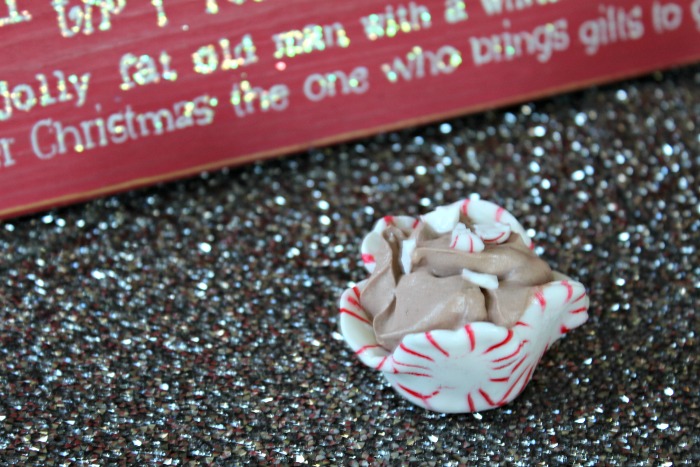 Now, here's how to make these Peppermint Candy Cups filled with Chocolate Mousse. And if you know me, you know that I will totally be making more and filling them with a delicious holiday liqueur soon 😉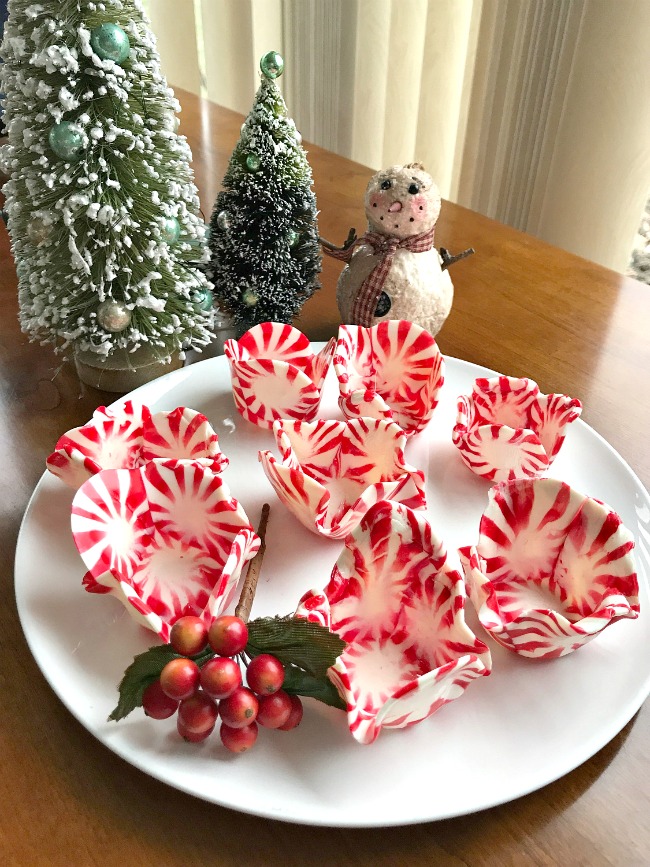 Peppermint Candy Cups | Peppermint Candy Shot Glasses
Fill peppermint candy cups with this easy chocolate mousse recipe or your favorite liqueur! Happy Holidays!!
Print
Pin
Rate
Ingredients
Peppermint candies - 7 per every bowl/shot glass you would like to make
Ingredients for Chocolate Mousse
1

box instant chocolate pudding mix

1

container

8oz whipped topping - I used Lite

1 1/2

cups

skim milk
Instructions
Preheat oven to 300 degrees.

Place 2 pieces of parchment paper on a baking sheet.

Unwrap peppermint candies.

Place one candy in the center and place the other candies around it so that they are touching.

Place the two sets of candies into the oven.

Bake for 9 - 10 minutes until candies are melted.

While candies are baking, make the chocolate mousse.

Allow melted candies to cool for one minute, then peel it off the parchment paper gently and place it on the bottom of a shot glass.

Do NOT press the candies FIRMLY onto the glass, gently form it. Pressing too hard will make it hard to take it off the glass when it's cool.

Prepare another two sets of candies.

Before the next set is done, remove the melted bowls from the bottom of the shot glasses and place them on a plate.

Repeat as many times as desired.
Instructions for Chocolate Mousse
Mix the milk and pudding mix together either by hand or with mixer.

Once mixed well, add the whipped topping.

Mix well.

Refrigerate until ready for use, it will thicken up while resting.

Fill peppermint candy bowls with chocolate mousse once they are completely cool and sprinkle with peppermint pieces for garnish if desired.

Enjoy!
Notes
I recommend only making TWO bowls/glasses at a time otherwise the others will cool too much and you will have to warm them back up in the oven to get them off the baking sheet.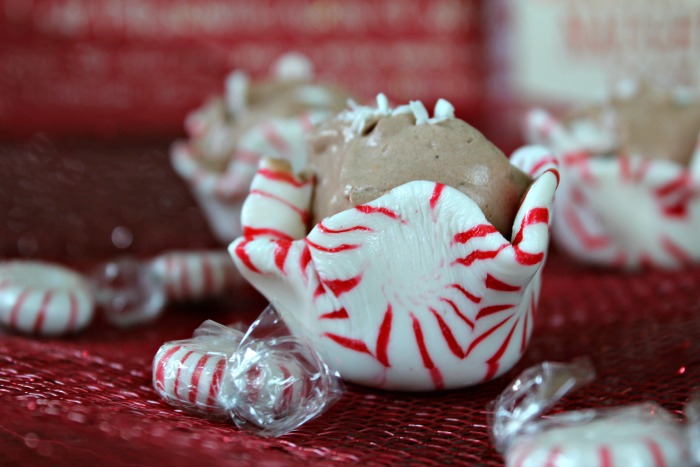 I hope you have as much fun serving these festive Peppermint Candy Cups this holiday season as I did!
The kids ate up these as soon as they walked in the door from school and are already asking me to make more…they are just too cute!
What is one of your favorite holiday desserts?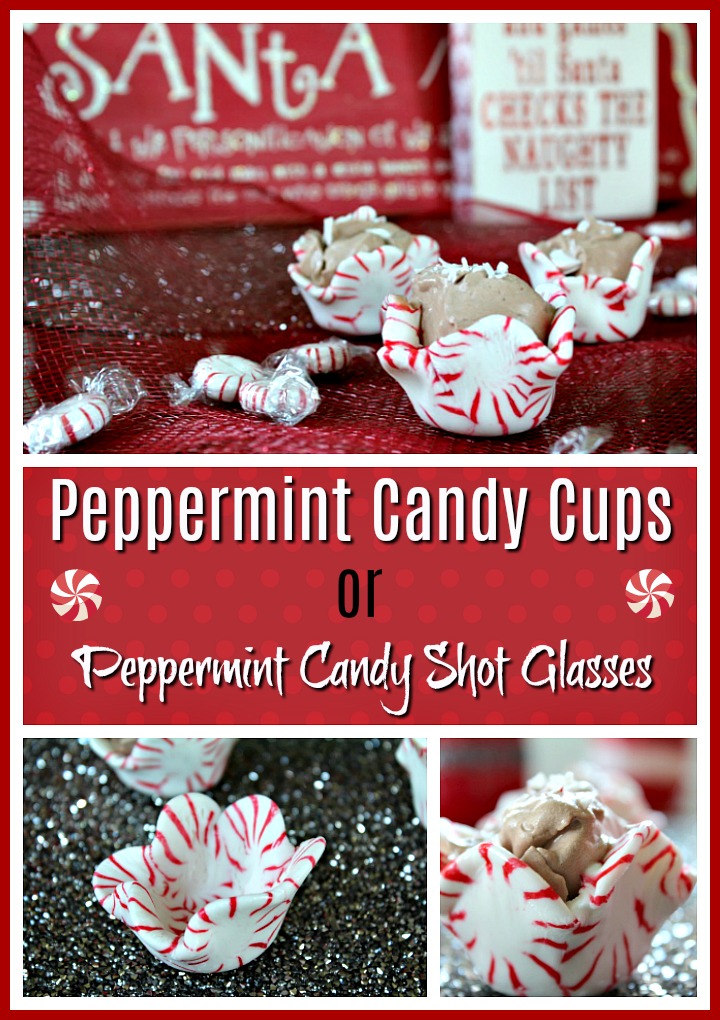 Looking for more holiday recipes?
While you are at it, check out all the recipes on Food Wine Sunshine and follow me on Facebook, Twitter, Pinterest and Instagram.