(Last Updated On: January 12, 2021)
When going out to dinner you may want a nice glass of wine to compliment your meal. Not sure on how to choose wine in a restaurant? Read these wine buying tips so you can order wine with confidence.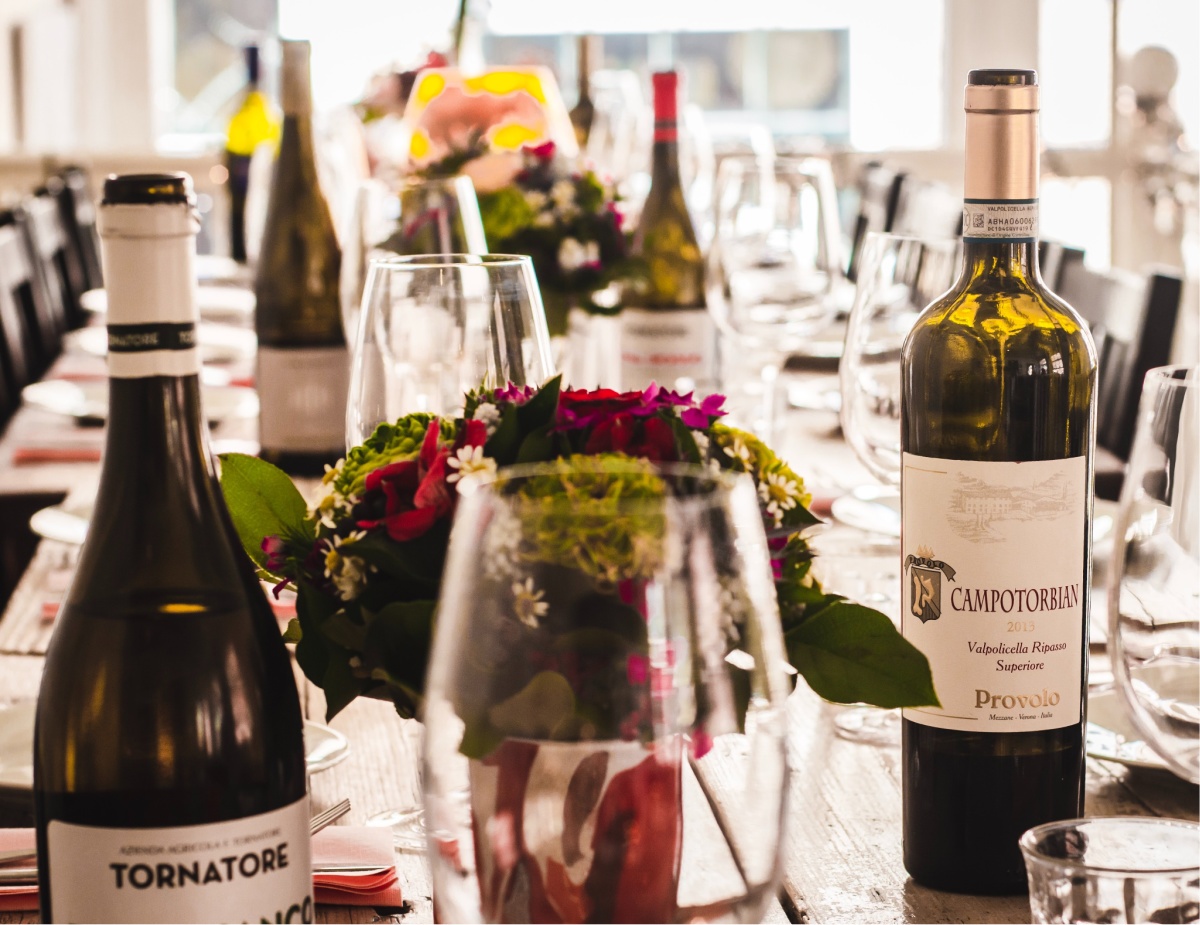 How To Choose Wine In A Restaurant
When going out to dinner, many want to enjoy the whole dinner experience, which often includes buying a nice bottle of wine at the restaurant. When you are spending money dining out instead of eating at home, you want to be able to enjoy the whole process, including your wine. Everyone likes a break from the kitchen and to have someone to cater to them every now and then. With some people, sitting down and eating a great meal is enough for them. Others, like me, want more for their dinner, that "dinner experience". And usually that dinner experience includes a nice glass of wine….or a bottle of wine to share.
When you choose wine at a restaurant, you should consider these factors: the occasion, the meal, the brand, the cost, and the company you're with. When you have these down, you will feel more confident ordering wine at a restaurant.
If you want a little insider help before ordering your wine at restaurant, I recommend downloading a wine app. Wine apps give you the opportunity to look up wine ratings and tasting notes quickly.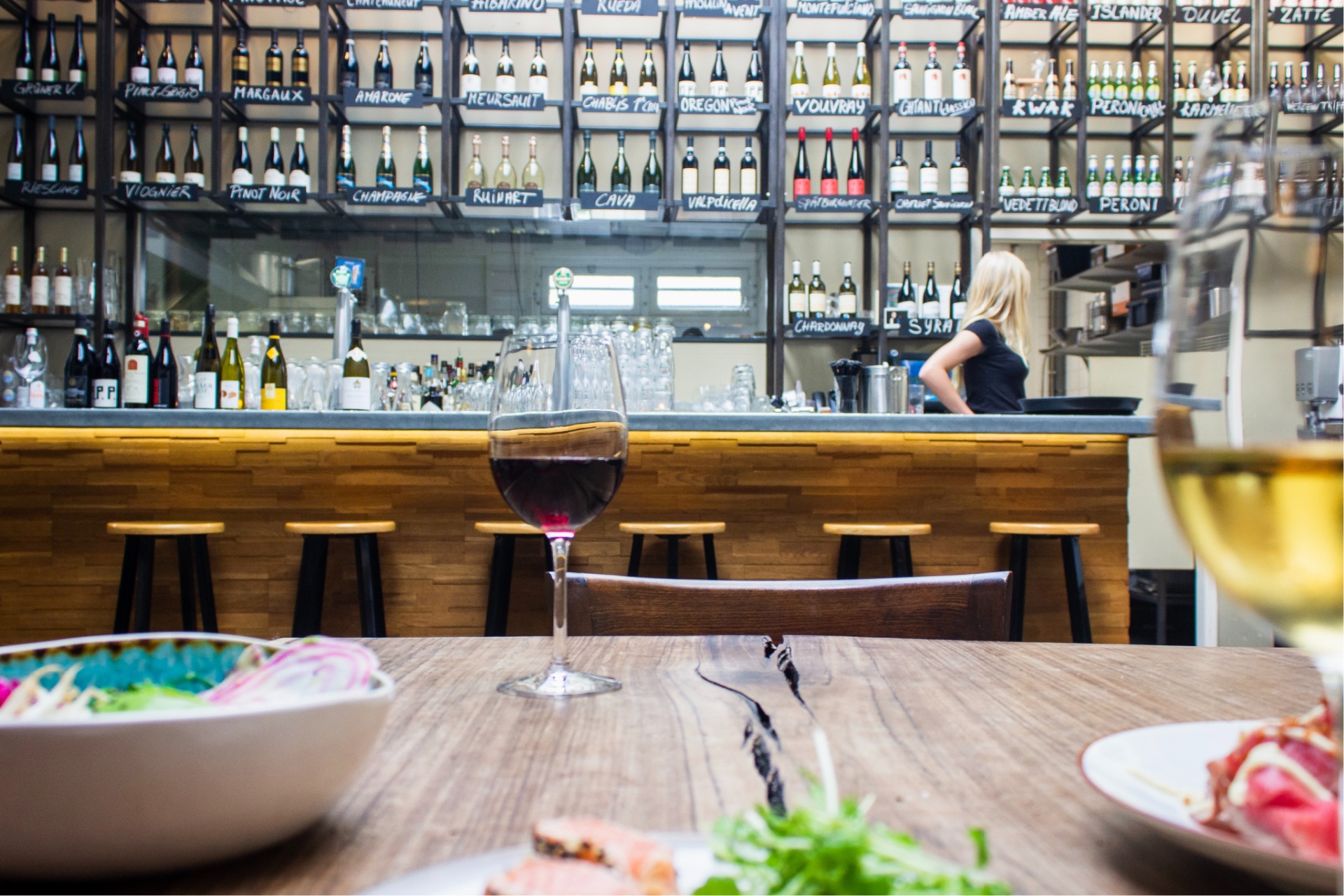 The Occasion
Is it your significant other's birthday? Is it your six-month, one-year, five-year, or ten-year anniversary? Did you propose to them on this day? Here are a few of the occasions enjoying wine would suit fine with your dinner. Adding wine will infuse romance into your evening. It will add importance. Wine can accentuate your thoughtful gesture and your spouse's appreciation towards it.
The Meal
Some people know what wine they're having before sitting down. Others wait until they order their dinners. Do whatever. Food critics say, pair your wine with your meal, such as red wine for dark meat, white wine with chicken or fish, and port wine for dessert. These are more guidelines than rules. For example, you have chicken parmesan with pasta. The chicken is a white breast, but the sauce is tomato-based with peppers.
Do you choose a Chardonnay or a Cabernet Sauvignon? What if, you have a steak de Burgo served with rice pilaf over a cream white sauce? Do you try a Merlot or a Sauvignon Blanc? The wine pairings are made for meats and sauces, so choosing would be confusing. Remember this rule. A wine should bolster favor of the food, not muddy it. A dry Merlot can complement a tomato-based sauce, especially served with chicken. A crisp white will enhance a white sauce and the steak's natural flavors.
The Brands
Choosing the most expensive wine isn't always the best. There's a terrific brand of wine suitable for any income. Sutter Home, Beringer, Talus, Ravenwood's, Copperridge, and Blackstone are just some brands that run between $18-$40 in most restaurants. Ruffino, Coppola, Silver Oak, Beringer Reserve, Hall Wines and Opus One run between $40-$250 a bottle. More obscure wines fall into this category; also, if you're bringing a party, some restaurants pre-order a specific brand upon request.
The Company
Always consider the company dining with you. Some are drinkers. Others don't drink. Order a bottle of sparkling apple or Freiz (non-alcoholic wine) for your non-drinking company. They should enjoy the experience without the alcohol added. If you're taking your parents out, be mindful of what they like. If you're bringing a party, order a variety, so everyone can enjoy what they like.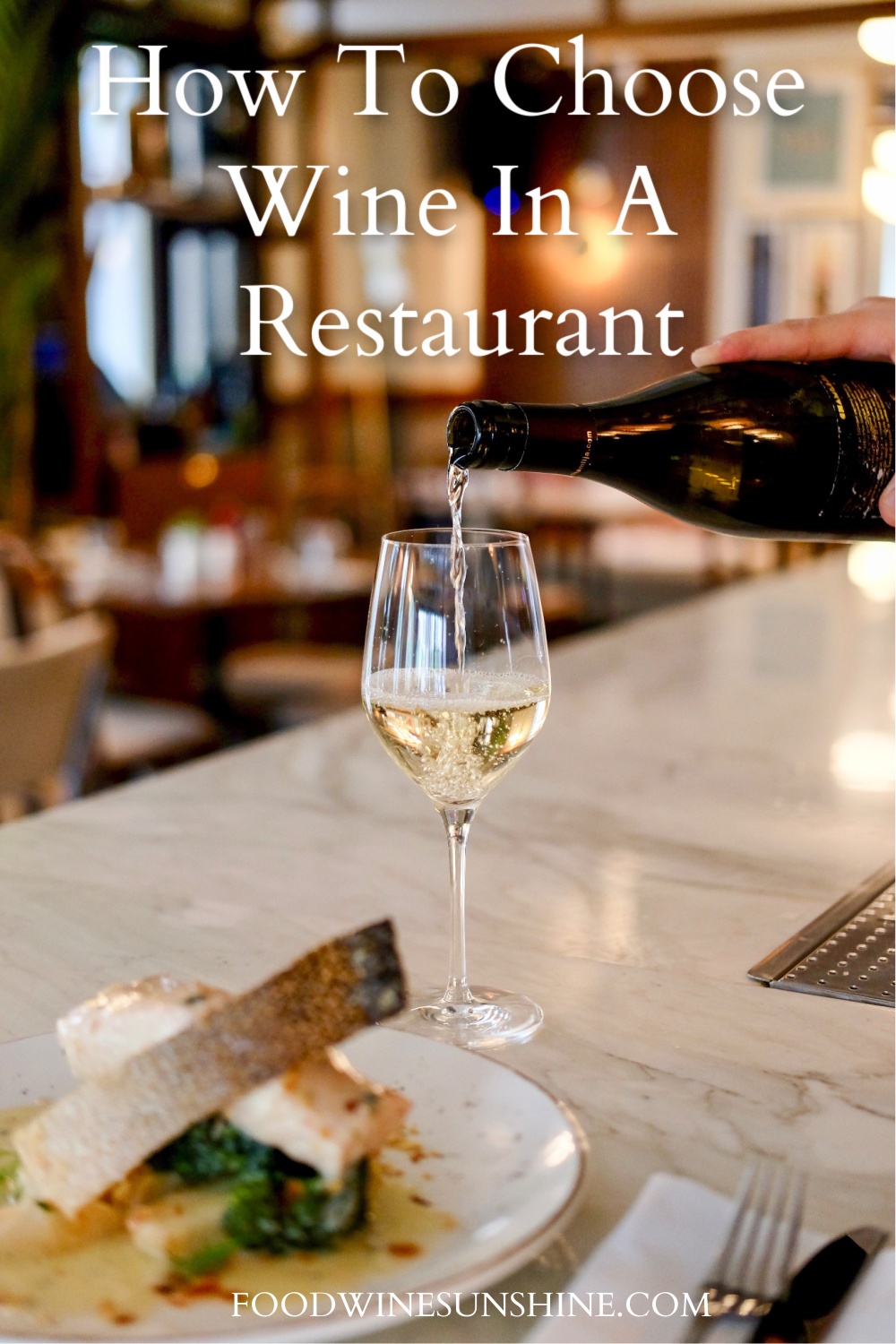 Take these tools for choosing a wine at a restaurant with you, and enjoy the pleasures of wine tasting and dining. If you are looking to buy a nice bottle of wine to bring home, check out these tips for picking a bottle of wine when at the store, and when you have a little more time, this is a great beginner's guide to buying wine.
Be sure to check out Food Wine Sunshine on Facebook, Twitter, Pinterest, and Instagram for more wine tips, cocktails, healthy recipes, and fun things to do.