(Last Updated On: October 22, 2020)
If you have a wine lover on your shopping list, check out these wine gifts for wine lovers. You will find gift ideas at all price ranges for the wine lover in your life.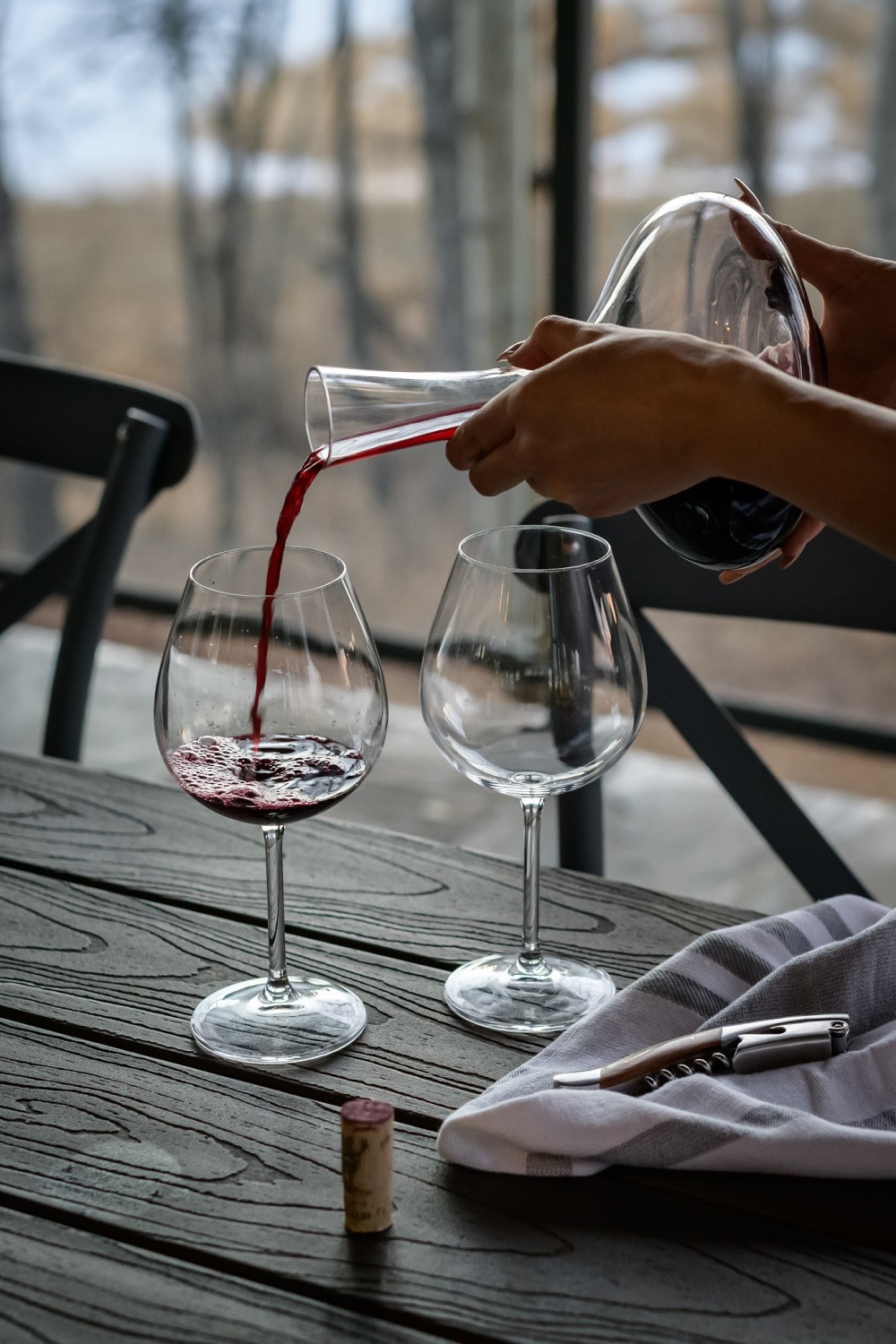 Best Wine Gifts For All Occasions

It is not always easy to find the perfect gift for a special occasion, but this article provides a few great gift ideas for wine lovers. Finding the perfect gift for a holiday or special occasion can often be a challenging endeavor, especially when the recipient seems to have everything. Sometimes it can be helpful to choose something that relates to a particular hobby or interest. Here are just a few gift ideas for wine lovers.
I don't think it's any secret that I love wine. Red, wine, I don't discriminate. I do love a nice Sauvignon Blanc or a Pinot Grigio on a warm summer day, a bold Cabernet Sauvignon snuggled up on the coach after a long day or with a grilled steak. For my most recent milestone birthday we hosted a wine pairing party and a few years ago my husband and I visited Napa Valley for the first time.
Wine Country. It's a wine lovers Disney World. There are vineyards as far as the eye can see and amazing varietals of wine that will please everyone's palette. If you have the opportunity to go, I strongly recommend it!
And if you can't take all the wine lovers on your holiday shopping list on a vacation to Napa Valley and Sonoma, then I wanted to share some wine gifts for your fellow wine loving friends. One of the most popular gift ideas for wine lovers is an aerator. Well, after a nice bottle of wine, of course.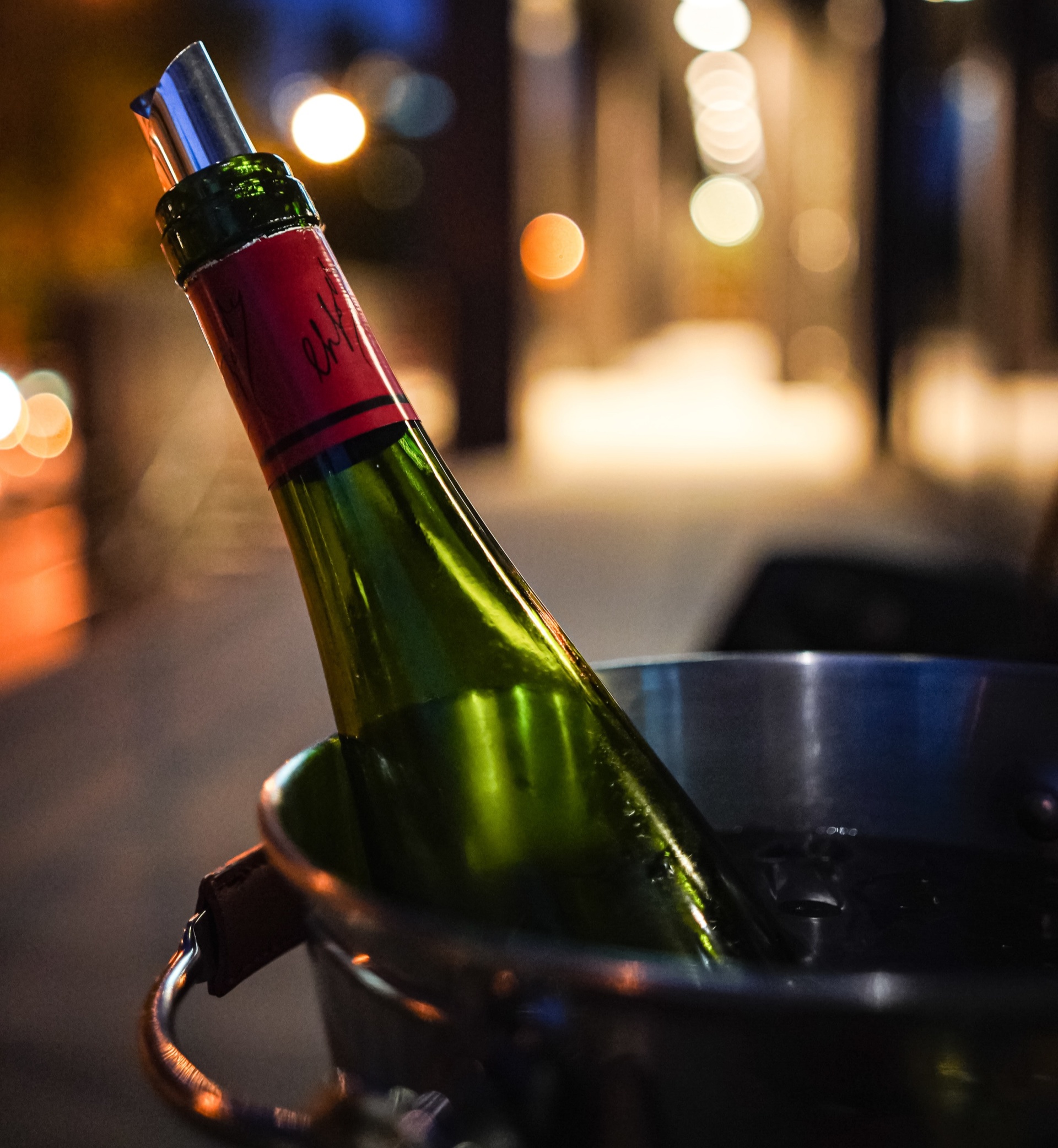 Wine aerators from companies like Vinturi and Metrokane help everyday wines taste great and bring out the best in great wines, making them terrific gifts for wine lovers.
Why aerate wine? Though there's some complex science involved, the basic answer is fairly simple. Mingling molecules of wine with air, or more specifically oxygen in the air, helps bring out every nuance of aroma and flavor.
What's the end result of aerating wine? Basic, everyday, inexpensive wines will taste better than ever. And wine lovers will be more easily able to savor every fine nuance of a great bottle of wine.
A Guide to Wine Aerators
Keeping in mind the pleasures wine aeration makes possible, innovative manufacturers are now making available a variety of relatively inexpensive wine aerating devices. Widely available in wine shops and online from dependable web retailers, including Wine Enthusiast, these devices make great presents for wine lovers on holiday gift lists or at any time of year—and are relatively inexpensive enough that they can be bought in multiples so the giver can have one as well!
Here's a guide to some of the leading wine aerator brands for sale:
Vinturi Essential Wine Aerator
Just hold this elegant, slender device over a wine glass and pour the wine through it to aerate the wine in seconds. A deluxe set includes a no-drip stand, a no-splash grate, a sediment filter, a sculptural-looking "tower" stand, and a travel pouch. The company makes separate models for both red wines and white wines, with "different internal dimensions and flow rates" best suited to the particular type.
Metrokane Rabbit Super-Aerating Decanter System
From the makers of the very popular, beautiful, and highly efficient Rabbit corkscrew comes this equally appealing wine aerating system. Fitting into the top of a wide-bottomed, hand-blown crystal decanter, part of the set is a wide-mouthed glass wine-spray funnel, which separates wine into "micro-particles" that spray and trickle down the decanter's side. A separate metal "super-fine sediment screen," also part of the set, fits inside the filter if necessary to remove particles as small as 1 millimeter.
Respirer Next Generation Wine Aerator
As it enters a pressure chamber beneath the bowl of this carefully engineered device, wine creates a vacuum that draws in air through an intake channel along the side. The carefully calibrated shape of the fluid tube beneath takes advantage of the laws of physics to produce maximum oxygenation.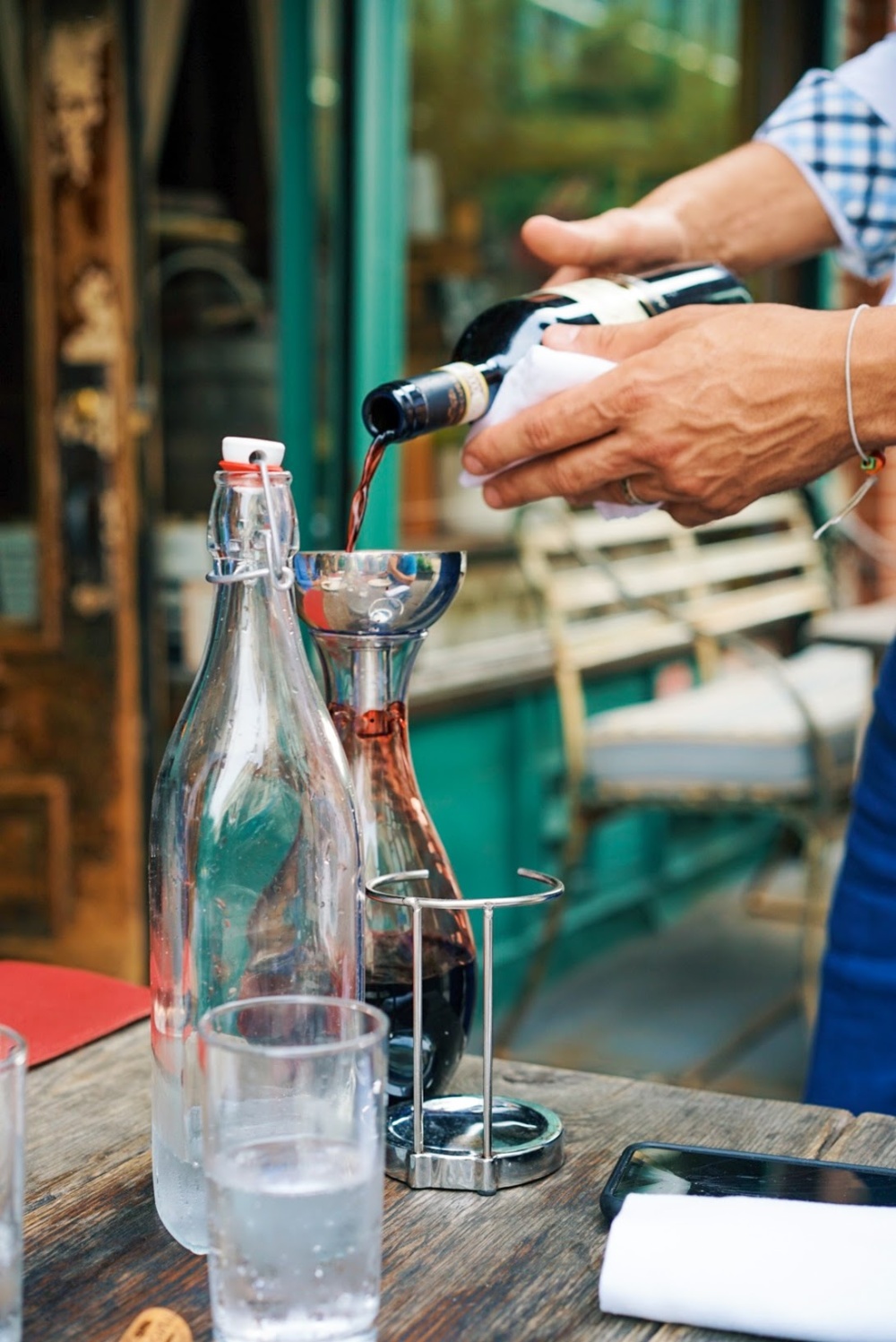 "Let's let the wine breathe." Those words are often spoken by wine lovers, who will often open a bottle well in advance of pouring it and will decant wine—that is, transfer it from a bottle to a decanter—not only to remove sediment in the bottle but also to aerate the wine.
We have the Menu Winebreather Carafe. It's a decanter, we saw it when we were at Bonobo Winery up in Michigan and not only thought it was cool how you flipped the wine bottle upside on it and then back, we loved how it opened up the wine. It's also relatively inexpensive.
Interesting Books about Wine Make Excellent Gift Ideas For Wine Lovers
The Billionaire's Vinegar by Benjamin Wallace is a true story about a 1787 bottle of Château Lafite Bordeaux that was purportedly once owned by Thomas Jefferson and sold at auction for $156,000 in 1985. Filled with plenty of tales of wine fraud and snobbery, this book is sure to entertain any true wine lover.
To Cork or Not to Cork by George M. Taber is a wonderfully informative book that examines the debate about the use of synthetic corks and screw tops as replacements for the traditional cork used in sealing wine bottles. It discusses the wine aging process with the different sealing methods and is sure to give any wine lover a whole new perspective on tasting wine.
Both of these books can be purchased inexpensively online and at many book stores.
Estate Wine Opener Gift Idea For Wine Lovers
An Estate Wine Opener is an elegant wine accessory that serves as both a functioning tool and a decorative adornment for the home. Functionally speaking, these classic wine openers allow for easy removal of the cork as well as a simple replacement of the cork if the entire bottle isn't consumed. We have one that is mounted to the wall, for us, it's more of an art piece than a wine bottle opener. It's beautiful!
They run anywhere from $100 to $400, depending on their quality and whether or not they come with a stand. These can be purchased on Amazon.com or at other wine stores by searching the Internet for "Estate Wine Opener."
Winery Wines
Boutique wineries are excellent places to find unique wines that make great gifts. These wineries don't typically produce tremendous amounts of wine, so their products aren't always found in regular stores. Many of these wineries package the wines in nice wooden gift boxes with anywhere from one to six bottles of their specialty wines. They also sell the larger magnum (1.5L or 2 regular bottles) and double magnum (3L or 4 regular bottles) bottles that are almost too pretty to open.
There are scores of great boutique wineries that can be found by searching the Internet for "boutique wineries," but here are a couple of places to start. Orfila Winery in the San Diego area sells many great wines in custom etched & hand-painted bottles that make wonderful gifts.
Richard Partridge in the Napa Valley, Quintessa in Napa Valley, and Copain Winery in Sonoma are some nice wineries to buy from.
Wine Funnels and Savers are Great Gift Ideas For Wine Lovers
Other gift ideas for wine lovers include wine funnels and savers. Funnels are used for aerating and straining sediment from the wine, while decanters are used to both aerate and serve the wine. Wine savers are vacuum pumps used to tightly seal leftover wine. All of these items make nice smaller gifts and can be found pretty much anywhere, including Amazon.com which I linked to make it easy for you.
Here are additional gift ideas for wine lovers:
With so many wonderful wine-related items available, that perfect gift will surely materialize for every wine lover.
What is one of your favorite wine gifts?
Cheers!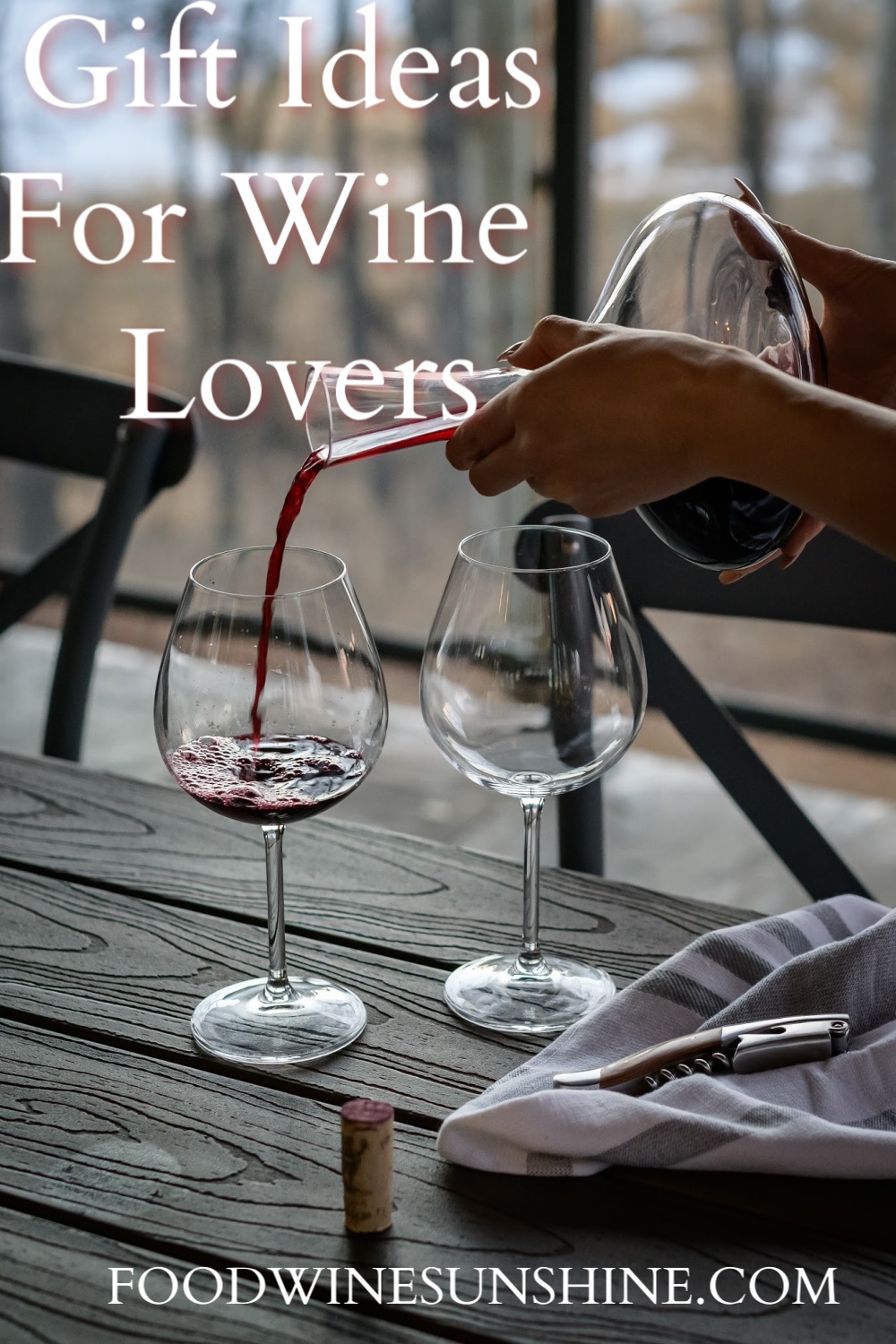 Make sure to check out Food Wine Sunshine on Facebook, Twitter, Pinterest, and Instagram for more wine tasting tips, wine pairings, recipes, and more.