Busch Gardens has something amazing planned for YOU every week in 2019! Check out the 2019 Busch Gardens Calendar Tampa of Events and make sure you don't miss your favorite events.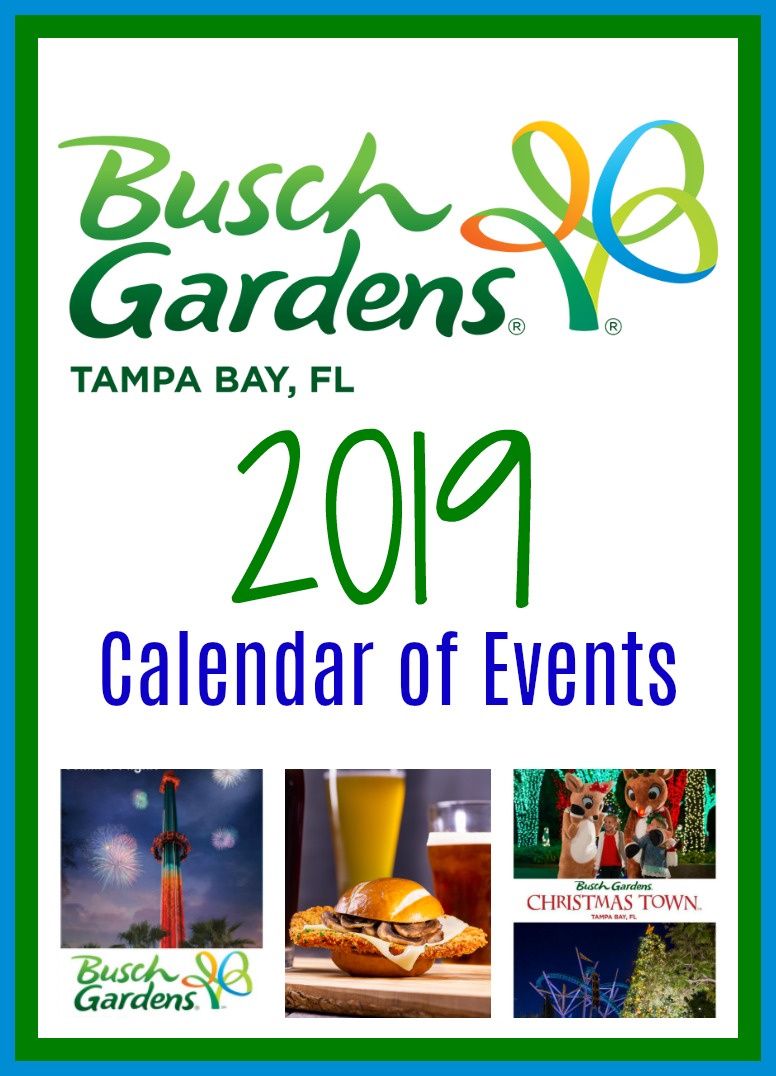 2019 Busch Gardens Tampa Bay Calendar Of Events
Busch Gardens Tampa has a year of fun and celebrations planned for us! Guests can enjoy the celebration all year with great deals on park admission, including BOGO Fun Cards – purchase a Busch Gardens Fun Card and receive an Adventure Island Fun Card for FREE – and a FREE Preschool Card available for children age five and younger. Check out all the fun in the Busch Gardens Calendar of Events and plan all the fun things you want to do here in Florida!
OH and right now, when you buy a DAY, you can come back for the rest of 2019 and 2020 for FREE!
Celebrate the #YearofBeer in 2019
With a nostalgic nod to the park's roots as a brewery, guests age 21 and older can enjoy two complimentary beer samples each day of 2019 at Serengeti Outlook Pub and Restaurant and Garden Gate Café'. The cold brews will provide the perfect accompaniment to a day at the park. Valid identification is required for age verification.
Busch Gardens Calendar Of Events
Three Kings Celebration – Saturday & Sunday, January 5 & 6
Busch Gardens Tampa Bay unfolds the famed journey to the humble town of Bethlehem during the Three Kings Celebration on January 5 & 6. Latin influences are found throughout the park with live music, crafts, authentic Latin food and more! This cultural celebration boasts authentic Latin flavors found only during the holidays, live entertainment honoring the three Wise Men and Busch Gardens' dazzling display of twinkling Yuletide lights.
Real Music, Real Masters – Monday – Saturday, January 7– March 16
The longest-running concert series at Busch Gardens Tampa Bay returns in January with incredible live music and entertainment spanning from the 1950s to today. Daily performances at the park's Stanleyville Theater include the following world-class acts:
Cirque Vertigo featuring the Wallenda Duo: January 7 -12 & March 11 – 16
Arrival From Sweden: The Music of ABBA: January 14 – 19
Thomas McClary: The Commodores Experience: January 21 – 26
Herman's Hermits starring Peter Noone: January 28 – February 2
The Diamonds: February 4 – 9
Ballroom with a Twist: February 11 – 16
The 5th Dimension: February 18 – 23
Eaglemania: The World's Greatest Ealges Tribute Band: February 25 – March 2
Lorrie Morgan: March 4 – March 9
Throughout 2019, park guests can enjoy can't-miss events for all tastes and ages, including the following fan-favorites:
Sesame Street Safari of Fun Kids' Weekends – Saturdays & Sundays February 2-10, May 4-19, and October 5-27
Saturdays and Sundays: May 4, 5, 11, 12, 18 & 19
This spring, join Elmo, Rubber Duckie, Cookie Monster and the rest of the gang for fun-filled weekends including dance parties, crafts and more!
Saturdays and Sundays: October 5, 6, 12, 13, 19, 20, 26 & 27 – Sesame Street® Safari of Fun Fall Kids' Weekend
Fall-inspired activities lead the way weekends in October at Busch Gardens' Sesame Street Safari of Fun. Kids won't want to miss dance parties featuring their favorite Sesame Street friends like Elmo, Abby Cadabby, Cookie Monster, Grover, Rosita, and more who will make special appearances dressed in their best Halloween attire.
Food & Wine Festival – Select Dates March 16 – April 28
The park's most delicious event returns this March with tastes for every palate at the fifth annual Food & Wine Festival. With more than 35 delicious dishes to pair with over 100 wines, craft brews and cocktails, park guests can explore a variety of flavors while enjoying a diverse concert line-up, including acts for all tastes. The Busch Gardens Food & Wine Festival runs weekends from March 16 to April 28 and is included with admission to the park. The best way to savor and save on everything the festival has to offer is with a Food & Wine Festival Sampler. Guests can purchase a 5, 8 or 12-item sampler lanyard to use at each festival cabin to explore sample-sized dishes and drink offerings with ease. Pass Members can purchase an exclusive 15-item sampler for the same price as a 12-item sampler.
Busch Gardens Food & Wine Festival Concerts include:
Daughtry – Saturday, March 16 at 7:00 p.m.
The Band Perry – Sunday, March 17 at 6:00 p.m.
3 Doors Down – Saturday, March 23 at 7:00 p.m.
Blue Rodeo, Kathleen Edwards & Fred Eaglesmith ft. Tif Ginn – Sunday, March 24 starting at 4:00 p.m.
Justin Moore – Saturday, March 30 at 7:00 p.m.
El Gran Combo – Sunday, March 31 at 6:00 p.m.
Stone Temple Pilots – Saturday, April 6 at 7:00 p.m.
Josh Turner – Sunday, April 7 at 6:00 p.m.
The Mighty Mighty Bosstones – Saturday, April 13 at 7:00 p.m.
Boyz II Men – Sunday, April 14 at 6:00 p.m.
Edwin McCain & Vertical Horizon – Friday, April 19 starting at 5:30 p.m.
Hunter Hayes & Levi Hummon – Saturday, April 20 starting at 5:30 p.m.
Mat Kearney – Sunday, April 21 at 6:00 p.m.
Walk Off The Earth – Saturday, April 27 at 7:00 p.m.
Foreigner – Sunday, April 28 at 6:00 p.m.
Tigris OPENS – April 19
Busch Gardens® Tampa Bay will officially open Tigris, a triple-launch steel roller coaster, on Friday, April 19, 2019. The new attraction is Florida's tallest launch coaster and the ninth coaster in the park's collection, solidifying Busch Gardens Tampa Bay as Florida's thrill ride leader.
Tigris will catapult riders through an exhilarating array of looping twists with forward and backward motion, breath-taking drops, a 150-foot skyward surge, and an inverted heartline roll, reaching a top speed of more than 60 miles per hour. Tigris will race riders along more than 1,800 feet of steel track designed to mimic the awe-inspiring agility of the world's largest and most powerful cat –the tiger.
Pass Member Exclusive Ride time on Tigris: Saturdays & Sundays, May 4-12
Busch Gardens Tampa Bay's newest roller coaster, Tigris, is now open. For the first two weekends in May, Pass Members are invited to exclusively enjoy the thrill of Tigris, including a 150-foot skyward surge, forward and backward launches, and an inverted heartline roll, before the park opens.
Cinco De Mayo Celebration: Saturday & Sunday, May 4 & 5
Park guests can head to the Stanleyville region of the park to enjoy a DJ party zone including festive dancing, food and beverages. Guests 21 and older can stop by the Garden Gate Café or Kettle Corn in Pantopia for two free beers, featuring Corona® for Cinco de Mayo weekend.
Guy Harvey Weekends – Saturdays & Sundays May 11 & 12, Dec. 7 & 8
Meet Guy Harvey and learn about his dedication to conservation and his passion for marine wildlife. Bring your favorite gear for him to sign or purchase Guy Harvey paintings, merchandise and more. Autographs and photos will be available at select times throughout the day.
Jack Hanna Weekend – Saturday & Sunday May 18 & 19
Join "Jungle Jack" Hanna for a weekend of wild animal shows, autograph signings and special meet-and-greets when he visits Busch Gardens. The internationally-known animal expert will share animal facts and his travel tales during animal shows.
Memorial Day Weekend Pin Trading Event: Saturday & Sunday, May 25 – 27
Park guests can check out the latest collections arriving just in time for the unofficial kick-off to summer. In addition to new retail collections and a new pin kiosk in Stanleyville, park ambassadors will offer rare pins to trade at different locations around the park. Also, for this weekend only, all guests who participate in an animal insider tour will receive 30% off their pin purchase at Serengeti Outpost to commemorate their experience.
Summer Nights – Each Night May 31 – August 11
As the sun goes down, the night comes alive at Busch Gardens Tampa Bay's Summer Nights. The event features extended hours, endless energy and world-class coasters that light up the night. Join us for a Fourth of July firework celebration like no other during Summer Nights.
Fall & Holiday Favorites
Bier Fest – a unique blend of food and favorite craft beers from around the world and local favorites; Howl-O-Scream*, celebrating 20 years this fall, there is nowhere to hide at Howl-O-Scream 2019; Christmas Town, with millions of twinkling lights and festive shows.
New things happening around the park:
The NEW roller coaster, Tigris
Excitement is building with the eagerly anticipated spring opening of Tigris, Florida's tallest launch coaster. With the recent arrival of the ride vehicles, testing for the new attraction will begin soon to prepare for opening day this spring.
Pin Trading is here!
Busch Gardens launched NEW Pin Trading program. With more than 150 pins now available in the park, guests can begin collecting and trading the pocket-sized souvenirs. From fan-favorite animals, attractions, and events to exclusive collections not sold in stores, guests can trade pins with employees as they explore the park.
Yet another NEW coaster!
The buzz continues with more history in the making at Busch Gardens Tampa Bay, as construction begins on a NEW hybrid coaster arriving in 2020. When it opens next year, the ride will become North America's tallest hybrid, and the fastest, steepest hybrid coaster in the world.
Best Ways to Play at Busch Gardens

Pay for Day, play ALL YEAR at 2 parks- For a limited time, guests can buy a 2019 Busch Gardens Fun Card and get an Adventure Island Fun Card free! Block out dates apply. Get yours here.
MORE VALUE, MORE OPTIONS WITH ANNUAL PASS – Pick your way to play in 2019 with a Busch Gardens Annual Pass, starting at $10.99 a month for Florida Residents. Guests can select from four pass levels for the benefits they want most – including FREE parking, discounts on merchandise and food, as well as animal encounters – to gear up for a calendar full of special events plus EXCLUSIVE pass member ride time for the opening of Tigris: an exciting new attraction coming in 2019. Add more parks – Get a 4-park pass to Busch Gardens, Adventure Island, SeaWorld and Aquatica, starting at just $15.99 a month.
FREE Preschool Card- Kids 5 and younger can enjoy FREE admission to Busch Gardens Tampa Bay and Adventure Island throughout all of 2019 with the Preschool Card. There's never been a cooler time to be a kid! Florida residents only, other conditions apply, register here.
Which events on the Busch Gardens Calendar are your favorite?
Make sure to join the conversation by following Busch Gardens on Facebook , Twitter and Instagram.
While you are at it make sure to check out Food Wine Sunshine on Facebook, Twitter, Pinterest, and Instagram for more fun things to do in Florida, recipes, and more.
Have fun at Busch Gardens this year, I know I will!