(Last Updated On: August 16, 2021)
Busch Gardens has something amazing planned for YOU every week in 2021! Check out the 2021 Busch Gardens Tampa Calendar of Events and make sure you don't miss your favorite events.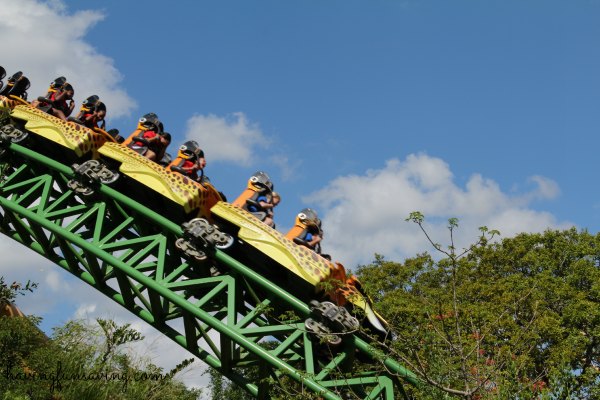 2021 Busch Gardens Tampa Bay Calendar Of Events
Busch Gardens Tampa has another year of fun events and celebrations planned for us! Busch Gardens guests can enjoy the celebration all year with great deals on park admission, including BOGO Fun Cards – purchase a Busch Gardens Fun Card and receive an Adventure Island Fun Card for FREE – and a FREE Preschool Card available for children age five and younger. Check out all the fun in the Busch Gardens Calendar of Events and plan all the fun things you want to do here in Tampa Florida!
Busch Gardens Event Calendar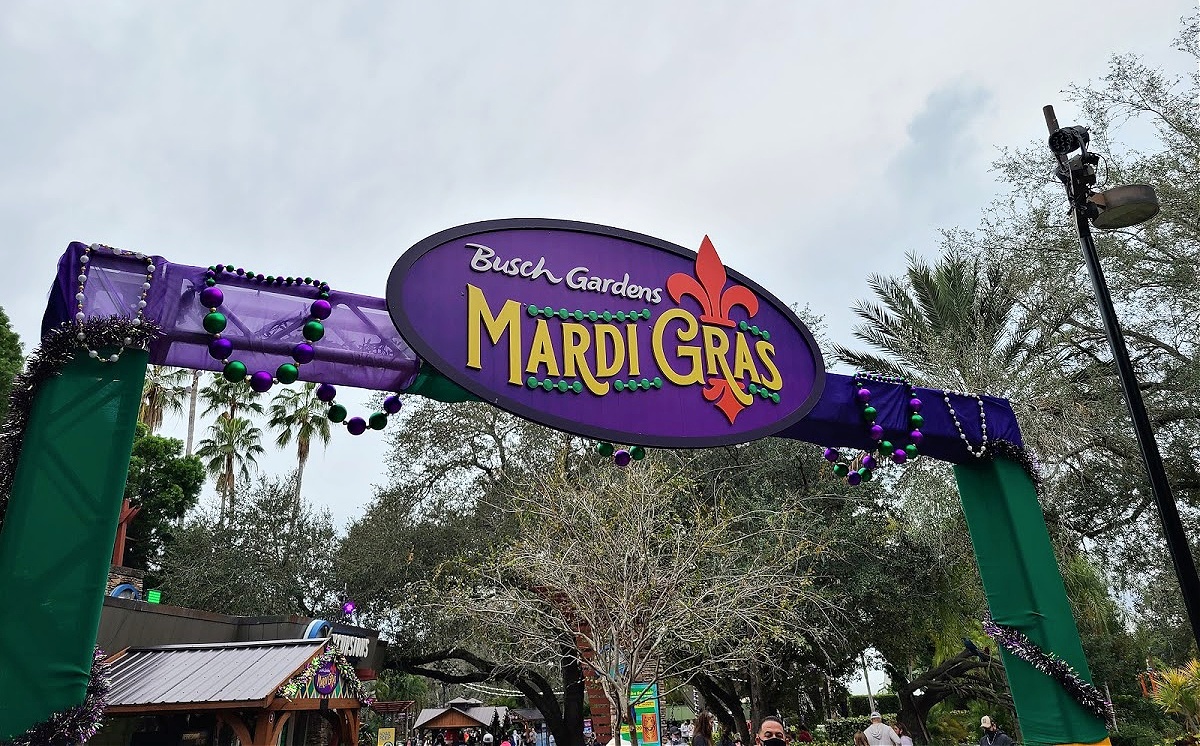 Mardi Gras Celebration – Weekends and select dates, January 16 – February 16
With more weekends to celebrate safely, Busch Gardens is getting jazzed up with music, beads and more for open-air festivities with French-Quarter flair. Guests will have the opportunity to catch some beads from physically distant New Orleans street performers periodically strolling throughout the day. There will be plenty of room to dance through spacious walkways while enjoying festive tunes from live musicians while flavorful dishes and cocktails tempt the senses.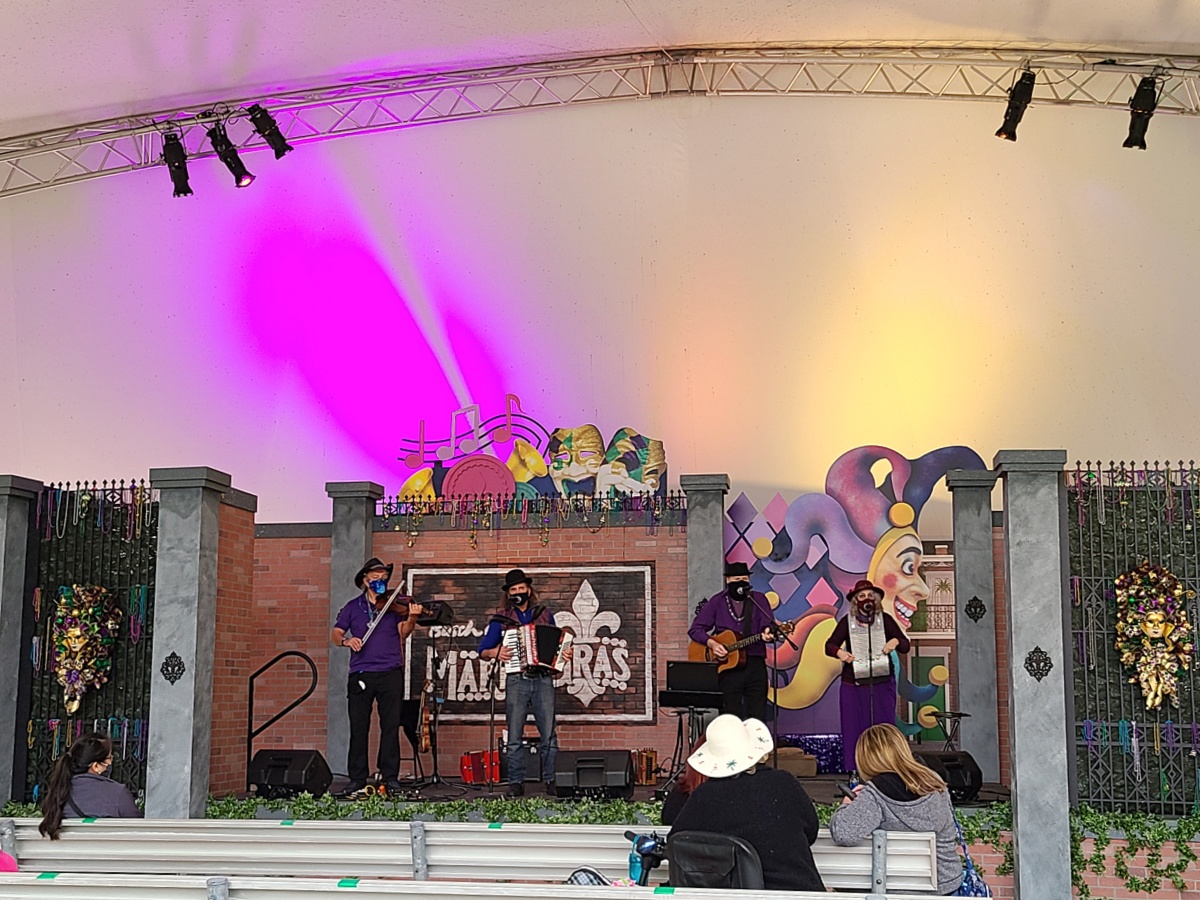 Busch Gardens has brought the "Big Easy" to Tampa Bay with Mardi Gras-inspired food including a signature shrimp po' boy, hearty jambalaya, and hot and fresh beignets. Handcrafted cocktail classics like Hurricanes join new signature drinks for a perfect pairing with the park's carefully crafted culinary offering, which can be best enjoyed with a Mardi Gras Sampler Lanyard. Starting at $34.99 for a 5-punch lanyard with a 10-punch option and an exclusive 12-punch lanyard for Pass Members, Sampler Lanyards make it easy for guests to embrace that "Fat Tuesday" feeling! Our favorites were the bourdon tastings and the beignets…and the shrimp po'boys.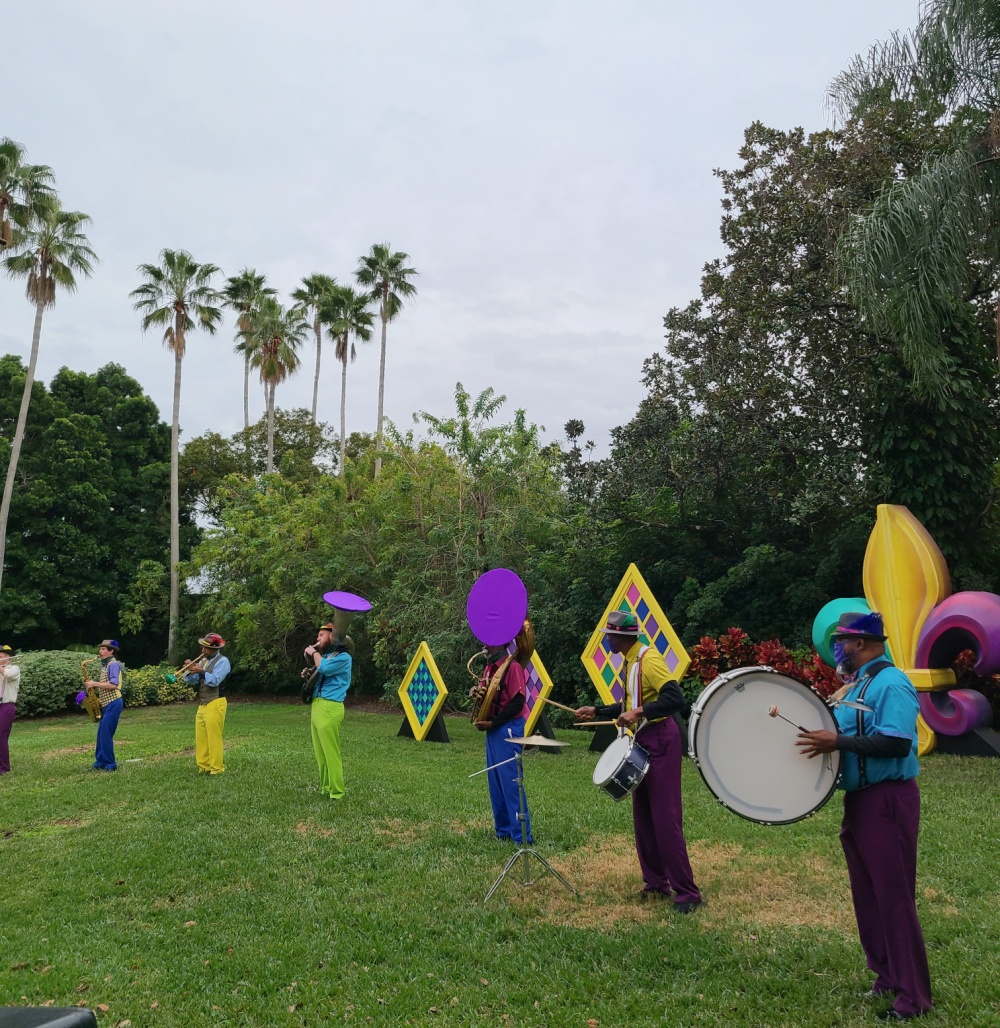 The fun in 2021 doesn't stop with Mardi Gras – park guests can look forward to modified versions of their favorite seasonal events to promote enhanced health and safety measures, including Sesame Street® Kids' Weekends and the Food & Wine Festival.
Sesame Street Kids Weekends, January 30 – February 14
For kids and kids-at-heart, there are more special moments with Elmo, Abby Cadabby, Cookie Monster and the rest of their Sesame Street friends coming up this season! Fans won't want to miss new physically distant celebrations for Elmo's birthday and Valentine's Day this year.

Food & Wine Festival, Friday to Sunday, February 20 – April 25
Taste buds will bloom this spring with a delicious menu of dishes and drinks as dynamic and unique as the park's thrilling roller coaster collection starting Saturday, February 20! Guests are invited to take their taste buds on an adventure as they sample more than 110 tasty treats, including 22 NEW dishes. Serving guests every weekend from February 20 to April 25 with limited capacity, this year's menu features festival favorites and fresh twists on classic cuisines from around the country that pair perfectly with more than 80 wines, brews, and cocktails. Get all the details about the Busch Gardens Food & Wine Festival here.
GUY HARVEY Meet & Greet Saturday, May 15 and Sunday May 16
World-renowned artist and conservationist Dr. Guy Harvey will return to Busch Gardens Tampa Bay for a weekend filled with exciting new merchandise and opportunities for fans to connect in a safe and physically distant way. Included with park admission, guests can meet Dr. Harvey with health and safety modifications in place.
SESAME STREET® SAFARI OF FUN KIDS' WEEKENDS, May 1 – May 23
Created especially for the youngest members of the family, kids and parents alike can join in the springtime fun at Busch Gardens' Sesame Street® Safari of Fun Kids' Weekends, including an ALL-NEW weekend celebrating everyday heroes. Included in park admission, guests can take part in safe family fun with modified operations for everyone's health and safety, including:
Open-air activities with plenty of space for physical distancing in the Sesame Street Safari of Fun play area plus even more room to explore and play with special activities on the Festival Field.
Protective face coverings required for all guests age 2 and older.
Enhanced cleaning and sanitation of surfaces and ample availability of hand sanitizer.
Individually distributed, single-use supplies for crafts, scavenger hunts, and more.
Guests can enjoy themed, daily storytimes and outdoor, live performances of "Let's Play Together" at the Sunny Days Theater in Sesame Street Safari of Fun. Additional open-air springtime festivities include:
NEW Sunny Days Mural: Artists big and small will have the opportunity to share the masterpieces they create in the craft tent at our ALL-NEW kid-friendly art display on the Festival Field.
NEW Sesame Street Photo Opportunities: Enjoy physically distanced photo opportunities with the Sesame Street gang at 1-2-3 Smile with Me. Plus, don't miss the ALL-NEW Cookie Monster's Foodie Truck selfie spot on the Festival Field!
Springtacular Maze: Families can enjoy springtime fun with each twist and turn of the flower-filled path on the Festival Field.
Furry Friends Dance Party: Guests can move and groove with everyone's favorite Sesame Street friends during this physically distanced interactive dance party in the Sesame Street Pavilion!
Special visits with Busch Gardens' animals: From fur and feathers to scales and shells, exciting animal visitors will be stopping by for unique moments of learning and discovery on the Festival Field.
Families will want to return to the park again and again to enjoy new themed activities celebrating their Sesame Street friends each weekend, including:
Rubber Duckie Weekend, May 1 & 2: Help Ernie reunite with his bath time buddy, Rubber Duckie, in an outdoor scavenger hunt and collect a special prize. Bert and Ernie will also make special appearances at dance parties and the 1-2-3 Smile with Me photo location.
Cookie Monster Weekend, May 8 & 9: C is for cookie! Search for Cookie Monster's favorite treat during this fun-filled weekend, where kids can also decorate a wearable cookie crown craft. Don't forget to take a selfie by Cookie Monster's Foodie Truck!
Elmo Weekend, May 15 & 16: Kids will have a blast helping Elmo and Dorothy find their fish friends throughout the Sesame Street Safari of Fun. Families can also sing and dance along with Elmo at the Sesame Street Pavilion.
NEW! Everyday Heroes Weekend, May 22 & 23: Celebrate everyday heroes during the event's final weekend. Guests will have a chance to join the Everyday Heroes Club by earning special badges for Bravery, Helping, Manners, and more! Police officers, firefighters, and other local heroes will be honored during this community celebration, which will feature special guests and emergency vehicles for this weekend only!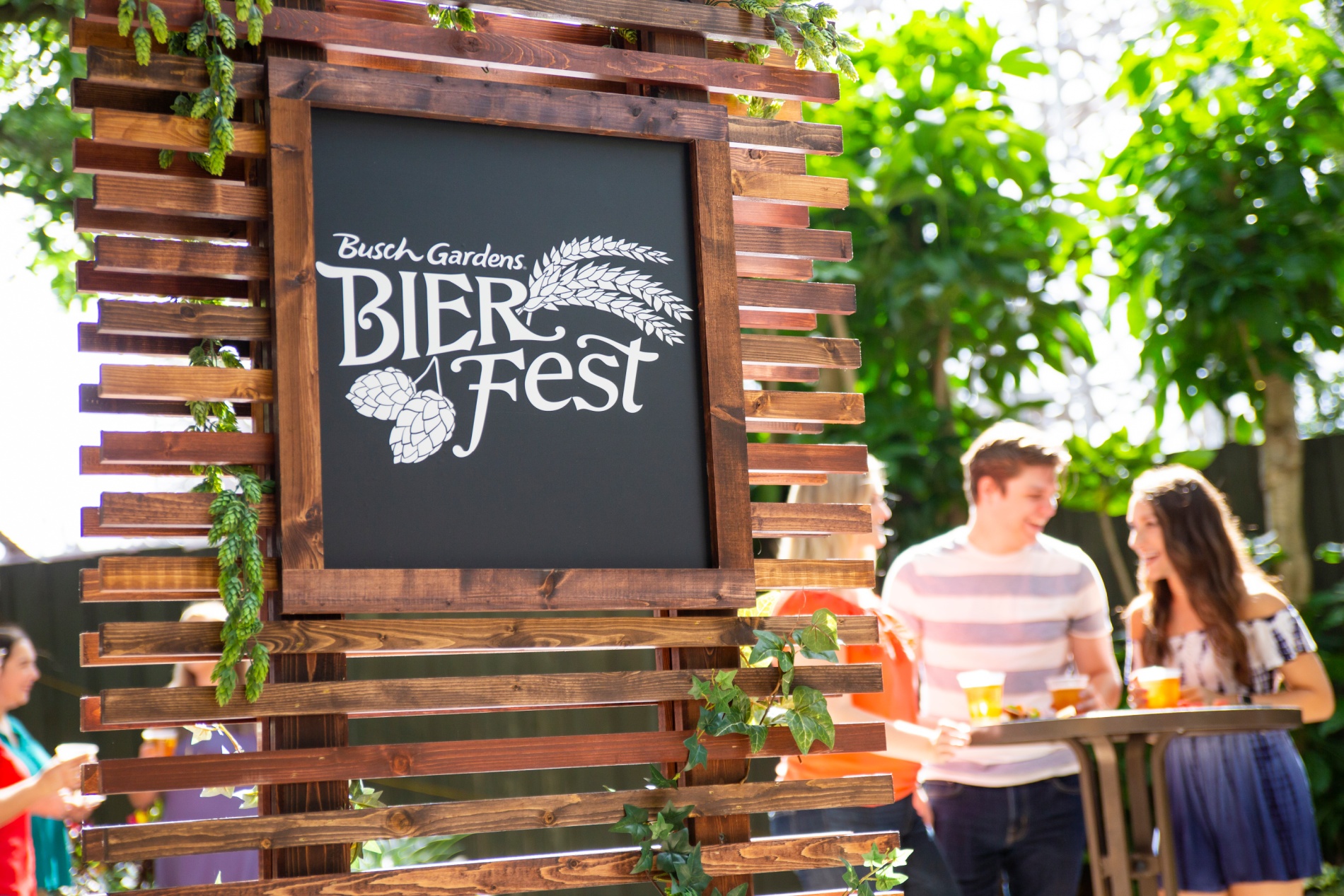 BIER FEST WEEKENDS AUGUST 13 – OCTOBER 31ST
During the fourth year of Bier Fest at Busch Gardens Tampa Bay, guests can sip seasonal beverage offerings and savor new recipes featuring fan-favorite breweries. Beer flows through the park on an all-new beer trail, weaving between iconic coasters, local live music and fascinating animal habitats while incorporating fan-favorite restaurants and outdoor culinary stations, including the new Giraffe Bar. This year, park guests can toast to new adventures each Friday through Sunday from August 13 to October 31.
Pair Epic Thrill Rides with NEW Hoppy Culinary Delights
Brew fans will have dozens of beers to choose from at this year's Bier Fest, featuring over 50 varieties of IPAs, wheat ales, stouts and more! This year's event shines a spotlight on breweries that bring flavor to Florida and beyond, with iconic local, regional and national brews incorporated into new shareable samples at over a dozen culinary locations, including:
Brews & Chews with Funky Buddha Brewing®: Pair a "Hop Gun IPA" with NEW Drunken Shrimp Papaya Salad, featuring beer-battered and golden fried shrimp topped with Tajin and Thai chili Buddha dressing.
Pub Grub featuring Alcatraz Brewing®: Indulge in a "2 X IPA" with pepper smoked chopped brisket poutine, including beer-battered French fries smothered in blue cheese, caramelized onions, and chipotle BBQ sauce.
Garden Gate featuring Anheuser-Busch®: A nod to the park's roots include the return of fan-favorite Mojo roasted heritage pork pub chip nachos topped with pepper jack mornay cheese and a savory avocado crema.
Kraft-Heinz Kitchen featuring Sierra Nevada® Brewing: Enjoy a mountain of flavor packed into the NEW High Altitude Smoked Elk Jalapeño Sausage Chili topped with a drizzle of Kraft-Heinz cilantro sour cream.
Plus, more brew-dedicated locations throughout the park feature favorite breweries from Tampa's backyard, including fan favorites like Big Storm®, 3 Daughters®, Motorworks®, Cigar City®, Coppertail®, Yuengling® and more!
Not into Beer? No fear! Enjoy frozen cocktails, live music and more!
Beyond the brews, Busch Gardens offers plenty of delicious options for everyone to enjoy at Bier Fest this year. From delectable bourbon tastings to chilling frozen cocktails and seltzers, satisfying refreshment is abundantly available in every corner of the park.
Several festival locations feature non-alcoholic beverage options as well, including the new Giraffe Bar. Barrilitos® strawberry hibiscus or watermelon Agua Frescas offer cool relief on warm summer days and Serengeti views from panoramic windows or the open-air patio.
After enjoying live local music at the Coke Canopy, a stop at Xcursions gift shop is a must for anyone with a sweet tooth. The NEW sangria and mimosa bar pairs with the whiskey-inspired gourmet cupcake flight fresh from the park's bakery for the perfect dessert combo.
Savor and save with a Bier Fest lanyard!
For the best value to taste a variety of food and drink offerings, guests can purchase a Bier Fest Sampler Lanyard, starting at only $49.99 for a 8-sample punch card. Pass Members get an exclusive offer: 15 items for the same price as a 12-item Sampler to enjoy three extra samples for FREE!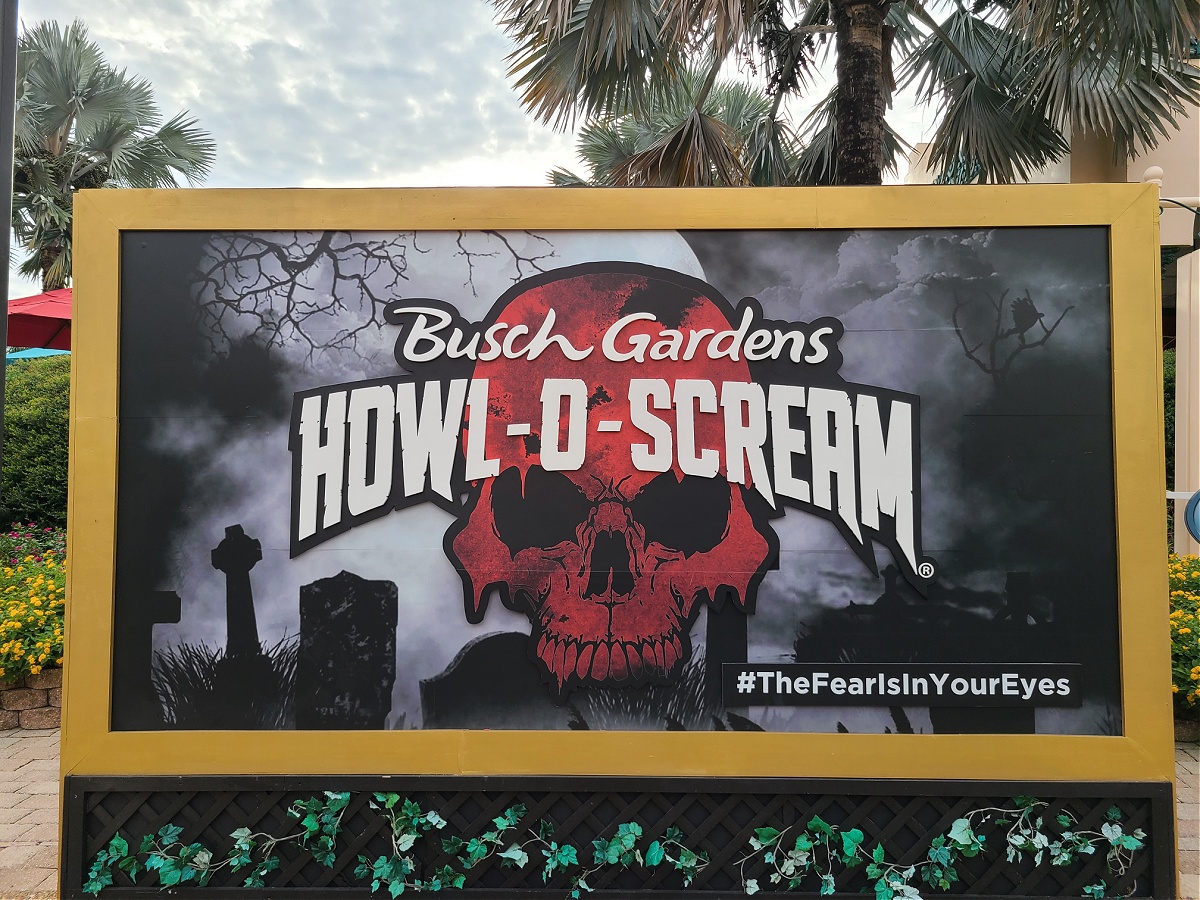 2020 Pictures*

HOWL-O-SCREAM Select Nights Sept 10 – Oct 31
Fear returns to its most immersive form as guests are invited back inside iconic haunted houses, including two ALL-NEW horror-filled houses at Busch Gardens Howl-O-Scream, Tampa Bay's BIGGEST haunt event. Park guests will find nowhere to hide as zombies, deranged clowns, werewolves and more stalk their prey throughout eight scare zones while unpredictable roaming hordes lurk in the darkness. Beyond the haunts, killer entertainment can be found on stage with "Fiends!" returning to the Festival Field and last year's best-kept-secret "The Rolling Bones" performing electrifying rock covers at Dragon Fire Grill.
I had the opportunity to attend last year's Howl-O-Scream and we had a scary good time! Busch Gardens transformed the entire park with scare zones as well as spooky decor. I was a bit nervous that it wouldn't be as scary since it was all in open air, but Busch Gardens did not appoint! I definitely had my fair share of screams. I also loved that the Bier Fest was still going on with stations set up for incredible eats and drinks.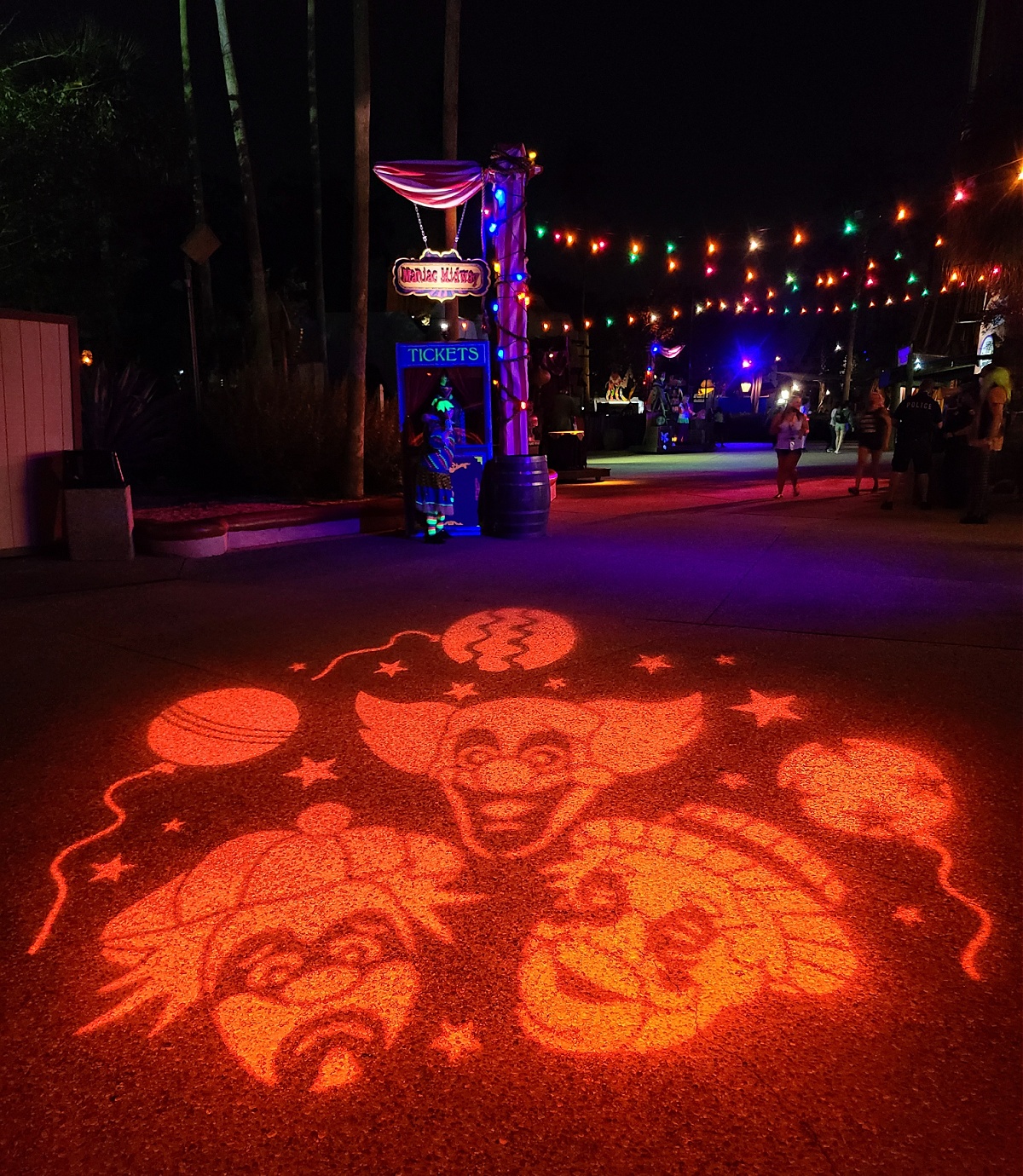 Here's what you need to know about Howl-O-Scream 2021
Creeping closer each day, Howl-O-Scream returns to Busch Gardens Tampa Bay with a hair-raising, skin-crawling celebration of ghoulish delights, including:
Two ALL-NEW Haunted Houses: Dark minds have been brewing new ways to terrify those brave enough to enter two all new original experiences.
Three Returning Houses with Reimagined Nightmares: Three fan-favorite frights will come back from the dead to consume guests with fear in new ways.
Eight Scare Zones, plus three unpredictable hordes: The scares are everywhere including an unmarked zone and new terrors lurking in every corner of the park.
Fan-Favorite "Fiends!" returns to the Festival Field Stage: The raunchy monster dance party will return to its spacious outdoor venue for more devilish antics from Dr. Freakenstein and his gang of ghouls.
"The Rolling Bones" light up the stage at Dragon Fire Grill: As guests fuel up on a pre-fear feast, the live performance of this skeleton band lights up Dragon Fire Grill with epic covers of classic rock anthems.
Howl-O-Scream is a separately ticketed event.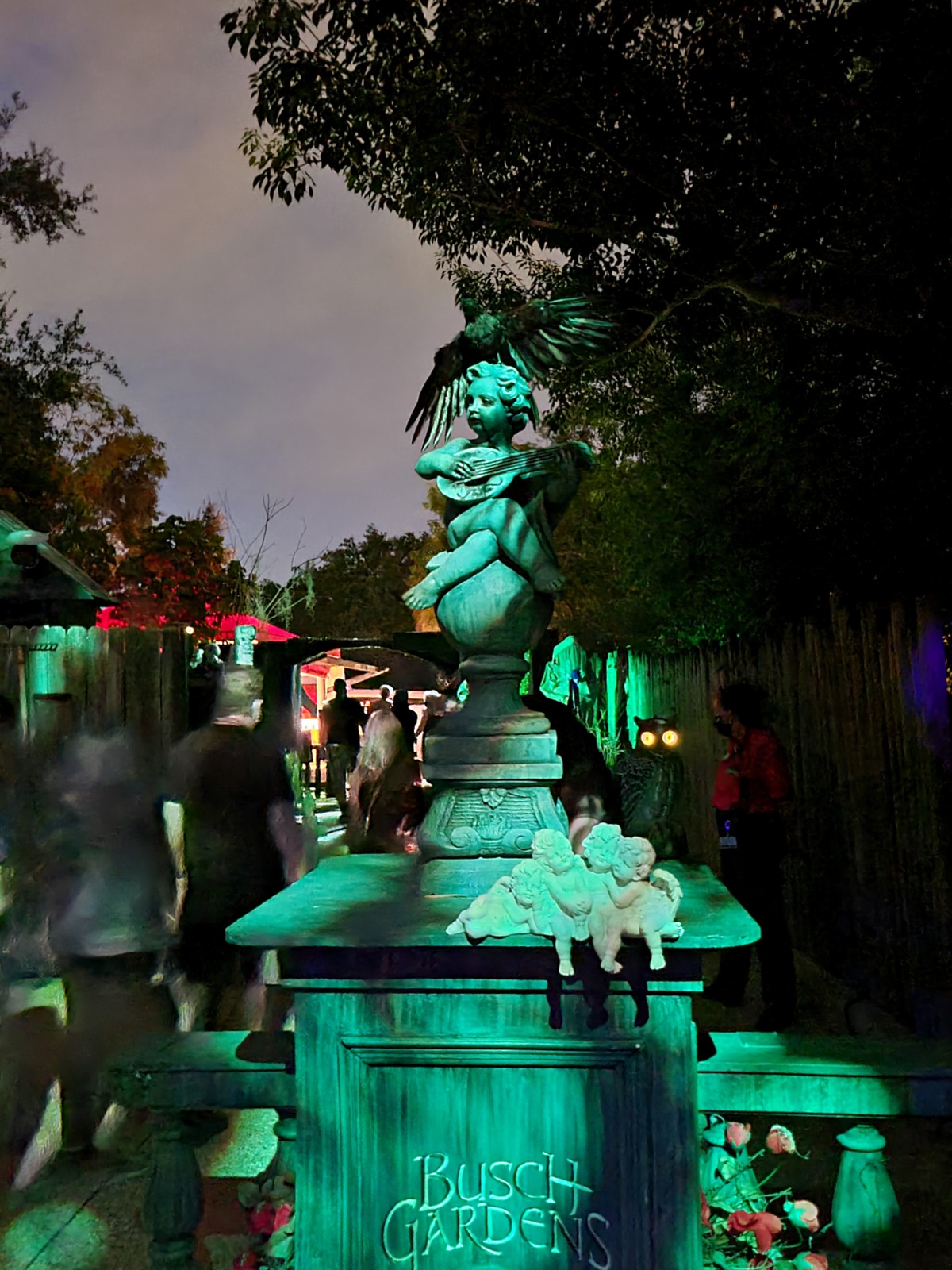 HOWL-O-SCREAM is 18 horrifying nights this year! You can attend every Friday through Sunday from September 10-October 31, 2021.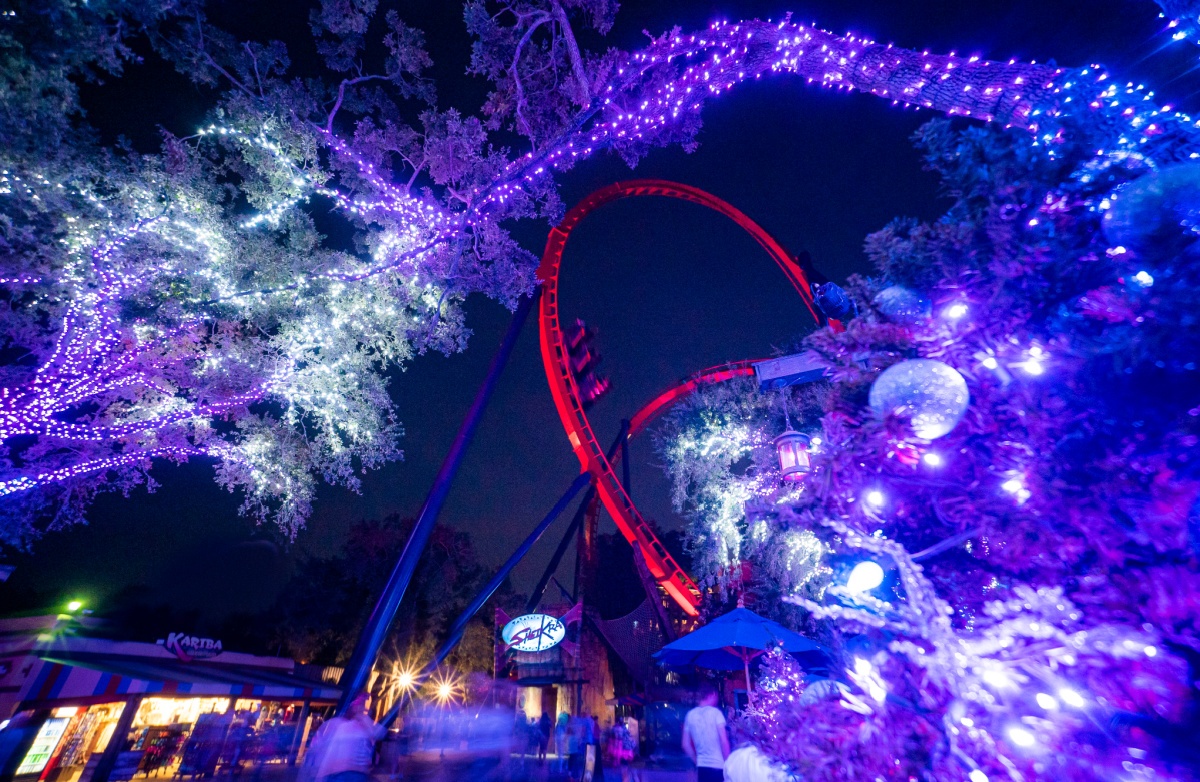 Christmas Town November 20, 2020 through January 3, 2021
Wrap up the year with holiday cheer earlier than ever at Busch Gardens® Christmas Town™, the park's award-winning holiday event. New this year, the event kicks off with a preview weekend with light displays and select entertainment elements on November 14 and 15. Christmas Town runs daily with park-wide festive fun from November 20, 2020 through January 3, 2021. Just because it's warm here in Florida doesn't mean that we don't celebrate the holidays! In fact, I think we decorate even more!
To bring the merriment to life, Busch Gardens' creative team has consulted with medical experts to offer a modified event with required reservations and limited capacity that celebrates the spirit of the season safely. This seasonal event features open-air entertainment and experiences as well as enhanced health, safety and sanitation measures, including temperature checks, face covering requirements and physical distancing. Included in park admission, park guests can enjoy holiday traditions with a twist, from millions of twinkling lights throughout the park's 335 acres to physically distant holiday shows, breathtaking animal encounters and contact-free visits with Santa and Rudolph® the Red-Nosed Reindeer.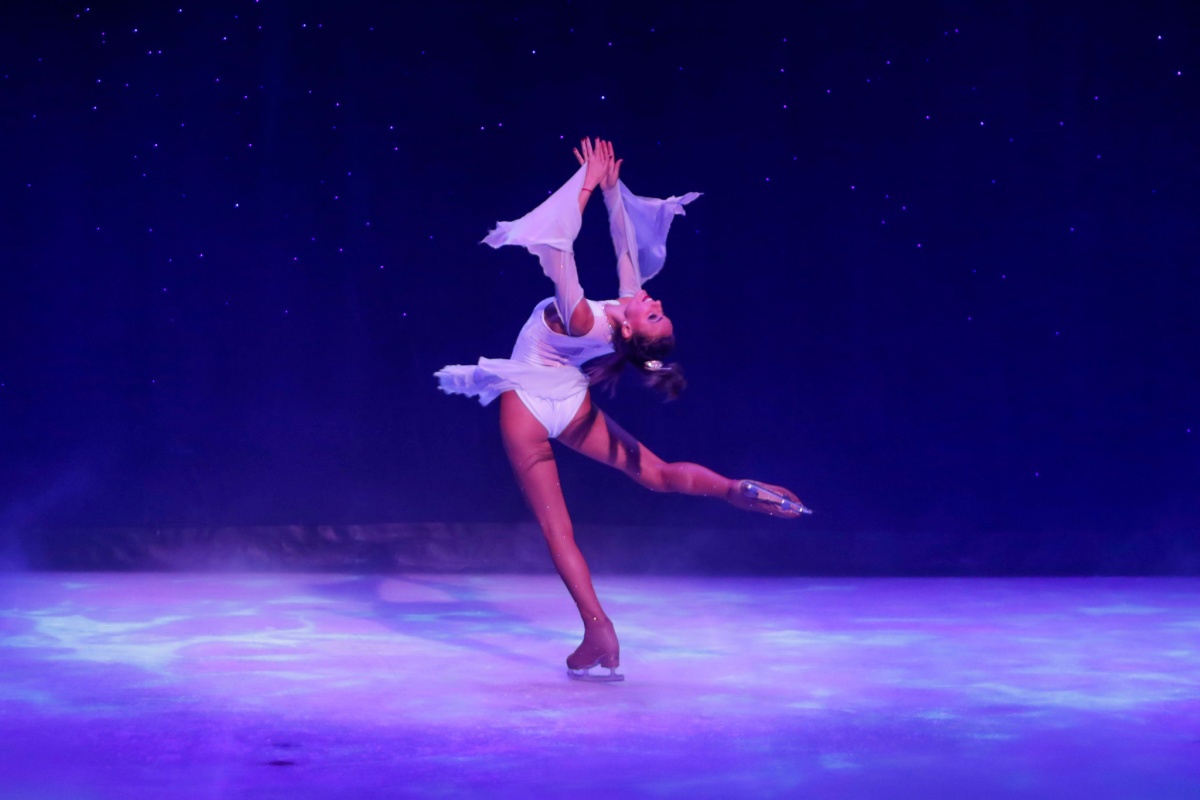 Heartwarming Holiday Entertainment
A warm-weather winter wonderland awaits park guests with a variety of holiday programs offered throughout the event. Guests are encouraged to check the park's website before visiting to learn which programs are available each date.
NEW "Spark the Night" Fireworks Show: This year, guests will have several opportunities to enjoy festive bursts of Christmas colors as they cover the sky in a dazzling display. Fireworks are offered select nights throughout the event at the Festival field, offering plenty of space for guests to spread out and enjoy the sights.
"Christmas on Ice": For the first time ever, park guests can enjoy Busch Gardens' longest-running holiday show at a NEW outdoor location on the Festival Stage. This fan-favorite skating production will perform awe-inspiring delights on real ice for physically distant audiences every Friday through Sunday and additional holidays like Thanksgiving and Christmas Eve.
Elmo's Christmas Wish: Families can sing and dance with their favorite furry friends in this fun holiday show. Celebrate the Christmas spirit with Sesame Street in the outdoor Sunny Day Theater with physically distant seating.
Three Kings Journey: The musical tale of the famed journey to Bethlehem is now offered alongside festive eats at the spacious Dragon Fire Grill.
Holly Jolly Express: All aboard for Christmas Cheer! With limited capacity, this locomotive is on track to celebrate the most wonderful time of the year with favorite songs of the season as guests venture through the park in festive fashion.
Card-Worthy and Contact-Free Photo Opportunities
Santa's Merry Meet & Greet: Jolly elves guide guests to see Santa for a physically distant photo at a spacious new outdoor location this holiday season.
Rudolph the Red-Nosed Reindeer: Jingle all the way to Pantopia to Rudolph's Winter Wonderland to find the most famous reindeer of all and snap some contact-free pictures with Rudolph and Clarice.
Original Christmas Town Characters: For moments that sparkle, guests will encounter the Poinsettia Princess, Sugar Plum Princess, Ice Princess and jolly snowmen throughout their Christmas Town journey.
Sesame Street Friends: Enjoy physically distant photo opportunities with everyone's favorite furry friends in their festive holiday attire.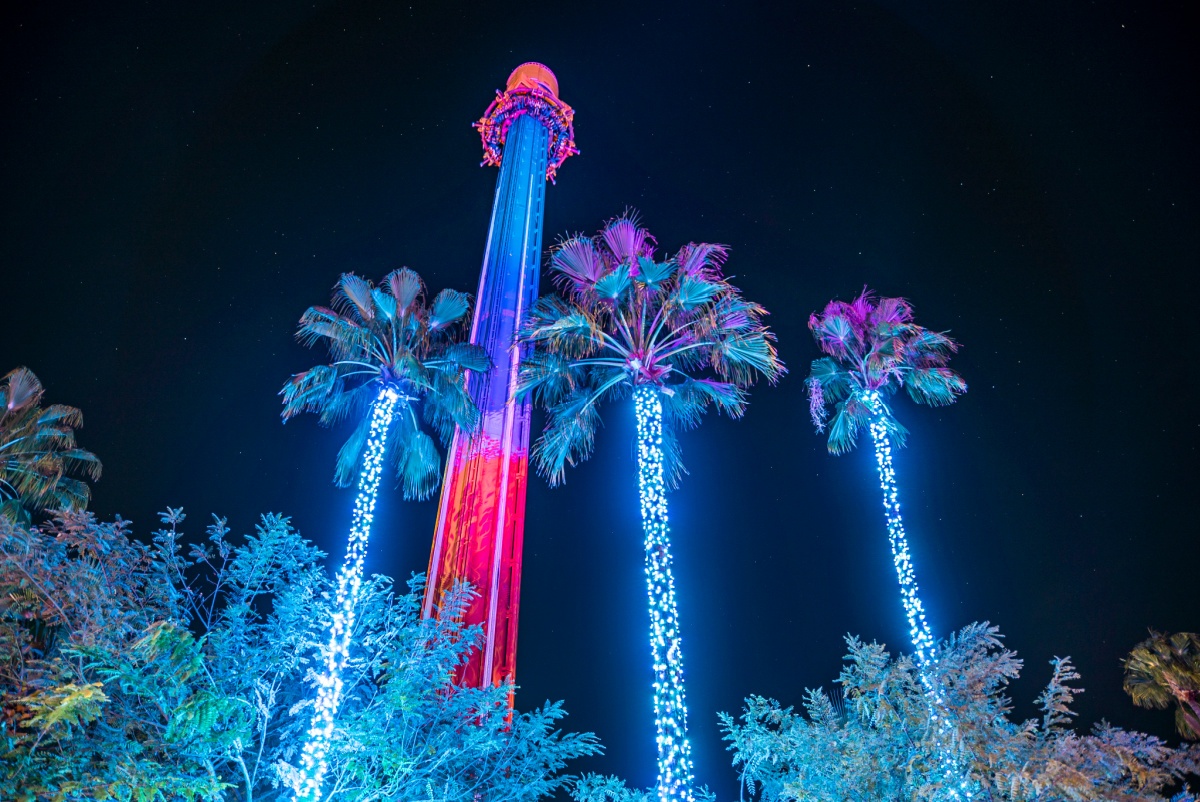 Holiday Eats & Unique Gifts
As guests dash through the night between iconic rollercoasters, they can explore the Christmas Town Village: a delicious destination filled with drinks and dishes from an all-NEW chef and mixologist created holiday menu. Beyond a selection of fan-favorite seasonal beers and mulled wine, guests can also choose from a variety of NEW holiday inspired beverages rooted in classic Christmas traditions. These unique, limited time options include specialty cocktails like the "Winter Wonderland Hot Toddy" made with winter cider, honey whiskey and a chai infusion and the festive "Spiked Hot Cocoa" with gingerbread crumbles, caramel and whipped cream.
The spirit of the season is in every bite of holiday dishes throughout the park such as sliced pork tenderloin, smoked turkey legs with pumpkin cider glaze, harvest turkey and prosciutto sliders and a variety of peppermint desserts. The best way for guests to savor and save during the holidays is with a Christmas Town Sampler Lanyard, starting at ONLY $34.99 for a 5-punch lanyard. Pass members can enjoy an extra special offer with an exclusive 12-punch lanyard for the price of a 10-punch lanyard to sip and savor throughout the event.
After fueling up for festive fun, guests can check everyone off their holiday shopping list from dazzling ornaments to charming nutcrackers with Busch Gardens exclusive 2020 holiday merchandise which is only available during this special event.
New Years Eve Celebration
To manage capacity and maintain safe physical distancing, New Year's Eve at Busch Gardens Tampa Bay will offer two reservation sessions this year, one for a daytime visit and one for a nighttime visit with two nighttime fireworks celebrations. The Busch Gardens team has consulted with medical experts to offer a modified event with required reservations and limited capacity that celebrates the spirit of the season safely. This seasonal event features open-air entertainment and experiences as well as enhanced health and safety measures including increased cleaning and sanitation, temperature checks, face covering requirements and physical distancing. Whether using a single visit ticket, Fun Card or Annual Pass, guests can reserve the session that works best for them to ring in the New Year with thrilling rides, Christmas Town festivities, amazing animals and more!
Play By Day: Reserve from 9:00 A.M – 5:00 P.M.
Guests can celebrate the excitement of the coming New Year by taking on Florida's biggest and best thrill rides, enjoying delicious seasonal treats in the Christmas Town village and experiencing awe-inspiring animal encounters – now including NEW Animal Insider Tours.
For the hard-to-buy for family member, an exclusive upgrade experience with a giraffe, penguin, tortoise or elephant makes an unforgettable gift! NEW this year, holiday shoppers can gift behind-the-scenes opportunities with the park's hippos and rhinos. For the safety of guests, Ambassadors, and the park's animals, Busch Gardens has taken extra steps to provide safe encounters with specific adaptations within each tour to accommodate physical distancing between parties and enhanced health and safety measures.
Play By Night: Reserve from 6:00 P.M. – 1:00 A.M.
New Year's Eve at Busch Gardens combines the holiday fun of Christmas Town while starting 2021 with a bang with two fireworks presentations for guests to choose from.
Yet another NEW coaster!
The buzz continues with more history in the making at Busch Gardens Tampa Bay, as construction continues on Iron Gwazi arriving this year in 2021. When it opens the ride will become North America's tallest hybrid, and the fastest, steepest hybrid coaster in the world.
Expanded Health and Safety Measures:
Busch Gardens Tampa Bay is committed to the health and safety of our guests, employees, and the animals in our care. The park has worked diligently with state and local health officials, outside consultants and attraction industry leaders to enhance our already strict health, safety and cleanliness standards. These protocols and guidelines will be modified based on evolving industry standards and methodologies, public health, and governmental directives, and advancing scientific knowledge on the transmissibility of COVID-19.
Busch Gardens Tampa Bay is excited to continue to provide our guests with fun, inspiring and memorable experiences, while addressing important health and safety needs during this time. For detailed information about the measures that guests can expect when visiting the park, including key operational changes, visit buschgardens.com/tampa/safety.
Best Ways to Play at Busch Gardens

Pay for Day, play ALL YEAR at 2 parks- For a limited time, guests can buy a Busch Gardens Fun Card and go the rest of 2021 FREE. Get yours here.
MORE VALUE, MORE OPTIONS WITH ANNUAL PASS – Pick your way to play in 2021 with a Busch Gardens Annual Pass, starting at $10.99 a month for Florida Residents. Guests can select from four pass levels for the benefits they want most – including FREE parking, discounts on merchandise and food, as well as animal encounters – to gear up for a calendar full of special events plus EXCLUSIVE pass member ride times.
FREE Preschool Card- Kids 5 and younger can enjoy FREE admission to Busch Gardens Tampa Bay and Adventure Island throughout all of 2021 with the Preschool Card. There's never been a cooler time to be a kid! Florida residents only, other conditions apply, register here.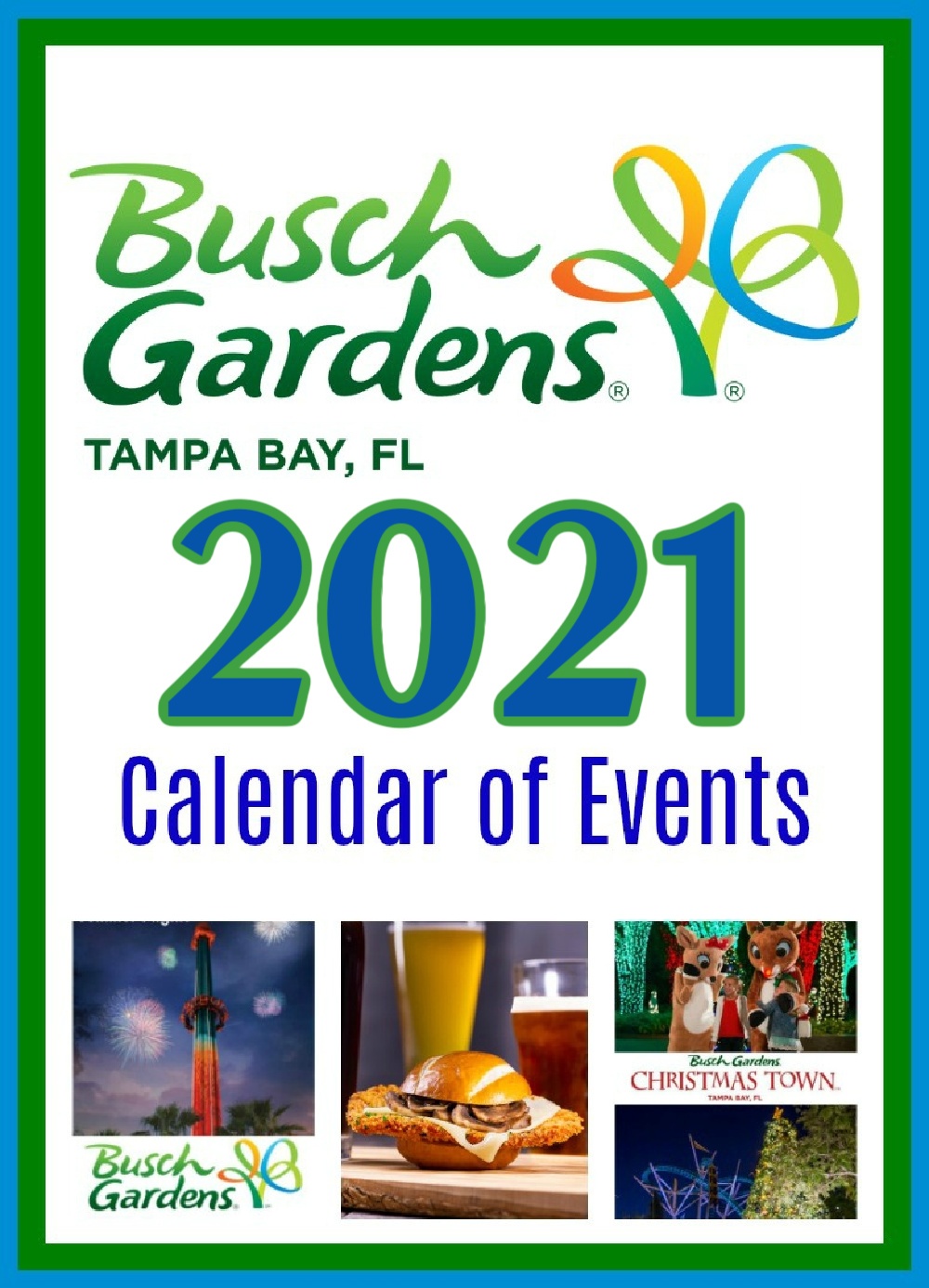 Which 2021 Busch Gardens Tampa Events are your favorite?
Make sure to join the conversation by following Busch Gardens on Facebook , Twitter and Instagram.
While you are at it make sure to check out Food Wine Sunshine on Facebook, Twitter, Pinterest, and Instagram for more fun things to do in Florida, recipes, and more.
Have fun at Busch Gardens this year, I know I will!