(Last Updated On: July 3, 2019)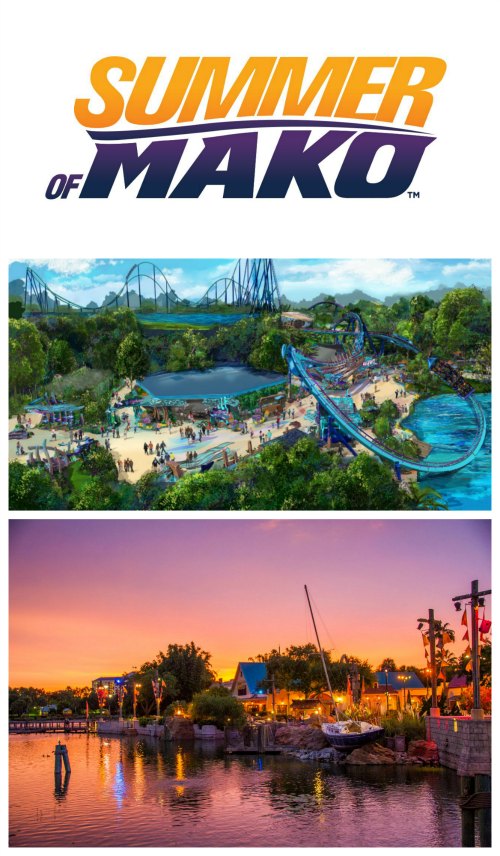 SeaWorld Summer of Mako
Starting June 10th you can stay late at SeaWorld in Orlando and enjoy more fun, thrills, and spectacular summer events! SeaWorld will feature Summer of Mako, this summer, and it is an all-new event that encourages families to explore, be inspired and take action to protect our one ocean. Whether you want to meet animal experts, dive deeper into an ocean of interactive games or experience Orlando's tallest, fastest and longest coaster, Mako, Summer of Mako has something for everyone.
Summer of Mako at SeaWorld Orlando is from June 10th – August 7th
What is Summer of Mako about? What is there to do?
Mako
SeaWorld Orlando is upping the thrills this summer. Mako will be the tallest, fastest and longest roller coaster in Orlando. 200 feet high, 73 mph and a track that's nearly a mile long. Mako is a hypercoaster, which means it's all about speed, tight turns and that weightless feeling you get at the top of each hill. Its design and engineering was inspired by the real mako shark – one of the ocean's fastest shark species. Mako's two-acre surrounding realm will be fully themed to sharks, inspiring guests to learn about and care for this mysterious species which needs our help to survive.
Shark Touch Pool
Guests who have ever dreamed of touching a shark will have the opportunity to do so this summer at SeaWorld Orlando. The Relaxation Station located near Wild Artic will be home to a brand-new educational experience where guests will have the chance to learn about and interact with brownbanded bamboo sharks, whitespotted bamboo sharks and epaulette sharks.
Interactive Games
Join the frenzy as you race around SeaWorld Orlando to find some of the tallest, fastest and longest creatures that call our oceans home.
Mako Challenge
Guests up for the Mako Challenge can make a difference by participating in a park wide text message-based scavenger hunt. Those who complete the Mako Challenge will have $1 donated to the SeaWorld Busch Gardens Conservation Fund on their behalf, benefiting a variety of conservation projects all over the world.
Animal Experiences
Throughout the park, even more animal ambassadors, educators and animal experts are stationed to share information and stories about the animals in our care and provide up-close meet and greets, scheduled feedings and fun surprises. Park guests can pick-up a Summer of Mako guide and park map for specific times and locations.
Mako Treats and Exclusive Summer Offers
Summer of Mako will offer several limited time in-park specials and culinary offerings including a honey vanilla mako shark cookie; a SeaWorld exclusive Coca-Cola Freestyle mix, Mako Blast; a specialty alcoholic beverage only available at Shark's Underwater Grill; and Mako American Red Ale, a SeaWorld exclusive brew available in several locations around SeaWorld.
Shamu's Celebration: Light Up The Night
Beginning June 18, experience this returning fan-favorite, a high-energy show featuring original music, amazing production elements and SeaWorld's majestic killer whales. Shamu Stadium will transform with stylistic lighting and colorful backdrops to create a social and celebratory atmosphere ending with a fireworks finale spectacle.
Block Party
When the sun goes down, the fun starts up with a nightly Block Party along SeaWorld's Waterfront. Celebrate summer and dance the night away with high energy music and street entertainment that is sure to provide non-stop fun for all ages.
Evening Coaster Thrills
SeaWorld's coasters are a whole different experience when the sun goes down. Guests can experience Mako, Orlando's tallest, fastest and longest coaster, Kraken, a floorless coaster with seven inversions, and Manta, a facedown, headfirst coaster where riders fly like a manta ray.
BEST WAY TO PLAY:
You can enjoy Summer of Mako and Island Nights at Aquatica for just $99 with the purchase of a single-day admission to both SeaWorld and Aquatica. Florida residents can purchase an Annual Pass to SeaWorld and Aquatica with EZpay for only $16/month.
For more information, park hours and to purchase tickets, visit SeaWorldOrlando.com. Events and times are subject to change. Follow SeaWorld on Facebook, Twitter and Instagram for the latest Summer of Mako and Island Nights information. Join the conversation with #SeaWorld and #SummerOfMako.
Be sure to check out Food Wine Sunshine on Facebook, Twitter, Pinterest, Google + and Instagram for more things to do in Florida, healthy recipes, and more.
Looking for a SeaWorld vacation package?
SeaWorld Parks & Resorts Orlando offers a wide variety of hotel and vacation packages that are perfect for a weekend getaway with the entire family. Packages include free admission to Aquatica and waves of other benefits including in-park discounts, signature show seating, and a fifth hotel night free. Guests can choose from several options including "Eat Free" providing one day of All-Day-Dining at SeaWorld and Aquatica for the whole family, and "Kids Free" offering up to two free child's admissions to SeaWorld and Aquatica. To book, visit SeaWorldGetaways.com.
New this year, families can consider a one-of-a kind vacation experience where they can swim with bottlenose dolphins, feed tropical birds, play inches from a family of otters, and experience an underwater walking tour of a coral reef with a Discovery Cove hotel package. Guests can plan a perfect trip that will include unlimited admission to SeaWorld Orlando and Aquatica for the length of their stay (up to 14 days). To book, visit DiscoveryCoveVacations.com.
Enjoy the Summer of Mako!