(Last Updated On: March 20, 2022)
As the weather gets warmer, it's great to be outside and get fresh air. For parents and baby! Here are some essentials that you need for baby's first summer of fun.

What You Need For Baby's First Summer
Baby has so many "firsts" and while they are so exciting, they can sometimes be overwhelming to prepare for. With Summer here, I wanted to share some Summer Haves For Baby thanks to one of our writer's Hannah. She has a precious 8 month old, so here are some of her favorites so far!
Take it away Hannah:
As summer is SLOWLY approaching us here in Michigan, it's time to make sure I have everything I need for my little one's first summer.
As most of you know I am I nurse and a new mommy to my adorable little 8 months old peanut, I can't believe it's been 8 months already! I am ALWAYS looking for the LATEST and GREATEST products for my little family, and I gathered my TOP MUST HAVES for baby's 1st summer.
Alright so my FIRST MUST HAVE for summer time fun with your baby is of course, SUNSCREEN. I'm sure many of you have seen in the social media lately all the buzz about sunscreen and what's good bad and really bad for you. And since my daughter has sensitive skin I wanted to get a product that was safe for her delicate skin but yet effective sun coverage. After doing some research I found babyganics, and let me tell you…. I LOVE IT. My daughter has very fair skin and has been out in the sun A LOT lately with it becoming so nice out, but always having her BABYGANICS on and she has continued to stay fair and not burn her at all. It is a mineral based sunscreen which is a tear free, non-allergenic, non PABA, non Parabens, non fragrance, non nano-particle and water resistant (80 minutes). It even has a SPF of 50.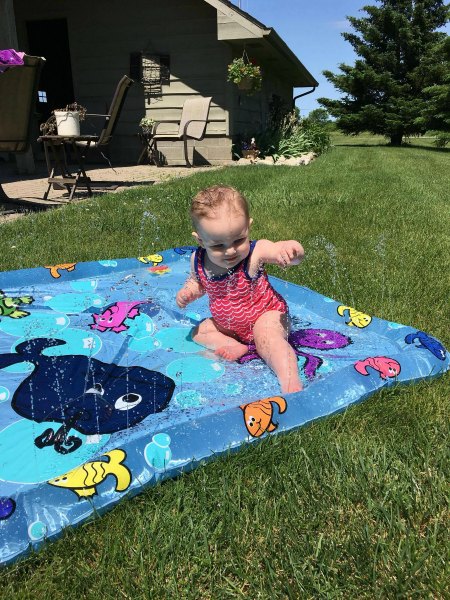 As you all know there are of bunch of swim products out there but when I came across the LI'L SQUIRT BABY POOL I fell in love! It is perfect for my daughter on a hot summer day!! (If we ever can get summer to stay!!) It inflates in just minutes, and it easily attaches to any garden hose, and it includes EXTRA SOFT sprayers and pat mat area with FLOATING 3D FISH!!! It so adorable! The sprayers are a nice gentle tide of water so it is gentle enough for baby and toddlers. It was so easy to set up, I was able to do it ALL BY MYSELF 🙂 And as a mother of a WATER LOVING BABY she absolutely LOVED it, in fact, she didn't want to get out! It is a well made, wallet friendly summer toy that my daughter really enjoys. It will definitely be getting MAJOR use at our house this summer and for many more here after.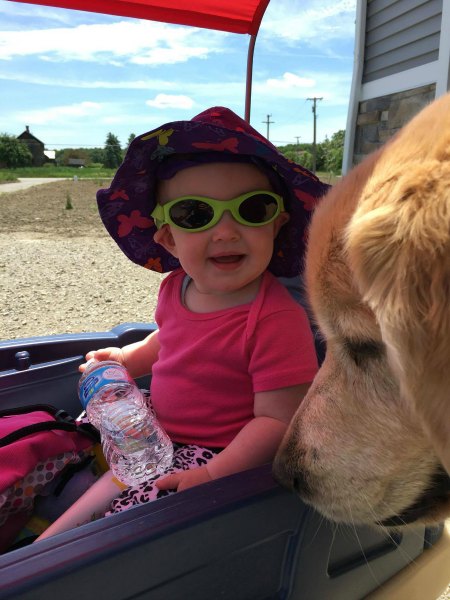 Now let me tell you…. I just LOVE these little sun shades for my daughter!! These little glasses are practical and easy to use. I love how they have a soft stretchy head strap to help keep them on that you can adjust to fit your little ones head. They block 100% of UV rays and are shatter resistant and is pediatrician recommended, and come in sizes for infant to 5yr olds. Can't get much better then that!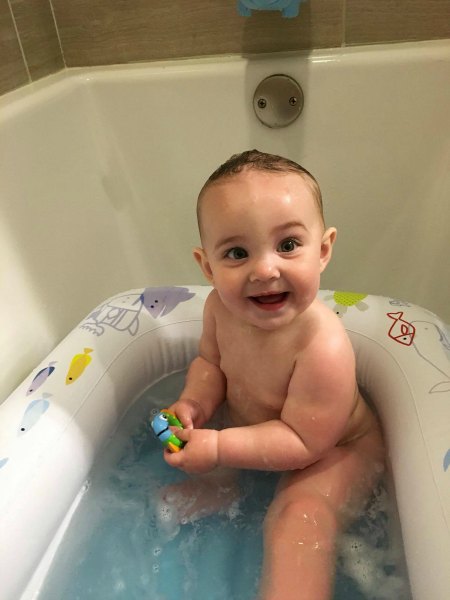 INFLATABLE SAFETY TUB
This baby tub is great, but why is it one of my summer must haves? Well, when your little one comes in from the outside, covered in sand, dirt, chlorine and sunscreen, a bath is required! It is a very durable inflatable tub to use and it is ROOMY enough for her to move around and play. It also has a plug in the bottom of the tub so it is easy to drain and clean out after bath time. But what I love most about this little safety tub is that it doubles as a water toy! It has high enough sides so she can easily play inside of it or it can be used as an outdoor bathtub when camping or when she just doesn't want to come inside! It is great for bath time and summer time outdoor fun.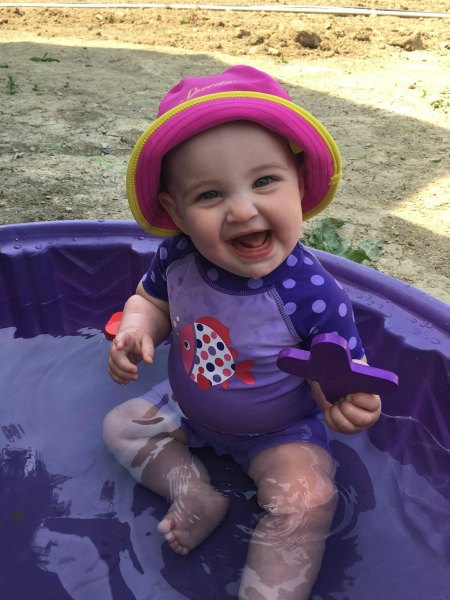 These are a definite must-have for fun in the sun! Every second my daughter is outside she has her little summer hat on, what I love most about them is most now have a UV protection built right in them. They make all different print/colors and also they make a swim suit material kind as well which I really like for water time fun. My daughter as quite a few hats 😉 But they are so worth every penny, since I hate putting sunscreen through her hair.
So these are just of few of my MUST HAVE FOR FIRST TIME BABY'S SUMMER TIME FUN!!! I have used all these products almost daily if not more and they all have stood up to my standards and would recommend them to any new mommies and daddies out there!
p.s. Don't forget the swim diapers 😉
Be sure to follow Food Wine Sunshine on Facebook, Twitter, Pinterest, and Instagram for more tips, fabulous recipes and more!
What are some of your essentials for baby's first summer?
Like to be outside a lot in the summer?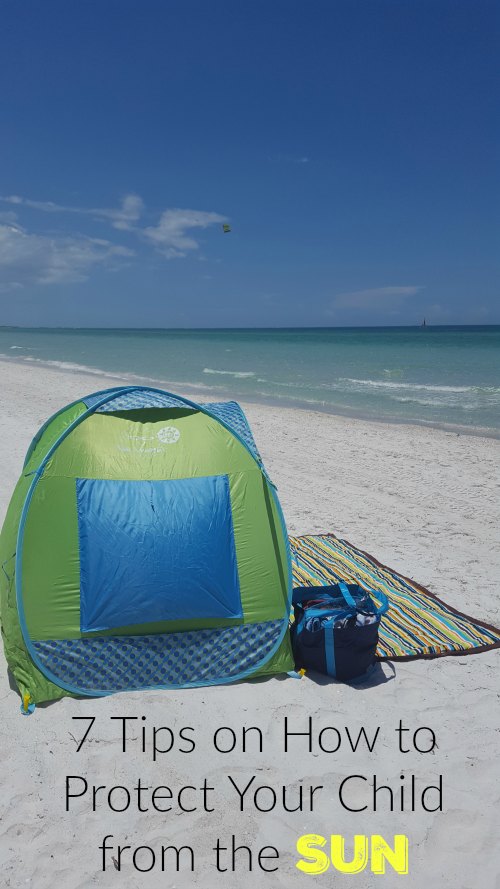 Be sure to check out these tips on protecting for your child's skin from the sun.