(Last Updated On: March 11, 2022)
Sun Safety For Kids is extremely important. While we all love spending time outside in the sun, you have to protect your child's delicate skin from harmful UV rays.

Sun Safety For Kids

This is a question I can ask myself just about daily since we live in the Sunshine State. How Can I Protect My Children from the damages of the Sun? is a question we should all ask ourselves on a regular basis. While we all crave the sun, the tan, the fun that comes in the summer months, the sun is also very dangerous.
Did you know that just a few serious sunburns can increase your child's risk of skin cancer once they get older? Scary, but true. My sister-in-law is a dermatologist and is always warning us about the harmful ultraviolet (UV) rays that come from the sun. It doesn't have to be sunny, you don't have to be at the beach and you don't have to be at the pool to get a sunburn, you just need to be outdoors.
A child's skin needs protection from the sun. Yours does too of course 😉 So, before you head out for that Beach Day, be sure you and the kids have everything you need to stay protected from the sun's harmful rays.
Here are a 7 Sun Safety Tips on How to Protect Your Child from the Sun: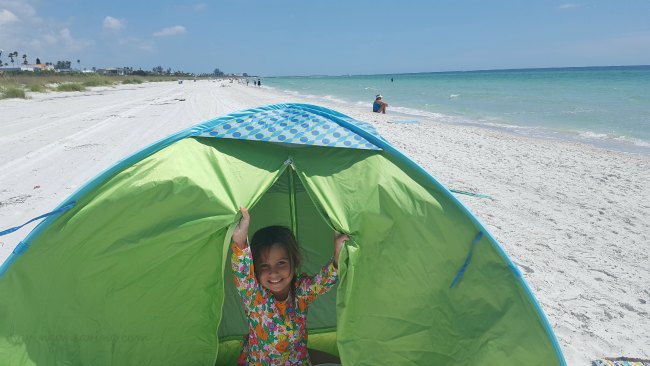 Get In the Shade
If there is no shade from trees available, bring your own! We love our Family Beach Cabana. It offers a spot for the kids to relax in, and is the perfect size for us adults to stop in for a few too. It is actually Pop-up cabana – seriously, it just pops-up! Set up on this is under 3 minutes! It also has UPF 50+ protection. You can lower and raise the panels for privacy and airflow. It also has front and back zippered flaps, two mesh windows and built-in flooring. The included ground stakes make sure it doesn't float down the beach, and the carrying bag makes it easy to bring along whether you go. The sun's rays are the most harmful during midday, so if you can't be inside, make sure your child is in the shade and protected.
Use Sunscreen
You need a sunscreen with at least SPF 15 and UVA and UVB protection, I personally recommend at least 30 SPF. Be sure to apply sunscreen about 30 minutes before your child is headed outside, that gives it enough time to "soak in." And don't forget to reapply! Most brands will have a recommended time to reapply printed right on the bottle. Learn more about how often you should apply sunscreen.
Wear Clothes/Swimsuits with Sun Protection
There are clothes out there that offer SPF protection as well, the best way to stay protected from the sun is to keep your skin protected, and keeping their skin covered up is an easy way to do that. There are many brands that offer long sleeve and short sleeve shirts, swimsuits, cover-ups, and more that all have SPF protection and are adorable.
Have Your Child Wear a Hat
Hats will shade their face and ears, which are extra sensitive to the sun. It also protects the hair part, one of the worst sunburns I have ever gotten was on my scalp! If they won't wear a hat, be sure to apply sunscreen to the hair part if they have one. I actually had skin cancer in my ear, and it was not enjoyable getting it removed, so I am can personally tell you that it is very important to keep those ears covered.
Get Child Sunglasses
Even if they are wearing a hat, sunglasses are a great habit to get into. And be sure to look for sunglasses that block 100% of UV rays. You have to protect those precious little eyes for the future!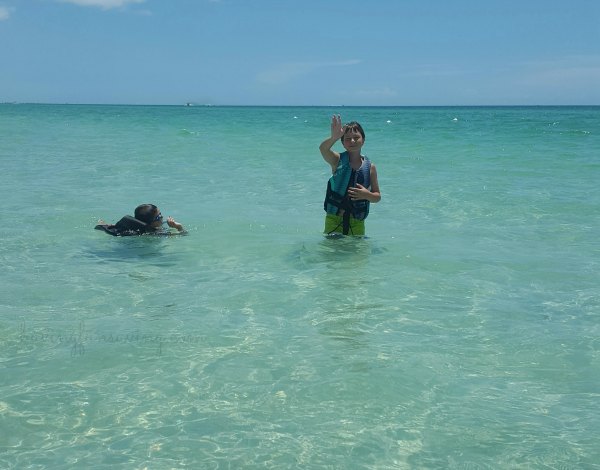 Keep a Close Eye on Them
You can actually see their skin start to turn pink when the skin is starting to get burned. Reapply sunscreen and head to some shade! And don't forget to drink plenty of fluids.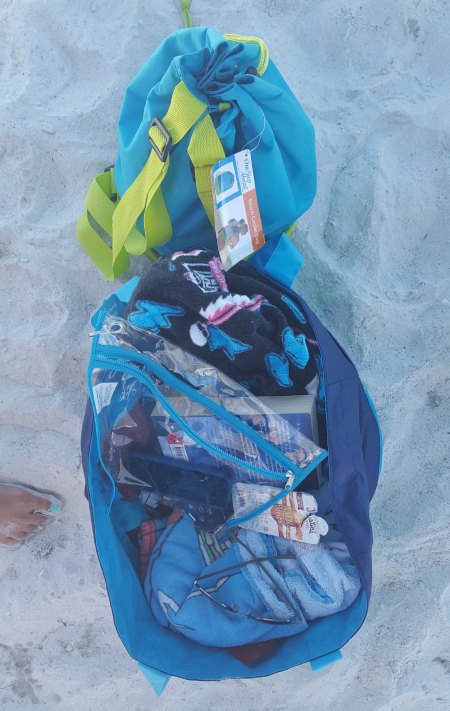 Stay Hydrated
Not only is drinking water important to stay hydrated, but by drinking water you are actually moisturizing the inner layer and outer layer of your skin cells. Which is VERY important if you are outside in the sun! So remember to have lots with you.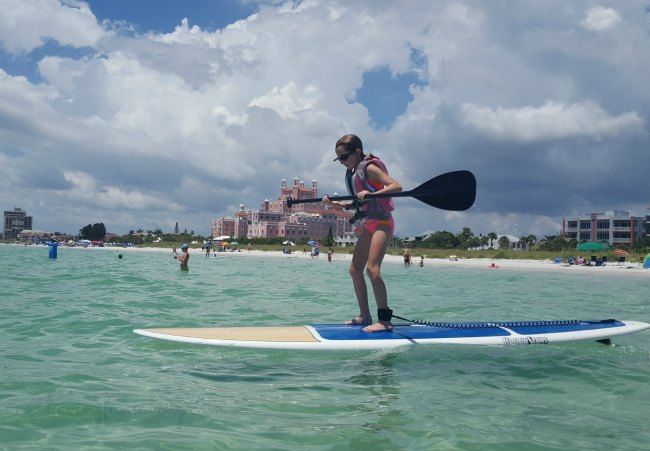 The times you have at the beach with your family are memories that will last a lifetime, you want to remember the paddling boarding and the fishing, not the horrible sunburn everyone got! So, be sure to remember these sun safety tips for kids and have some fun this summer!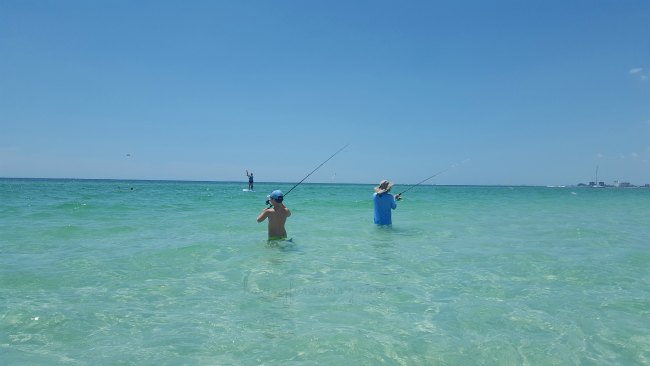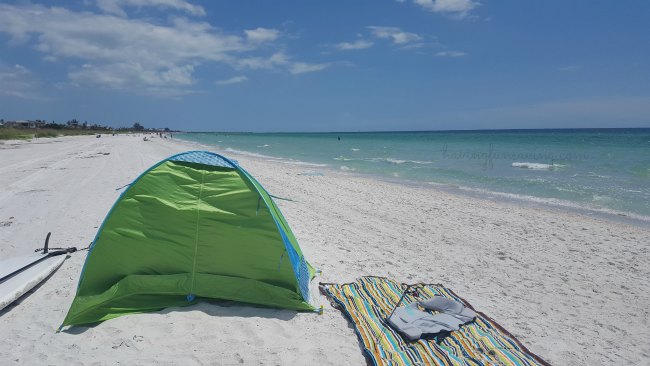 Be sure to Pin this post, bookmark it, or email it to yourself so the next time you wonder, "How Can I Protect My Child from the Sun?" you have a Sun Safety For Kids Go-To Guide.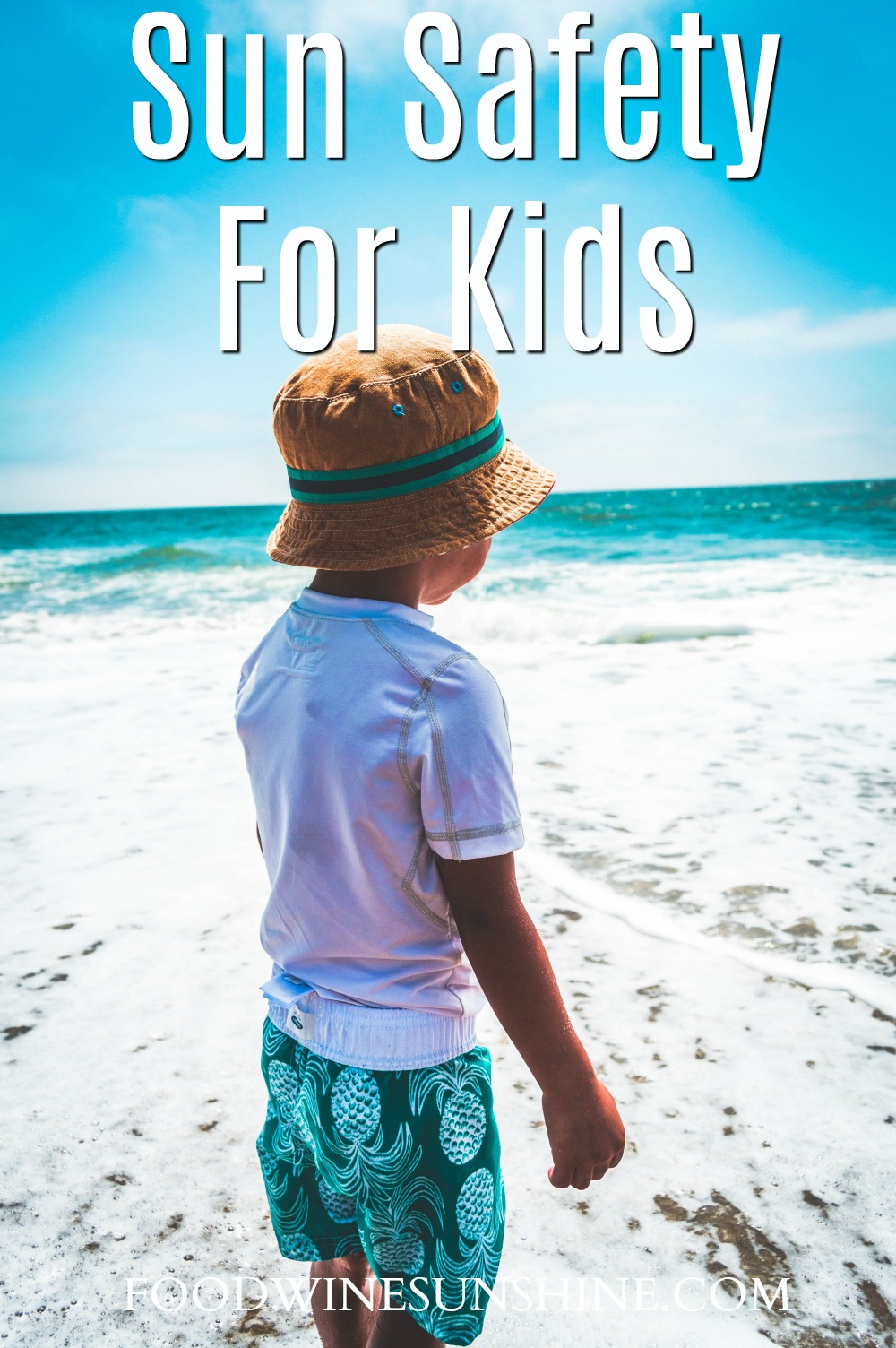 Be sure to follow Food Wine Sunshine on Facebook, Twitter, Pinterest, and Instagram for more family fun tips, delicious recipes and more!