(Last Updated On: June 7, 2019)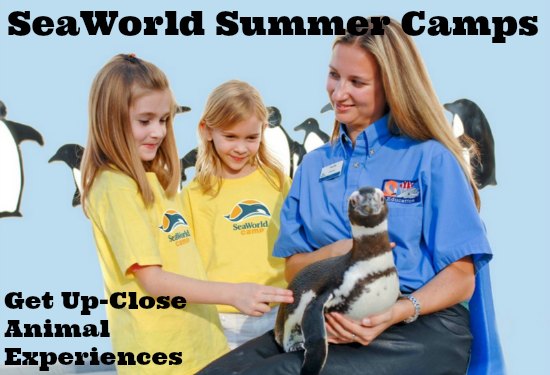 SeaWorld Summer Camps #Orlando
I wanted to remind you guys about SeaWorld Summer Camps! The FUN has officially started – have your kiddos yet?
What better camp is there than SeaWorld Camp? Let the kids make a splash and get up-close animal experiences at SeaWorld Orlando!
Did you know that SeaWorld offered camps? I have to admit, I didn't, but I think they sound really FUN! I know my kids would love them!
SeaWorld Camps™ offer educational, fun and exciting encounters for kids of all ages and include up-close experiences with marine animals that encourage a lifelong passion for wildlife and the environment.
Learn more about SeaWorld Summer Camps in Orlando
Campers are immersed in the wonders of the sea through up-close animal discoveries, exclusive behind-the-scenes opportunities and amazing attractions, rides and shows. The opportunities campers receive are unequaled – first-hand experiences with veterinarians, animal trainers and animal care staff. SeaWorld Camps not only allow children to surround themselves with aquatic life and education, but they are also about making friends, having fun, exploring the great outdoors, riding world-class coasters and creating lifelong memories.
SeaWorld Camps offer a learning environment that fosters exploration, inquiry, self-discovery and self-esteem with two offerings: traditional Day Camps and "sleep-away" Resident Camps.
· Day Camps: During their particular week at SeaWorld Camp, participants learn about a variety of animals, including whales, dolphins, penguins and sea lions. Campers will focus on a different animal each day and learn about them through songs, take-home arts and crafts, as well as by talking with our zoological staff. Day Camps are offered for children going into preschool through 8th grade. Lunch, snacks, a camp T-shirt and water bottle are included.
· Resident "Sleep-away" Camps: Make it a summer to remember for students going into 7-12th grade with a Career Camp. Campers experience what it takes to train and work with marine animals and have the opportunity to touch a penguin, snorkel in a shark cage, work with the animal care staff and create an enriching environment for our animals. Plus, participants have the opportunity to spend a day at Discovery Cove® swimming with dolphins, snorkeling with tropical fish and rays and feeding exotic birds in a free-flight aviary. Resident Camp fees include all camp activities, lodging onsite at SeaWorld® and at our partner hotel for five nights, plus all meals and snacks. Supervision and guidance is provided 24 hours a day for the entire duration. Many campers fly in from around the country, and our dedicated camp staff picks them up at Orlando International Airport and brings them to SeaWorld to start their camp experience.
For nearly 25 years, SeaWorld has provided safe, fun and educational camp experiences for kids of all ages—in the not-so-traditional setting of a world-class theme park. In the last 10 years, more than 250,000 youth have attended a SeaWorld and Busch Gardens® Camp.
SeaWorld Camps are accredited by the American Camp Association (ACA), a nationally recognized association focused on health, safety and program quality. ACA assists the public to choose camps and works to preserve, promote and improve the camp experience.
A study by the American Camp Association (ACA) revealed that over 90 percent of campers felt their summer camp experience made them feel good about themselves and helped them make new friends. 70 percent of parents said that summer camp improved their child's self-confidence.
Check out SeaWorld on Facebook and Twitter to stay social.
Make sure to check out my review of the Sea Of Surprises too!
While you are at it – stay up to date with me too 🙂 Find Food Wine Sunshine on Facebook, Twitter, Pinterest, and Google +.
Have your kids been to a SeaWorld Summer Camp before? I would love to hear your feedback!