(Last Updated On: July 1, 2019)
This is a sponsored post by Cans Get You Cooking, I am a proud Canbassador! This recipe and all opinions are my own.

Fiesta Rice with Chicken Recipe
I have a a delicious recipe to share with you guys this afternoon – this Fiesta Rice (and QUINOA!) and Chicken dish is easy to make and it's filled with flavor. I love that this recipe has several canned ingredients – Cans seal in freshness, flavor, and nutrition, naturally.
The can is one of the best ways to get food from the farm to your family — sealing in freshness, flavor and nutrition so they can be served anytime with confidence. Plus, it cuts your prep way down – it's very easy to open a can and get cooking 🙂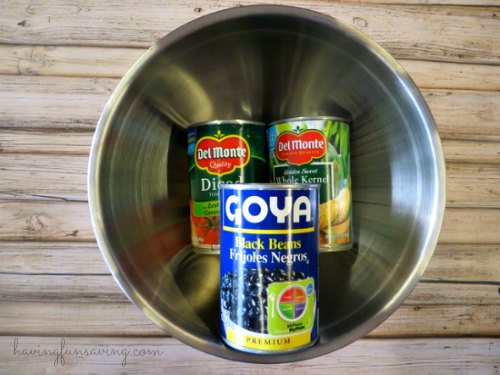 Now, here's my Fiesta Rice with Chicken Recipe:
Fiesta Rice with Chicken Recipe
Author:
Prep time:
Cook time:
Total time:
Ingredients
1/4 cup long grain rice
1/4 cup quinoa
Amount of water stated on rice cooking directions
1 can of black beans – rinsed
1 can of tomatoes and green chiles
1 can corn
2 limes
1/4 cup chopped Cilantro
1/4 cup diced Green Onion
1 teaspoon of Cumin
2 breasts of cooked Chicken (more or less depending on your taste and family size)
Instructions
Cook rice and quinoa according to package directions
Mix the canned tomatoes, black beans, corn, onions, cilantro, and cumin in a mixing bowl
Cut the limes in half and add the juice to the tomato mixture
Once rice is done, add it to your salsa mixture and mix well
Serve with chicken
Enjoy!
Notes
This is also a low-calorie dish – filled with protein and fiber!
Just look at the salsa – it's so full of color! And it tastes amazing 😉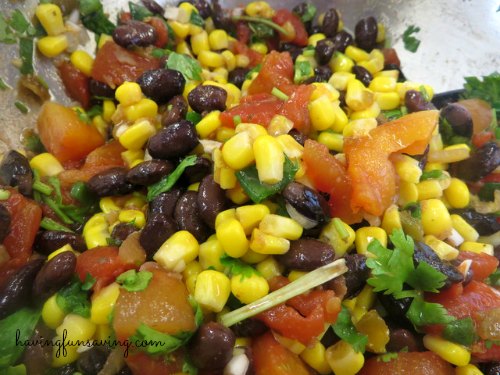 Enjoy this Fiesta Rice with Chicken Recipe. I hope you like it as much as we do!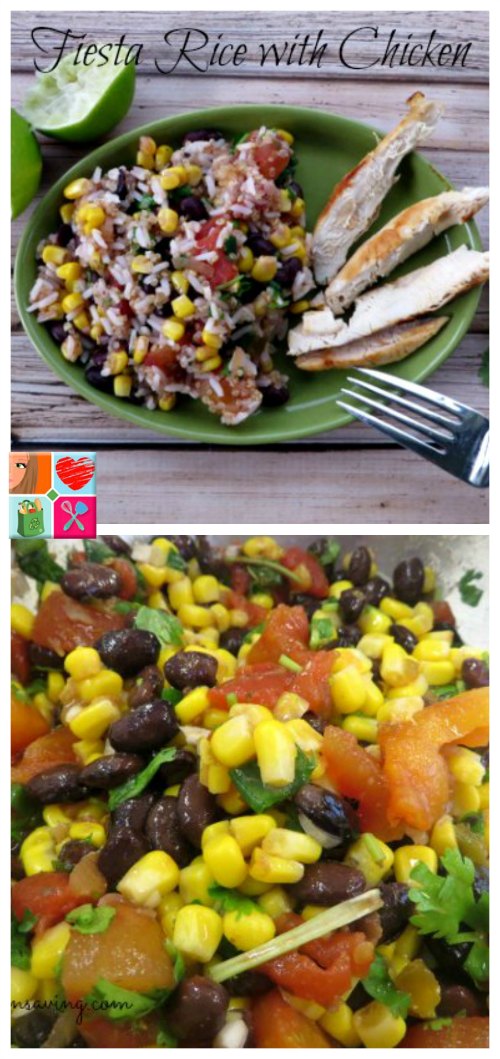 I am a proud to share this recipe that include the delicious vegetables that you can get at your favorite grocery store…in cans! I got mine on sale at Winn Dixie 🙂 Make sure to check Cans Get You Cooking out online, on Facebook, on Twitter, Pinterest, and even YouTube!
While you are at it – make sure to find Food Wine Sunshine on Facebook, Twitter, Pinterest, and Google + for more Florida Fun, reviews, recipes, and more!