(Last Updated On: July 3, 2019)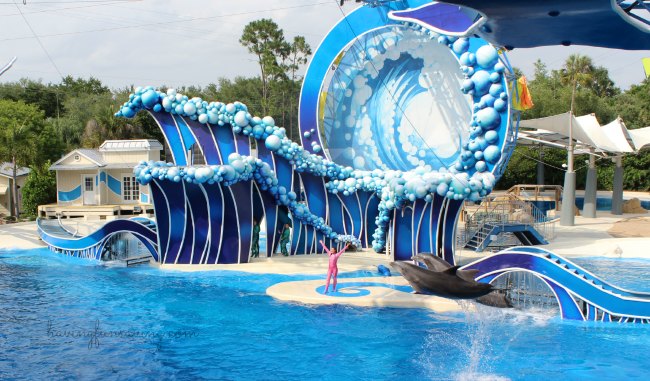 SeaWorld Dolphin Days Replaces Blue Horizons Show
The Blue Horizons show is coming to an end at SeaWorld Orlando, but don't worry, you will still be able to see the amazing dolphins! SeaWorld Orlando will launch a new show called Dolphin Days, immersing guests into the world of the ocean's most playful ambassadors.
Dolphin Days, will debut on Saturday, April 1, replacing the popular Blue Horizons® after an eleven-year run at Dolphin Theater. In the new presentation, the audience will learn more about the individual personalities of each Atlantic bottlenose dolphin while witnessing the special bond they share with their trainers. A soaring rainbow of macaws and other tropical birds will also delight guests, uniting the mysteries of the deep oceans with the wonder and beauty of the skies above.
The new Dolphin Days will also present an interactive opportunity for young guests. During each show, one lucky young volunteer will be selected from the audience to learn firsthand from the training team in an up-close encounter with one of the dolphins and a green-winged macaw.
As guests are wowed by the agility, grace and aerial bows of the dolphins, they will learn how they can help protect dolphins in the wild. The addition of Dolphin Days is the latest example of how SeaWorld continues to provide families with experiences that matter. Through up-close encounters and unique shows like Dolphin Days, guests will leave the park inspired to care about this amazing species, and take action to help wild animals and the places they live.
Dolphin Days won't be the only place to learn more about dolphins. The park's new Dolphin Nursery will open in time for summer, offering an interactive educational experience for guests to see dolphins up close. The addition of virtual reality to Kraken and the new nighttime spectacular Electric Ocean round out an exciting line-up of new attractions and shows opening this year.
Check out SeaWorld on Facebook and Twitter to stay social.
While you are at it – stay up to date with me too 🙂 Find Food Wine Sunshine on Facebook, Twitter, Pinterest, and Google + for more fun things to do in Florida.