(Last Updated On: February 6, 2023)
This is a sponsored post written by me on behalf of Visit Lake County, FL. All opinions are 100% mine.
Looking for a family outdoor adventure? Discover Real Florida. Real Close. See why you should Visit Mount Dora in Lake County, FL for family fun.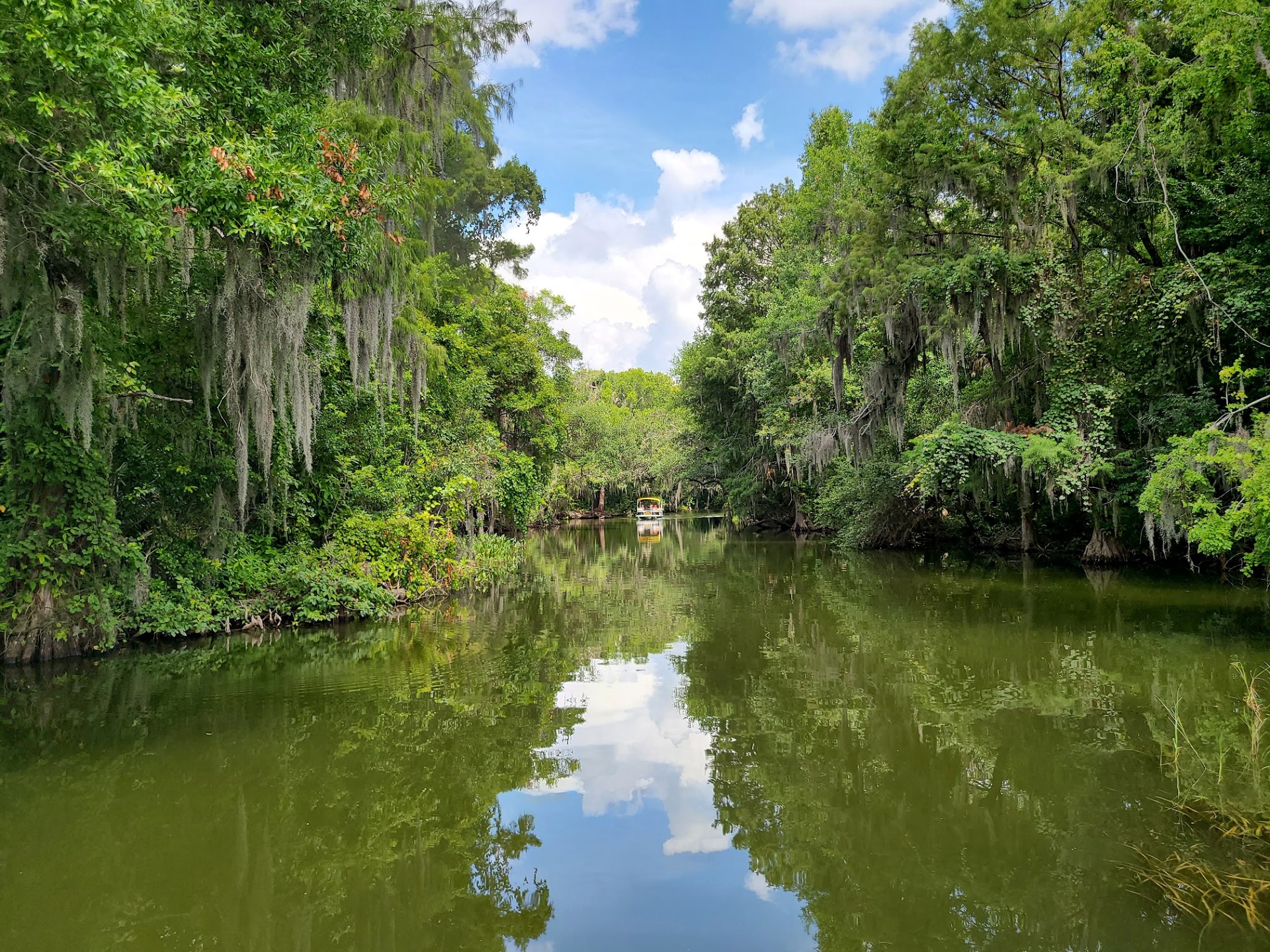 Top Family Outdoor Activities In Mount Dora, Florida
When you think of things to do in Florida, you normally think beaches and theme parks, but there is so much more. So much more! When it comes to entertaining the kids, and the whole family, outdoors is by far the best option. There is so much available to do outside, especially in Florida. In fact, we have Real Florida. Real Close Real Florida? Yes, located only 30-minutes west of Orlando or an hour from Tampa there is the beauty of Lake County. Lake County is in Central Florida and offers a wide range of outdoor activities for families to enjoy. Since we are spending more times outdoors I am always looking for safe adventures, so last week we headed to Mount Dora in Lake County.
Lake County is The Perfect Distance Away. It took us about an hour and a half to get to Mount Dora from Land O Lakes. On our way we drove through Tavares, which is America's Seaplane City, numerous parks, pristine lakes, fishing spots and gorgeous landscape.
Lake County is actually home to over 1,000 lakes and rivers, and we loved looking at all the boats, water sports and people fishing as we were driving. In fact, that's exactly what inspired our outdoor adventures for the day.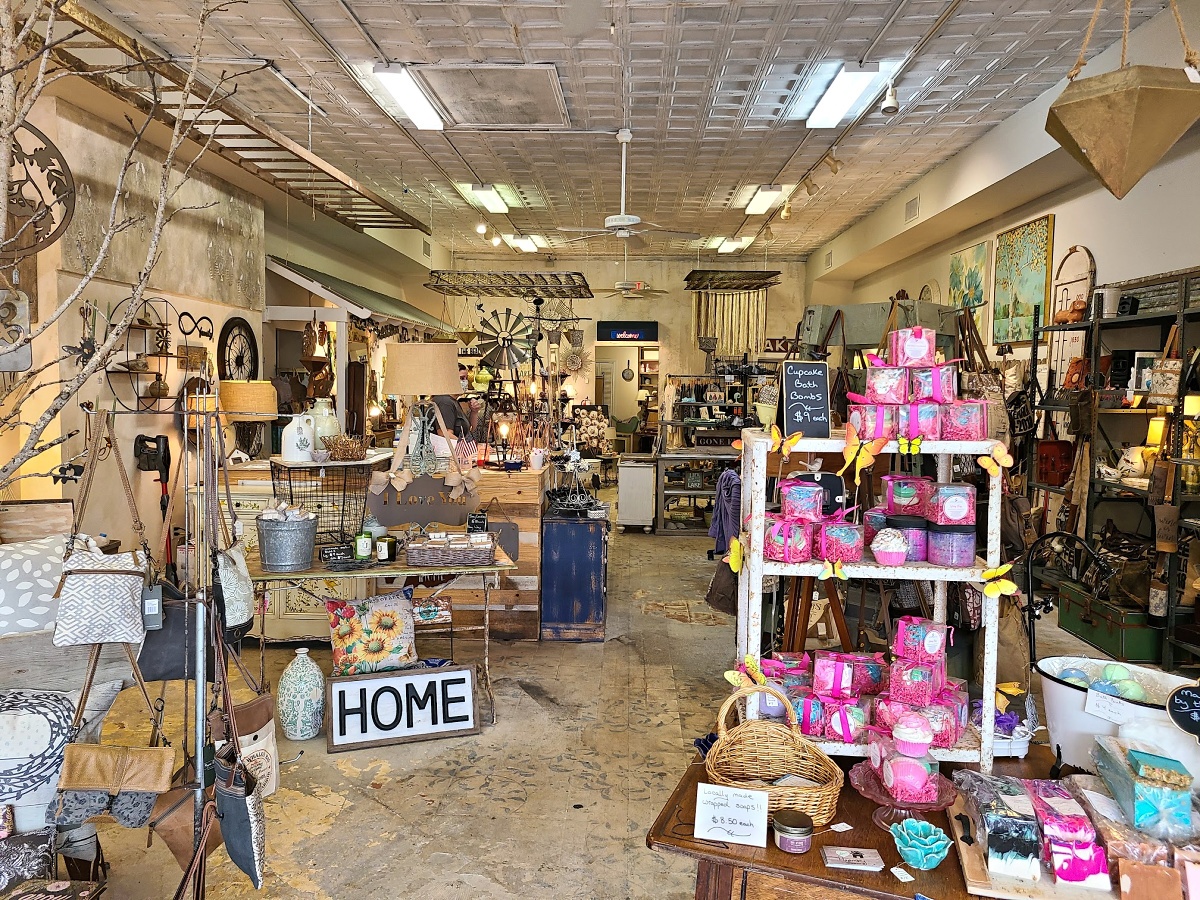 We parked in the middle of Historic Mount Dora and walked down the quaint streets, passed several unique shops selling local handmade goods, the old railroad station, a bunch of adorable dining options and past the Lakeside Inn which is oldest continuously-operating hotel in the State of Florida to Premier Boat Tours.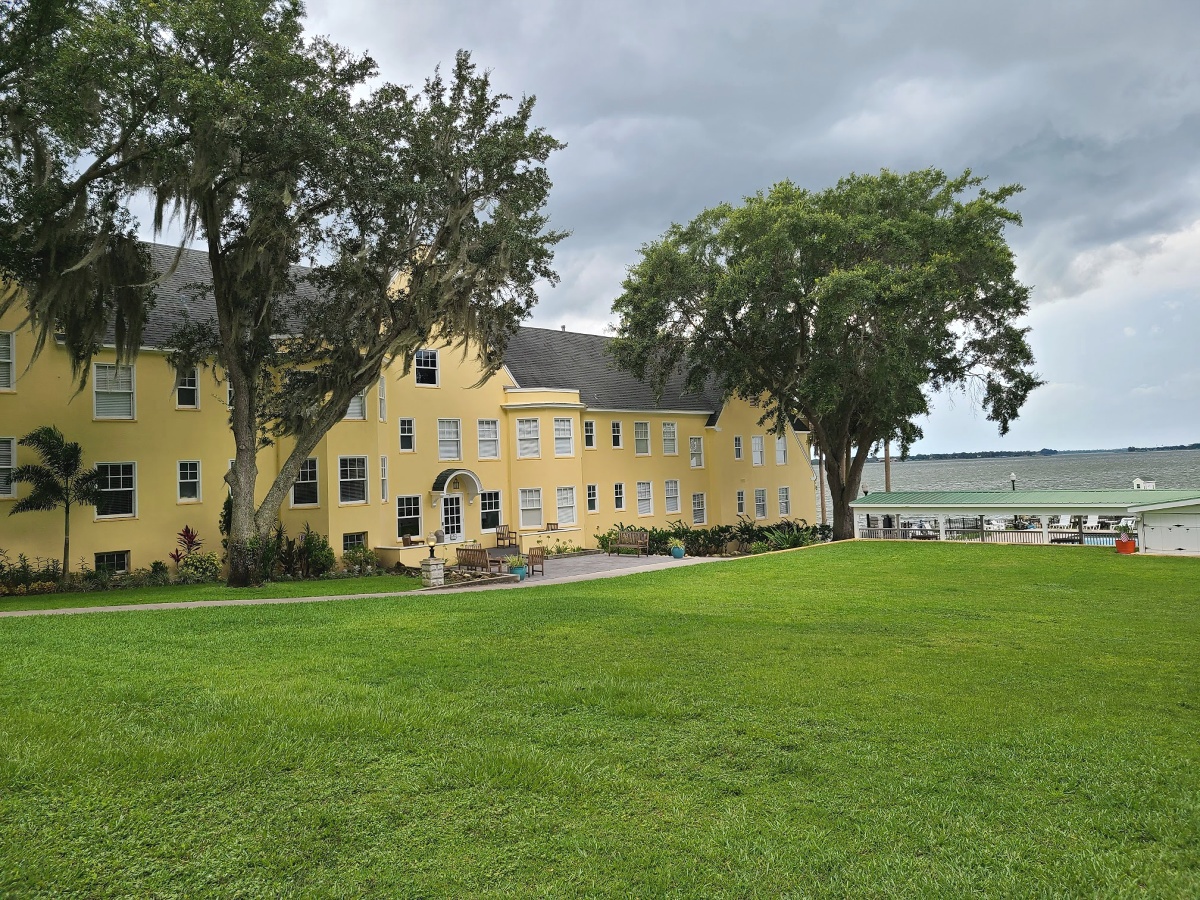 Right behind the Lakeside Inn on Lake Dora is Premier Boat Tours, where the kids and I boarded a large pontoon boat to enjoy a 2-hour tour of Lake Dora and the Dora Canal.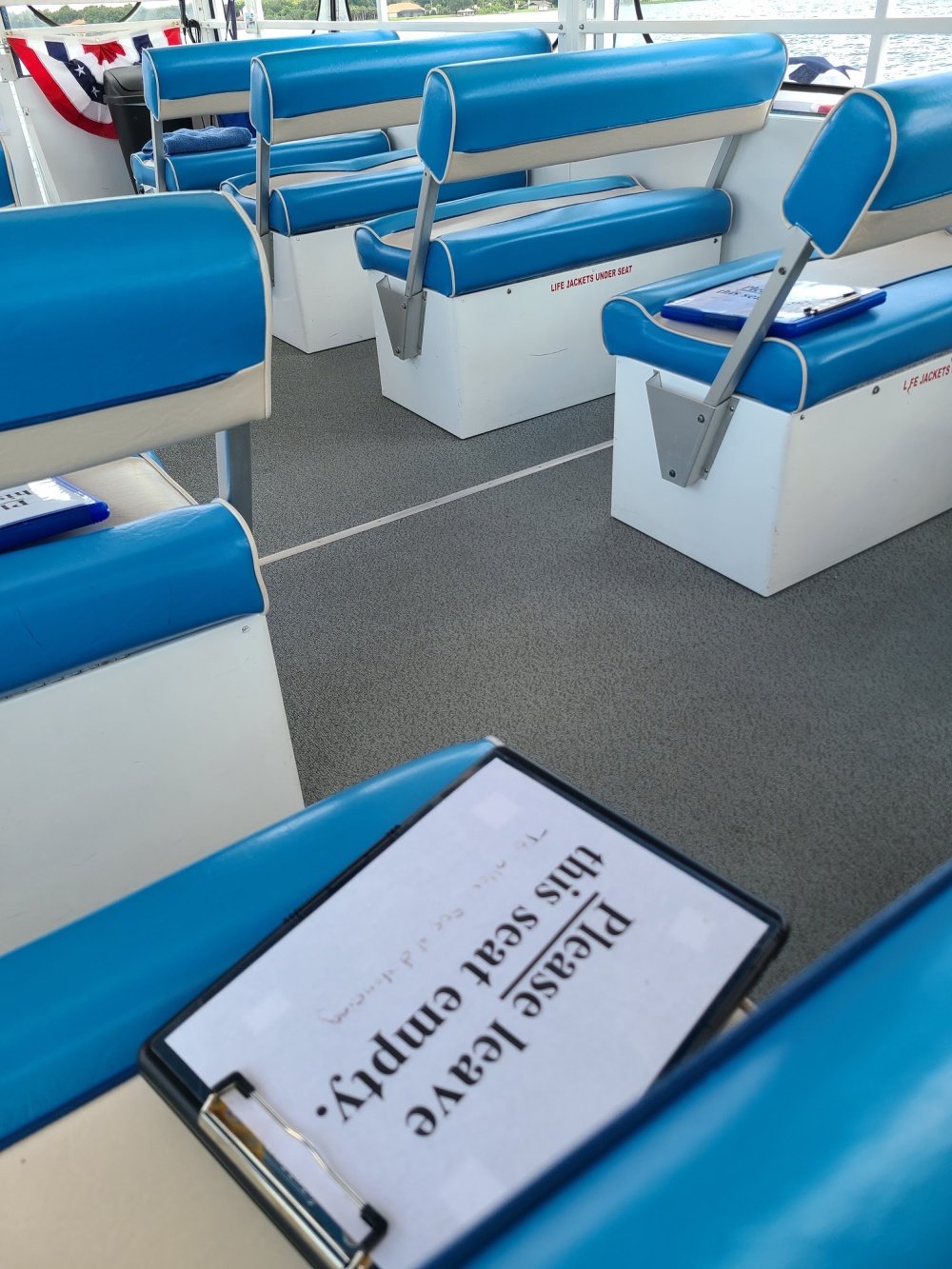 We took our seats, which were socially distanced (they were blocked off to insure distancing from other guests) and started off on our narrated adventure with two outgoing captains.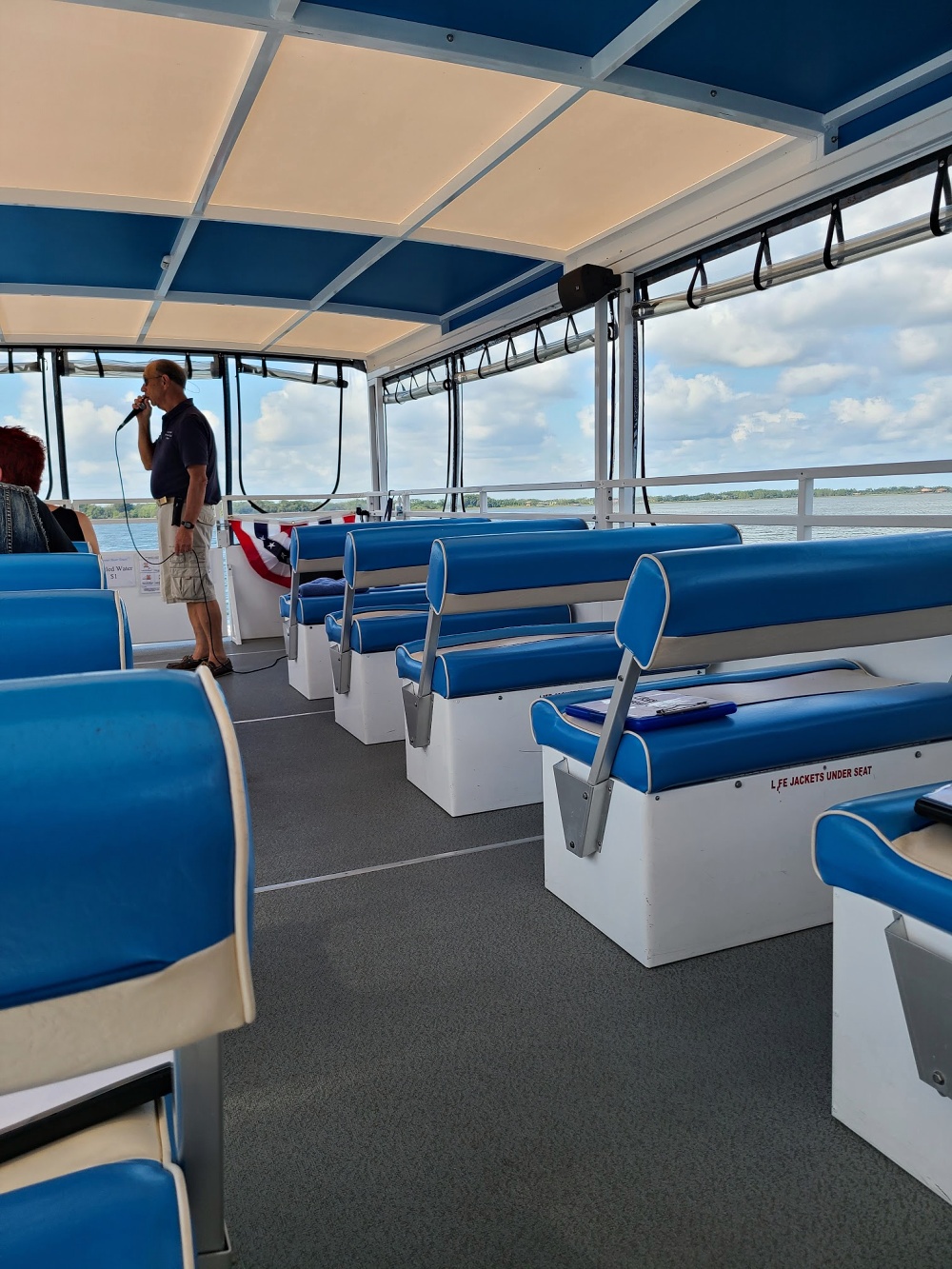 As we cruised around Lake Dora, we were given a brief history of Mount Dora and the Harris Chain of Lakes, along with some silly jokes that kept us smiling. We stopped and saw bald eagles! Yes, there are bald eagles that have made their nest in one of the trees along Lake Dora! It was incredible to be able to see these majestic creatures in nature.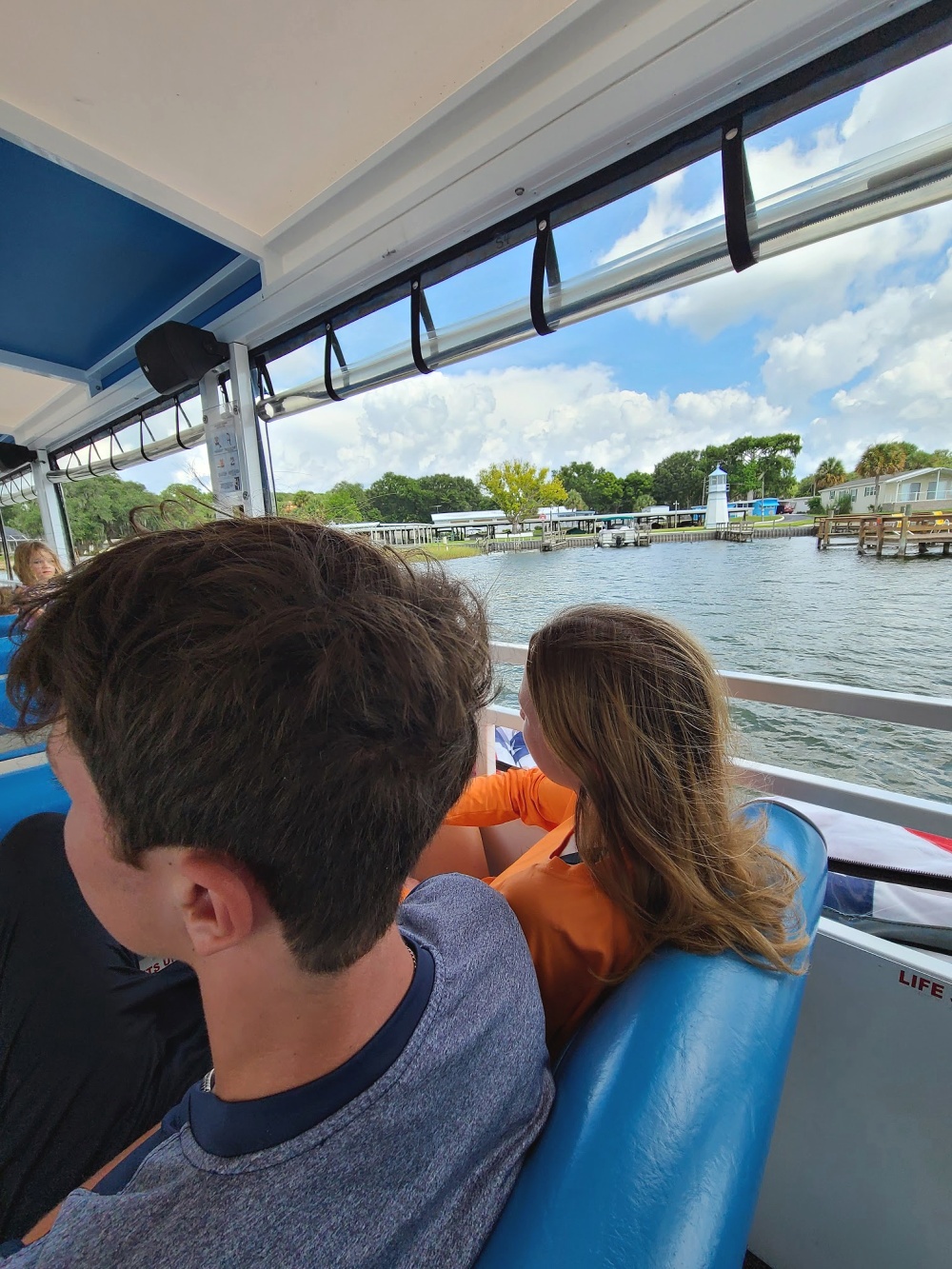 We then traveled under the railway bridge in Tavares and entered the Dora Canal. The first portion of the canal was actually dug by hand and is the residential section, we saw colorful homes, a gnome garden and lots of birds. Just beyond the unique residential section we entered a Cypress Swamp.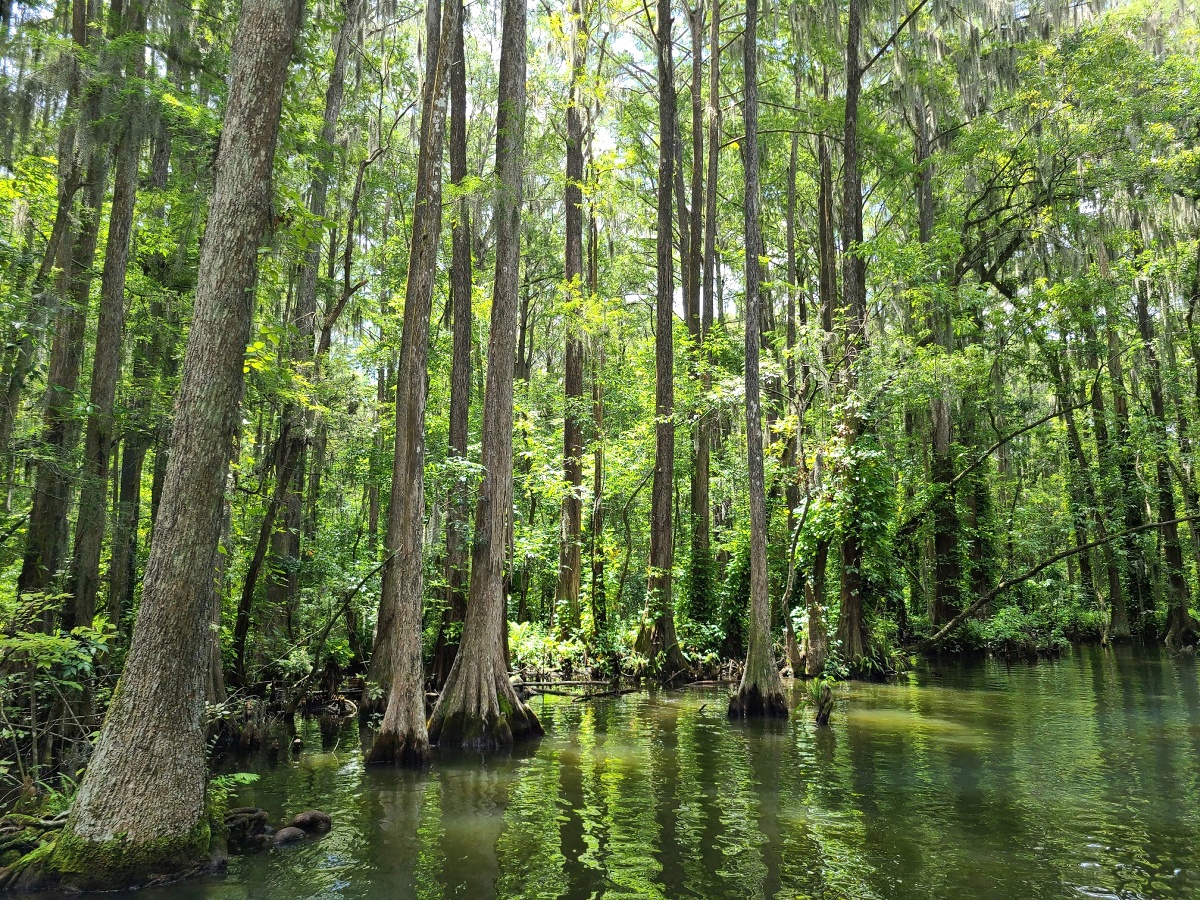 The captains let us know that the trees here are up to 3,000 years old! Through this portion of the "jungle cruise" we saw beautiful trees that are the home for herons, egrets, anhingas, turtles and alligators. We saw many turtles sunning themselves and a few alligators hiding out waiting for their next meal.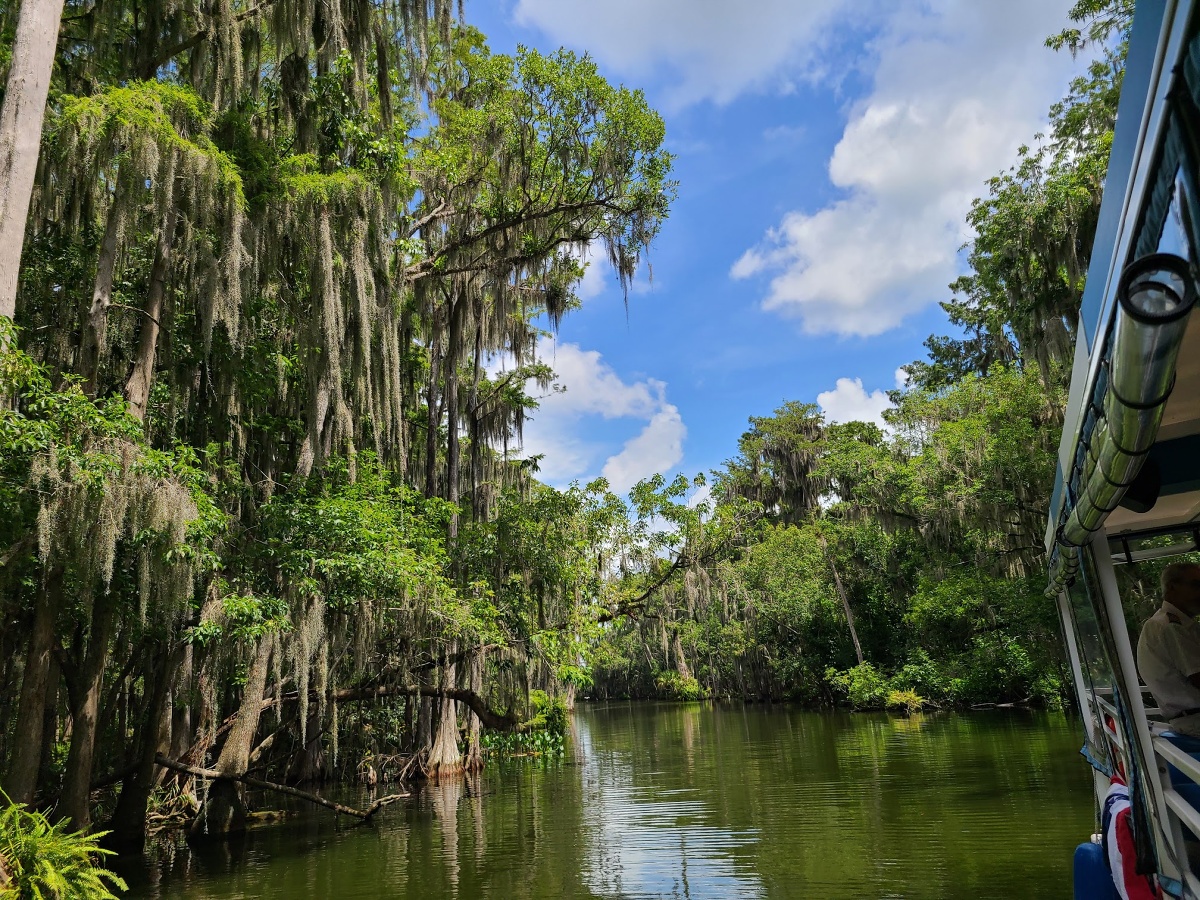 The trees were absolutely awe-inspiring. Seeing trees that are thousands of years old was just beautiful. I think I took over 50 pictures of just the trees! The thick trunks, the cypress knees coming out of the water, the blue sky peeking in down the canal. It was just serene.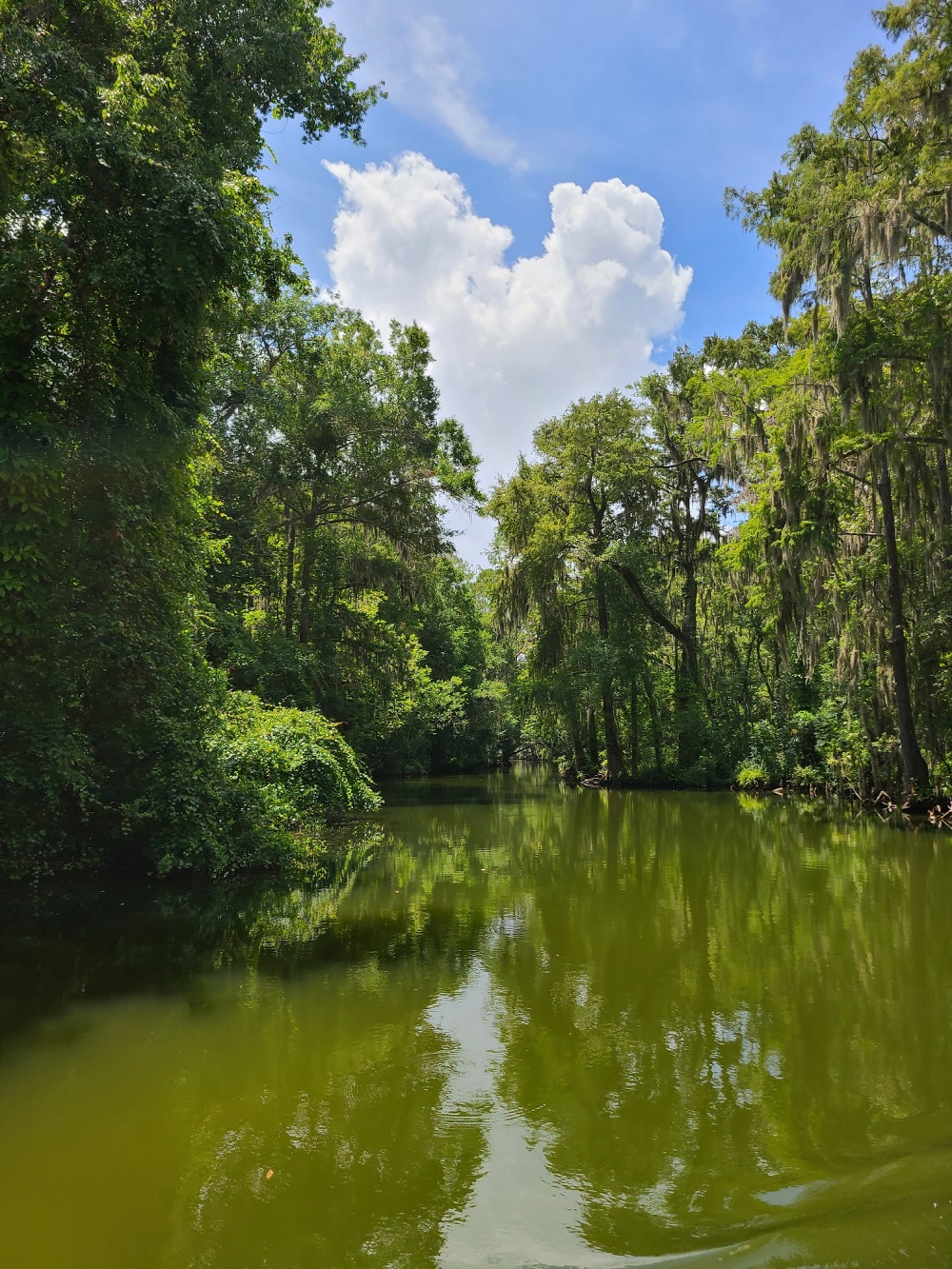 Once we got off the Premier Boat Tours pontoon boat we were starving, so we headed to the Olive Branch for lunch. We enjoyed the outdoor seating while eating out gyros and perfectly cooked french fries.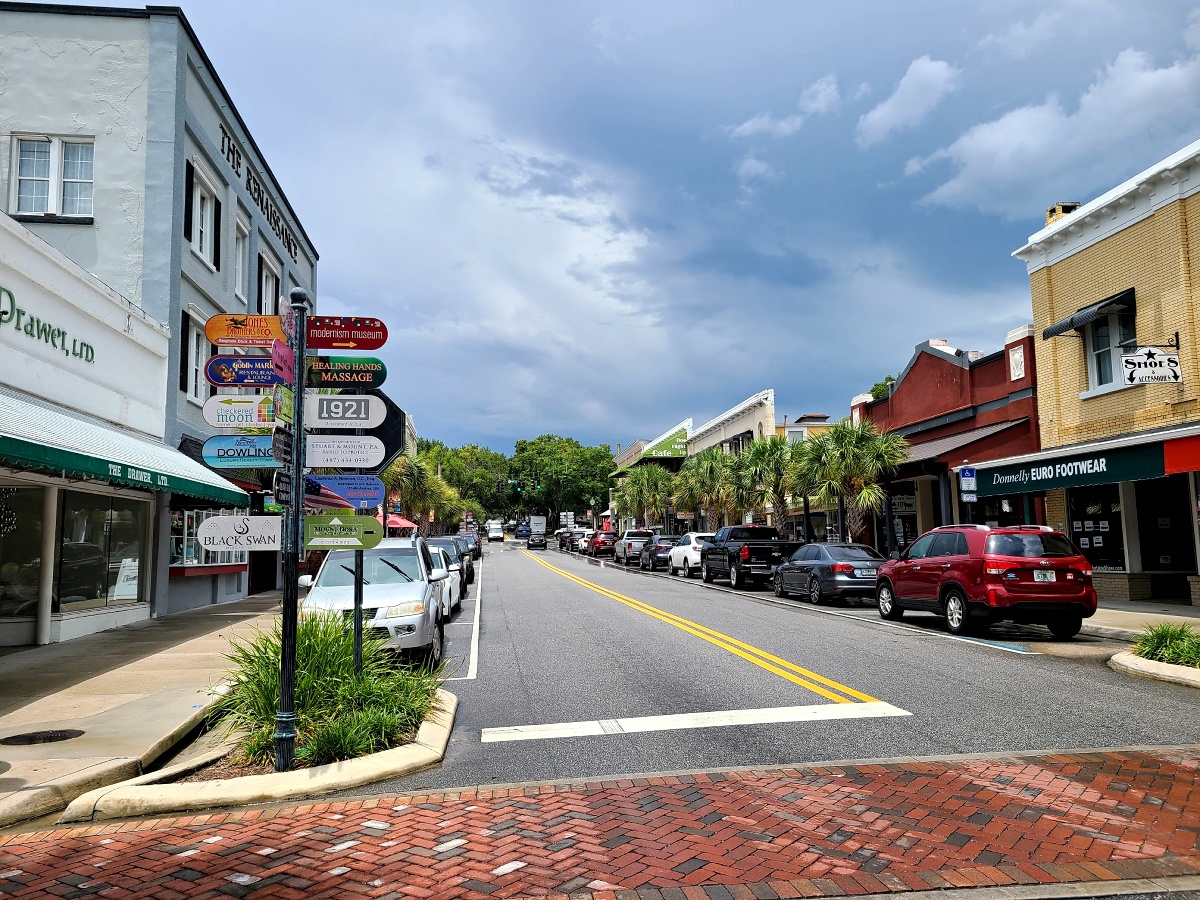 We had to walk off our delicious lunch, so we visited a few of the local shops. I bought earrings made from cork, how could I possibly resist with my love of wine?! I also spoiled us with some handmade soaps and spices.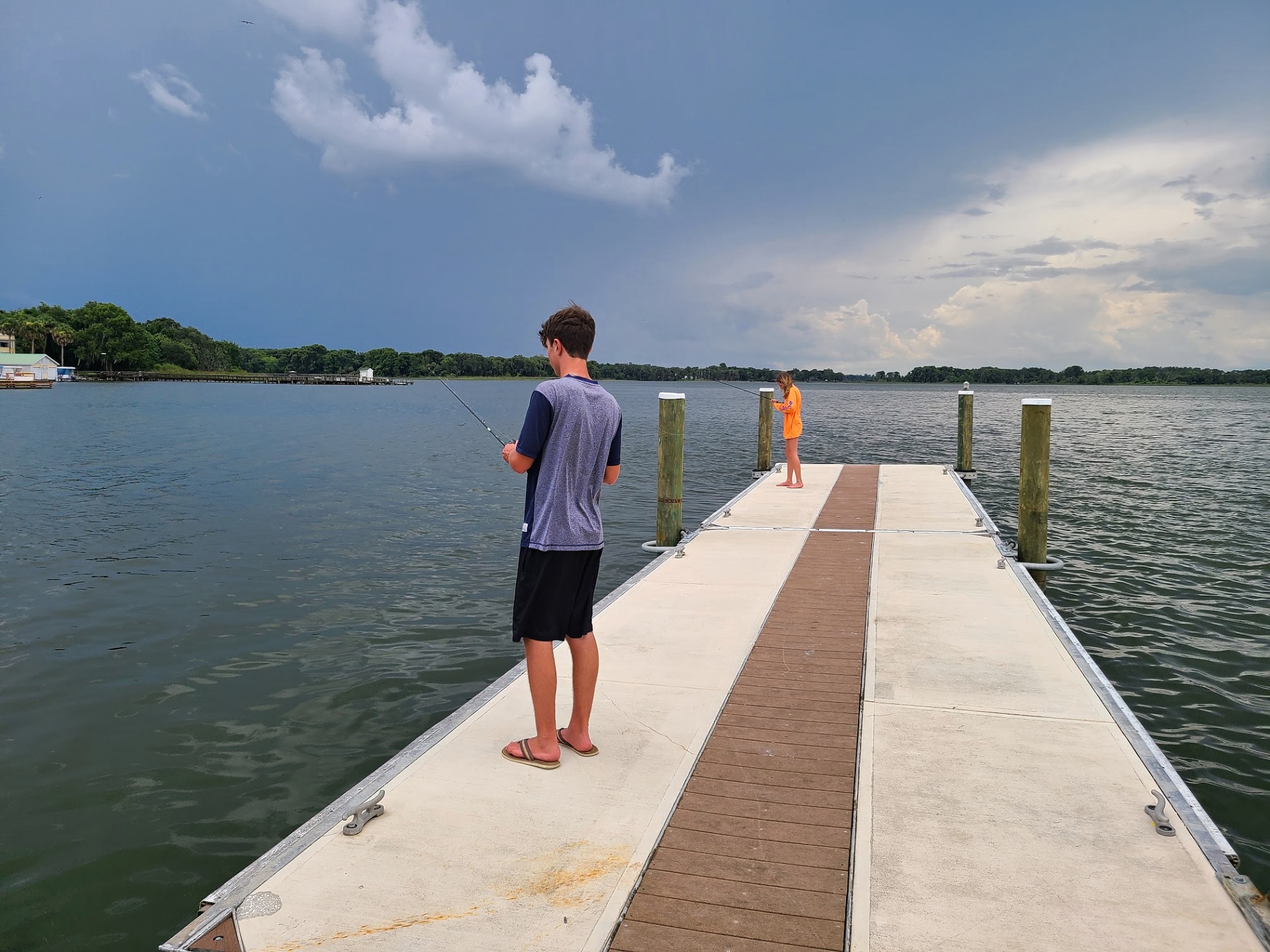 Once the kids kindly let me know that they were done shopping (as kids do) we headed down to the public docks by the Mount Dora Yacht Club and did some fishing. We actually brought our own poles but there are quite a few fishing charter options available in Lake County. With over 1,000 lakes here, even the pro-fishermen come to fish the Harris Chain of Lakes. We love watching the Florida fishing shows on TV and my son was pretty excited to see where pros fish, the Harris Chain of Lakes is one of the country's top bass fishing destinations and hosts a lot of professional tournaments and championship events. With seven of the top 11 lakes for bass in Florida, Lake County is the place to catch your trophy fish. The nine Harris Chain of lakes total approximately 76,000 acres. You will find Bass, Crappie, Catfish, Shellcracker, Sunshine Bass, Gar, and Bluegill in the pristine waters of the Harris Chain of lakes. The kids were excited to cast their lines in hopes to catch a big bass.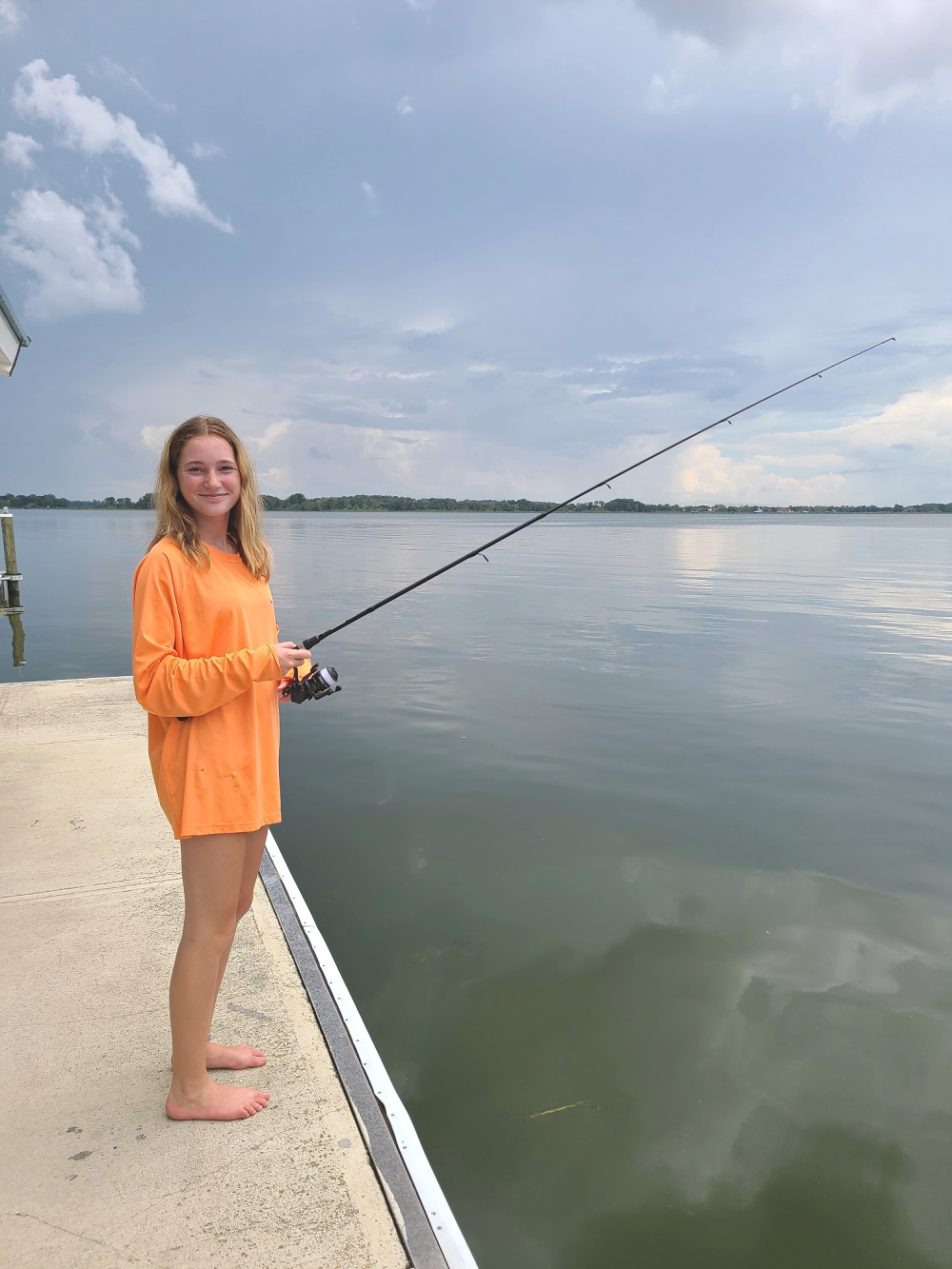 The kids fished for a few hours, it was the perfect afternoon.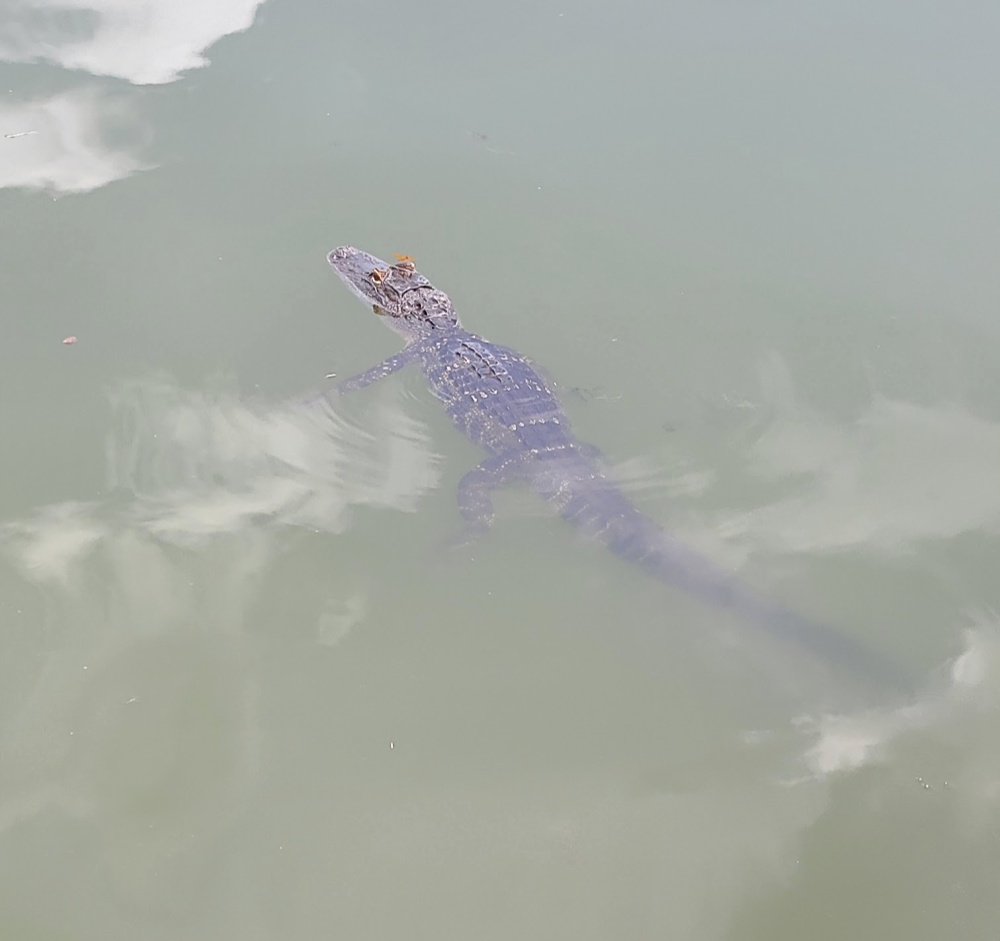 We even saw 4 gators swimming around, thankfully they didn't take the kids' fish 😉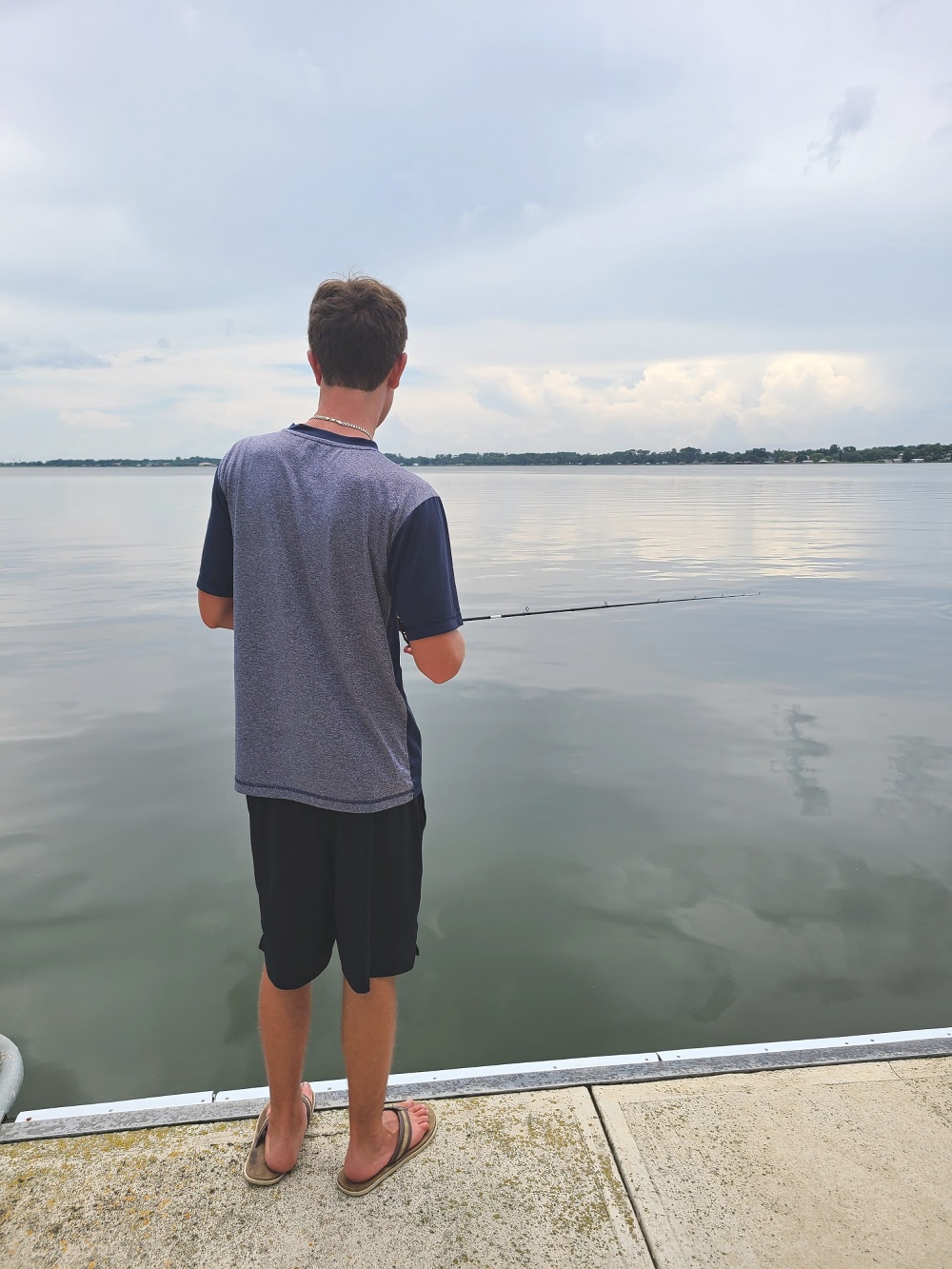 After fishing, the kids were hungry again…of course…so we headed to one of the nostalgic ice cream shops and treated ourselves to a some ice cream. I got a root beer float and the kids got waffle cones with their favorite flavors (cookie monster and salted caramel). We sat outside and enjoyed our ice creams before we started the easy drive back home.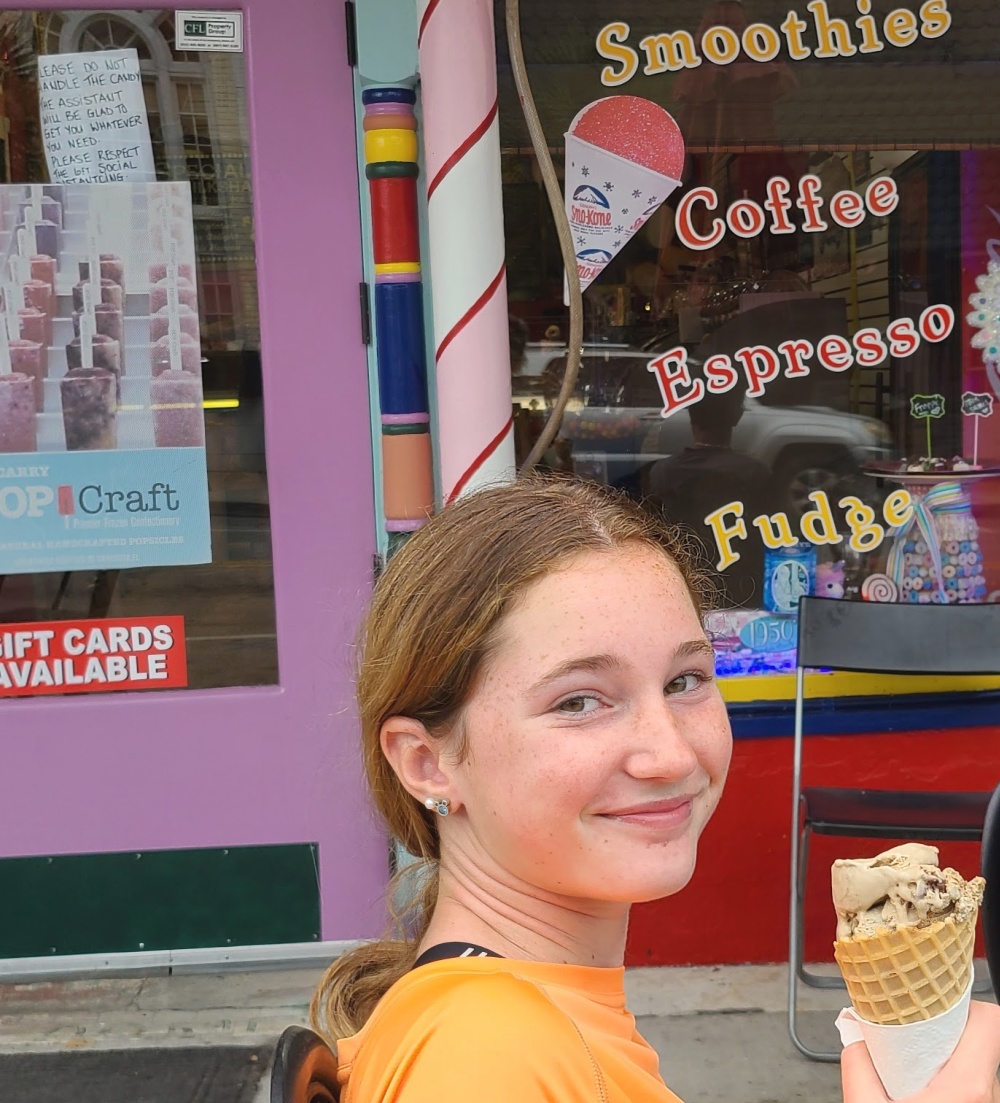 We spent the whole day exploring Mount Dora, and there are many things to do, so I thought I would point out all the fun outdoor activities to do in Mount Dora. As you can see, there is something for everyone. And if you decide to spend more than one day, there are quite a few adorable inns to stay at, but the Lakeside Inn is the absolutely beautiful and you can't beat the view of Lake Dora!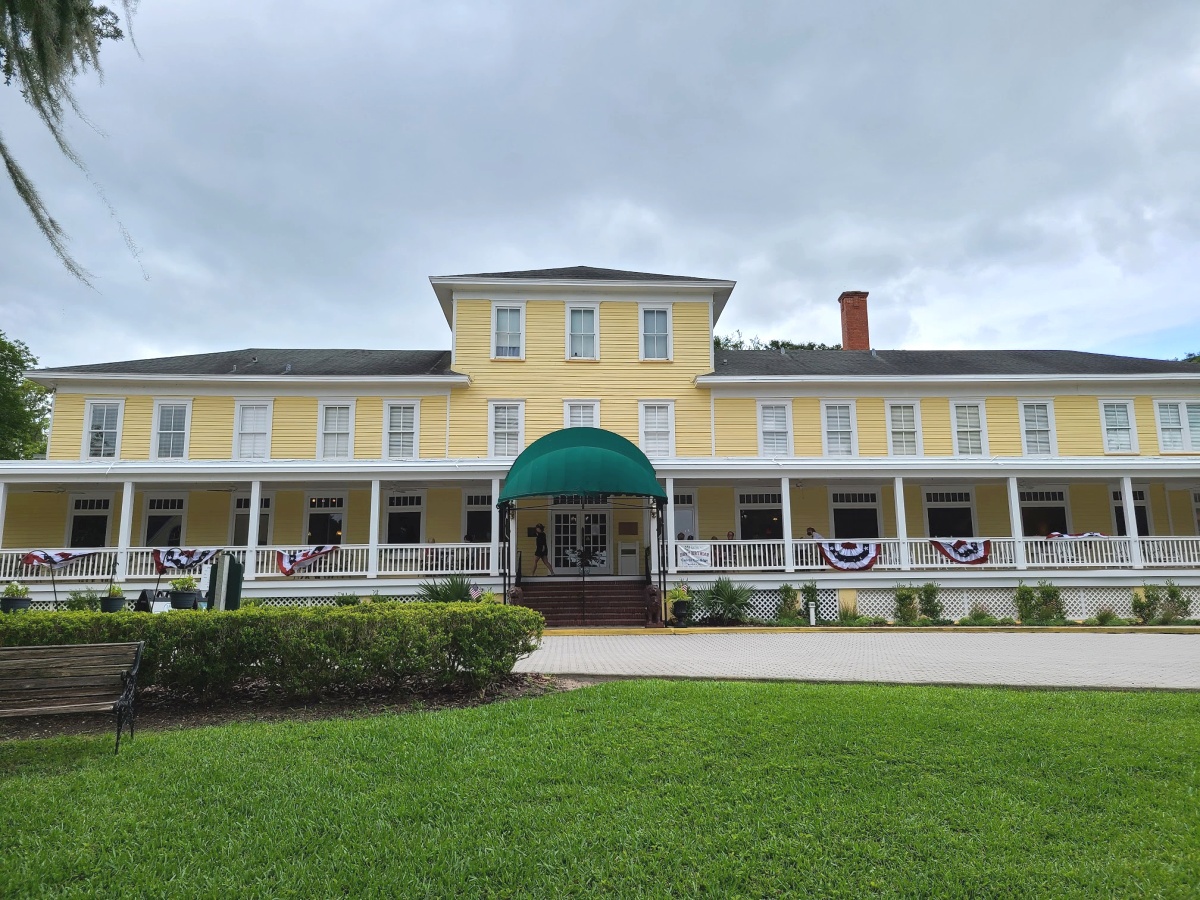 Things To Do In Mount Dora
Go For A Walk – Simple walks can be entertaining for the whole if you turn them into discovery games. There is so much history in this charming, one-hundred plus year old village in the heart of Central Florida. There are also trails for hiking, such as the Mount Dora Trail, if you want to get a bit more adventurous.
Shop – Shops in and around Mount Dora's downtown area are full of nostalgic items, valuable antiques and collectibles, and homemade gifts.
Eat – There is a variety of places to eat in Mount Dora that are unique and have plenty of outdoor seating. There are also waterfront parks filled with oak trees that are the perfect places to enjoy a picnic. When planning your picnic, be sure to get the kids involved. The children can help in making the sandwiches etc. and when you get there, they will enjoy playing a simple eye spy game while eating.
Go For A Bike Ride – Bike riding is something that most families enjoy. You do not have to go far a little ride with lots to see is great fun and can also be educational. You can time how long it takes you, make a note of how many birds you see, cars, people, boats or whatever there is around you and then the outside fun continues when you get home, and they can write about what they saw. Mount Dora has plenty of trails to bike on and explore, and if you don't want to bring your bike, there are places where you can rent a bike.
Go To A Festival – You will also find plenty of garden shows to enjoy. Mount Dora has a lot of festivals including one of the country's top art festivals, the Mount Dora Art Festival. You can make these even more exciting for kids by giving them things to find like a discovery game while you are exploring.
Visit The Farmer's Market – The open air Mount Dora Village market is the perfect place to shop for the freshest fruits and vegetables. This is also a wonderful opportunity to talk to the kids about gardening veggies and planting flowers. A garden takes time and care, a little each day. From weeding to watering to harvesting, a garden can provide an opportunity for activity while teaching nurturing and responsibility to kids.
Go For A Boat Tour – We loved the boat tour! It was an unique way to learn a bit about the history of Mount Dora and get a boat ride. Who doesn't love a boat ride?
Go Fishing – Bring a fishing rod with you and fish off of one of the many public docks or at one of the parks. You can also rent a fishing charter where a guide will help you find all the fishing hot spots. This is definitely on my kids' wish list, so we will be headed back soon.
Enjoy Birding – There are plenty of places for you to get outside and enjoy bird-watching.
Play Some Sports – Bring a ball with you and let the kids play at one several of the parks in Mount Dora, and be sure to stay for the sunset. Mount Dora also has two Disc Golf Courses if you want to try something new!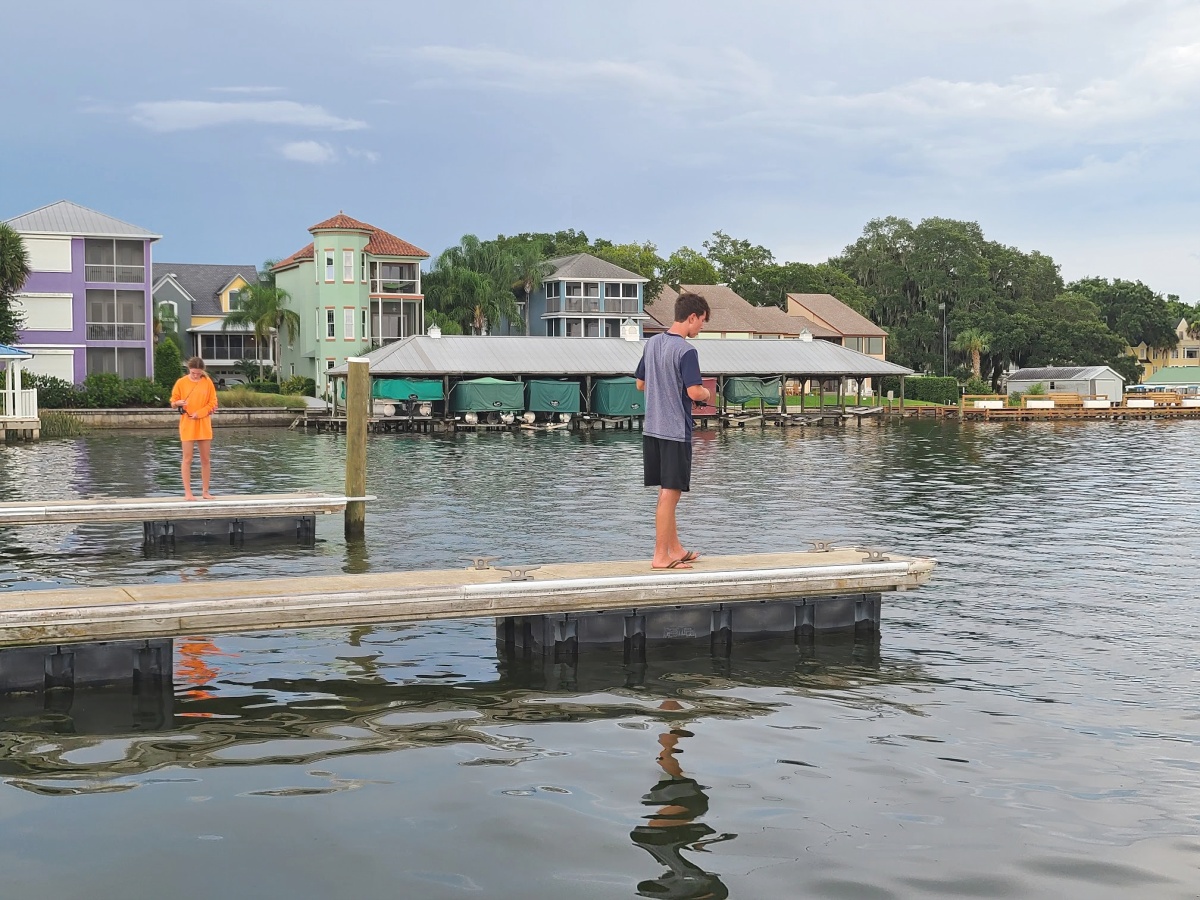 Summer break isn't an excuse for kids to spend hours watching television, playing video games or being on their phones. Set a time limit for each per day for these activities, in fact if you plan an outdoor adventure, you will be surprised by the fact that they don't even miss technology. Lake County is the Perfect Distance Away for your next outdoor adventure. Mount Dora is just one of the towns filled with fun outdoor activities in Lake County, other fun spots for outdoor adventures are Clermont, Leesburg, Tavares and Eustis. Plan your Lake County adventure.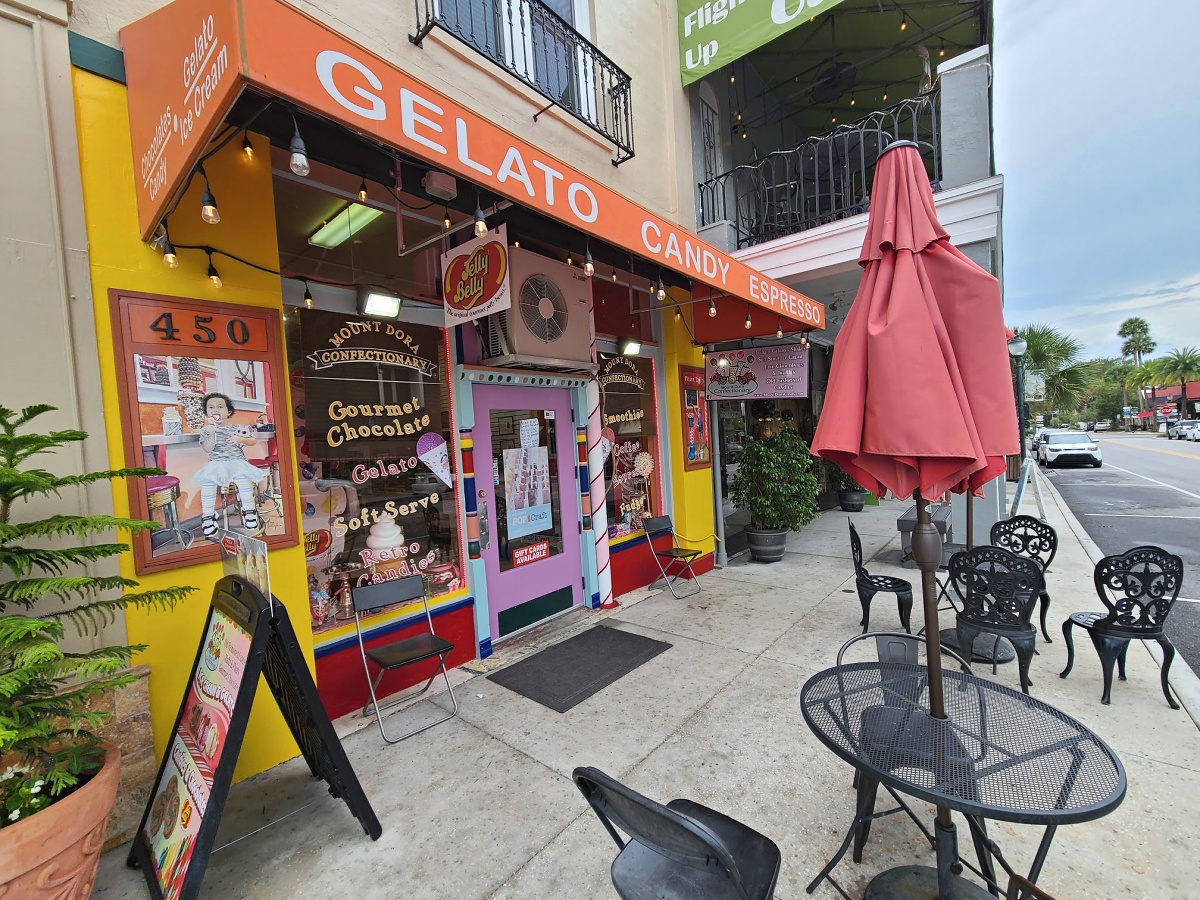 Even though Lake County is an easy drive from I-4, Florida's Turnpike, US-27, and US-441 if you want to extend your day trip to an overnight stay or a weekend away, there are plenty of charming places to stay. Find a Place to Stay
Have you been to Mount Dora? What is one of your favorite things to do in Mount Dora?
Be sure to follow me on Facebook, Twitter, Pinterest, and Instagram for more things to do in Florida, healthy recipes, and more.