(Last Updated On: May 4, 2021)
Sweet. Spicy. Made with fresh fruits and vegetables this easy Sweet & Spicy Watermelon Pineapple Salsa will soon be a family favorite. This fresh salsa recipe is prepped in 15 minutes and helps donating free meals to your local foods banks. While this post is sponsored by Healthy Family Project, all opinions and the recipe are my own.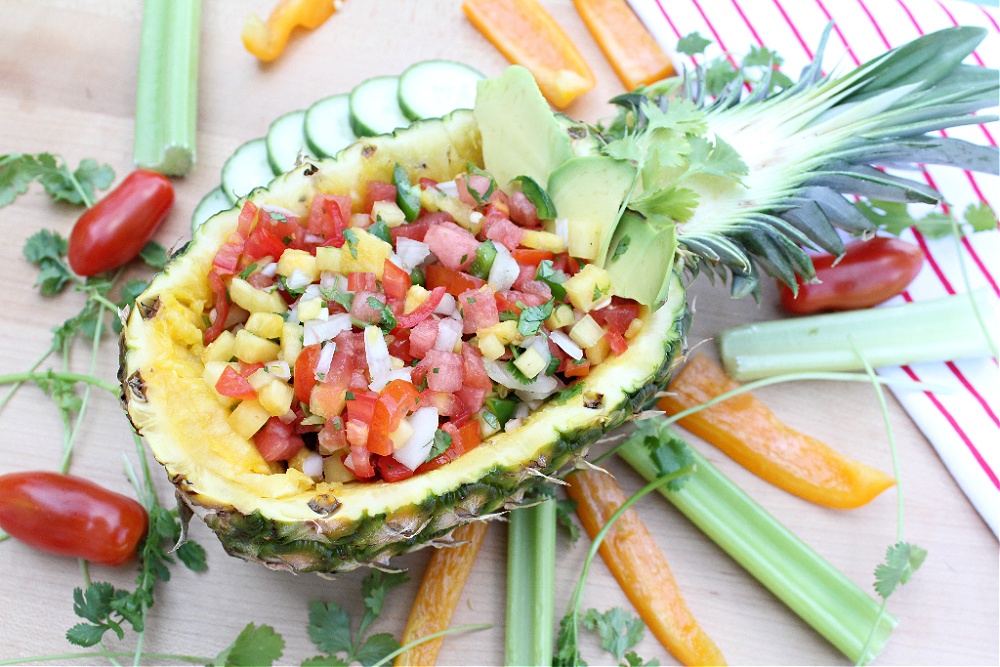 Sweet & Spicy Watermelon Pineapple Salsa
Salsa very well may be one of my favorite food groups. Salsa is amazing on chips, fresh vegetables, a delicious topping on fish, chicken and steak. Salsa is very easy to make at home and so it's easy to customize. For this fresh salsa recipe I used some of my favorite fruits and vegetables, diced them up and served in them in this beautiful pineapple bowl.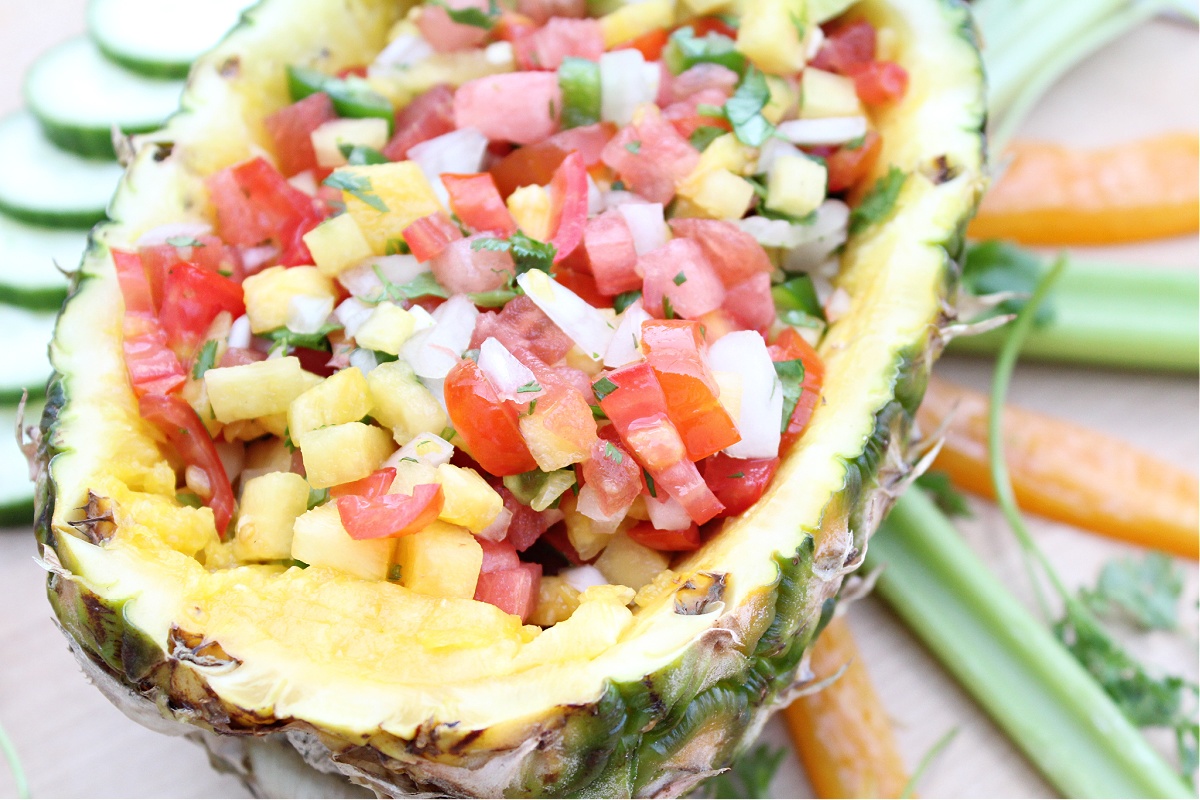 This fresh watermelon pineapple salsa is sweet, tangy and it has a bit of heat thanks to that jalapeno. Overall, it's incredibly refreshing and absolutely delicious.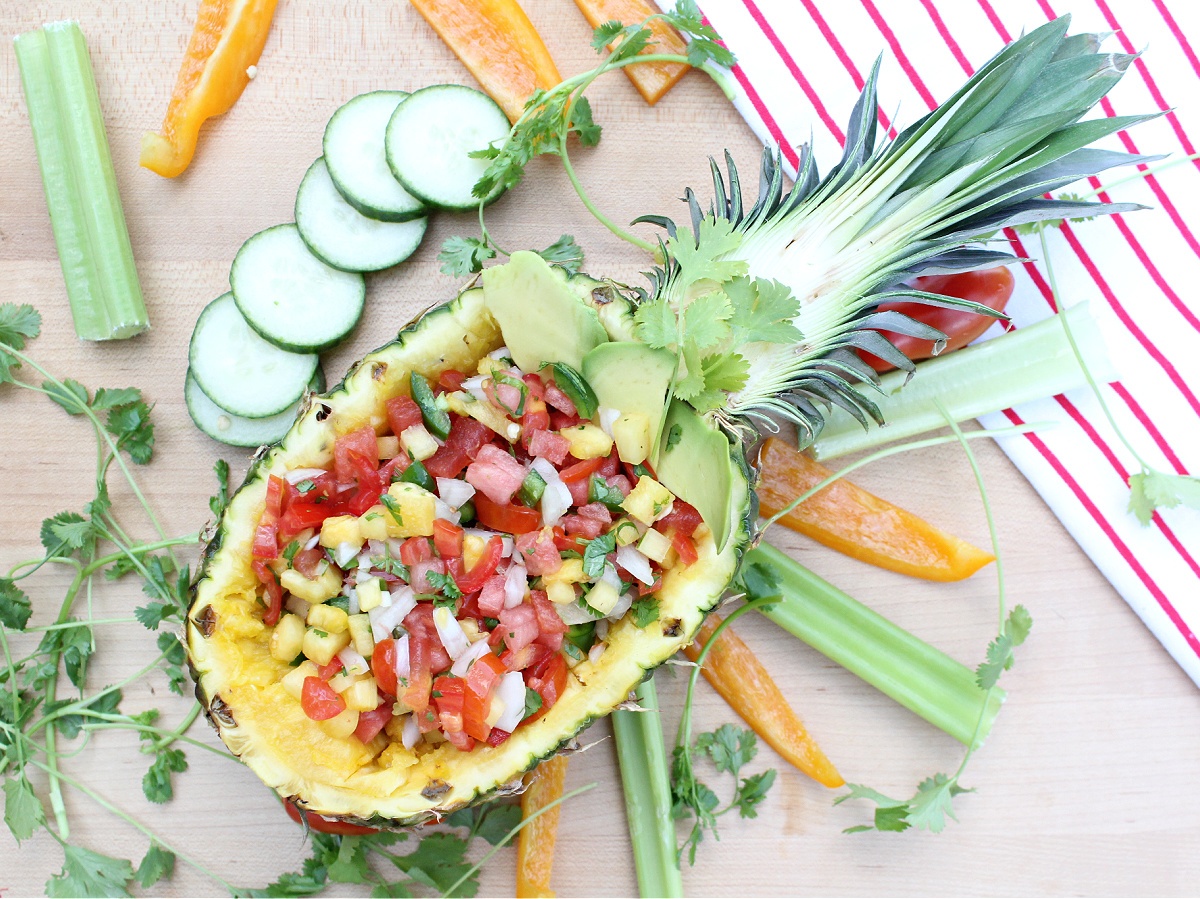 As an added benefit, this fresh spicy watermelon pineapple salsa is very healthy, if you follow Weight Watchers, you will be happy to know that this recipe is zero WW points. It's also gluten free, dairy free and calorie free.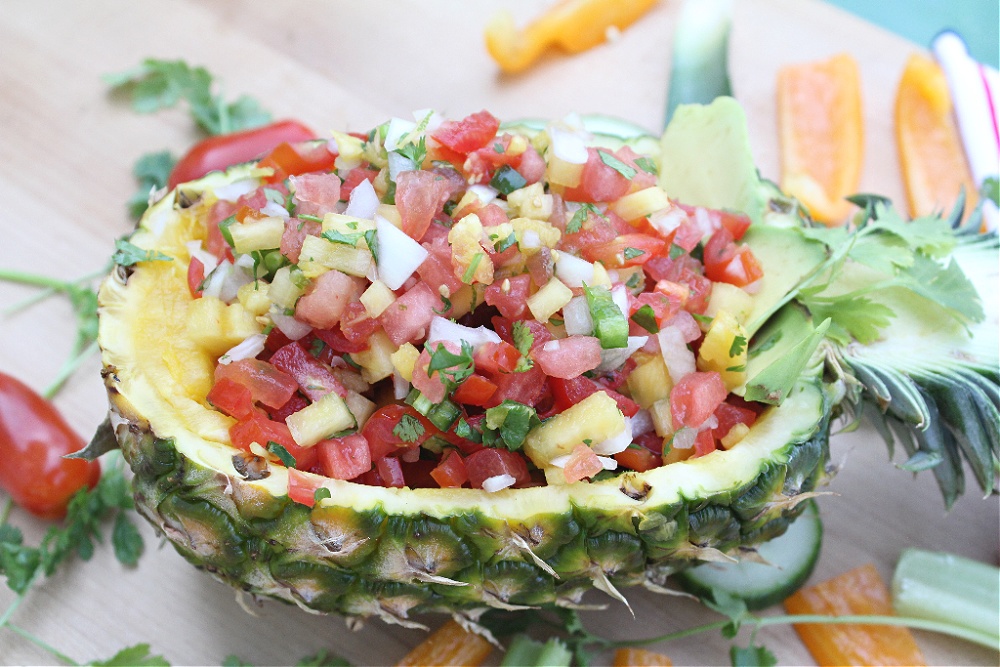 So how do you mix up this healthy rainbow of color? With just six fresh ingredients, a squeeze of fresh lime juice and a dash of salt and pepper.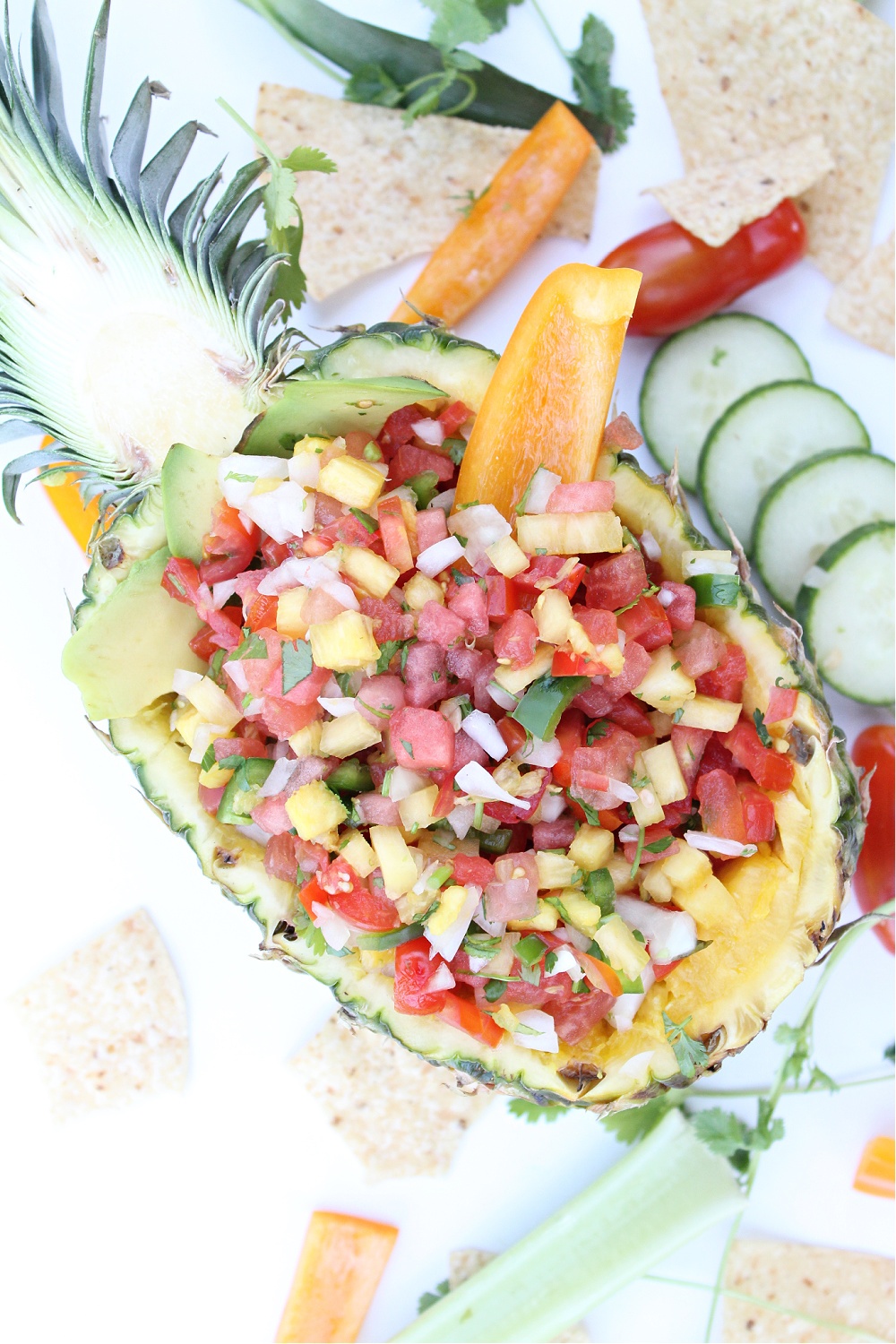 Do you want to the best part of making this fresh watermelon pineapple salsa? When you make it, you are actually helping to donate to your local food banks. How is that possible? I am not saying you have to buy anything extra and you don't have to drop anything off to the food bank, you simply just have to purchase the ingredients for this recipe and other produce that you normally would at your local Publix. Be sure to look for these brands: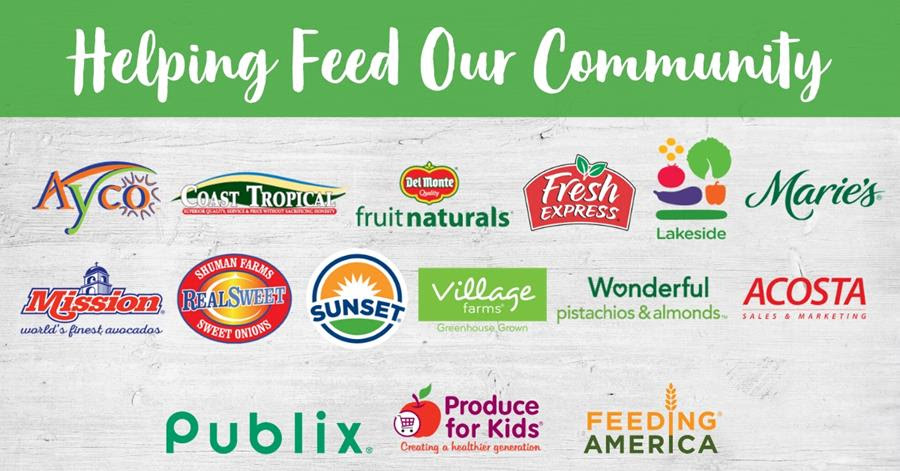 These brands have partnered to give back to Feeding America Food Banks in the Publix shopping area and they will give back to those facing hunger. The only thing you have to do is purchase the items you normally would. Produce For Kids, Publix and these amazing brands will handle the rest.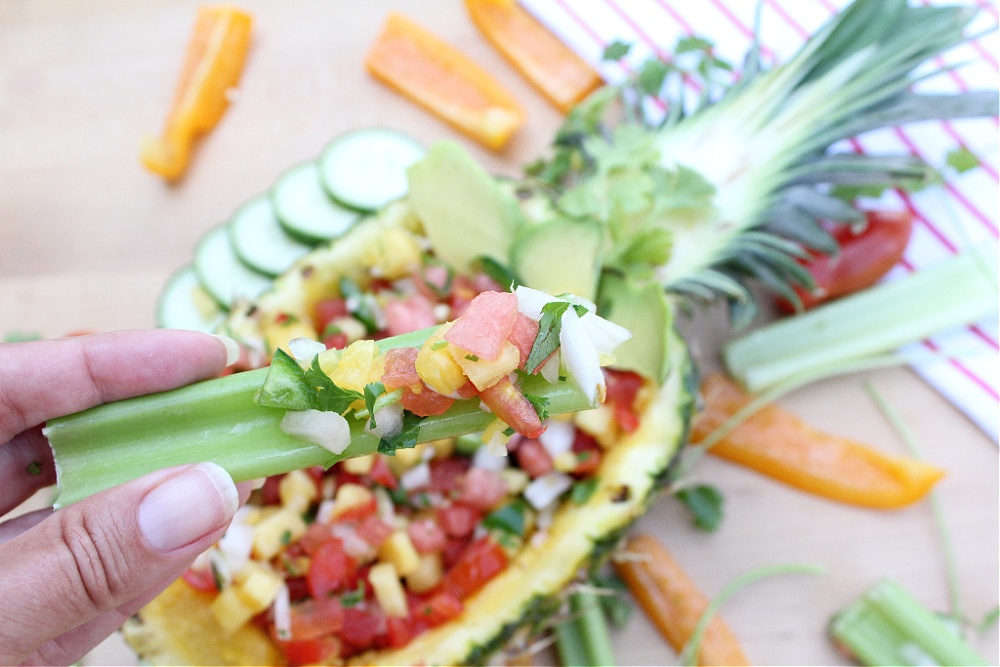 Ok, let's get to how you make my fresh pineapple salsa. The flavors in this salsa will impress everyone, but that pineapple bowl…isn't that beautiful? Now, you don't have to serve your pineapple salsa in a pineapple bowl, but it sure looks pretty! And it's actually really easy to do. But I know it looks like it could be slightly intimidating so I thought I would give you the steps to creating your own pineapple bowl for serving this homemade watermelon pineapple salsa.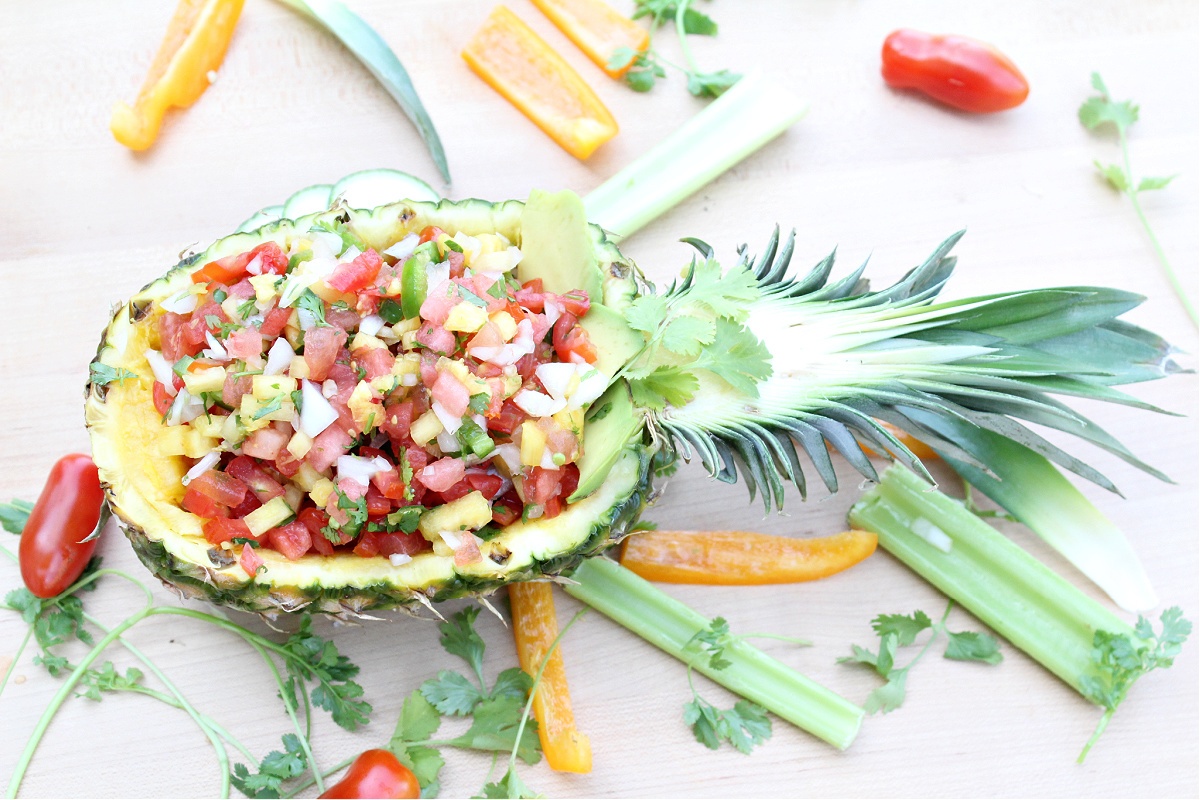 How To Make Pineapple Bowls:
Using a large knife cut the pineapple lengthwise and through the crown into 2 halves. If one half is bigger than the other, that's okay. I ended up cutting off a 1/3 of mine so I had a bigger serving bowl.
Use a small knife and cut around the edge of the pineapple leaving about 1/2 inch of the outside of the pineapple.
Cut down both sides of the core at a slight angle then remove the core.
Slice the pineapple into chunks.
Use a large serving spoon, scoop out the pineapple chunks. Don't waste any juice that's left, feel free to drink it!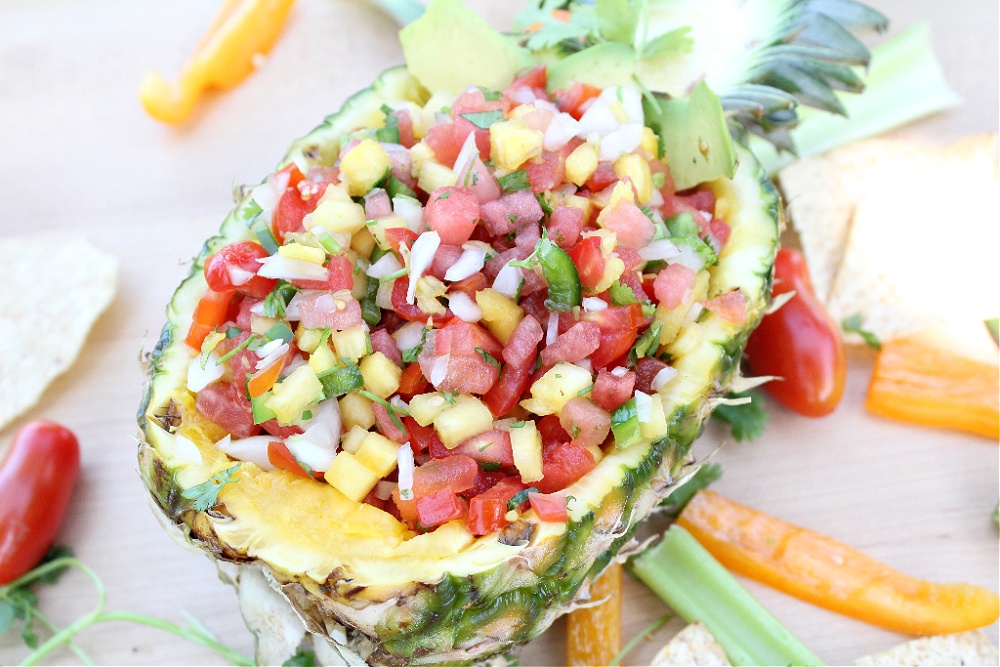 Now that you have your pineapple bowl ready for serving and fresh pineapple ready for dicing, let's grab the other ingredients.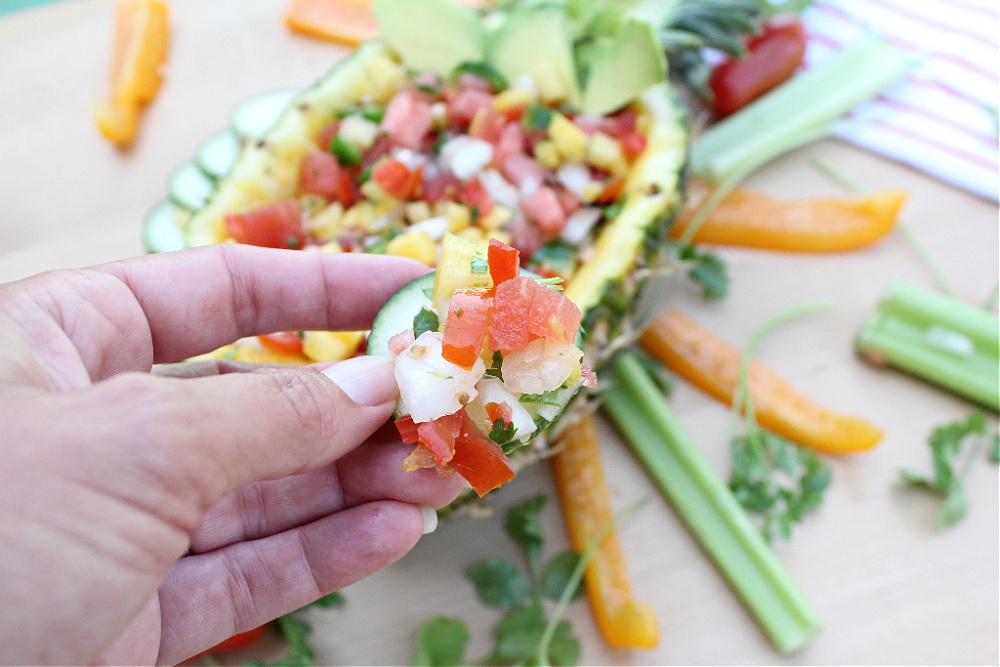 You will need these 7 ingredients to make your sweet and spicy watermelon and pineapple salsa:
Fresh Pineapple
Jalapeno
Watermelon
Tomato
RealSweet Onion
Cilantro
Lime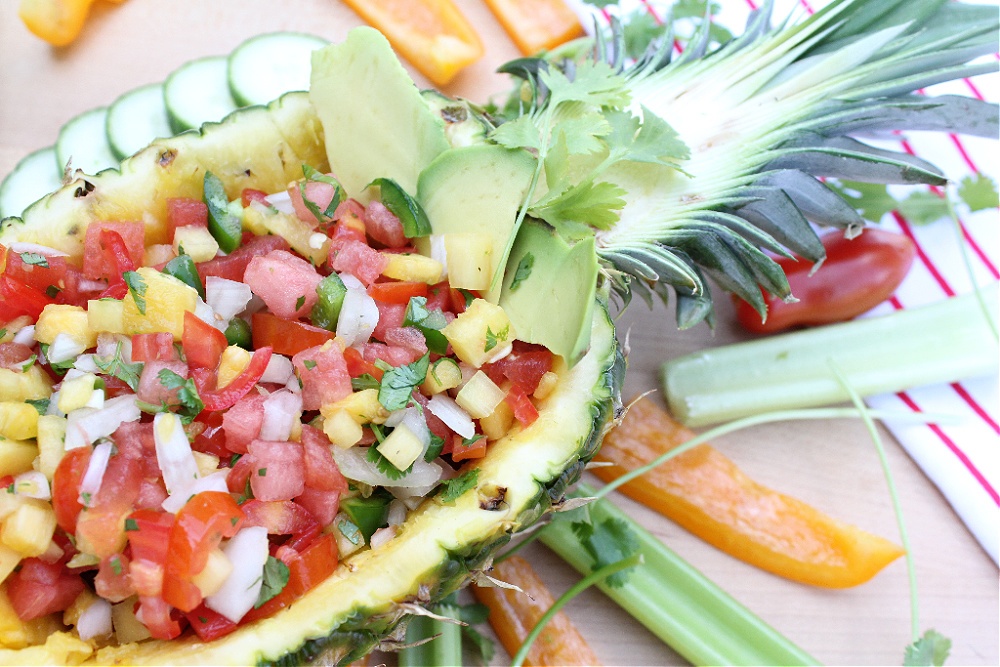 Now, here is my Sweet and Spicy Watermelon Pineapple Salsa recipe. Be sure to Print It and Pin It so that you can make it again and again.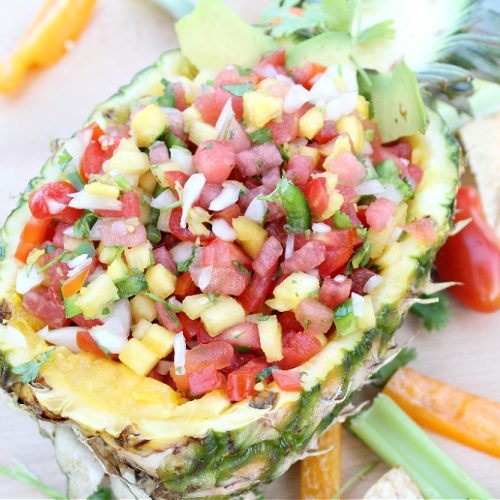 Fresh Watermelon Pineapple Salsa
This fresh salsa is a tasty mix of sweet and spicy. Made with fresh fruits and vegetables and a hint of lime and cilantro, this easy recipe is a must try.
Print
Pin
Rate
Ingredients
1

jalapeno pepper - diced

seeds removed

1

whole pineapple

1

cup

diced watermelon

½

cup

RealSweet Sweet Onion - diced

¼

cup

fresh cilantro - diced

1

Coast Tropical lime

½

cup

diced Village tomatoes
Instructions
Using a large knife cut the pineapple through the crown lengthwise into 2 halves, it's okay if one half is bigger than the other.

Use a small knife and cut around the edge of the pineapple leaving about 1/2" of the outside of the pineapple.

Next, remove center core by cutting down both sides of the core at a slight angle.

Remove the center core of the pineapple.

Slice the pineapple into large chunks.

Using a large spoon scoop out the pineapple.

Dice the pineapple until you have one cup. Save the rest of the pineapple for a snack or dessert!

In a medium bowl add the diced pineapple, watermelon, onion, tomatoes, jalapeno and cilantro.

Add the zest to the salsa mixture.

Add juice from half the lime.

Season with a dash of salt and pepper.

Fill your pineapple boat with your fresh salsa.

Cover and refrigerate for at least one hour or until ready to serve.

Enjoy on fresh vegetables, chips or as a topping to chicken, shrimp, fish, steak...oh my!
Notes
By purchasing the brands listed above from Publix you are actually helping to donate to your local Feeding America Food Bank.  Look for Produce for Kids signage in the produce department at Publix between now and August 12 to support the participating brands giving back to your local food banks.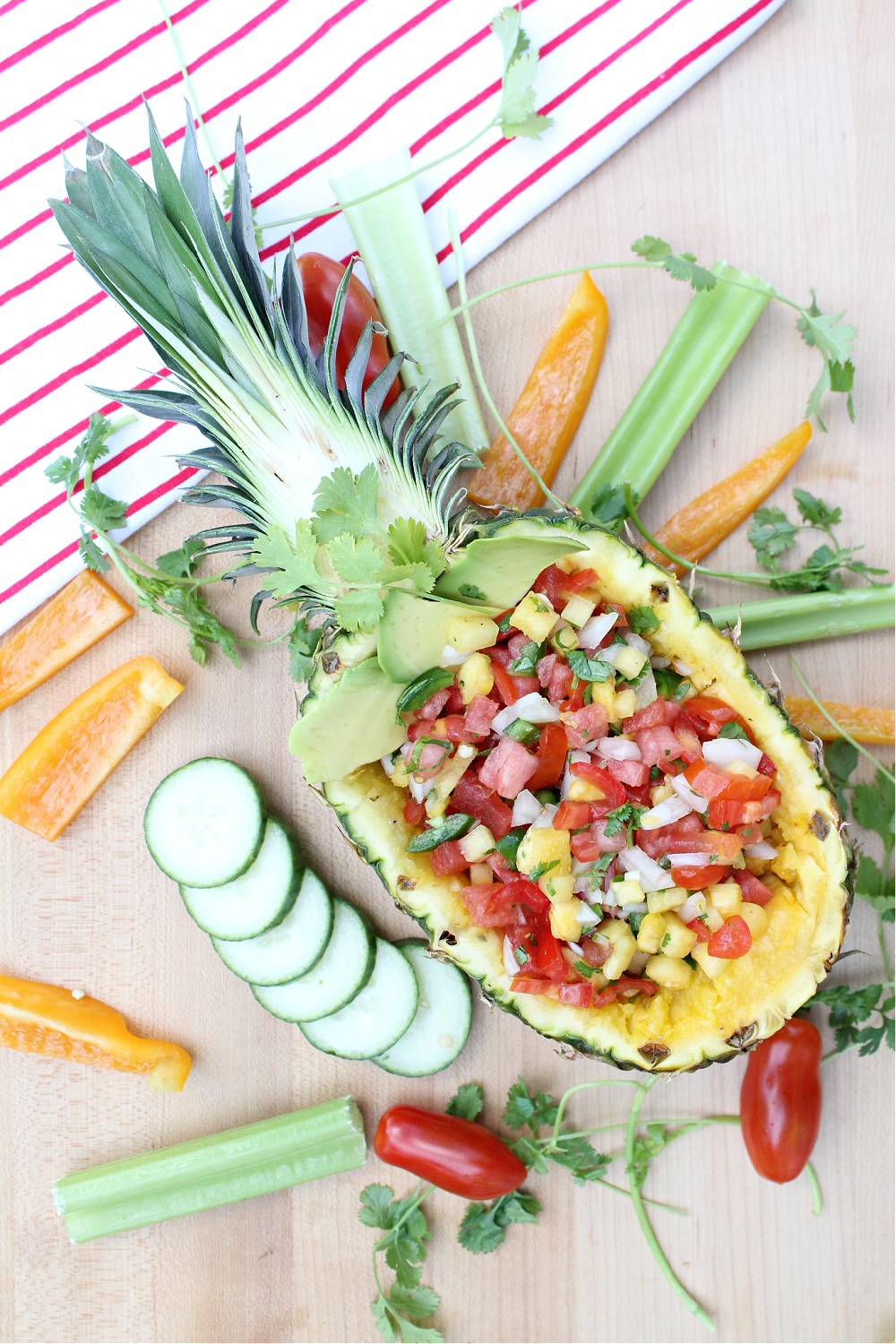 I hope you enjoy this Watermelon Pineapple Salsa as much as we do!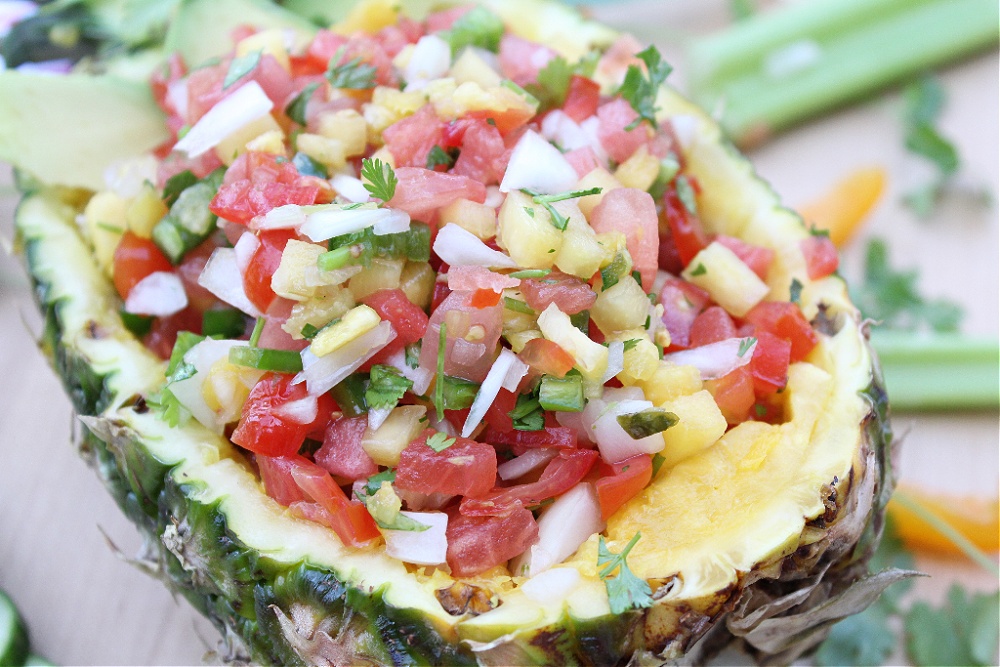 We enjoyed this fresh salsa on freshly sliced Lakeside Produce Cucumbers, Sunset Bell Peppers and tortilla chips. It would also add a healthy dose of flavor to seafood, chicken and even steak.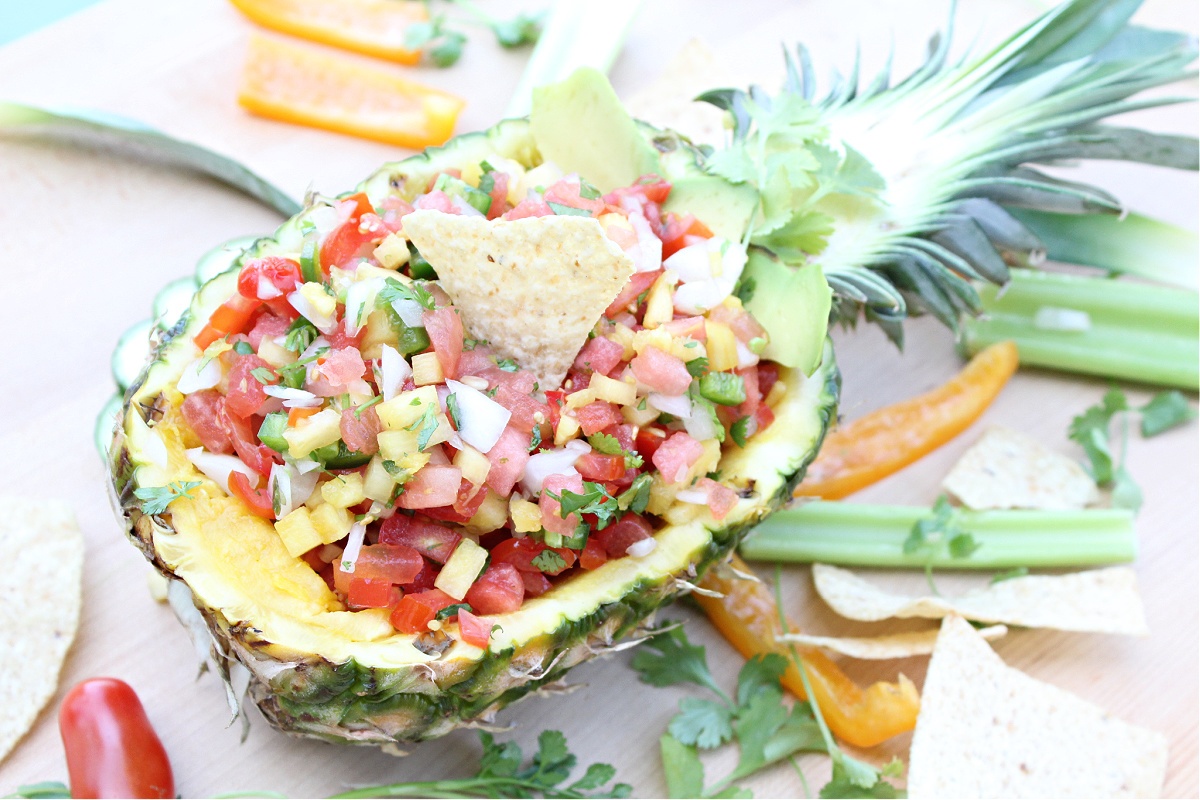 How long will this fresh salsa stay good for?
You can refrigerate your fresh salsa for up to 5 days. However, I bet it will get eaten long before that!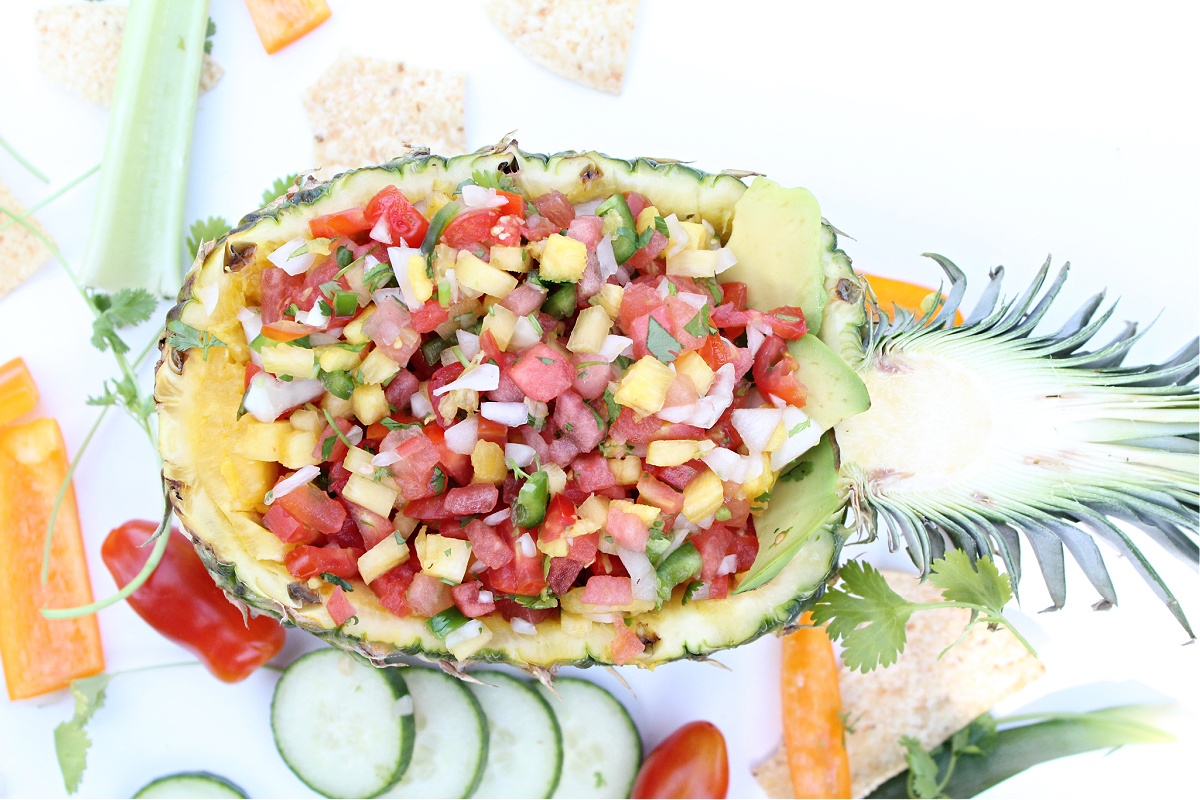 Looking for another delicious recipe?
Join the Produce for Kids Facebook Live Cooking Class on July 22 to make a healthy lunch with your family. Download the shopping list for the class at www.produceforkids.com/publix. In fact, my sweet and spicy watermelon pineapple salsa would be incredible on the burgers they will be making 😉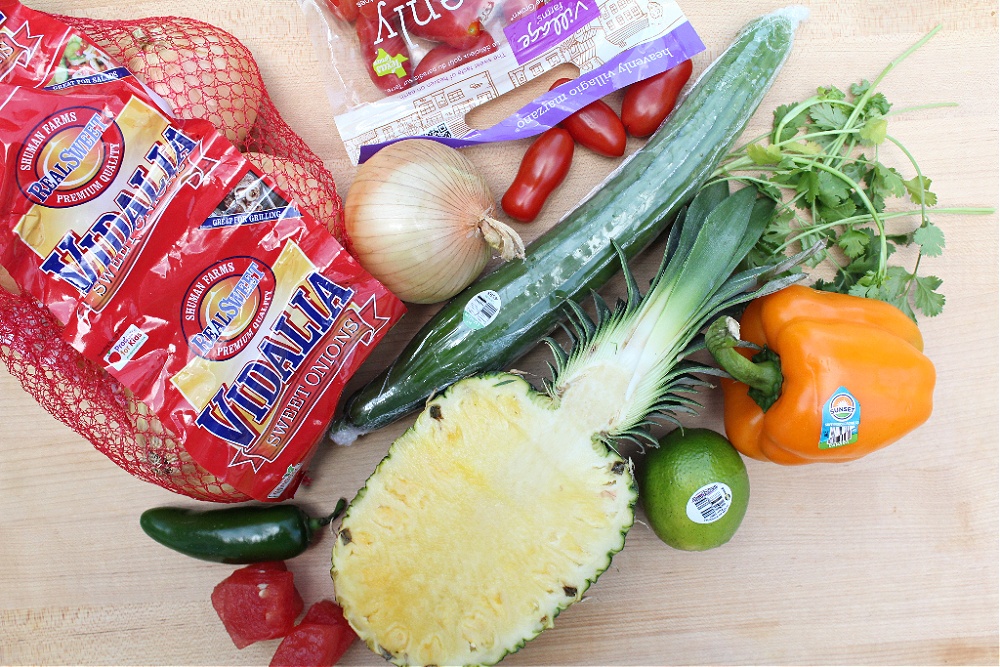 Be sure to check out ProduceForKids.com for more than 450 registered dietitian-approved and family-tested recipes, meal planning tools, grocery store specific campaign details, and healthy tips from real parents and on Instagram, Facebook and Pinterest for even more!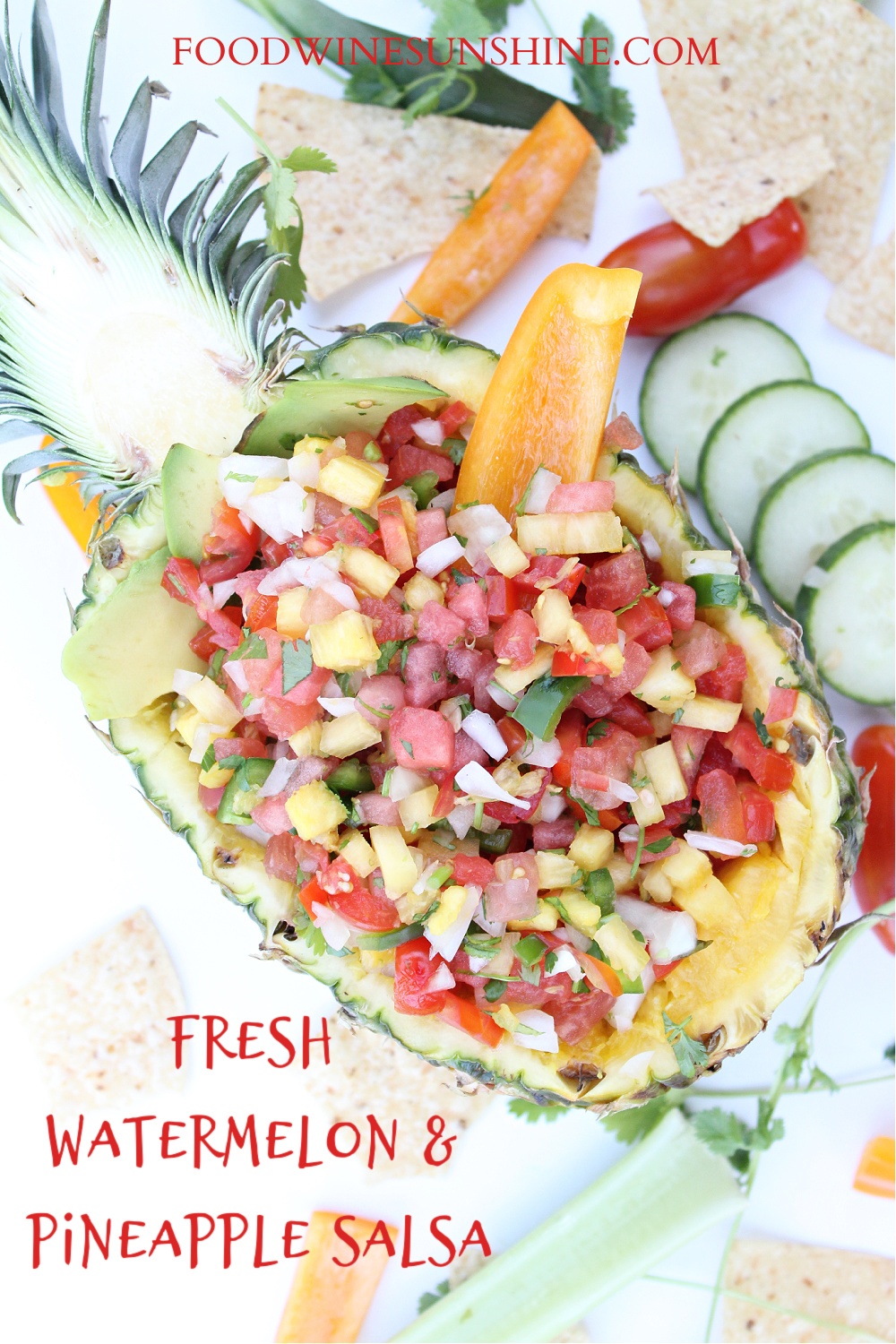 And don't forget to check out all the delicious recipes on Food Wine Sunshine and follow on me Facebook, Twitter, Pinterest and Instagram.