(Last Updated On: August 17, 2019)
Disclosure: My family and I were able to attend the Mickey's Very Merry Christmas party for free. All opinions, my love of Disney, Christmas, the holidays, and the Magic Kingdom are 100% our own!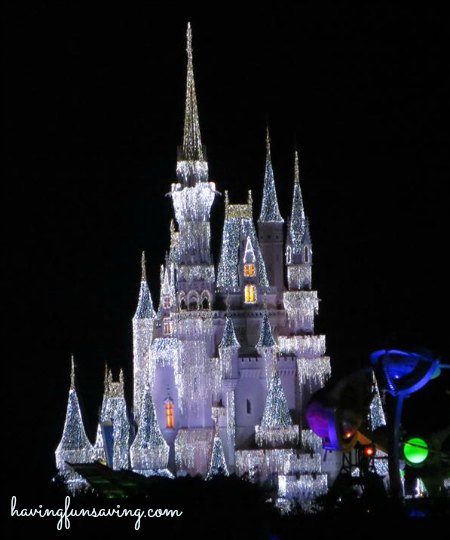 Mickey's Very Merry Christmas Party 2014 – Experience The Magic #DisneyHolidays
I honestly can't think of a better way to start the holiday season than at Disney. I'm sure you all know by now that we are Disney fans. I went there for the first time on a family trip (we drove down from Michigan) when I was in 4th grade and I continued to visit every year later…until I moved here 😉 Now, we like to go over at least once a month.
I get asked all the time if the holidays feel less like the "holidays" because the climate is a bit warmer here in Florida and we don't get snow. And the answer is NO. There is NO place like Florida for the holidays. And there is no place other than Disney that can kick off the holiday season with an amazing party filled with the castle turning into "ice", a parade to remember, characters, SANTA, fireworks like no other, dance parties, hot cocoa, cookies, apples, and of course the rides!
Mickey's Very Merry Christmas Party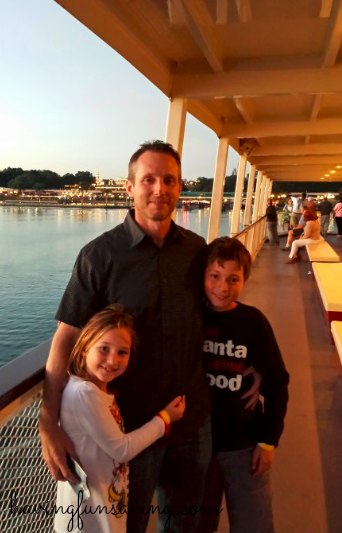 As soon as we walked into the Magic Kingdom® Park after riding the ferry (which the kids LOVED, they view it as a ride!) over we witnessed A Frozen Holiday Wish.
The Cinderella Castle was transformed with a Frozen display of gleaming winter magic at 6:15 PM and it is something you don't want to miss 🙂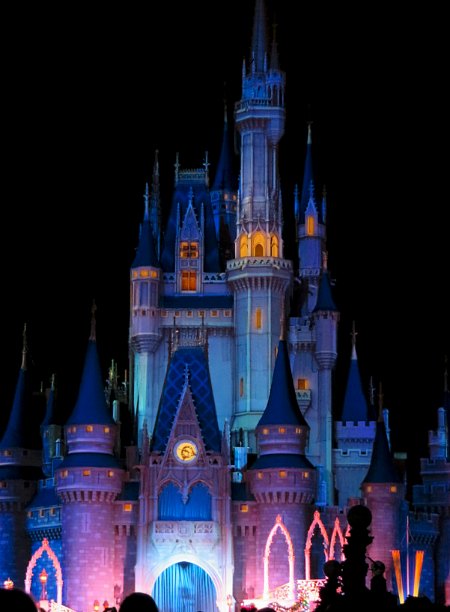 Elsa, Anna, Kristoff and Olaf have ventured all the way from Arendelle to put on an awe-inspiring display just for you at Magic Kingdom Park. Get swept up in the spirit as Elsa uses her powers to create a sparkling, icy holiday centerpiece.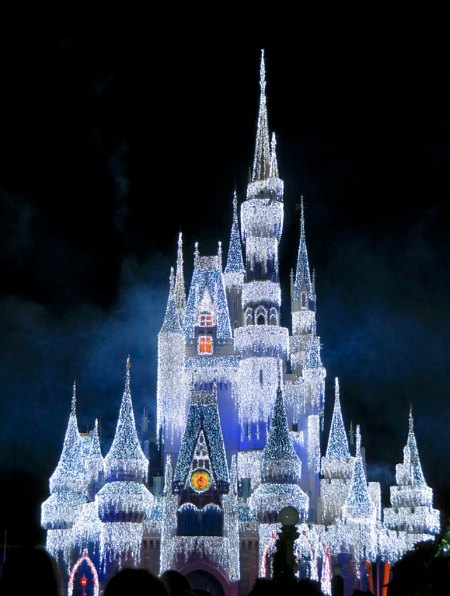 After the Castle's amazing transformation we made our way over to the Pirates of the Caribbean and then rode It's a Small World. Those are two of our all-time favorite rides! Of course the kids had to take advantage of the free snacks (there are 7 places around the park that have Complimentary Holiday Treats)…Hot Cocoa, Cookies, Apples, and Apple Juice!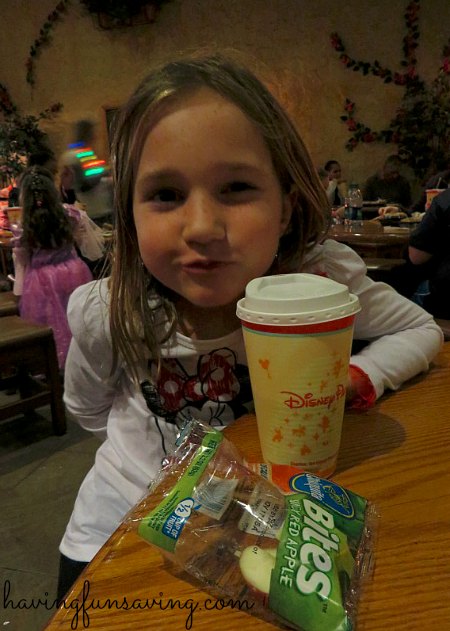 After our snack we had time to get spooked in the Haunted Mansion before the Mickey's Once Upon A Christmastime Parade started at 8:15. If you happen to miss the 8:15 show, you can catch it again at 10:30.
During the parade you will get the chance to wave to some of your favorite Disney friends! You will see some of your all-time favorites (Mickey, Minnie, and MORE) and this year, beloved residents of Arendelle—Anna, Elsa, Kristoff and Olaf—will be joining in on the frosty festivities!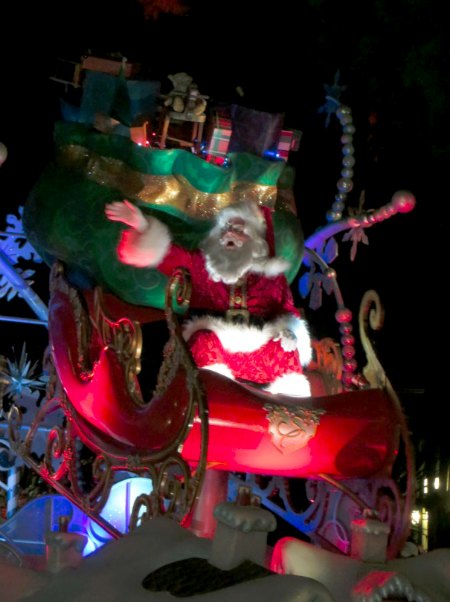 Watch your child's eyes light up as gingerbread men, elves and others for a procession down Main Street, U.S.A. But make sure to not leave your spot until Santa wishes you a "Merry Christmas!" from his colorful sleigh!
Shortly after the parade, we got situated to watch the most magical fireworks show. Holiday Wishes: Celebrate the Spirit of the Season is….WOW. Brilliant white lights explode in the air above Cinderella Castle in this breathtaking music and fireworks show. Watch for Tinker Bell as she soars into the sky over the crowds! And cheer as Jiminy Cricket reminds you that home is where the heart is—especially during the holidays.
My husband said after the show "You know, you can't help but smile after that show…it doesn't matter how old you are, watching that show just makes you smile." And it's true. It's magical.
There is actually holiday magic all over the Magic Kingdom during Mickey's Very Merry Christmas Party, make sure to check out Totally Tomorrowland Christmas and the Celebrate the Season Show.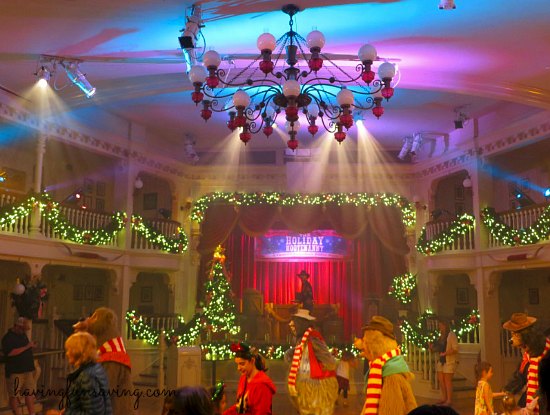 Sadie loved the Dance Parties! You can catch one the Holiday Hootenanny at The Diamond Horseshoe and Club Tinsel at Cosmic Ray's Starlight Cafe. The parties are filled with fun music and lots of characters to lead the crowd into a fun dance routine!
After a magical afternoon and evening, we rode the ferry back to the TTC. Where I caught this rare display of sibling affection 😉 They were so excited when we left that Christmas was coming!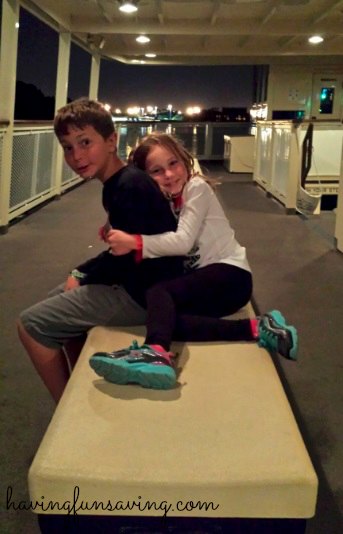 Where is Mickey's Very Merry Christmas Party?
The Magic Kingdom
What are the dates for the Mickey's Very Merry Christmas Party?
Mickey's Very Merry Christmas Party takes place from 7:00 PM to midnight, on November 7, 10, 13, 14, 16, 20, 21 and 30; and December 2, 4, 5, 7, 9, 11, 12, 14, 16, 18 and 19, 2014.
How much are tickets?
Ticket prices start at $67 per person
Read more about Mickey's Very Merry Christmas Party
I thought I would include a few throwback pictures 🙂 See, you can enjoy the magic of Disney at any age…and year after year!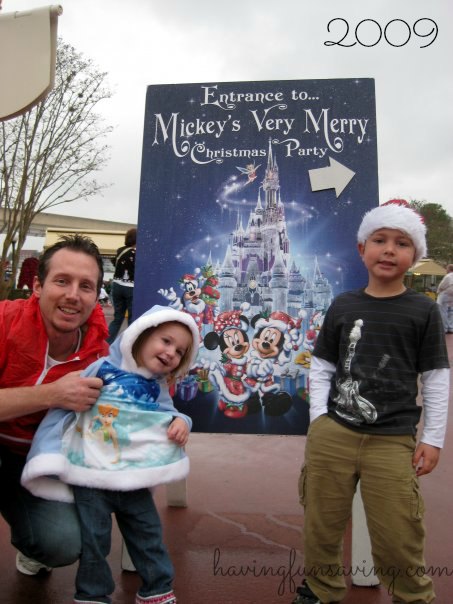 My mom is 62 and is really hoping to retire this year so that she can come with us next year to the Very Merry Christmas Party….You are never too old to feel the magic of the holidays with Mickey Mouse 🙂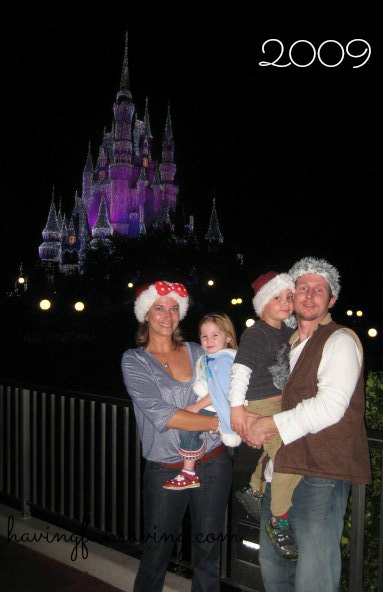 Have fun making magical memories at the

Mickey's Very Merry Christmas Party

…I know we did!
Make sure to find Food Wine Sunshine and more Florida Family Fun on Facebook, Twitter, Pinterest, and Google +.