(Last Updated On: February 13, 2023)
Blackberries are in season in Florida starting in April, plan to grab a bunch and make this easy Bourbon Blackberry Jam. Prepped in under 10 minutes and done in about 45 minutes this blackberry jam will be a favorite way to use blackberries this season!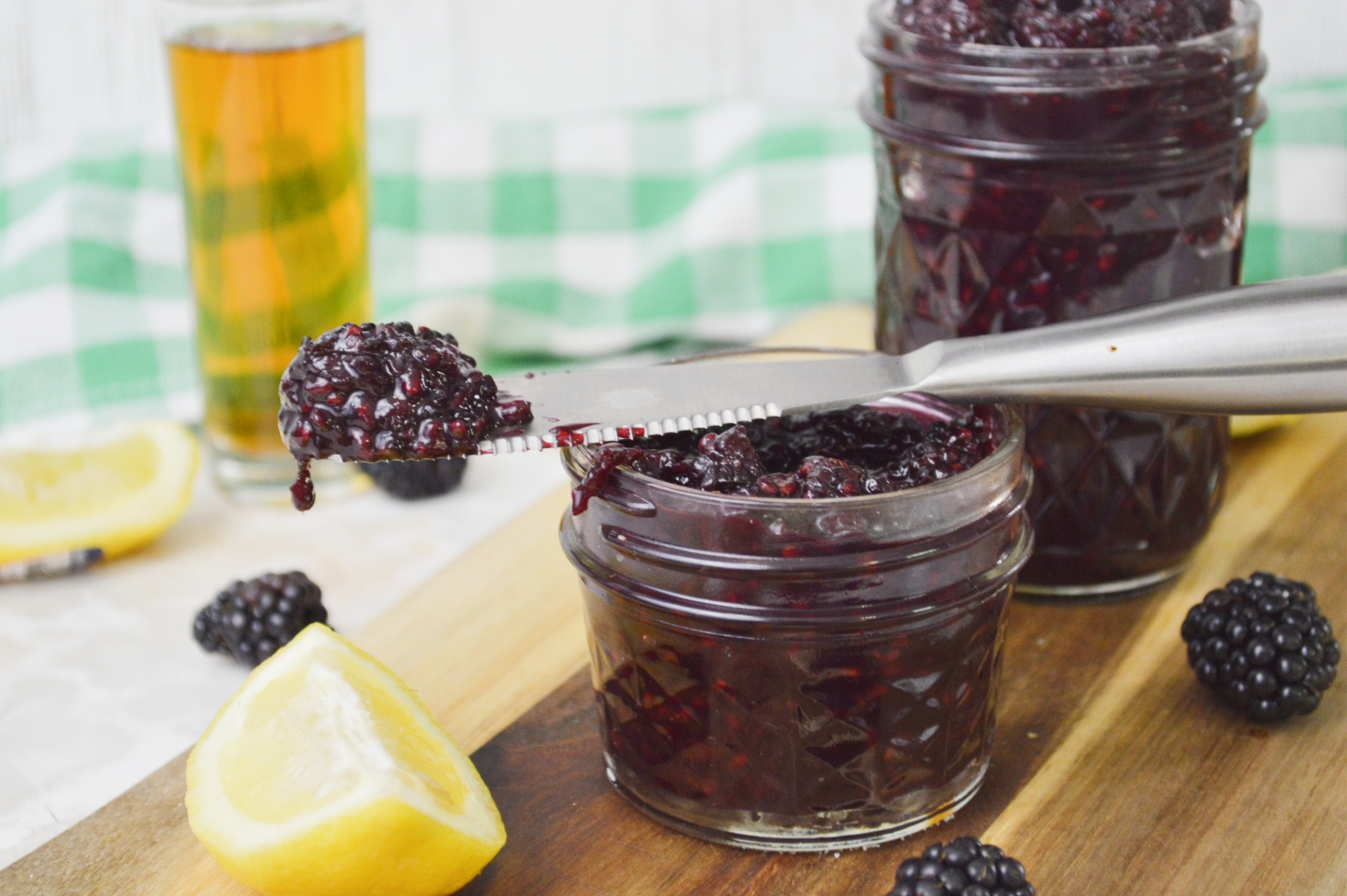 How To Make Bourbon Blackberry Jam
I love blackberries and use them in an endless list of foods, including cobblers, pies, jams and cakes. Plus blackberries are really good for you. Blackberries are jam (sorry) packed with goodness and natural products which are good for the health. Blackberries are high in Vitamins A and C, fiber, and potassium, studies even suggest that blackberries help to reduce the risk of cancer and heart diseases, as well as work to slow the aging process. That is why I try to preserve as many of these sweet, juicy berries as I can.
Blackberries are in season for a relatively long period compared to other wild fruit – from August to late October in good years – and although it takes longer, the fruit are smaller and you run the risk of some of the fruit being spoiled bugs and nature, there is nothing as good as fresh wild blackberries picked and eaten with cream and sugar, or straight from the bush!
Here in Florida, blackberries are in season starting at the end of April. You can usually find U-pick blackberries available from May – early July. If you go pick your own, be sure to grab the black blackberries…blackberries turn from red to black before they are fully ripe.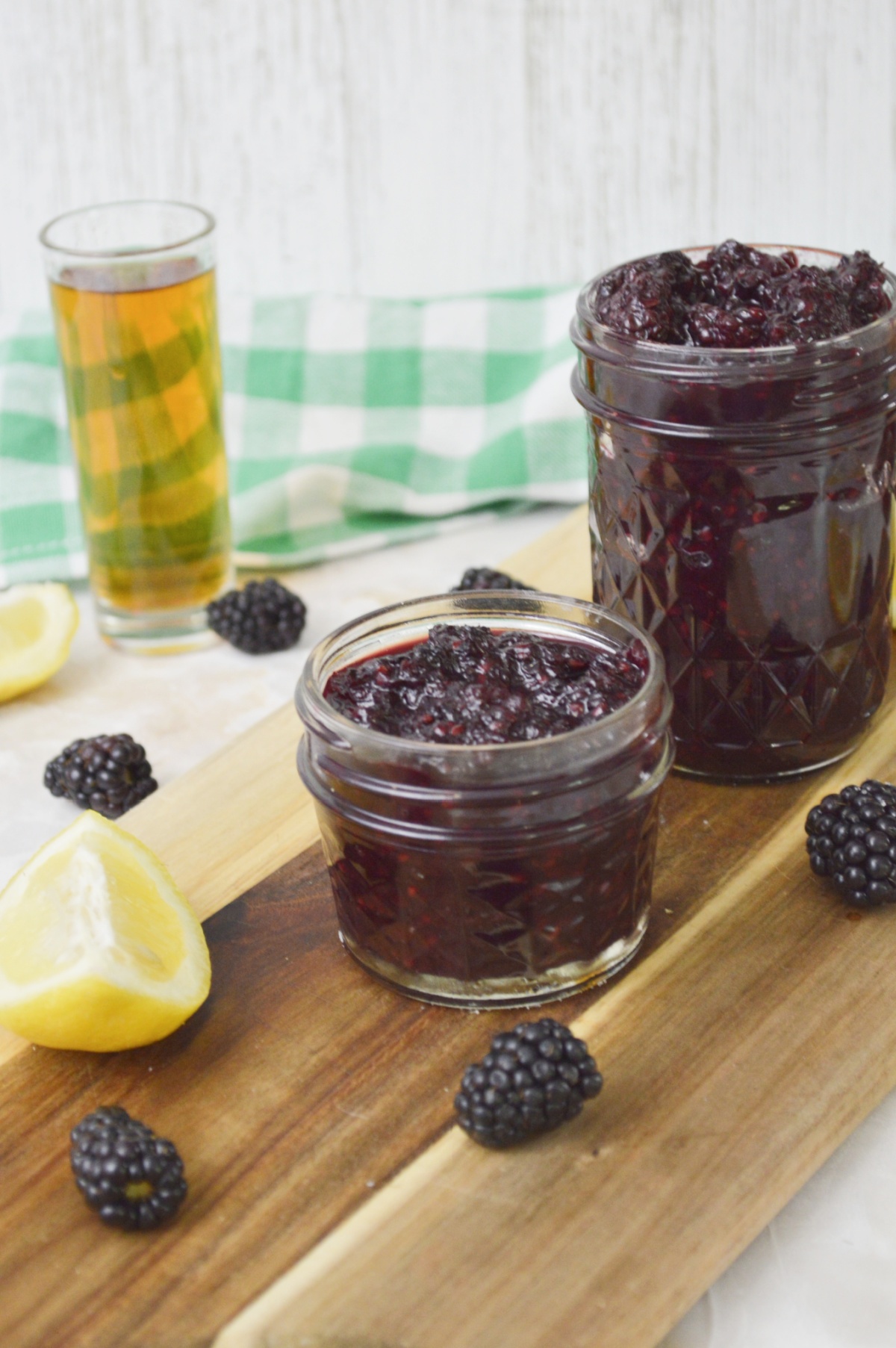 Have you made your own jam or jelly before? I made Merlot Cherry Habanero Jelly a few years ago and I will openly it, it sacred me a little. I didn't have a cherry-pitter, so I used my hands to get the pits out of the cherries. Imagine cherry juice all over me, my counter, MY WALLS. It was indeed one of those recipes that after about 20 minutes in I questioned why the hell I was doing it anymore.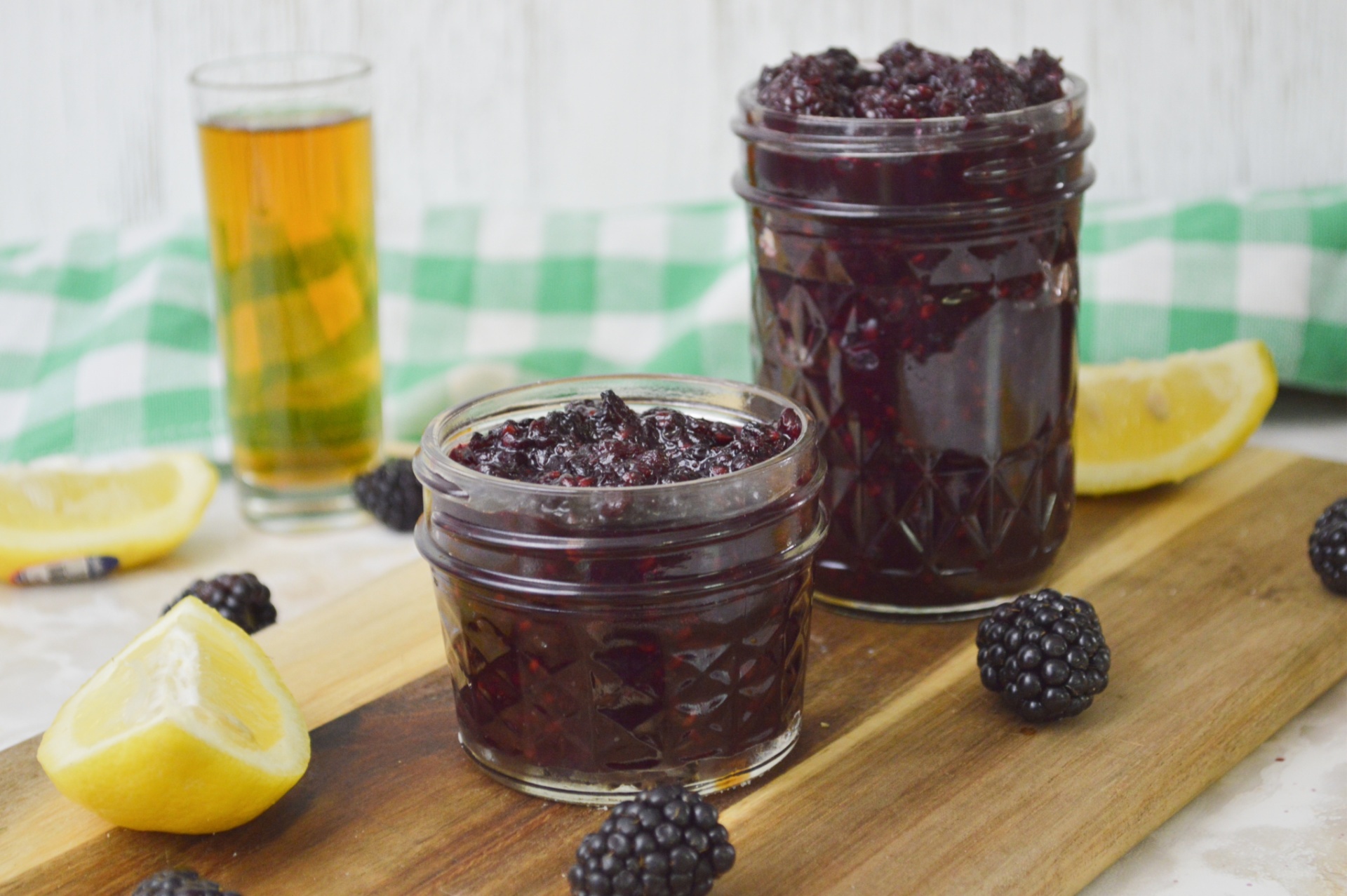 But, with practice makes…perfect…well, no…I am definitely light years away from perfect when it comes to making jams and jellies but I am a LOT better at it and dare I say…it's even a bit easier now?!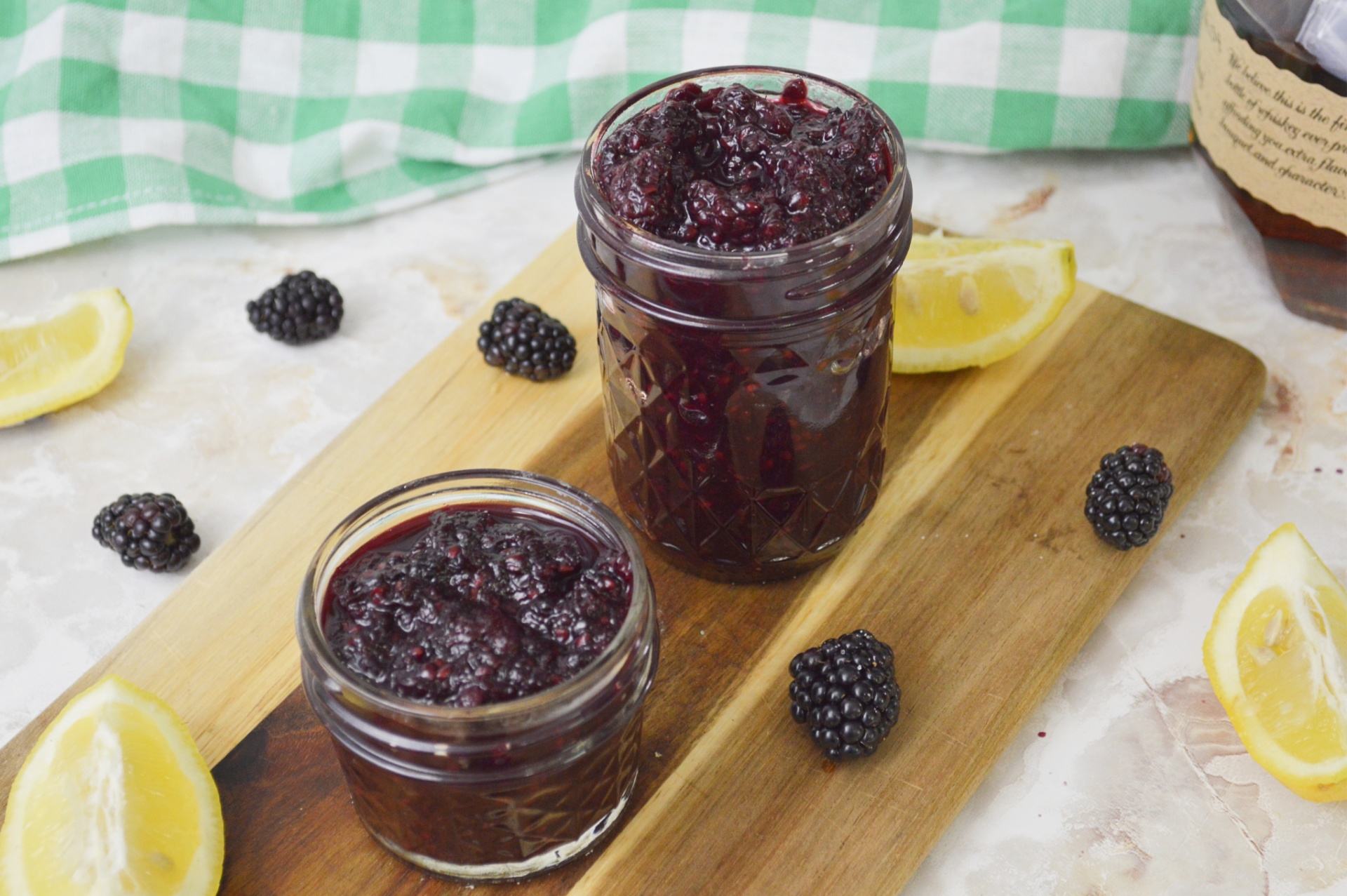 So, grab some blackberries from your favorite farm here in the USA and let's make some jam shall we? If you are a bourbon fan, we will notice that bourbon bottle immediately….if you happen to have a coveted bottle of Blanton's at home, don't fear, you don't have to use it on this recipe…but I recommend sipping on it, maybe make an Old Fashioned, while you make it. That's what I did 😉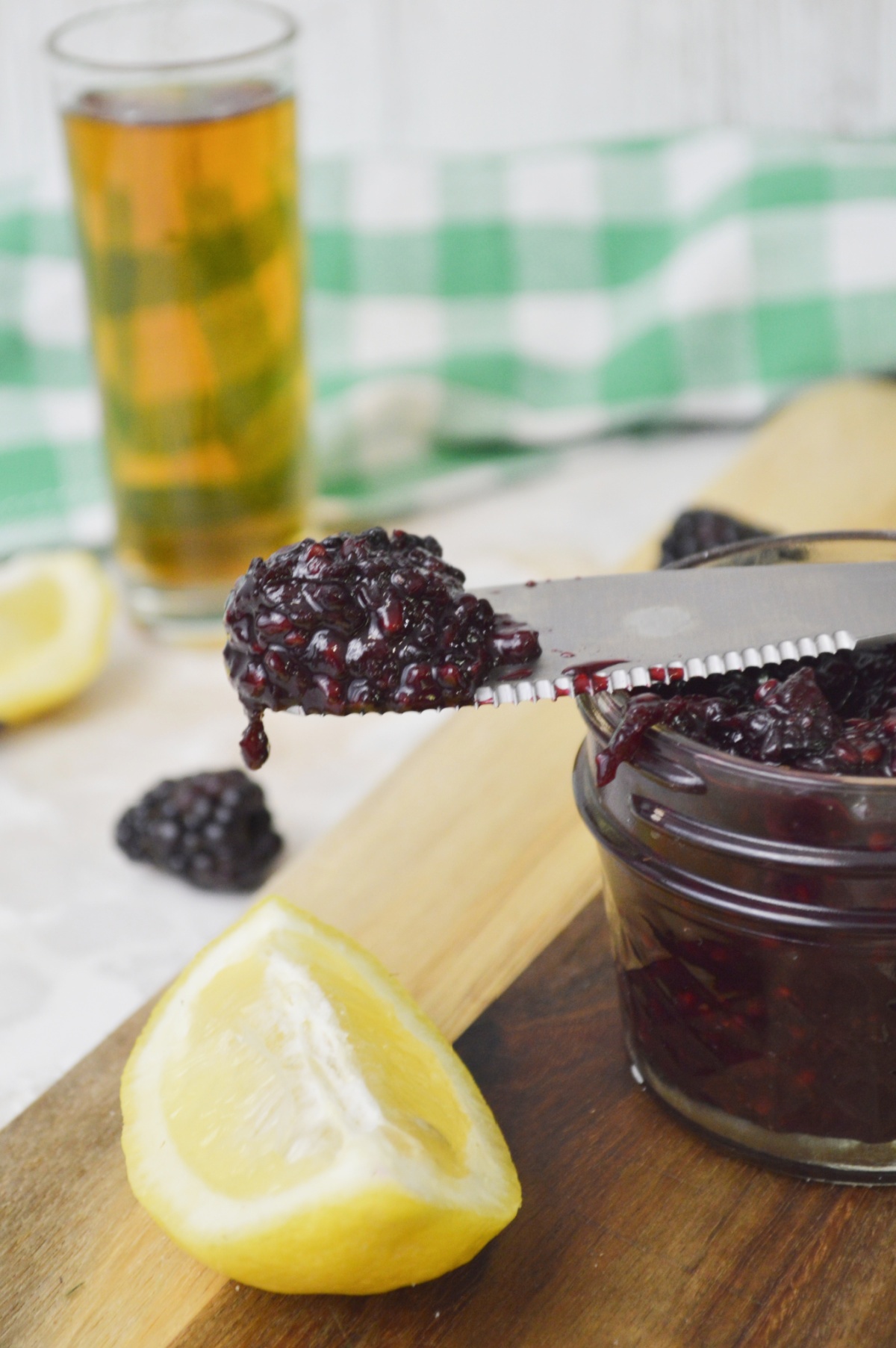 I have the instructions below for canning your blackberry bourbon jam as well as just preparing it and tossing it in your refrigerator. Since this recipe only makes 2 jars, I am thinking you will use the yummy results quickly, so canning isn't 100% necessary…unless you double the recipe and put some away. Which I also recommend…it's that good!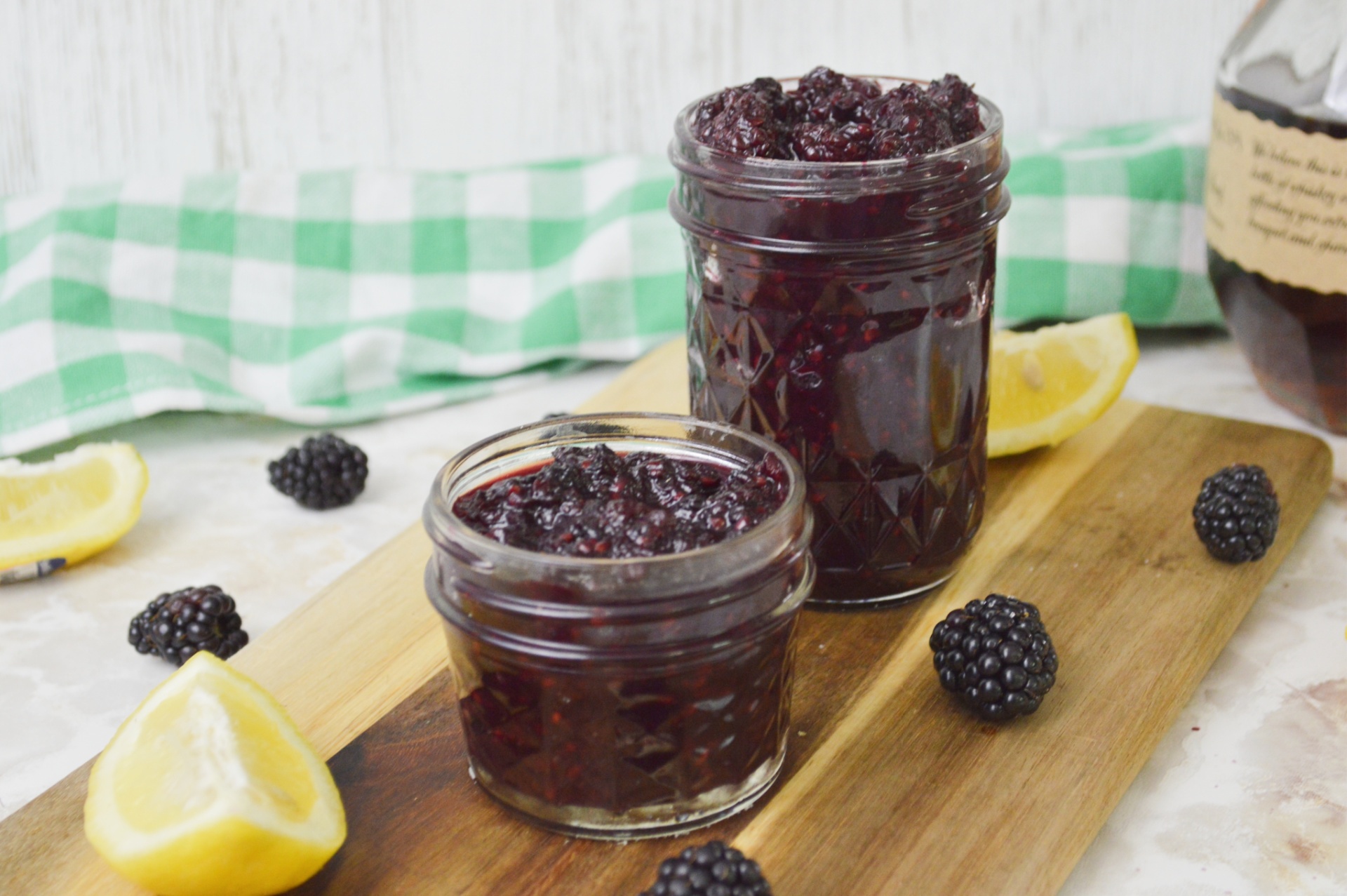 How to serve your Bourbon Blackberry Jam:
On Toast or your other favorite carb
Over cream cheese and served with crackers – a personal favorite
In burgers – yes, you read that right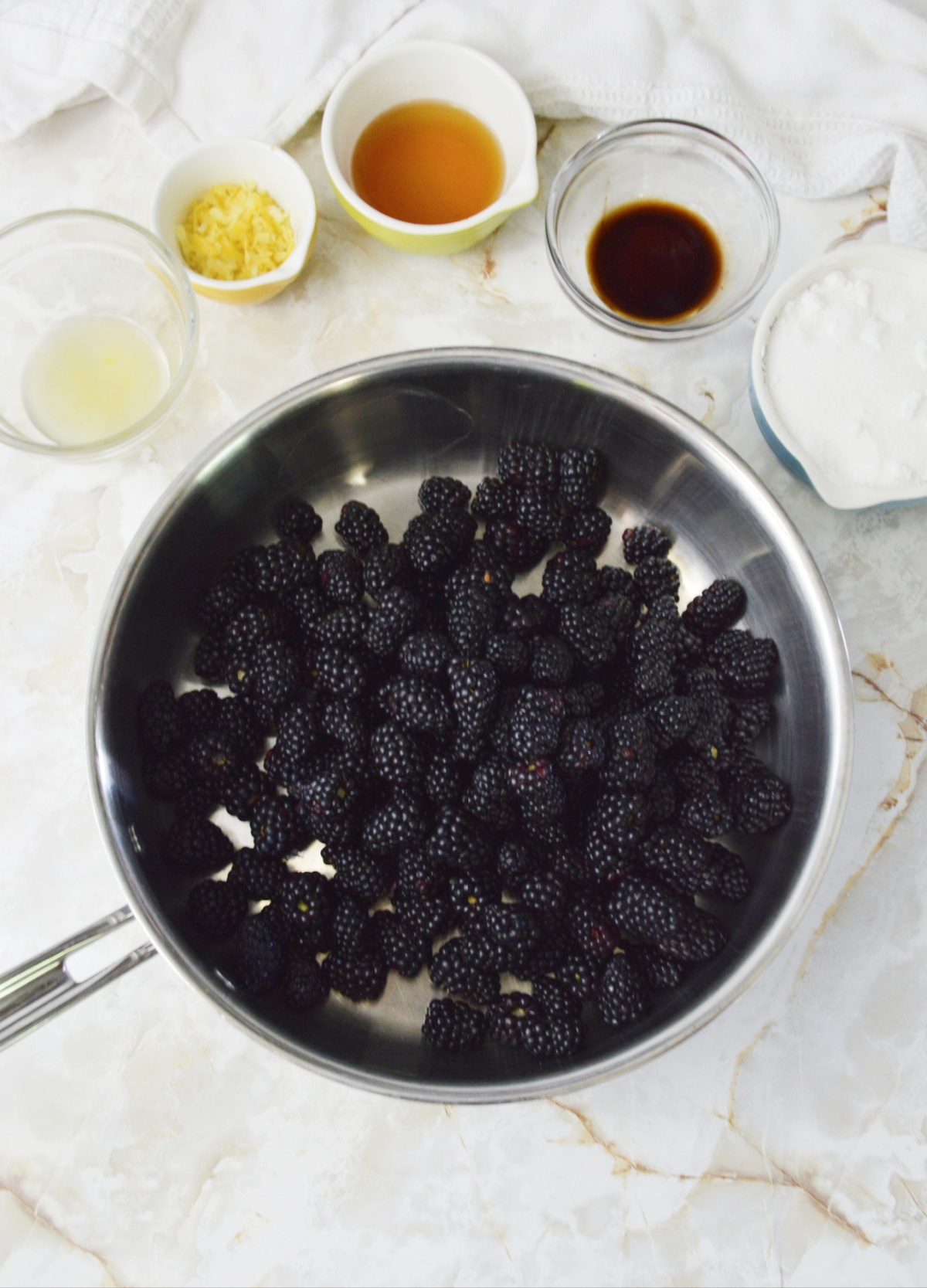 Bourbon Blackberry Jam Key Ingredients
Blackberries
Bourbon
Vanilla Extract
Lemon
Sugar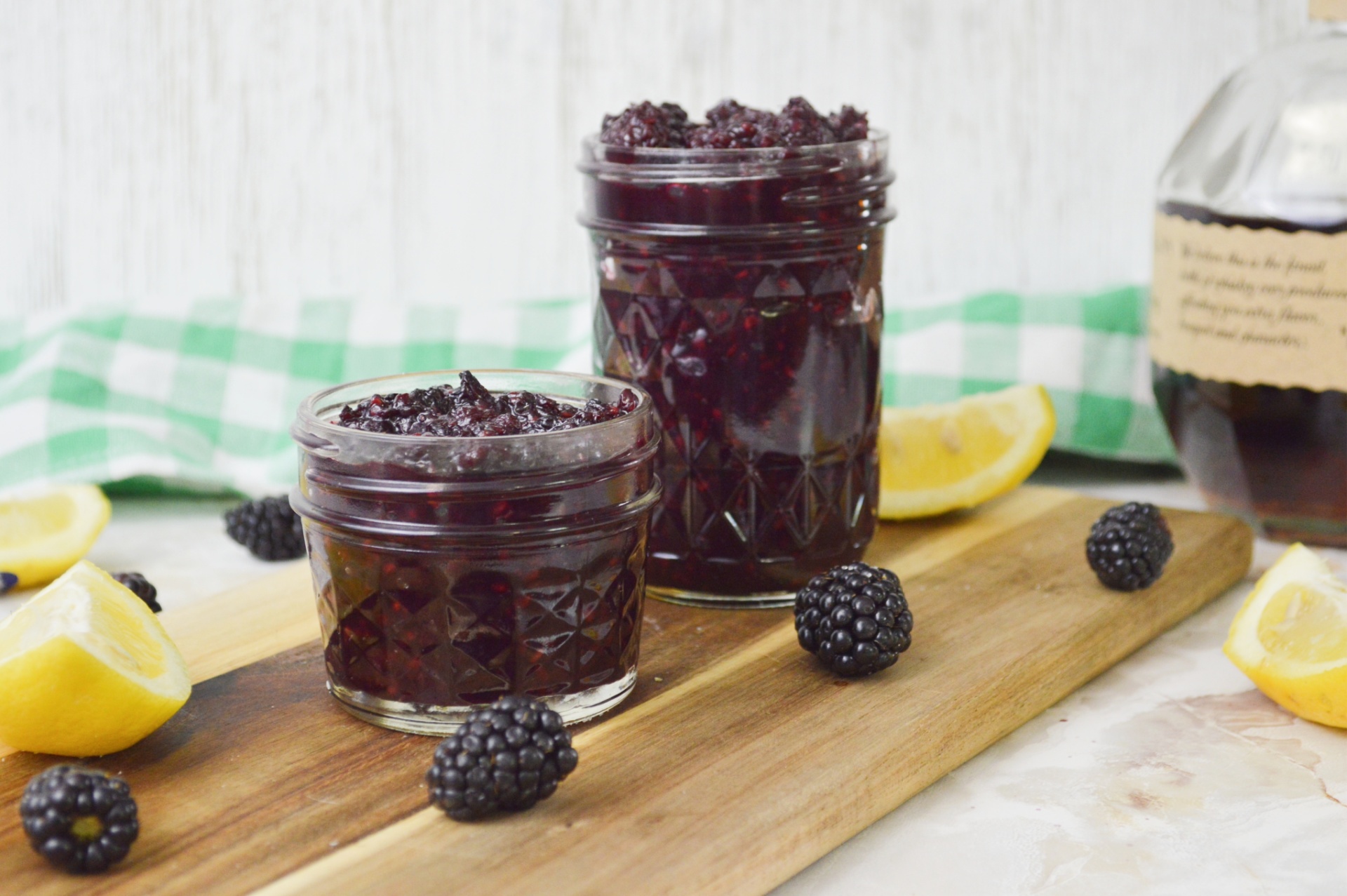 Yep! That's it! You just need 5 ingredients and a little time (under 45 minutes!) to make this yummy bourbon blackberry jam!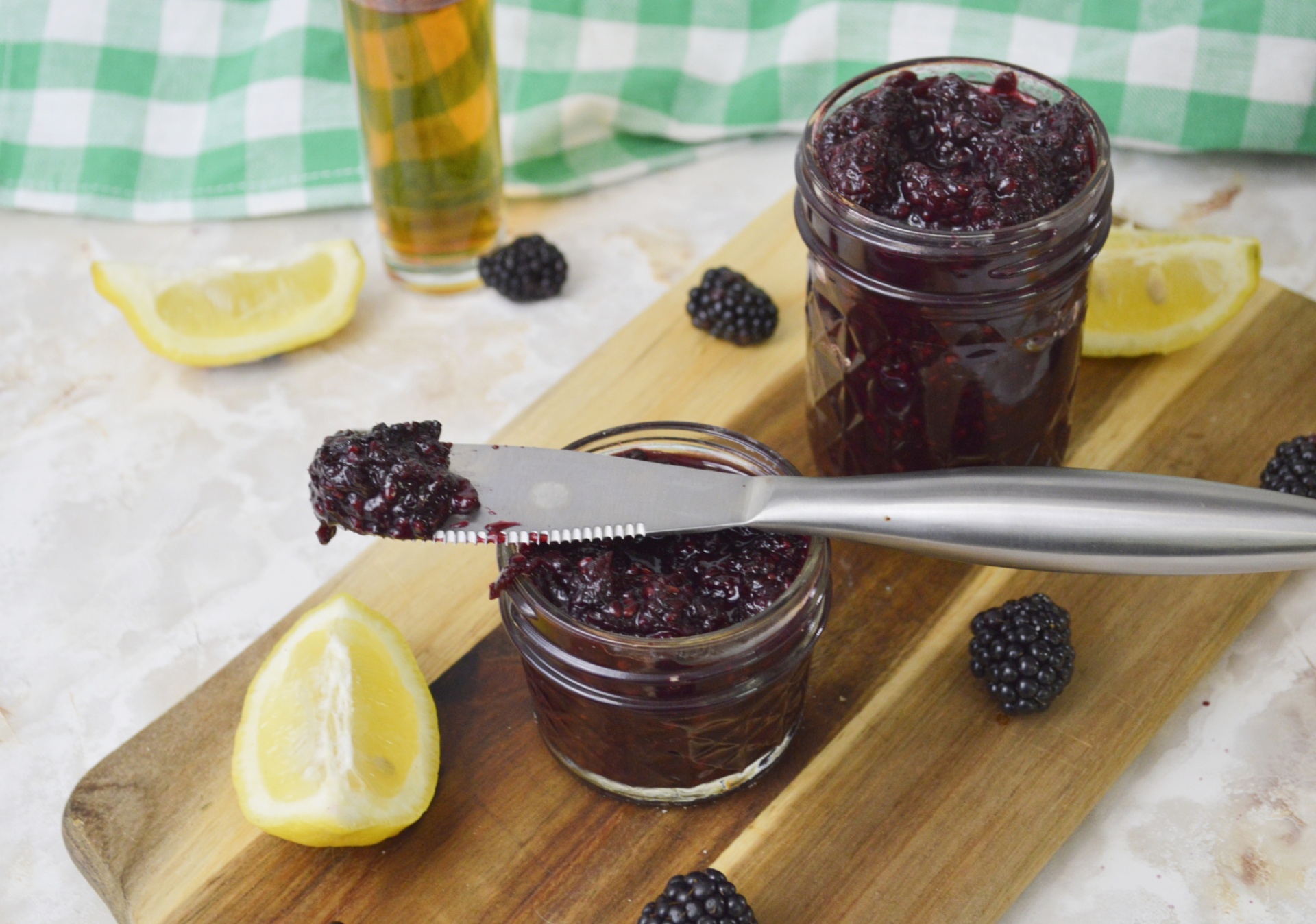 Alright, let's make some Bourbon Blackberry Jam. Be sure to Print and Pin the recipe so that you have it every time you grab some fresh blackberries from the grocer or farmer's market.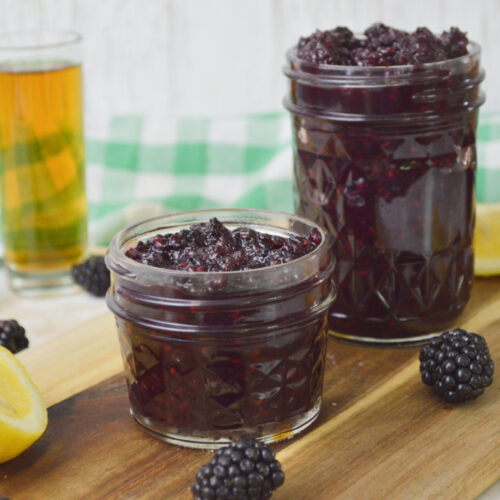 Blackberry Bourbon Jam
Use fresh blackberries and your favorite bourbon to make this incredibly delicious…and easy…Blackberry Bourbon Jam!
Print
Pin
Rate
Ingredients
1 1/2

lbs

fresh blackberries

about 5-6 cups

3

tbsp

Bourbon

1

tsp

vanilla extract

1

lemon

zested plus 1 tbsp fresh lemon juice

1

cup

sugar
Instructions
Place washed blackberries in a medium sized saute pan.

Use a wooden spoon or masher to mash the blackberries a bit to help break them open.

Next add in the bourbon, vanilla, lemon zest, lemon juice, and sugar.

Let the mixture sit for about 10 minutes before cooking /simmering

Stir and cook over medium-high heat until the mixture begins to bubble.

Turn the heat to low and let simmer for about 20-25 minutes or until desired thickness. ** For a thicker consistency, boil a bit longer.

If consuming immediately, let cool and spoon into jars or containers of choice. **Note: If canning the jars, spoon hot mixture into hot sterilized jars and process.

Refrigerate or freeze until ready to use.
Canning Instructions
Fill a pot of water and place 2 (8 oz) jelly jars in the water with the lids making sure the jars are completely submerged.

Bring the water to a boil and leave the jars in there for about 10 minutes.

Use a pair of tongs to carefully remove hot jars and lids from the water bath.

Spoon hot jam mixture into jars, wipe the jars to remove any liquid or jam.

Place lids and seals and screw on the top.

Use tongs to carefully place the jars back into the boiling water for another 5 minutes.

Carefully remove jars and set on a kitchen towel.

As the jars seal properly, you will hear a popping noise.
Notes
Makes: 2 (8 oz) Jelly Jars
Nutrition
Calories:
1213
kcal
|
Carbohydrates:
276
g
|
Protein:
11
g
|
Fat:
4
g
|
Saturated Fat:
1
g
|
Polyunsaturated Fat:
2
g
|
Monounsaturated Fat:
1
g
|
Sodium:
12
mg
|
Potassium:
1262
mg
|
Fiber:
39
g
|
Sugar:
236
g
|
Vitamin A:
1480
IU
|
Vitamin C:
200
mg
|
Calcium:
228
mg
|
Iron:
5
mg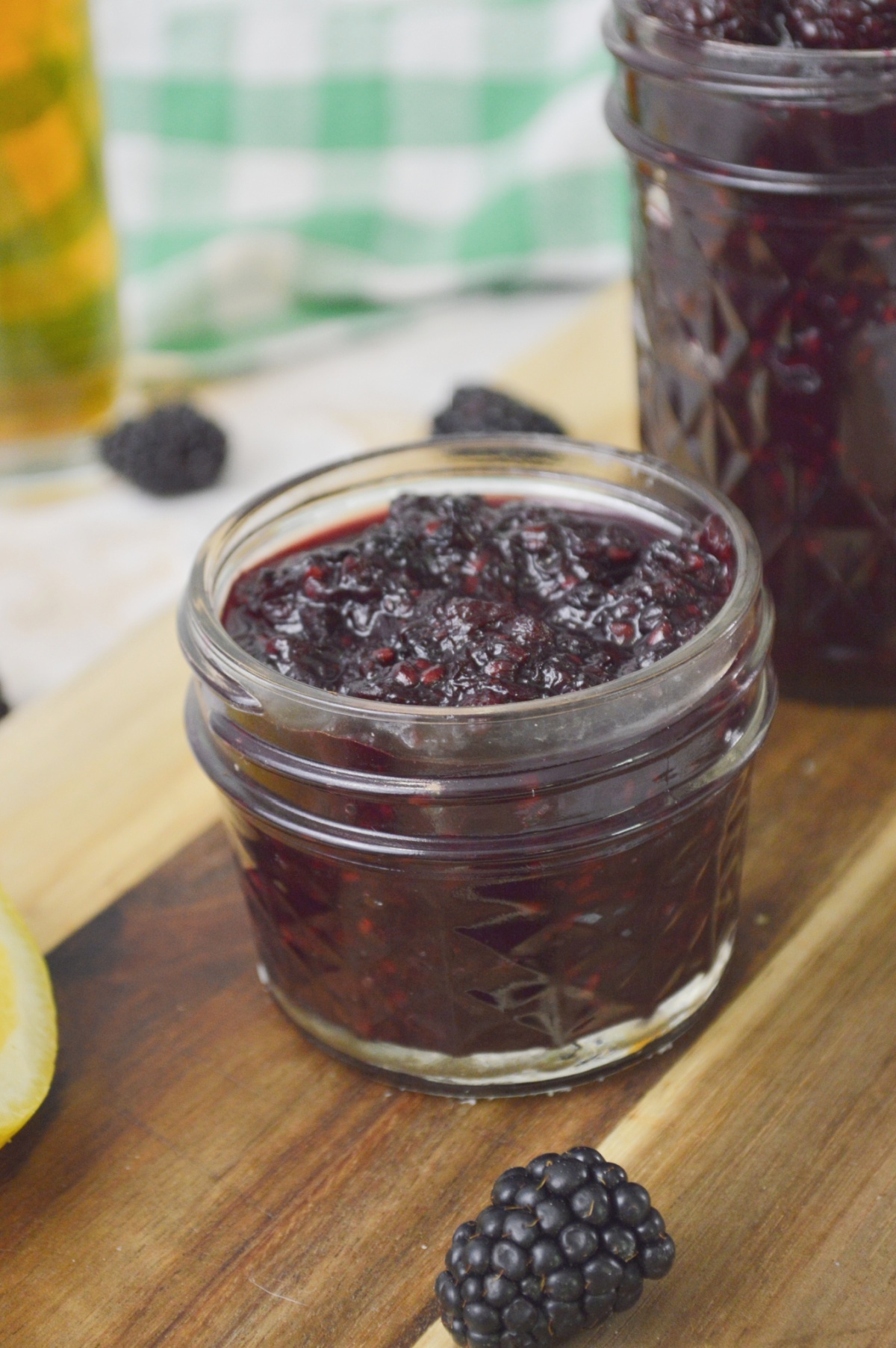 I hope you enjoy this Blackberry Bourbon Jam as much as we do!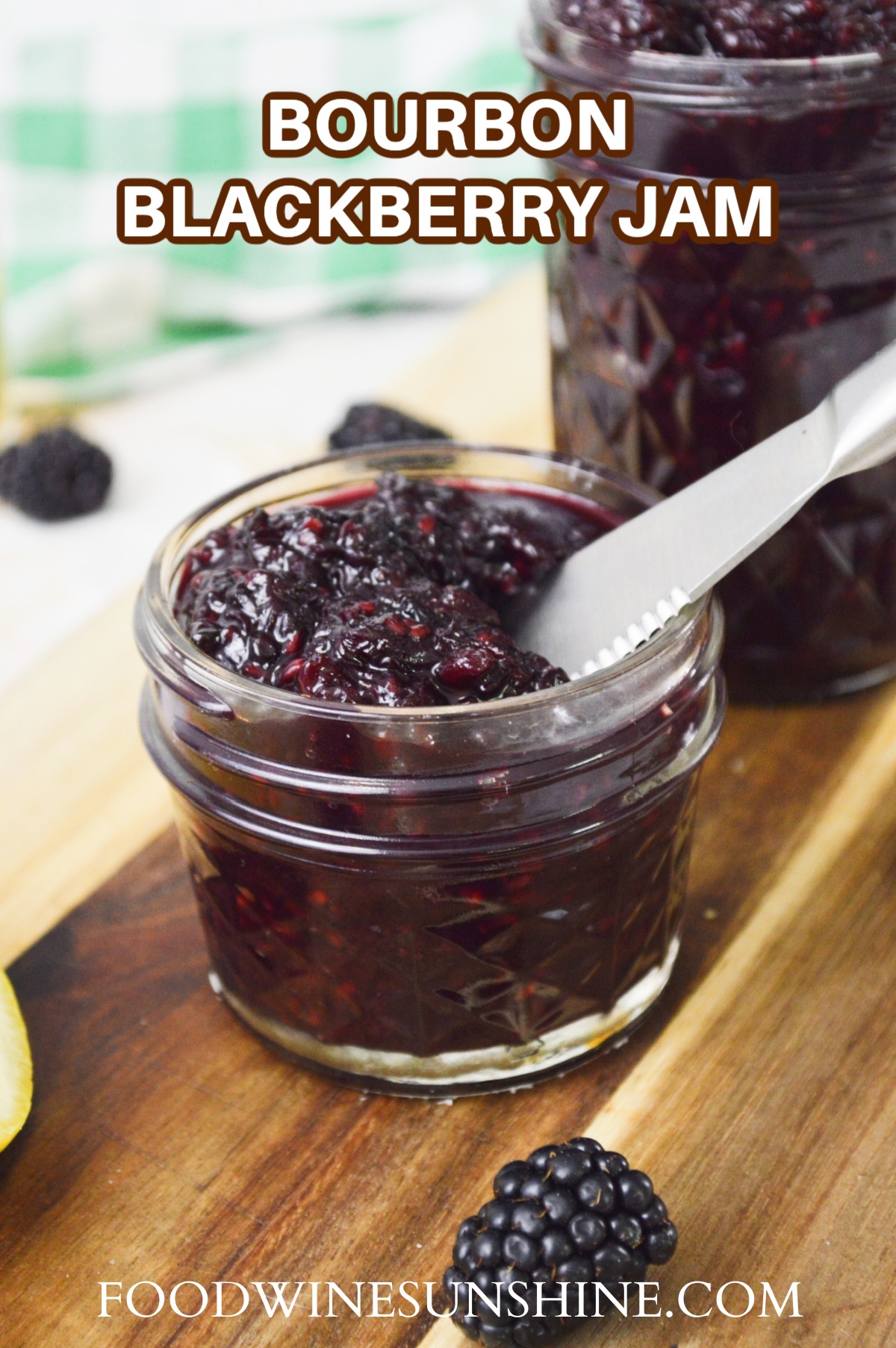 What's one of your favorite ways to enjoy blackberries?
Be sure to follow me on Facebook, Twitter, Pinterest and Instagram for more delicious recipes, travel tips and more.