(Last Updated On: September 11, 2020)
This homemade Merlot Cherry Habanero Jelly has a bit of sweet and a bit of heat making it absolutely delicious! Enjoy this Merlot Cherry Habanero Jelly recipe sooner than later.

Merlot Cherry Habanero Jelly
Have you ever made your own jam or jelly? I will admit that this was my first time and I was a bit intimidated. Between prepping the fruit, adding in some heat with the habaneros and getting the jars ready, I was nervous! I researched and researched different ways to make jelly for over a month, then I decided that the time for prepping was over. I needed to just jump in and create my jelly! Worst case scenario, it doesn't set right or it tastes horrible and I just try again right?
Well, my first batch of Cherry Merlot Habanero went down my drain because it didn't set. I just about cried. But, I wasn't going to accept defeat that quickly, so I tried again. Everything I read said that it can take up to 24 hours for your jelly to set, but in my second batch I noticed it getting thicker within just a few hours.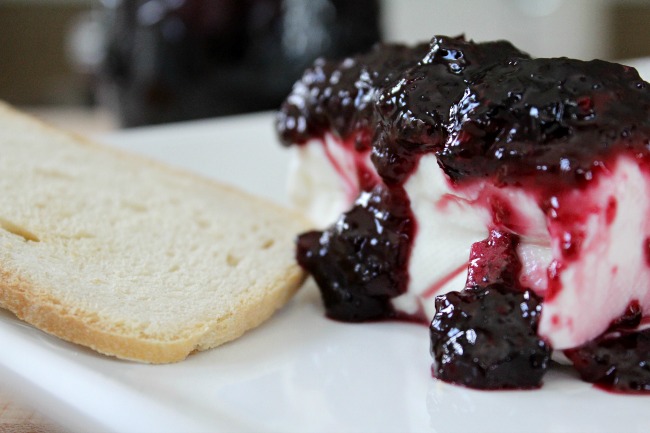 When you think jam or jelly, you may think of the traditional fruit variety. But spreading jam on my toast has never really my thing. I like my jelly with a bit a spice and over cream cheese or on a cracker. My uncle has made our family cherry jalapeño jelly for years for the holidays, and we have always loved it. And since we are traveling up to Traverse City Michigan, the Cherry Capitol, here soon, I figured it was only appropriate that my first attempt at making jelly be cherry. My son has habaneros growing in a little garden in the backyard, so that of course was my pepper of choice. Speaking of my son, his favorite way to enjoy jelly is in a burger, you can read about that here. 😉 **Be careful when handling peppers, use gloves or be prepared for hot fingers** If you are looking for another idea to use up habaneros and hot peppers from your garden, you can pickle them. Read more about how to pickle hot peppers.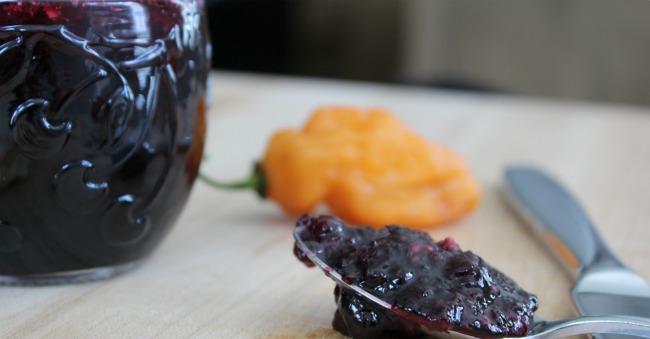 If you know me, you know that one of my favorite things is wine, so I decided to combine some of my favorite things when making this jelly. The fresh cherries and Merlot make this Merlot Habanero Jelly a beautiful, rich color. I just love it!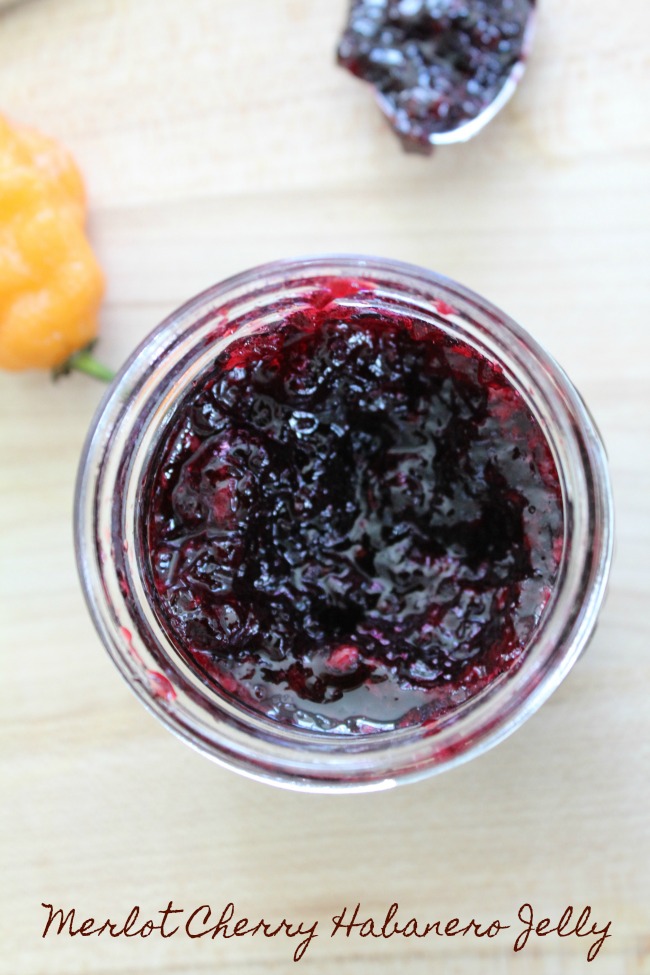 It turns out that the complicated part in making jam or jelly isn't actually getting the ingredients together or prepping them. In fact, I only used five ingredients: cherries, habaneros, wine, sugar, and one box of SURE-JELL. Where it started to get confusing for me, was once it was ready to be put into jars. All you need to make things like these are probably available on a Food Lion Weekly Ad. Your jars have to be prepped, and you also have to process them once it's done. However since this is my first attempt at even considering making jelly or Jam, I had no idea what it meant to prep the jars or process it after you put the jelly into the jars.
Here are the important tips about making homemade jelly:
You must sterilize the jars before using them. I found several theories on the best way to do this, either use a canner, or put the jars in water and simmer them boiling water for at least 10 minutes. Then you can shut the heat off and let them sit while you are prepping your jam. You want them warm/hot when you pour in the HOT jam, and you also want them dry. I used a paper towel to hold the outside of the jar so I didn't burn my fingers, when the jam was almost ready I removed the jars and set them on a wooden cutting board to dry.
You put the lids on the jars when the jelly is still hot. Most of your lids will be two pieces, wipe the rims of the jar with a damp piece of paper towel, to make sure all the food is off, place on the one piece then twist on the cap. Make sure it's on tightly.
Now, if you're like me, you don't have a canner, so you have to do a water bath if you plan on keeping the jelly for more then a few days. This is the "processing" part. To make a water bath, you have to completely submerge your jelly in boiling water in a large pot. You want at least one to two inches of water over the TOPS of your jars. Once you have a gentle boil going, cover the pot and keep it gently boiling for 10 minutes. Once the 10 minutes is complete, take off the lid and shut off the heat and let them sit for five minutes. Once the five minutes is complete common remove the jars from the water and place them on a wooden cutting board or a cloth, remember they are HOT. I used tongs to remove mine.
You will know that the "processing" worked when the tops of the jars pop down, you shouldn't be able to push on them to pop back up. Mine started doing it almost immediately. You will hear them "pop". But it may take up to 24 hours.
As I mentioned above, everything I read that your jam may take up 24 hours to set, my first batch didn't set after about 18 hours and I dumped it down the drain 🙁 But, my second batch was starting to thicken after just a few short hours.
The trick with jams and jellies is that you HAVE to follow the directions exactly, don't try to lessen the sugar or anything either…this will most likely result in failure. I love to improvise too, but don't do it!
Store your jelly and a cool dry place and enjoy!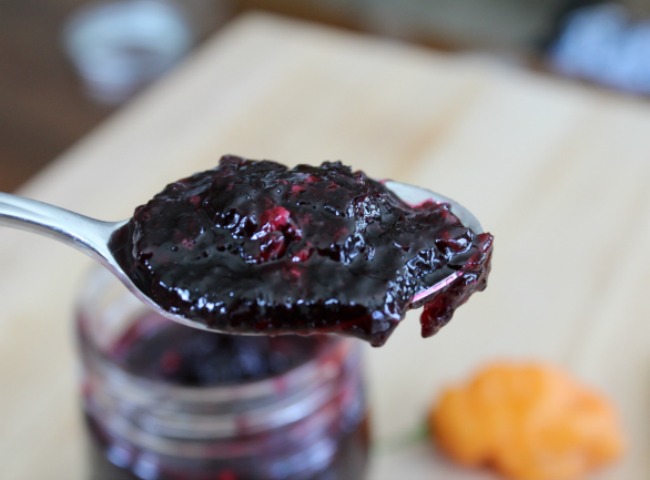 One last thing to address, what is the difference between a jam and a jelly?! Well, from my experience a jam has big chunks of fruit and jellies do not. I did NOT take any fruit pieces out of my jelly, but since the cherries and peppers were diced up so small, I really don't consider this a "jam". I may be wrong, so feel free to call this Merlot Cherry Habanero Jelly or Merlot Cherry Habanero Jam, either way…it's delicious.
Now, here is my Cherry Merlot Habanero Jelly recipe, I did use fresh cherries and pitted each one (well, with the help of the kids) but my uncle told me he has used frozen pre-pitted cherries and it works fine.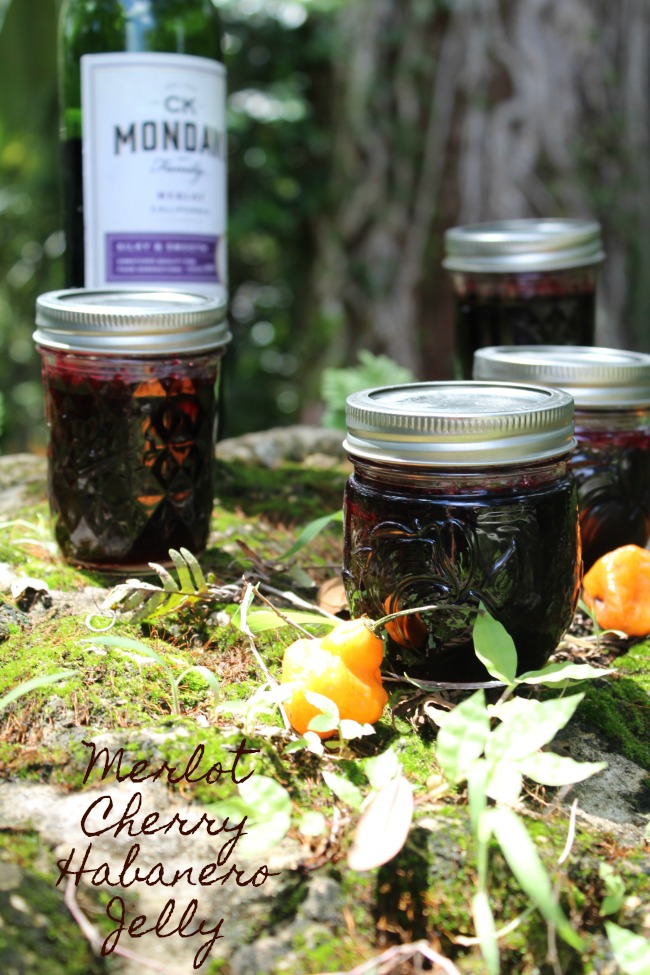 Merlot Cherry Habanero Jelly
Making your own jams and jellies is not only delicious, but rewarding! I created this Merlot Cherry Habanero Jelly and love it, I hope you will too!
Print
Pin
Rate
Ingredients
7-8

8 oz jelly jars with lids

3 1/4

cups

finely chopped/diced cherries - approx. 2.5 lbs

1/4

cup

finely chopped/diced habanero peppers - approx 5 peppers - remove seeds to reduce "heat"

1/4

cup

Merlot

I used CK Mondavi & Family

4 3/4

cups

sugar

1

box

SURE-JELL
Instructions
Sterilize your jars and lids in a stock pot by adding jars and filling with water and bringing water to a boil and simmer in boiling water for at least 10 minutes.

While you are preparing your jars and lids, put the prepared cherries, peppers, and Merlot into a large pot.

Stir in the package of SURE-JELL into the fruit mixture.

Bring the mixture to a full rolling boil (a boil that doesn't stop when stirred, but be sure it doesn't boil over), stirring constantly.

Pour in the sugar into the fruit mixture.

Return to a full rolling boil, boil for 1 minute, stirring constantly.

Remove from heat and skim off any foam with a metal spoon.

Remove jars and lids from the boiling water and set on wooden board or towels to dry.

When fruit mixture is ready, ladle them into the warm/hot jars (be careful not to burn your hands, then liquid and jars are going to be hot!).

Fill each jar within a 1/4 inch from the top.

Wipe jar rims and threads of any spills.

Put the lids on the jars once they are filled.

Place the filled jars back into the stock pot that you used to sterilize the jars, standing upright. The water will still be hot, be careful.

Fill the pot with additional water if necessary, water must be 1-2 inches ABOVE the top of the jars.

Bring water to a gentle boil. Cover and "process" for 10 minutes.

Remove the jars from the pot (I used tongs, be careful, they will be HOT), and place them on a wooden board or towel so that they can cool.

You will hear the lids start to "pop", that means they are sealed. Once they are cool, be sure to press all the lids to make sure they sealed correctly, they should not pop back up once pressed.

Let prepared jars stand at room temperature until set (up to 24 hours, but mine started to set within a couple hours).

Store unopened jams and jellies in a cool, dry place for up to 1 year.

Refrigerate opened jams and jellies for up to three weeks after opened.

Enjoy!
Notes
Be careful when handling peppers, use gloves or be prepared for HOT fingers. Remove the seeds for less "heat."
Nutrition
Calories:
504
kcal
|
Carbohydrates:
129
g
|
Protein:
1
g
|
Fat:
1
g
|
Saturated Fat:
1
g
|
Sodium:
2
mg
|
Potassium:
158
mg
|
Fiber:
1
g
|
Sugar:
126
g
|
Vitamin A:
106
IU
|
Vitamin C:
15
mg
|
Calcium:
7
mg
|
Iron:
1
mg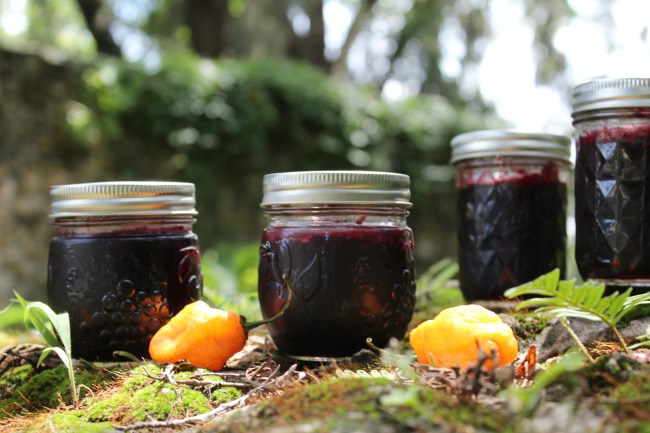 I hope you enjoy this Merlot Cherry Habanero Jelly as much as my family does!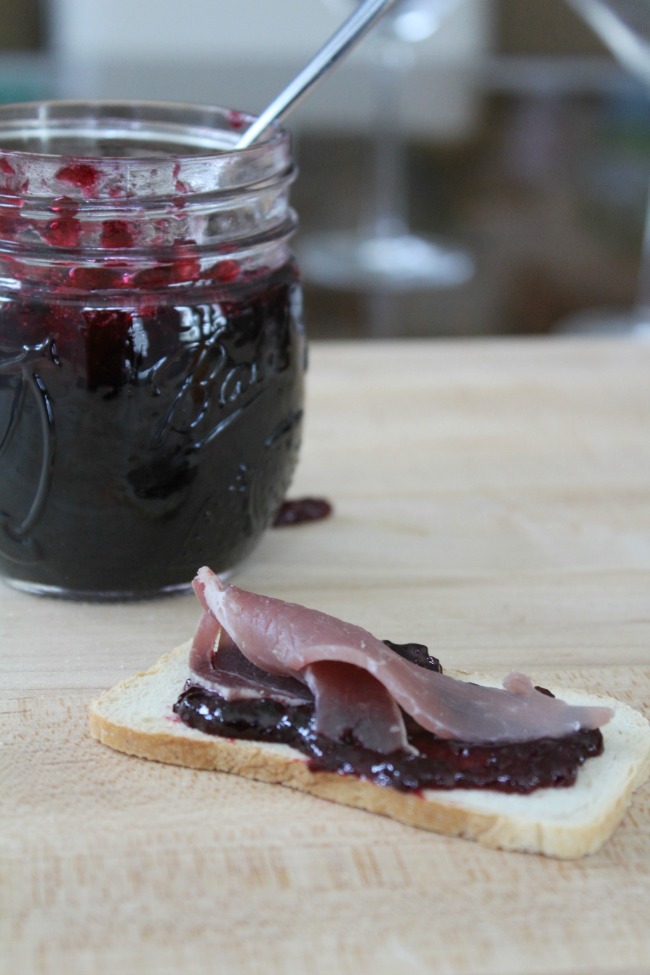 Have you ever made homemade jam or homemade jelly before? It makes for great gift ideas!

Need jars to make your jams and jellies?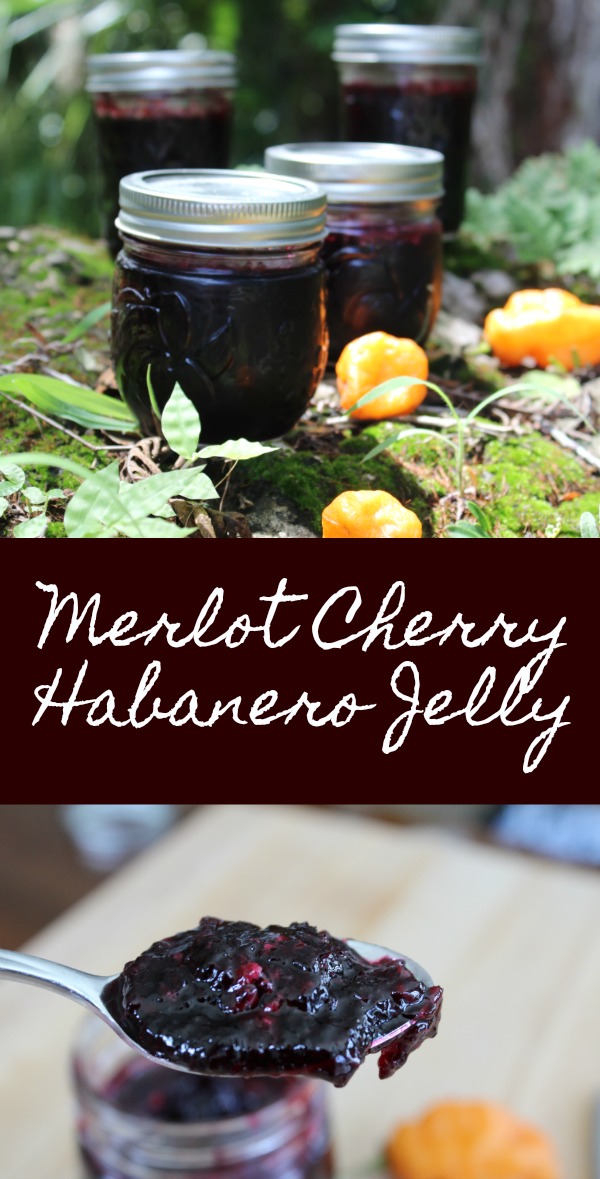 Be sure to check out all the recipes on Food Wine Sunshine and follow me on Facebook, Twitter, Pinterest and Instagram.