(Last Updated On: September 11, 2022)
Pickled Peppers are fantastic on burgers, hot dogs, on top of your favorite appetizers, or by themselves! Learn how to pickle habanero peppers, jalapeno peppers and more. Preserve all those beautiful hot peppers from your garden or the farmer's market!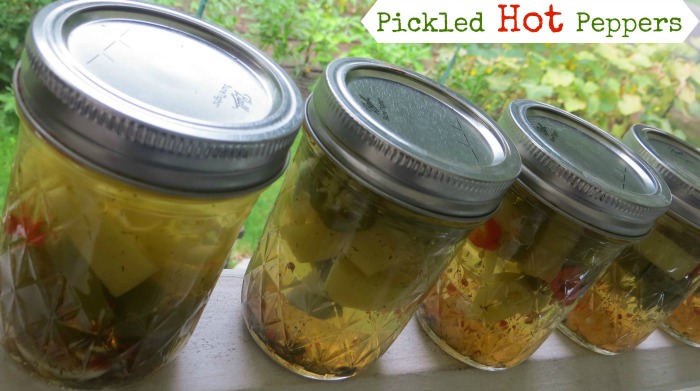 How To Pickle Hot Peppers
Do you have a bunch of beautiful hot peppers in your garden? Or did you buy a bunch of jalapeno and habanero peppers at your local Farmer's Market and now you don't know what to do with them all? I love making salsa, and my Cherry Habanero jelly only takes a handful of peppers, so with all the peppers that we get, I needed something new to do with them.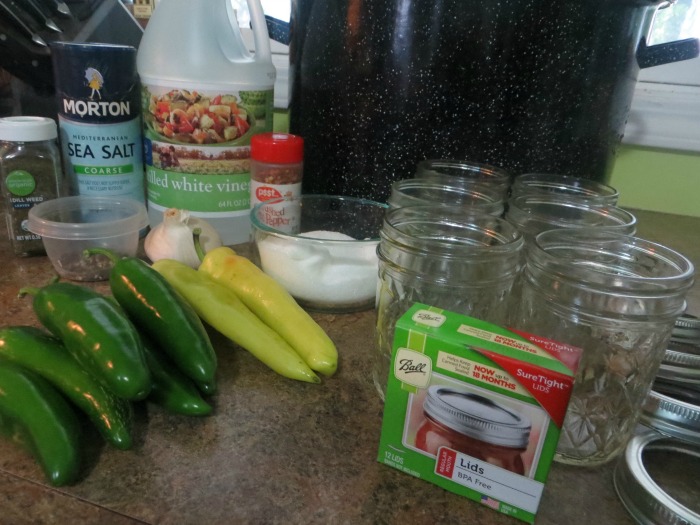 So, I decided to pickle them! I have ordered pickled jalapenos on my burgers and hot dogs at restaurants, I absolutely love pickled onions, so why not make my own pickled hot pepper deliciousness?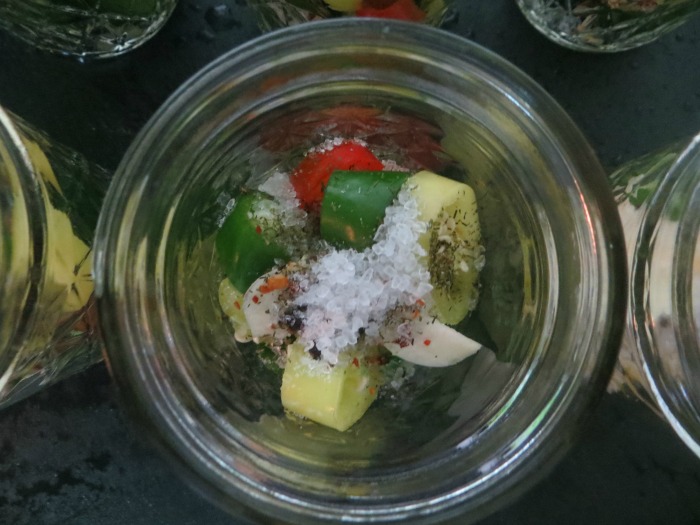 If you have canned before, this is actually pretty easy. If you haven't, take care to read the instructions before getting started. Be careful with the hot water and hot peppers. You may want to consider wearing gloves when handling the peppers, because there is nothing worse than having an itch or rubbing you eye when you have pepper juice on your hands!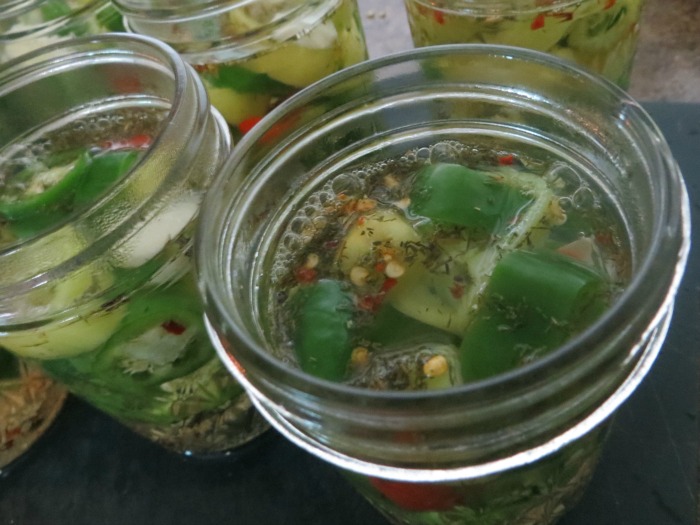 With the holidays coming, these pickled hot peppers would also make fantastic gift ideas. This Pickled Peppers recipe makes about six 8 oz jelly jars, I like using the Ball brand personally. If you don't have a canning pot with a jar rack, you can use a large pot, I have done this, it just makes it a bit harder to get yours jars out of the hot water (use tongs!). I do recommend the jar rack, they are fairly inexpensive on Amazon and it will save plenty of burns on your finger tips!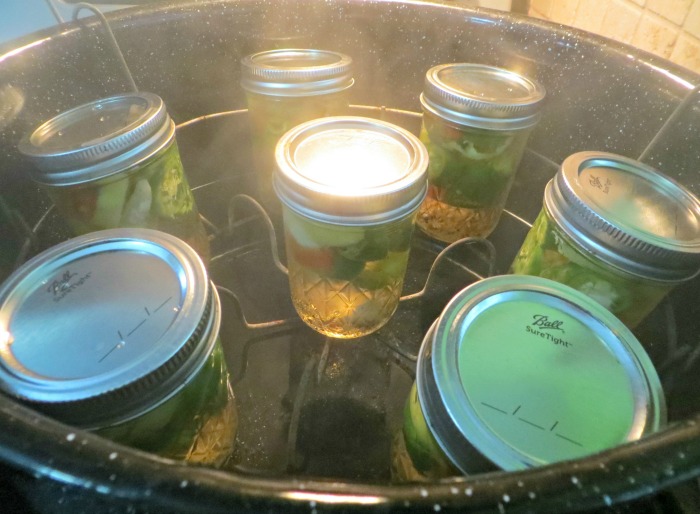 What Equipment Do I Need to Pickle Hot Peppers?
1. You will need clean, empty jars with a lids.
2. Next, you will need….peppers. Make sure to wash them thoroughly and remove any stems. Once your peppers are clean, you will need to slice them into strips.
3. Then, you will need to make your pickling solution. In a small pot, bring vinegar, water, sugar, and salt to a boil. Stir until the sugar and salt have dissolved. After that, carefully pour the hot mixture over the peppers in the jar. Make sure all of the peppers are covered with liquid.
Finally, screw on the lid tightly and store in a cool, dark place for at least 2 weeks before eating. Enjoy!
Which are the Best Hot Peppers to Use?
Well, that depends… what kind of heat do you want? Second, what flavor profile are you going for?
If you want something that packs a serious punch, then habanero peppers are the way to go. These little guys pack a lot of heat, so if you're looking for something to add some serious spice to your life, then these are the peppers for you. Just be careful when handling them – the oils can cause irritation if they come into contact with your skin.
For a more mellow flavor, jalapeño peppers are a great option. They'll still give your dish some kick, but won't leave you feeling like your mouth is on fire.
Which Is The Best Type of Vinegar for Making Pickled Peppers?
When it comes to pickling peppers, white vinegar is always a good choice. It has a sharp, acidic flavor that pairs well with the spices typically used in pickling recipes. White vinegar is also less likely to discolor the peppers than other types of vinegar. Plus, it's very cost effective.
If you want a more mellow flavor, try using apple cider vinegar. It won't add as much acidity to the peppers, but it will give them a nice sweetness that balances out the spices nicely.
How Do You Choose the Right Container for Making Pickled Peppers?
Pickling peppers is a great way to extend the shelf life of your peppers and enjoy them throughout the year. But how do you choose the right container for making pickled peppers?
There are a few things to consider when choosing a container for pickling peppers. The first is the size of the container. You need to make sure that the container is large enough to fit all of the peppers that you want to pickle. The second thing to consider is the material of the container. Glass is the best material for pickling peppers because it doesn't react with the vinegar and doesn't absorb flavors from the peppers. The third thing to consider is whether or not you want to reuse the container. If you plan on reuse, make sure that you choose a food-safe material like glass or stainless steel.
How Long Do You Let the Peppers Pickle?
For most peppers, you'll want to pickle them for at least two weeks. This will give the peppers time to soften and absorb the vinegar. If you're using hotter peppers, like habaneros, you may want to let them pickle for longer – up to four weeks.
The level of heat in your peppers will also affect how long you should pickle them. If you want a milder flavor, pickle the peppers for less time. If you prefer a spicy kick, leave them in the vinegar longer.
But, I have enjoyed them after about 4 hours too!
Now, here's How To Pickle Hot Peppers, be sure to Print It and Pin It so that you can make it again and again.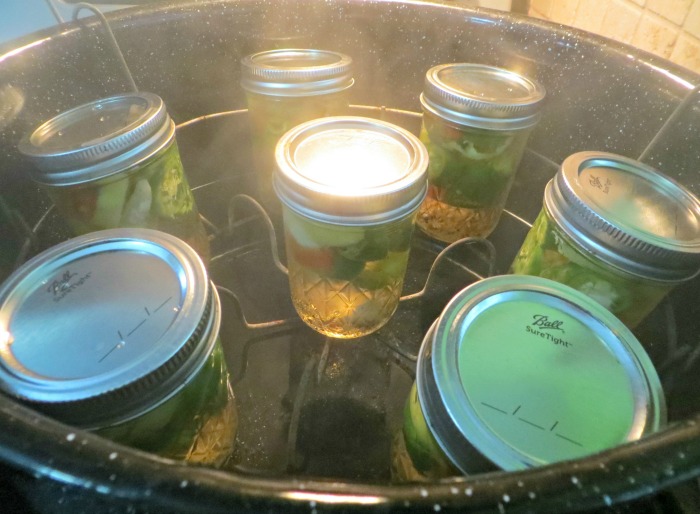 Pickled Hot Peppers
Grab your fresh peppers and pickle them making them into an amazing addition to your burgers, hot dogs or on appetizers. Learn how to pickle hot peppers.
Print
Pin
Rate
Ingredients
Hot peppers of choice

I used 8 Jalapenos, 1 Cayenne, 4 Banana Peppers

3

cups

water

3

cups

white distilled vinegar

4

cloves

garlic

1

tsp

Dill

1

tsp

red pepper flakes

1

tsp

pepper corns

1

tbsp

sugar

2

tbsp

sea salt or 3 tbsp pickling salt
Instructions
Wash and sterilize canning jars, lids, and seals.

Bring water bath in canning pot to a boil.

Wash and prepare all fresh ingredients.

Chop the peppers.

Dice the garlic.

Divide all fresh ingredients and spices into jars evenly.

In a medium sauce pan bring water and vinegar to a simmer.

Pour hot liquid over fresh ingredients in the jars leaving 1/2 inch head space and wipe the rim of any access liquid.

Carefully put lids onto jars.

Tighten the seals.

Carefully place jars onto the rack in the water bath and lower into boiling water.

Place lid on pot and let boil for 10 mins.

Carefully remove from water bath and let cool on a dish towel over night.

Store in pantry for up to one year.

Enjoy!
Notes
* Makes approx. six 8 oz jelly jars.
* You should start to hear "popping" sound while cooling that means the jars are sealing properly
* Store in pantry for up to a year
* Use rubber gloves when cutting hot peppers
You can use any type of peppers you would like in this recipe.  I have used this recipe to make pickled habanero peppers has well.  Habanero peppers are spicier than jalapenos, so just be careful 😉
Nutrition
Calories:
36
kcal
|
Carbohydrates:
3
g
|
Protein:
1
g
|
Fat:
1
g
|
Saturated Fat:
1
g
|
Sodium:
2340
mg
|
Potassium:
24
mg
|
Fiber:
1
g
|
Sugar:
2
g
|
Vitamin A:
99
IU
|
Vitamin C:
1
mg
|
Calcium:
18
mg
|
Iron:
1
mg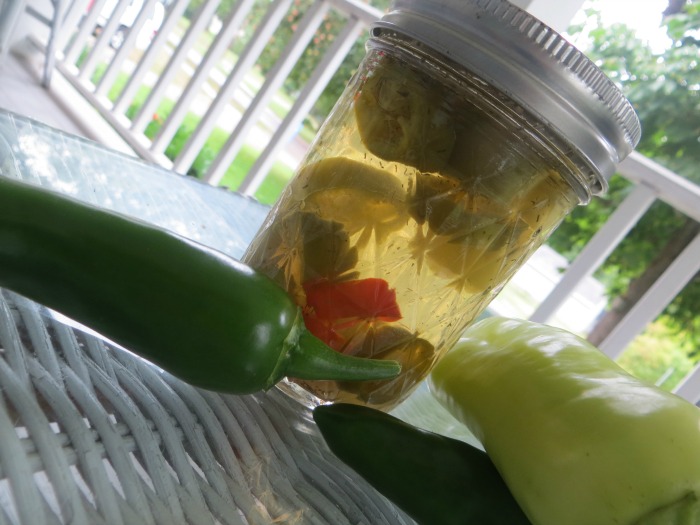 Have you ever pickled peppers? What is your favorite thing to pickle? Eggs? Asparagus? Cucumbers?
You can pickle any type of peppers you have on hand, canning habanero peppers is also delicious! Habanero peppers are spicier than jalapenos.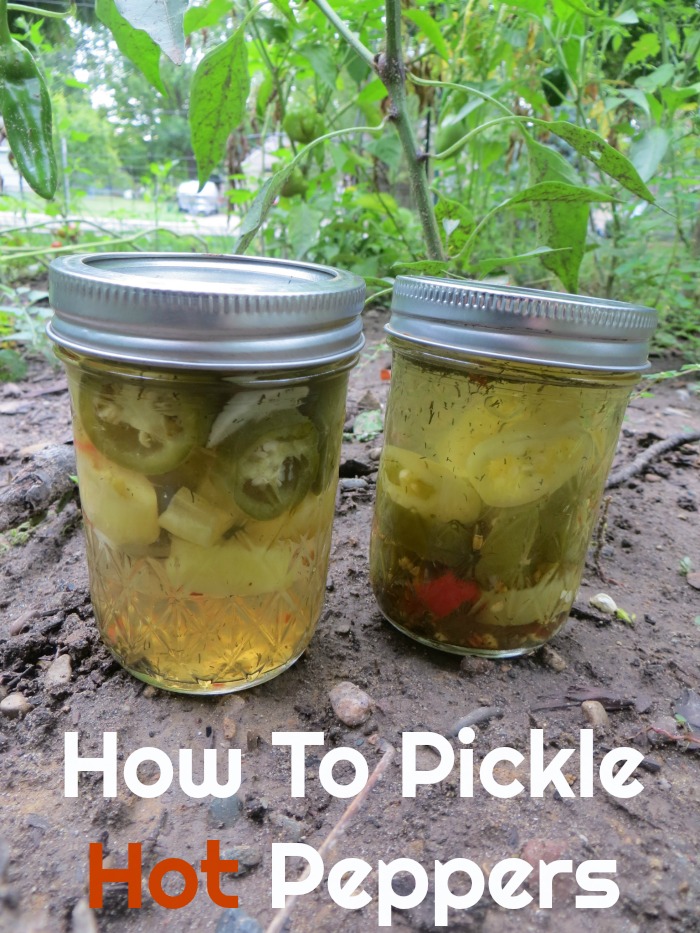 Like canning? Be sure to try my Merlot Cherry Habanero Jelly, it's got a bit of heat and a lot of flavor.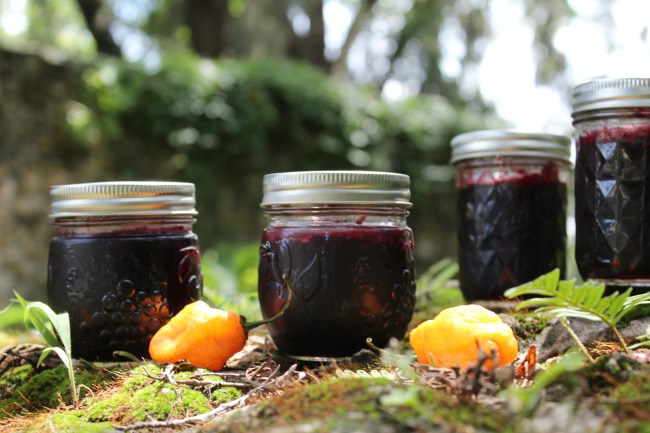 Merlot Cherry Habanero Jelly Step-by-Step Recipe
Find Food Wine Sunshine on Facebook, Twitter, Pinterest, and Instagram and check out all my delicious recipes.