(Last Updated On: May 11, 2021)
Pickled onions are very easy to make and incredibly delicious. With just 10 minutes of prep time you are well on your way to having one of the best sandwich and salad toppings…EVER! Enjoy this quick pickled sweet onions recipe.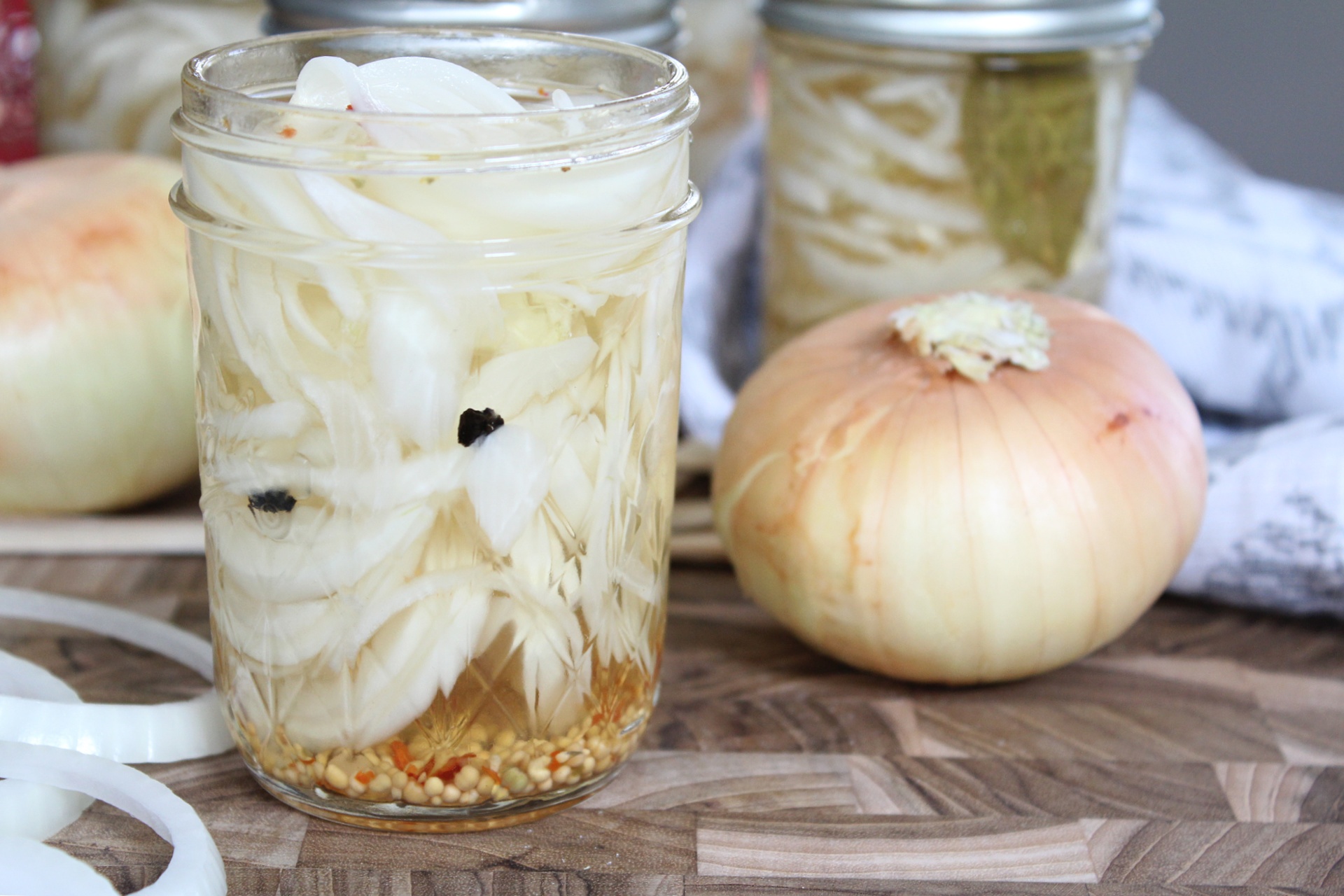 How to Pickle Sweet Onions
Quick pickled onions are easy to make and delicious on just about every dish. It's not complicated to make your own pickled onions, and I have a simple (and delicious!) recipe that can be used and customized to your taste. Plus, you probably already have most of these ingredients in your kitchen and pantry already.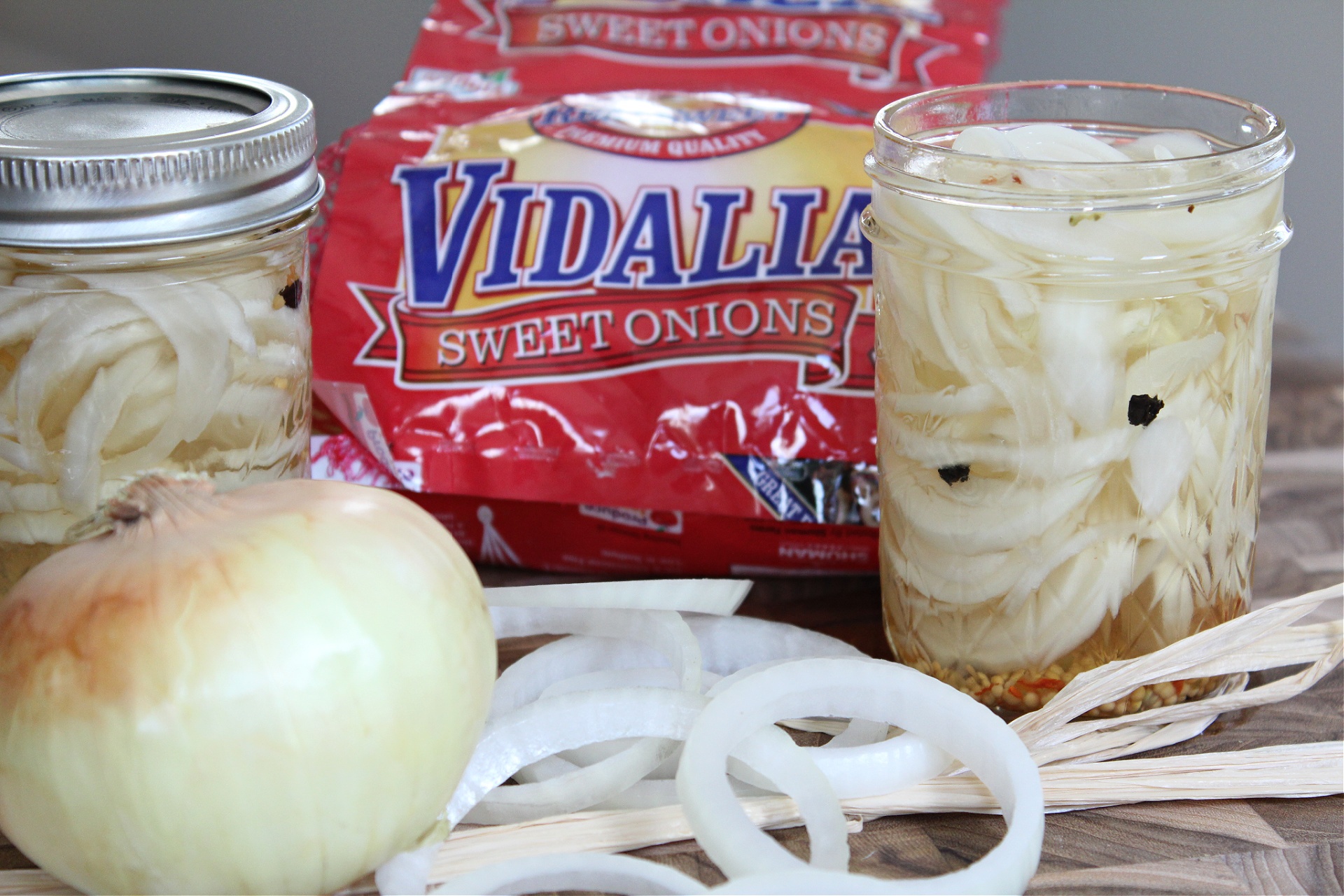 While making pickled sweet onions is very easy, there are a few things to note before getting started:
Make sure that the jars you're going to use for the pickled onions have been sterilized properly.
Make sure that the jars you are using aren't chipped or cracked, and the lid should fit airtight.
You can sterilize your jars in one of the following ways:
Oven – Preheat the oven to 250 degrees F and place the empty jars upright on your oven's tray and heat them for about 20 minutes.
Dishwasher – Place the empty jars, rubber seals, and lids in the dishwasher and wash them.
Stovetop – Place the empty jars in cold water inside a deep saucepan. Bring the saucepan to a boil, starting off on high heat and then reducing the heat to medium for about 10 minutes. Using tongs, remove the jars and dry them using a paper towel, or leave them to air dry on a lined baking tray.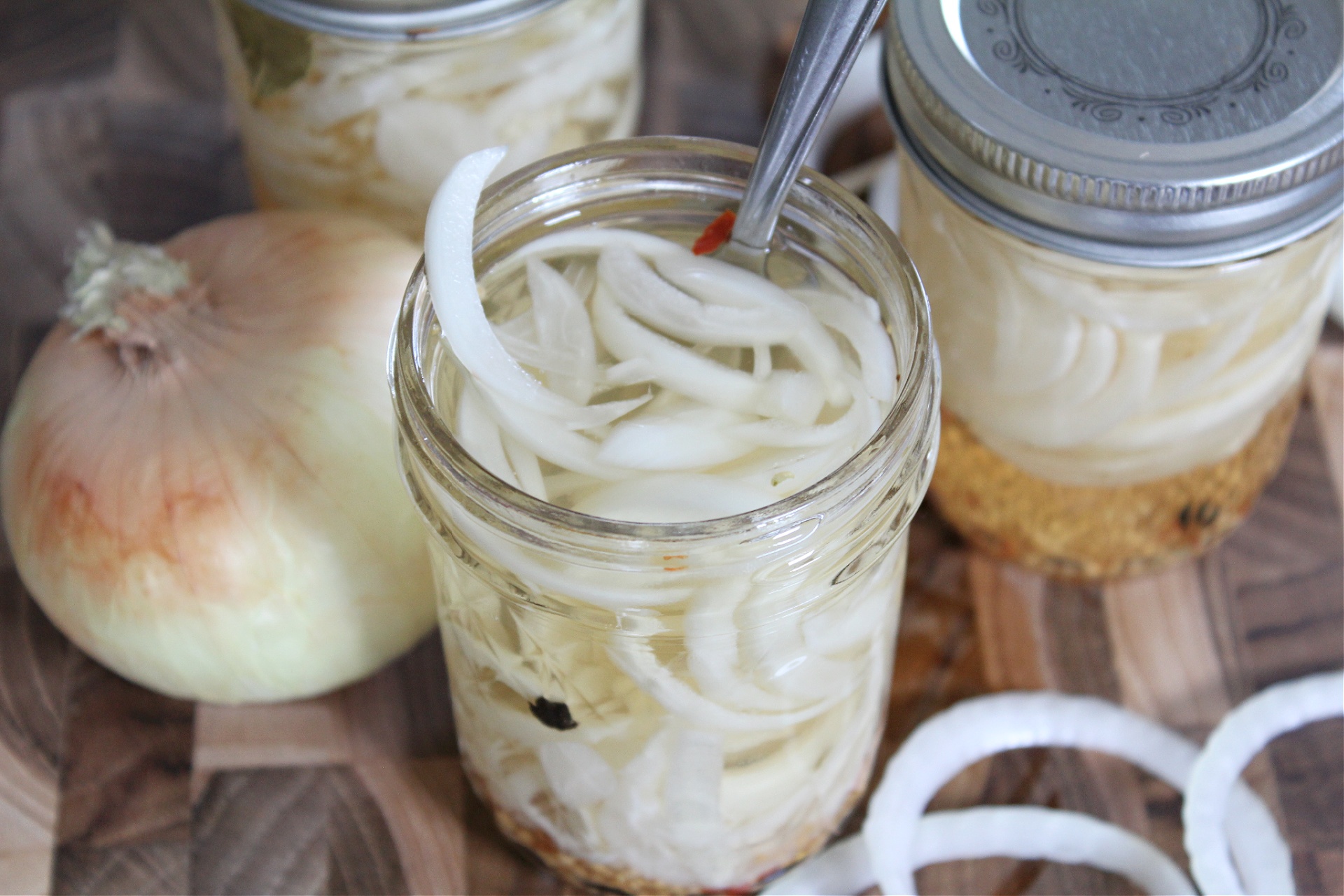 I had the 8oz quilted mason jars at home, so that's what I used to make my pickled sweet onions. I kept 3 jars for me and shared 2 with friends 🙂 Feel free to use whatever size jars you have on hand, just remember that if your jars are bigger, you may want to increase the seasonings to accommodate that.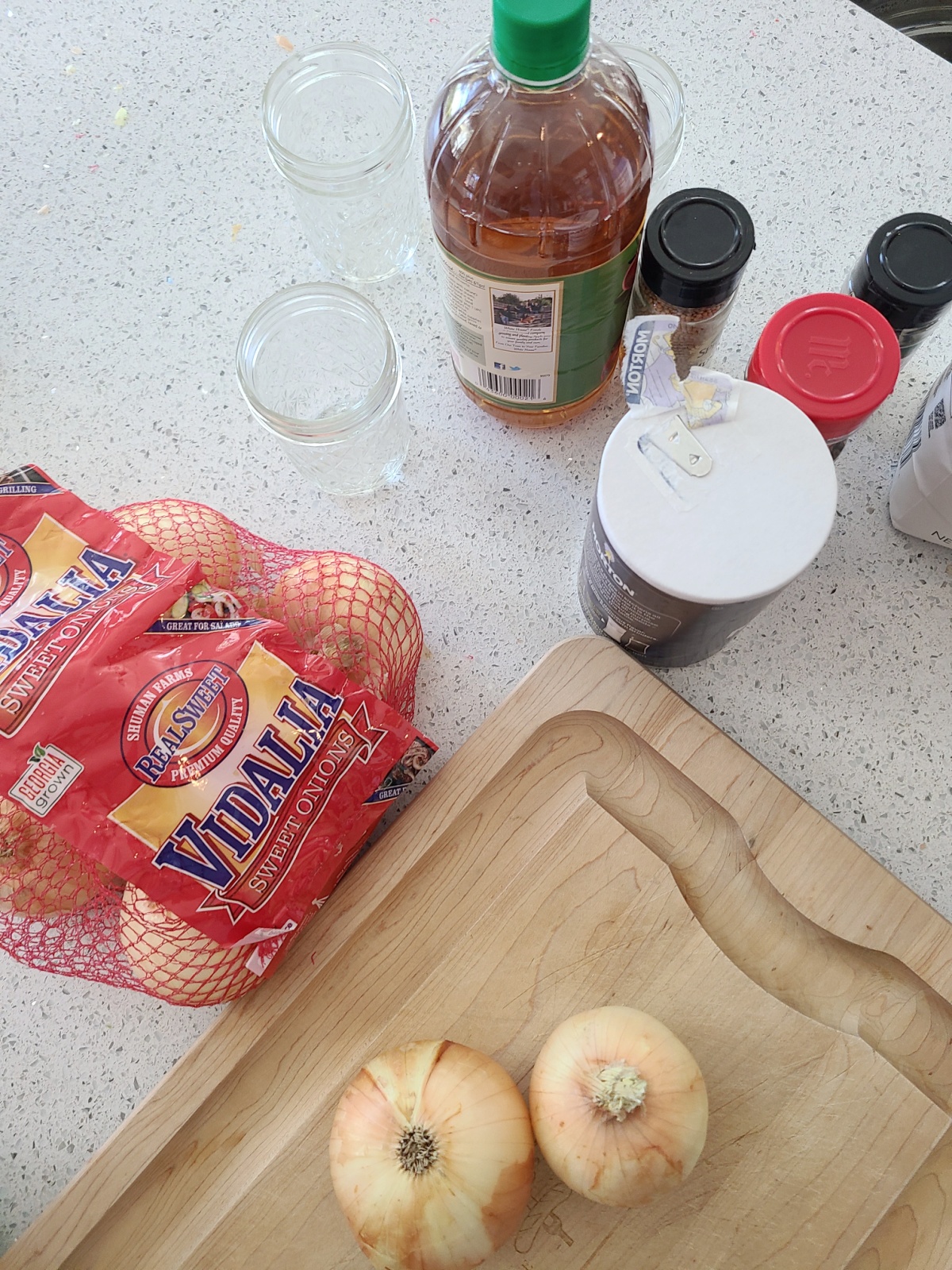 To make pickled sweet onions at home you will need these ingredients:
RealSweet Vidalia onions (or any onion you prefer)
Salt
Apple cider vinegar
Sugar
Warm water
Mustard seeds
Peppercorns
Bay leaves
Red pepper flakes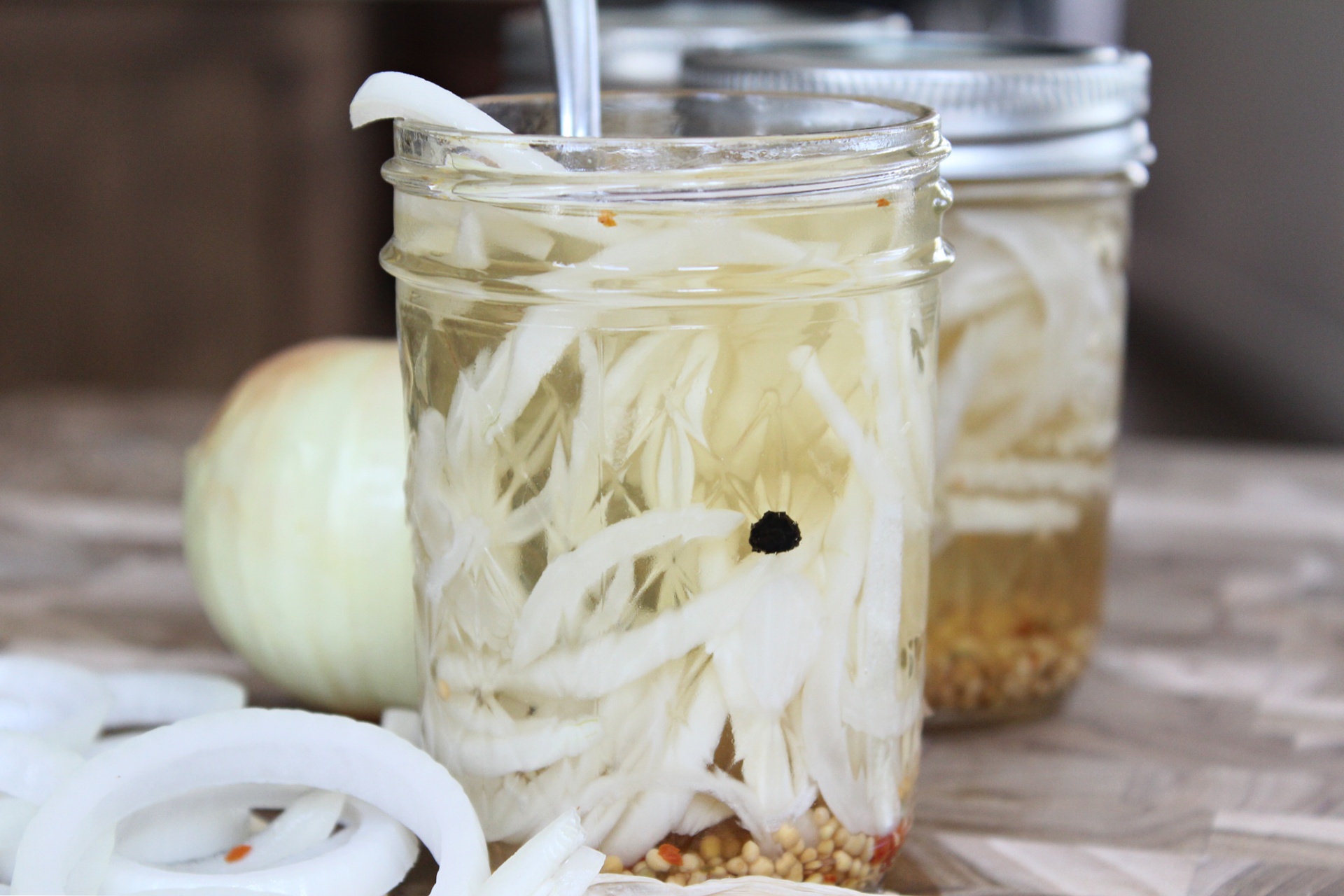 Now, you don't have to use the seasonings (mustard seeds, peppercorns, bay leaves or red pepper flakes), but I liked the flavor they gave the pickled onions. If you don't have one or two of them on hand, feel free to experiment and let me know what you tried and how you liked it!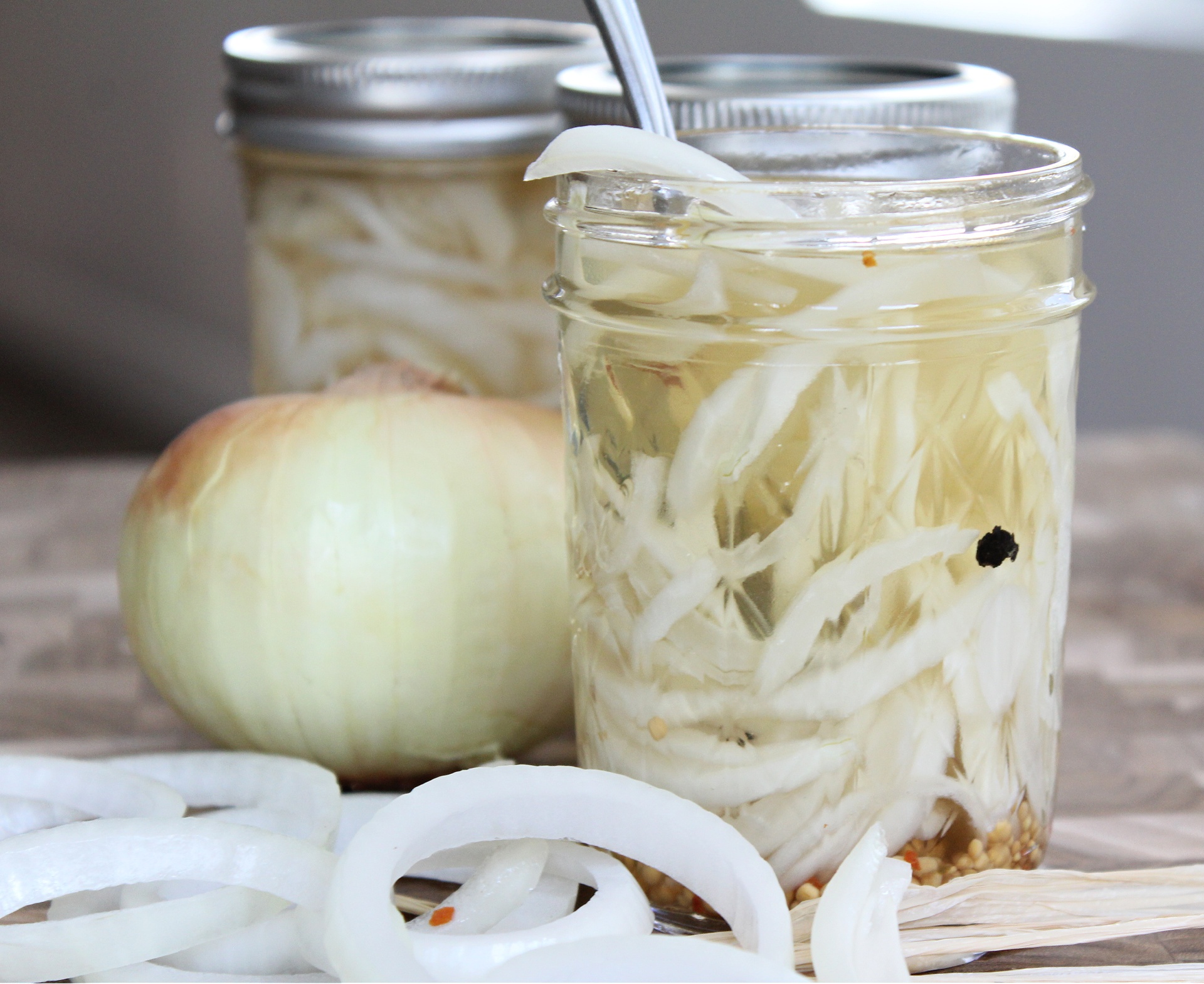 Can you add other seasonings when pickling onions?
Yes! I used what I had on hand, but other common pickling seasonings are: coriander seeds and celery seeds.
Can you add any other vegetables in with the onions?
Absolutely! Adding smashed garlic or sliced jalapenos would not only be delicious but add great flavor to the onions.
How long are pickled onions good in refrigerator?
Quick-pickled onions can keep in the refrigerator for 2 to 3 weeks.
What can you serve pickled sweet onions on?
Everything! Honestly, I ate them right out of the jar with a fork. I'm not kidding. They are amazing on salads, burgers, tacos, sandwiches, nachos, I used them in my BBQ Cheeseburger Quesadillas and on my wrap stuffed with lettuce and WW Buffalo Chicken Dip.
Can you can pickled onions?
If you would like your pickled onions to last even longer, you can do a water bath and seal them.
If you love onions like I do, be sure to check out this post on how to make caramelized onions, it is also very easy and oh so delicious.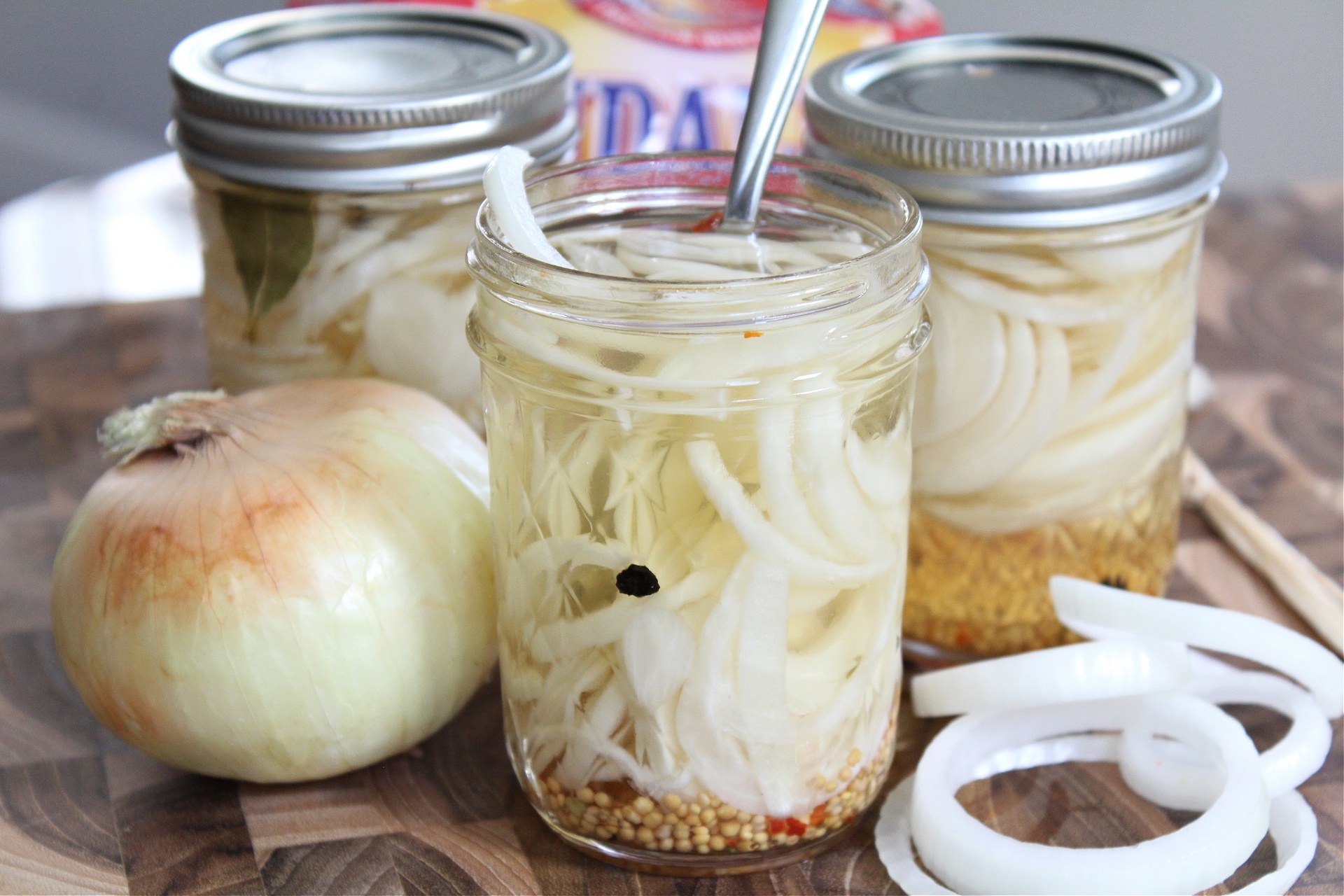 Now, here is how to make quick pickled onions at home. Be sure to print it and pin it so that you can make them again and again. I mean, they are really easy to make and they are good on just about everything, so you will probably be making them frequently!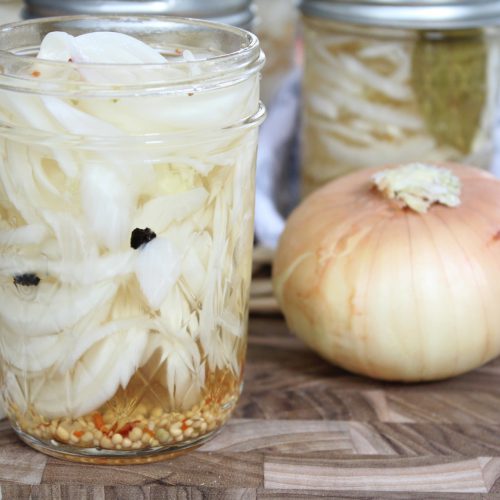 Ingredients
2-3

thinly sliced sweet onions

or any onion you prefer

3

teaspoons

salt

1

cup

apple cider vinegar

2

tablespoon

sugar

2

cups

warm water

5

teaspoons

mustard seeds

25

peppercorns

Bay leaves - if desired

Red pepper flakes - if desired

I use Flatiron Pepper Co 4 Pepper Blend
Instructions
Take the salt, apple cider vinegar, sugar, and warm water and combine them in a medium bowl.

Whisk the ingredients together until the salt and sugar have dissolved fully.

Place the sliced onions in each jar. I had 8 oz mason jars on hand, so that is what I used. I was able to fill 5 mason jars.

After placing the sliced onions in a jar, add the mustard seeds, peppercorns, and bay leaves and pepper flakes (if using) so that the spicing ingredients. *EACH jar got 1 tsp of mustard seeds + 5 peppercorns - dash of red pepper flakes - I gave 3 jars bay leaves

Pour the above mixture over the sliced onion. Let the jar sit for 1 hour at room temperature for a quick pickle. If place the jar in the fridge overnight, they will have more flavor.

Enjoy on salads, sandwiches, burgers, tacos and just about everything else you can think of!
Notes
Keep the pickled onions refrigerated so that you can enjoy them for up to three weeks. If they last that long! Mine were gone in days!

Nutrition
Calories:
437
kcal
|
Carbohydrates:
82
g
|
Protein:
9
g
|
Fat:
6
g
|
Saturated Fat:
1
g
|
Sodium:
7068
mg
|
Potassium:
1108
mg
|
Fiber:
8
g
|
Sugar:
59
g
|
Vitamin A:
25
IU
|
Vitamin C:
33
mg
|
Calcium:
219
mg
|
Iron:
4
mg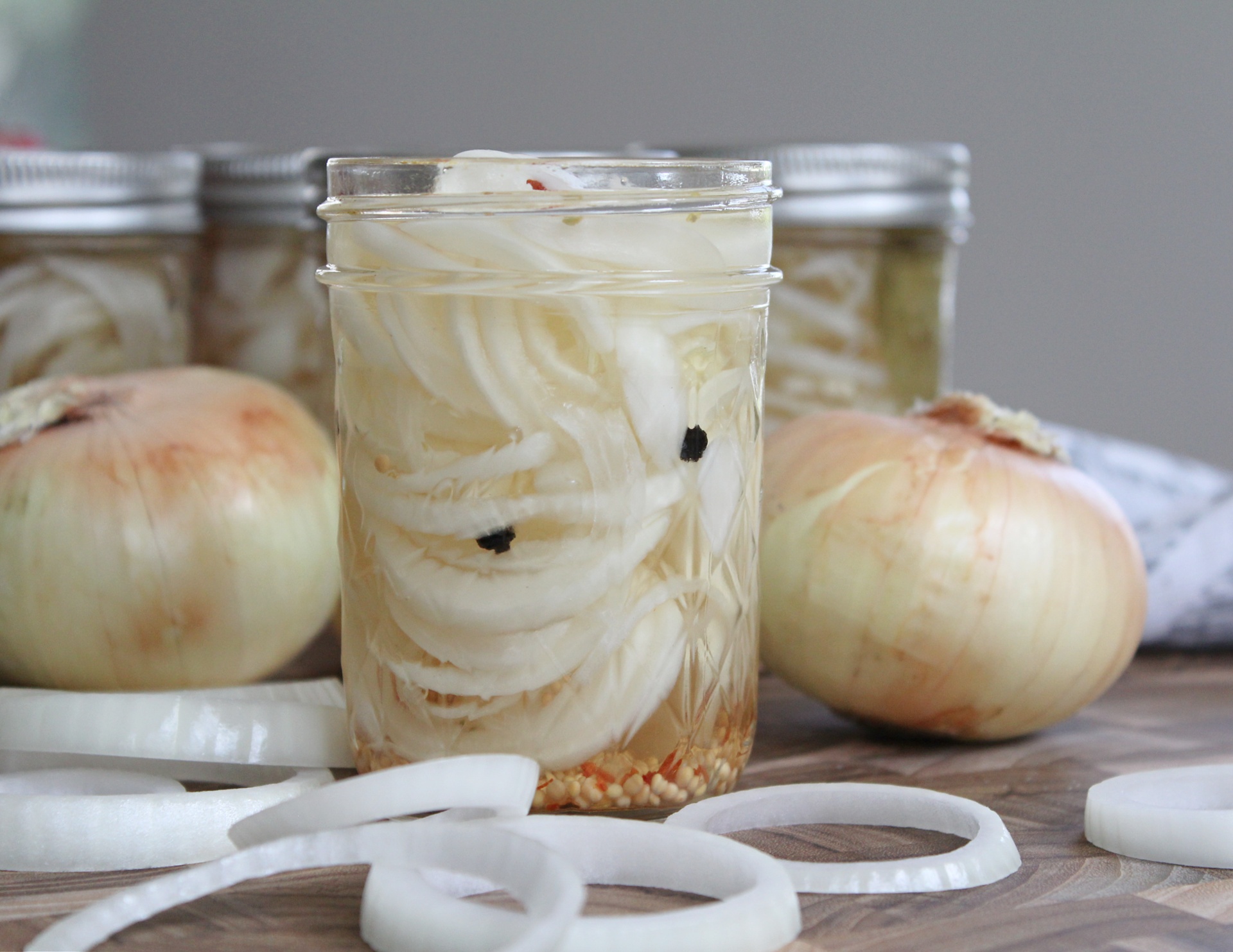 I hope you enjoy these quick pickled Vidalia onions as much as we do!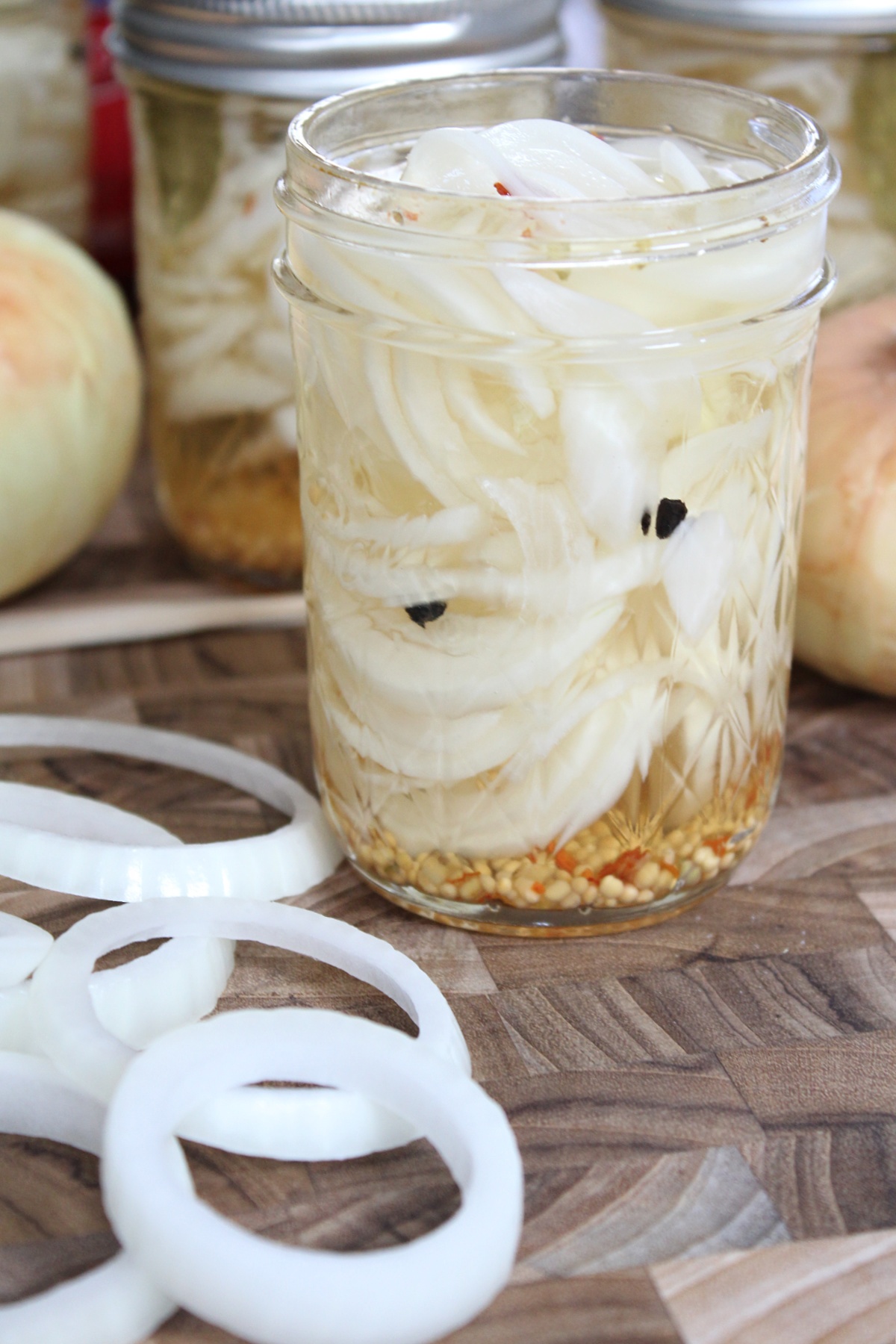 What is your favorite way to enjoy pickled onions? Did you know it was so easy to make pickled onions at home?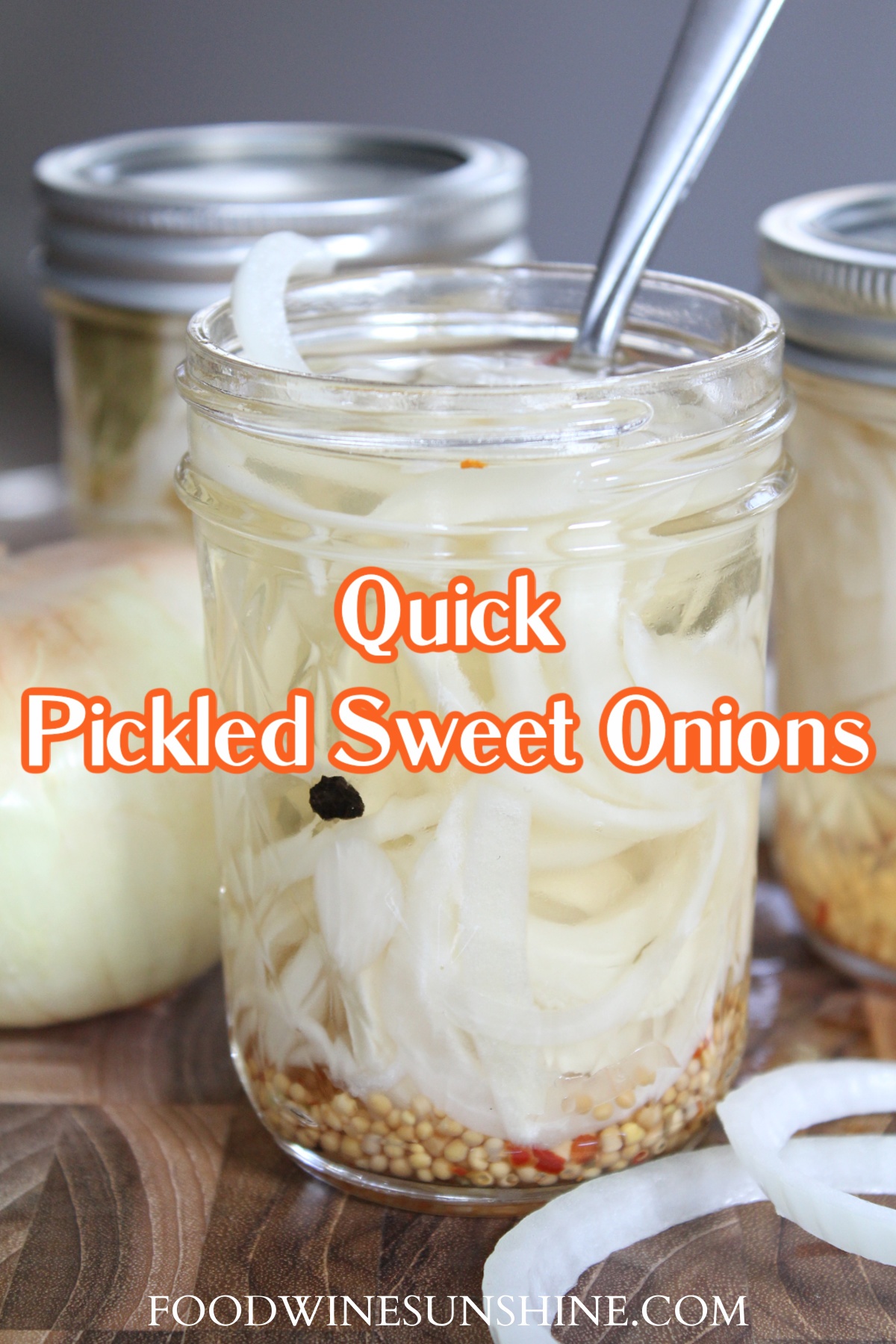 Be sure follow me on Facebook, Twitter, Pinterest and Instagram for more delicious recipes, wine tastings, and travel tips.