(Last Updated On: April 12, 2023)
This Zero Point Weight Watchers Buffalo Chicken Dip is only 3 ingredients and is an easy to make appetizer. Make this healthy-version of one of your favorite dips today.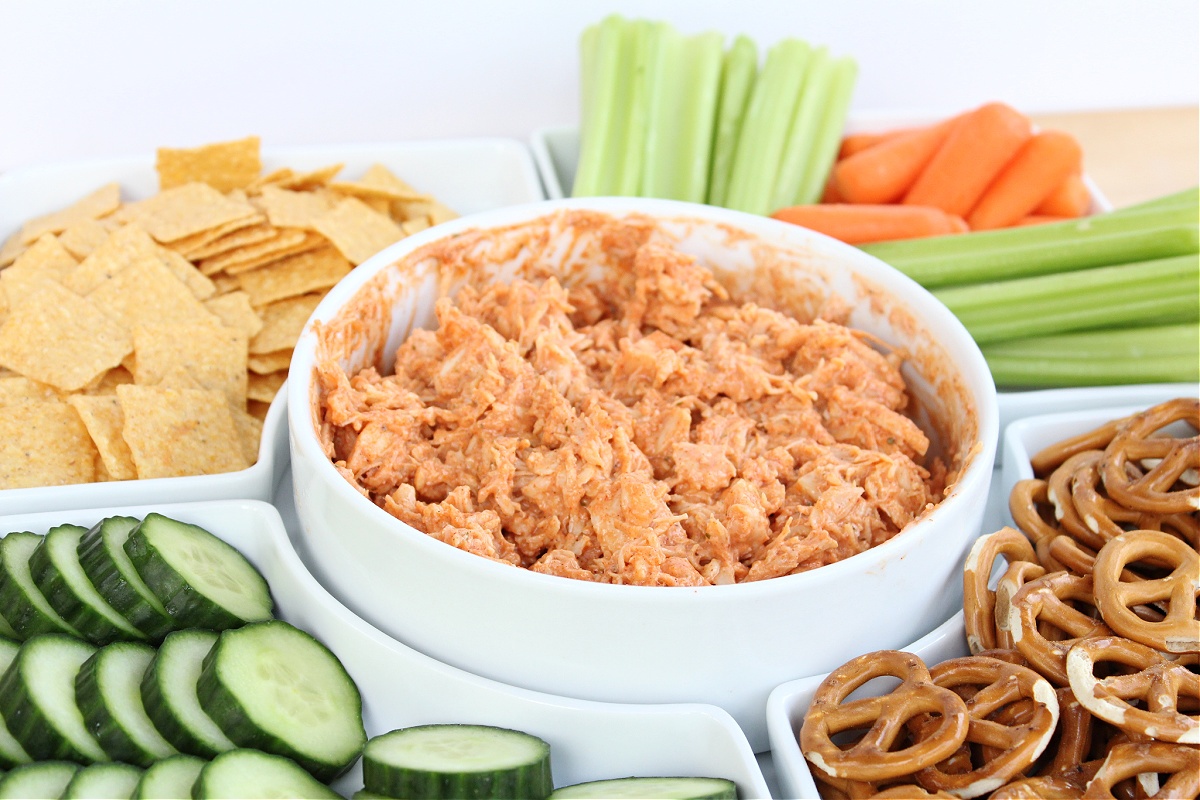 Zero Point Weight Watchers Buffalo Chicken Dip
Because sometimes you just want Buffalo Chicken Dip without all the extra calories and fat. Well, I'm gonna be honest…sometimes buffalo chicken dip is 100% worth the extra calories. But then there are times that I want a good snack that I can also feel good about. A snack that is loaded with flavor, protein and is simply delicious. A snack that you can munch on, feel satisfied, and enjoy.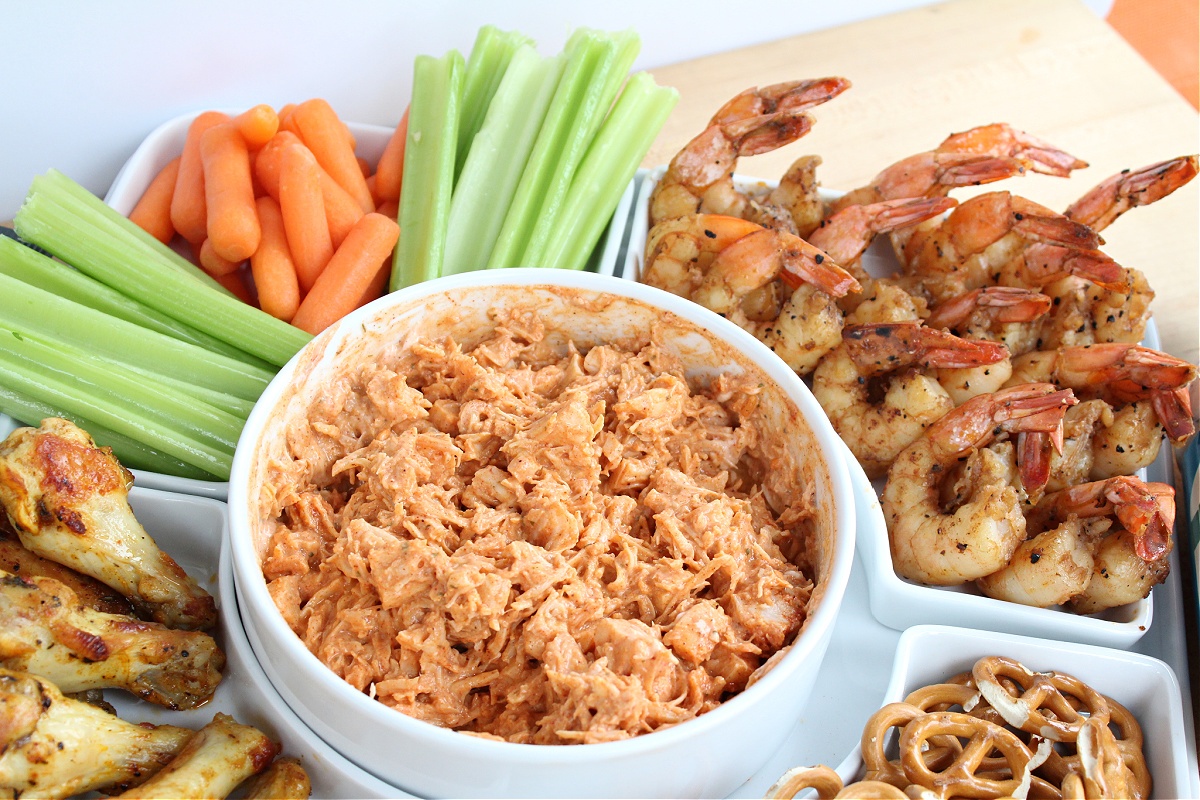 And this WW Buffalo Chicken Dip is it.
Even if you don't follow Weight Watchers or aren't interested in losing any weight at this time, I'm sure you would still enjoy a good-for-you snack. Eating healthy isn't a diet, it's a lifestyle.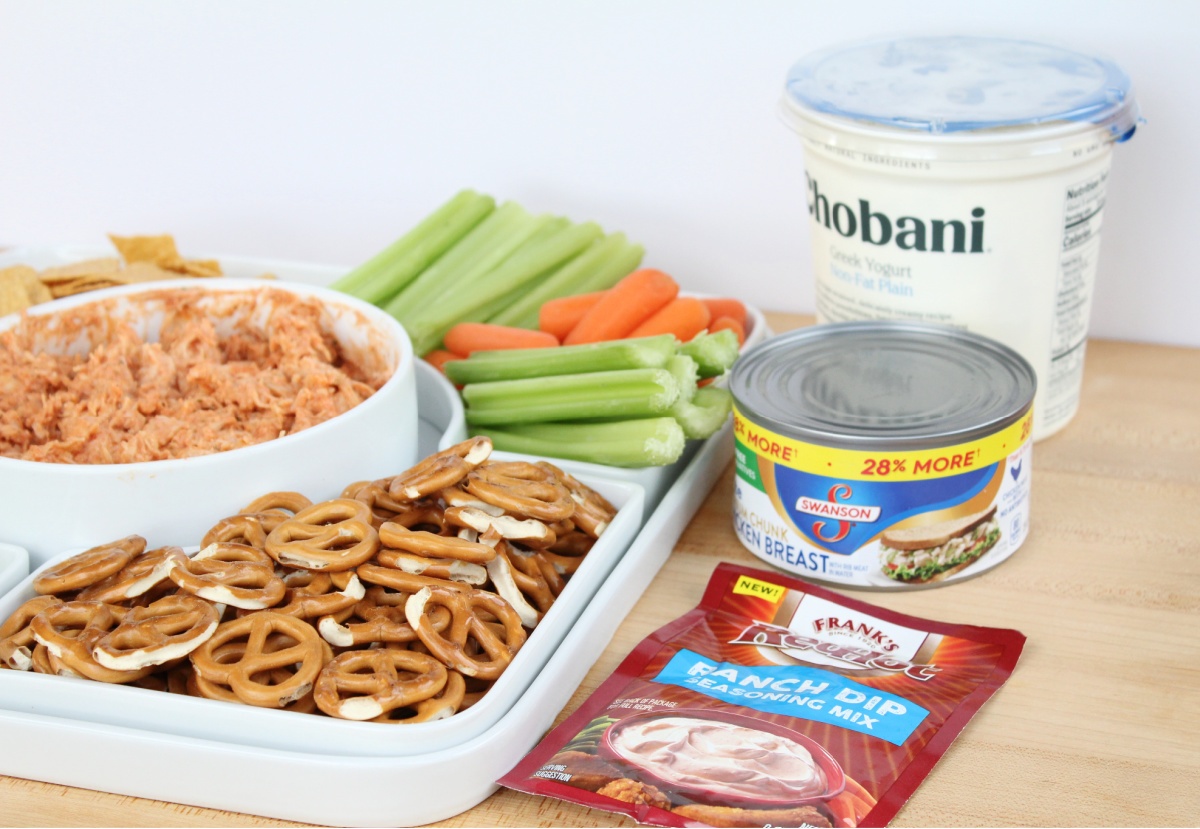 This healthy Buffalo Chicken Dip only has three ingredients:
Canned chicken (or shredded chicken or rotisserie chicken) – Zero Weight Watchers Points
Non Fat plain Greek yogurt – Zero Weight Watchers Points
Franks RedHot Ranch Dip Seasoning Mix – Zero Weight Watchers Points
My sister-in-law and I stumbled upon this deliciously easy creation a few months ago. We knew that chicken was zero points, as well as adding in hot sauce and ranch seasoning, but then we saw Franks RedHot Ranch Dip Seasoning Mix in the store and we were hooked. I am on the WW Blue Plan and my sis-in-law is on the WW Purple Plan and for us both, it is ZERO WW Points. I am not 100% positive that it will be the same on the Green Plan, if you are on the Weight Watchers Green Plan, please feel free to confirm or deny that this is 0 points for you too 🙂
Why Canned Chicken Is Perfect For Buffalo Chicken Dip
1. It's affordable. Canned chicken is usually cheaper than fresh or frozen chicken, making it a great option if you're on a budget.
2. It's easy to use. There's no need to thaw canned chicken before using it in recipes – simply open the can and add it to your dish.
3. It's versatile. Canned chicken can be used in a variety of recipes, from soups and salads to casseroles and pasta dishes.
Using the seasoning mix makes making this easy low fat buffalo chicken dip even easier! Plus, I think it tastes better than trying to figure out the perfect hot sauce to ranch seasoning ratio.
I don't use a lot of the non fat Greek yogurt, because yes, it has a distinct flavor that not everyone enjoys. So, what I do is prepare the chicken, add in a few tablespoons of the yogurt, then mix in the seasoning. I will taste it along the way to make sure I'm happy with the flavors, so if you find you need to adjust it to your liking, go right ahead!
Why You Should Swap in Greek Yogurt When You Can
Greek yogurt is a great source of protein and calcium, and it can help to thicken and add creaminess to recipes. Plus, it's a versatile ingredient that can be used in both sweet and savory dishes. Here are some tips on how to use greek yogurt in your cooking.
If you're looking for a healthy way to add creaminess and richness to your recipe, try substituting non-fat greek yogurt for sour cream or mayonnaise. It's also a great way to cut down on calories without sacrificing flavor. For example, you can use plain non-fat greek yogurt in place of mayonnaise in tuna salad or potato salad. Just be sure to adjust the seasoning accordingly.
You can enjoy a lot of your favorite foods with a few simple swaps. We all know that eating healthy is important, but sometimes it can be a drag. After all, who wants to eat broccoli when they could have cake? But it doesn't have to be that way! There are plenty of ways to make eating healthy fun and delicious.
For example, did you know that you can swap out regular pasta for zucchini noodles? Or that you can make a healthier version of your favorite chocolate chip cookie recipe? And, like my healthy buffalo chicken dip, there are tons of other easy swaps you can make to turn your favorite unhealthy foods into healthier versions that are just as delicious.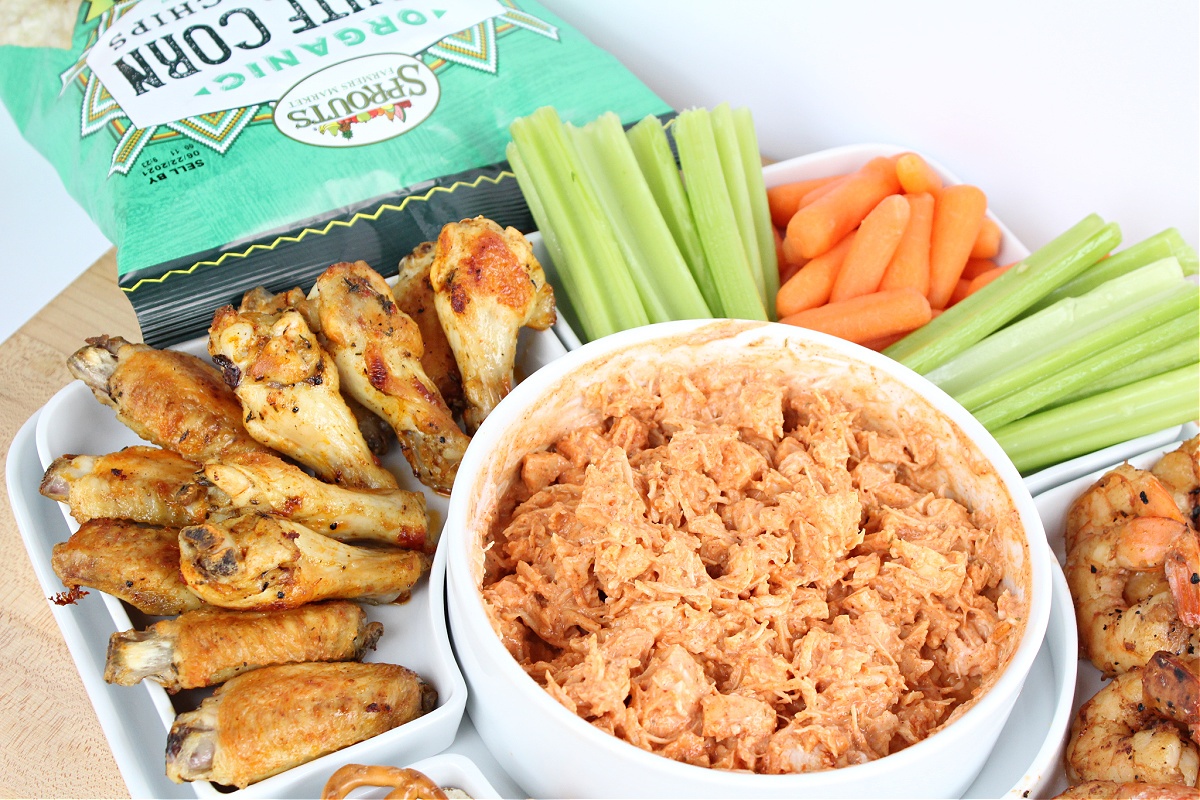 Zero Point Weight Watchers Buffalo Chicken Dip – How to Serve it Up
As you can see, I served mine up in a platter surrounded by healthy options for dipping (celery, cucumbers, carrots, Good Thins, and mini pretzels are my favorites), baked chicken wings and some sauteed shrimp. All of which are healthy options for a game day spread or just a day where appetizers are what's for dinner. You can also toss out a bowl of your favorite tortilla chips, because well, buffalo chicken dip is always good with tortilla chips.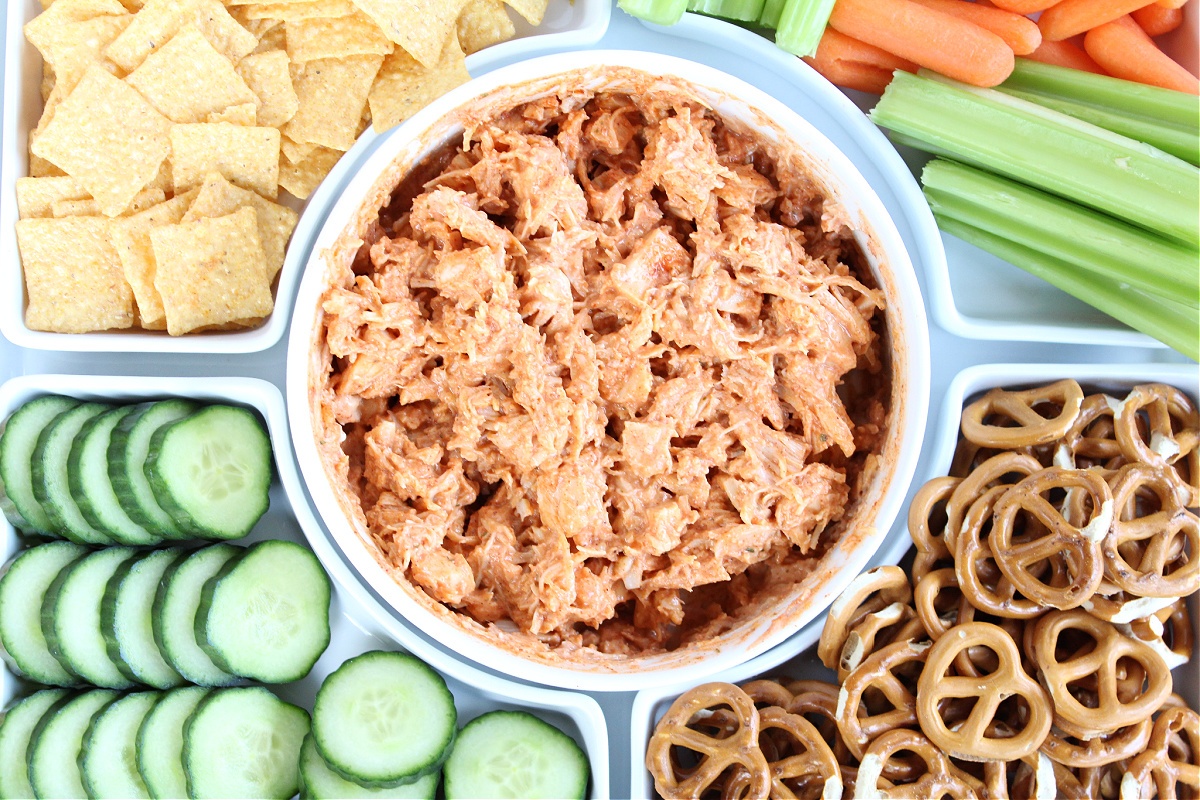 If you end up with any leftovers, or maybe you looked in the pantry and/or refrigerator and you are of things to dip in your WW Buffalo Chicken Dip, it's also delicious in wraps (look for the low-carb options in your favorite store to save on some points…and carbs), on a salad, as well as a quesadilla! I made a quesadilla last week with it and it was delicious, added in a little Laughing Cow Spicy Pepper Jack Cheese, and YUM.
Now, here is my healthy Buffalo Chicken Dip recipe. Be sure to Print It and Pin It so that you can make it again and again.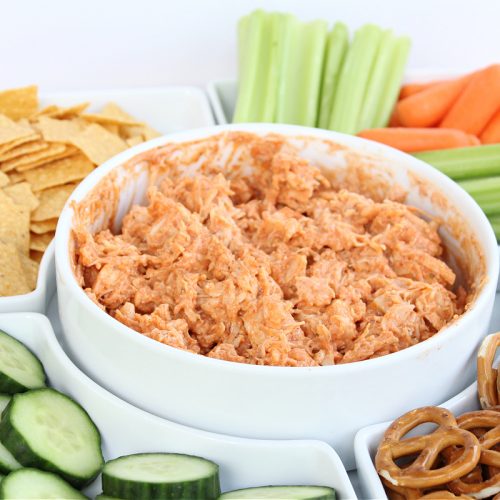 Ingredients
25

oz

canned white meat chicken in water

2 12.5 oz cans. You can use shredded chicken breasts or rotisserie chicken if preferred.

3/4

package

Franks RedHot Ranch Seasoning Packet

add a little at a time and adjust to your taste

4

tbsp

non fat plain Greek yogurt

more or less to your liking
Instructions
Drain chicken and add to a serving bowl or small bowl.

Sprinkle on approximately 1/2 of the seasoning packet – it is spicy!

Add in 3 tablespoons of the nonfat Greek yogurt and mix well.

Add more Franks RedHot and/or Greek yogurt if desired.

Refrigerate until ready for use.

Serve with fresh vegetables and your other favorite products for dipping.
Notes
Be sure to adjust the amount of yogurt and seasoning to your liking. I like it spicy, while others may not! I don't like a lot of the Greek yogurt, while you may! The good news is that all the ingredients are zero points, so adding more or less of anything will keep this buffalo chicken dip recipe as ZERO Weight Watchers Point on the Blue Plan.
Nutrition
Calories:
537
kcal
|
Carbohydrates:
3
g
|
Protein:
106
g
|
Fat:
13
g
|
Saturated Fat:
1
g
|
Cholesterol:
315
mg
|
Sodium:
2647
mg
|
Potassium:
94
mg
|
Fiber:
1
g
|
Sugar:
2
g
|
Vitamin A:
15
IU
|
Vitamin C:
1
mg
|
Calcium:
78
mg
|
Iron:
1
mg
I hope you enjoy this Weight Watchers Buffalo Chicken Dip as much as I do!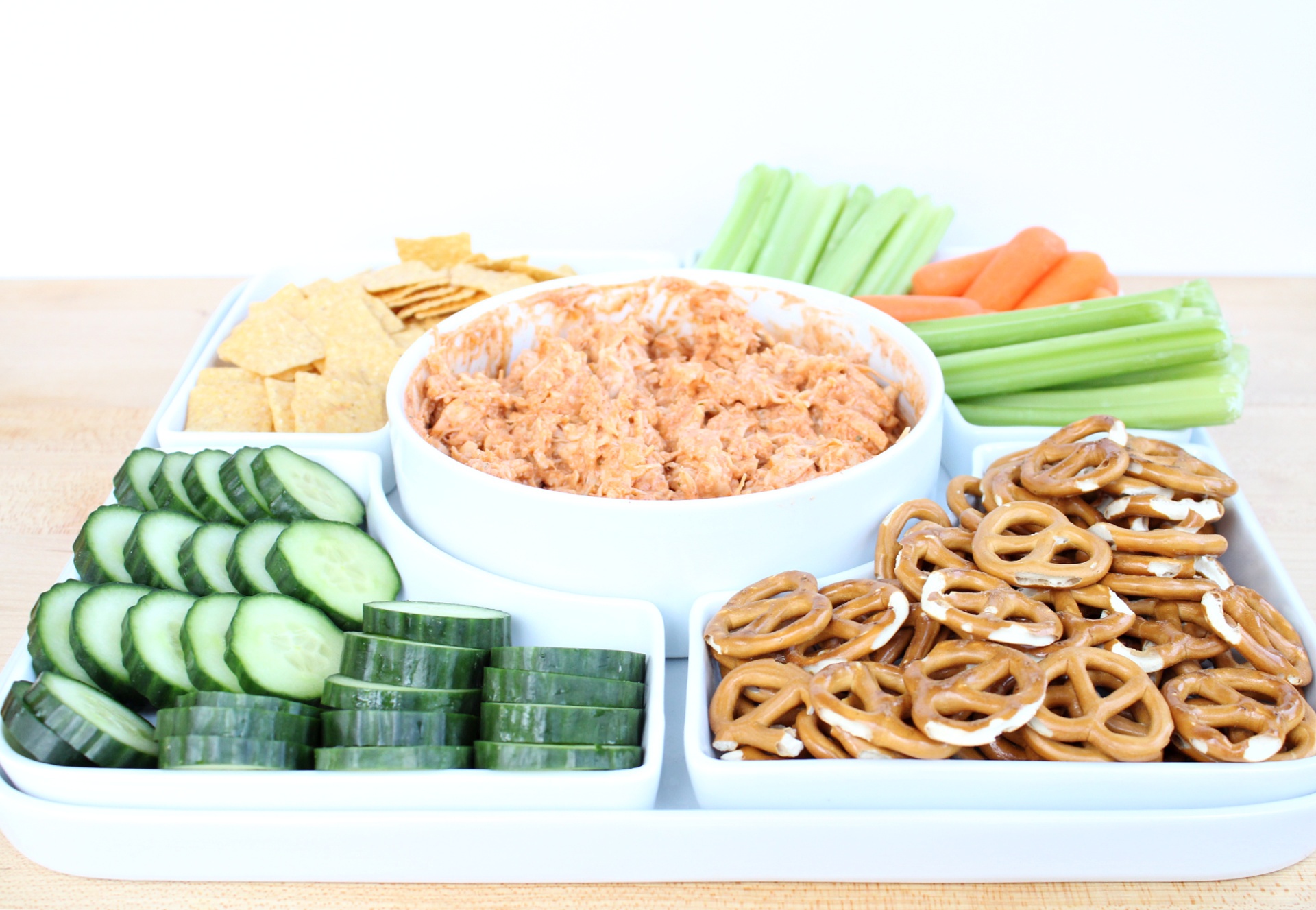 I joined Weight Watchers over 6 months ago. I started with the idea that it wouldn't work, as I have been the same weight (with the exception of pregnancies) for about 16 years. But, as I slowly started to reach my mid-40s I noticed that my weight was settling right in my mid-section. I looked in the mirror sideways one day while getting dressed and decided that I could pass for pregnant again! Frustrated, but willing to try something, I joined Weight Watchers.
I am happy to say that I lost the 5 lbs I wanted to, plus another 15. And I couldn't be happier or more confident in myself now. If you have questions about Weight Watchers, don't hesitate to email me or message me, I am happy to help in anyway I can. In fact, chatting about it and sharing my favorite recipes is something I get super excited about.
Like this Zero Point Buffalo Chicken Dip. And this Zero Point Vegetable Ranch Dip.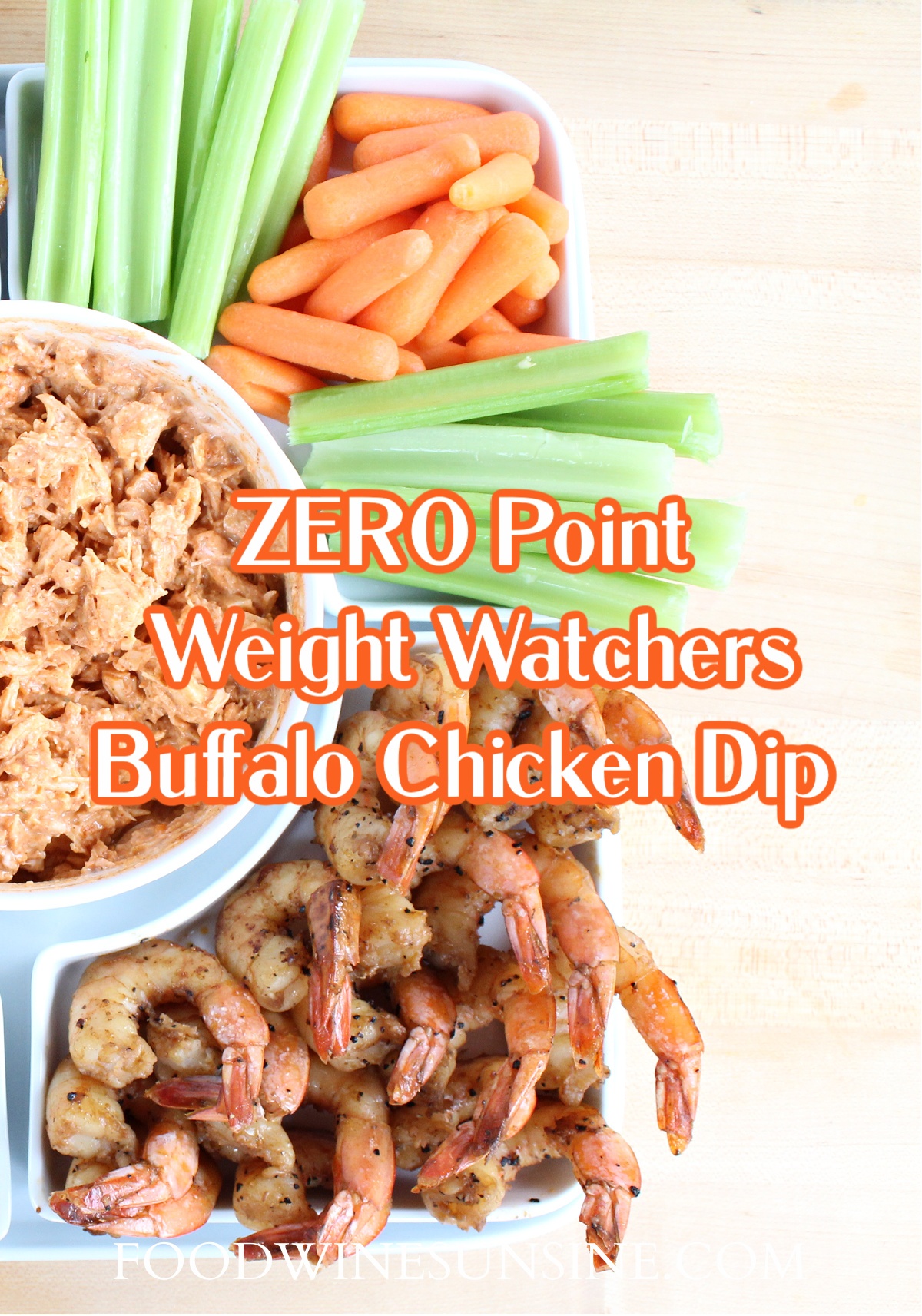 What is one of your favorite healthy appetizer or healthy snack options?
Be sure follow me on Facebook, Twitter, Pinterest and Instagram for more delicious recipes, things to do and more.