(Last Updated On: May 18, 2021)
Get ready to bite into the Juiciest & Most Flavorful Hamburger You'll Ever Have! Grab this Cherry Habanero Burgers recipe and enjoy them at your next cookout! While this post is sponsored by CK Mondavi & Family, all opinions and the recipe are my own.

Cherry Habanero Burgers
The Juiciest & Most Flavorful Hamburger You'll Ever Have
Who doesn't love a juicy, tender burger? The kind that you bite into and makes you say "Mmmmmmmmm…" A good hamburger is an art form, you gotta cook em just right, load them up with your favorite toppings, and put it on a good bun. Results = heaven!
Burgers are one of my son's absolute favorite meals. He would have one for dinner everyday if we let him. He definitely has his opinions on how to cook them and which restaurants have the best ones. He likes fried egg, crispy onions, jalapeno peppers, pepper jack cheese or American cheese. He may not be creative or adventurous with anything else he eats, but when it comes to burgers, he is willing to try just about anything!
Then last summer, we were at my brother's house for a cookout. My brother made burgers and my son said it was the BEST BURGER he has ever had. I immediately asked my brother what he did, and he said he just put a jar of Cherry Pepper Jelly in with the meat. That's it?! Okay, I can do that. So, I would buy pepper jellies at farmer's markets while we were out and about and add them to meat when we make burgers.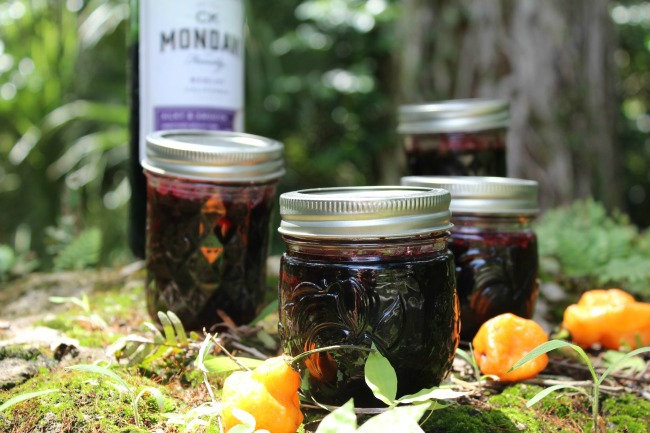 Then, CK Mondavi and Family asked me to create a burger recipe. And there was no question that I had to make my son's favorite. The only problem was that I had NEVER made the pepper jelly myself. In fact, I had never made any kind of jam or jelly myself. But, I did it. It took me two tries, but I made a Cherry Habanero Jelly that is lip-smackingly delish! And the first thing I made with it was burgers.
And they are the juiciest and most flavorful burger you will ever have. My official taste-tester was my son, of course. I asked him what he thought and he replied "I could eat 50 of these!". So, I guess that means they were good 😉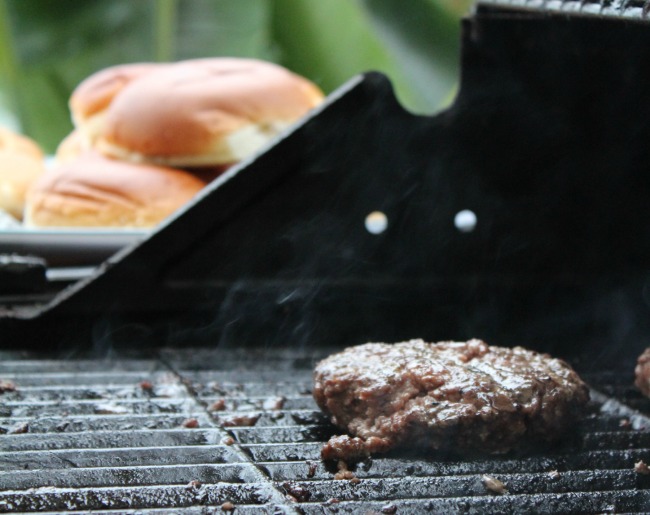 The first step in making these Cherry Habanero Burgers is making the jelly, get the full recipe for my Merlot Cherry Habanero Jelly.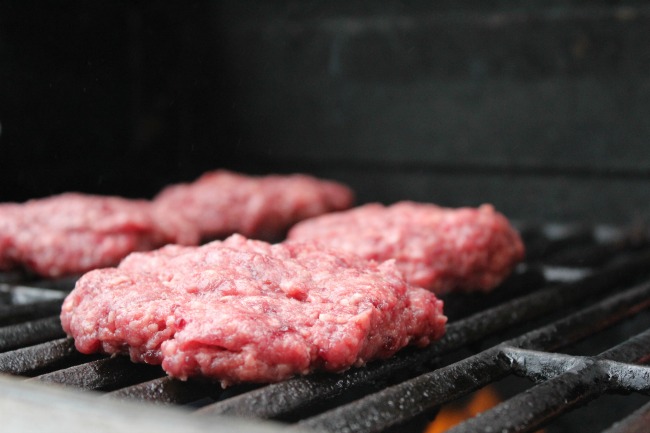 Now that your jelly is made, making the burgers is next part. And here's how to make my Cherry Habareno Hamburgers. Be sure Print It and Pin It so that you can make them again and again.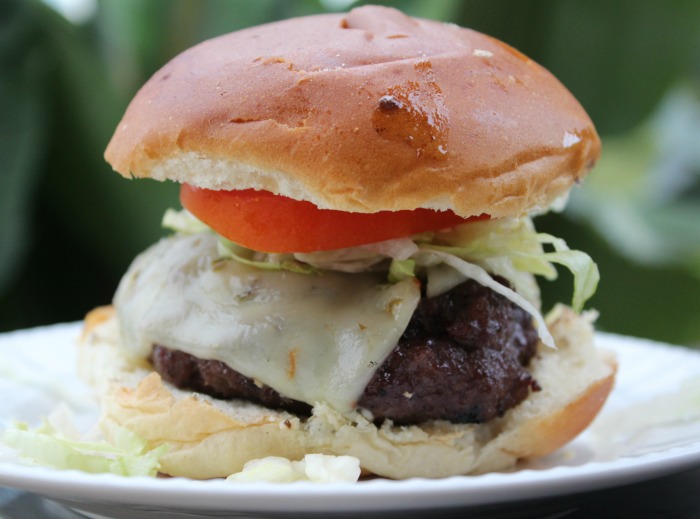 Cherry Habanero Burgers - The Juiciest & Most Flavorful Hamburger You'll Ever Have
These Cherry Habanero Burgers are The Juiciest & Most Flavorful Hamburgers You'll Ever Have! See how to make them at home and enjoy at your next cookout!
Print
Pin
Rate
Ingredients
Burger
1 1/2

lbs

lean ground beef

8

oz

jar of Merlot Cherry Habanero Jelly

Buns and desired hamburger toppings
Jelly
7-8 8

oz

jelly jars with lids

3 1/4

cups

finely chopped/diced cherries - approx. 2.5 lbs

1/4

cup

finely chopped/diced habanero peppers - approx 5 peppers - remove seeds to reduce "heat"

1/4

cup

Merlot

4 3/4

cups

sugar

1

box SURE-JELL
Instructions
Jelly Instructions
Sterilize your jars and lids in a stock pot by adding jars and filling with water and bringing water to a boil and simmer in boiling water for at least 10 minutes.

While you are preparing your jars and lids, put the prepared cherries, peppers, and Merlot into a large pot.

Stir in the package of SURE-JELL into the fruit mixture.

Bring the mixture to a full rolling boil (a boil that doesn't stop when stirred, but be sure it doesn't boil over), stirring constantly.

Pour in the sugar into the fruit mixture.

Return to a full rolling boil, boil for 1 minute, stirring constantly.Remove from heat and skim off any foam with a metal spoon.

Remove jars and lids from the boiling water and set on wooden board or towels to dry.

When fruit mixture is ready, ladle them into the warm/hot jars (be careful not to burn your hands, then liquid and jars are going to be hot!).

Fill each jar within a 1/4 inch from the top.

Wipe jar rims and threads of any spills.

Put the lids on the jars once they are filled.

Place the filled jars back into the stock pot that you used to sterilize the jars, standing upright. The water will still be hot, be careful.

Fill the pot with additional water if necessary, water must be 1-2 inches ABOVE the top of the jars.

Bring water to a gentle boil. Cover and "process" for 10 minutes.

Remove the jars from the pot (I used tongs, be careful, they will be HOT), and place them on a wooden board or towel so that they can cool.You will hear the lids start to "pop", that means they are sealed.

Once they are cool, be sure to press all the lids to make sure they sealed correctly, they should not pop back up once pressed.

Let prepared jars stand at room temperature until set (up to 24 hours, but mine started to set within a couple hours).

Store unopened jams and jellies in a cool, dry place for up to 1 year.Refrigerate opened jams and jellies for up to three weeks after opened.
Burger Instructions
Add the Merlot Cherry Habanero Jelly to the lean ground beef

Using your hands, mix the jelly in well, but don't over mix

Form your burgers

Grill to your desired done-ness

Top with your favorite toppings

Enjoy!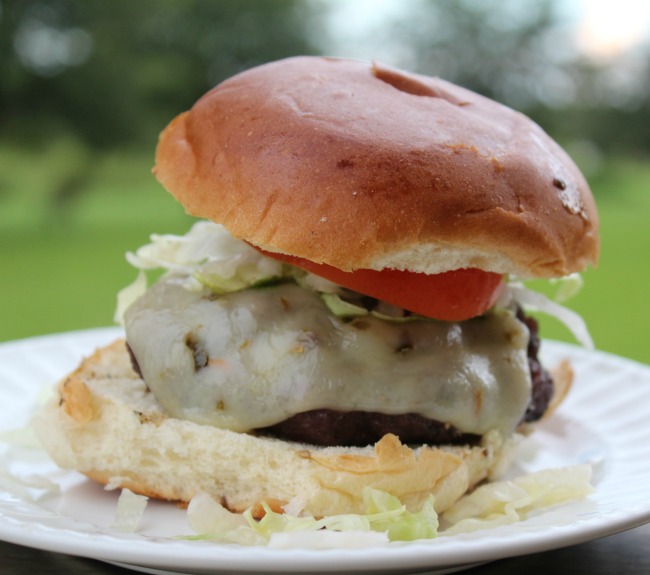 I hope you enjoy these Cherry Habareno Burgers as much as we do!
I do recommend pairing these juicy, flavorful, AH-MAZING burgers with CK Mondavi and Family wines, I used the Merlot in the Cherry Habareno Jelly, so that makes for a perfect pairing, but I would also drink the Cab or Sauvignon Blanc with them.
What is your favorite kind of burger?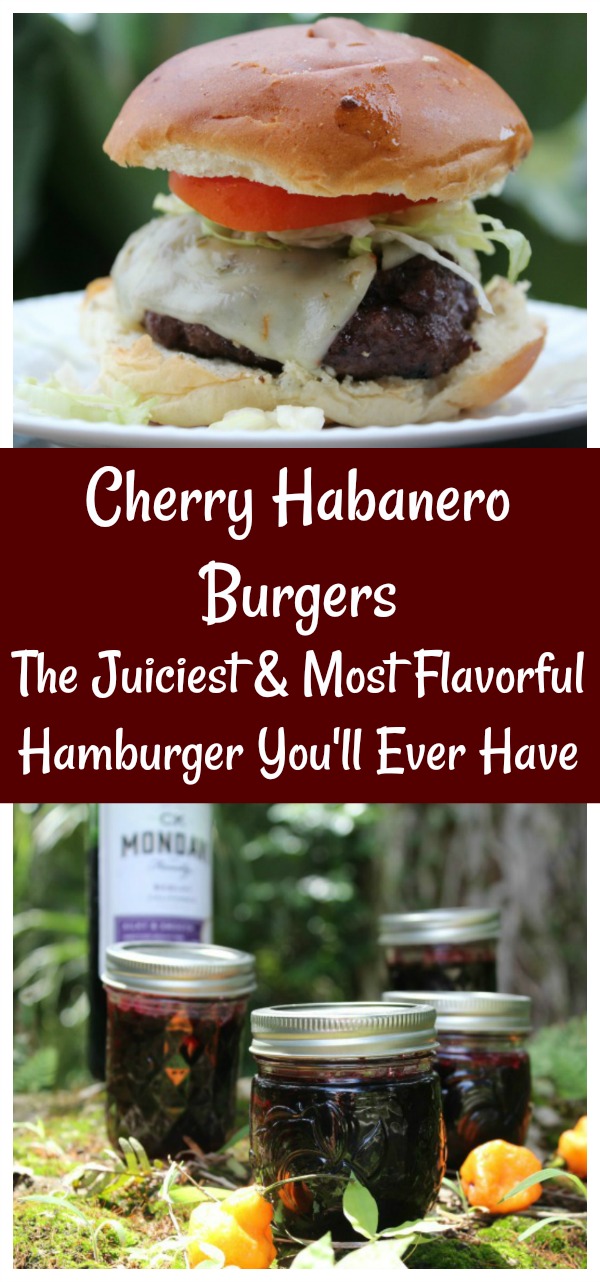 Learn more about CK Mondavi and Family by checking them out online, and following on Facebook, Twitter, Pinterest, Instagram, and YouTube.
In fact, be sure to check out all the recipes on Food Wine Sunshine and follow me on Facebook, Twitter, Pinterest, and Instagram.