(Last Updated On: February 6, 2023)
What exactly is Labneh and how do you make homemade Labneh? Grab the tutorial and easy recipe for this delicious creamy homemade cheese that is prepped in minutes and only has 2 main ingredients! While this post is sponsored by Florida Dairy Farmers, all opinions and the recipe are my own.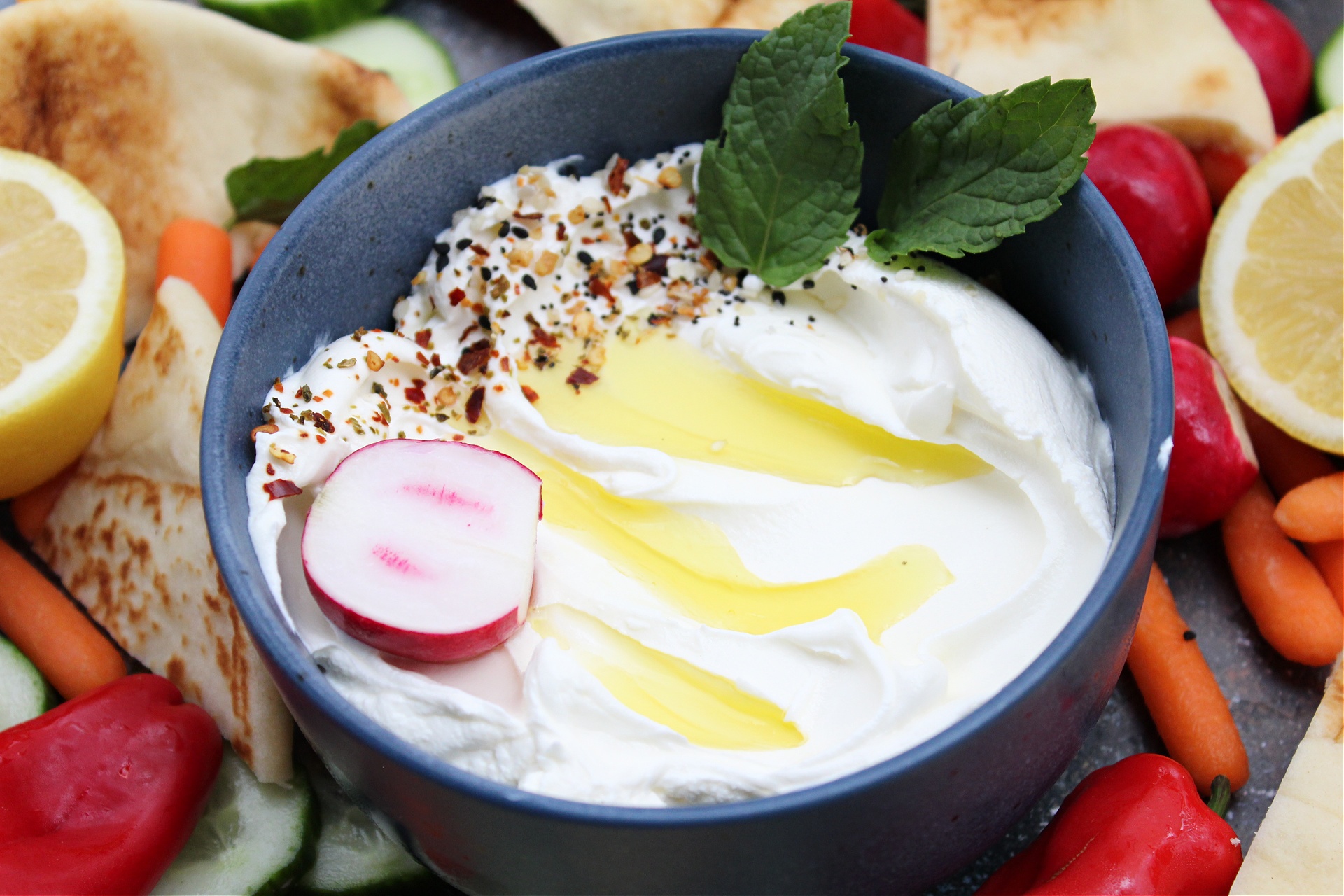 How To Make Labneh
Ok, so is your first question What is Labneh? It was mine! Florida Milk challenged me with making this deliciousness and I was 100% in once I saw what it was. I mean, creamy cheese….YES PLEASE. Oh, so that's the short answer to your question What is Labneh, Labneh is a creamy cheese.
Labneh is a type of creamy cheese that is made from whole milk yogurt. It has a creamy texture and can be used in a variety of dishes, such as dips, spreads, and salads. It can also be eaten on its own as a snack. I especially love it with pita.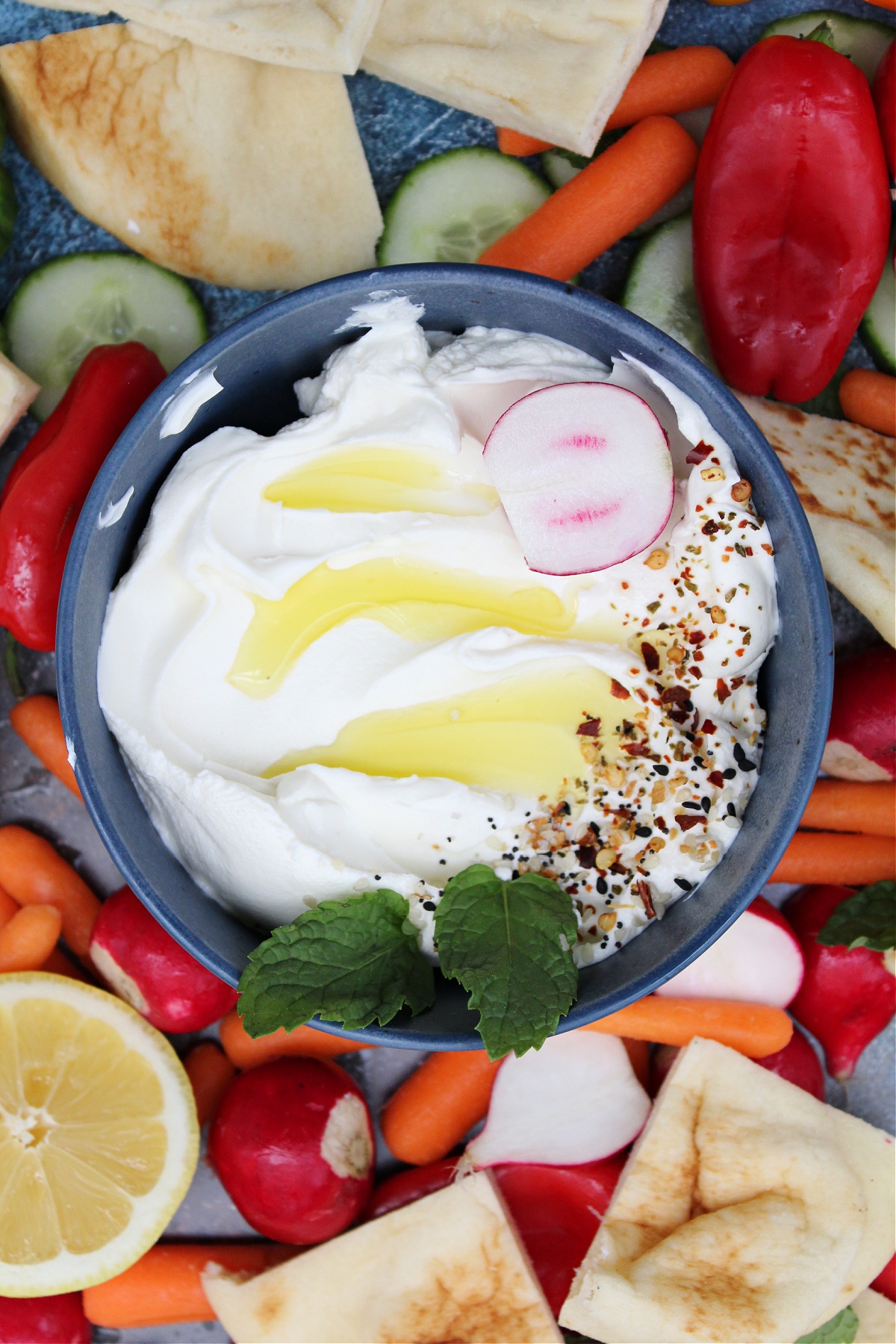 Labneh Key Ingredients
Most recipes you see will also have Za'atar spice, but I had a hard time finding it in stores (you can buy it online) so I used Everything Bagel Seasoning and I thought it was absolutely delicious. I also tossed in red pepper flakes, because if you know me, I love everything spicy. Oh and you'll drizzle a little olive oil on top.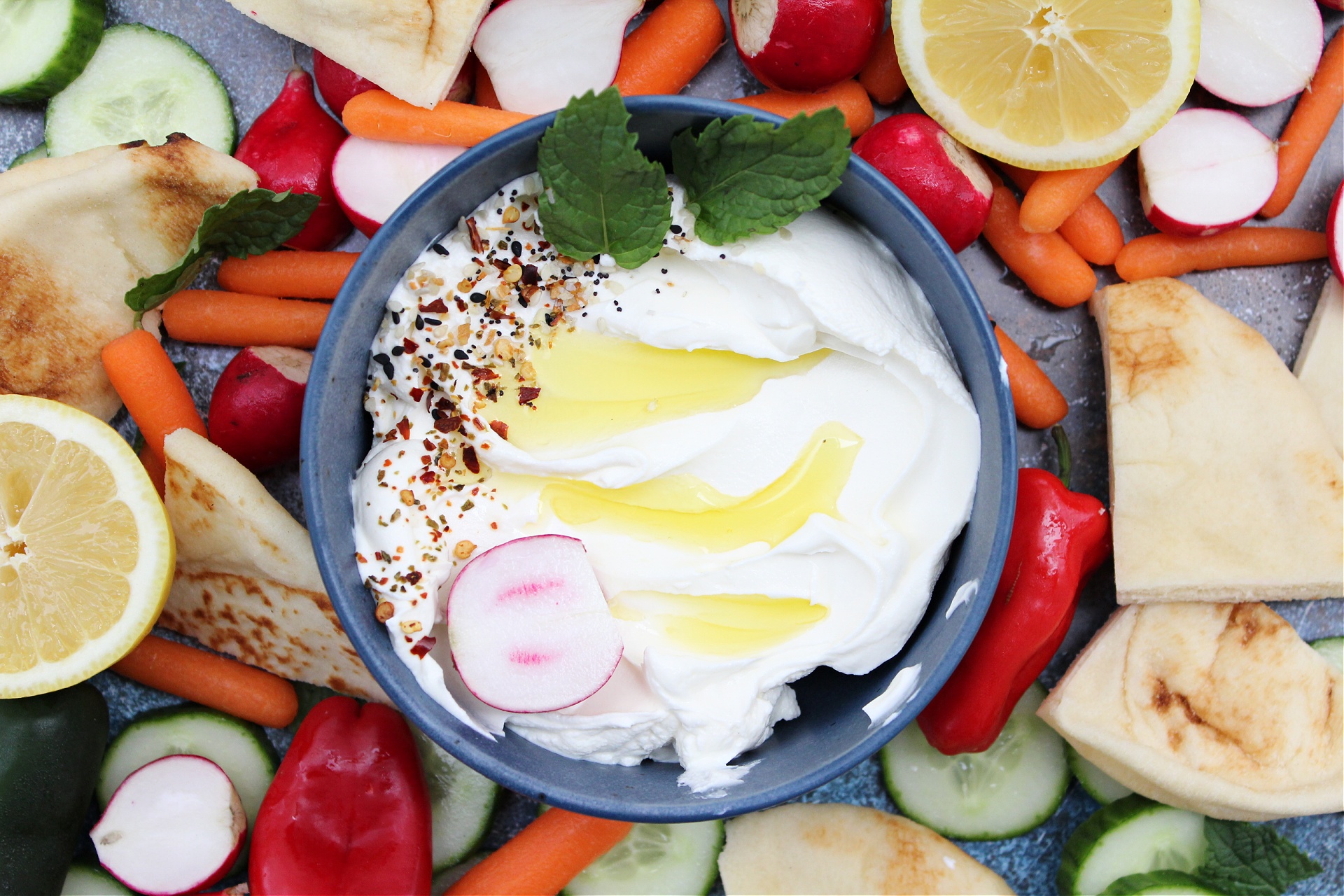 What is the History of Labneh?
Labneh is thought to have originated in the Middle East. It has been a part of the Lebanese diet for centuries. In recent years, Labneh has become popular in other parts of the world, such as Europe and North America.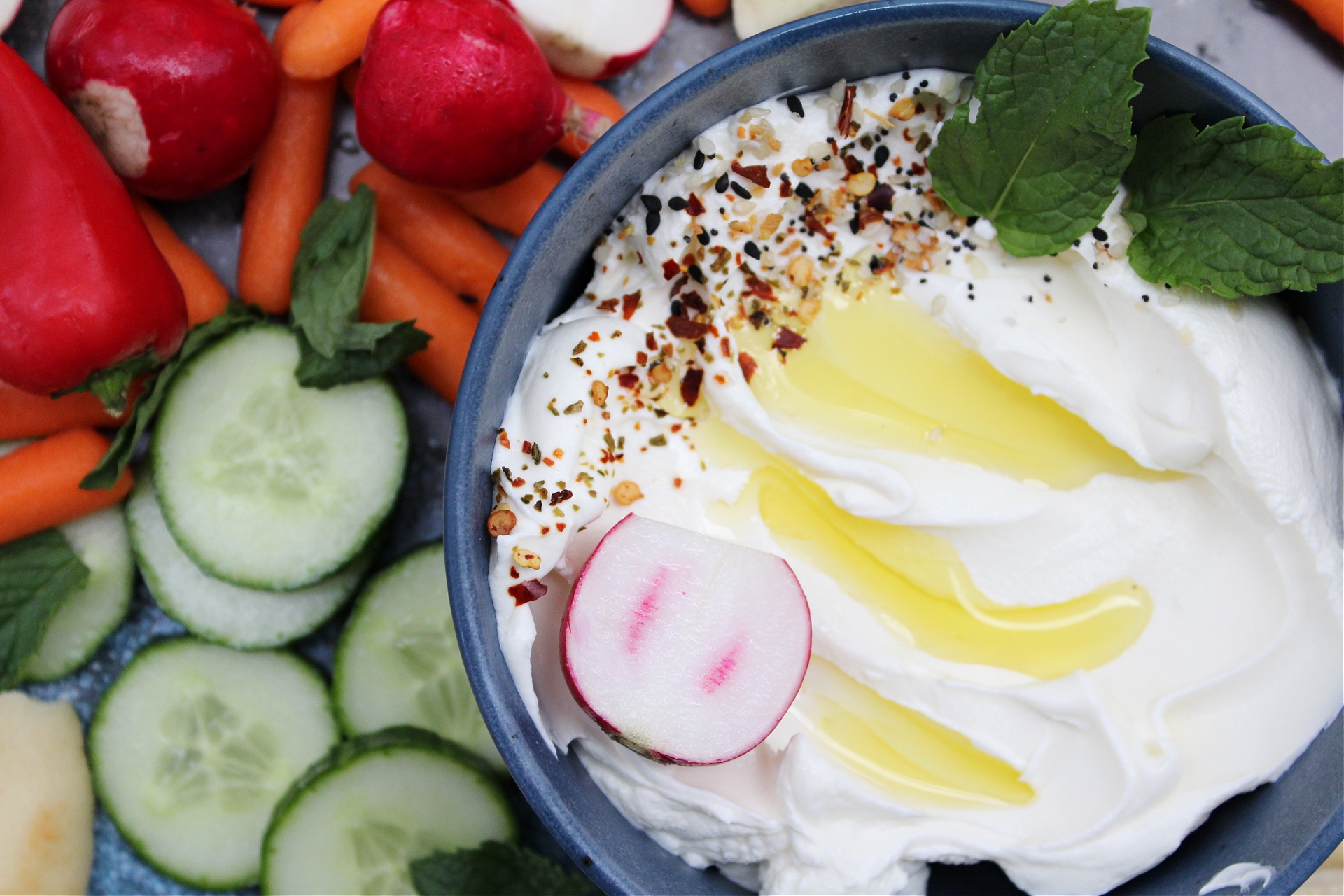 What are the Benefits of Eating Labneh?
Labneh is a good source of protein, calcium, and vitamin D. It also has a high concentration of probiotics, which are beneficial for gut health. Labneh is a versatile ingredient that can be used in a variety of dishes. It is a healthy and delicious way to add flavor and nutrients to your diet.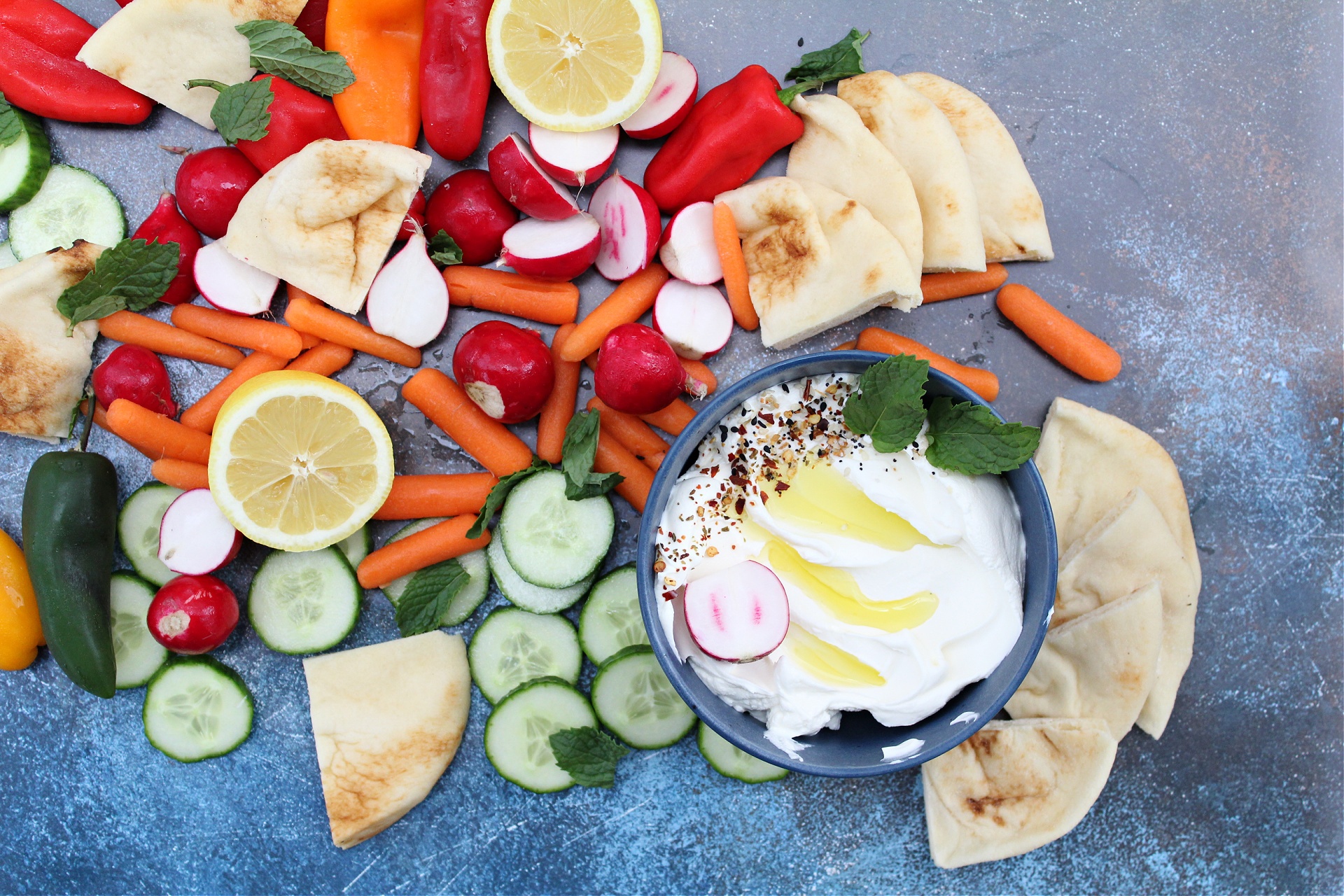 Tips for Making Labneh
Use full-fat yogurt for the best results.
You can use any type of cheesecloth, but a finer mesh will yield a smoother cheese.
If you want a sweeter cheese, add a touch honey to the mixture before adding it to the cheesecloth and straining.
Labneh can be eaten plain, or you can add your favorite herbs and spices.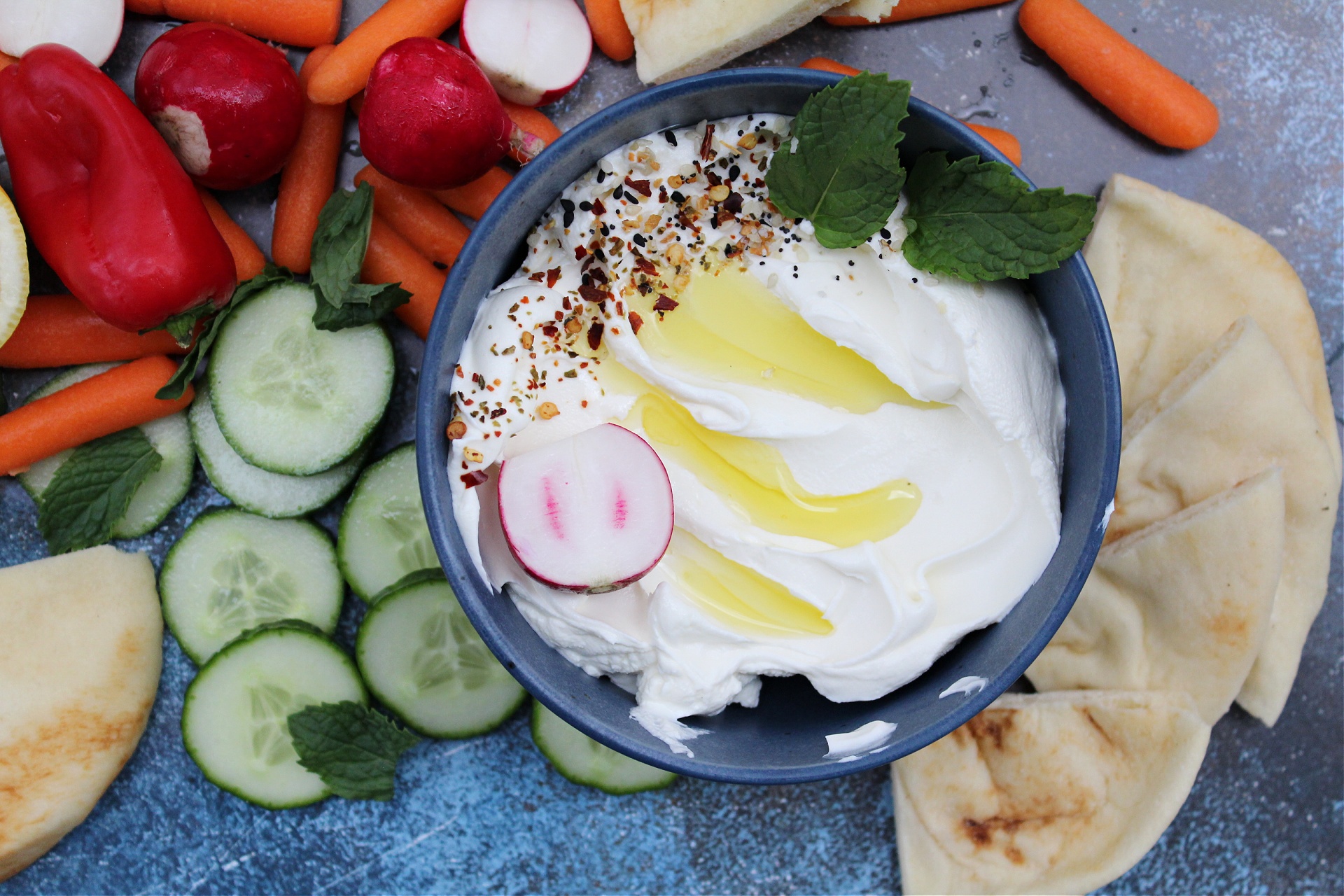 Is Labneh Hard to Make?
No, labneh is not hard to make…AT ALL. All you need is yogurt and salt. You can find these ingredients at your local grocery store, heck, you may have them in your house right now! The most time-consuming part of making labneh is straining the yogurt. However, this step is important in order to achieve the correct consistency. Once you've strained the yogurt, the rest of the process is easy.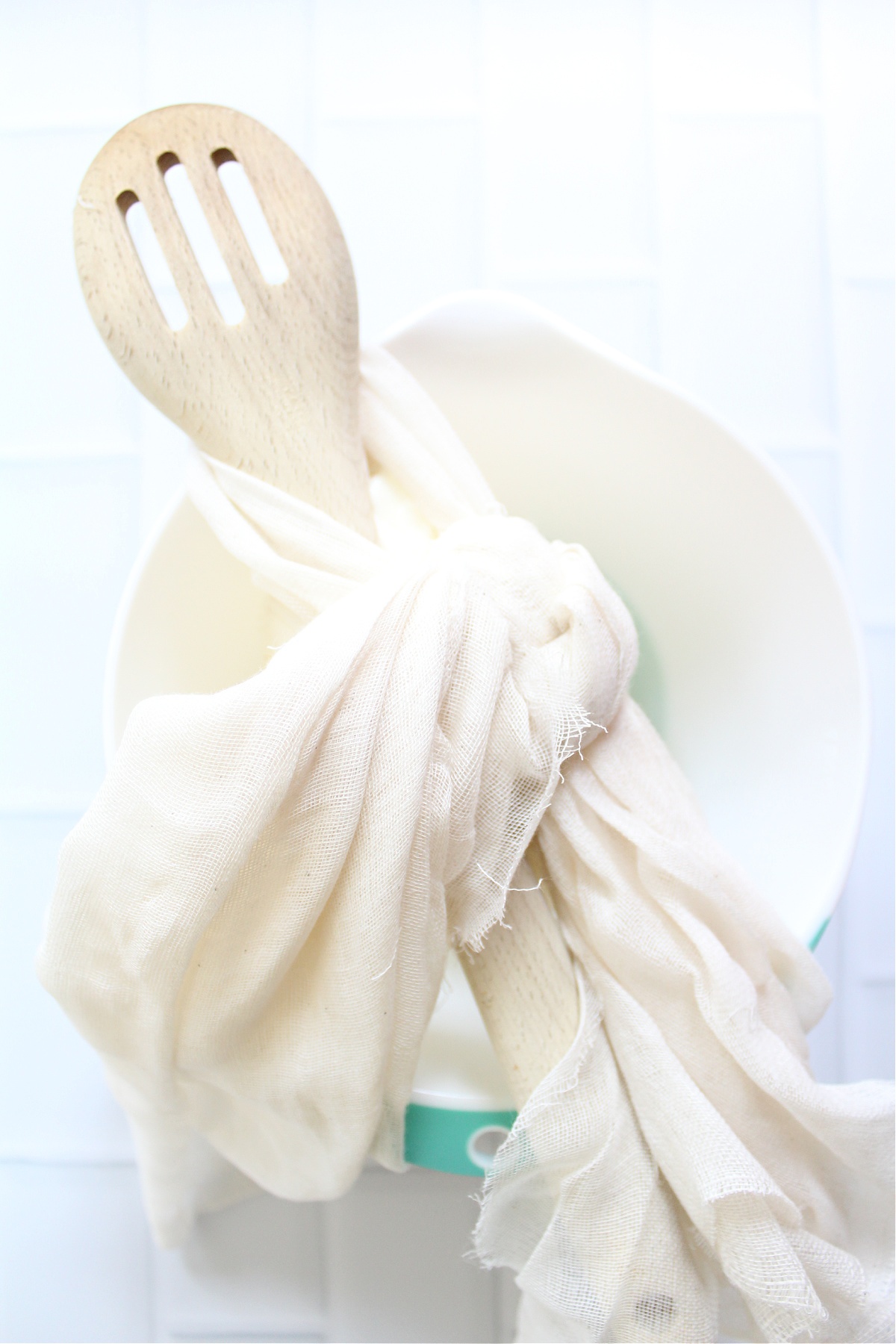 And by straining, I am referring to the having the yogurt in the cheesecloth hanging in a bowl.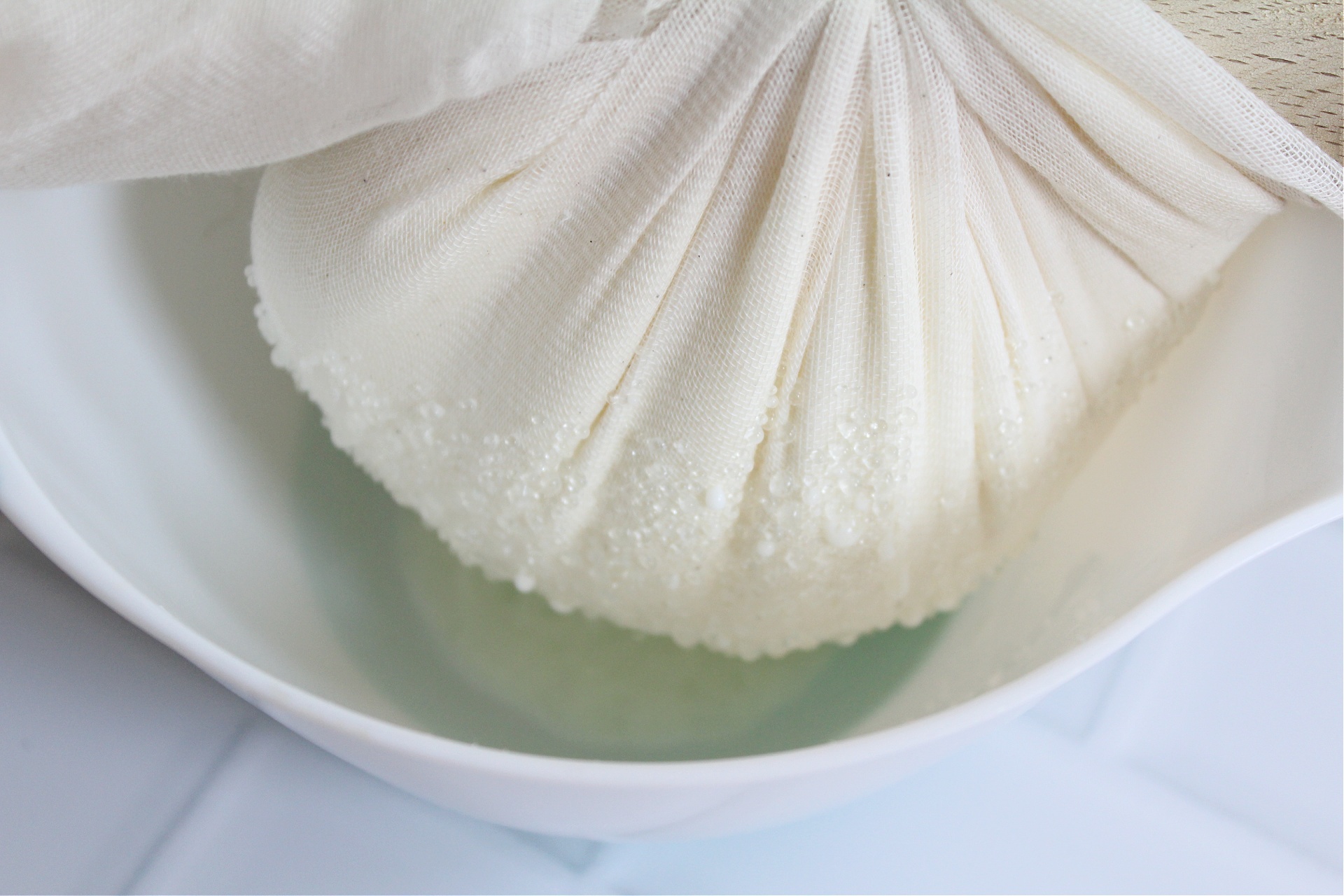 You will see the moisture coming out almost immediately.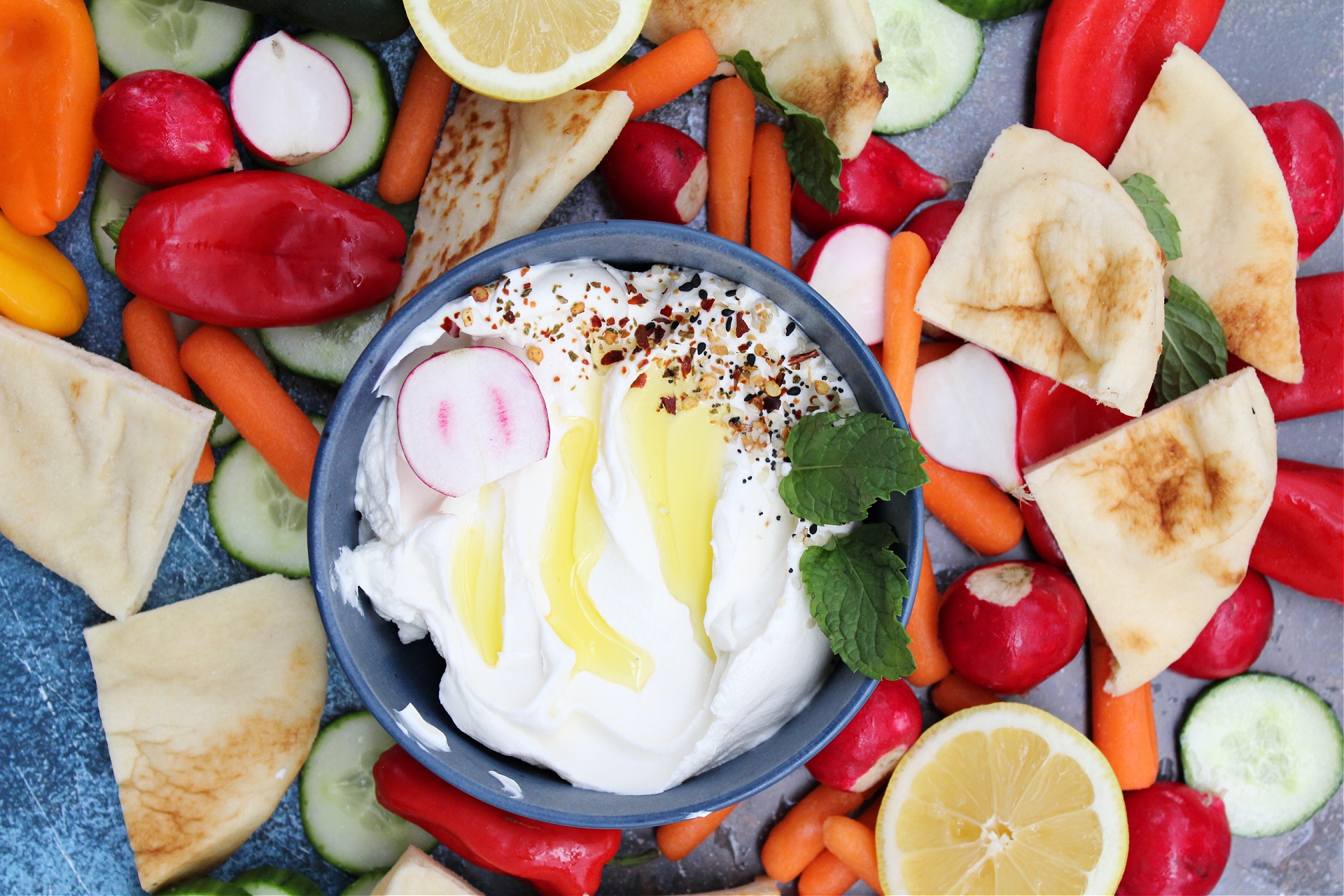 What's the Difference Between Greek Yogurt and Labneh?
Greek yogurt and labneh are both strained yogurts. The difference is in the amount of time that they are strained. Greek yogurt is typically strained for a shorter period of time, which results in a thicker yogurt with a higher protein content. Labneh is strained for a longer period of time, which yields a creamier cheese with a lower protein content. Both Greek yogurt and labneh are healthy and delicious additions to any diet.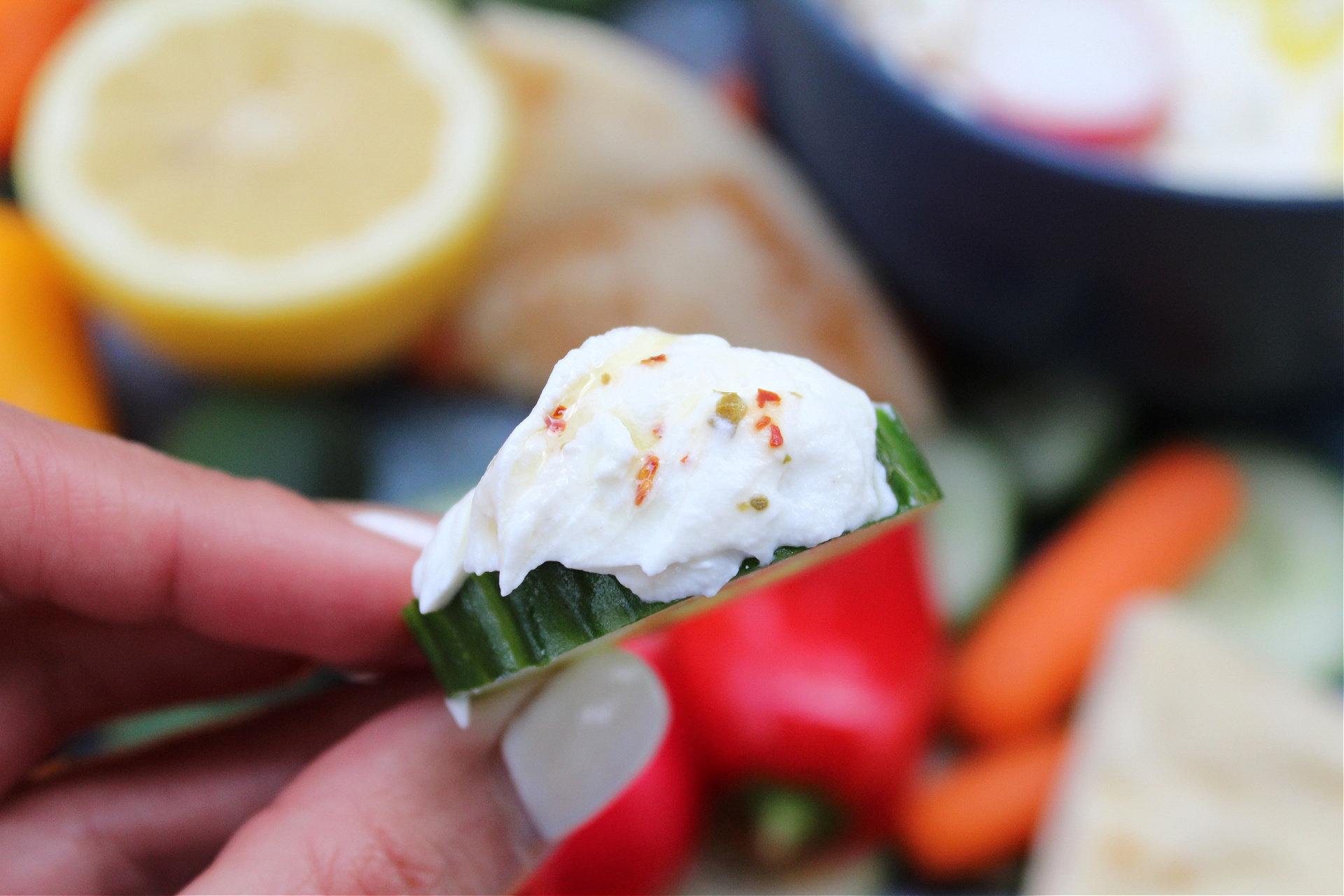 Do You Serve Labneh Cold?
Labneh is most commonly served cold as a dip or appetizer, but it can also be served at room temperature or warmed up. Experiment with different serving temperatures to find what you like best. Labneh can be used like soft goat cheese on salads or pizzas…yum!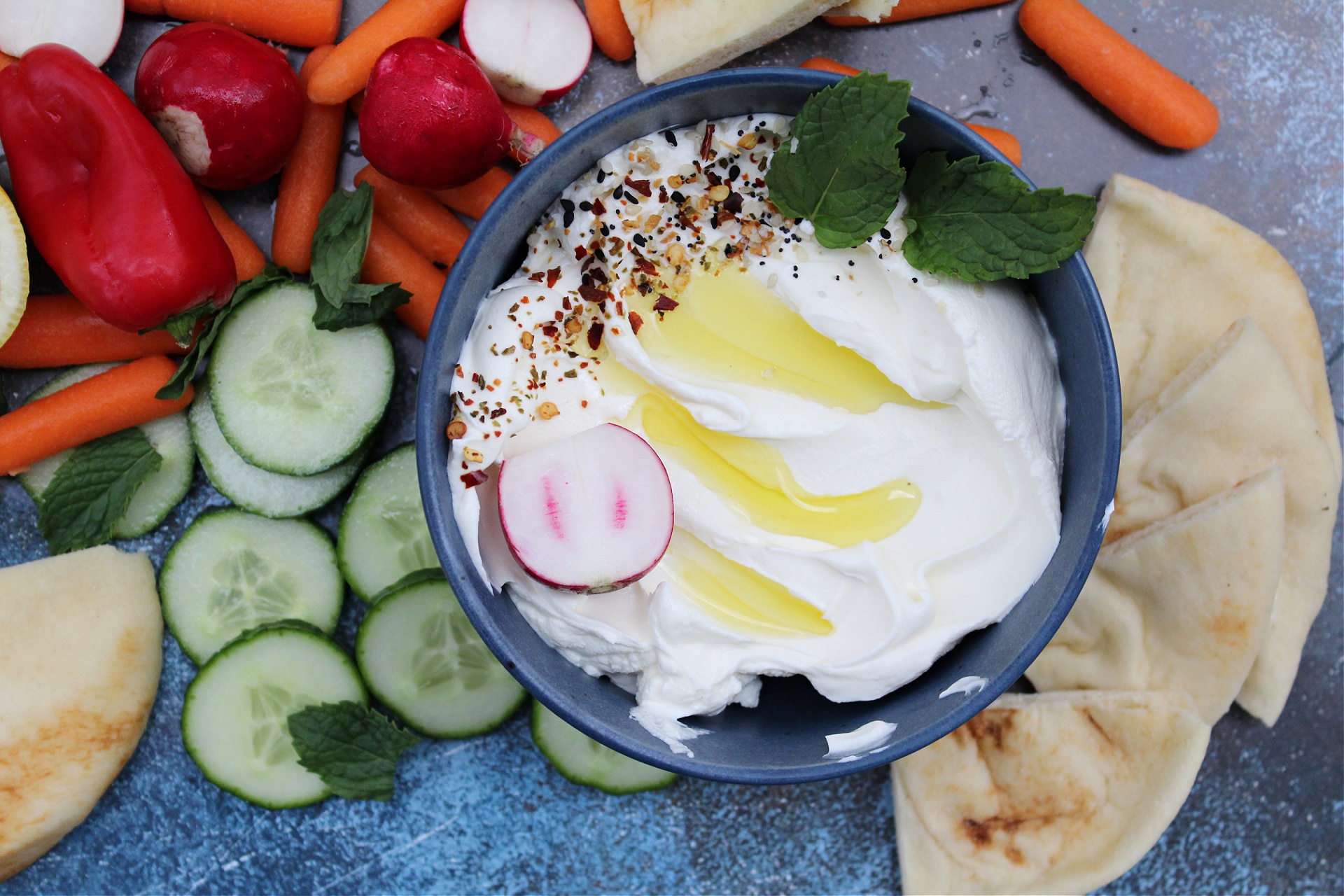 Ok, so are you ready to make some homemade Labneh? Let's do it! Here is how to make Labneh, be sure to Print It and Pin It so that you can make it again and again. Because, trust me, you will want to! It's SOOOOOO good!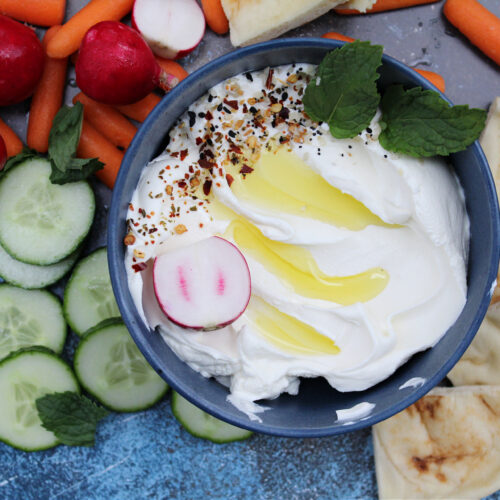 Homemade Labneh
Creamy, delicious and easy to make! Labneh is homemade cheese that is made with just whole milk yogurt and salt. Serve with pita and veggies for a yummy appetizer.
Print
Pin
Rate
Equipment
1 large bowl

1 Large Spoon

Cheesecloth
Ingredients
32

oz

Whole Milk Yogurt – It's very important to use whole milk.

3/4

teaspoon

salt.

Za'atar spice – if you can't find this

use Everything Bagel Seasoning.

Olive oil.

Red Pepper Flakes if desired.
Instructions
Pour the yogurt into a large bowl. Stir in salt.

Line another large bowl with a cheesecloth. I folded the cheesecloth in half, so that the yogurt will be placed over 2 layers. Make sure a large spoon can fit over the top of the bowl. You will be tying the cheesecloth with the yogurt in it to the spoon so that it is suspended above the bottom of the bowl. I know that sounds tricky, but it's not 🙂

Pour the yogurt mixture into the cheesecloth.

Place a large spoon over the top of the bowl.

Bring the edges of the cheesecloth together, tie it around the wooden spoon.

The labneh will hang in the center of the bowl, but make sure it does not touch the bottom of the bowl. I actually had to switch bowls twice! I found that my 8-cup measuring bowl would have been the perfect option from the start.

Chill for 24 hours or at least overnight.

When ready to serve, place the labneh in a bowl and top with olive oil and seasonings.

Serve with fresh veggies, pita, and/or crackers for dipping.
Notes
Labneh can be stored in the fridge for up to two weeks.
Nutrition
Calories:
553
kcal
|
Carbohydrates:
42
g
|
Protein:
31
g
|
Fat:
29
g
|
Saturated Fat:
19
g
|
Polyunsaturated Fat:
1
g
|
Monounsaturated Fat:
8
g
|
Cholesterol:
118
mg
|
Sodium:
2161
mg
|
Potassium:
1407
mg
|
Sugar:
42
g
|
Vitamin A:
898
IU
|
Vitamin C:
5
mg
|
Calcium:
1099
mg
|
Iron:
1
mg
I hope you enjoy Labneh as much as we do!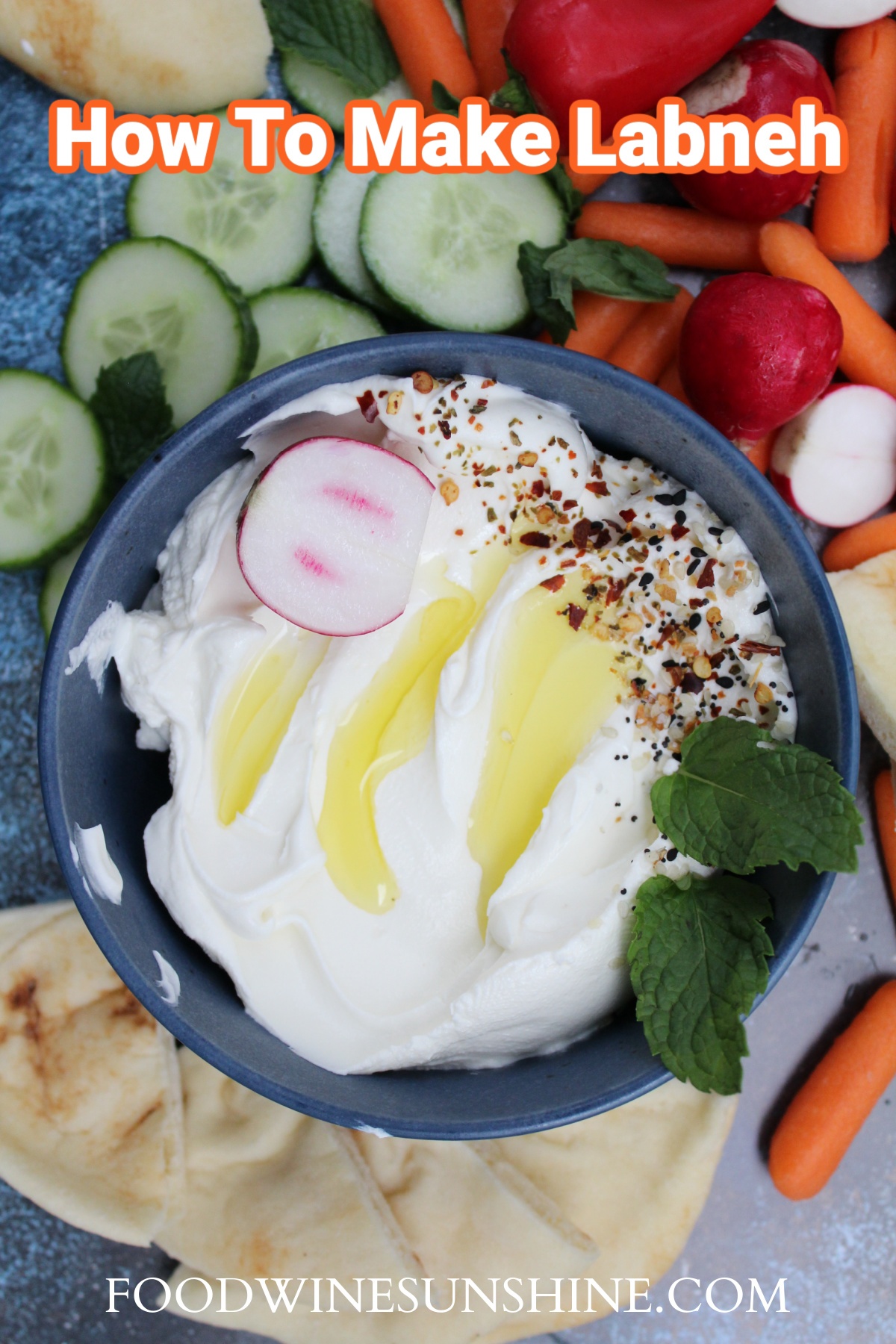 Try using labneh in some of your favorite recipes. You'll love the creamy, tangy flavor!
Be sure to check out Florida Milk for more dairy-licious recipes and follow on Instagram, Facebook and Pinterest.
And while you are at it, check out all the recipes on Food Wine Sunshine and follow on me Facebook, Twitter, Pinterest and Instagram for more FOOD WINE AND SUNSHINE.