(Last Updated On: March 29, 2022)
Have you ever thought about smoking a whole brisket? Read this post on how to get it right for the flavor and tenderness you want.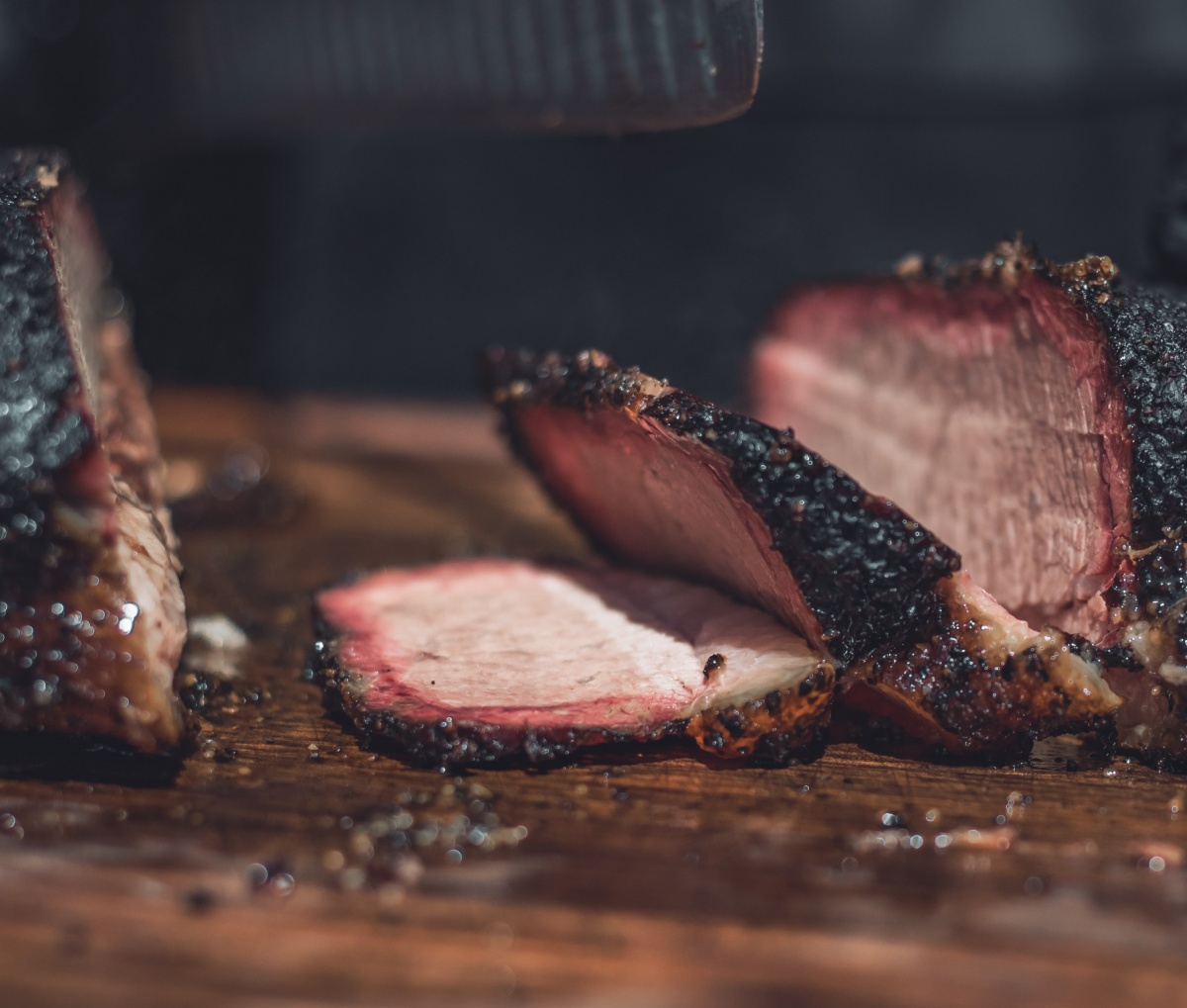 8 Tips for Smoking a Whole Brisket Plus a Sandwich Recipe!
We love using the smoker at my house on the weekends. One thing we love smoking is brisket! It takes awhile to cook, but man, it's worth it. Plus, we end up with a bunch of leftovers so I can meal plan, and create all sorts of brisket recipes throughout the week.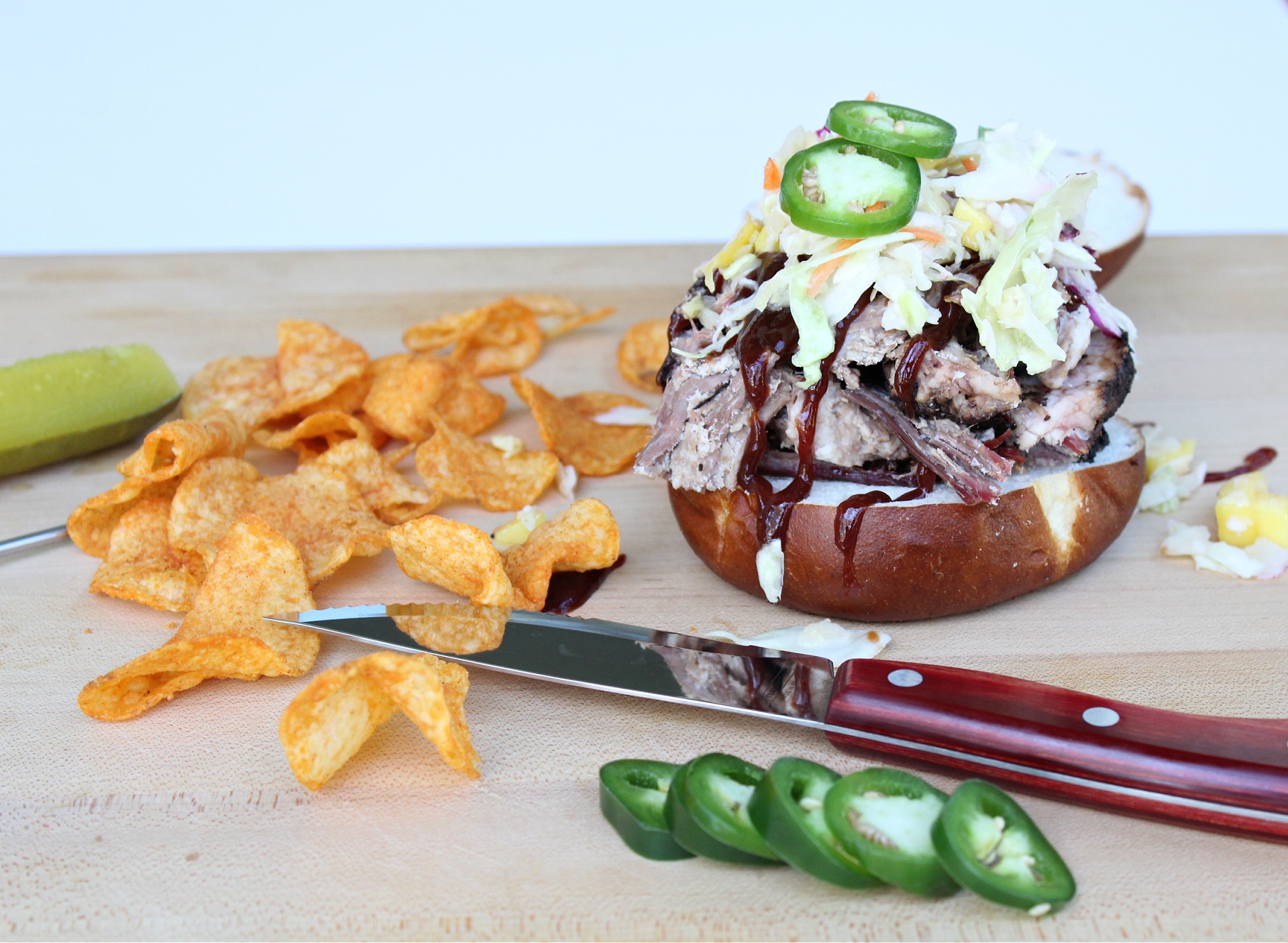 Like the brisket sandwich recipe at the bottom of the page loaded with homemade mango and jalapeno coleslaw on pretzel bread.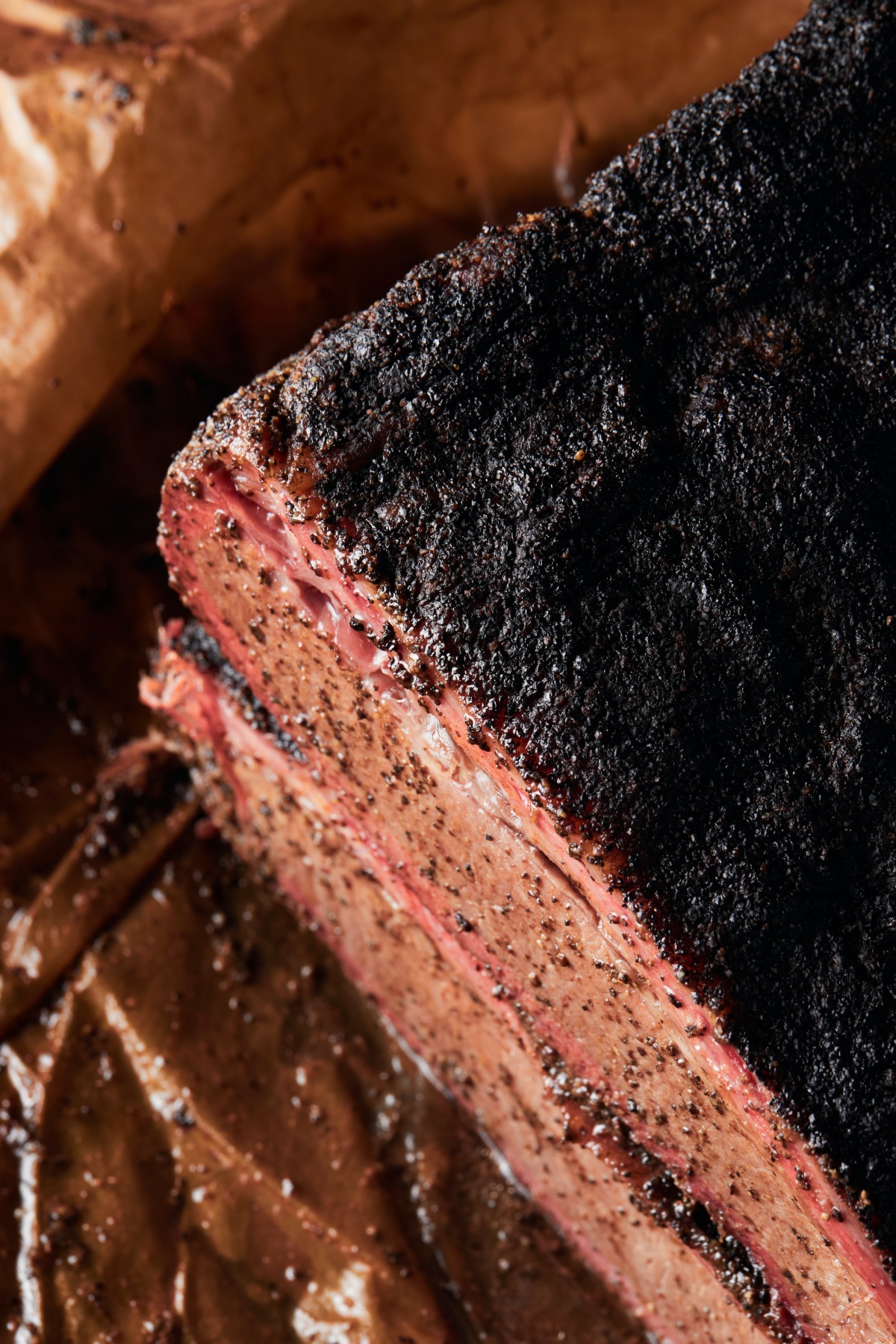 What You Need to Know About Smoking a Whole Brisket
Temperature is everything!
If you are considering smoking a whole brisket, the first thing you need to know is that temperature is key. Your smoker should be heated to 225°, and you shouldn't wrap your brisket until it reaches 165°, but more on that in a moment.
Most smokers come with a thermometer for you to use, but if not, we also like the Taylor Measurement Rapid Response Thermometer. It gets a quick and accurate reading without us having to leave the smoker lid open long.
Thaw your brisket and heavily season it
Smoking a whole brisket usually means there's a lot of meat. All that meat needs seasoning. We use a variety of seasonings, but you need to make sure it's seasoned all over.
What are the best seasonings for brisket?
The best brisket rubs typically have salt and pepper blended with paprika, garlic powder, and onion powder. Some of them will also have brown sugar and mustard powder. This blend will give a barbecue flavor which is perfect for the smoker.
You can also use ready made blends like Jack Daniel's Beef BBQ Rub, Weber Dry Smoking Rub, VooDoo Chef Dust or VooDoo Chef Black, or any rub that is specifically made for beef.
After seasoning let it marinate
You should cover your seasoned brisket and refrigerate it for between 12 and 24 hours. Let all those spices seep into every ounce of your meat.
Don't trim the fat yet!
While you can trim some of the fat off your brisket, when smoking it's best to leave at least a quarter inch of fat to avoid the meat drying out. It's best to keep all that moisture in during the long cooking process.
When cooking, the meat should be fat side down
This helps retain moisture because all the juices will drip to the bottom, but will have nowhere to go. If you want tender brisket not beef jerky, you'll thank me for this tip!
Let the smoker do its work until the internal temp reaches 165°, and then wrap it with butcher paper
This will take approximately 2 hours per pound. After you wrap it in butcher paper, place it back in the smoker until the internal temperature gets up to between 203-205°.
Why not foil? When you use foil, the meat can't breathe as much, and it can actually change the flavor.
After cooking, let it rest
Once your meat has reached 203-205°, remove it from the smoker, making sure the butcher paper is still on it, wrap the entire bundle in a clean towel, and place it in an empty cooler with the lid shut.
This simple step is one many people forget, but is critical! When you do this, it allows all those delicious juices to reincorporate into the meat, and it will be so much more tender when you cut it.
When can I eat?!? Wait at least an hour. It WILL be worth the wait, I promise. Sometimes, we wait up to 6!
When you cut it, slice against the grain
Using a long serrated carving knife, slice it flat against the grain. Why should you slice against the grain? This will break up the muscle fibers of the meat, and make it much more tender and easier to eat. Look for that beautiful smoke ring….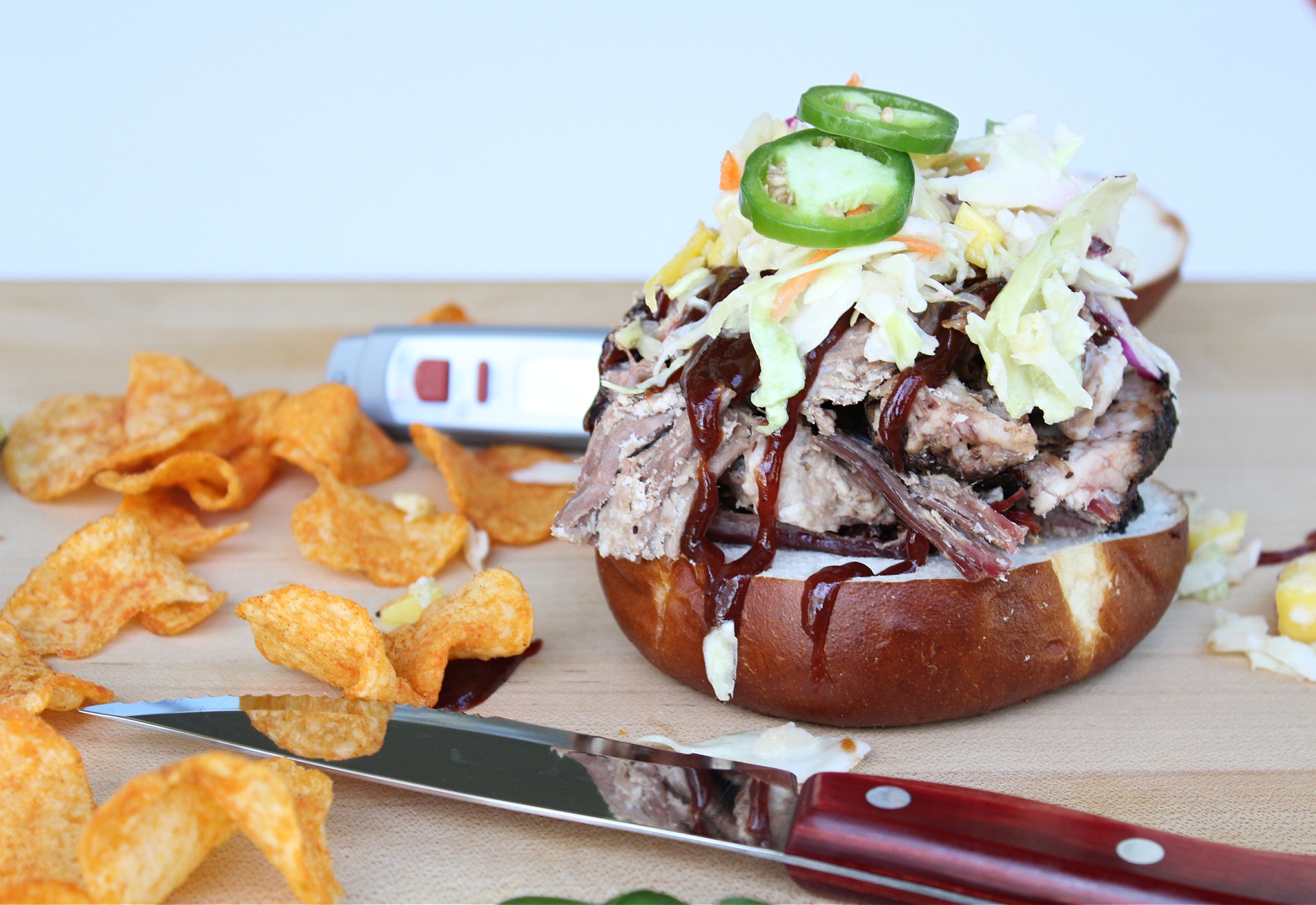 What To Make After Smoking a Whole Brisket
There are lots of recipes you can create. One is a brisket BBQ sandwich. The recipe for that is below. Other ideas include brisket tacos, brisket hash and eggs, chili, grilled cheese and brisket sandwiches, pizza, quesadillas, soup, even shepherd's pie. Honestly, the possibilities are only as limited as your imagination.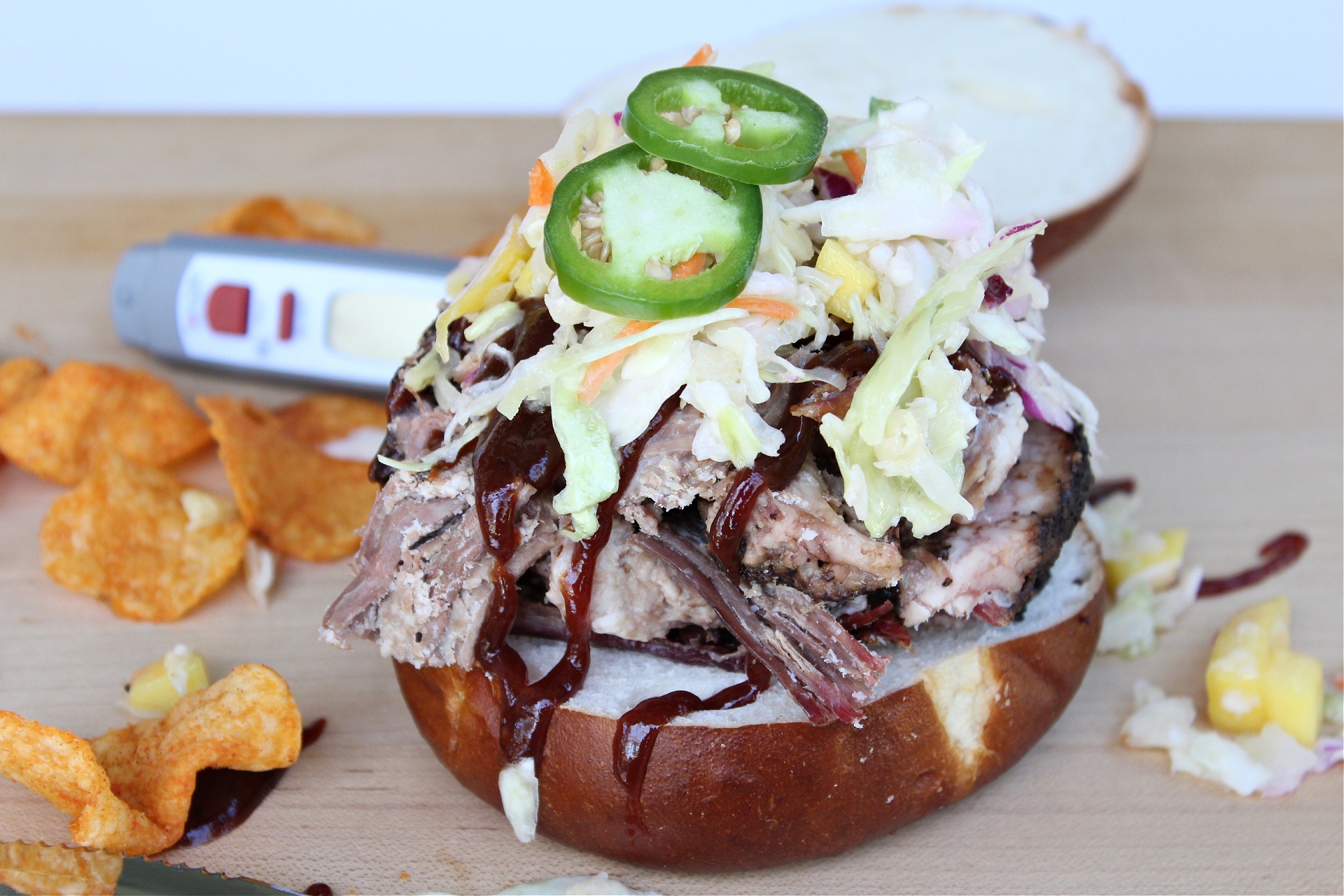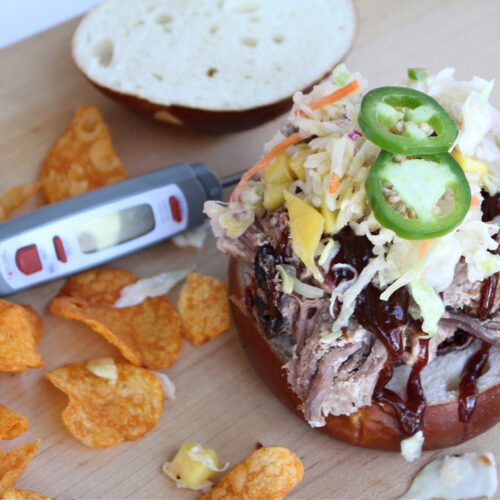 BBQ Brisket Sandwich with Mango Jalapeno Slaw
This will be one of your favorite ways to use brisket! Once you have smoked your brisket, make this delicious BBQ Brisket Sandwich.
Print
Pin
Rate
Ingredients
1

cup

coleslaw

I used homemade mango and jalapeno coleslaw

2

cups

smoked beef brisket

BBQ sauce

4

Pretzel Buns or Hamburger Buns

1

jalapeno, sliced

optional
Instructions
Cut open your pretzel buns

On one half, scoop out about ½ cup of your smoked beef brisket

Drizzle with your BBQ sauce

Spoon on about ¼ cup of your coleslaw

Top with slices of jalapeno

Place the top on your sandwich, and serve with chips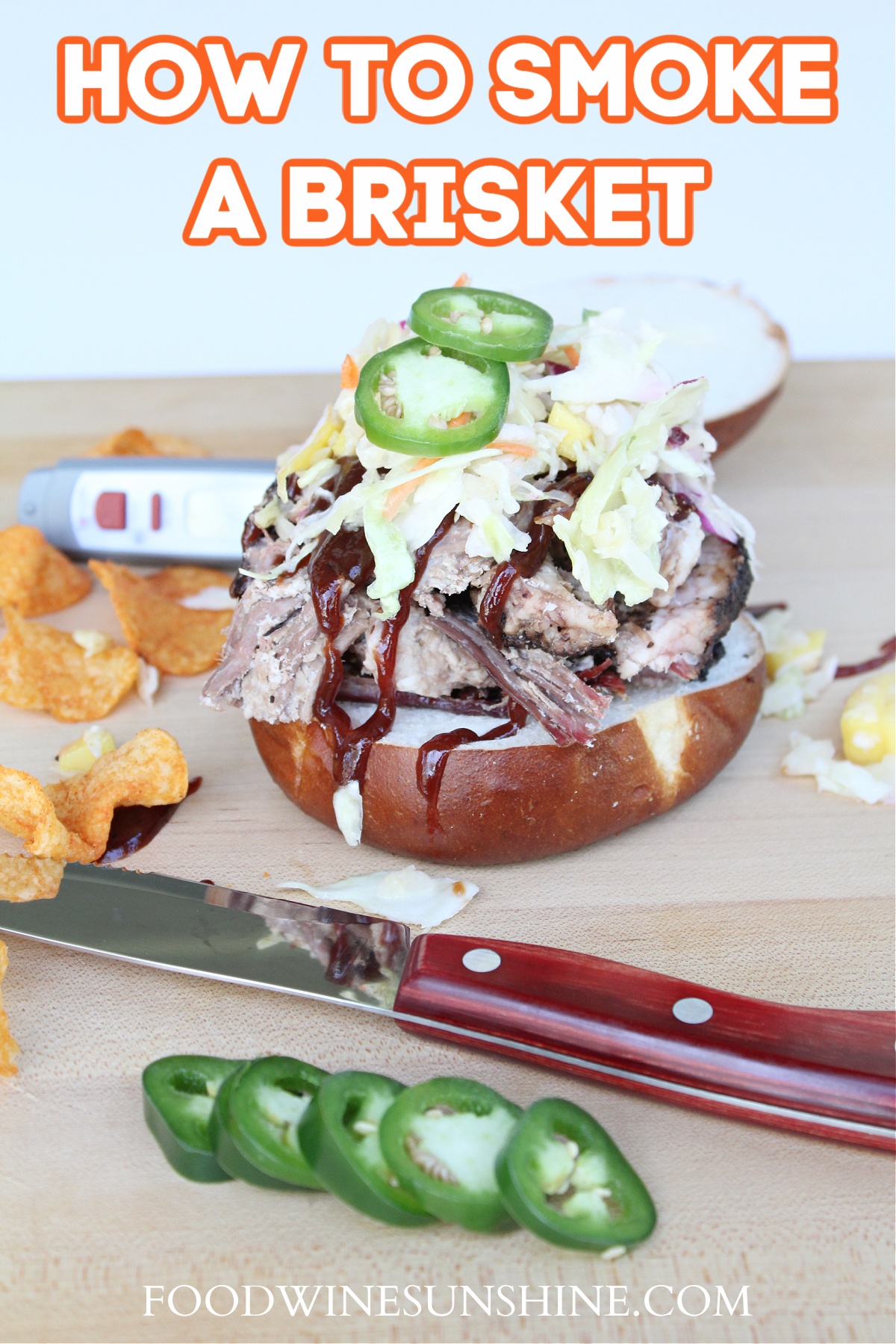 Have you ever smoked a brisket before?
Be sure to check out all the recipes on Food Wine Sunshine and follow on me Facebook, Twitter, Pinterest and Instagram for more FOOD WINE AND SUNSHINE.