(Last Updated On: February 6, 2023)
Looking for a delicious mocktail recipe? What's better than chocolate and strawberries? Not much! Grab this simply delicious Chocolate Strawberry Mocktail recipe and enjoy! Cheers! While this post is sponsored by Florida Dairy Farmers, all opinions and the recipe are my own.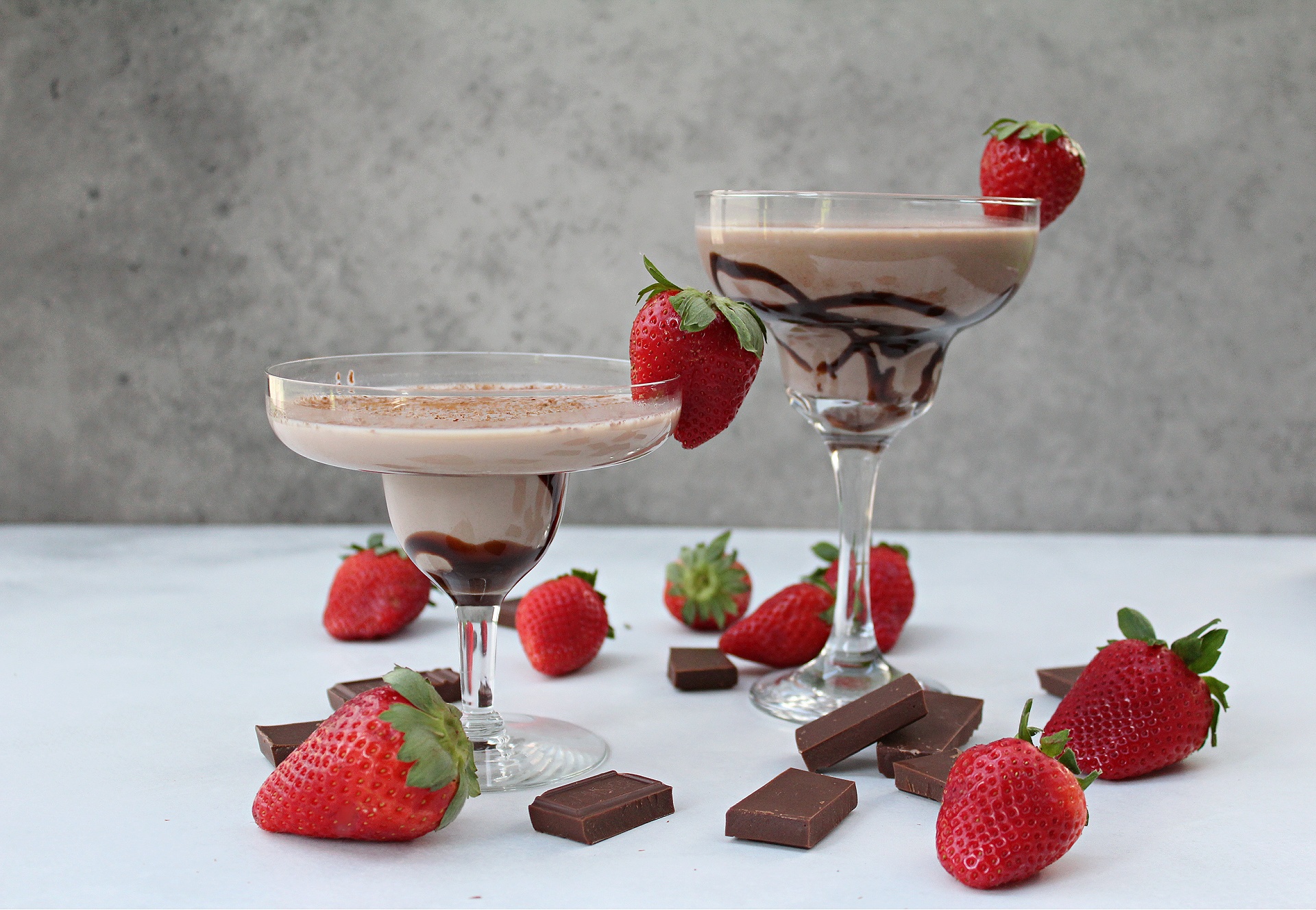 Chocolate Strawberry Mocktail
Because it's not always 5 o'clock somewhere. Or maybe you want to make something fun for the kids. Or maybe you just don't want the extra calories found in alcohol. Or maybe you just don't drink. Those are all wonderful reasons to make a mocktail. Another reason to make a mocktail is that this one in particular is absolutely delicious. You can never really go wrong with strawberries, chocolate and milk, can you? I didn't think so.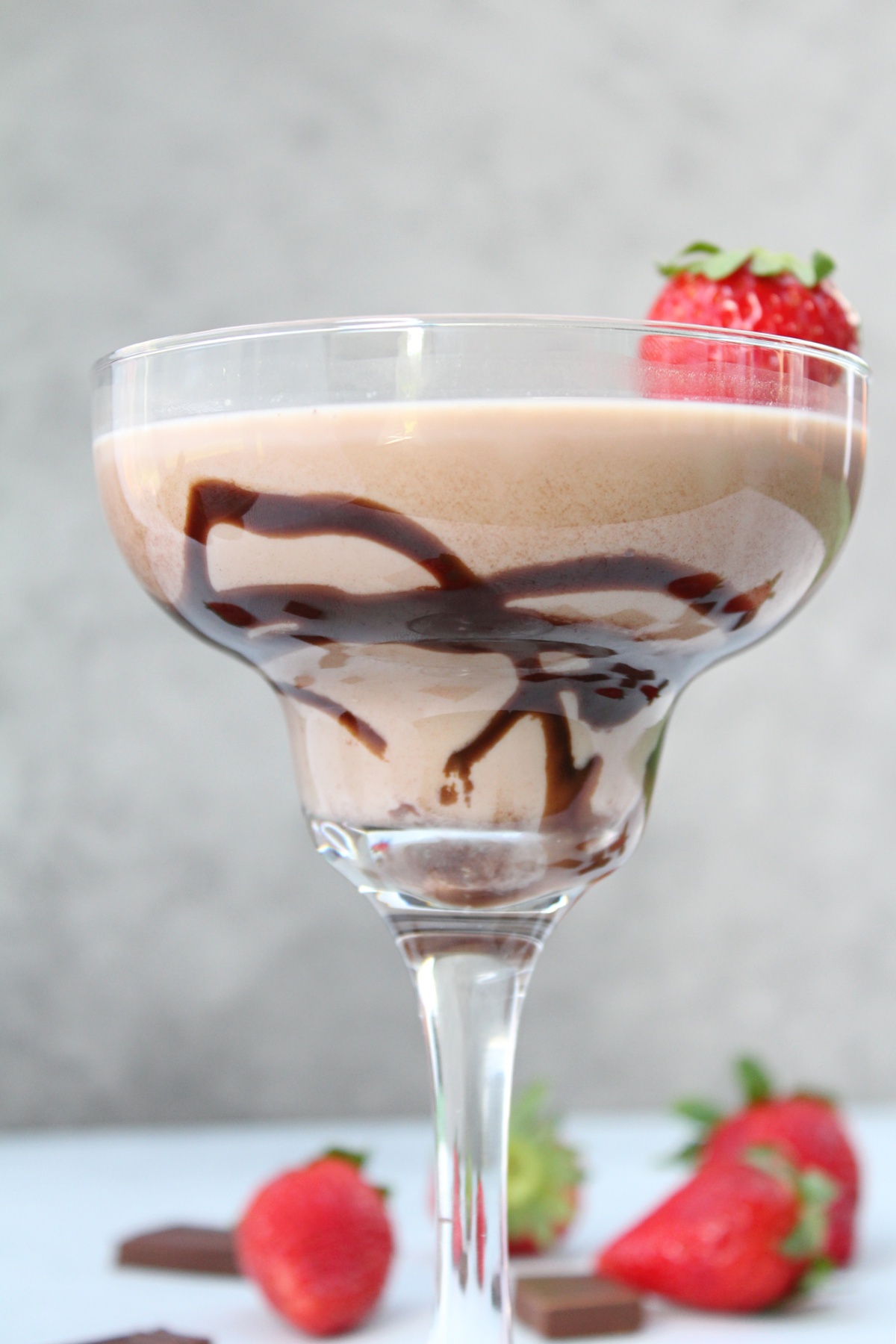 For the strawberry flavor in my Chocolate Strawberry Mocktail, I actually made a strawberry simple syrup. Now, strawberries are, of course, sweet enough on their own, but by making the simple syrup you get an extra touch of sweetness and you don't have to worry about blending the strawberries. I used Florida strawberries in my recipe, well, because they are the best 😉 But Florida Strawberry season is coming to a close, so if you don't see them in store, then just be sure to buy strawberries from the US. California strawberries are in season through April and sometimes into May, then look for berries from the north. Just make sure they are grown here in the USA 🙂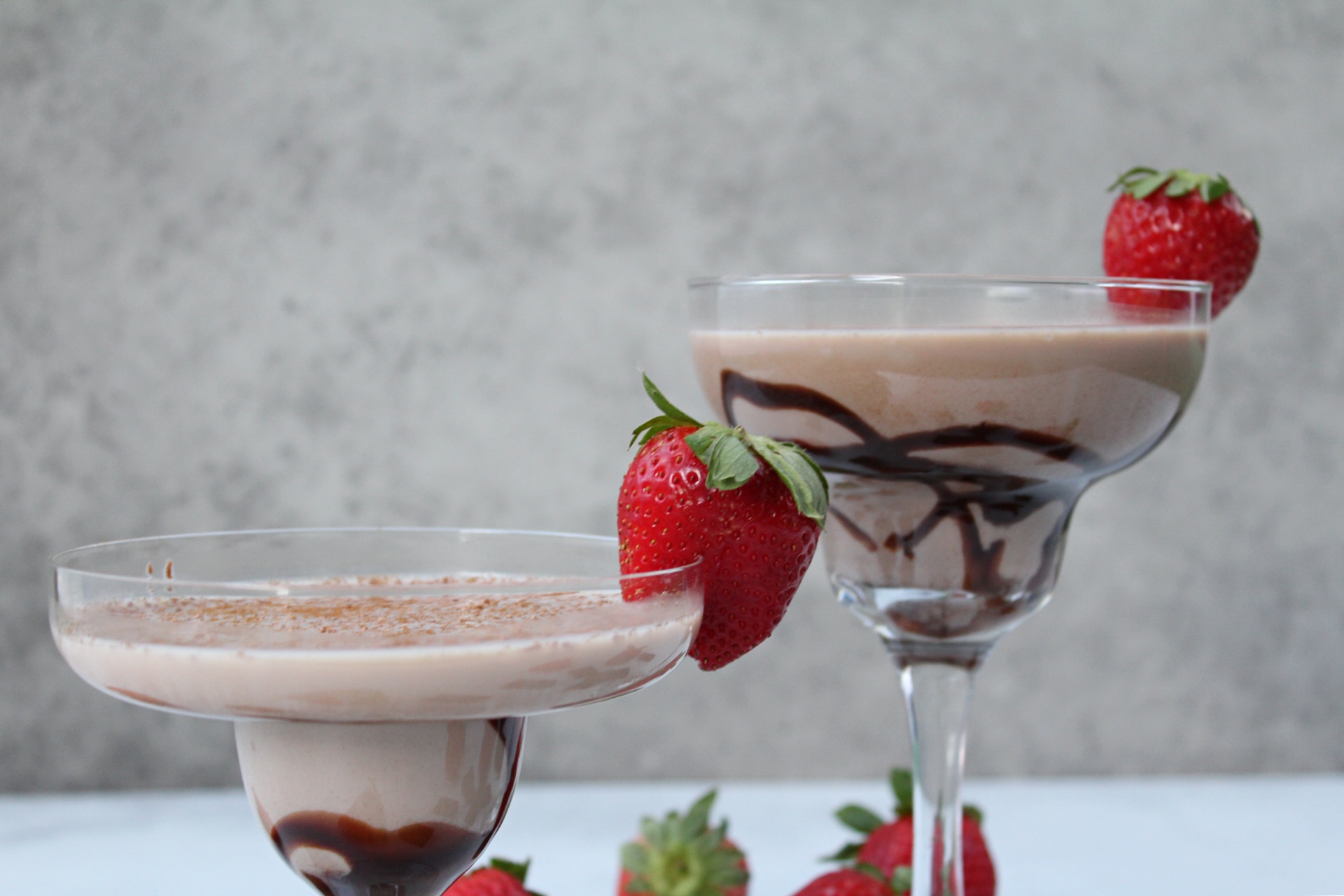 Speaking of delicious things from Florida, I used Florida Milk in my Chocolate Strawberry Mocktail…I actually like calling it a Mock-tini too, get it….it's a mock martini?? 🙂 Ok, enough of my bad mom jokes….Why Florida Milk? Well, because like Florida Strawberries, it's the best! I have actually had the opportunity to go to a dairy farm here in Central Florida and it was an incredible experience. Florida Dairy Farmers don't have a job in dairy, it's their life. It's a 365 day job that they truly love…because why else would you opt to work every single day?! They care and love their cows! Learn more about being a dairy farmer and dairy farming sustainability. You'll be surprised about how much you didn't know!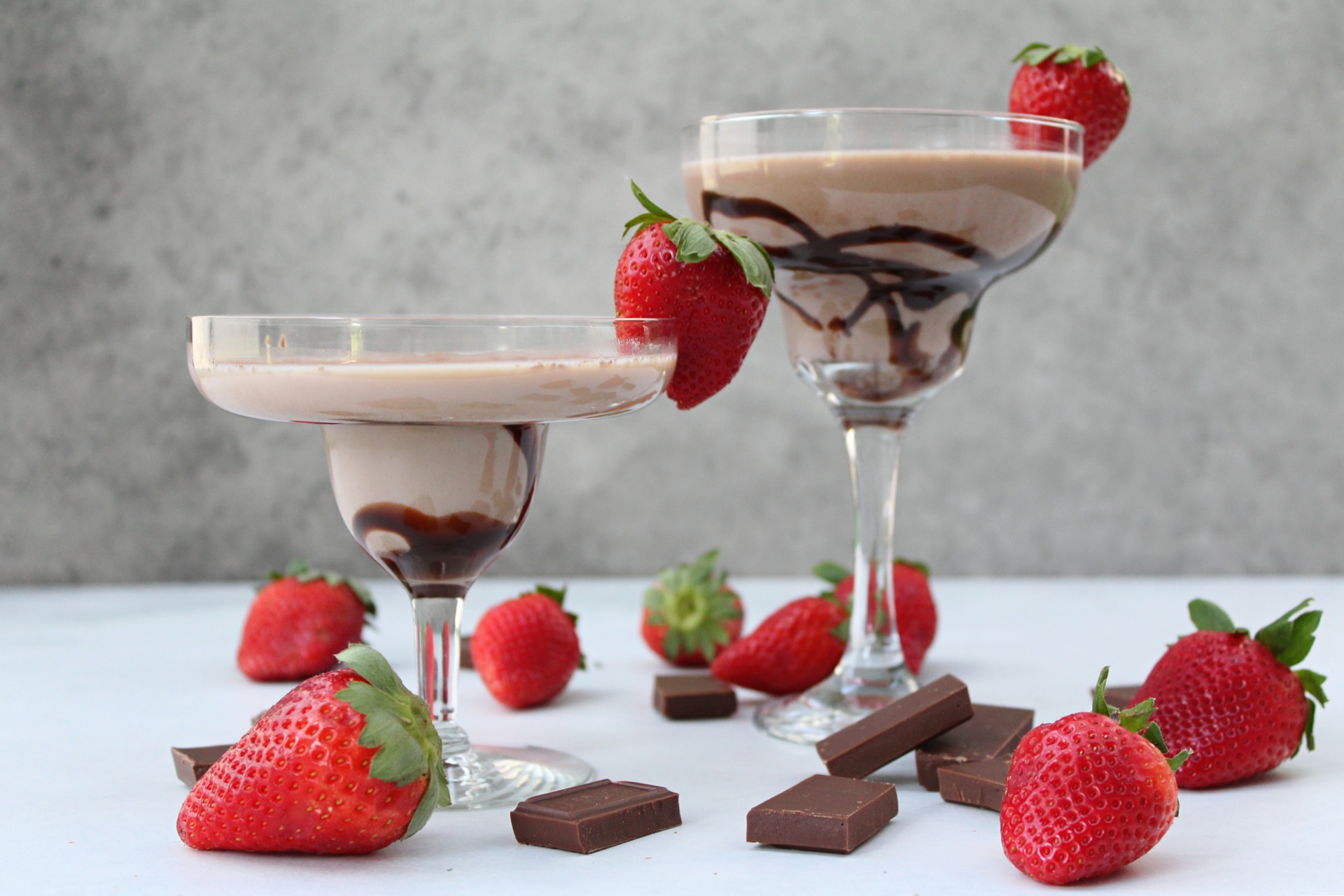 So, how do you know if the milk you are buying is from Florida?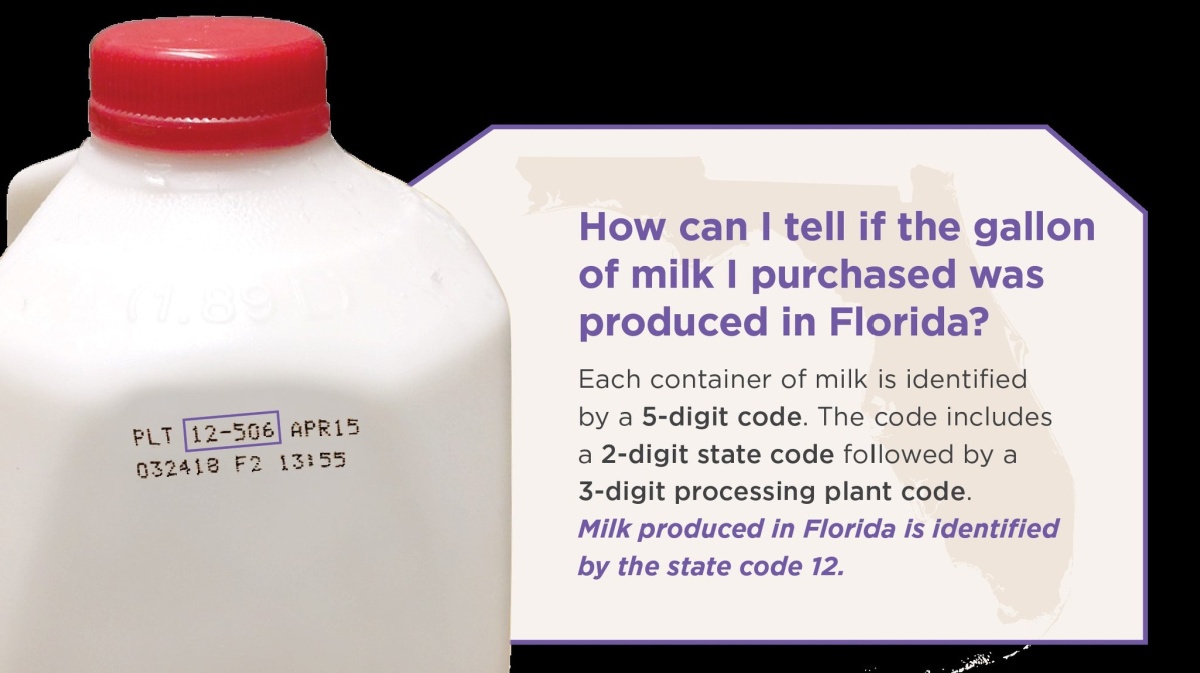 Look for that #12. On every gallon of milk, there is a little series of numbers (other than the expiration date), if those numbers start with a 12, you know that the milk comes from Florida.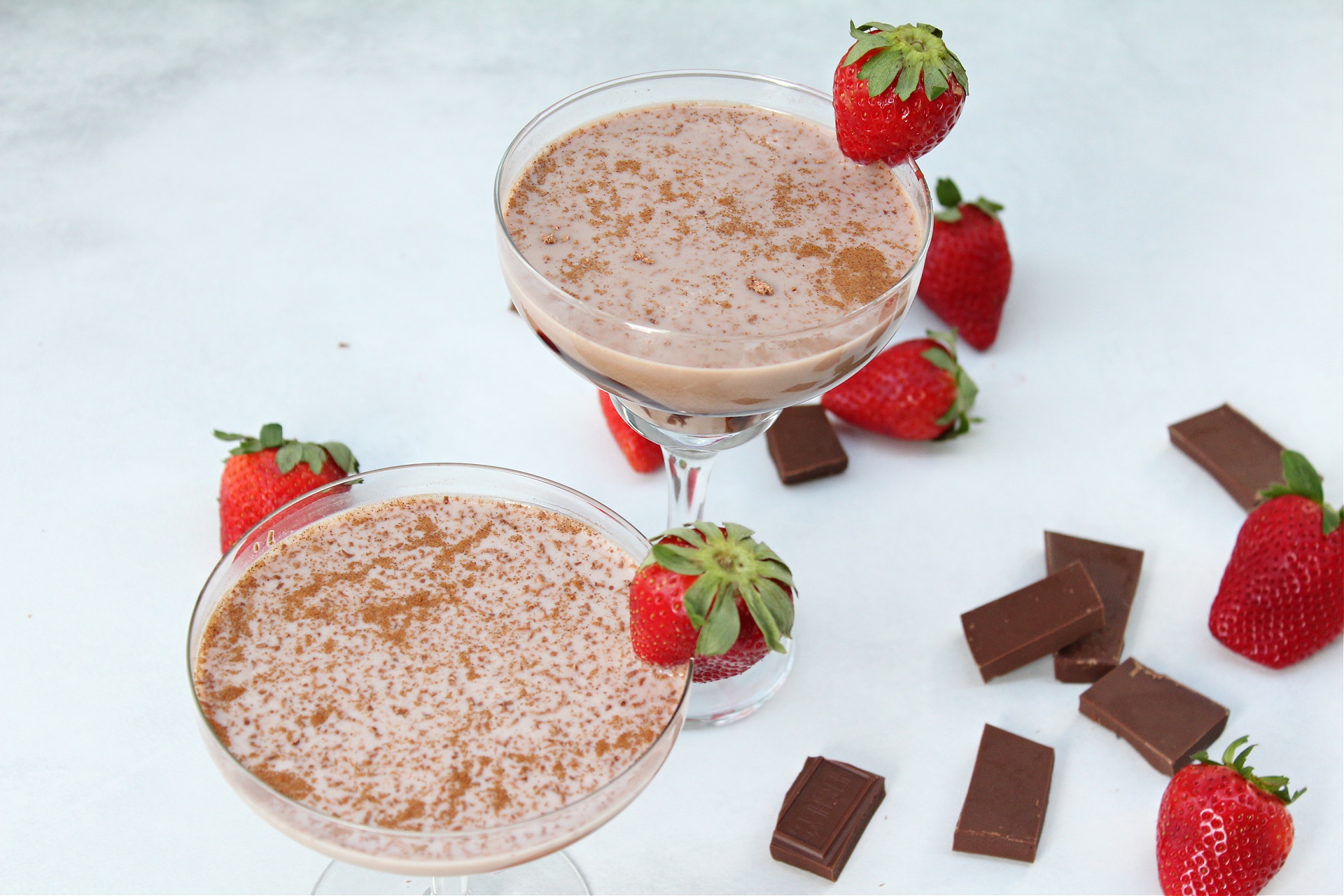 Chocolate Covered Strawberry Mock-tini Ingredients
Chocolate Syrup
Strawberries
Sugar
Can you make your mocktail with chocolate milk instead of mixing white milk and chocolate syrup?
Sure can! But I do recommend still having chocolate syrup on hand to make those fun swirls in the glass…that makes your mocktail extra fancy! And everyone likes to be extra fancy.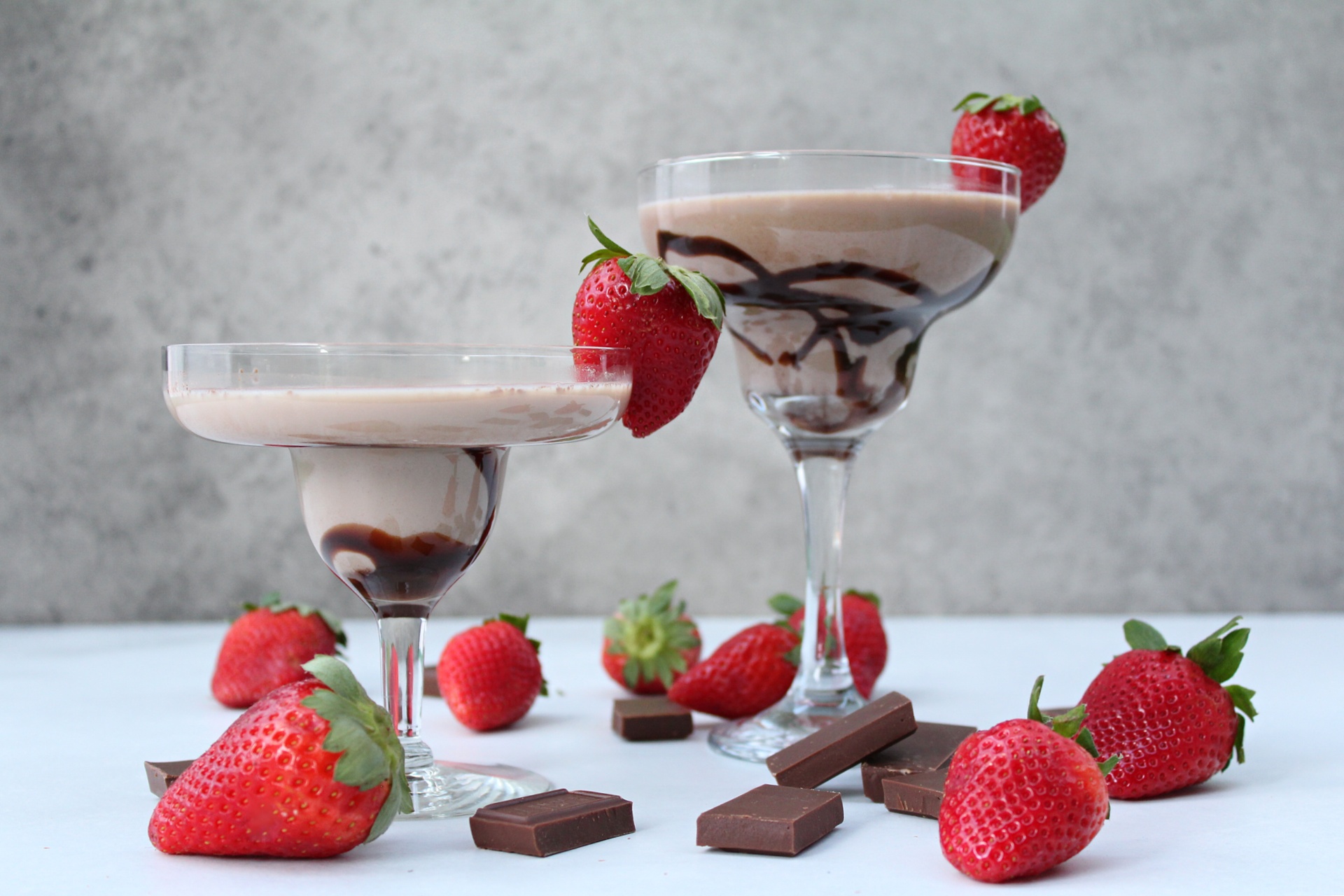 So, what exactly is a mocktail?
Mocktails are drinks that don't contain any alcohol. They're perfect for people who don't drink or for those who are looking for a healthier alternative to cocktails. Mocktails are often made with juice, soda, sparkling water, or milk. You can even add Zero-Proof liquors if you want the flavor that a certain alcohol can provide. You can also add in some of your favorite herbs or spices to give your mocktail a bit of extra flavor.
Mocktails let you appreciate the flavor of the mixers without having to worry about alcohol dominating the flavor. And in this case, you really want to enjoy the flavor of the chocolate and strawberry.
Why should you make mocktails with milk?
Drinking milk can help you stay healthy and strong. Milk does do the body good after-all 😉 Milk is a good source of protein, calcium, and other essential nutrients. It can also help you maintain a healthy weight, and may reduce your risk of developing some diseases. Making mocktails with milk is not only delicious, but it's nutritious. That's a win-win!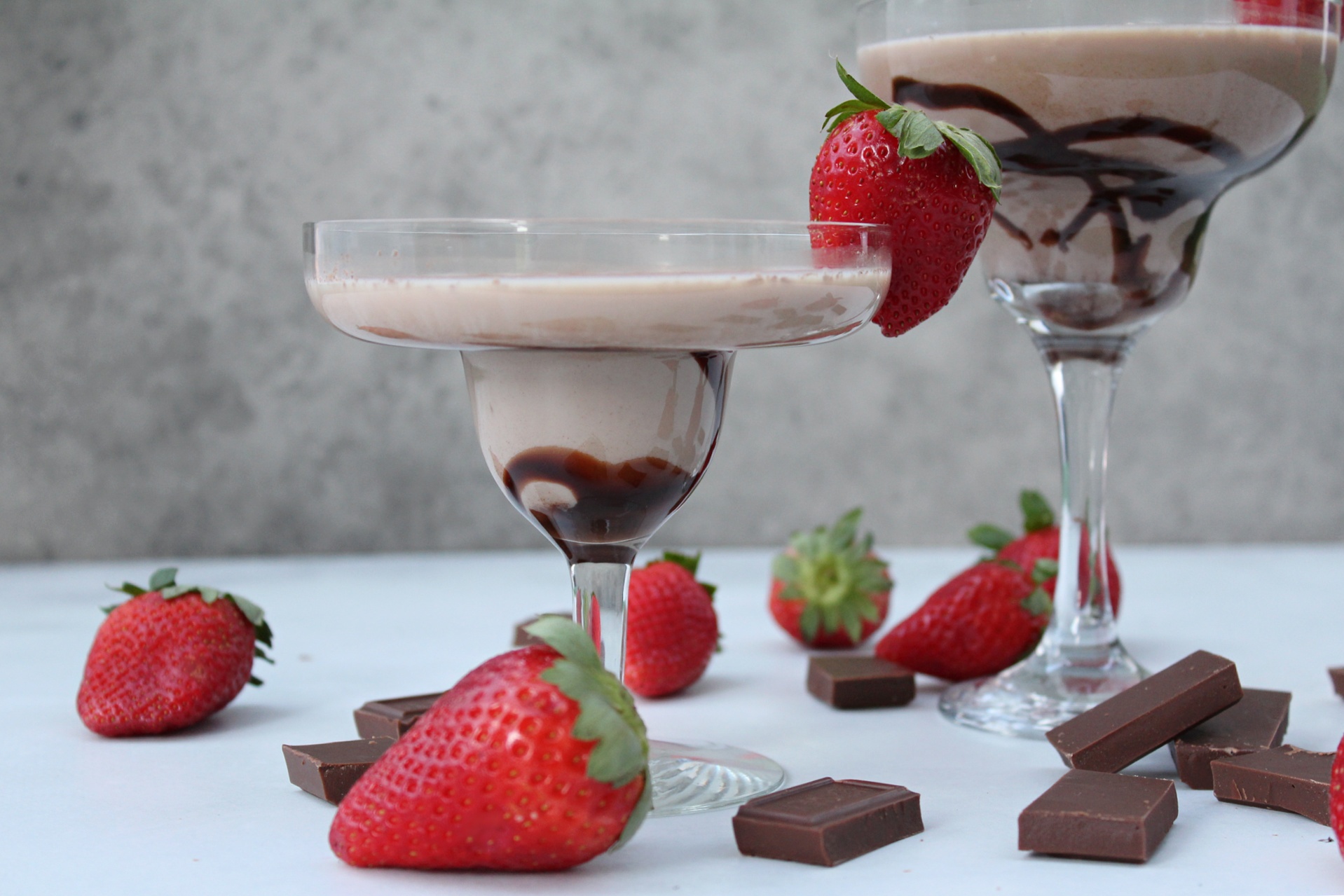 Now can you add alcohol to my Chocolate Covered Strawberry deliciousness?
Of course! It will no longer be a mocktail, you will officially now have a cocktail…but you all know I love me a good cocktail, so no judgement here! Personally, I would try this particular mix with vodka. If you try it – let me know!
Ok, let's make a mocktail shall we? Here is my Chocolate Strawberry Mocktail drink recipe. Be sure to Print It and Pin It so that you can make it again and again.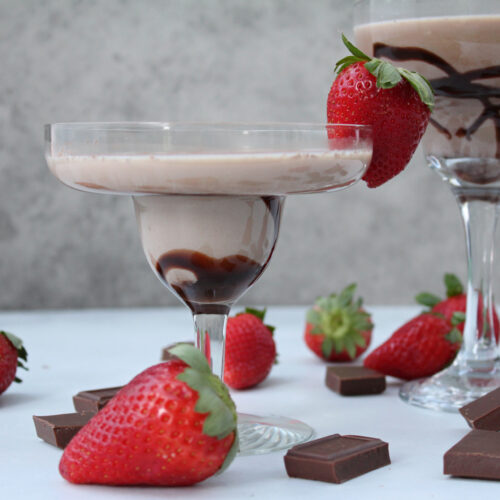 Chocolate Covered Strawberry Martini Mocktail
Looking for the ultimate martini without the alcohol? I got you! This Chocolate Strawberry Mocktail is easy to make and absolutely delicious. Plus, it won't give you a headache in the morning!
Print
Pin
Rate
Ingredients
Strawberry Simple Syrup
1/2

cup

sugar

1/2

cup

water

1/2

cup

sliced strawberries – I used Florida strawberries
Mock-tini
1

cup

Florida milk – I used 2%

2

tablespoons

chocolate syrup

2

tablespoon

strawberry simple syrup

2

strawberries for garnish

Ground cinnamon and grated chocolate for garnish
Instructions
Strawberry Simple Syrup
Combine the sugar and water in a small saucepan and bring to a boil over medium-high heat.

Add sliced Florida strawberries.

Using a large spoon or fork, gently press the strawberries to release their juice.

Allow the mixture to boil for 1 to 2 minutes.

Shut off the heat and let it rest for at least 10 minutes.

Strain the mixture into a resealable jar.

Cover and keep in the refrigerator until ready to serve.
Chocolate Strawberry Mock-Tini
Combine the milk, chocolate syrup and strawberry simple syrup in a measuring cup. You can use a cocktail shaker with ice to be extra fancy 😉

Drizzle chocolate syrup in the empty martini glasses.

Pour the chocolate strawberry mocktail into the prepared martini glasses.

Place a strawberry on the rim of the glass and dust the top with ground cinnamon and grated chocolate.

Enjoy!
Nutrition
Calories:
376
kcal
|
Carbohydrates:
87
g
|
Protein:
5
g
|
Fat:
3
g
|
Saturated Fat:
2
g
|
Polyunsaturated Fat:
1
g
|
Monounsaturated Fat:
1
g
|
Trans Fat:
1
g
|
Cholesterol:
9
mg
|
Sodium:
85
mg
|
Potassium:
297
mg
|
Fiber:
1
g
|
Sugar:
83
g
|
Vitamin A:
126
IU
|
Vitamin C:
29
mg
|
Calcium:
157
mg
|
Iron:
1
mg
I hope you enjoy this Chocolate Strawberry Mocktail as much as we do!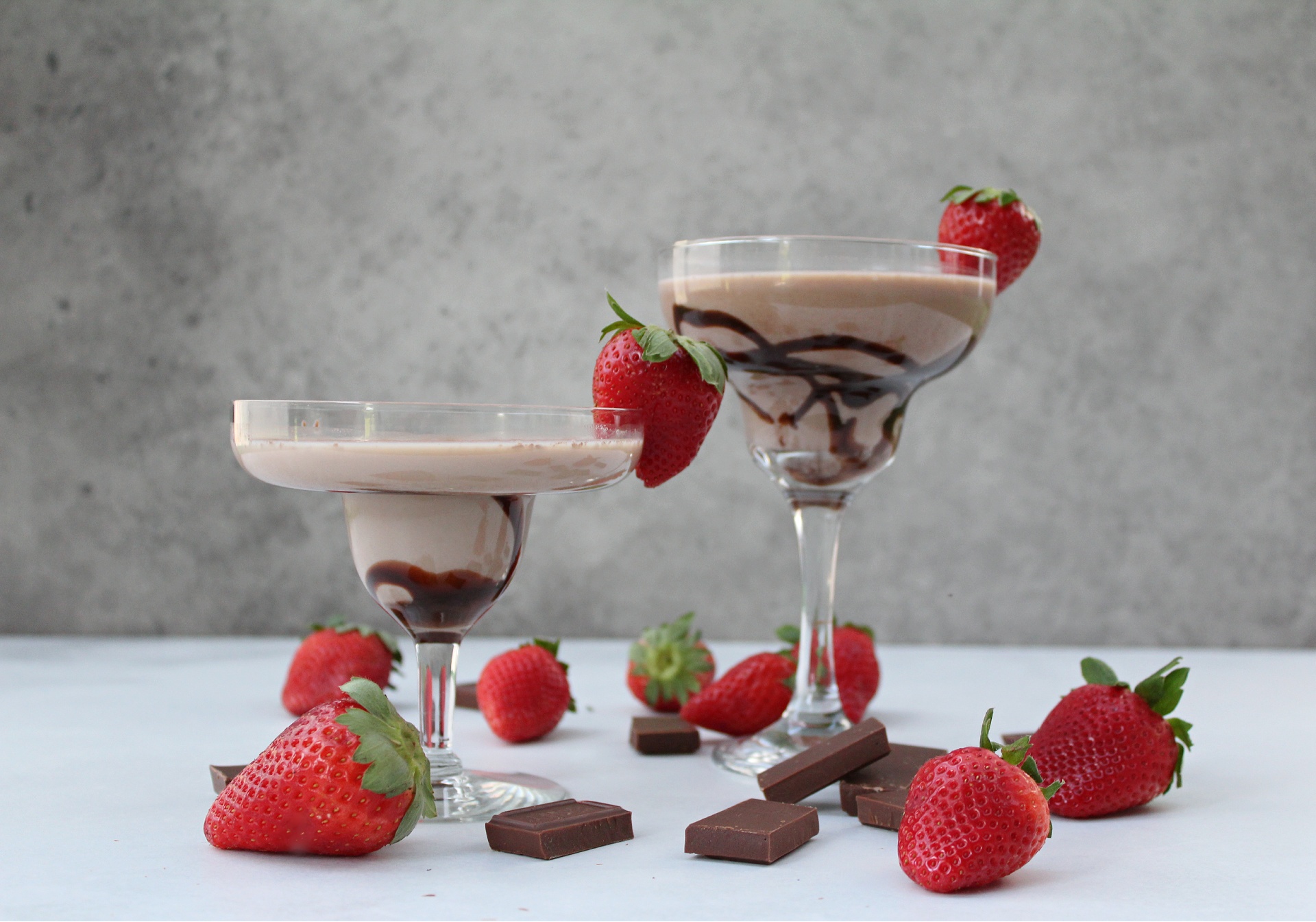 Here are a few of my other favorite mocktail recipes:
What are some of your favorite mocktail recipes?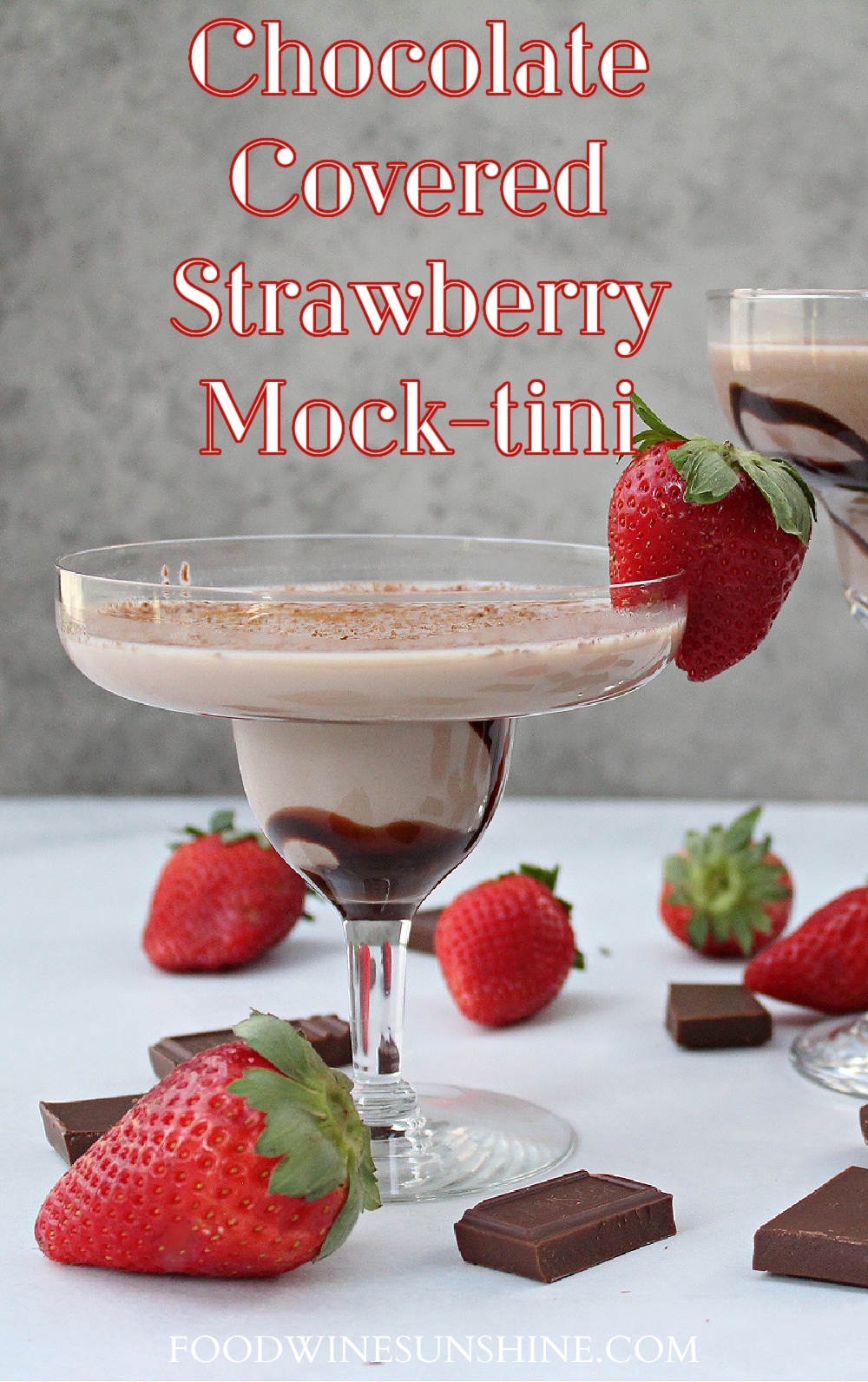 Be sure to check out Florida Milk for more dairy-licious recipes and follow on Instagram, Facebook and Pinterest.
And while you are at it, check out all the recipes on Food Wine Sunshine and follow on me Facebook, Twitter, Pinterest and Instagram for more FOOD WINE AND SUNSHINE.