(Last Updated On: February 2, 2021)
Get a taste of Disney Magic Moments at home with this Disney Park Churro Bites recipe. These magical churros are easy to make and absolutely delicious!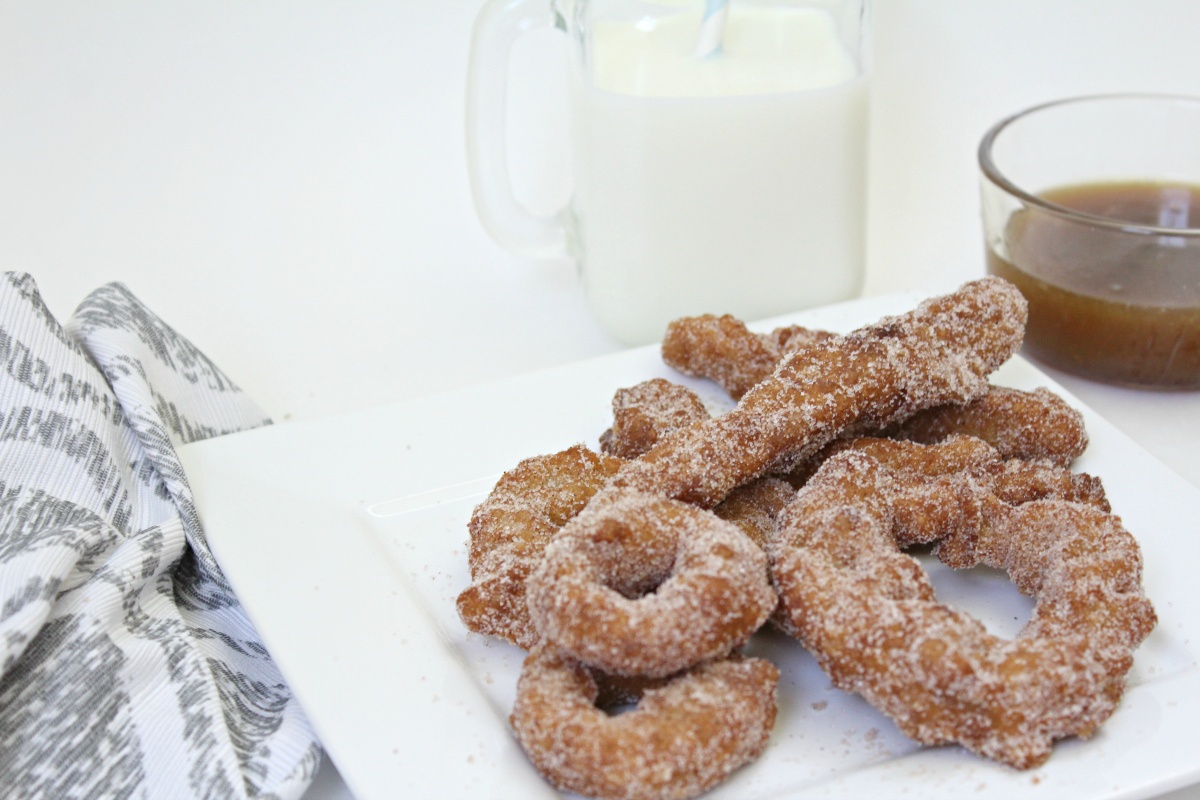 Copy Cat Disney Park Churros
Living in Florida has many advantages. We are sunny and warm almost all year round. We have some of the world's most incredible theme parks within driving distance. We can see Mickey Mouse just about whenever we want to…I mean, does it get any better than that?! Well, expect when we can't visit our favorite theme parks. Since Disney Parks are at lessened capacity at the moment, I know we are all missing our favorite Disney magical moments and of course, our favorite Disney eats and treats.
So, when the fabulous folks at Disney emailed me their famous churro recipe, I knew we had to recreate it at home as soon as possible. My daughter and son were so excited they even helped make these Copy Cat Disney Churros. This recipe is inspired by the delicious snack that can be found at all of Disney parks across the globe.
This Disney churro recipe serves four people, but we doubled it and gave a batch to our friends. It is a perfect snack to enjoy while spending some quality family time together, maybe while watching your favorite Disney movie 🙂
We had all the ingredients at home to make these yummy Disney churros, we even made my easy homemade caramel sauce for dipping. SO GOOD.
What we didn't have was a big enough star tip for our piping bag. All of our tips were more for frosting, so after a couple attempts of trying to the churro dough out of the frosting tips to create the world's smallest churros, we gave up and got a little more hands on 😉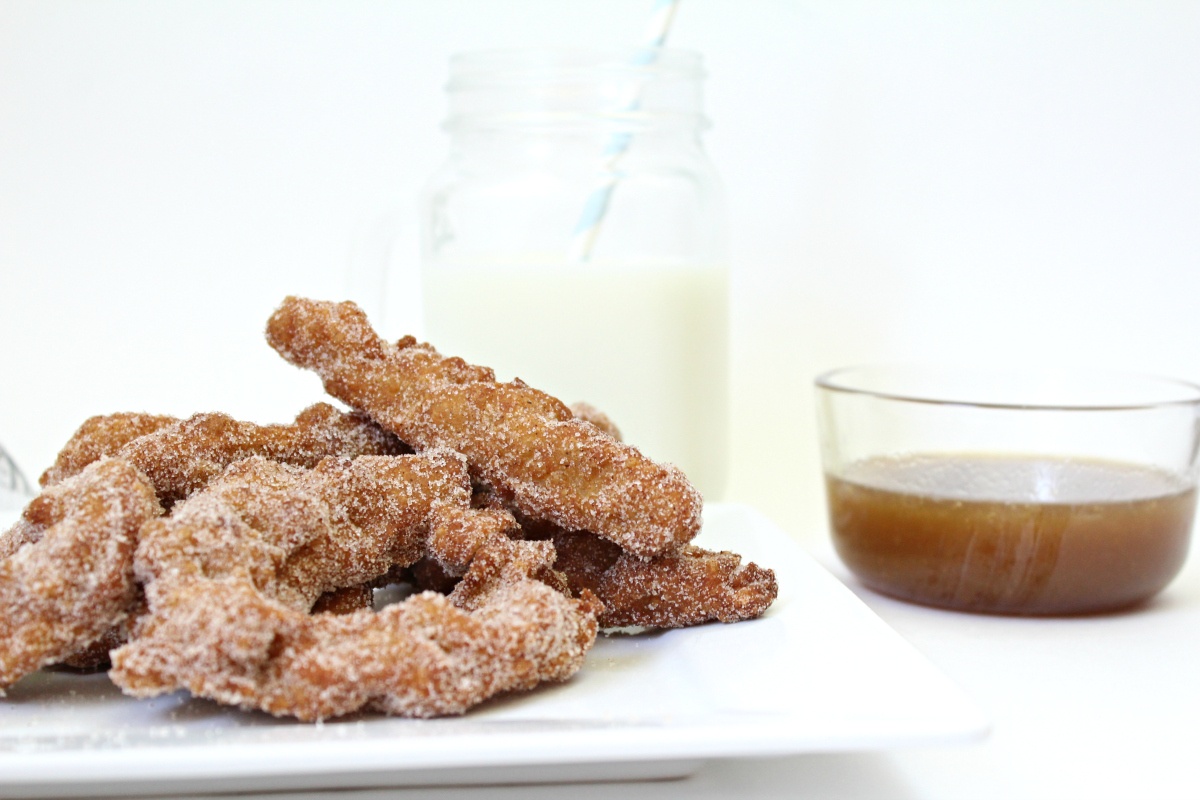 My daughter and I were in charge or making the churros into whatever shape we wanted. We tried making hearts, circles, sticks and then we decided that the typical donut shape was the easiest. It also cooked really evenly that way. If you end up making your own shapes as well, just be sure to keep the dough thin (think of the thickness of a churro) because if you make it too thick, it will take longer to cook.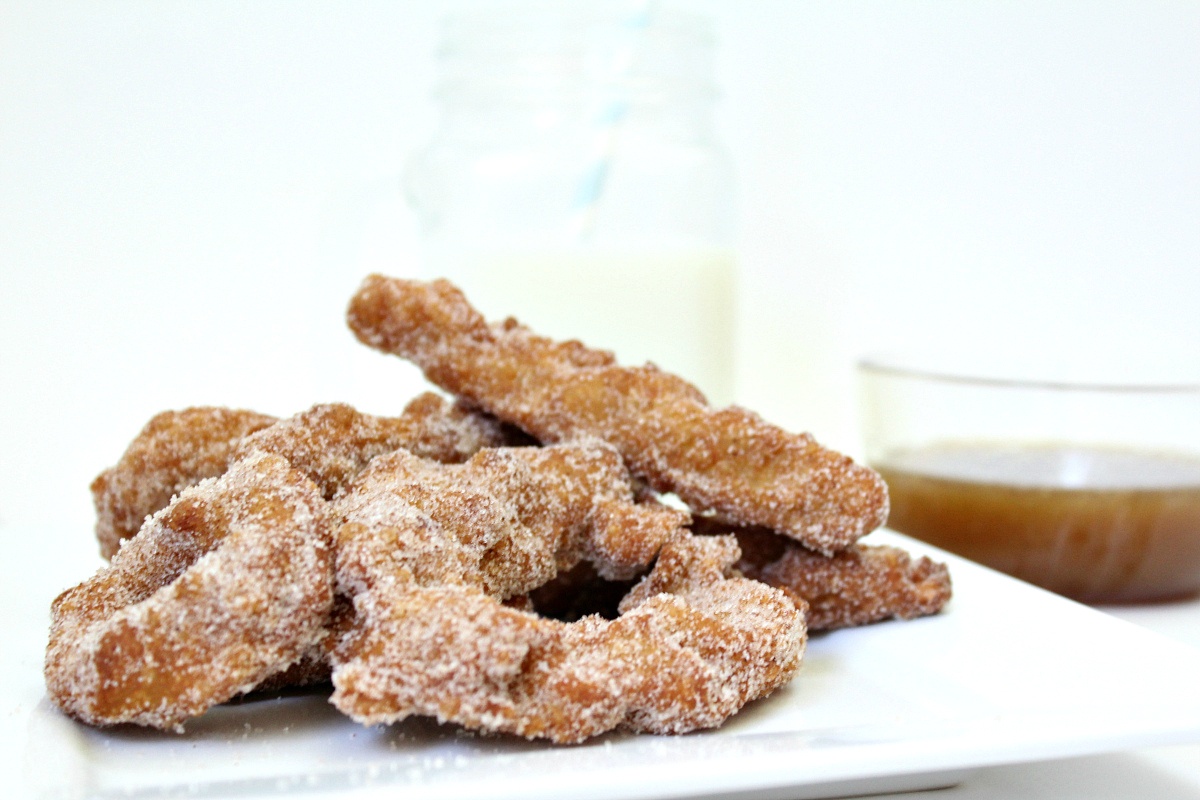 When we made our Copy Cat Disney Churros, my daughter was in charge of making the shapes, I was in charge of the frying, and my son was in charge of coating our churros in cinnamon sugar. We actually had a lot of fun making these together and we did decide that they were almost as good as Disney's. I think if we were eating them at Epcot standing outside of Mexico, we would have decided that they were exactly the same. Something about that Disney Magic that just makes everything just a bit better.
Speaking of Disney magic…this is how their Churro Bites turned out: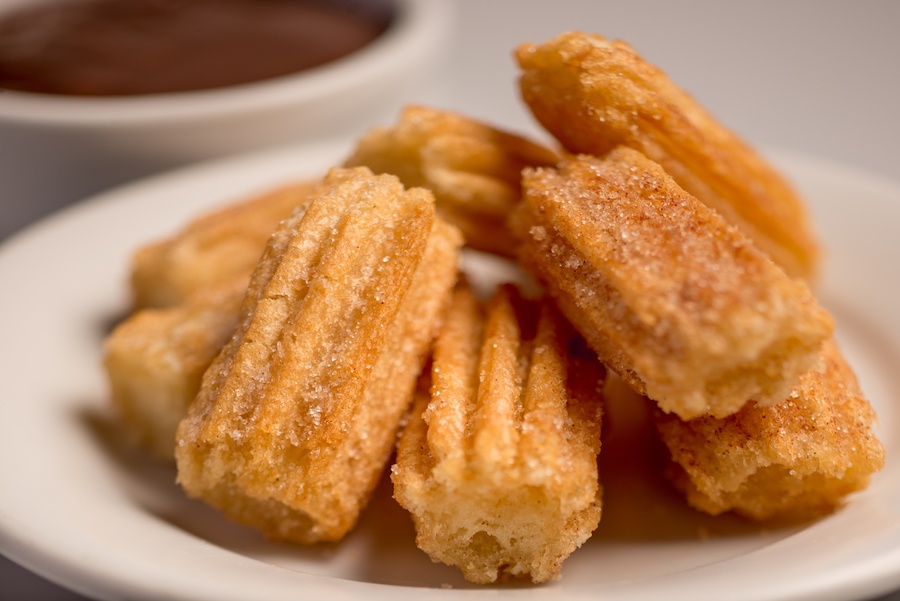 You can watch the Disney crew make Disney Churro Bites here:
And this is how ours turned out: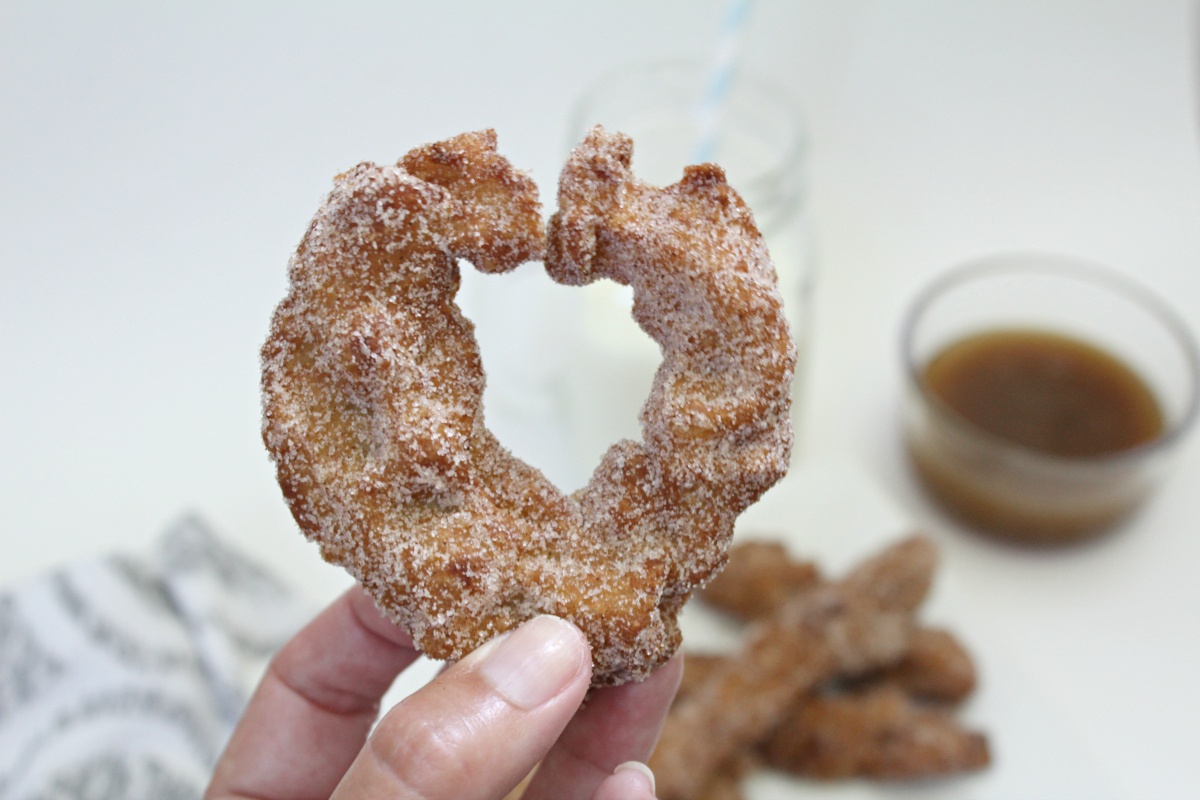 We weren't quite as fancy, but I promise you, no matter what shape yours are in, they will still taste like a Disney Magical Moment.
Now, here is the Copy Cat Disney Parks Churro Recipe. Be sure to Print It and Pin It so that you can make them again and again.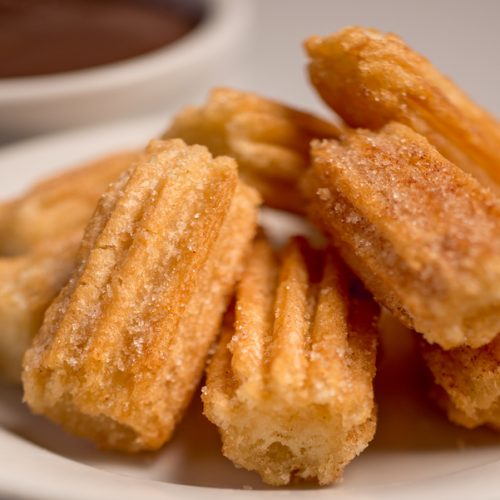 Copy Cat Disney Churros
Bring a piece of the Disney Magic home when you make these Disney Churros. This is an official Disney recipe! Enjoy the Magical Moments.
Print
Pin
Rate
Ingredients
1

cup

water

8

tbsp

butter

1 stick

¼

tsp

salt

¾

tsp

ground cinnamon, divided

1¼

cups

all-purpose flour

3

eggs

1½

cups

vegetable or canola oil

I used Corn Oil

½

cup

sugar
Instructions
Combine water, butter, salt, and ¼ teaspoon cinnamon in 1 ½-quart saucepan over medium heat. Bring pot to rolling boil.

Add flour and stir vigorously until mix forms a ball. Remove from heat and let rest for 5-7 min.

Add eggs, one at a time, and stir until combined. Set aside.

Heat oil in a medium skillet or 1-quart saucepan over medium-high heat or until temperature reaches 350˚.

Spoon dough into a piping bag fitted with large star tip.

Pipe 1-inch strip of dough over saucepan, cut with knife, and drop into hot oil.

Repeat until churros fill saucepan with room to fry.

Fry churro bites until golden brown. Approx 1-2 minutes

Remove with slotted spoon or mesh spider strainer.

Place churro bites on paper towel. I placed paper towel over a cooking rack and placed on that churros there to cool.

Mix sugar and ½ teaspoon cinnamon in medium bowl.

Toss in churro bites until coated.

Place on serving plate and serve with favorite dipping sauce. We made caramel sauce.
Notes
We didn't have a large enough star tip so we were unable to use the piping bag to make our churros, so we simply used our hands and formed the dough into bite-sized shapes.  The shapes we made varied from sticks, to circles, to donut-shapes.
We didn't have a thermometer to tell us when the oil reached 350 degrees, so I waited until I saw one or two bubbles starting to form in the oil and slowly dropped our churros into the oil.  If you are using your hands, BE VERY CAREFUL, THE OIL IS VERY, VERY HOT.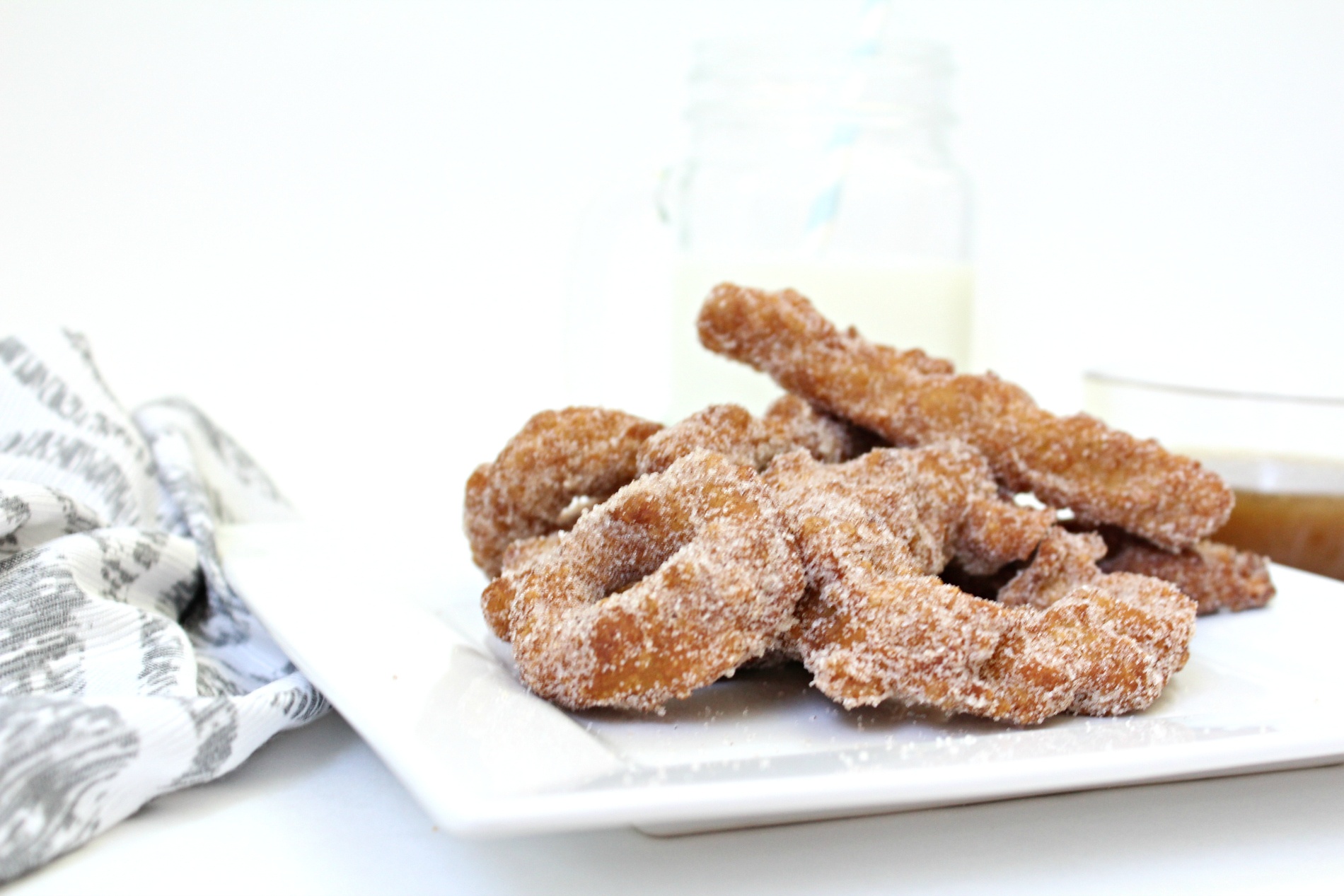 I hope making these Disney Churros at home brings you a bit of Disney Magic. It definitely did for us.
We had our Disney Park Churros for dessert and breakfast…we decided that they were magical at any time of the day!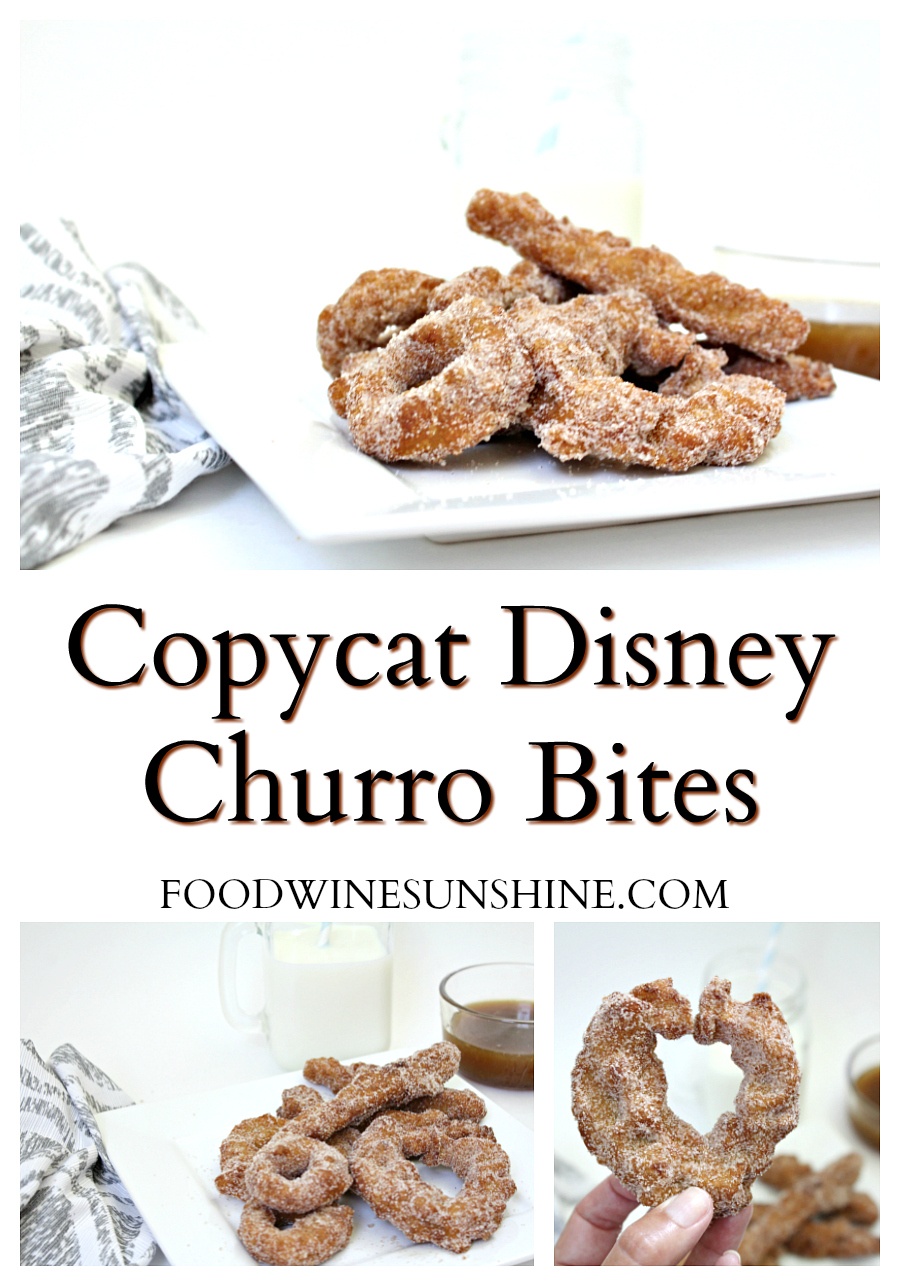 What is one of your favorite Disney Park treats?
Be sure to find more Food Wine Sunshine and follow me on Facebook, Twitter, Pinterest and Instagram.