(Last Updated On: July 6, 2019)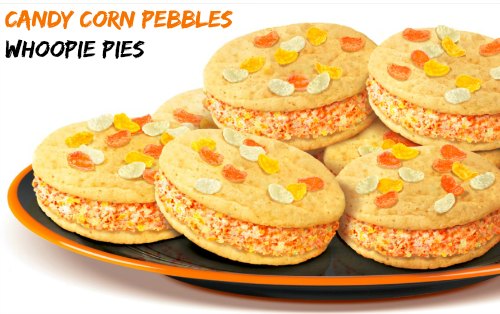 Candy Corn Whoopie Pie Recipe – Made With Pebbles!
I love Halloween – there are so many fun recipes and crafts out there to try and have fun with! Have you guys seen Candy Corn Pebbles™ in stores yet? The new Limited Edition Candy Corn Pebbles is definitely fun and festive, that's why I thought you would enjoy this colorful recipe from Post Cereals 🙂
Candy Corn Whoopie Pie Recipe – Made With Pebbles!
Author:
Ingredients
Candy Corn Pebbles Cookies Ingredients:
1/2 cup butter, softened
1 cup sugar
1/2 tsp baking soda
1/4 tsp salt
1 egg
1 tsp vanilla
2 cups all-purpose flour
1/2 cup buttermilk
1-2 Tbsp. Candy Corn Pebbles cereal
Candy Corn Pebbles Filling Ingredients:
1/2 cup butter, softened
1 cup powdered sugar
1/2 cup ground Candy Corn Pebbles cereal
1/2 cup marshmallow fluff
1 tsp vanilla
Instructions
Preheat oven to 350 degrees F.
Line two baking sheets with parchment paper, or use ungreased whoopie pie pans.
In a large bowl of an electric mixer, beat butter on medium to high speed for 30 seconds.
Add sugar, baking soda, and salt. Beat until combined, scraping bowl occasionally.
Beat in egg and vanilla until combined.
Alternately add flour and buttermilk, beating on low speed after each addition just until mixture is combined.
Drop dough by rounded tablespoons into the wells of the whoopie pie pan or 2 1/2 inches apart onto cookie sheet.
Sprinkle Candy Corn Pebbles cereal in the center of half of the cookies, if desired. (The cookies without the cereal will be the bottom half of the whoopie pies, the cookies with the cereal will be the tops.)
Bake about 7-8 minutes or until edges are firm.
Cool on cookie sheet for 2 minutes.
Transfer cookies to a wire rack; cool completely.
While the cookies are cooling, prepare filling.
In a large mixing bowl of electric mixer, combine butter, powdered sugar, crushed cereal, marshmallow fluff, and vanilla.
Beat on medium speed until smooth.
Refrigerate until ready to assemble cookies.
Spread the bottom of one of the cookies with the filling.
Place another cookie on top of the filling, bottom side down. (Use the cookies with the Candy Corn Pebbles as the tops of the whoopie pies.)
Notes
Makes 24 whoopie pies. Store, covered, in the refrigerator for up to 1 week.
Don't forget to check out some of my Fall Favorite recipes too:
Oh, and the Milk Jug Pumpkin Craft is always a favorite 🙂