(Last Updated On: September 5, 2019)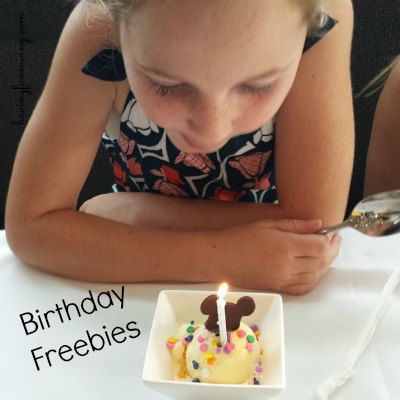 Birthdays Freebies

My birthday is this month and I happen to be going to the mall today to cash in on some of my birthday freebies! There are all sorts of fun freebies available for your birthday – so for this week's Frugal Family Fun post I thought I would share a list that I have been working on. If you know of any others – please let me know and I will add them to the list, as I have been continually adding to this one!
Here's a FUN list to help celebrate your Birthday:
Victorias Secret – I usually get a $10/$10 purchase coupon mailed to me the month of my birthday
White House Black Market – I got a $10/$10 purchase coupon mailed to me the month of my birthday
Starbucks – FREE Drink of your choice for your birthday – you must register your Starbucks card.
Applebees – FREE appetizer with purchase of meal when you sign up to receive their emails; FREE dessert with purchase of an meal for your birthday
Bob Evans – Sign up so your child can receive a FREE Kids Meal for their birthday month
Red Robin – Kids get a FREE Kid's Meal, but us adults get a FREE Burger.
Bonefish Grill – FREE Bang Bang Shrimp or Jen's Jamaican Coconut Pie for your birthday
Arbys – FREE regular roast beef sandwich with drink purchase when you sign up for their email club, plus you get FREE 12 oz shake with any purchase for your birthday
Denny's – FREE Grand Slam Breakfast
Baskin Robbins – FREE Treat
Burger King – Sign up so your child can receive a FREE BK® kids hamburger meal on their Birthday
Beef O Brady's – I got a FREE personal size cheese pizza this year
BJ's Restaurant – FREE Pizookie
Chevys – FREE Entree
Maggiano's – $10 off $30 the month of your birthday when you join their e-Club
Moe's Southwest Grill – Sign up and FREE cup of queso, and get a FREE meal for your birthday
Olive Garden – FREE appetizer or Dessert wyb 2 entrees when you join their eClub
Driscoll's Berries – You will receive a $.50/1 coupon e-mailed to you the month of your birthday if you sign up for their e-mails
Old Navy – You'll get a $10/$50 coupon e-mailed if you sign up for their e-mail club. I get one of these for me and the kids get them too!
Barnes & Noble – For signing up with the Kids Club – you're little one will get a FREE cupcake or other homemade treat and a digital copy of a book!
AMF Bowling – FREE Bowling
DSW Shoe Warehouse – $5.00 off a purchase
Chuck e. Cheese – Kids get FREE 20 tokens coupon
World Market – FREE Birthday Gift
Kmart Birthday Club – Kids receive $5 birthday bucks, birthday crown, Happy Birthday certificate, and a birthday fun pack with surprise goodies
Ann Taylor – If you happen to be a Credit Card holder – you get a $15/$15 purchase – but you have to use your credit card…
Swagbucks – FREE 50 Swagbucks
Disney Movie Rewards – You get 100 FREE Disney Movie Rewards!
Best Buy – 10% off one item – valid the month of your Birthday…I am thinking I got this one because I am a Rewards Member
Betty Crocker – Coupon for 20% off at the Betty Crocker Store
Krispy Kreme – Krispy Kreme store offers a different birthday promotions, call your local store for more info
Longhorn Steakhouse –Join the Western Hospitality club and receive special offers plus a coupon for a free dessert on your birthday.
Joe's Crab Shack – FREE appetizer
Pizza Hut – Sign up for the Hut Lovers Email Program and receive FREE Cinnamon Sticks or Breadsticks with your online order during your birthday month.
Rainforest Cafe – Sign up for the Safari Club to get special offers throughout the year plus a special birthday coupon.
Ruby Tuesdays – Join the So Connected Email Club and get a coupon for a freebie on your birthday.
Sephora – Join the Beauty Insiders club and get a special gift on your birthday
Sweet Tomatoes – Join Club Veg and get a FREE meal on your birthday
Smoky Bones – FREE dessert. You also get a $10 off $20 purchase when you sign up for the Bones Club.
Village Inn – Sign up for their eClub and get a FREE slice of pie with an adult entree purchase plus a special offer for your birthday.
Kohls – Sign up for their email program and get coupons throughout year plus a special coupon for your birthday. I got a $10 off coupon!
Jersey Mike's Sub – Sign up for the eClub and get bi-monthly emails with offers and you will be rewarded with a free sub & drink coupon valid for your birthday, sent out to your email a week beforehand
Medieval Times – BOGO coupon your Birthday month
Many of the chain restaurants and local restaurants participate in FREE dinners or desserts on your birthday, so make sure you look into that too! Usually it just requires showing an ID on your birthday or signing up for their e-mail alerts…Super easy 🙂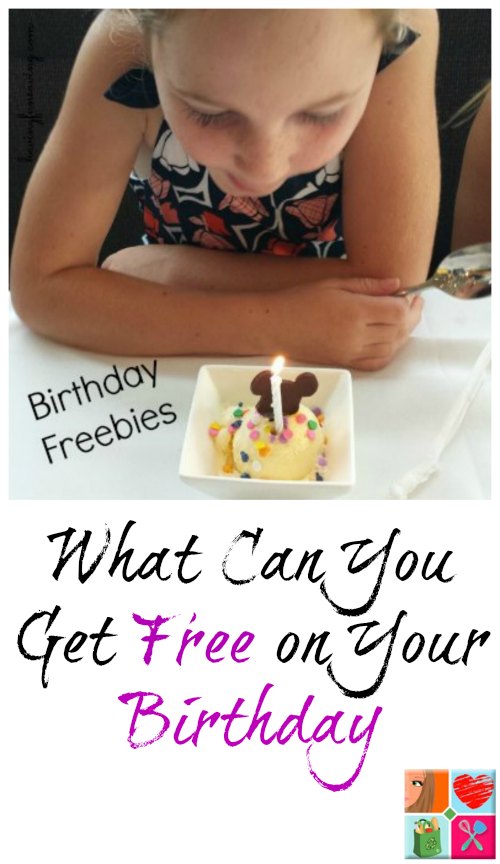 Know of any other FUN places that give birthday freebies? Please feel free leave them in the comments and I will get them added!
Have Fun Saving with your Birthday Freebies!
Be sure to check out Food Wine Sunshine on Facebook, Twitter, Pinterest, Google + and Instagram for more Frugal Family fun tips, healthy recipes, and more.