(Last Updated On: September 5, 2019)
Disclosure – I was provided with a gift card to go shopping at Kohl's. My opinions, my love for Kohl's, sales, deals, saving money, and shopping are 100% my own!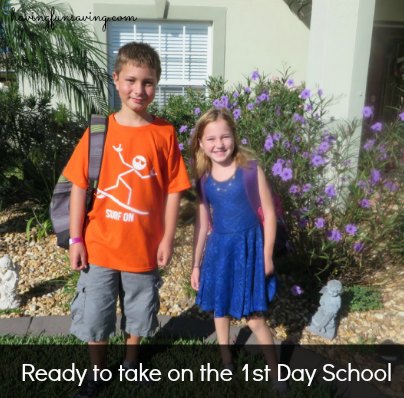 Make Back To School Shopping A Success With Kohl's
I am very fortunate that I work at home – basically wherever I can get WiFi I can work. And for the last several years, that means my kids and I spend most of the summer up in Michigan visiting all our family and friends that we don't get a chance to see any other time. We are very blessed that we get the chance to do this and we love every single minute! This year we didn't get home until the beginning of August, then we went to Orlando for a few days to visit my aunt. That means I had exactly 3 days at home to get my kids ready for back to school. THREE days. I don't know about you, but that thought totally stressed me out. Thank goodness my mom came back down with us for a few days to help out! I promised both the kids new outfits for the 1st Day of School and I needed to be cost-effective in my shopping and I needed a store that would have clothes that they BOTH would like so I didn't have to drive all over town or spend hours walking around a mall. I needed Kohl's.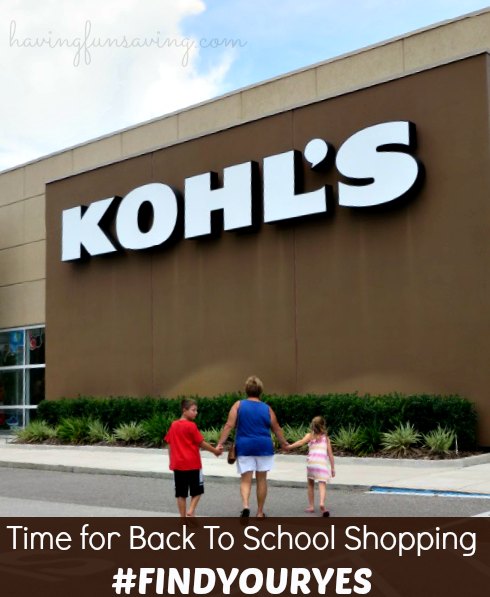 So, that's exactly where we went. Steven is 9 and Sadie just turned 7 and shopping with the two of them can indeed be challenging. Not because of their tastes in clothes, but we are at the age where they bicker, tease, and poke at each other CONSTANTLY so holding their interest shopping can be tough to say the least at times. But our shopping day went surprisingly well – I'm not saying they were angels, but Kohl's had everything they needed and the clothes that held their interest…so we had less in store wrestling 😉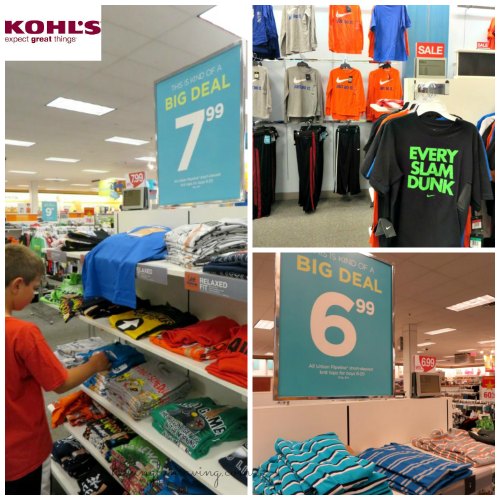 We first visited the boys section, Steven is at the age where he likes to pick out his own clothes. And for the most part, I let him 🙂 He also knows how to spot a bargain!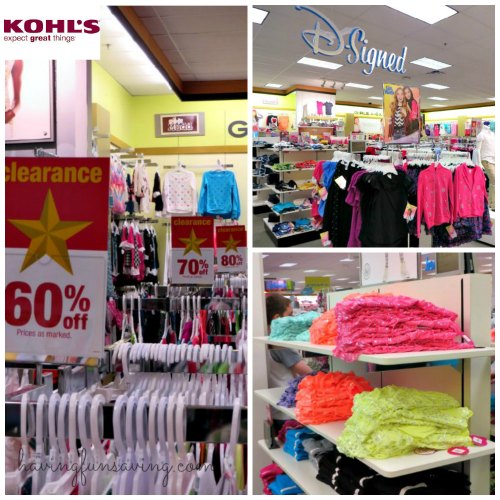 There were so many beautiful options in the girls department that Sadie needed a bit of help narrowing down her favorites!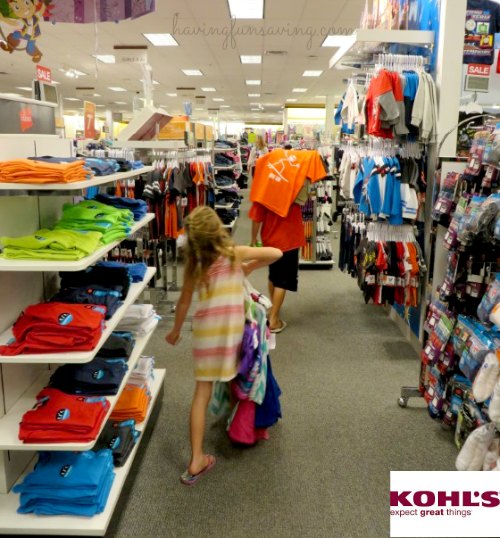 We finally narrowed down their choices to stacks they could carry to the dressing room.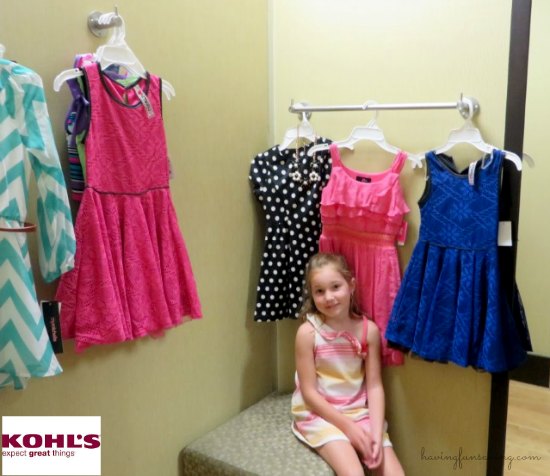 As you can see, Sadie's favorites were dresses. She loves dresses! And Kohl's had a LOT for her to choose from.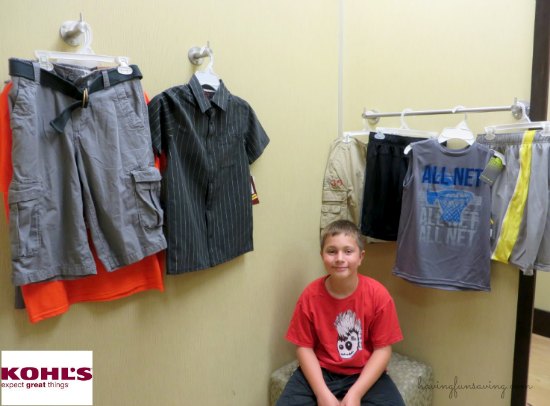 And Steven is my t-shirt and shorts kinda guy…I was super excited that I got him to try on (and got to buy!) that collared shirt.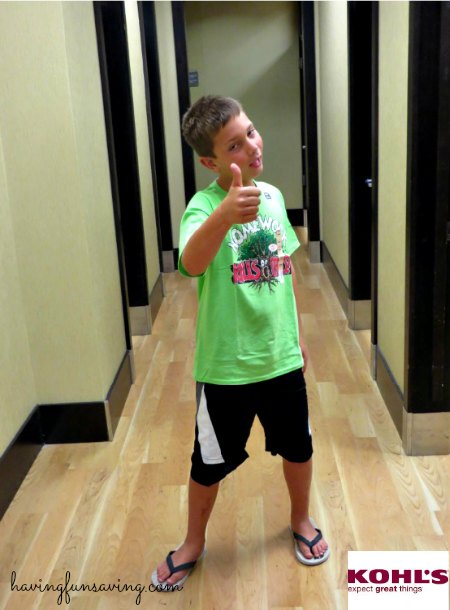 This is where our modeling session began! They had so much fun – their smiles were contagious to everyone walking in and out of the dressing room.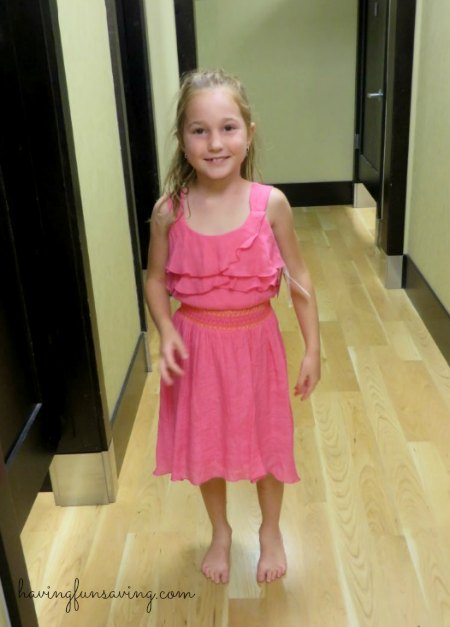 This pink dress was one of her favorites 🙂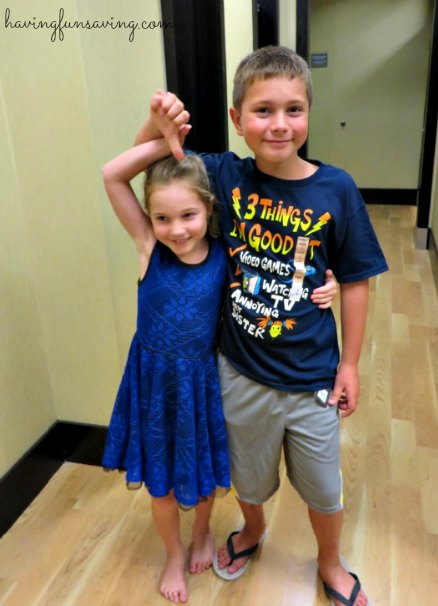 If you will notice my son is giving a "thumb's down", well it's not because of their outfits…we actually bought both of these…He is actually giving his sister a thumb's down….to which Sadie responded with a little bit of wrestling 😉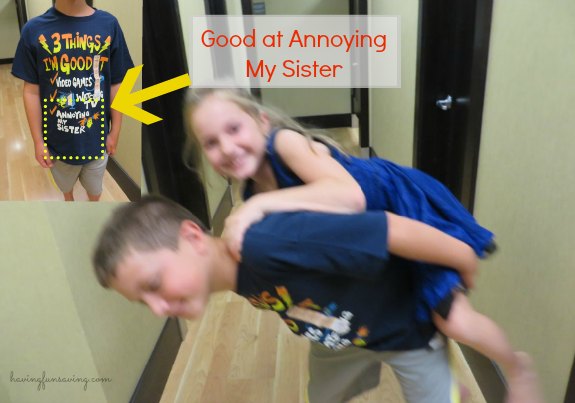 The shirt clearly states that he is "Good at annoying his sister" and I will definitely have to give him that 😉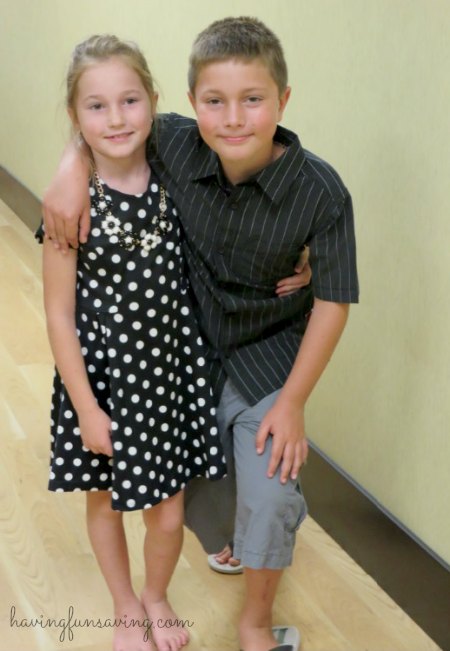 But they can also be super cute together…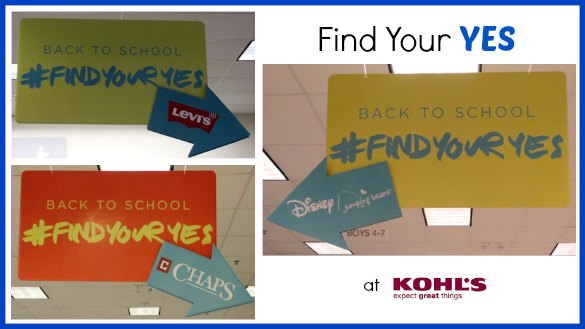 Looking for a specific brand, your kids love Disney, Nike, Levi's? Kohl's has your YES. Kohl's has all your favorite brands all under one roof! There is no need to spend hours driving all over town to get that Back To School Shopping done – you just need to visit one store. You need to visit Kohl's!
We got the kids a bunch of clothes, and we even found a thing or two for my mom and I marked down to 80% off! After using our 15% coupon code – we saved a total of $275.77! Plus we earned Kohl's cash! I love shopping at Kohl's 🙂
Looking for some Kohl's Coupon Codes? Don't forget about the ones I told you about earlier today here!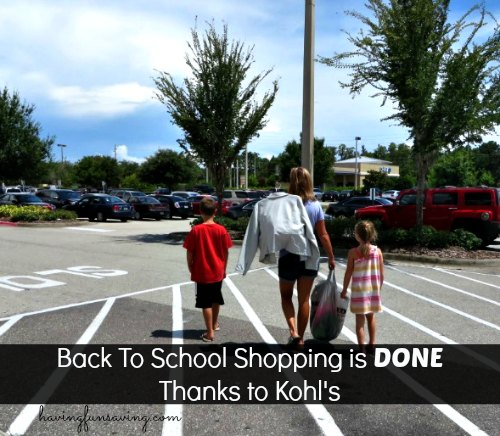 Make sure to stay up to date with Kohl's on Facebook, Twitter, Pinterest, and Instagram to stay up to date with sales, specials, coupons and more!
While you are at it – stay up to date with me too 🙂 Find Food Wine Sunshine on Facebook, Twitter, Pinterest, and Google +.
Why do you love shopping at Kohl's?