(Last Updated On: April 12, 2023)
Help do you part to reduce food waste and make this nutritious Zero Food Waste Frittata. Ready in under 30 mins, this frittata recipe is perfect for breakfast, brunch, lunch or dinner. While this post is sponsored by Florida Dairy Farmers, all opinions and the recipe are my own.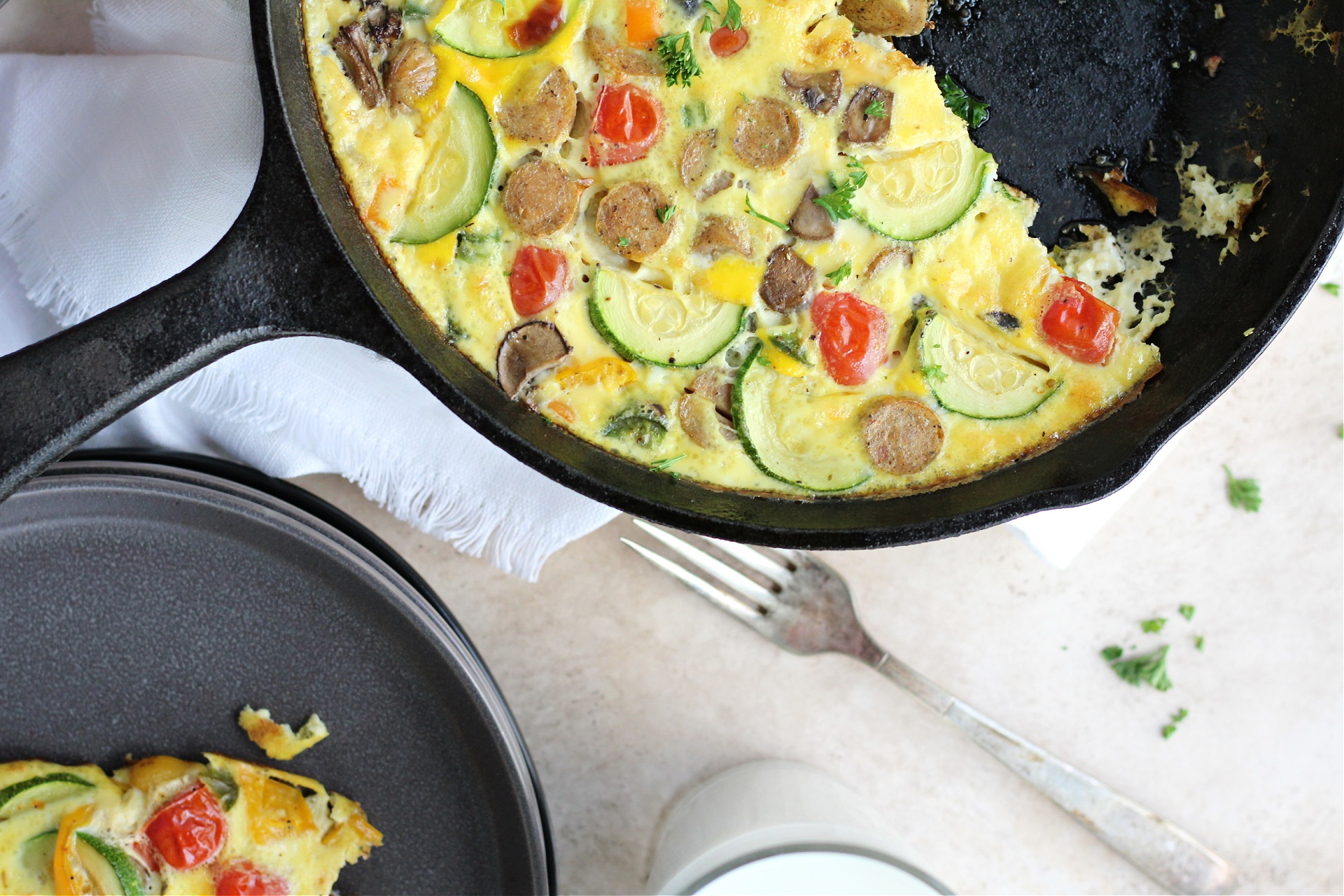 Zero Food Waste Frittata
There has been more and more talk about zero food waste lately. Are you familiar with what zero food waste means? Zero Food Waste means trying to leave behind as little (hopefully ZERO) leftover food and packaging.
That means using all parts of your fruits and vegetables, it means using up that last little bit of milk and creamer in the refrigerator, it means recycling as much as you possibly can. If you don't help to reduce food waste and recycle packaging, all of that ends up in landfills and eventually we are going to run out of room. I don't know about you, but I am hoping to leave a beautiful world for my grandkids and great grandkids to enjoy.
Living a zero waste lifestyle helps to reduce waste, pollution, and helps conserve resources.
I know it may seem hard to commit to being zero waste 100% of the time, but committing to do your part when you can will indeed help the environment.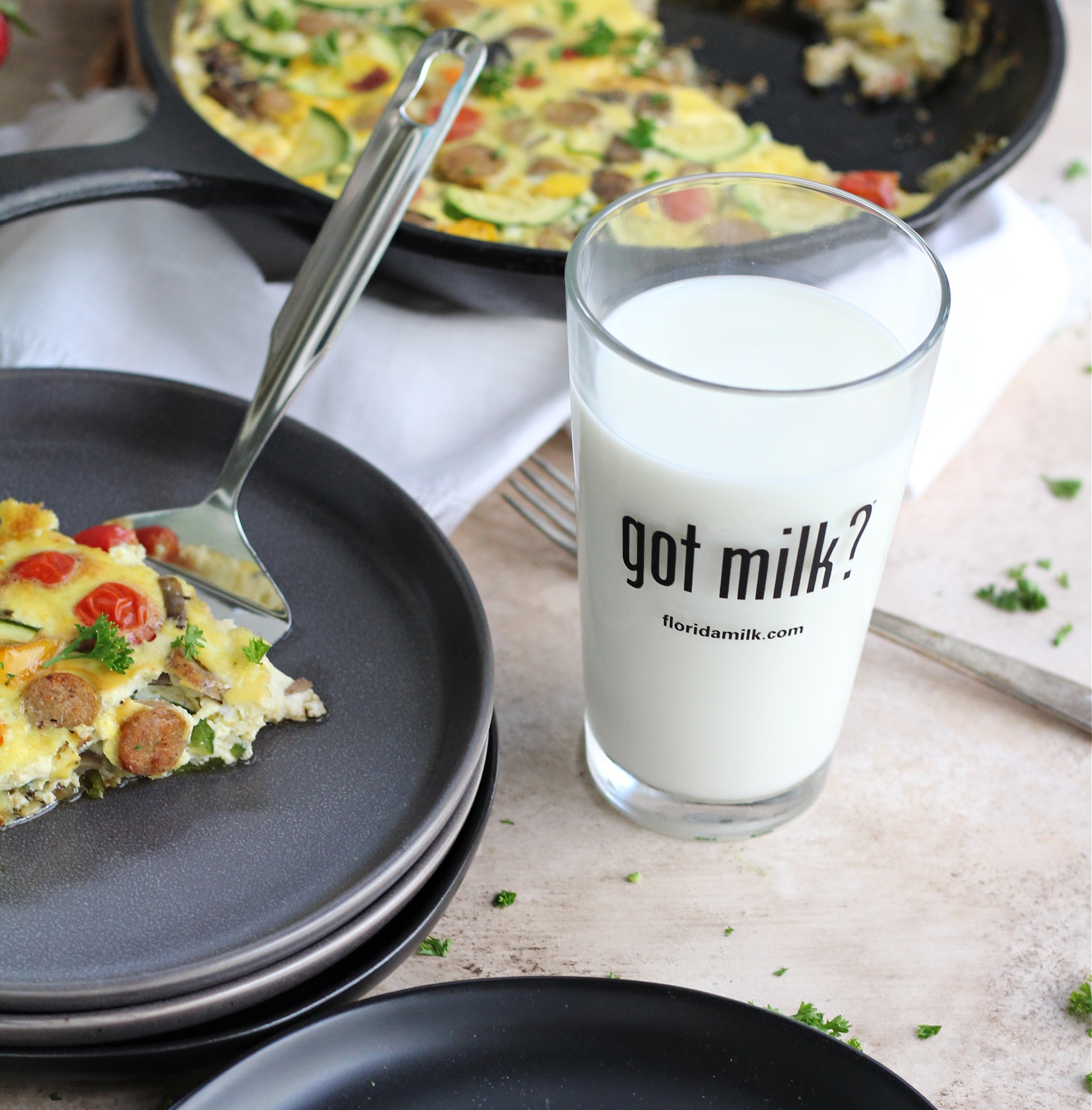 Maybe you commit to recycling more.
Maybe you commit to using more parts of your fruits and veggies. Did you know you could eat watermelon rind?
Maybe you commit to using all the milk in the fridge before it expires. Need ideas on how to do that? I got you! Here are 18 Ways To Use Up Milk.
Maybe you commit to eating all those leftovers in the fridge instead throwing them away.
Maybe you find recipes that encourage you to use items in the fridge to help reduce food waste.
Like my Zero Food Waste Frittata 😉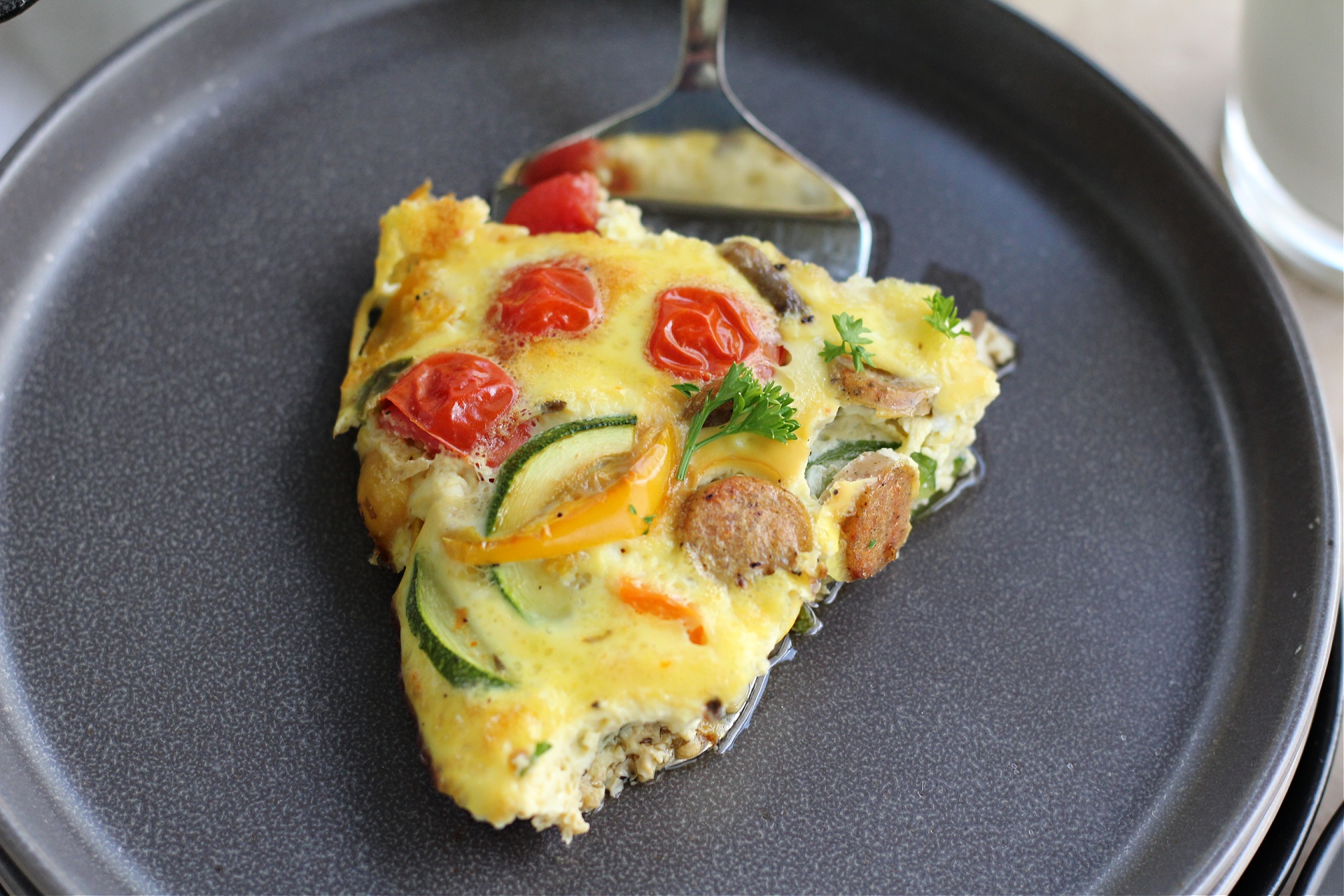 Why am I calling this frittata recipe a Zero Food Waste Frittata? Well, I opened up the refrigerator and grabbed out leftover veggies and some chicken sausage and used those.
We had leftover zucchini from dinner the night before, some cherry tomatoes from salads, onions and jalapenos from when I made those BBQ Beef Sliders, and my hubby bought mushrooms to make some fancy beef dish a few nights ago. Oh, and chicken breakfast sausage was BOGO at Publix and they are low in WW points, so I have been having one with breakfast but according to the package, you are supposed to use them within 3 days of opening.
So…..
I grabbed out all of the above, sauteed everything, and added eggs and Florida Milk to make an incredible Zero Food Waste Frittata. *You can use half and half if you have that leftover and are needing to use that up.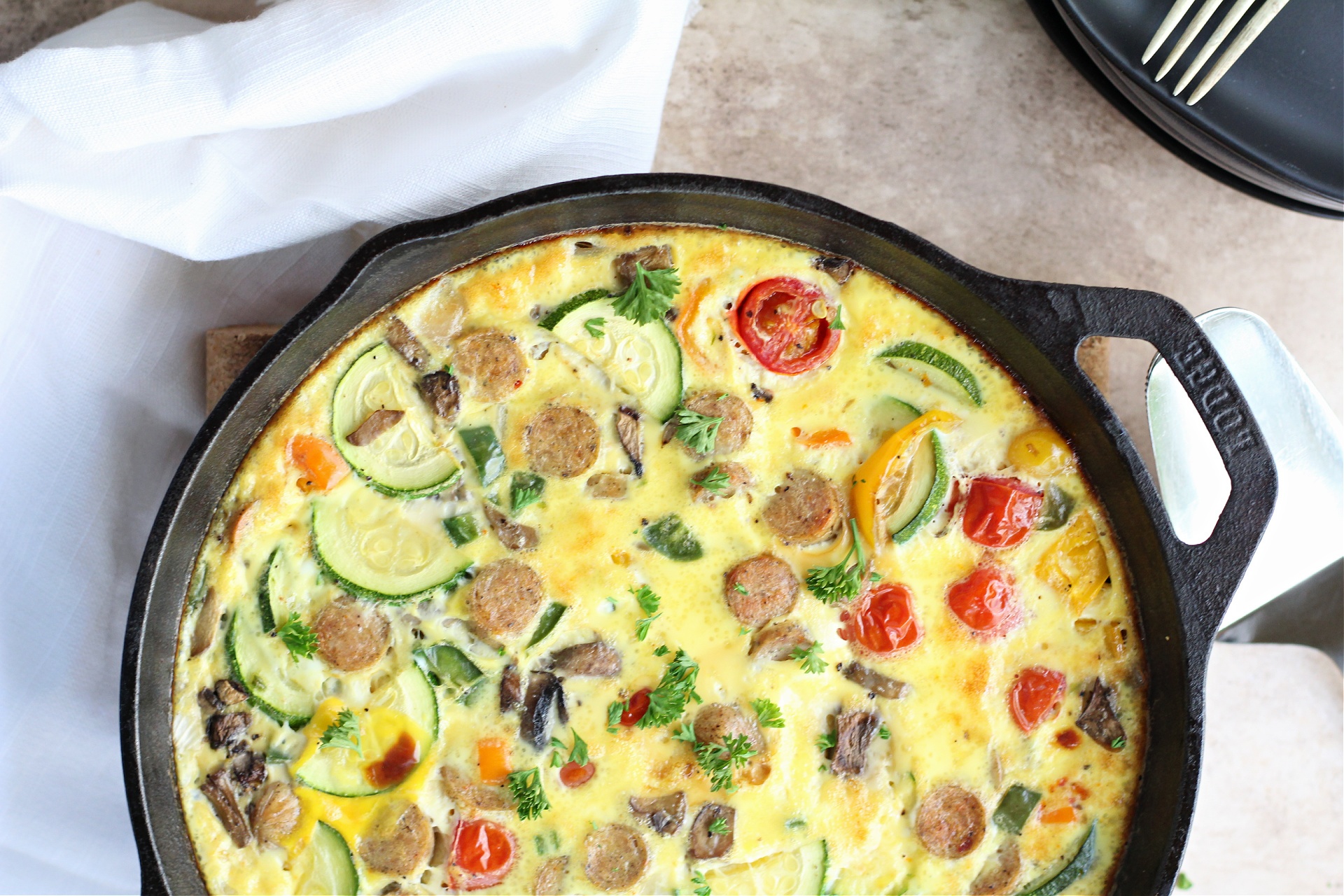 My frittata has about six servings, if you are serving it for brinner (breakfast for dinner) and serve it with a nice salad and some fruit, you may get 8 small servings.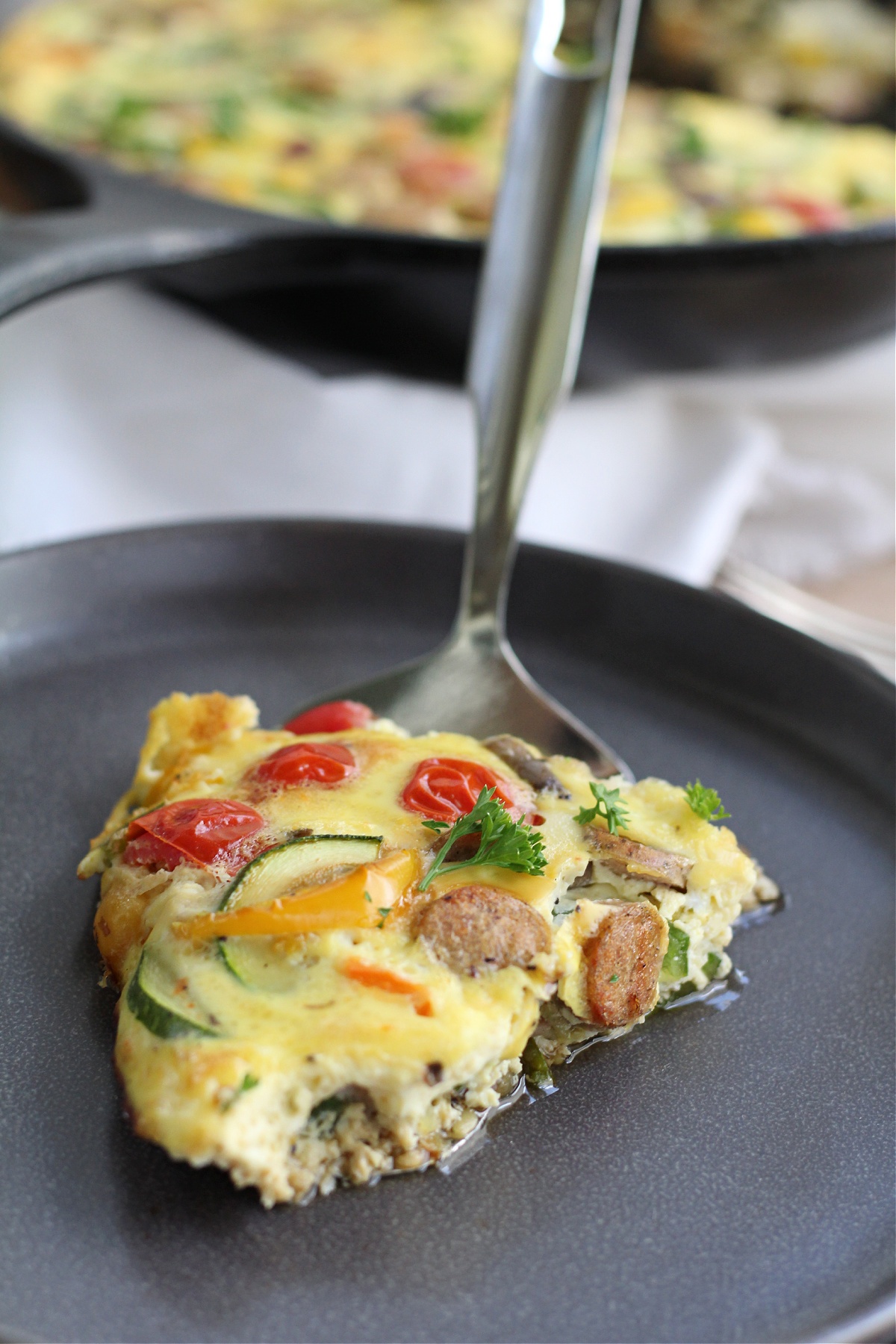 No matter how you slice it, I used produce that would have ended up in my trash or garbage disposal in a few days and created a nutritious meal that my whole family could enjoy. Not only did I help with zero food waste, but it didn't cost me a penny to make it…as I was using all the ingredients I had in the house. And I didn't have to drive to the grocery store, which is great because have you all seen gas prices?! Yikes!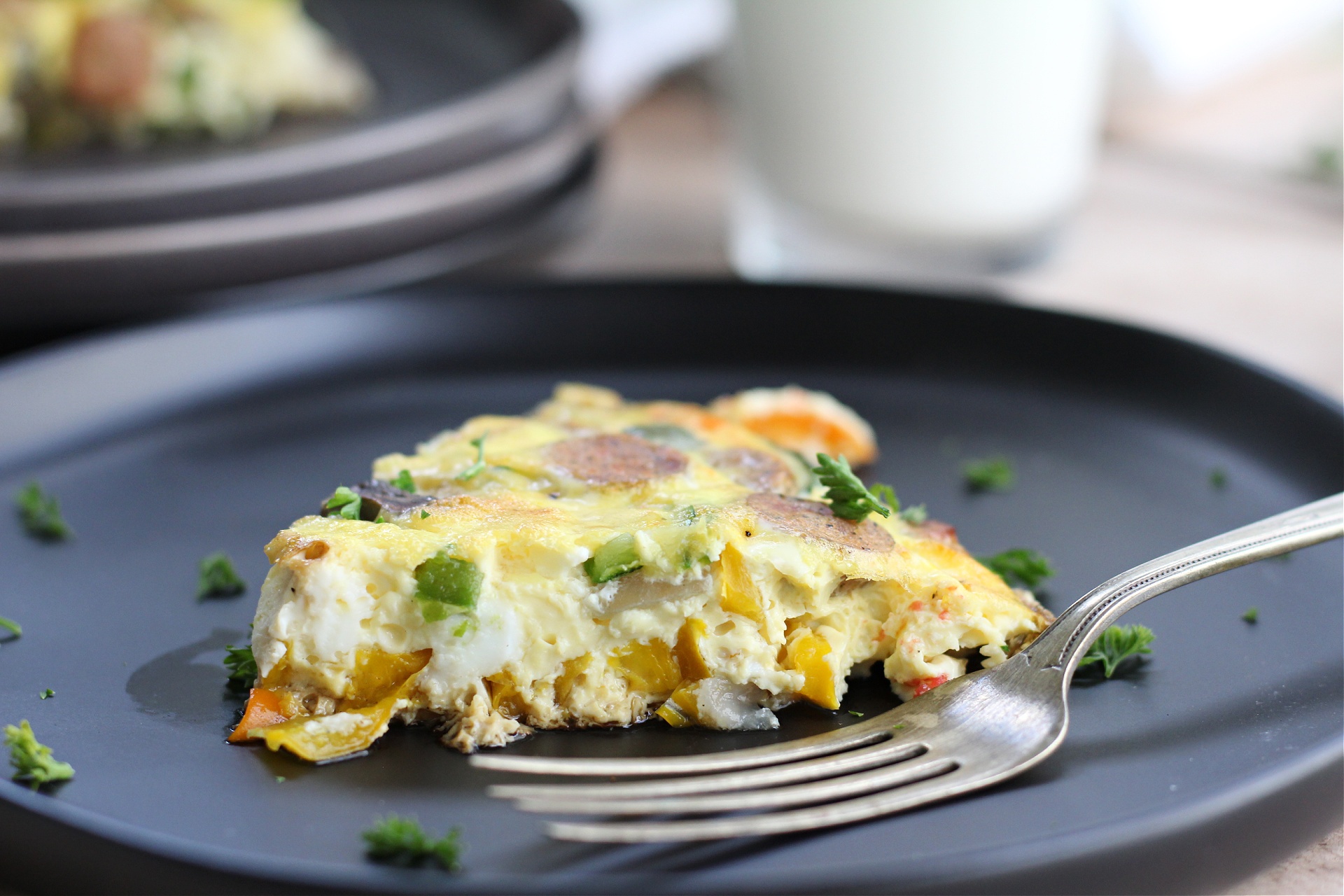 Another wonderful thing to mention about this Zero Food Waste Frittata recipe is that it's ready in under 30 minutes, making it an excellent option for breakfast, brunch, lunch or dinner.
Hopefully I have encouraged you to help reduce food waste…Did you know that 35% of food purchased ends up in the trash? UGH! Come folks, we can do better!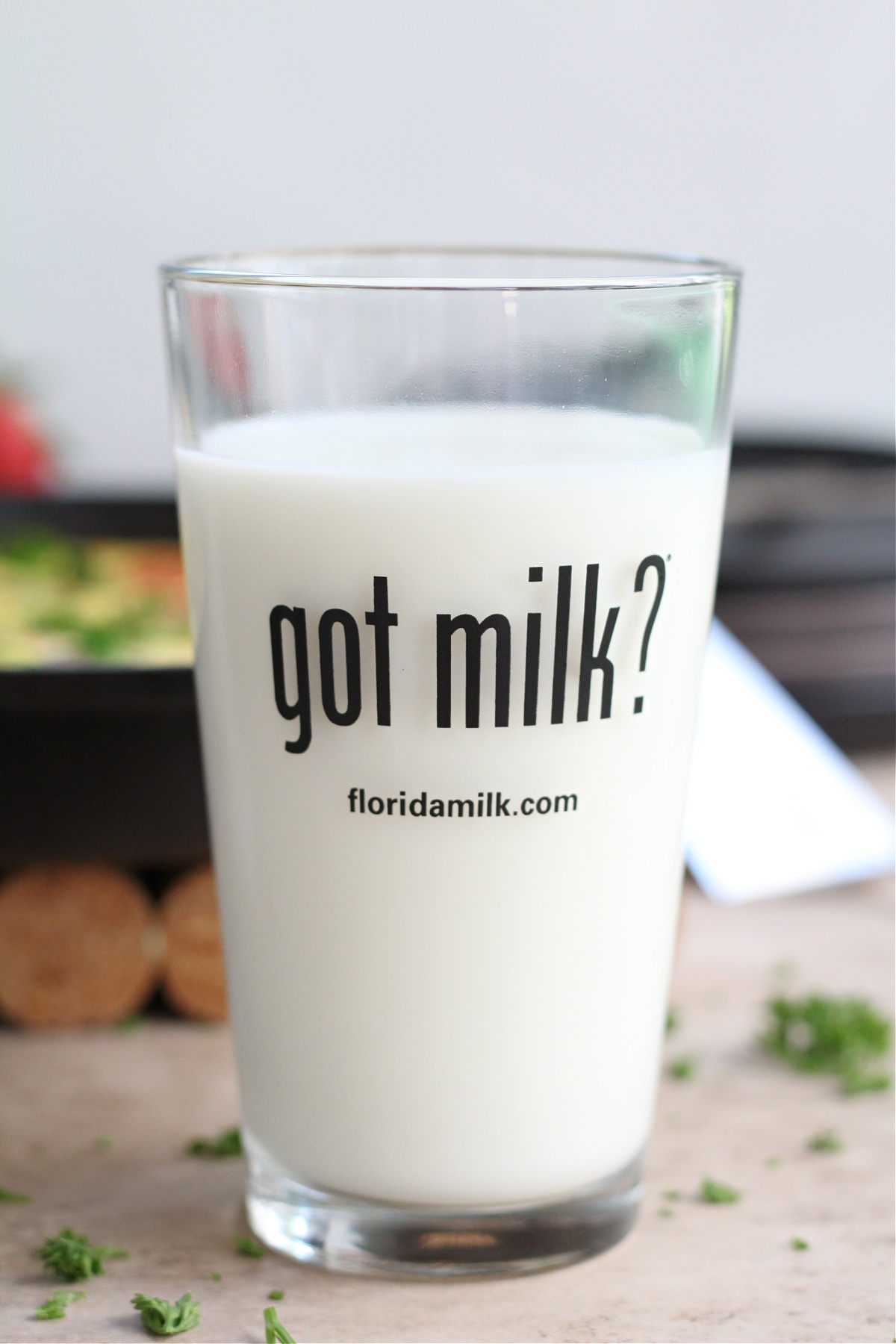 For Florida Dairy Farmers, sustainability is not only important, but it's a way of life. Dairy farmers not only care for those adorable and amazing dairy cows, but they care for the land. It's their livelihood! Their efforts are paying off too. Due to innovative practices in cow comfort, improved feed and genetics, and modern barn design, the environmental impact of producing a gallon of milk in 2017 shrunk significantly, requiring 30% less water, using 21% less land and garnering a 19% smaller carbon footprint than in 2007 nationwide. Read more about sustainability and Florida Dairy Farmers.
And let's start by making that Zero Food Waste Frittata, shall we? Open up the fridge, see what veggies you have hanging around, grab some Florida Milk and eggs and let's get cooking.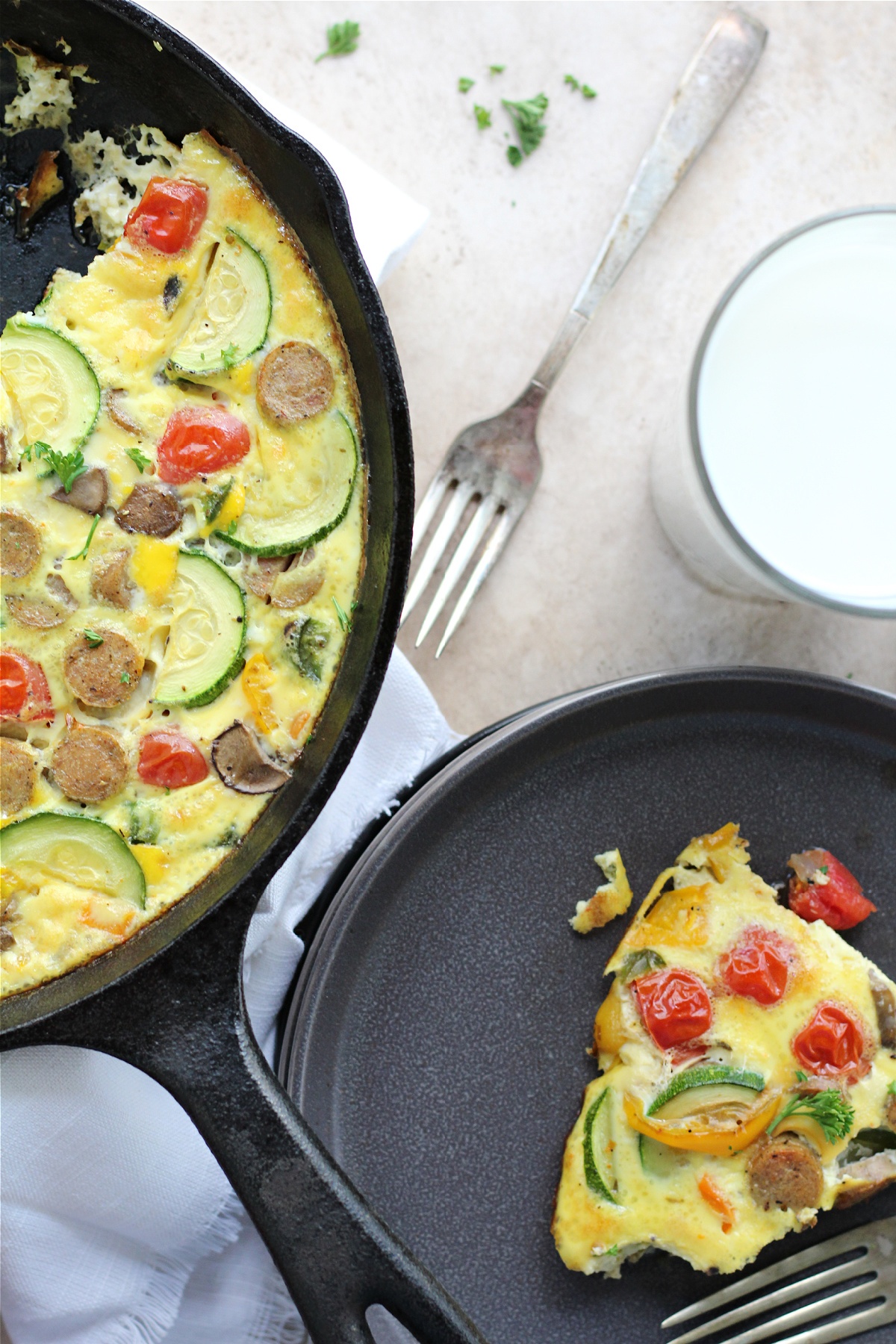 Here's my Zero Food Waste Frittata recipe, be sure to print it and pin it so that you can make it again and again.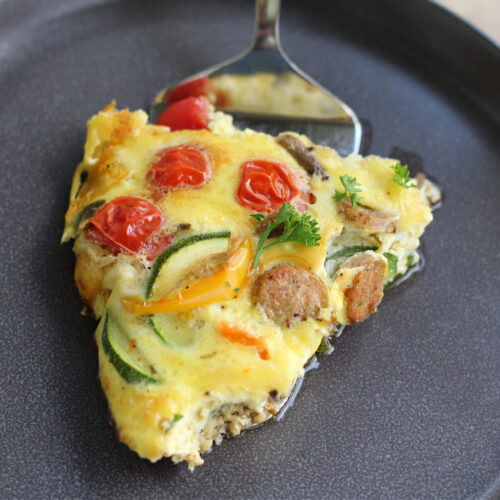 Zero Food Waste Frittata
Use up those veggies and milk sitting in the refrigerator and help reduce food waste by making this delicious frittata. Ready in under 30 mins!
Print
Pin
Rate
Ingredients
6

eggs

1

cup

Florida Milk – I used 2%

1 – 1 1/2

cups

diced veggies

I used mushrooms, mini sweet peppers, cherry tomatoes, zucchini, red onions and jalapenos

1/2

cup

meat of choice

I had 3 breakfast chicken sausages so I used those!

Salt, pepper and seasonings to taste
Instructions
Preheat oven to 400 degrees

Clean and dice all veggies

Warm an oven-safe skillet, I used cast iron

Saute vegetables and sausage

While vegetables and sausage are cooking, mix 6 eggs and the milk in a small bowl

Once the vegetables are soft, gently pour in the milk/egg mixture to the skillet

Bake for 15-18 mins until eggs are thoroughly cooked and top is slightly brown

Serve with fresh fruit and a glass of Florida Milk
Notes
I didn't add in the nutritional info on this one because the idea is for you to use what's in YOUR fridge! I will tell you that mine was about 1 WW point, so very healthy and very delicious.
Open your fridge and make something delicious today to help reduce food waste.
We also had some leftover parsley from that fancy beef recipe my hubby made, so I used that as garnish. Feel free to use basil, thyme, cilantro or whatever you have for serving if desired.
I hope you enjoy this Frittata recipe as much as we do!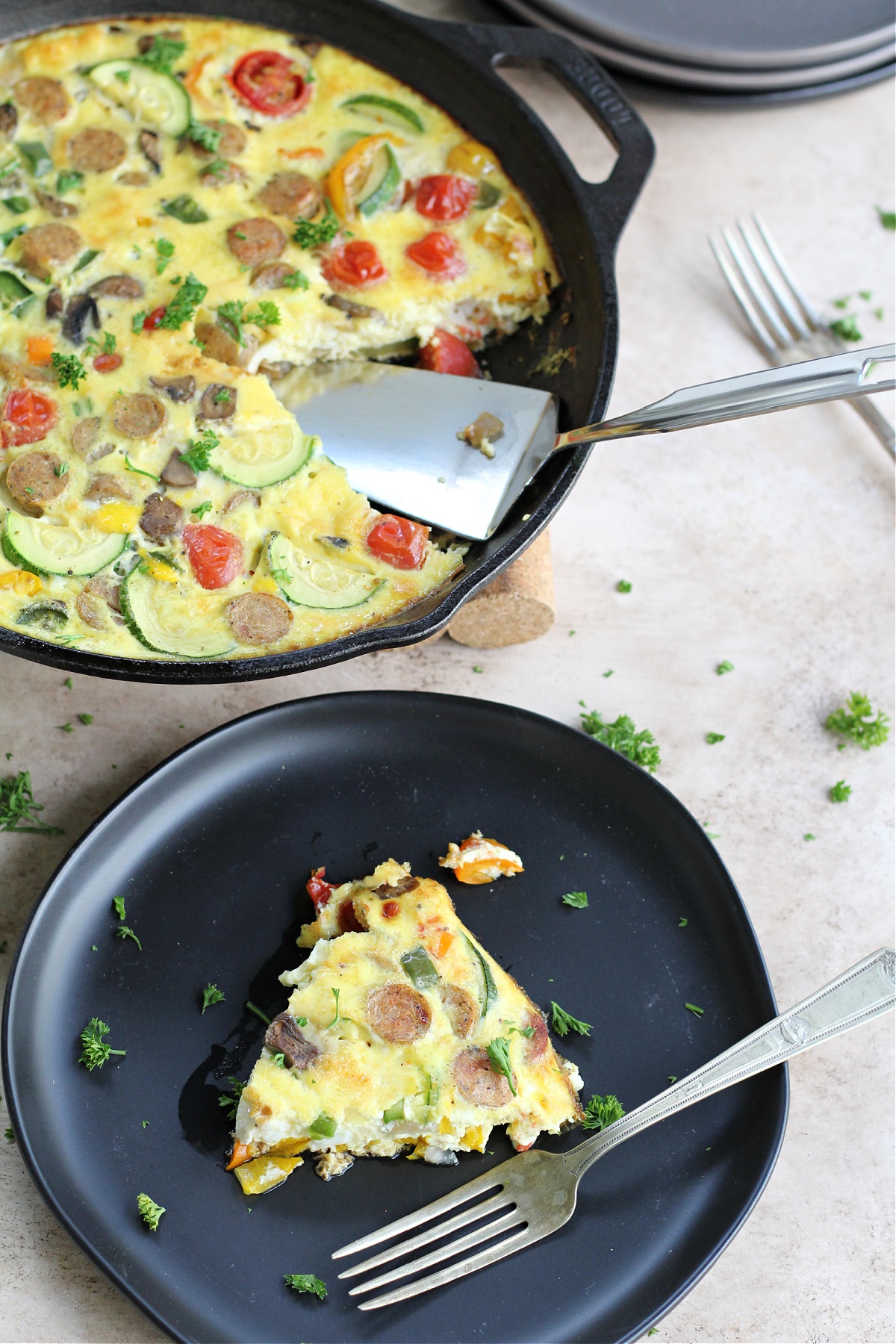 Did you know that food waste was such a big issue? How will you do your part to help reduce food waste?
Be sure to check out Florida Milk for more dairy-licious recipes and follow on Instagram, Facebook and Pinterest.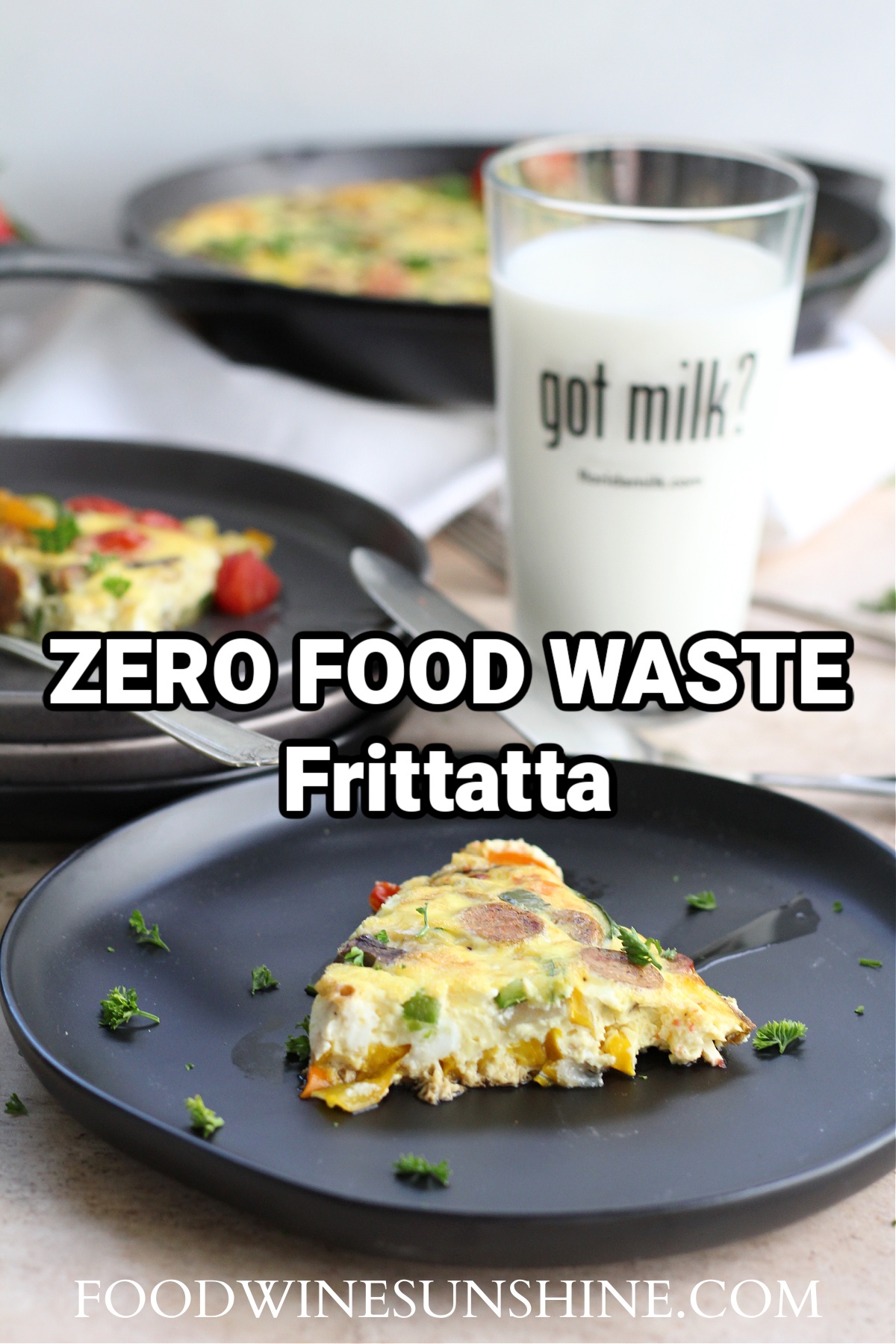 And while you are at it, check out all the recipes on Food Wine Sunshine and follow on me Facebook, Twitter, Pinterest and Instagram for more FOOD WINE AND SUNSHINE.