(Last Updated On: August 10, 2019)

Organic India Tulsi Tea Detoxifying Smoothie Recipe
I love starting my day with a smoothie. Or refueling my body after a workout with a fresh smoothie. Smoothies are a great way to get in your fruits and vegetable servings at one time. Add in some extra nutrients…and you are even better off.
I was just introduced to Organic India products thanks to a review from Moms Meet and I have been using the teas and Organic Whole Husk Psyllium in my smoothies lately. Today I am sharing a Organic India Tulsi Tea Detoxifying Smoothie Recipe that has carrots, cucumbers, banana, and I used the Raspberry Peach Stress-Relieving & Detoxifying Tea (it's caffeine free).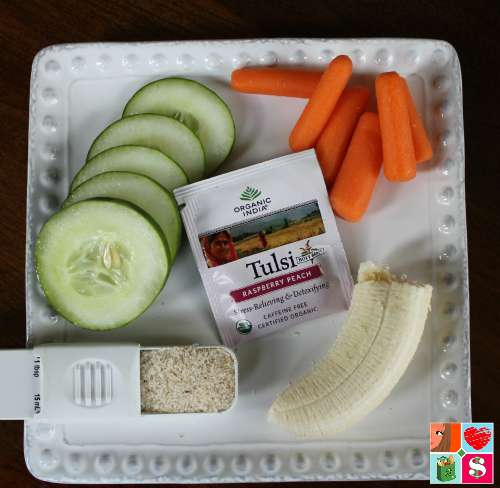 Now, here is my Organic India Tulsi Tea Smoothie Recipe, be sure to Print It and Pin It so that you can make it again and again.
Organic India Tulsi Tea Detoxifying Smoothie Recipe
Author:
Prep time:
Cook time:
Total time:
Ingredients
5-6 baby carrots
5-6 slices of cucumber
1/2 banana
4 ice cubes
1 tbsp of Organic India Organic Whole Husk Psyllium
1 Organic India Tulsi Raspberry Peach Tea
Instructions
Make the tea according the directions for the iced method
Add the ingredients as listed above into your favorite blending device
Blend until smooth
Enjoy!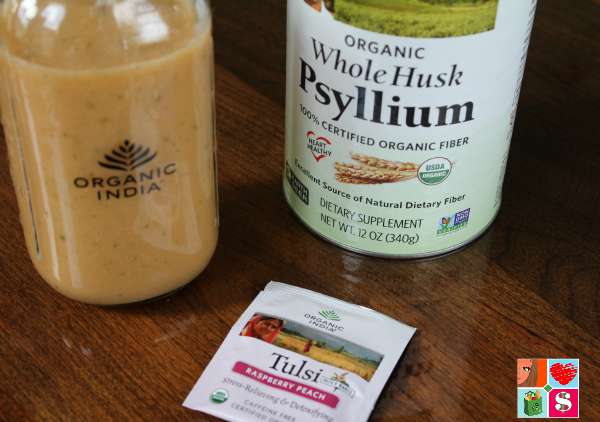 I hope you enjoy this Organic India Tulsi Tea Detoxifying Smoothie as much as I do!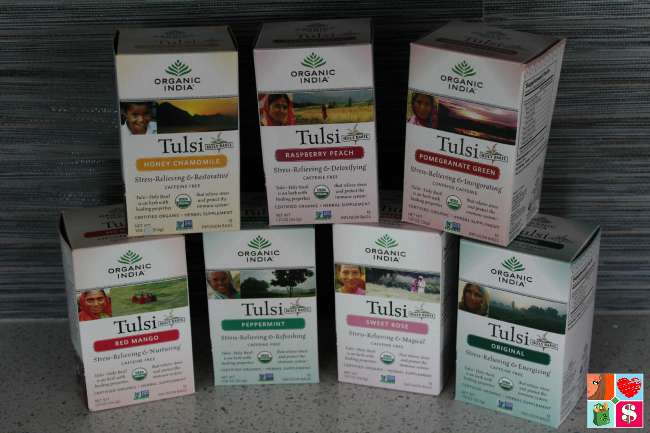 Are you familiar with Organic India Tulsi Tea? I will admit, I wasn't until I had the opportunity to do this review.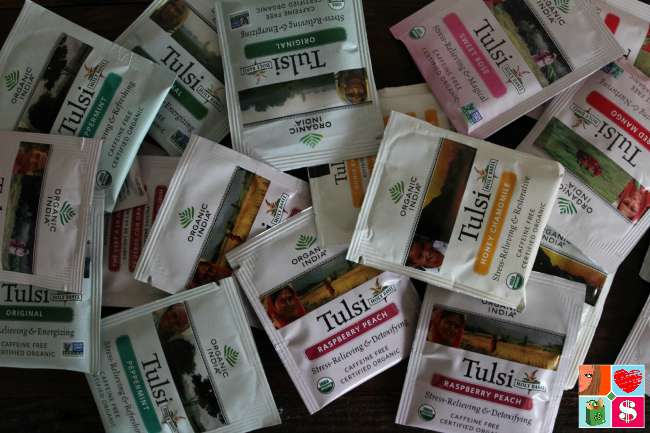 Here is some background information:
ORGANIC INDIA was formed in the 1990's by a small group of people from different parts of the world who met in Lucknow, a town in northern India, where they had traveled to meet a teacher named Sri H.W.L. Poonja, or Papaji as he was called by many. Drawn to India in search of truth and self-realization, they found their way to Lucknow upon hearing of the simple teachings of Papaji: "Keep Quiet. The eternal truth exists within you. Do not entertain a single thought and the truth will reveal itself to itself."
Inspired by Papaji's lifetime of service to the Indian people, this group of visionaries (and future founders of ORGANIC INDIA) came together to create a holistic business that would eventually change the face of agriculture in northern India. Their idea was simple: establish a business model that will support the livelihood of thousands of marginalized farmers in India by providing training and education that will enable them to be self-sufficient and to develop skills that will be passed on to their children and future generations.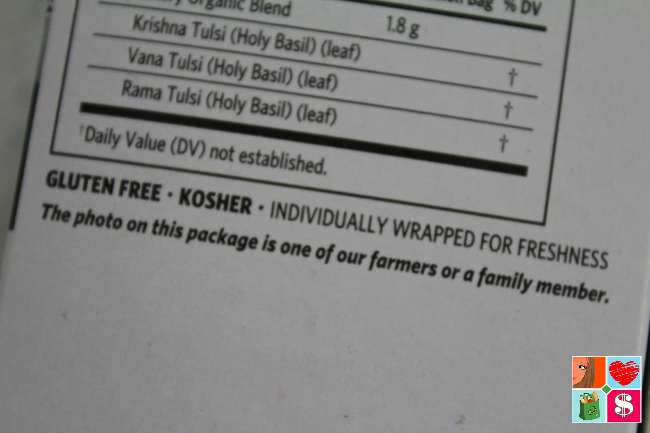 This idea became a movement as the Indian people began to cultivate and develop organic, biodynamic and sustainable farming methods.

ORGANIC INDIA works with thousands of family farmers in India, cultivating tens of thousands of acres of farmland that has been 3rd party certified organic through funding from ORGANIC INDIA. The farmers are commissioned to grow organic crops under their guidance, which ORGANIC INDIA then purchases from them at a premium market price. ORGANIC INDIA also works with local tribes-people in India who ethically wildcraft herbs on 592,000 acres of forest that ORGANIC INDIA has converted to USDA certified organic.
Currently, ORGANIC INDIA markets certified organic, biodynamic, and ethically wildcrafted products throughout India, the United States, Israel, the United Kingdom, the Czech Republic, Japan and Australia.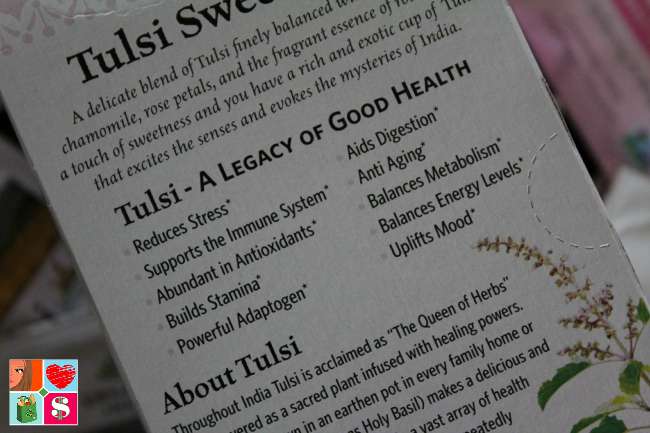 For more than 5000 years Tulsi (also known as Holy Basil) has been considered India's "Queen of Herbs" and has been revered as one of the most sacred herbs in India, infused with healing power. In India today, Tulsi is still traditionally grown in an earthenware pot in every family home or garden, and the leaves are used to make a delicious and refreshing tea that possesses wonderful health benefits.
They hailed Tulsi as "The King of Herbs' instead of as a queen, and Holy Basil became routinely included in legends, offerings and worship rituals and was looked on by many as a gift of Christ.
Modern research has classified Tulsi as an adaptogenic herb. Adaptogens have been shown to support the body's natural immune system while relieving the body's negative reaction to stress. Adaptogenic herbs have been used in traditional Ayurvedic and Chinese herbal medicines for thousands of years to promote and maintain wellness. Many adaptogenic herbs have been referred to by herbalists as rejuvenative herbs, qi tonic herbs, rasayanas or restorative herbs. They help the body adapt to environmental, physical and emotional stressors, support normal functions, and restore balance.
Organic India's Tulsi – Holy Basil Formula and certified organic Tulsi Teas include three varieties of Tulsi leaves: Rama, Vana, and Krishna. Each variety has a slightly different look, taste and smell and when combined, create a perfectly balanced herbal infusion with an array of health benefits including.
Organic India Tulsi Teas can be enjoyed warm, iced, and in your regular smoothies. Your body will thank you for it!
I did receive the products listed above for review, all opinions and my recipe are 100% my own!
Be sure to check out Organic India online, on Facebook and Twitter to stay social.
In fact, check out all the delicious recipes on Food Wine Sunshine and follow me on Facebook, Twitter, Pinterest, Google + and Instagram.
What are some of your favorite smoothie recipes?
Looking for more delicious recipes?