(Last Updated On: March 7, 2023)
The Monster Jam is an event that the whole family will love. My family and I have been going for over 10 years now and here are my 10 Tips For Attending Monster Jam For the Ultimate Family Fun. While we were able to attend the Monster Jam Truck Show for free, all opinions and our love for the show are our own!

10 Monster Jam Live Tips For Ultimate Family Fun
The Monster Jam is one of my absolute favorite family events that comes into Tampa. Monster Jam is a popular live motorsport event featuring large, customized monster trucks that perform a variety of stunts and tricks in front of a live audience. My husband took our son for the first time 15 years ago. My son has always been a truck lover, anything with 4-wheels he just loved…and still does! The next year we decided it would be something fun to do with his friends for his birthday, the Monster Jam always rolls in the Tampa around his birthday and since the boys were young my husband asked me to tag along. I will be the first to admit, this was definitely not something I was looking forward to, loud trucks, lots of dirt, and lots of people. That just wasn't my idea of fun. But I will tell you what, I loved it, and each year I insist on going with the boys to be a part of this family fun event too.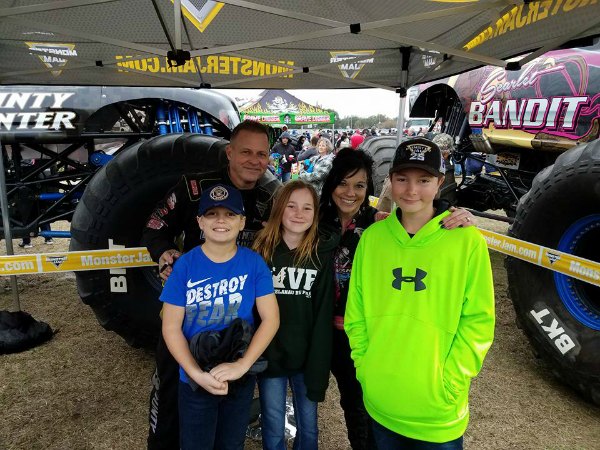 Now, since we have gone to the Monster Jam in Tampa for 11 years, the first time my son just a little guy and my daughter only two years old, I thought I would share some tips with you all to make your Monster Jam experience is awesome as ours. I hope these tips for attending the Monster Jam with kids help your family!
10 Tips For Attending The Monster Jam Truck Show:
Get Your Monster Jam Pit Pass and Go to the Monster Jam Pit Party. It is the only time you can get up close and personal with the drivers and the trucks. The Pit Party goes on for a few hours, get there as soon as it opens and stay there as long as you'd like, don't get there at the tail end of it or you're going to feel rushed and your kids or you are going to miss out on your favorite trucks. You can usually get your Monster Jam Pit Pass free at local car dealerships (this year we got ours at a local Ford Dealership and Circle K was also giving them out). Get your tickets early! Monster Jam truck shows are popular events, so it's a good idea to buy your tickets early to ensure that you get the best seats and avoid the risk of the event selling out.
Tailgate! You'll have some time to kill in between the Monster Jam Pit Party and the start of the show, pack a small grill if you have one or lots of snacks and bring a radio, a football, and/or frisbee and let the kids play and get some energy out between the Pit Party and the live show. I think my son looks forward to the tailgating just as much as the rest! Plus, arriving early can help you avoid traffic and parking congestion and give you time to explore the event grounds and see the trucks up close.
Get Seated. Go to your seats about 30 minutes early, this gives you time to find your seats, hit the restroom and grab any drinks or snacks that you may need before the show starts. Plus, there is always some action happening on the field before the actual Monster Truck show starts.
Yell! And yell loud! Be sure to cheer on your favorite monster truck drivers especially when you love the stunts they've done.
Be sure to have a sense of humor. Folks get really excited about their trucks, you might as well go along with it and yell at your favorites too. And there's nothing wrong with a little bit of friendly competition. 🙂
It's LOUD. These trucks are LOUD. In fact, you may wonder if the Monster Jam is too loud for toddlers and kids. That being said, if you or your kids don't like really loud noises be sure to have headphones or earplugs. We did use these for the first and second time we attended, but we haven't since. I did bring some earplugs in my bag for a few years and then just stopped.
Clear Bags Only. As of this year, 2018, you can't bring in a purse to any of the stadiums so make sure whatever you want to bring in is in a clear bag. If you have medication that you need to bring in, like an EpiPen and you don't want to put it in a clear bag, look for the disabled entrance and they will tag it for you.
Eat before the Monster Truck show. Most stadiums won't allow you to bring food or beverages into the Monster Jam event, so if you're not tailgating and cooking out before, fill up before the show. In fact, you may want to count on grabbing a bite to eat afterwards! All the yelling and screaming always seems to work up hunger with my crew so we end up stopping somewhere on our way home too. All stadiums, of course, serve food and drink, but it may be a little bit more expensive. So, can you bring food into the Monster Jam? Nope.
Set aside some money for souvenirs. You will find everything from hats to blankets to cups shaped like tires to Hot Wheels! And it's hard to resist one once you're inside 😉
Have Fun. That's the most important tip of all. A monster truck show is unlike anything you've ever seen, so prepared to be in awe, laugh, yell, and just have a great time! You'll go home hoarse, maybe a little dirty, but you'll have fun.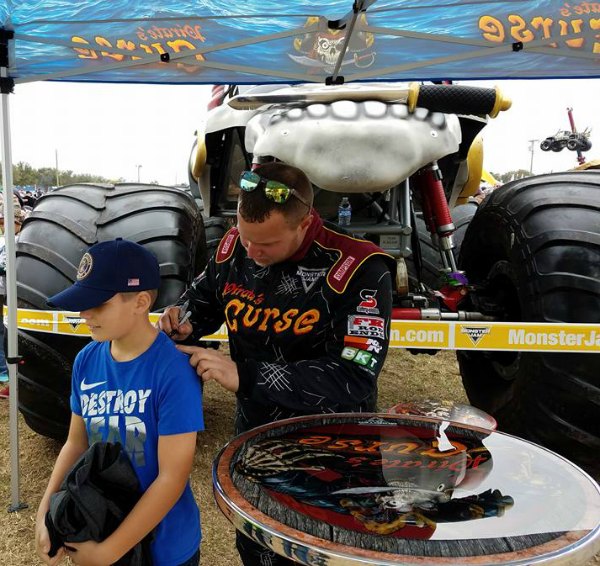 The Monster Jam Tampa is in January and it rolls back into Tampa in February but they travel all over the United States so be sure to check the Monster Jam schedule for dates in your hometown. Monster Jam Tickets are available on Ticketmaster.com
Overall, attending a Monster Jam truck show can be an exciting and thrilling experience. By being prepared, dressing appropriately, and arriving early, you can make the most of your experience and enjoy all of the exciting stunts and tricks performed by the monster trucks.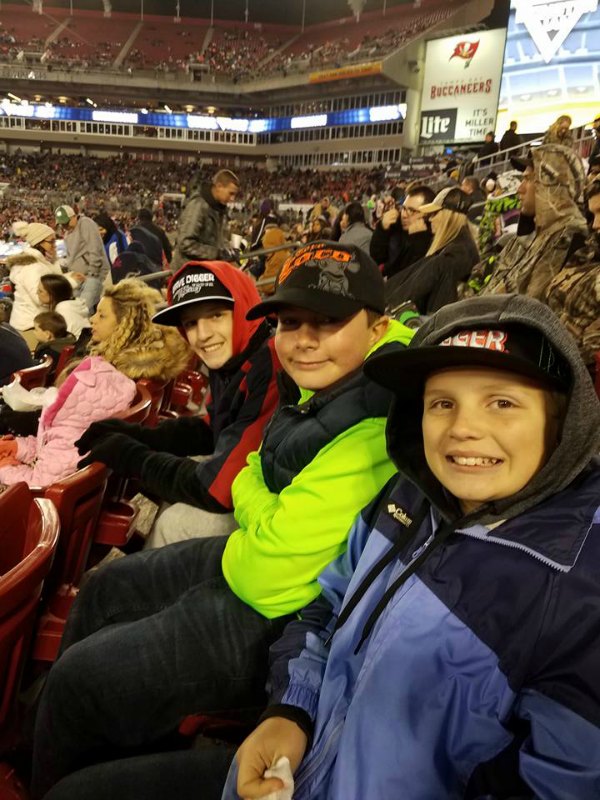 Have you been to a Monster Truck Show? What is one of your tips for attending the Monster Jam?
Check out Monster Jam on Facebook, Twitter, Instagram and on Youtube. In fact, make sure to check out Food Wine Sunshine on Facebook, Twitter, Pinterest, and Instagram for more Florida Family Fun!