Lentil Butternut Squash Curry soup is an easy slow cooker recipe that is excellent for you. The butternut squash makes it a great, hearty soup!

Lentil Butternut Squash Curry Soup
Wow, right? I don't know how you feel about lentils, but about 1 month ago I would have never considered eating them. In fact, my mom and I were out to lunch and she ordered a bowl of lentil soup for us to split and I looked at her like she was crazy. Lentils are not the most attractive looking bean I have ever seen. But my mom said that they are packed full of goodness and I really needed to try it. I tasted it, reluctantly…but I was pleasantly surprised. I actually liked it!
Then my mom came to visit for a week, and we were prepping meals to help me get organized for the start of the school year and she decided that we should make a lentil soup. Pushing the envelope just a tad there mom…Just because I tried it once doesn't mean I want to make it myself! But, being the good daughter I am, I agreed 🙂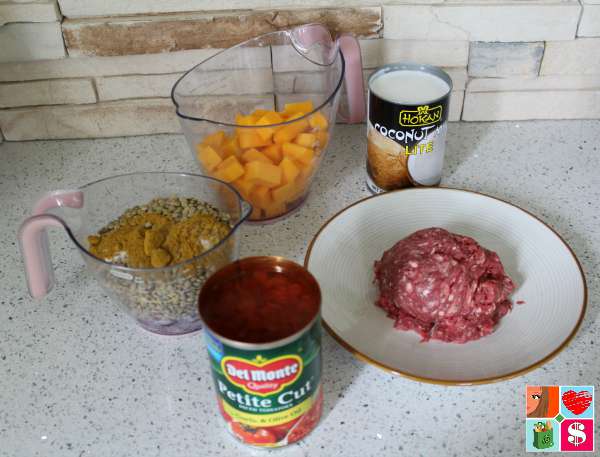 We got some butternut squash and a few other ingredients and we were on our way to making a yummy soup. As you can see, I added lean ground beef to my recipe. You don't have to, you can leave yours completely vegetarian. But, I figured if I added beef to it, I had a better chance of my husband actually eating it. This recipe makes a LOT and I will probably end up freezing some.
Now, here is my Lentil Butternut Squash Curry Soup recipe, be sure to Print It and Pin It so that you can make it again and again.
Lentil Butternut Squash Curry Soup – Slow Cooker Recipe
Author:
Prep time:
Cook time:
Total time:
Ingredients
1/2 diced red onion
1 1/2 cups red or brown lentils
2 cups butternut squash – diced
1 14oz can of coconut milk – I used lite
1 15 oz can of diced tomatoes – I used Garlic and Olive Oil variety
1 lb of lean ground beef
1 tablespoon curry powder
2 teaspoons salt
4 cups of chicken broth
2 cups of water
Instructions
Add all the ingredients into the crockpot and cook on low for 6-8 hours
Notes
*You can also serve this over rice[br]*I did prep mine ahead of time and froze it, if you decide to do that as well – do NOT add the chicken broth and water to your ziploc bag. Add in the chicken broth and water into the crockpot when you are ready to cook the meal.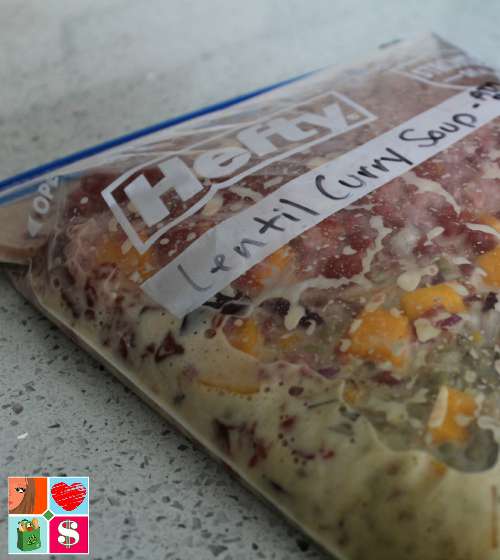 As I mentioned above, I prepped mine ahead of time and froze it. You can do that too, it's super easy! Just add all the ingredients expect the chicken broth and water to the ziploc bag and toss it in your freezer. When you are ready to cook it, put everything into the slow cooker, add in the chicken broth and water, and let it simmer together all day.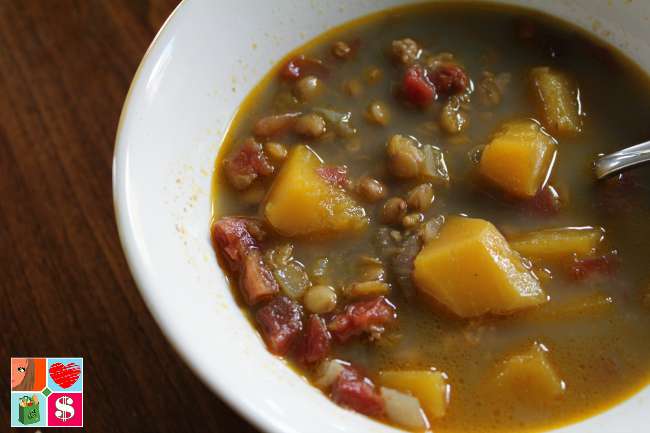 I hope you enjoy this Lentil Butternut Squash Curry Soup Slow Cooker Recipe as much as we do! It is very low in fat and filled with protein and lots of other stuff that is good for you 😉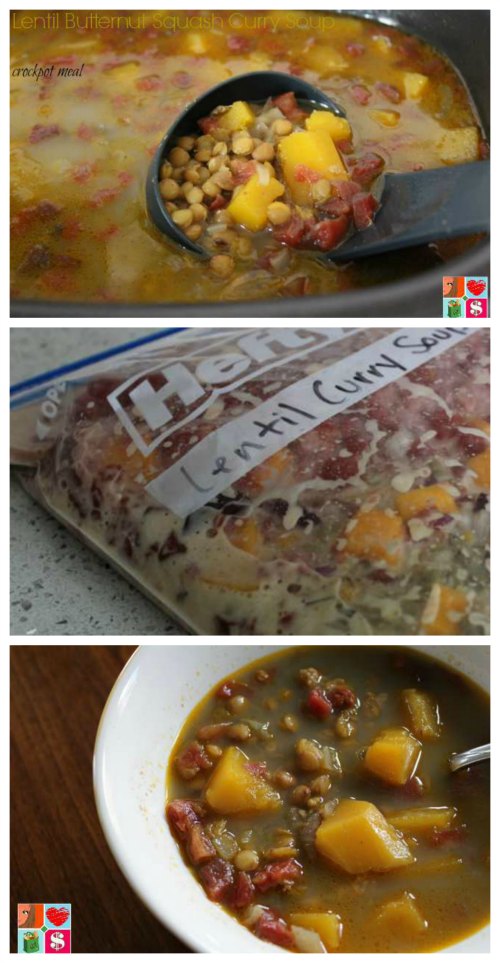 Looking for another yummy soup recipe? Check out my Spicy Butternut Squash Soup!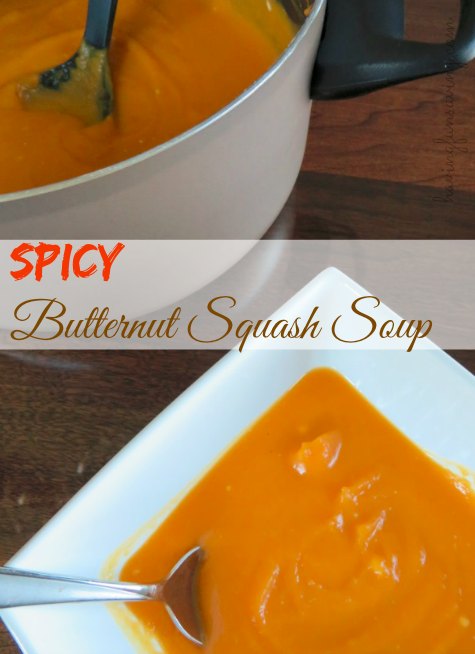 Be sure to check out all the delicious recipes on Food Wine Sunshine and follow me on Facebook, Twitter, Pinterest, Google + and Instagram.