(Last Updated On: December 1, 2023)
Looking for the best things to do in Raleigh North Carolina and for the best places to eat while visiting Raleigh? I got you covered! Here's how to plan a weekend in Raleigh.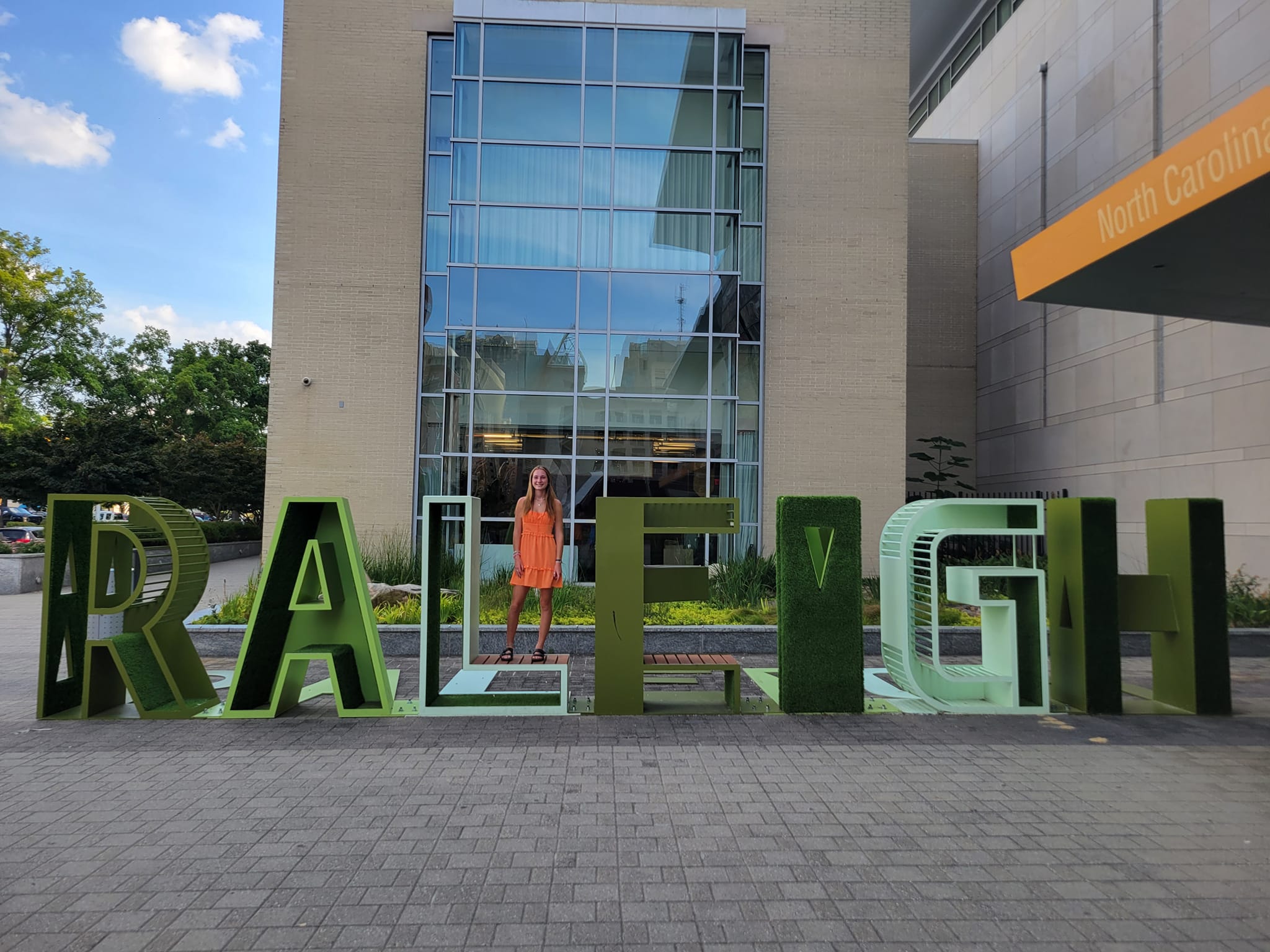 Raleigh, the capital city of North Carolina, offers a compelling blend of cultural attractions, natural beauty, a vibrant food scene, and a welcoming community.
Whether you're an art enthusiast, a nature lover, a foodie, or someone who appreciates history, Raleigh has something to offer. Its unique blend of cultural richness, outdoor activities, and welcoming atmosphere makes it a destination worth considering for your next trip.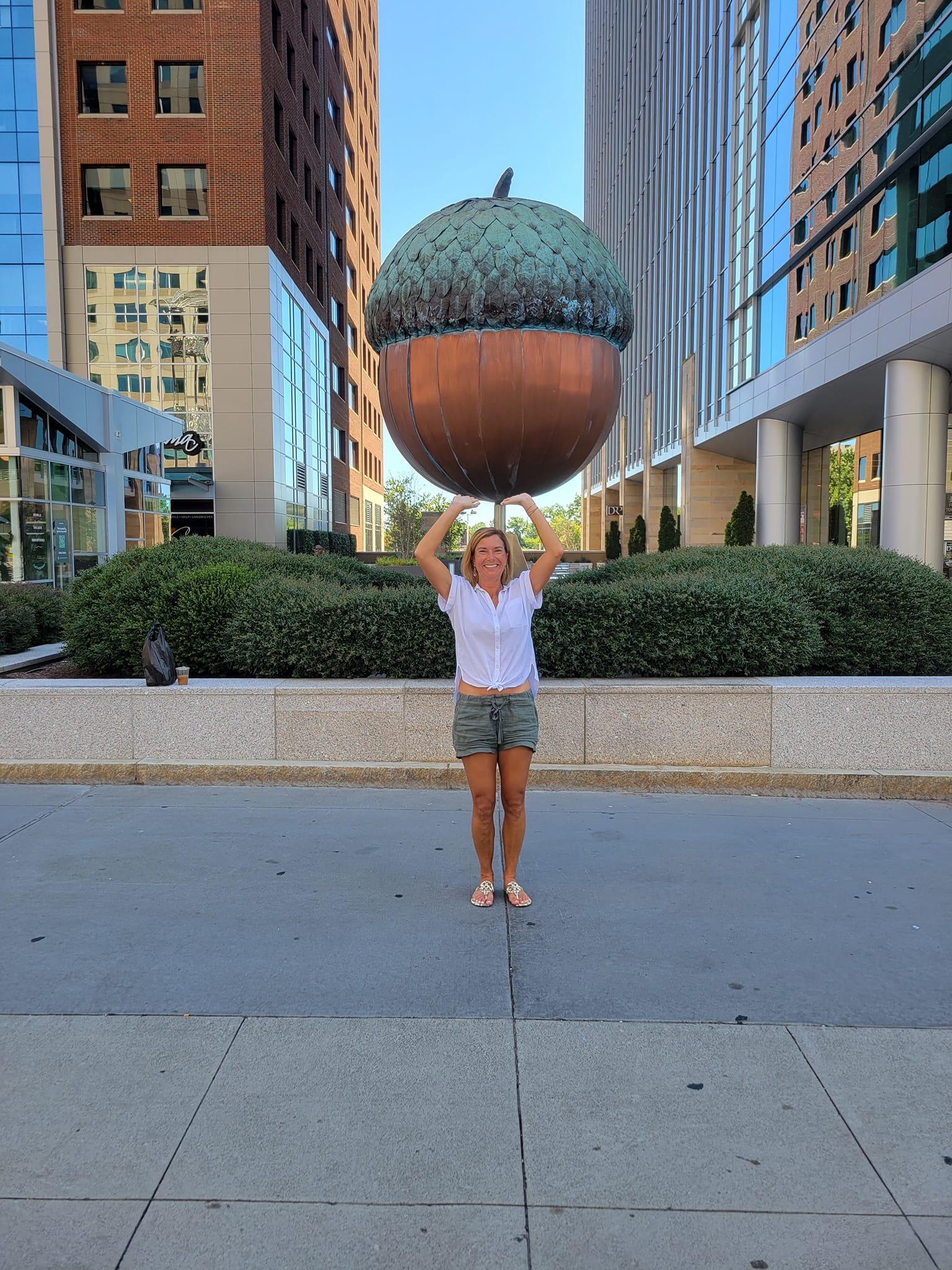 My daughter and I actually went to Raleigh for our first time earlier this month and had a great time! The trip was planned around going to the Tyler Childers concert at the Red Hat Amphitheater and since we always stay at Marriott hotels for the points I knew we would be staying where we could walk to the concert. Once the hotel was in place, I crossed my fingers that there would be plenty to do in the area, as we were going to be there for 3 full days.
There are plenty of amazing things to do Raleigh. And lots of great places to eat! I was thankful that we could walk to most of them….since we seemed to eat our way around town 🙂
If you want to see more pictures from our girls trip to Raleigh, check out my Instagram Reel.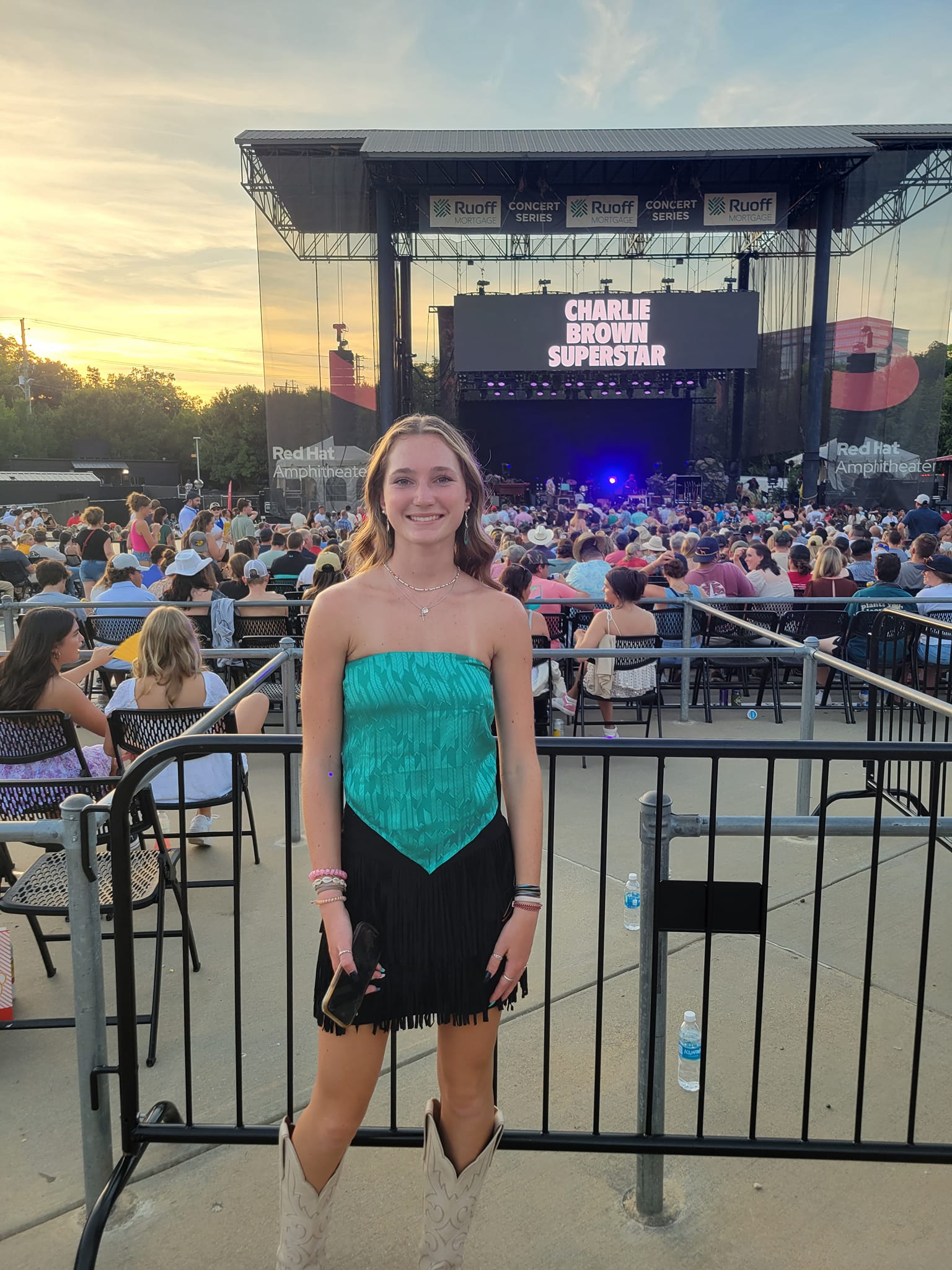 Since I did a lot of research on things to do in Raleigh with a teenager, I figured I would share it all with you and then make note of the things we actually did do. I mentioned that we were in town for a concert, and not only is Tyler Childers absolutely incredible to see in concert, the Red Hat Amphitheater is an amazing venue! If anything is happening at the Red Hat Amphitheater while you are in Raleigh, I definitely recommend checking it out. They hold many festivals and events at the Red Hat Amphitheater throughout the year.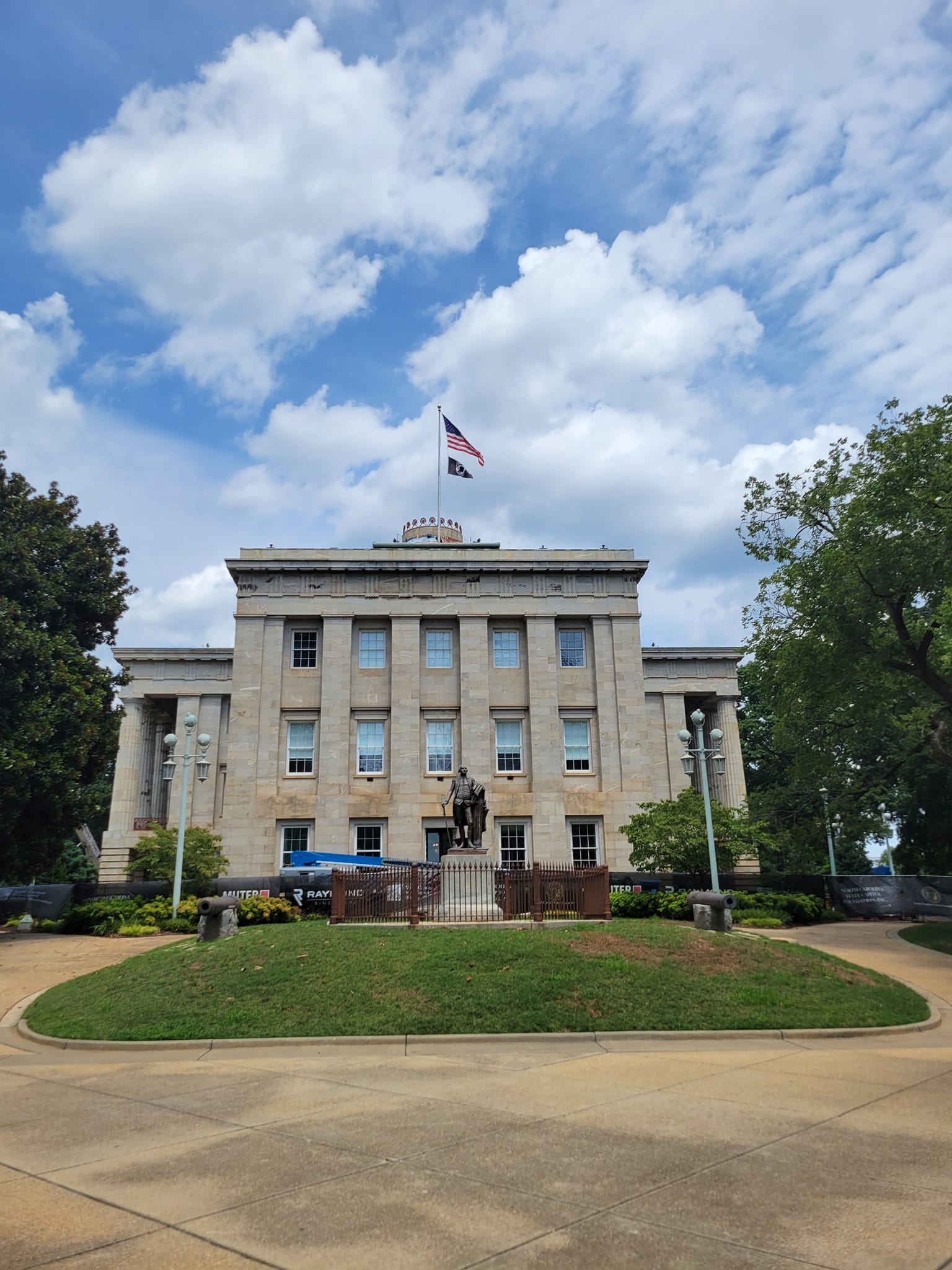 Here are some of the best things to do in Raleigh:
North Carolina Museum of Art: Explore a diverse collection of art, including European, African, American, and modern works. The museum's outdoor park also features impressive sculptures and walking trails.
Pullen Park: One of the oldest amusement parks in the United States, Pullen Park offers paddle boats, a carousel, train rides, and playgrounds, making it a great family-friendly destination.
William B. Umstead State Park: Enjoy outdoor activities like hiking, biking, picnicking, and fishing in this beautiful state park, located just a short drive from downtown Raleigh.
North Carolina Museum of Natural Sciences: Discover fascinating exhibits on a wide range of natural science topics, including dinosaurs, marine life, and space exploration.
Raleigh City Market: Explore this historic market area featuring unique shops, galleries, and restaurants in a charming setting.
Historic Yates Mill County Park: Visit this fully restored, operational gristmill and enjoy guided tours, nature trails, and picturesque views.
Downtown Raleigh Moore Square Market: Experience the local food scene by browsing fresh produce, artisanal products, and handmade crafts at this market.
JC Raulston Arboretum: Stroll through beautifully landscaped gardens featuring a wide variety of plants and trees. It's a peaceful escape from the city.
PNC Arena: If you're a sports fan, catch a Carolina Hurricanes NHL hockey game or attend a concert or event at this multipurpose venue.
Raleigh Beer Garden: With an extensive beer selection, this garden holds the Guinness World Record for the most beers on tap.
Visit the State Capitol: Take a tour of the North Carolina State Capitol building and learn about its history and significance.
Contemporary Art Museum Raleigh (CAM Raleigh): Experience contemporary art exhibitions and installations that challenge conventional ideas.
City of Raleigh Museum: Learn about the history of Raleigh and its people through exhibits, artifacts, and interactive displays.
State Farmers Market: You will find 30,000 square feet of North Carolina produce stands, specialty shops, and restaurants.
Videri Chocolate Factory: The tour and the sample of chocolate at the end are FREE!
Live Music and Nightlife: Raleigh's music scene is vibrant. Check out local venues for live performances and enjoy the city's nightlife offerings.
Explore Raleigh's Food Scene: Indulge in the city's diverse culinary options, from Southern comfort food to international cuisine.
Outdoor Concerts and Festivals: Depending on the time of year, you might find outdoor concerts, food festivals, and cultural events happening throughout the city.
Shopping: Browse local boutiques, art galleries, and craft shops in districts like Cameron Village and North Hills.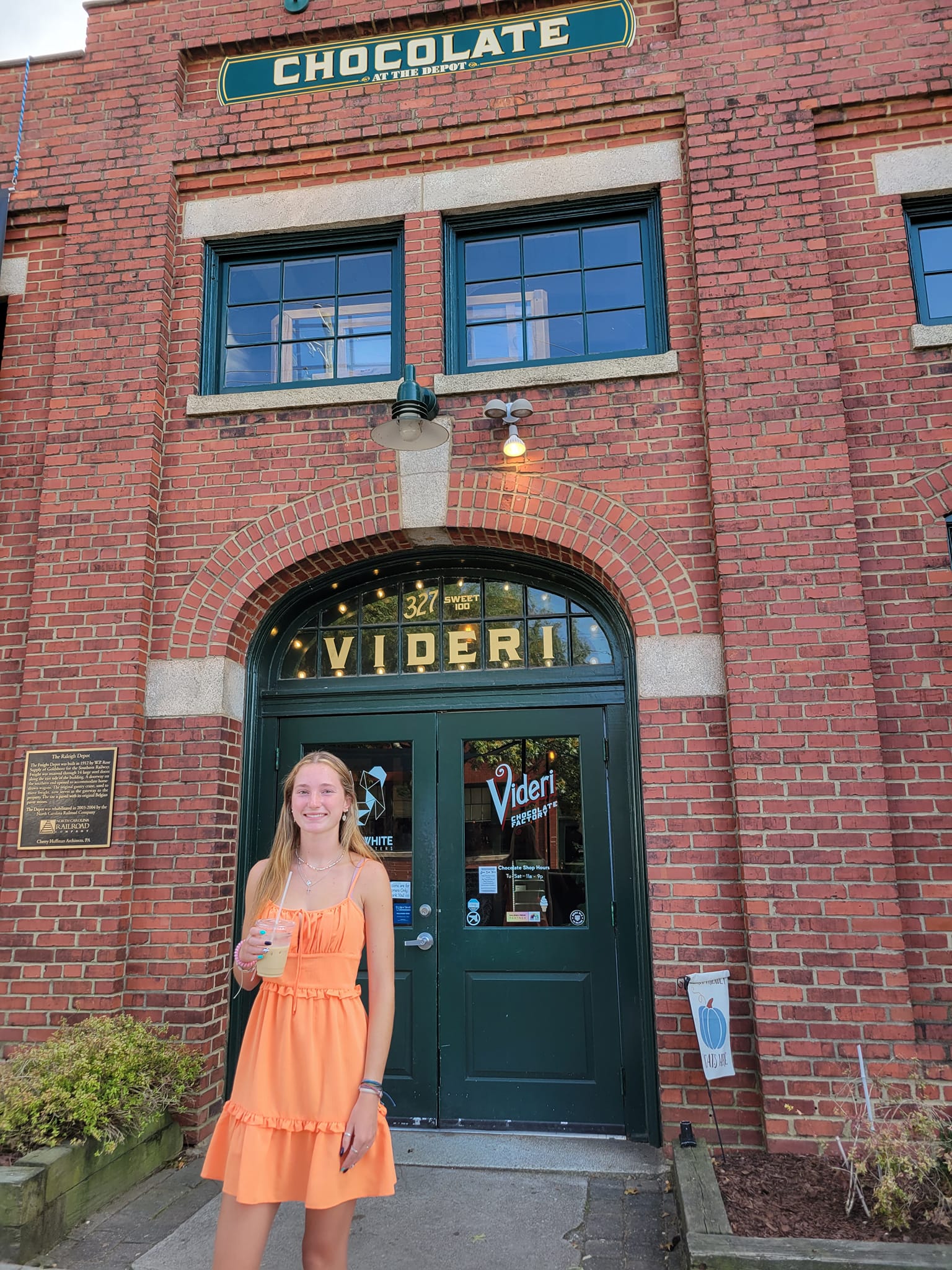 Remember to check local event listings and hours of operation for attractions, as schedules can vary. With its blend of culture, nature, and entertainment, Raleigh offers a well-rounded experience for visitors. Like I mentioned, I was there with my teenage daughter, and while some teens enjoy history and culture, museums are not my daughter's favorite, so we spent a lot of our time shopping, eating and walking.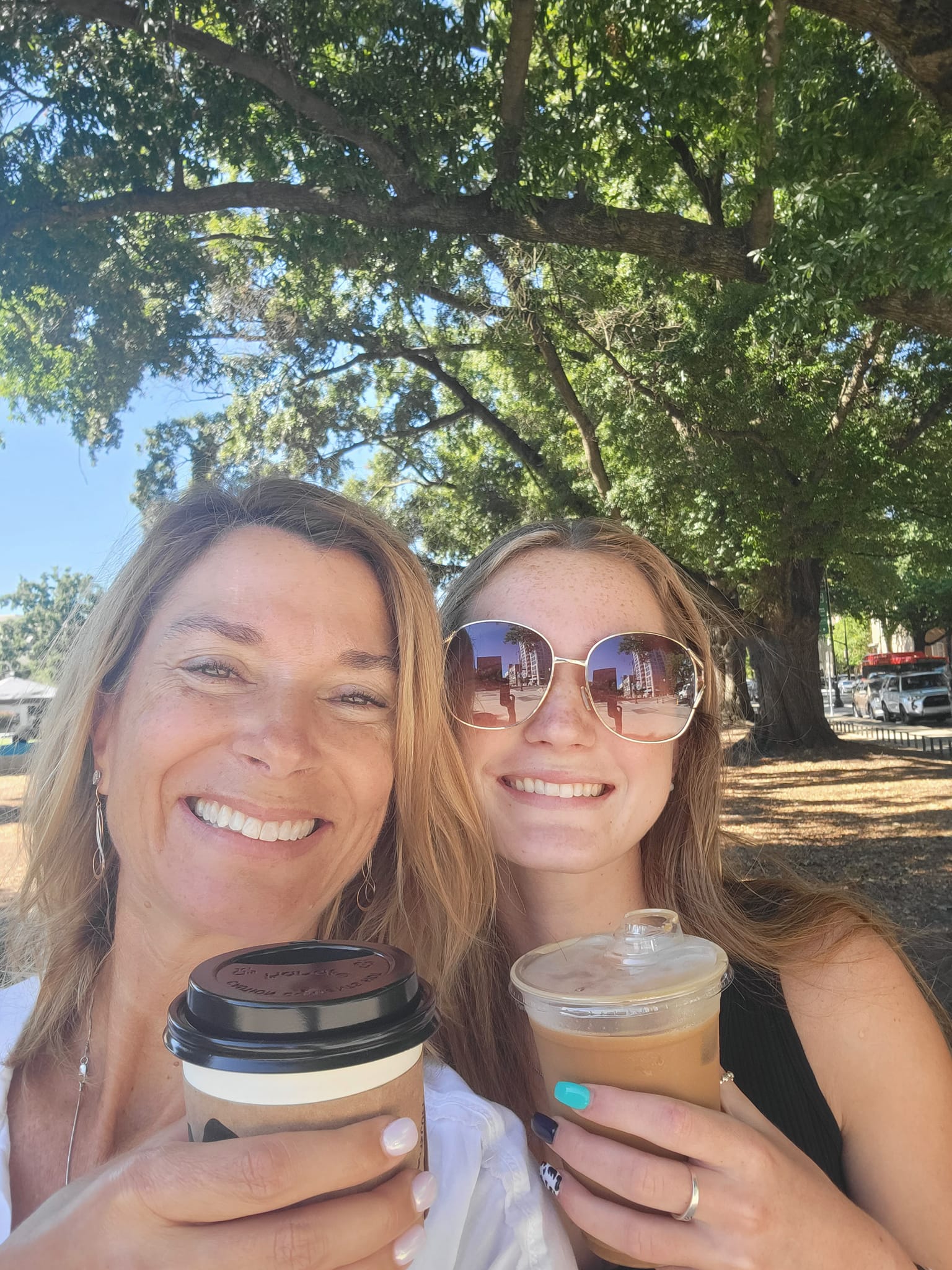 Here are the things we did while in Raleigh:
Tested out the coffee at multiple local coffee shops
Cruised around Moore Square Market
Visited the State Capitol
Took an Uber to the State Farmer's Market – it's HUGE and 100% worth it!
Did the free tour at Videri Chocolate Factory – It's super small, but cute to walk through, and it's right across the street from The Pit, so eat there after you have a coffee or ice cream.
Shopped
Walked through numerous parks
Saw Tyler Childers
Took our picture with the North Carolina Acorn….apparently it moves around the city?!
Ate….a lot. More on that below!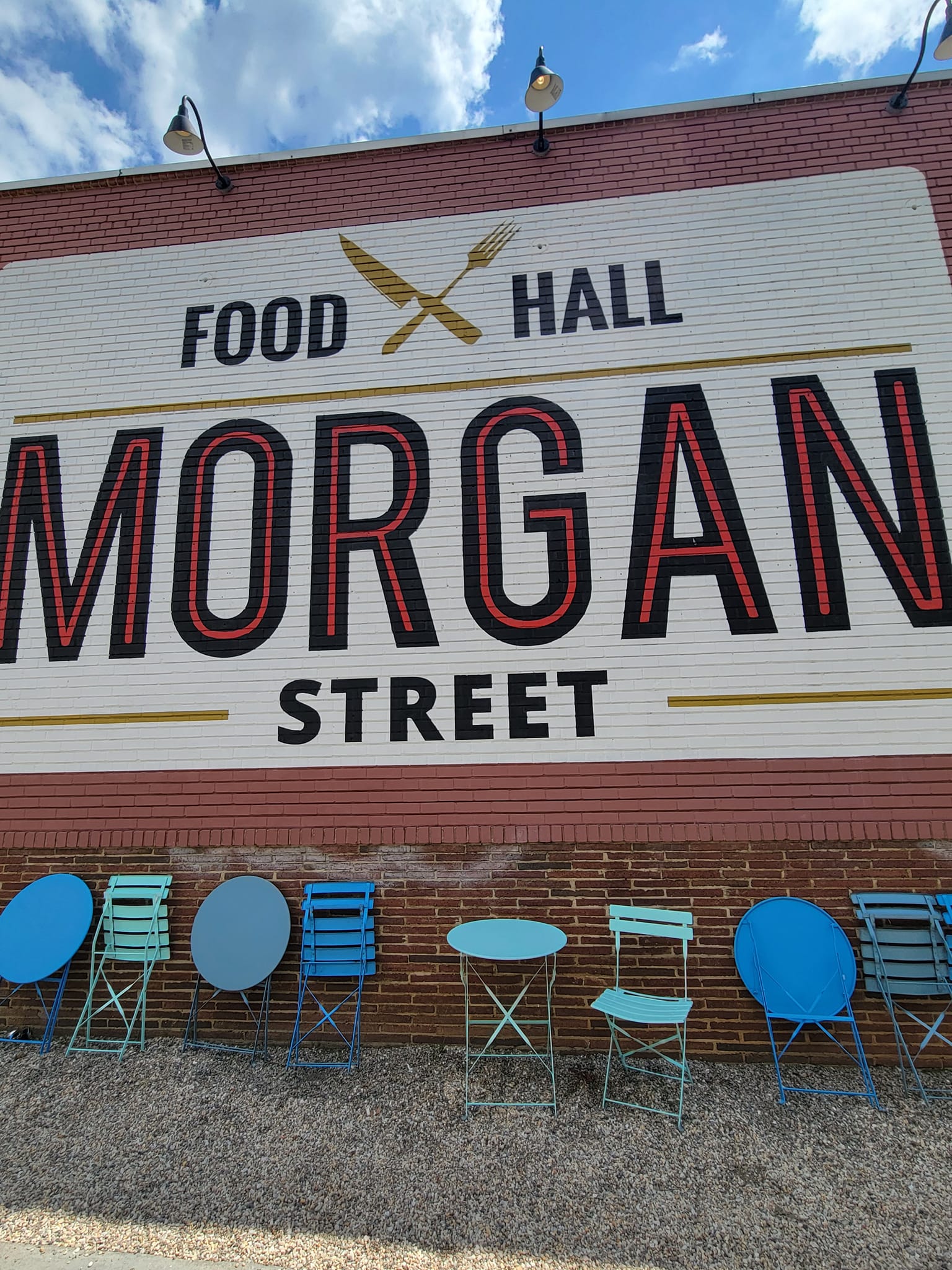 Raleigh has a diverse and vibrant food scene, offering a wide range of dining options from Southern comfort food to international cuisine.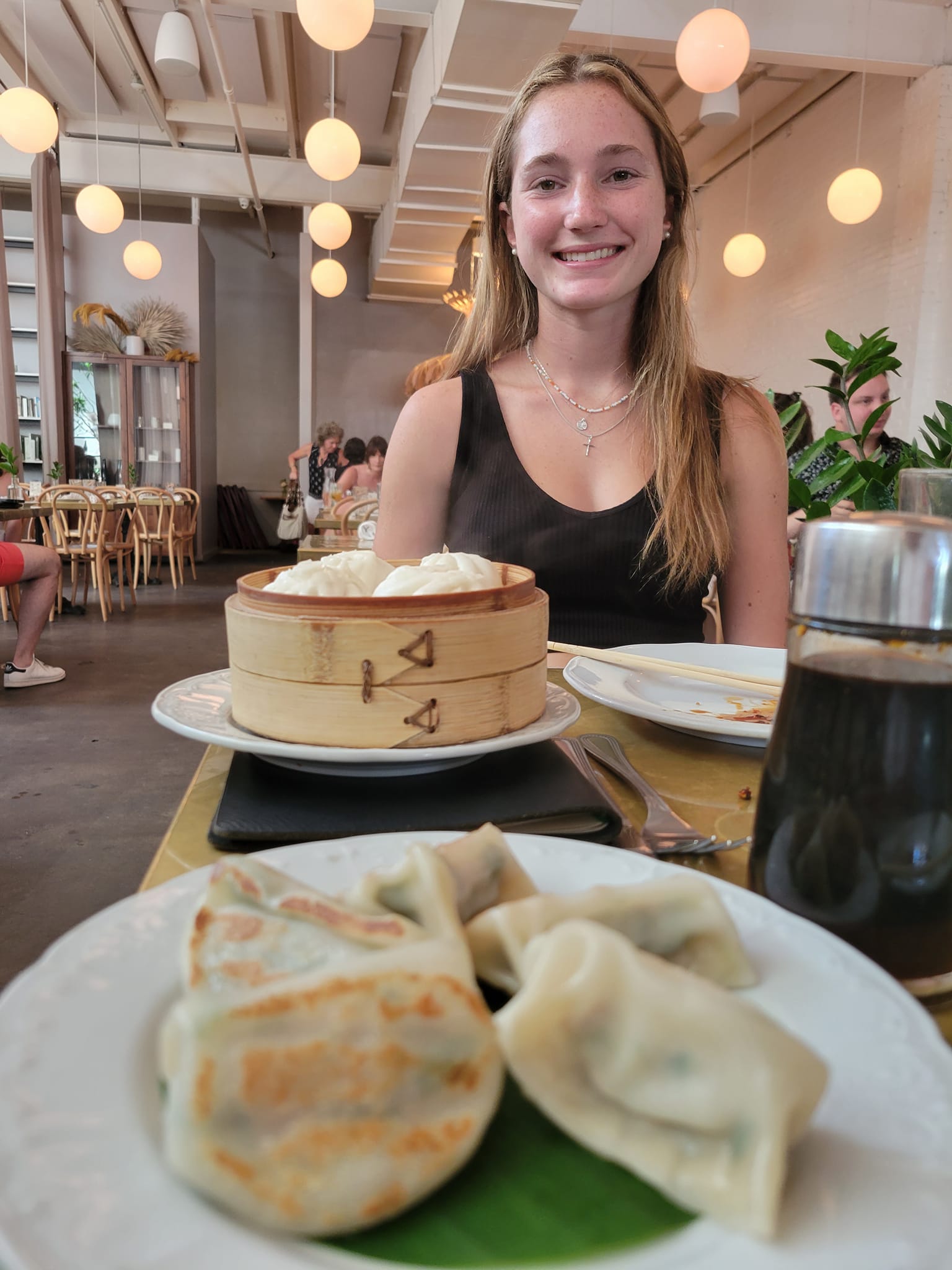 Here are some of the best places to eat in Raleigh:
The Pit: If you're looking for barbecue, The Pit is a go-to spot. They serve up mouthwatering North Carolina-style barbecue and classic Southern sides. We had the brisket and shrimp.
Wye Hill: Located on the Boylan Bridge, the views and the food is fantastic. I recommend staying for sunset it your schedule allows…the Raleigh Skyline is gorgeous! We had the caeser kale salad, brussel sprouts and the dill pimento cheese (which seemed to be everywhere in Raleigh, so we decided that we had to try it!)
Brewery Bhavana: This is a brewery, a taproom, a flower shop, a bookstore, a dim sum house and a Chinese restaurant. This was actually our favorite meal in Raleigh. We walked through the door and it was so welcoming and unexpected! There were books to borrow if you wanted to read while you waited for your food, the lighting was gorgeous, and the food was absolutely incredible.
Morgan Street Food Hall: If you can't decide on a cuisine, this food hall has a wide variety of options, from tacos to sushi to Mediterranean fare. We went here for lunch on our first day, we wanted to see all the options available. We opted for loaded BBQ french fries and a oreo shake to start our Raleigh culinary adventure 🙂
Transfer Co. Food Hall: This another fun food hall atmosphere and is a great place to experience the local food scene in Raleigh, try a variety of dishes, and enjoy a vibrant atmosphere that's popular among both locals and visitors.
Poole's Diner: A local favorite known for its modern take on classic Southern comfort food. Their macaroni and cheese is a must-try.
Bida Manda: This award-winning restaurant offers authentic Laotian cuisine in a stylish setting. Try their crispy rice lettuce wraps and flavorful noodle dishes.
Death & Taxes: A contemporary American restaurant with a focus on locally sourced ingredients. Their wood-fired cuisine and inventive cocktails are highly regarded.
Beasley's Chicken + Honey: Another venture by chef Ashley Christensen, this restaurant specializes in fried chicken and Southern comfort food with a touch of sweetness.
Boulted Bread: A bakery and cafe that offers artisanal bread, pastries, and sandwiches made from high-quality ingredients.
State Farmers Market Restaurant: This restaurant focuses on fresh, local ingredients and offers classic Southern dishes like country-style steak and biscuits. You eat while walking around the market…that's what we did! There are sooooo many of local treats and eats to choose from.
Trophy Brewing Company: Along with a great selection of craft beers, Trophy Brewing serves delicious pizzas and innovative pub fare.
The Fiction Kitchen: A vegetarian and vegan restaurant that offers inventive plant-based dishes with international influences.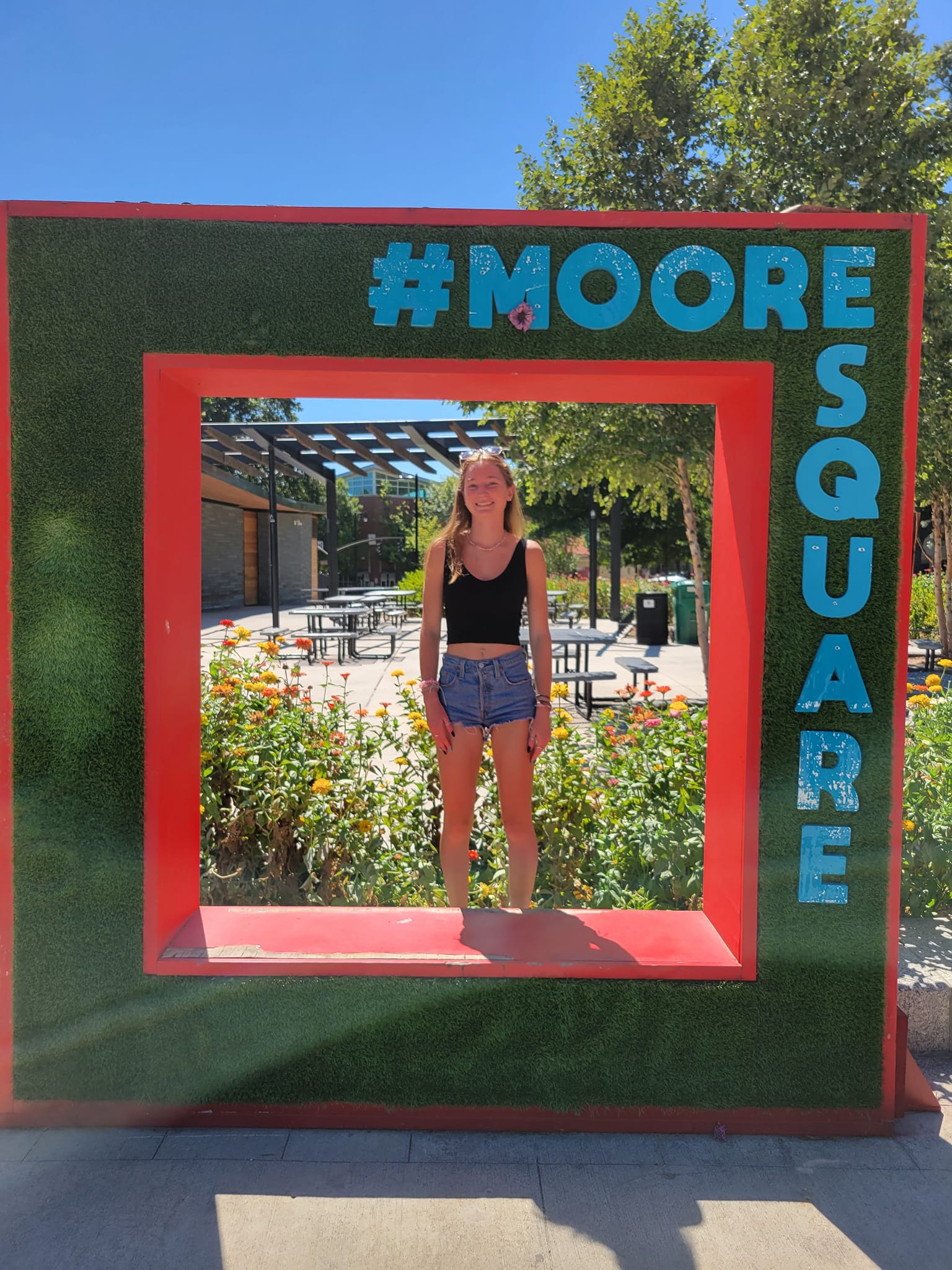 Remember that the restaurant scene can change, so it's a good idea to check online reviews and current menus before you go. Reservations might be necessary for some of the more popular establishments, especially during busy weekends.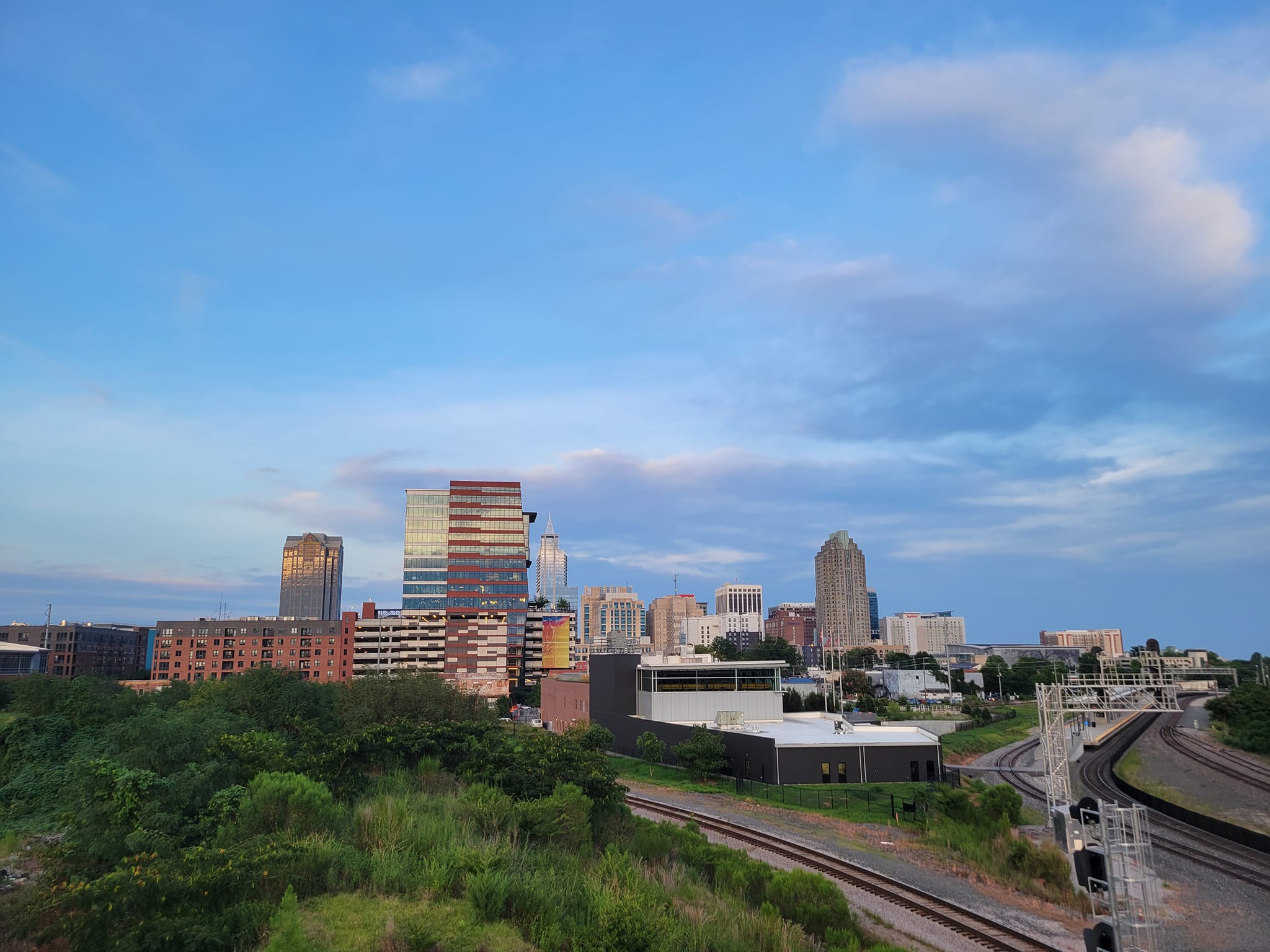 Raleigh offers a variety of activities and attractions that cater to different interests, there's something for everyone!
Have you been to Raleigh before? What are your favorite things to do? Favorite places to eat?
Be sure to follow Food Wine Sunshine on Facebook, Twitter, Pinterest, and Instagram for more wine tips and experiences, healthy recipes, and travel.