(Last Updated On: September 6, 2023)
Looking for the a deliciously healthy appetizer or snack? This Caramelized Onion Dip is it! Prepped in just minutes, this homemade onion dip is perfect for your next gathering! While this post is sponsored by Florida Milk, my love of healthy and snack recipes and Florida Milk are my own.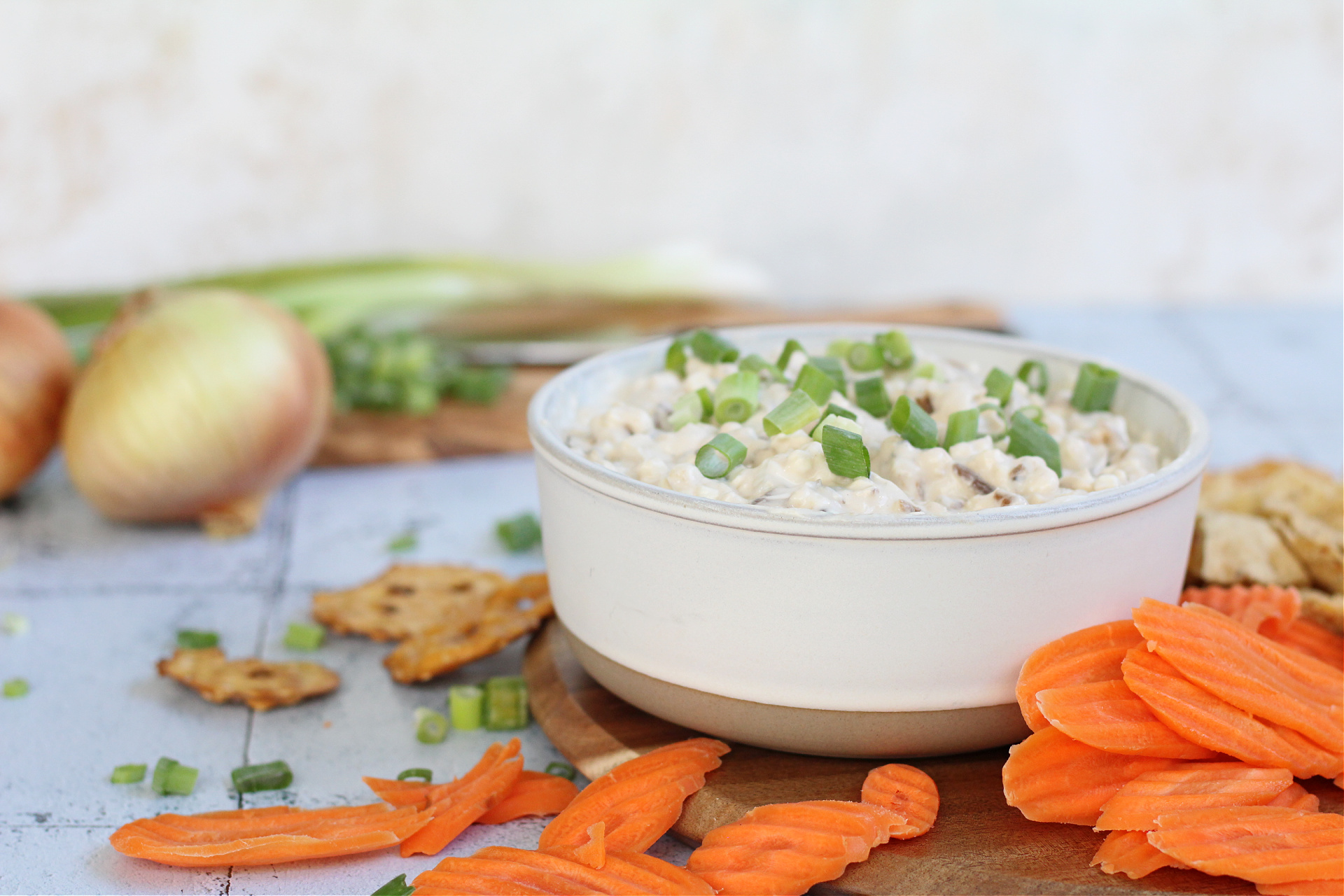 This creamy and delicious caramelized onion dip is perfect for serving guests who come over to watch the big game or for an appetizer at a BBQ. You can also just make it to keep in the fridge for tasty, healthy snacking!
Caramelized onions are so easy to make, but they can really elevate the flavor of a lot of dishes. Caramelized onions are the perfect topping for burgers or a steak, you can put them on top of a salad, or simply eat them on their own! I always use RealSweet sweet onions when making caramelized onions, it makes the even better 😉
If you aren't sure how to caramelize onions it is really simple, all you need are onions, olive oil or butter, a dash of salt, and some time. Caramelized onions do need a while to cook, but the time they take is so worth it. When they are done you have transformed a simple onion to a sweet and savory bite that will melt in your mouth. If you aren't sure how to caramelize onions you can see my post about it here.
Do you know what's better than just caramelized onions though? A creamy and delicious caramelized onion dip that is perfect for a party! After you try this easy recipe you will never want to buy store-bought onion dip again! Caramelized onions mixed with cottage cheese, and greek yogurt give this recipe the perfect consistency for dipping.
Once your onions are caramelized this tasty dip comes together really quickly.
Serve this dip with pretzels, tortilla chips, veggies, crackers, pita bread, or toasted baguettes. You can also use this flavorful dip as a condiment for sandwiches or burgers.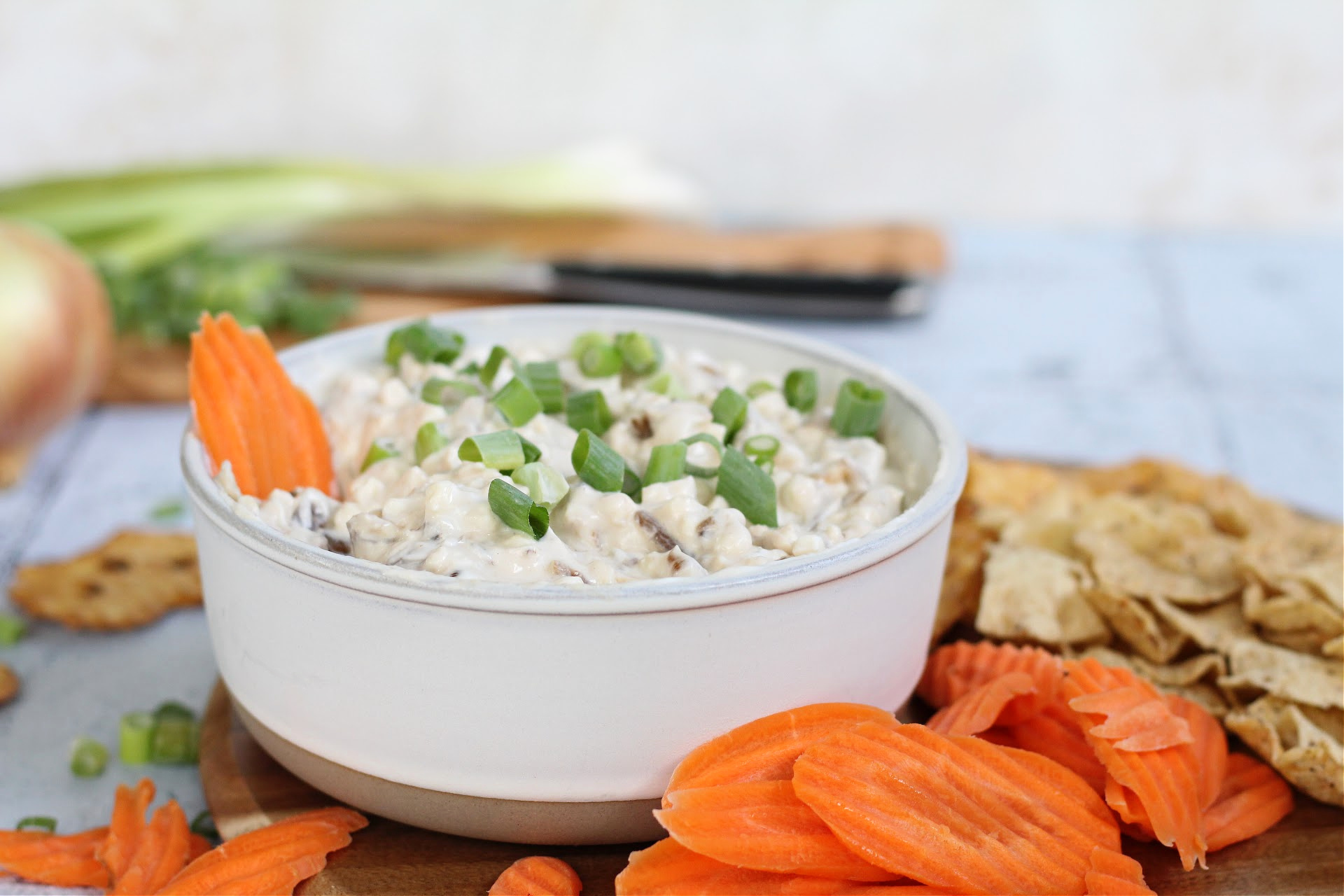 Can I make my caramelized onions in advance?
Absolutely! The caramelized onions are the only part of this dip that takes a little time and you can make them a day or two ahead of time. Cool them completely after cooking and store them in the refrigerator in an airtight container until you are ready to make the dip.
Can I make the caramelized onion dip with cottage cheese ahead of time?
Yes, if you want to serve this dip cold instead of at room temperature you can make it the day before and keep it in the refrigerator to chill overnight.
Can the caramelized onion dip be served hot?
This dip can be served hot or cold. If you want to serve the dip warm simply put it in a casserole dish, and heat it at 350 degrees for 15 or 20 minutes until it is bubbly.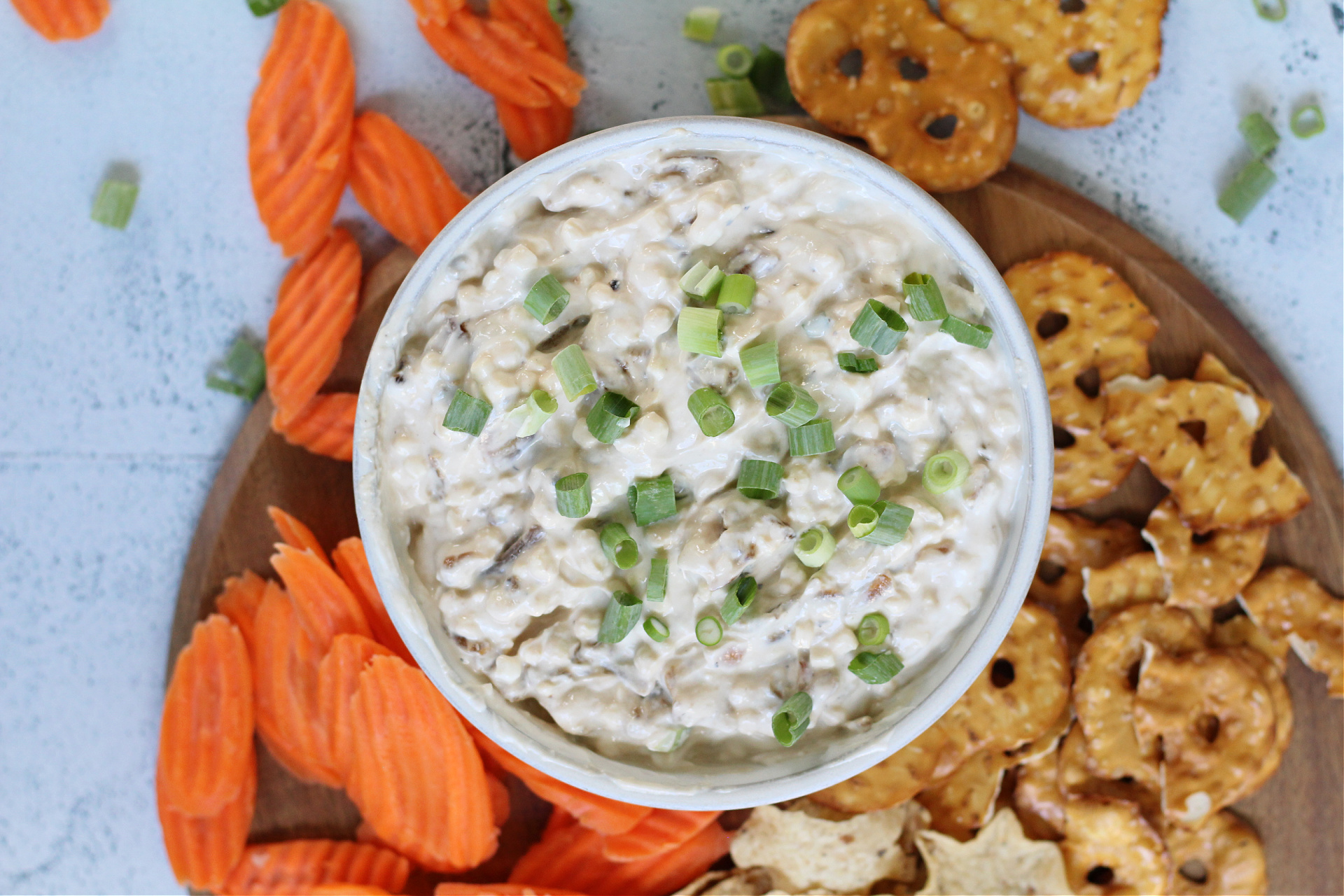 How long is caramelized onion dip with cottage cheese good for?
You can store this yummy dip in your fridge in an air tight container for up to 5 days. But, my guess is that it won't be around that long 😉
Can you use sour cream instead of Greek yogurt?
Sure can! The flavor profile is pretty similar, so yes, feel free! It will change the nutritional facts below though.
Can you blend the cottage cheese?
Not a fan of the texture of cottage cheese? It happens! Feel free to toss it in a food processor first to give it that smooth texture. You can add the Greek yogurt in there too to make sure it's all mixed together evenly.
Cottage cheese is such a versatile food that can be used in a lot of different recipes in many different ways.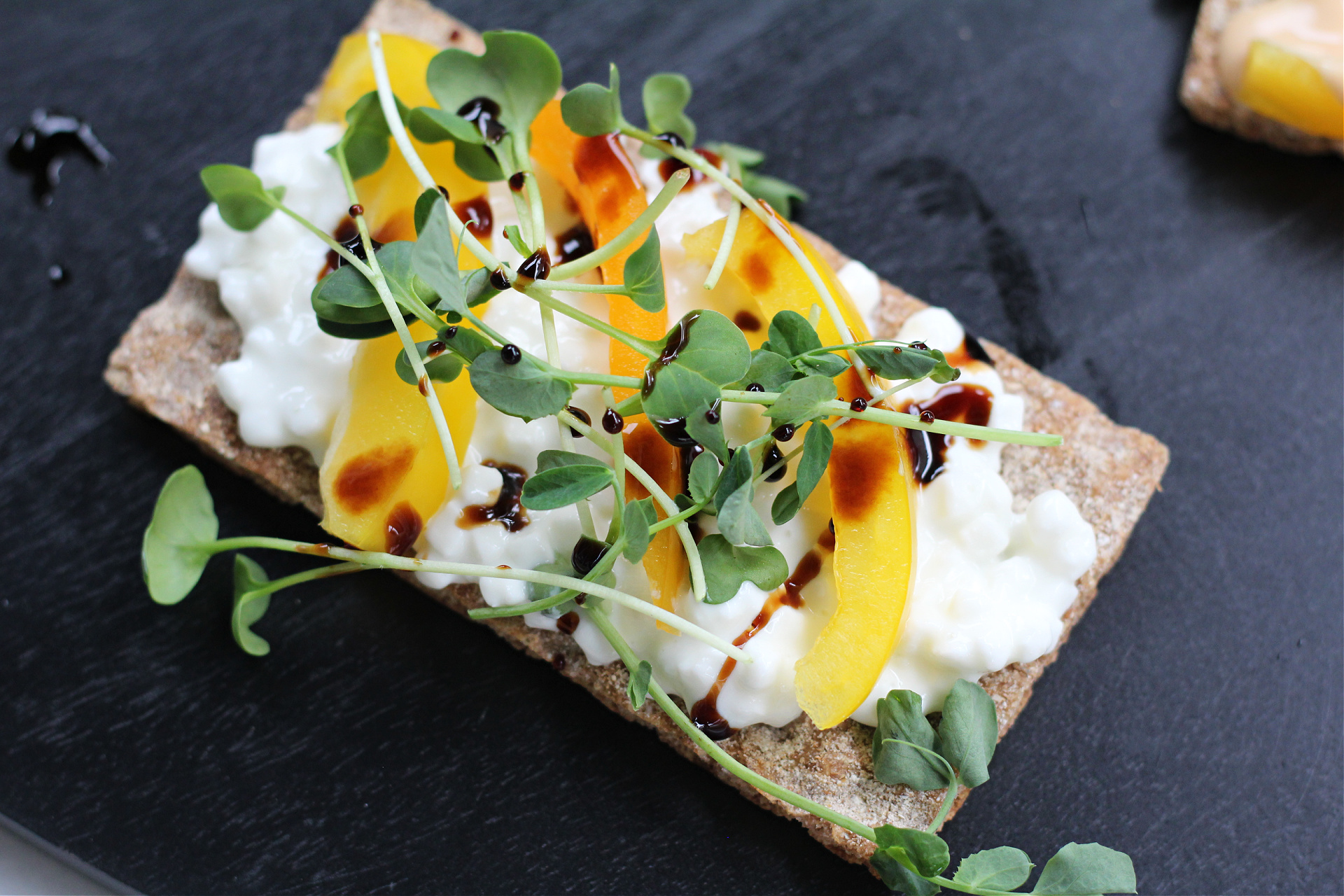 If you haven't tried cottage cheese on toast then you are missing out! You can slather your toast with cottage cheese, and then add your favorite sweet or savory toppings. If the consistency of the cottage cheese is what's keeping you from trying it, just run it through the blender until it's smooth.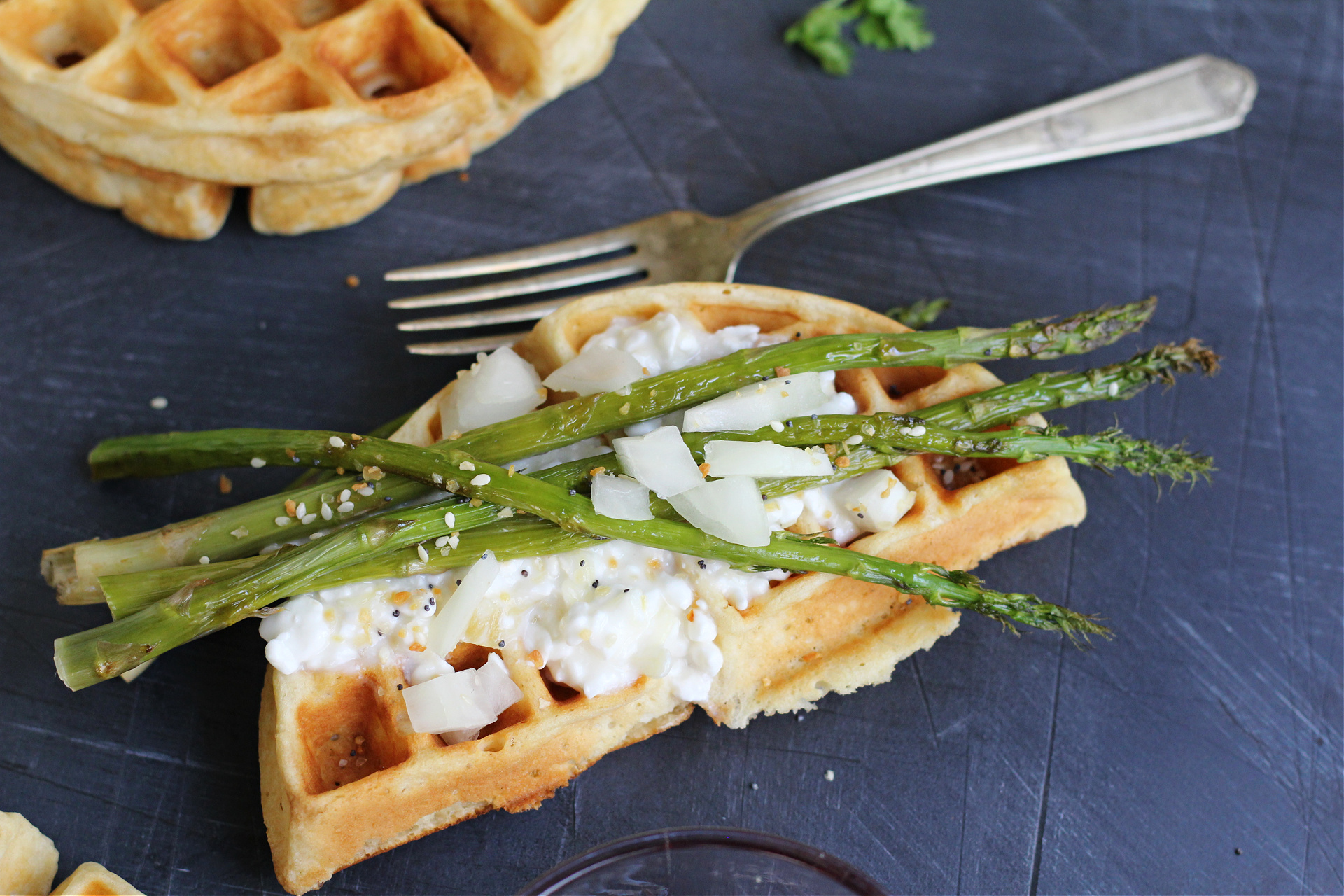 You can also put cottage cheese on waffles as a savory alternative to sweet options like fruit, whipped cream, or syrup.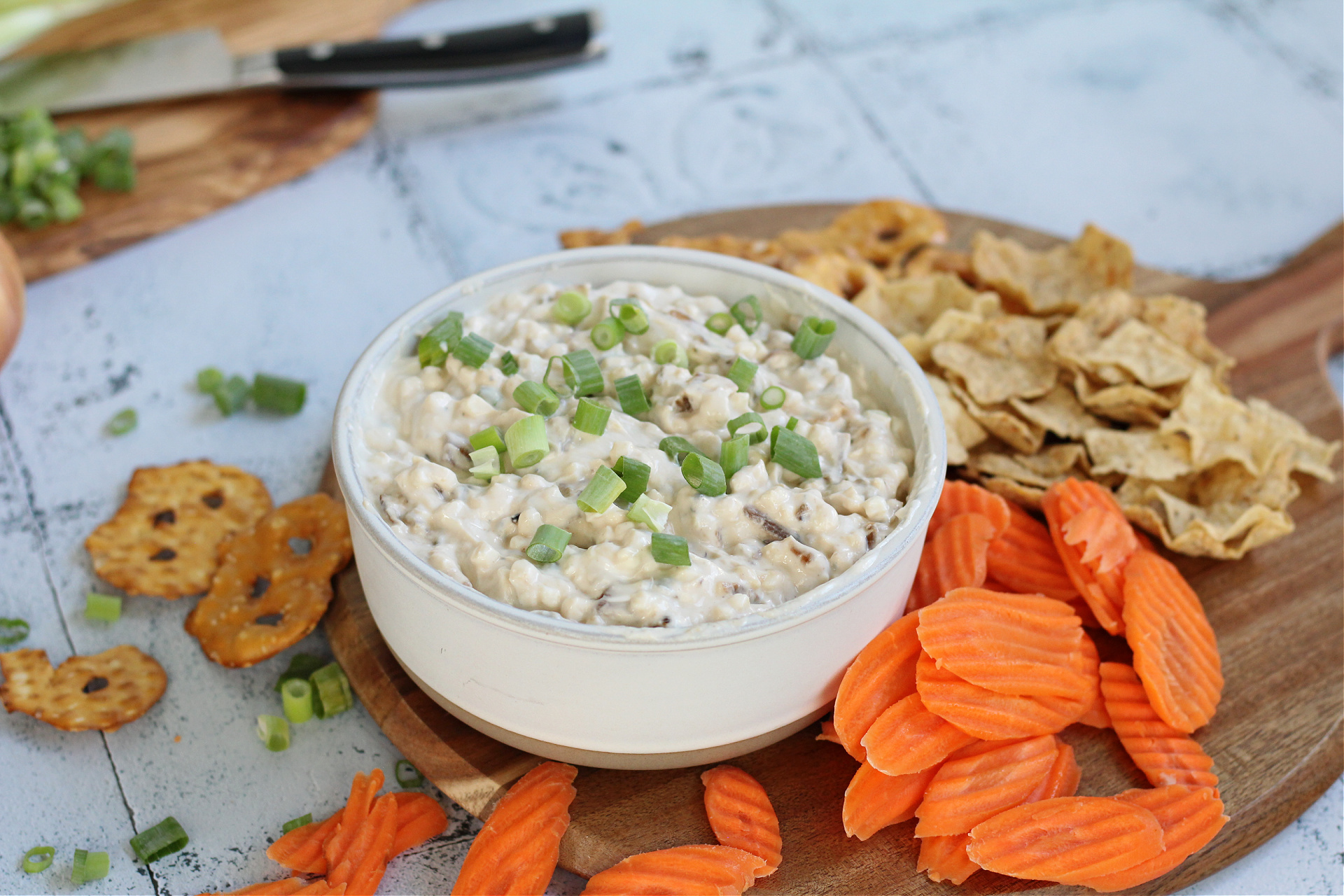 Adding cottage cheese to your diet through recipes like this caramelized onion dip, or spreading it on waffles or toast is a way to make sure that you and your family are getting plenty of calcium and vitamins from dairy products. Making sure that you are meeting those daily requirements is so important to make sure that you have healthy bones and teeth, and they support healthy growth in children too!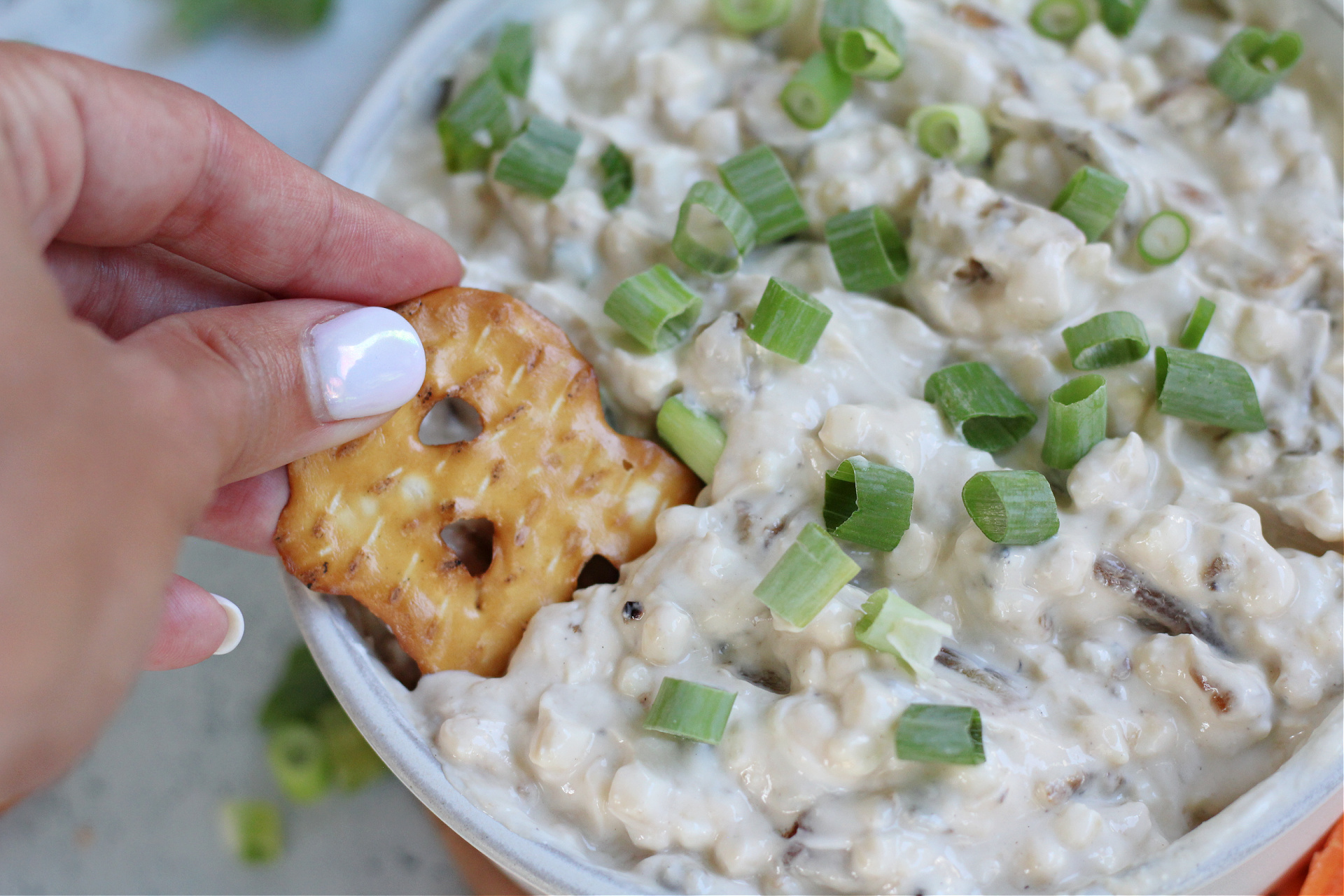 How long does it take to caramelize onions?
Ah, this is a labor of love. Don't rush the process. I have found that making caramelized onions in my cast iron pan is sometimes faster than making then in my stainless pans…But I have no real reasoning for that. Depending on the amount of onions you are caramelizing, you can count on at least 20-30 minutes.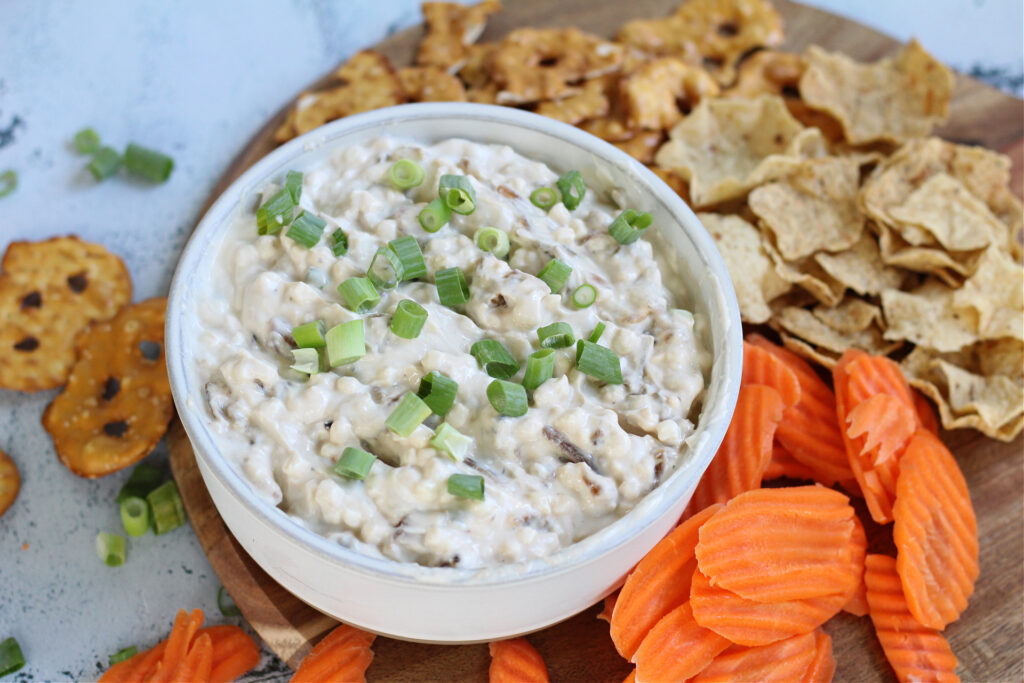 Recipes using caramelized onions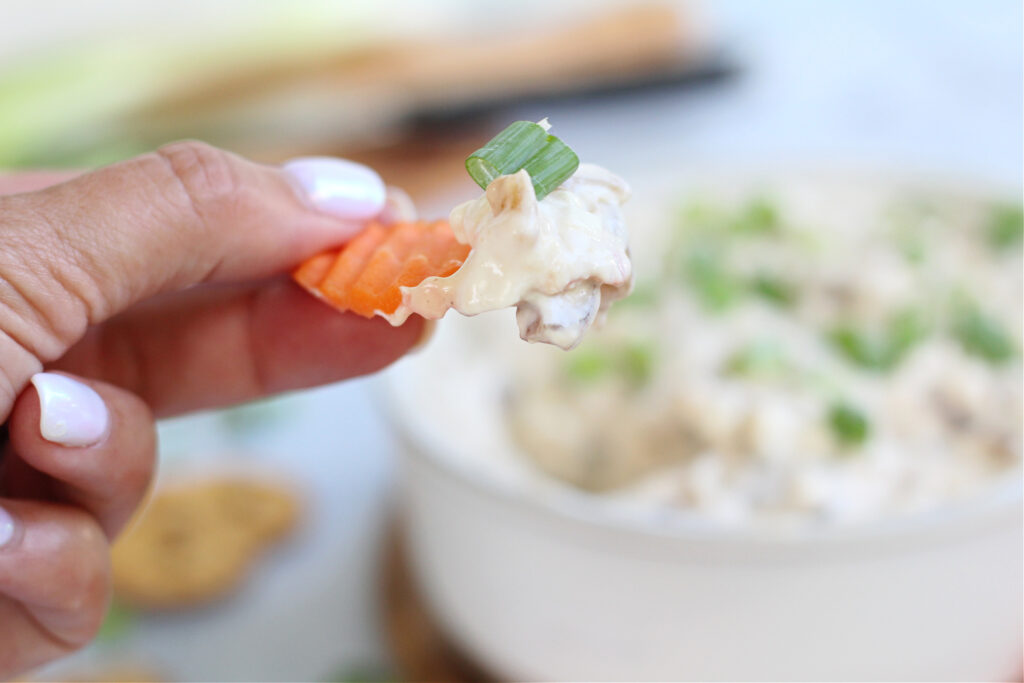 Alright, let's make some caramelized onion dip shall we?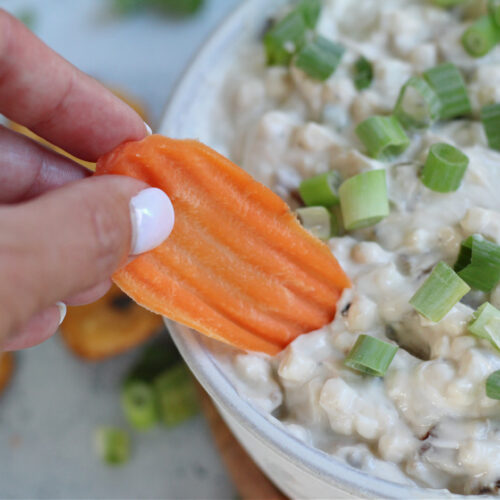 Ingredients
3

vidalia or sweet onions caramelized

2

cups

cottage cheese – I used the low fat variety

1

cup

greek yogurt – I used the non fat variety. *You can also use sour cream.

1

tsp

soy sauce

1

tsp

garlic powder

1

tbsp

butter

1

cube beef bouillon

2

tbsp

green scallions – diced

salt and pepper to taste
Instructions
Once the onions are caramelized add the beef bouillon and butter to the same pan and stir well. Remove from heat and allow the onions to cool.

Add the cottage cheese, greek yogurt, garlic powder, soy sauce to a small-medium size bowl and stir well.

Add the cooled caramelized onions and 1 tbsp of the scallions to the cottage cheese mixture. Stir.

Add salt and pepper to taste.

Cover for at least 2 hours or until ready to serve.

Serve with your favorite veggies, chips and/or pretzels.
Be sure to check out Florida Milk for more dairy-licious recipes and follow on Instagram, Facebook and Pinterest.
And while you are at it, check out all the recipes on Food Wine Sunshine and follow on me Facebook, Twitter, Pinterest and Instagram for more FOOD WINE AND SUNSHINE.