(Last Updated On: September 6, 2023)
Here are over 10 delicious savory waffle toppings, plus the perfect…and easy…way to make homemade waffles. Perfect for brunch, or any time of day! While this post is sponsored by Florida Milk, my love of yummy breakfast ideas and Florida Milk are my own.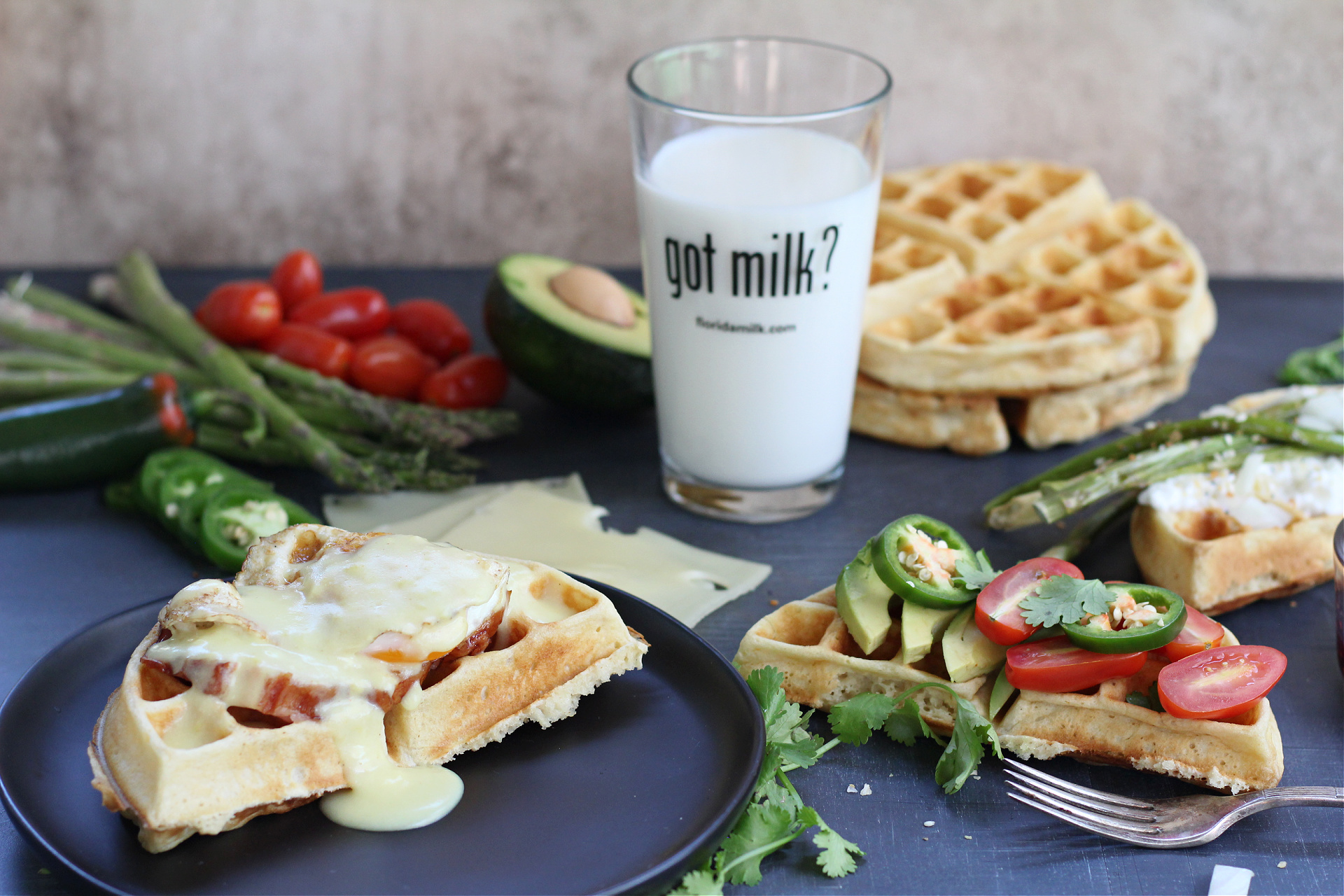 When is the last time you made homemade waffles? I mean, like waffles from scratch? Yeah…it's been awhile for me too. I means, it's sooooo easy to just buy the boxed stuff and add water, right? Yes…it is. But, would you believe me if I told you that it's cheaper, tastier and just as quick to make waffles from scratch.
One of my favorite weekend breakfasts is Eggs Benedict.
One of my favorite sandwiches is a Monte Cristo.
One of my kiddos favorite weekend breakfast is waffles.
So, I decided that it was time to combine some sweet and savory and create some delectable savory waffle toppings and share a deliciously easy homemade waffle recipe.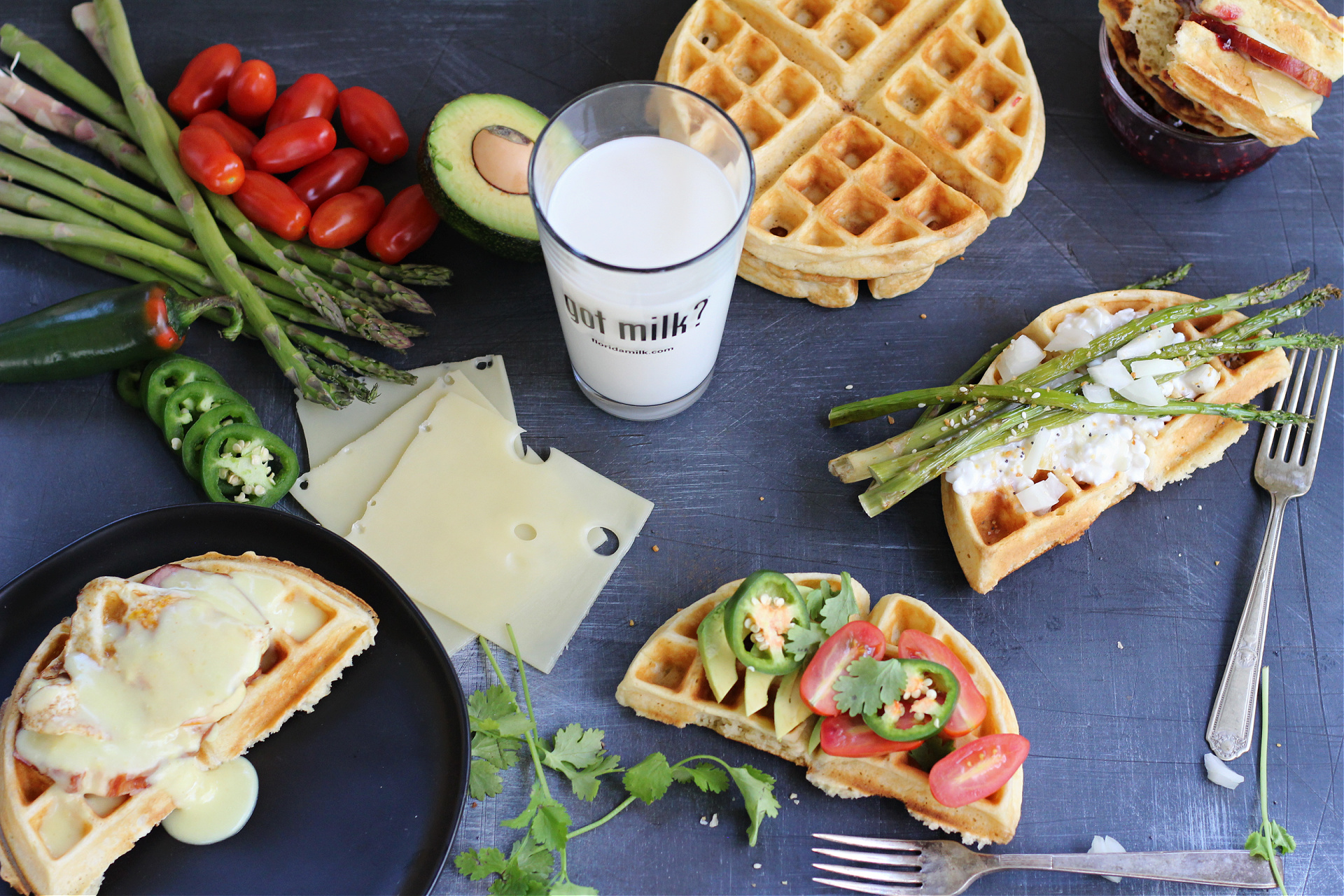 How exactly do you make waffles?
Well, that may seem pretty basic, so I'll make this quick. Waffles are made from batter cooked in a waffle iron. The batter is poured onto one side of the heated waffle iron and then the other side is closed over it, cooking the batter between the two plates.
Waffles are usually made with a batter that includes flour, eggs, milk, butter, sugar, and baking powder.
Waffles can be served plain or with a variety of toppings, such as syrup, butter, fruit, whipped cream, chocolate chips, or nuts. Waffles are perfect for adding toppings due to their deep pockets.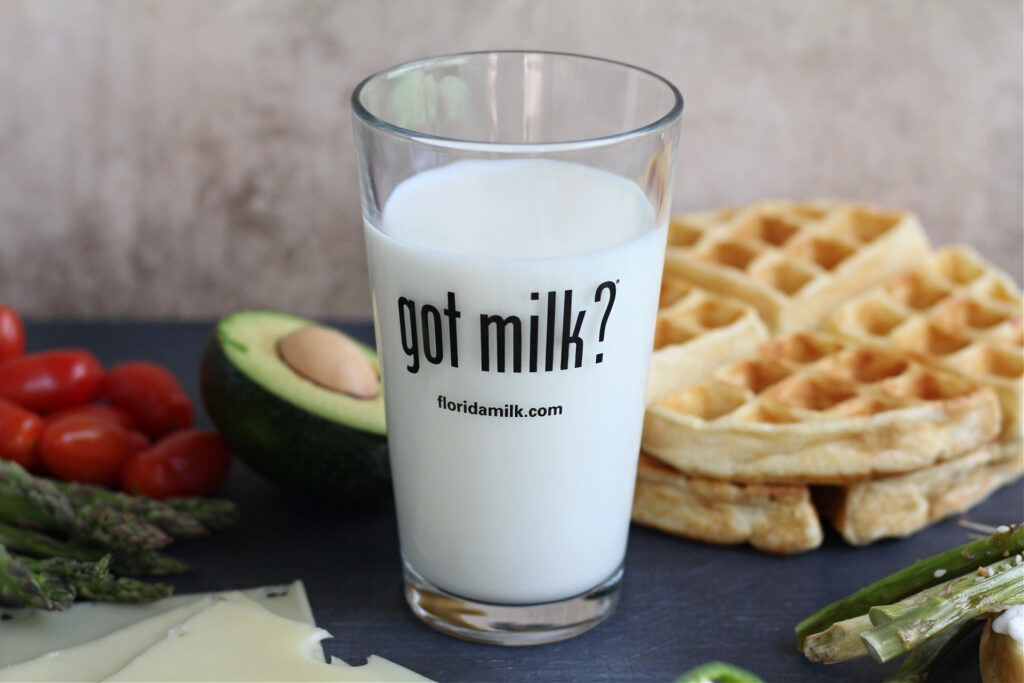 What do you do if you have leftover waffles
What? GASP! Yes, it's possible….
Waffles freeze well and can be stored in an airtight container or plastic bag in the freezer for up to 3 months. Reheat them in a toaster or oven for a quick breakfast or snack.
Use leftover waffles as the bread for a breakfast sandwich with bacon, egg, and cheese, or a sandwich with deli meat, cheese, and veggies. More ideas below 😉
Crumble leftover waffles into small pieces and use them as a topping for yogurt, oatmeal, or ice cream.
Use leftover waffles as a substitute for breadcrumbs when making chicken fingers or fish sticks.
Cube leftover waffles and mix with eggs, milk, sugar, and vanilla extract to make a bread pudding. Bake in the oven until golden brown and serve warm with whipped cream or ice cream.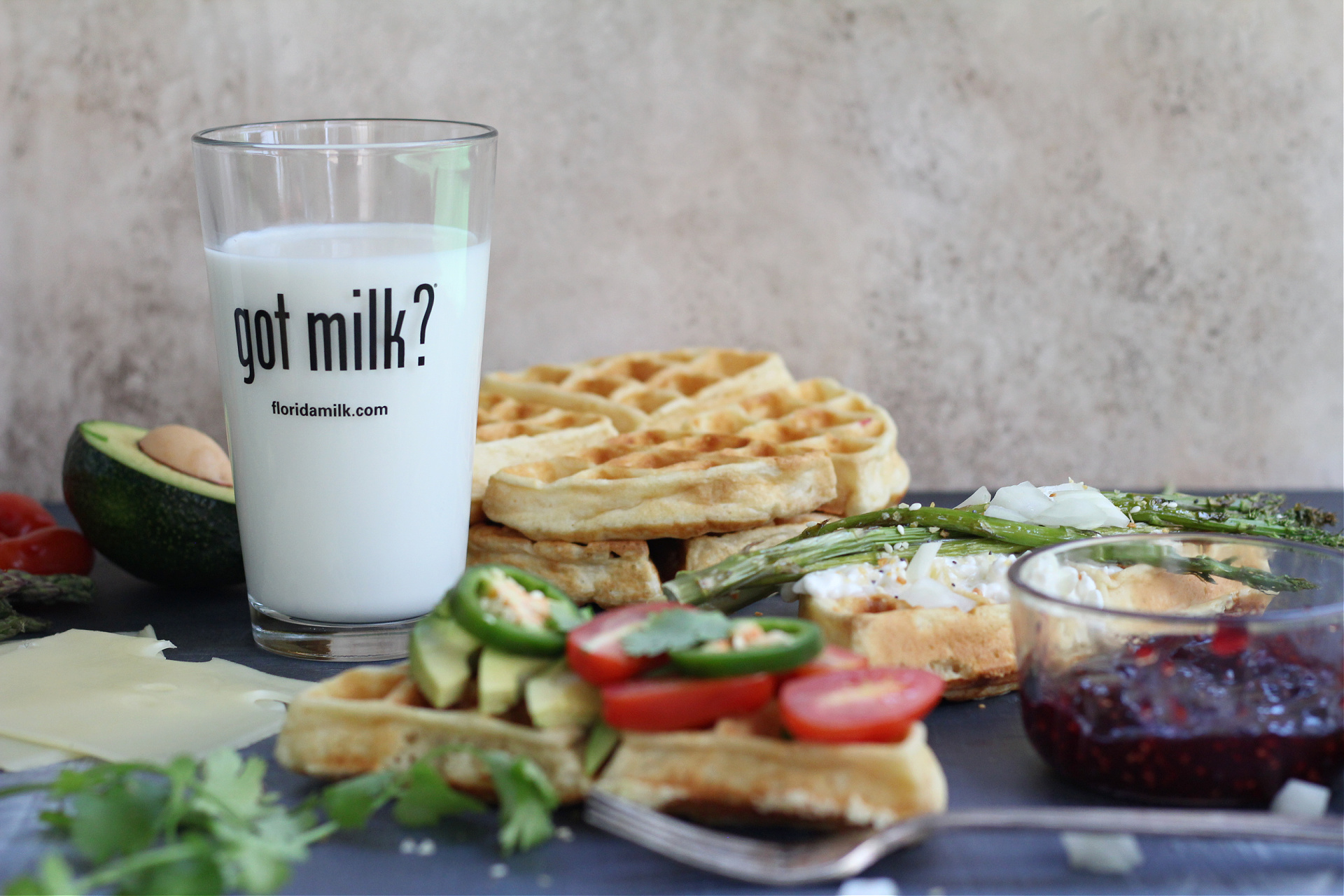 Why waffles are perfect for brunch
Waffles are often perfect for brunch because they are easy to make and can be dressed up with a variety of sweet or savory toppings.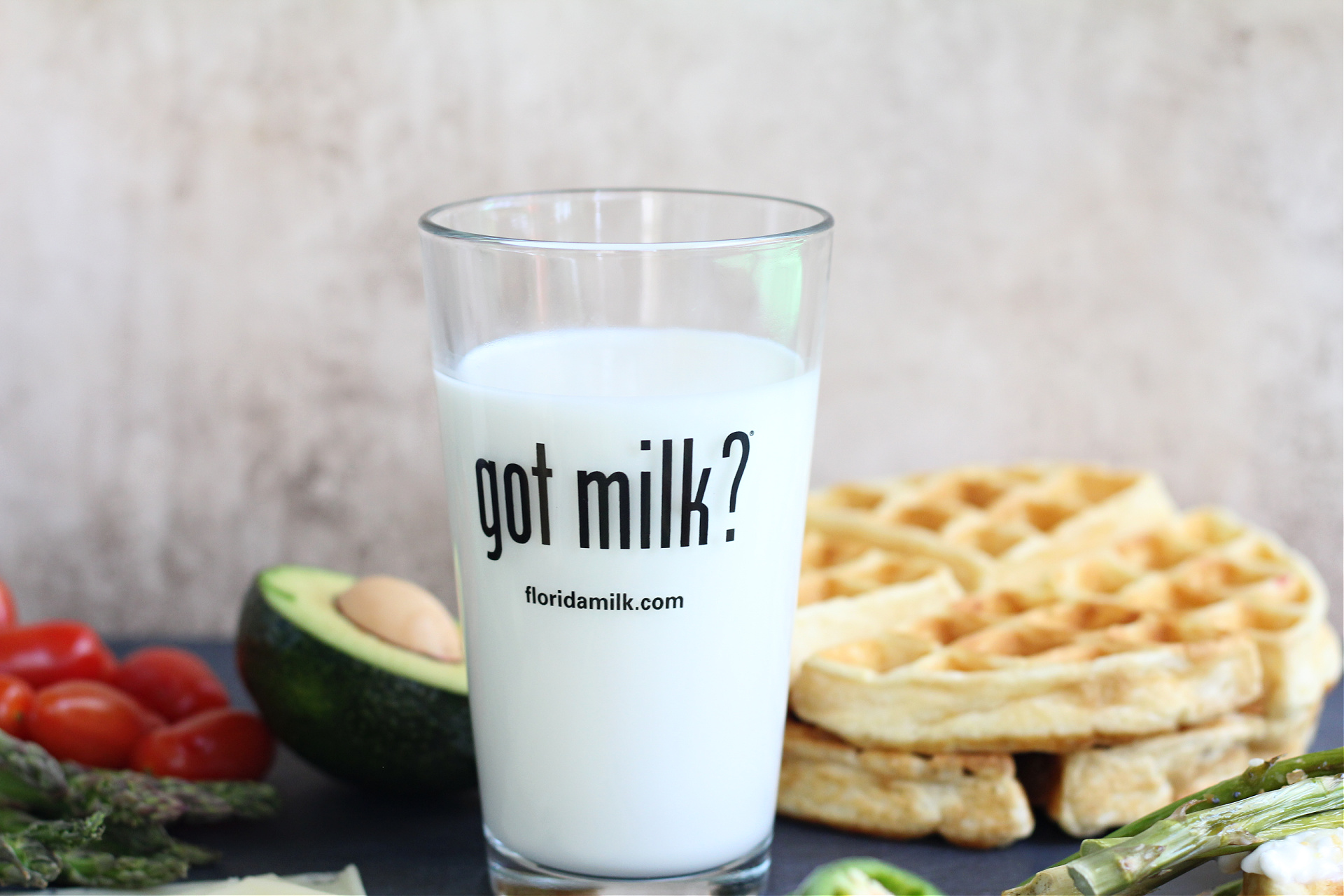 Why we always serve milk with our waffles
Milk complements the rich and buttery taste of waffles.
Milk is a good source of protein, calcium, and other essential nutrients, making it a healthy and filling addition to any meal.
Milk is AMAZING. Enough said 😉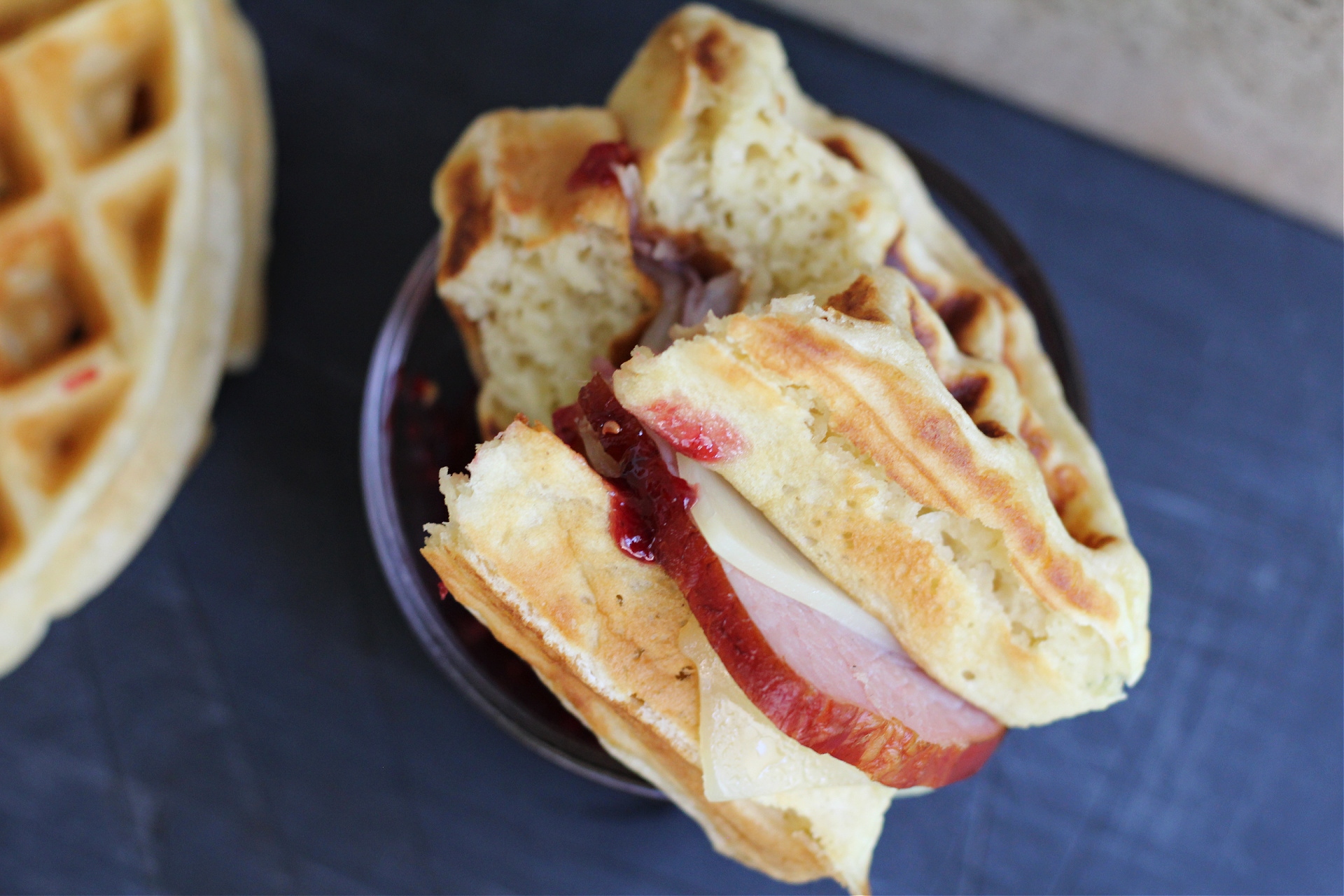 Best Savory Waffle Topping Ideas:
Eggs Benedict – Canadian Bacon, egg and hollandaise sauce – I used the package hollandaise sauce that is made with milk and butter
Cottage Cheese with roasted asparagus, sweet onions and everything bagel seasoning
Monte Cristo – I used Canadian Bacon, Swiss cheese and raspberry jam
Avocados, tomatoes, sliced jalapeno, and fresh cilantro
Mac n cheese, chicken and BBQ sauce
Chili and shredded cheese…don't forget the jalapenos slices!
Chicken and maple syrup/hot honey
Cream cheese and fresh veggies
Waffles can be served as a spin on a classic breakfast sandwich, topped with bacon, eggs, and cheese.
A savory twist on the traditional biscuits and gravy, waffles can be served with sausage and a creamy gravy.
Top waffles with smoked salmon, cream cheese, and capers.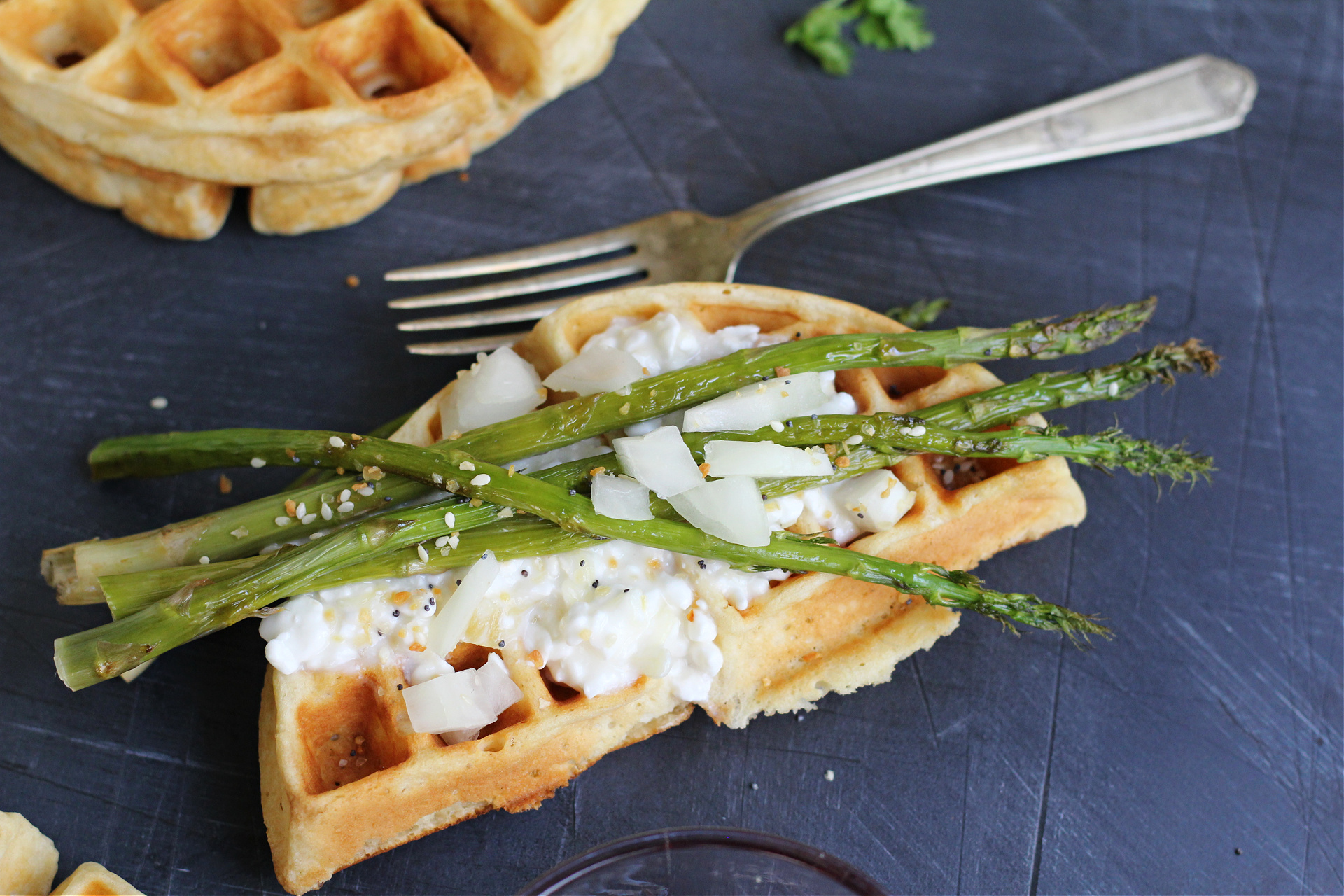 Alright, now that we know why you should waffles, how to store waffle leftovers and have shared over 10 incredibly scrumptious savory waffle toppings, let's go ahead and share exactly how to make the BEST HOMEMADE WAFFLES. So easy too…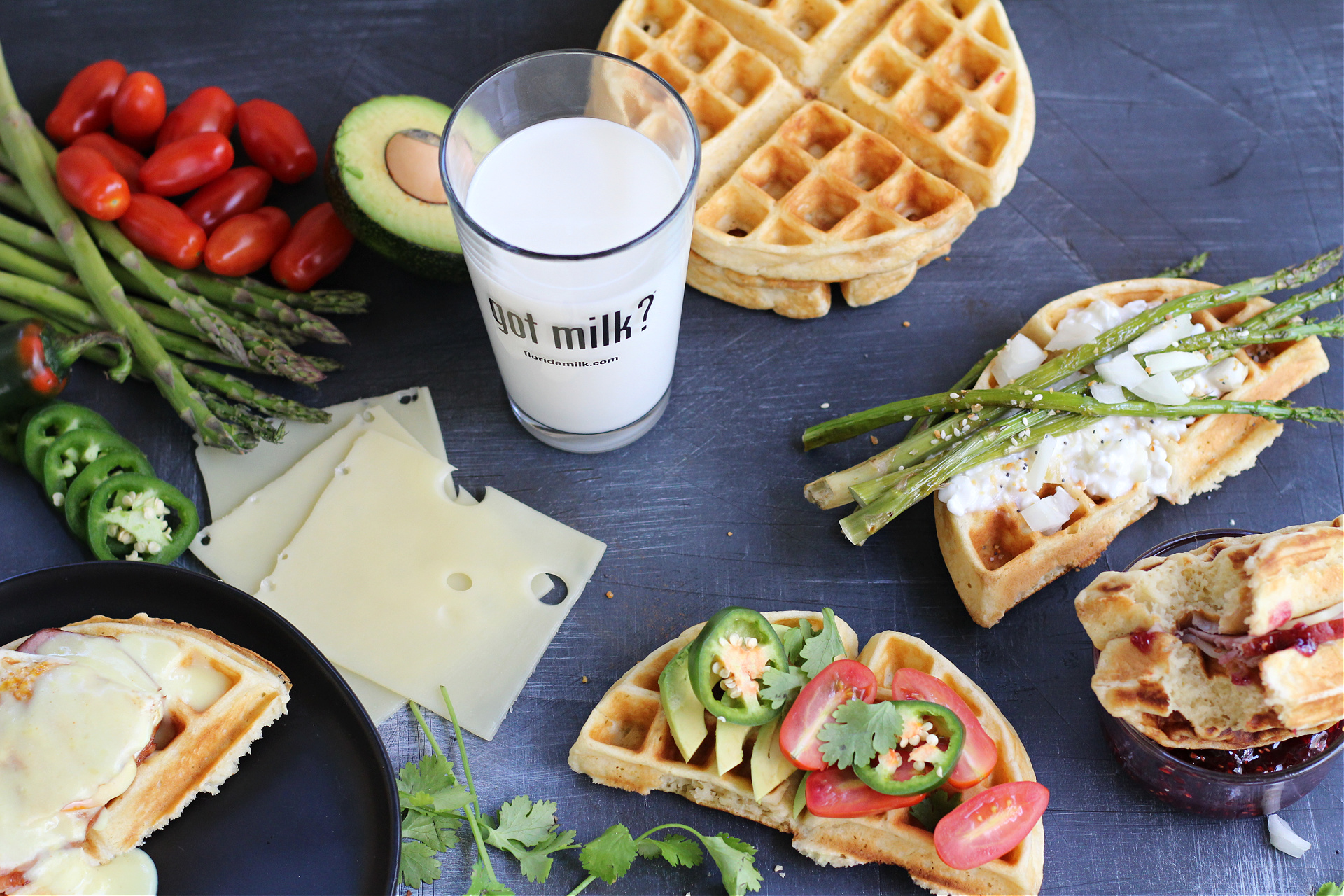 Ok, here's my best homemade waffle recipe. I put that it make 8 servings because these are the big waffles…we couldn't eat more than a hlaf of a waffle, especially when we topped then with our savory waffle topping of choice 🙂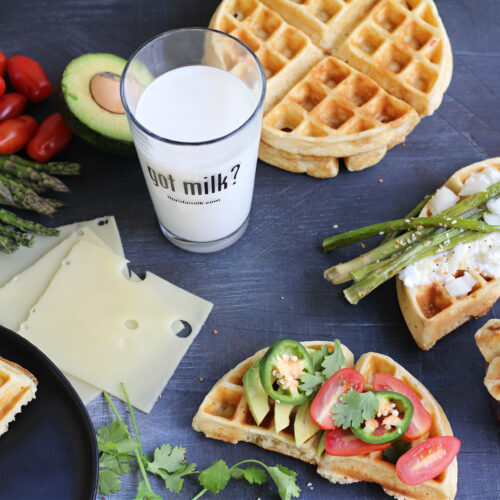 Ingredients
1

tsp

vanilla

2

eggs

⅓

cup

melted butter

1 ⅔

cups

Florida Milk

I used whole milk

2

cups

all purpose flour

1

tbsp

baking powder

1

tbsp

sugar

½

tsp

salt

I used Habanero Florida Sea Salt
Instructions
In a medium size bowl, mix together all the dry ingredients.

In a small/medium bowl, mix together all the wet ingredients. Mix well.

Pour the milk/egg mixture into the flour mixture. Whisk.

Preheat your waffle maker as directed.

Pour large spoonfuls onto greased waffle iron until mostly full.

Close the lid and cook for about 3-5 minutes or until golden brown or as directed.

Top with your favorite toppings.

Serve with a glass of cold milk.
Notes
Pro Tips: Don't overmix the batter, you should have some lumps! Don't use a standard cooking spray, I used olive oil spray.
This recipe will make 4 large waffles, we were only able to eat a 1/2 waffle each, which is why the servings is 8.
Nutrition
Calories:
236
kcal
|
Carbohydrates:
28
g
|
Protein:
6
g
|
Fat:
11
g
|
Saturated Fat:
6
g
|
Polyunsaturated Fat:
1
g
|
Monounsaturated Fat:
3
g
|
Trans Fat:
0.3
g
|
Cholesterol:
67
mg
|
Sodium:
401
mg
|
Potassium:
128
mg
|
Fiber:
1
g
|
Sugar:
4
g
|
Vitamin A:
378
IU
|
Calcium:
164
mg
|
Iron:
2
mg
Be sure to check out Florida Milk for more dairy-licious recipes and follow on Instagram, Facebook and Pinterest.
And while you are at it, check out all the recipes on Food Wine Sunshine and follow on me Facebook, Twitter, Pinterest and Instagram for more FOOD WINE AND SUNSHINE.