(Last Updated On: March 30, 2021)
This Egg, Biscuits and Gravy Overnight Bake is hearty and delicious. This easy breakfast casserole recipe is sure to please the whole family. While this post is sponsored by DairyPure, all opinions and the yummy breakfast recipe are my own.

Egg Biscuits and Gravy Casserole
Breakfast on the weekend is a big deal in our house. It's the time we gather around the table with nowhere to rush off too. Breakfast is the time that there are no homework deadlines, bedtime isn't quickly approaching, and everyone is in a good mood…after mom and dad have their cup of coffee, of course ;). Sunday breakfasts are made to share with family and friends. Sunday morning is when we have our neighbors and their kids over and we all have breakfast together. It's the one day a week that we can all enjoy each others company and catch up on life. I love creating a new breakfast for us adults, while the kids are insistent on pancakes 😉
Since Sunday morning breakfast starts at 9:00 a.m., I like prepping the night before, the easier the morning is, the better! We have been doing this for awhile now, so I sometimes have a hard time coming up with new ideas for breakfast, so when my son asked me why I never make biscuits and gravy, I decided it was about time. Biscuits and gravy has been a favorite of my whole family's for as long as I can remember, so I honestly have no idea why I haven't made it before. I would guess that I always assumed that making biscuits and gravy was complicated, but I am here to tell you, it's not.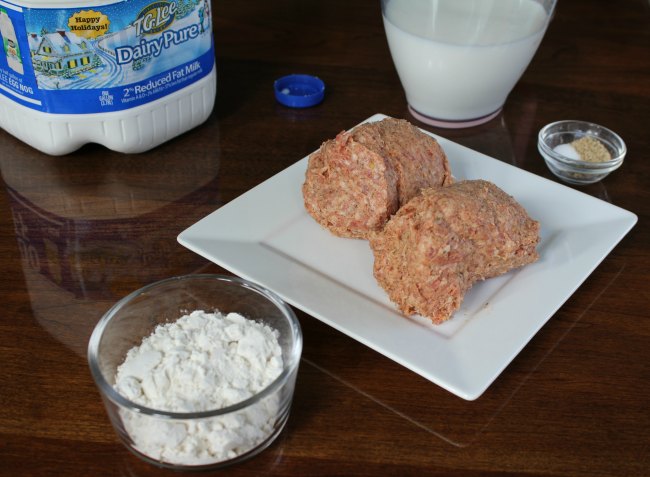 You only a few ingredients needed for the sausage gravy. I used the hot breakfast sausage, feel free to use the variety your family will enjoy best.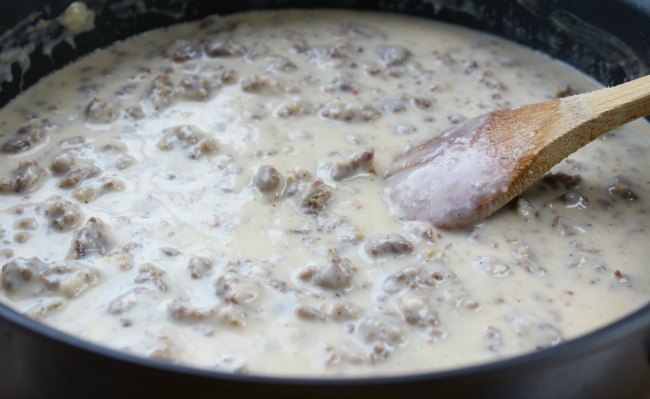 The sausage gravy for this breakfast casserole is easy to make, in fact, it is ready in about 10 minutes.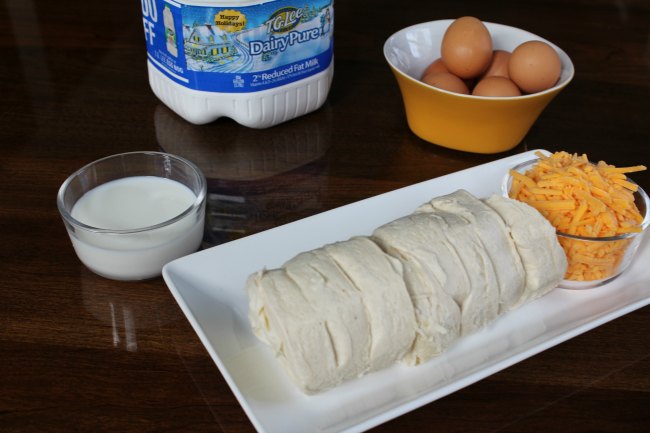 The egg mixture for this delicious biscuits and gravy casserole is also simple, only needing a few main ingredients.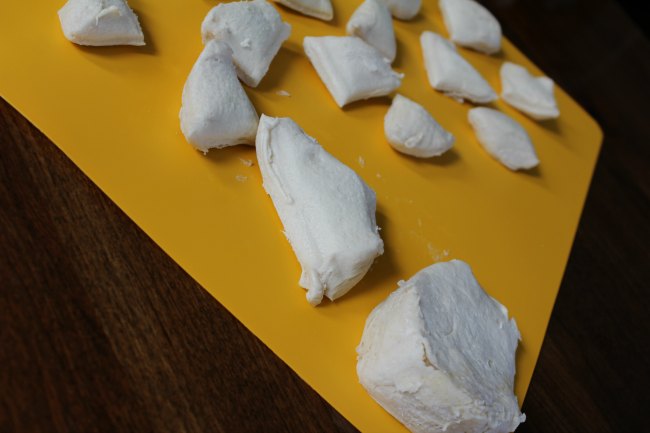 You will quarter the refrigerated biscuits while your sausage is browning, or after even. I recommend doing this with a pizza cutter, but scissors would work too.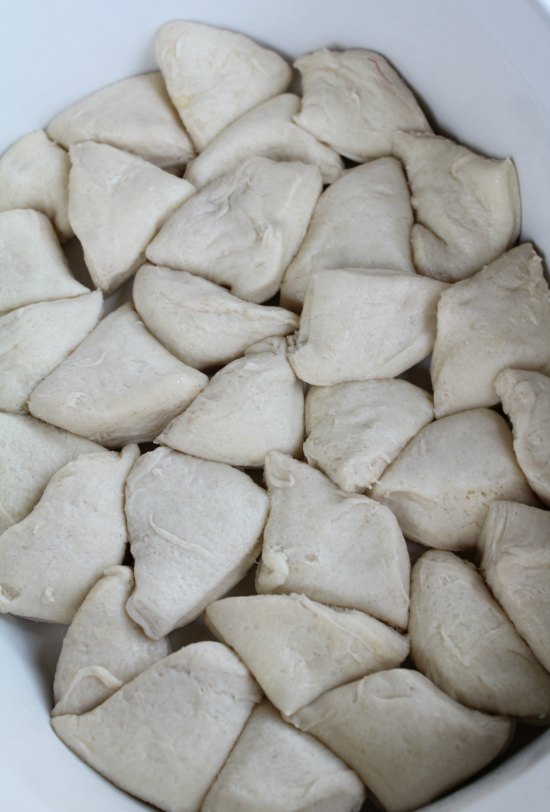 Once everything is prepped, you start the layering process. First, layer the quartered biscuits.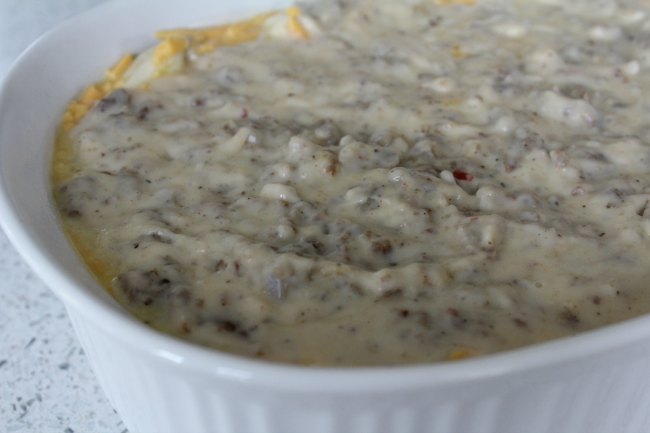 Next, pour the egg mixture and the sausage gravy.
How did I manage to make this into an Overnight Bake? I layered all the deliciousness into a casserole dish, covered it, and tossed it in the refrigerator, then baked it in the morning. Make ahead breakfasts make mornings so much easier 🙂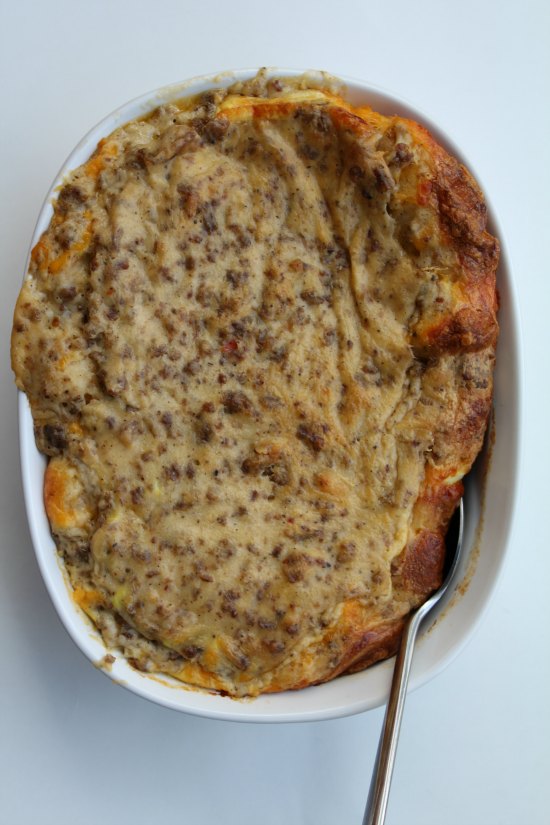 You can easily make this Egg, Biscuits and Gravy Casserole the morning of as well, I have done it that way too.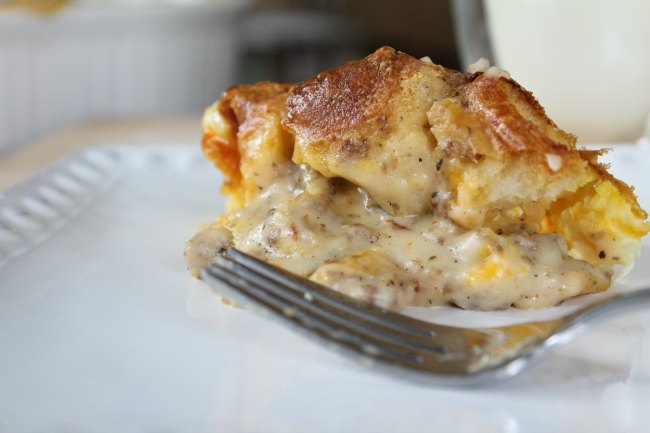 Now that I have you all hungry, here is my Egg Biscuits and Gravy Breakfast Casserole recipe, be sure to Print It and Pin It so that you can make it again and again.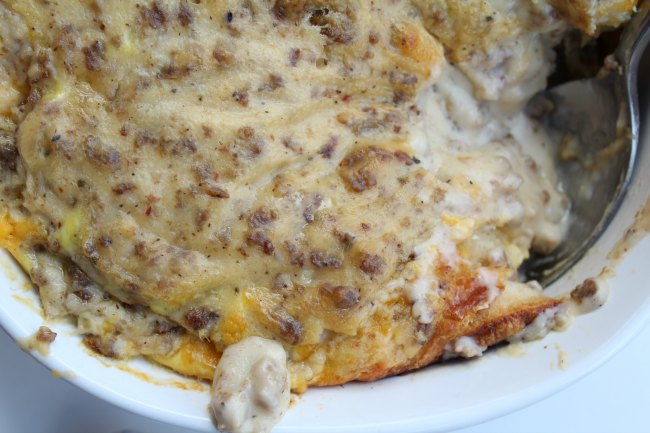 Egg, Biscuits, and Gravy Overnight Bake
This hearty breakfast casserole combines all of your favorite breakfast items into one dish! Biscuits, sausage gravy, eggs and cheese make this a casserole you will make again and again.
Print
Pin
Rate
Ingredients
Ingredients For Sausage Gravy:
1

roll

16oz hot breakfast sausage

you can use mild or any variety you prefer

2 1/2

cups

2% reduced fat DairyPure milk

1/2

cup

flour

2

tsp

salt

1/2

tsp

black pepper

2

tsp

seasoning salt

if desired - I used Dust by VooDoo Chef
Ingredients For Egg Mixture:
6

eggs

1/2

cup

2% reduced fat milk

1

cup

shredded cheddar cheese

I used sharp

1

can

refrigerated biscuits
Instructions
Preheat oven to 350 degrees.

In a large skillet, brown the sausage over medium heat, breaking it up into small pieces

When the sausage is cooked thoroughly, reduce heat to low.

Sprinkle half the flour on the sausage and stir until it is absorbed.

Add the rest of the flour and stir until it is absorbed as well. Stir for an additional minute.

Turn the heat to up to medium and pour in the half of the milk, stirring to thicken.

Pour in the remainder of the milk, continue stirring for another 5 minutes until the gravy is mixed well and thickened up some.

While the sausage is browning (or after the gravy is made). Mix the eggs, 1/2 cup milk, and cheese in a large bowl. Set the bowl aside.

Open the can of refrigerated biscuits and cut each biscuit into quarters. I used a pizza cutter to do this.

Grease/Spray a 9x13 inch baking pan or casserole dish.

Place the quartered biscuits into the prepared baking dish and spread them out evenly.

Pour the egg mixture over the biscuits.

Pour the gravy over the egg mixture, doing your best to spread evenly.

Bake uncovered for 45 minutes.

Enjoy!
Notes
If you would like to make this the night before, cover tightly after you added the gravy layer and refrigerate. In the morning, bake at 350 degrees for 30 minutes covered and an additional 30 minutes uncovered or until breakfast is hot and bubbly throughout.
Nutrition
Calories:
393
kcal
|
Carbohydrates:
40
g
|
Protein:
15
g
|
Fat:
19
g
|
Saturated Fat:
7
g
|
Cholesterol:
145
mg
|
Sodium:
1887
mg
|
Potassium:
327
mg
|
Fiber:
1
g
|
Sugar:
7
g
|
Vitamin A:
430
IU
|
Vitamin C:
1
mg
|
Calcium:
254
mg
|
Iron:
3
mg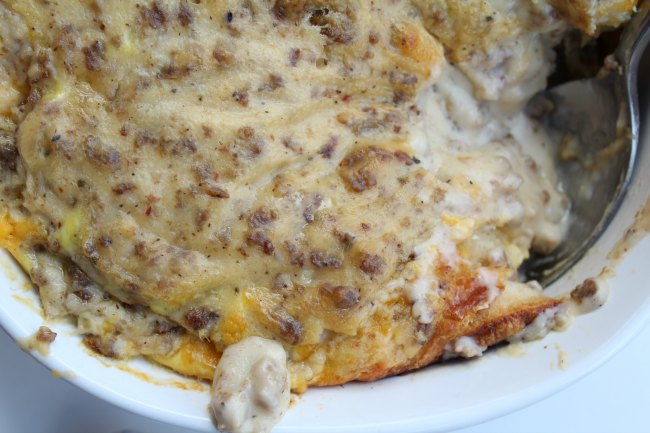 I hope you enjoy this Egg Biscuit and Gravy Overnight Bake as much as we do!
Since this breakfast casserole can be made the night before, it is an excellent option for the holidays! In fact, my kids have already requested it for Christmas morning.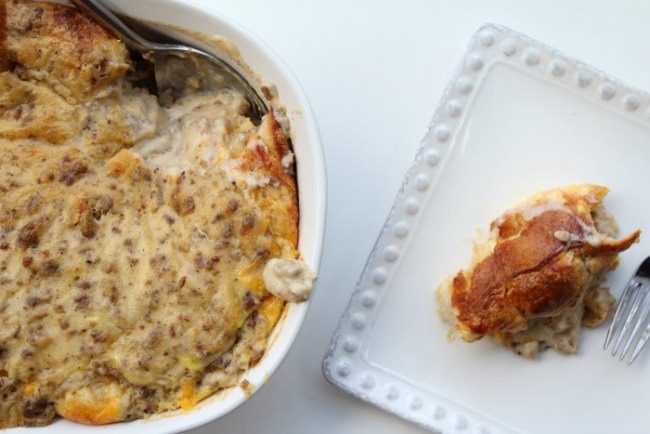 I used DairyPure Milk in this breakfast recipe (and serve it to my family) because it is the only milk backed by an exclusive Five-Point Purity Promise, which ensures that DairyPure Milk contains no artificial growth hormones*, is tested for antibiotics, is continually quality tested to ensure purity, only comes from cows fed a healthy diet and is cold shipped from your trusted dairy. So, it's a brand that I can feel good about giving my family and friends. And that's important to me.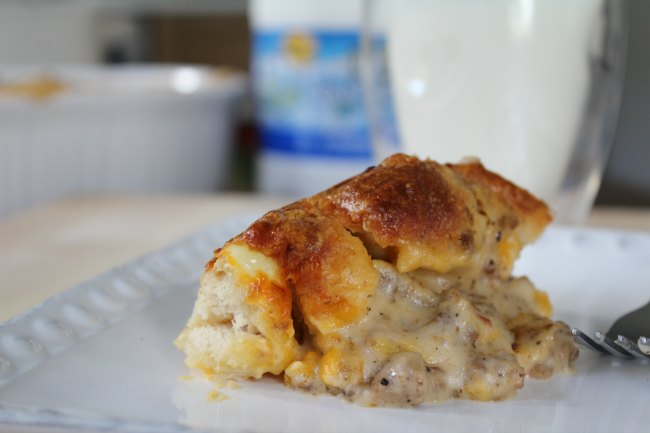 I used the 2% reduced fat variety in my recipe, but it is also available in whole, 1% low-fat and skim/fat-free milks. You can find all varieties in the dairy case at grocery stores nationwide. I picked mine up at my local Winn-Dixie, but they also carry it at my local Target and Publix.
For recipes, local retailers, the full line of products and to learn more about DairyPure's exclusive Five-Point Purity Promise, visit DairyPure.com, and find DairyPure on Facebook and Pinterest.
Looking for another delicious breakfast casserole recipe? These all can be made ahead of time, and use milk in the in recipe too 😉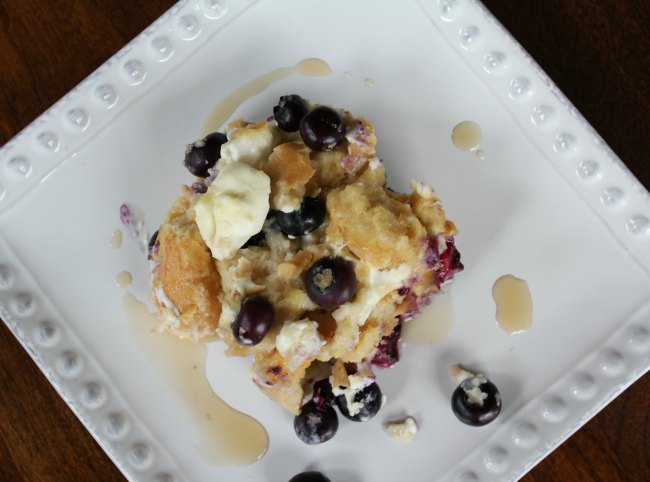 Blueberry Delight Breakfast Casserole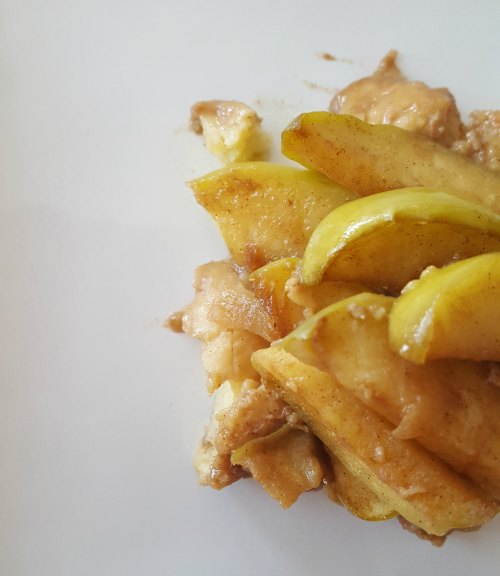 Apple Caramel French Toast Bake
In fact, be sure to check out all the recipes on Food Wine Sunshine and follow me on Facebook, Twitter, Pinterest and Instagram.
What is one of your favorite breakfast casserole recipes?