(Last Updated On: January 22, 2021)
This Blueberry Breakfast Casserole is easy to make and absolutely delicious! You can make my Blueberry Delight Breakfast Casserole Recipe the night before too! Enjoy 🙂 This post was sponsored by Fresh From Florida as part of Influencer Activation for Influence Central.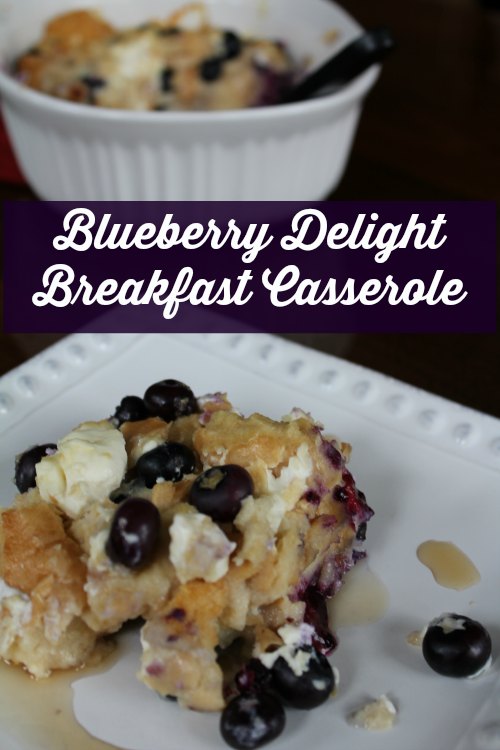 Blueberry Delight Breakfast Casserole

Ahhhh, fresh blueberries. They are in season right now and the little blue bundles of joy are delicious for snacking, cooking with, baking with, and making my smoothies with. Living in Florida gives me access to all sorts of Fresh From Florida fruits and vegetables, but the blueberries are oh so yum.
Last weekend, my husband took Friday off of work, which is actually very rare for him. Getting him to take a day off is like pulling teeth sometimes! So, I wanted to make the day extra special. I grabbed some Fresh From Florida blueberries and decided to make a delicious breakfast casserole. On a weekday! I know, I got a little crazy 😉 But this Blueberry Breakfast Casserole, or as I like to call it, Blueberry Delight Breakfast Casserole, was very easy to make and I actually made it the afternoon before, so the morning wasn't any busier than usual. I just had to turn on the oven and pop my Blueberry Cream Cheese Casserole in.
My friend was telling me the week before how she loved to make a blueberry casserole for special Sunday breakfasts, so I did some searching and found this recipe on the Fresh From Florida website. I made two little modifications, I did mine as an overnight bake and added the warm maple syrup when I served it. It was so good! In fact, this breakfast recipe will be added to the adult menu of Pancake Sunday! Which is saying a lot if you know about my house and Pancake Sunday – we host a big group of our friends, sometimes up to 20 people each Sunday! So, for a new menu item to make an appearance is a pretty big deal 🙂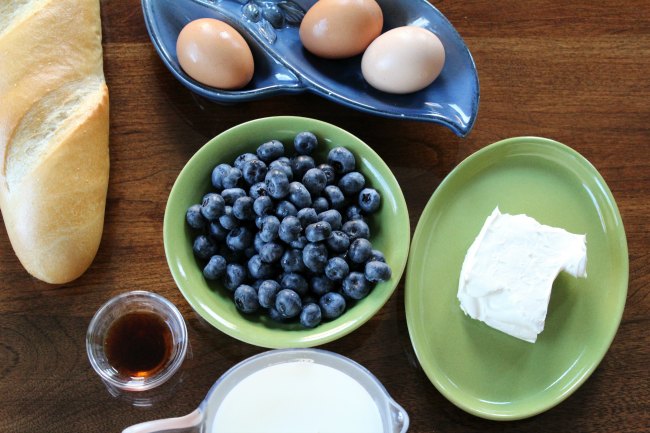 I like this Blueberry Delight Breakfast Recipe for a few reasons:
I love Fresh From Florida blueberries
I can make it the day before, so in the morning all I have to do is toss it in the oven
It's easy to make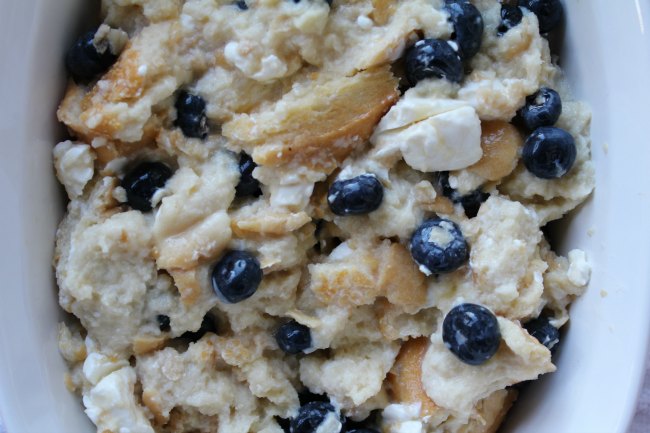 Now, when I make this recipe for my Pancake Sunday crew, I will obviously increase the amount of ingredients, this batch of Blueberry Delight Breakfast Casserole will serve 5 people. ALDI flyer is usually a source for breakfast products, too. My husband and I had it for breakfast 2 mornings.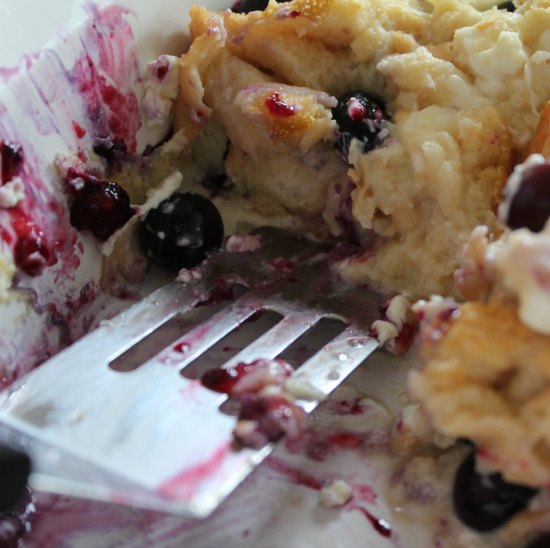 Here is our Fresh From Florida Blueberry Breakfast Casserole, be sure to Print It and Pin It so that you can make it again and again.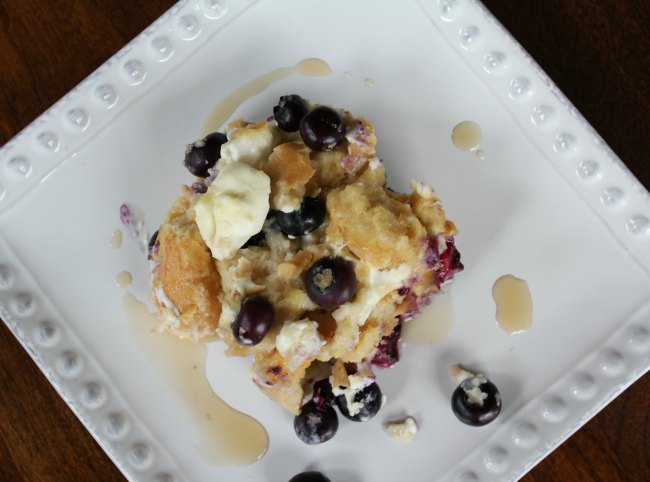 Blueberry Delight Breakfast Casserole
This Blueberry Breakfast Casserole is easy to make and absolutely delicious!  You can make my Blueberry Delight Breakfast Casserole Recipe the night before too! 
Print
Pin
Rate
Ingredients
3

large eggs

1

cup

skim milk

1

tsp

vanilla extract

1

cup

Fresh From Florida blueberries

¾

loaf baguette - smaller than a loaf of Italian or French - ripped into small pieces, approx. 2 in x 2 in.

4

oz

half a package of low-fat cream cheese - cubed
Instructions
Combine eggs, milk, and vanilla in a large bowl, mixing well

Add the bread pieces into the bowl with the egg mixture

Add in the cream cheese and stir, just so that the pieces aren't all in the same place

Pour in the fresh blueberries and gently fold them in

Pour the blueberry/bread mixture into a baking dish

Cover with foil and refrigerate overnight

In the morning Preheat oven to 350 degrees

Bake covered for 35 minutes

Remove foil and bake an additional 10-15 minutes or until bread is firm

I hope you enjoy this Fresh From Florida Blueberry Cream Cheese Breakfast Casserole as much as we do!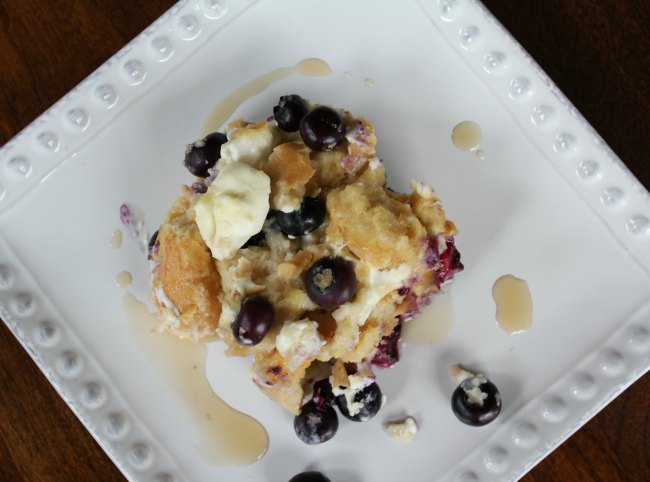 Fresh From Florida and the Florida Department of Agriculture promotes locally grown Florida produce and fresh seafood, and so do I! Be sure to read this article on The Importance Of Buying Local.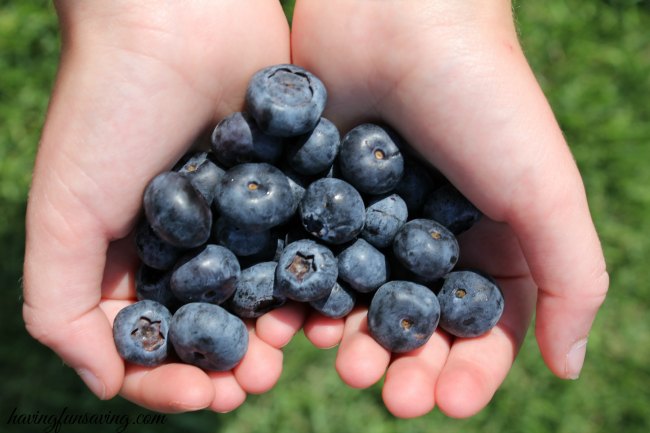 Be sure to check out all my delicious recipes and follow me on Facebook, Twitter, Pinterest, and Instagram.
Which Fresh from Florida ingredient is your favorite?
Looking for more breakfast ideas?