(Last Updated On: December 2, 2019)
This Challah Bread Pudding Topped With Homemade Caramel Sauce is a must make. This dessert recipe is sure to impress your guests and have everyone asking for seconds. While this post is sponsored by Florida Dairy Farmers, all opinions and the recipe are my own.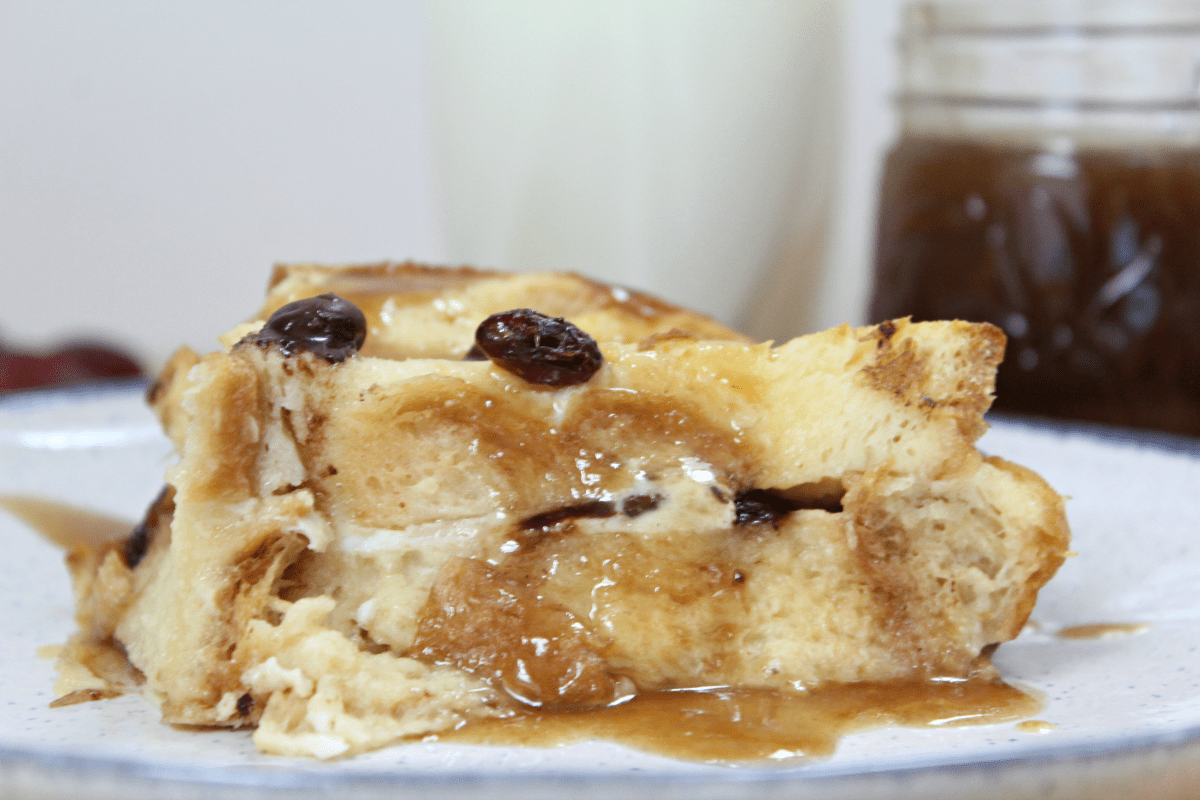 Challah Bread Pudding Topped With Homemade Caramel Sauce
Bread pudding is one of my husband's absolute favorite desserts. He orders it whenever he sees it on a restaurant menu. There is just something about the decadent dessert that makes you feel like you are having a bit of comfort served on a plate. Traditions. Memories. So many of both are centered around food, and that's why I guess they say that the kitchen is the heart of the home.
I have never made bread pudding before. Until now. I guess it was one of those recipes that you know has been enjoyed for years, so it must be complicated, right? Not really. Bread Pudding is actually relatively easy to make, and the effort you put in is oh so worth it.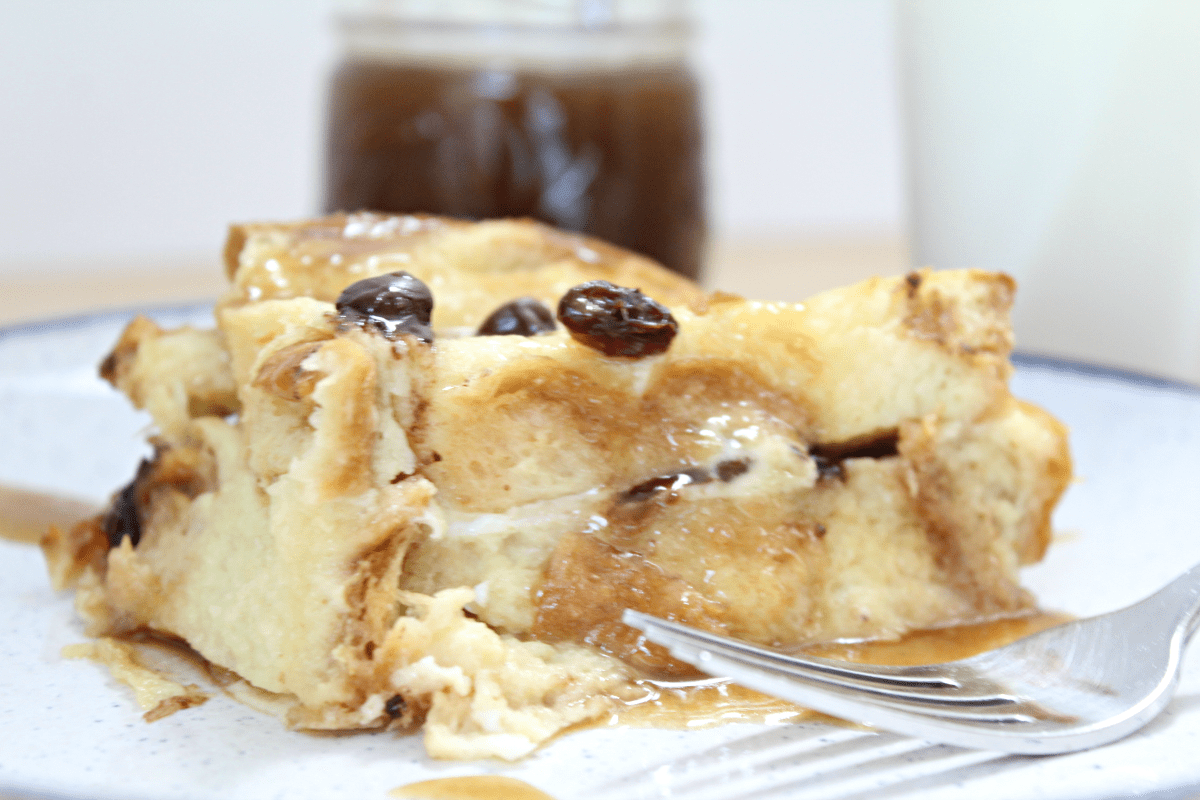 I used Challah in my bread pudding recipe, Challah is a Kosher loaf of braided bread. It is a simple dough is made with eggs, water, flour, yeast and salt. Hanukkah is coming, so this would be an excellent dessert to serve at your celebrations. And if you don't celebrate Hanukkah, I still recommend trying this rich bread pudding recipe with Challah. Challah is dense, slightly sweet and a bit "eggy" making it the perfect bread for bread pudding. And french toast.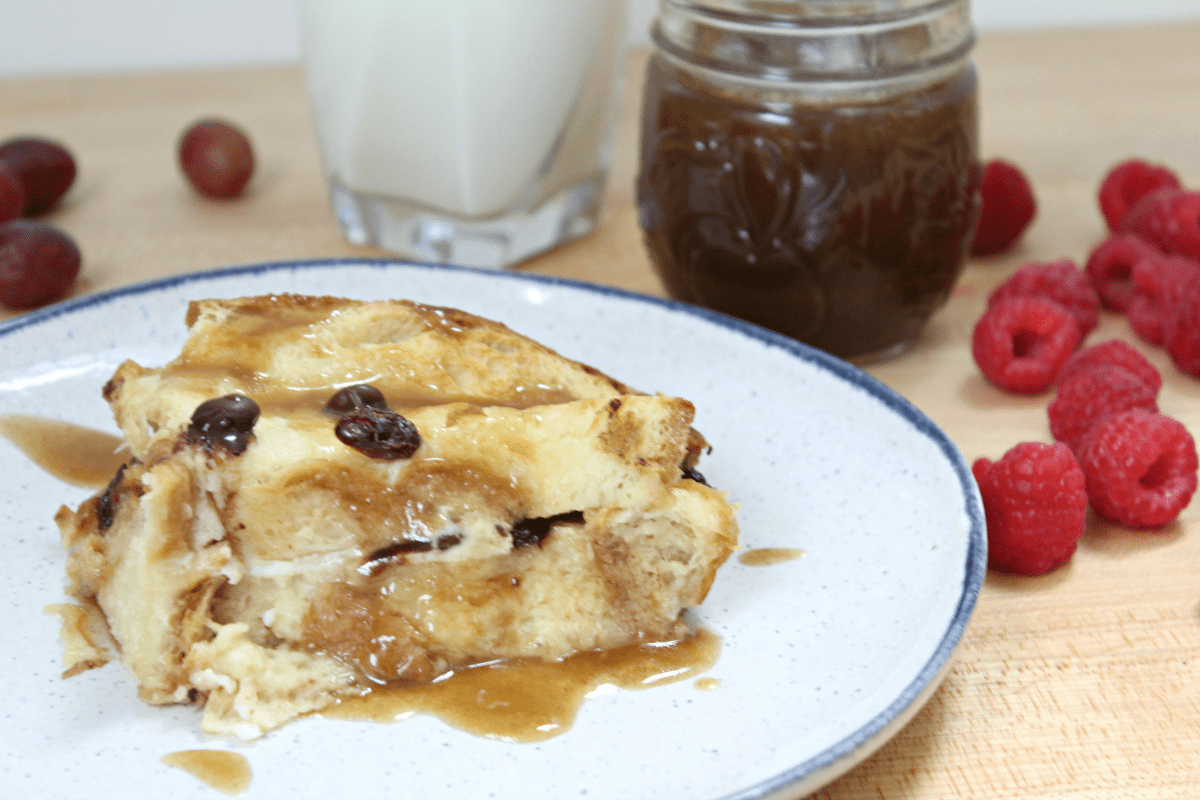 Hanukkah this year will begin in the evening of Sunday, December 22 and ends in the evening of Monday, December 30.
We all know that everyone has different holiday traditions and that not everyone celebrates Christmas. Some people celebrate Hanukkah, (the Festival of Lights) while others celebrate Hanukkah and Christmas. Hanukkah has been celebrated since 165 BCE, and many traditions are included in the celebration.
The word Hanukkah is Hebrew and it means "dedication". In this case, it is referring to the celebration of the re-dedication of the Holy Second Temple in Jerusalem. The celebration began at the behest of Judas Maccabeus in 165 BCE after the Jews triumphed over the Seleucid Empire and were to last for eight days. The eight days were to remind the Jewish people that even though the purified oil found in the temple was only enough to light the candles for one day, it lasted for eight days and nights.
There is one piece of Hanukkah tradition that you may be familiar with and that is the menorah. The menorah looks like a candelabra of sorts, with a spot for nine candles, and for each of the eight nights of Hanukkah, a candle is lit. Some other traditional aspects of Hanukkah include playing with four-sided tops known as dreidels, exchanging gifts, singing songs, and eating traditional foods many of which are fried in oil.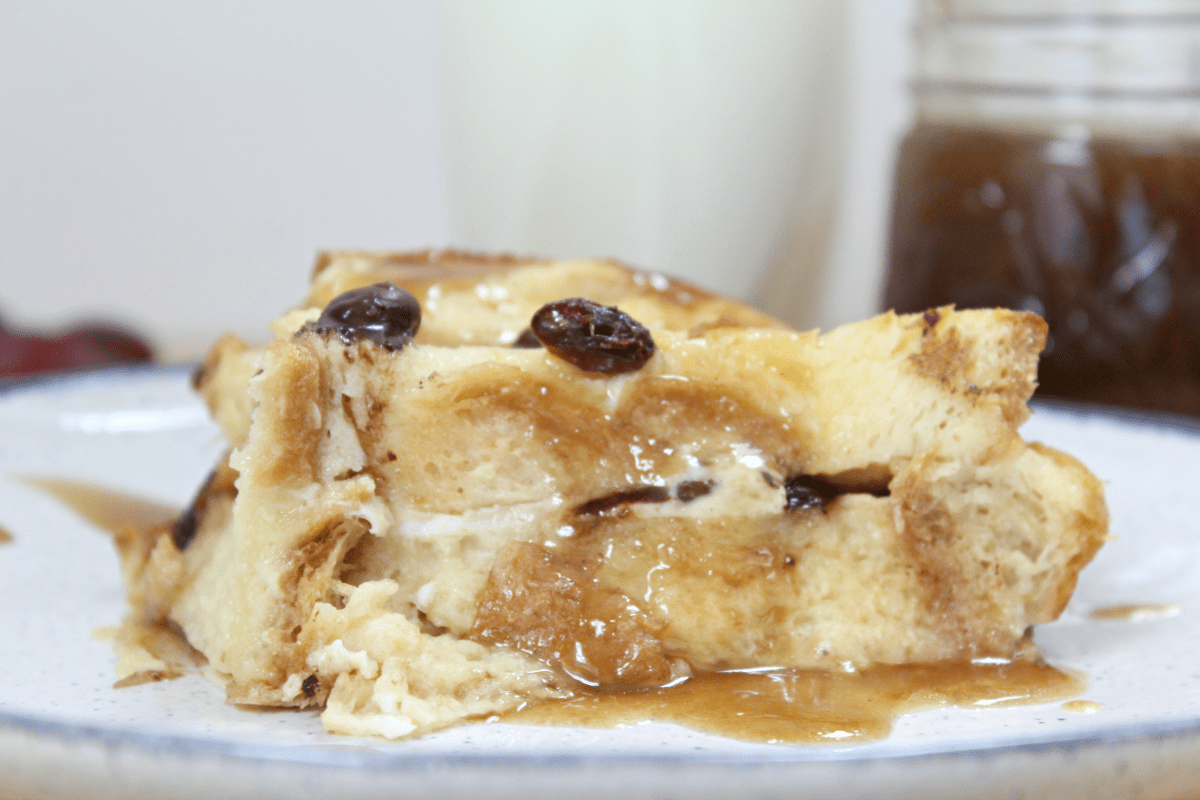 Some of these traditional foods are latkes or fried potato pancakes, Matzo ball soup, sufganiyot or fried jelly-filled donuts, brisket, and Challah bread. Speaking of Challah bread, let's get to my Challah Bread Pudding recipe, shall we?
You will need milk, butter, eggs, vanilla extract, sugar, chocolate chips, raisins, and of course, Challah bread. I had all the ingredients on hand besides the fresh Challah bread, so hopefully you do it. This easy bread pudding recipe only takes about 15 minutes to prep and about one hour in the oven. The easy homemade caramel sauce is ready in about 10 minutes, making this recipe easy and simply delicious to serve this Hanukkah or any day.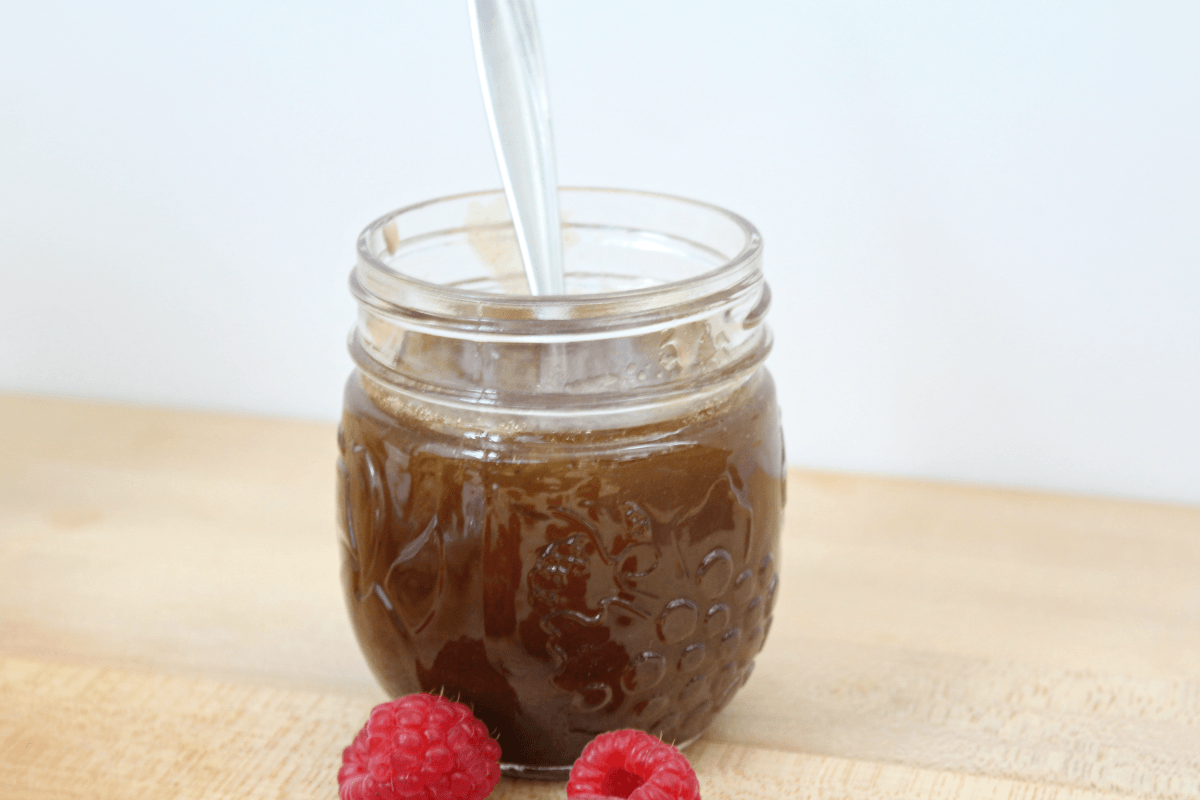 Now, here is my Easy Challah Bread Pudding and Homemade Caramel Sauce Recipe. Be sure to Print It and Pin It so that you can make it again and again.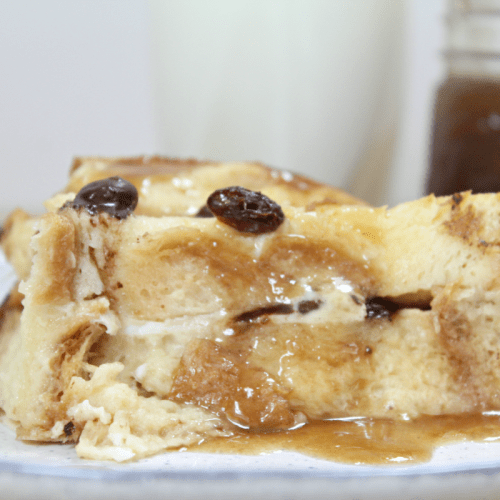 Challah Bread Pudding with Homemade Caramel Sauce
This Easy Challah Bread Pudding with Homemade Caramel Sauce is perfect for a crowd! Delicious and easy to make, this recipe is a must try this season.
Print
Pin
Rate
Ingredients
4

cups

slightly warm milk

I used skim

6

tbsp

butter

melted

1 ¼

cups

sugar

1

tsp

vanilla extract

6

eggs

1

loaf

Challah bread

½

cup

chocolate chips

½

cup

raisins
Homemade Caramel Sauce
1

cup

packed light brown sugar

1

stick of butter

¼

cup

milk

I used skim

1

pinch

salt
Instructions
Spray or butter bottom of 9x13 baking dish

Add one layer of the Challah bread on the bottom of the baking dish, you may have to customize your slices by cutting them slightly to make sure the whole bottom is filled

Sprinkle on half of the chocolate chips and half of the raisins

Add another layer of the Challah bread, following the same pattern of the first layer

Sprinkle on the remaining chocolate chips and raisins

In a large bowl mix milk, sugar, eggs, vanilla and melted butter

Slowly pour the milk mixture over the layered bread

Uncover and bake for an additional 10 - 15 minutes until middle is set and top is slightly brown

Allow to cool slightly before serving
Easy Homemade Caramel Sauce
Add brown sugar, butter and milk to a small sauce pan

Bring to boil, stirring regularly

Allow to cook for 3 - 5 minutes

Allow to cool slightly to thicken

Drizzle on top of bread pudding
Notes
You can store remaining caramel sauce in a jar or a container in the refrigerator.  Be sure to cool before refrigerating.
I hope you enjoy this Easy Challah Bread Pudding recipe as much as we do!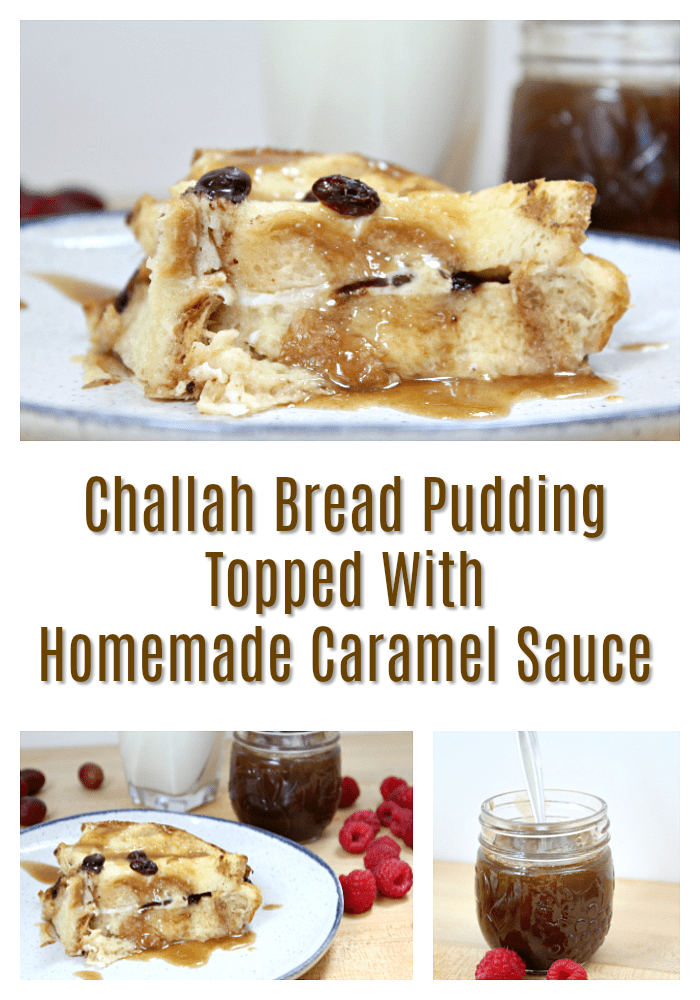 Have you made bread pudding before? What is one of your favorite traditional desserts?
Looking for an after dinner cocktail to accompany this bread pudding recipe?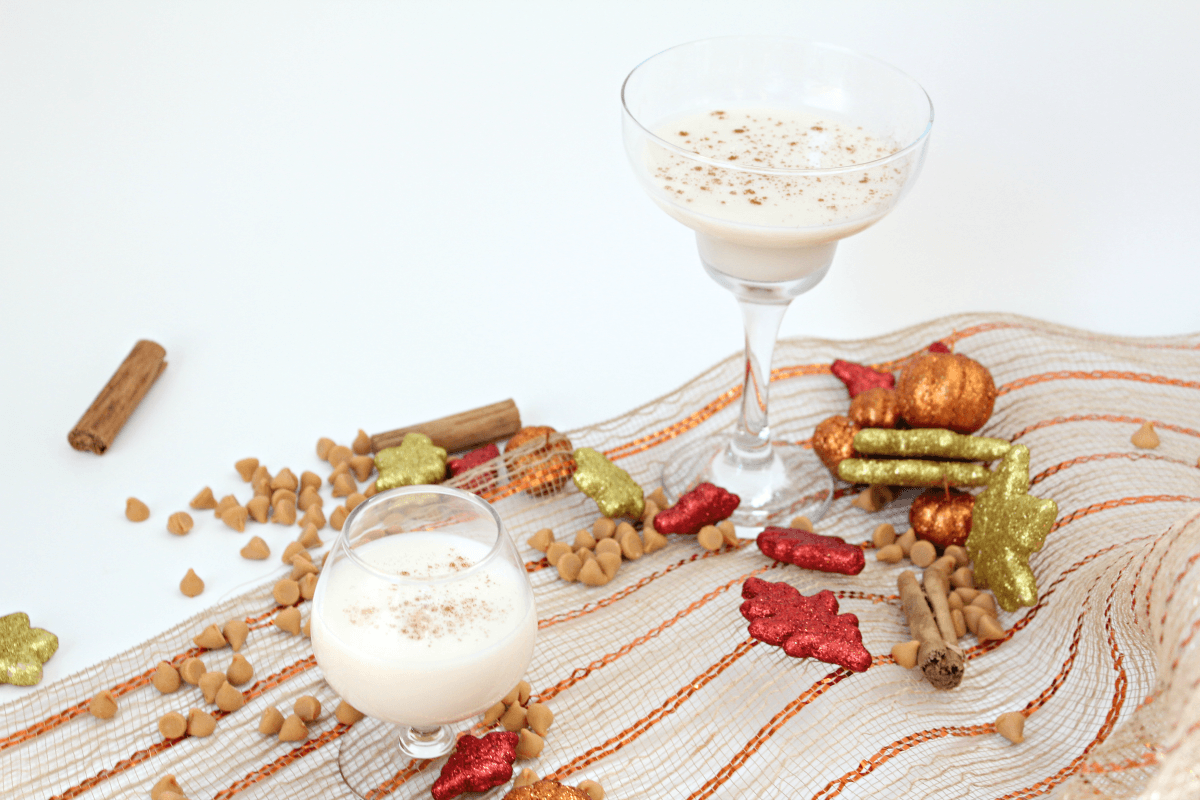 Try this Creamy Butterscotch Martini. The butterscotch pairs nicely with the chocolate in the bread pudding.
Be sure to check out Florida Milk for more dairy-licious recipes and follow on Instagram, Facebook and Pinterest.
And while you are at it, check out all the delicious recipes on Food Wine Sunshine and follow on me Facebook, Twitter, Pinterest and Instagram for more FOOD WINE AND SUNSHINE.