(Last Updated On: April 28, 2021)
Let Mom have the morning off from cooking and treat her with this easy yet delicious Mother's Day Brunch Menu that the kids can help cook. While this post is sponsored by Florida Dairy Farmers, all opinions and my love of dairy are my own.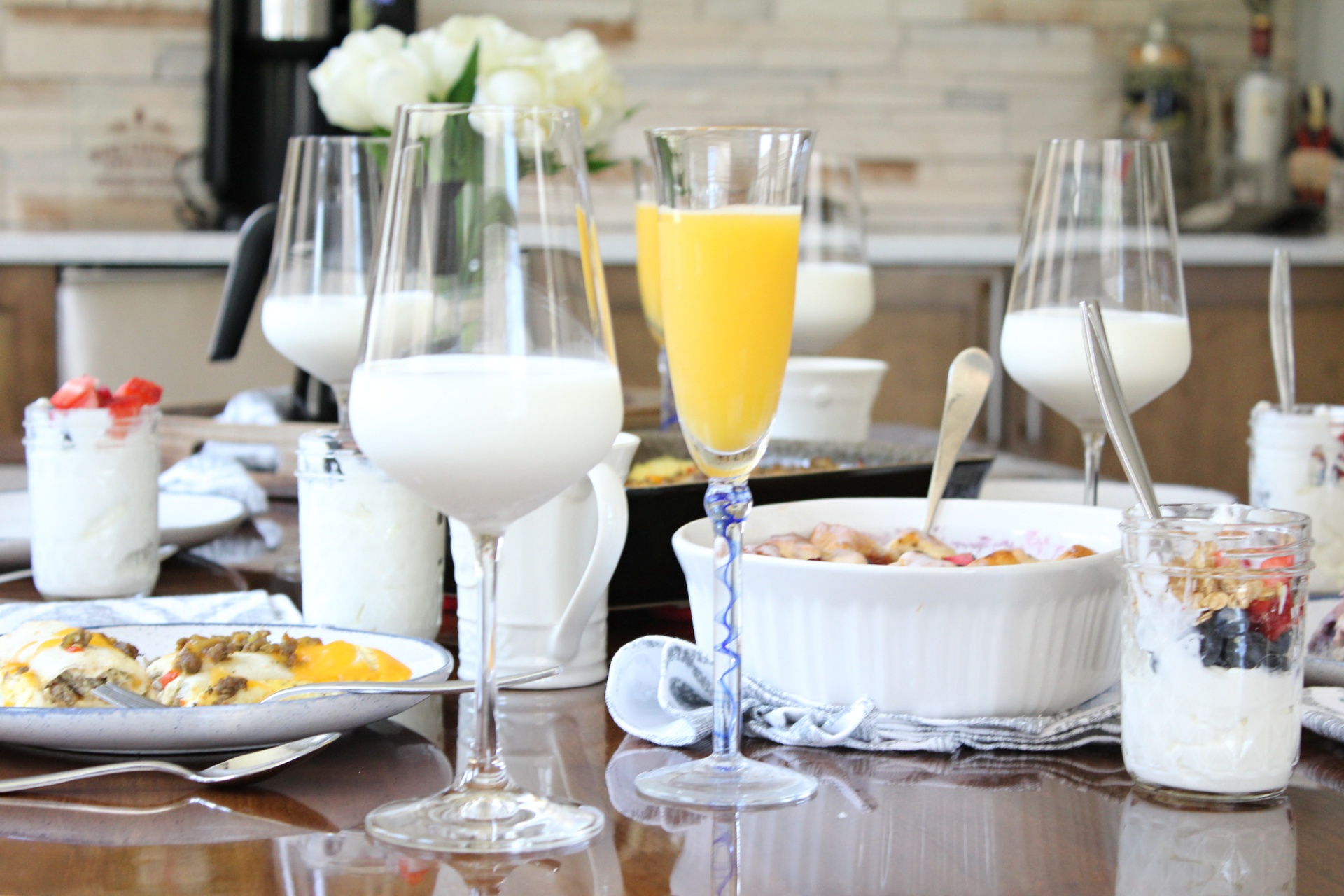 Easy Yet Delicious Mother's Day Brunch Menu
Mother's Day is right around the corner and while just spending time with my kids is gift enough, I do appreciate a little time out of the kitchen. And I am thinking that most moms out there would appreciate the same. So, I sat down with the kids and we discussed some easy breakfast recipes that we all enjoy and figured out a way for them to make them on their own (read so I don't have to).
We make cinnamon rolls a lot on the weekends. Cinnamon rolls are easy and everyone loves them. So we decided to fancy them up a bit by making a cinnamon roll casserole. Every brunch needs something sweet, something savory and yummy drink options. Our something sweet brunch menu option is a Berry Cinnamon Roll Casserole.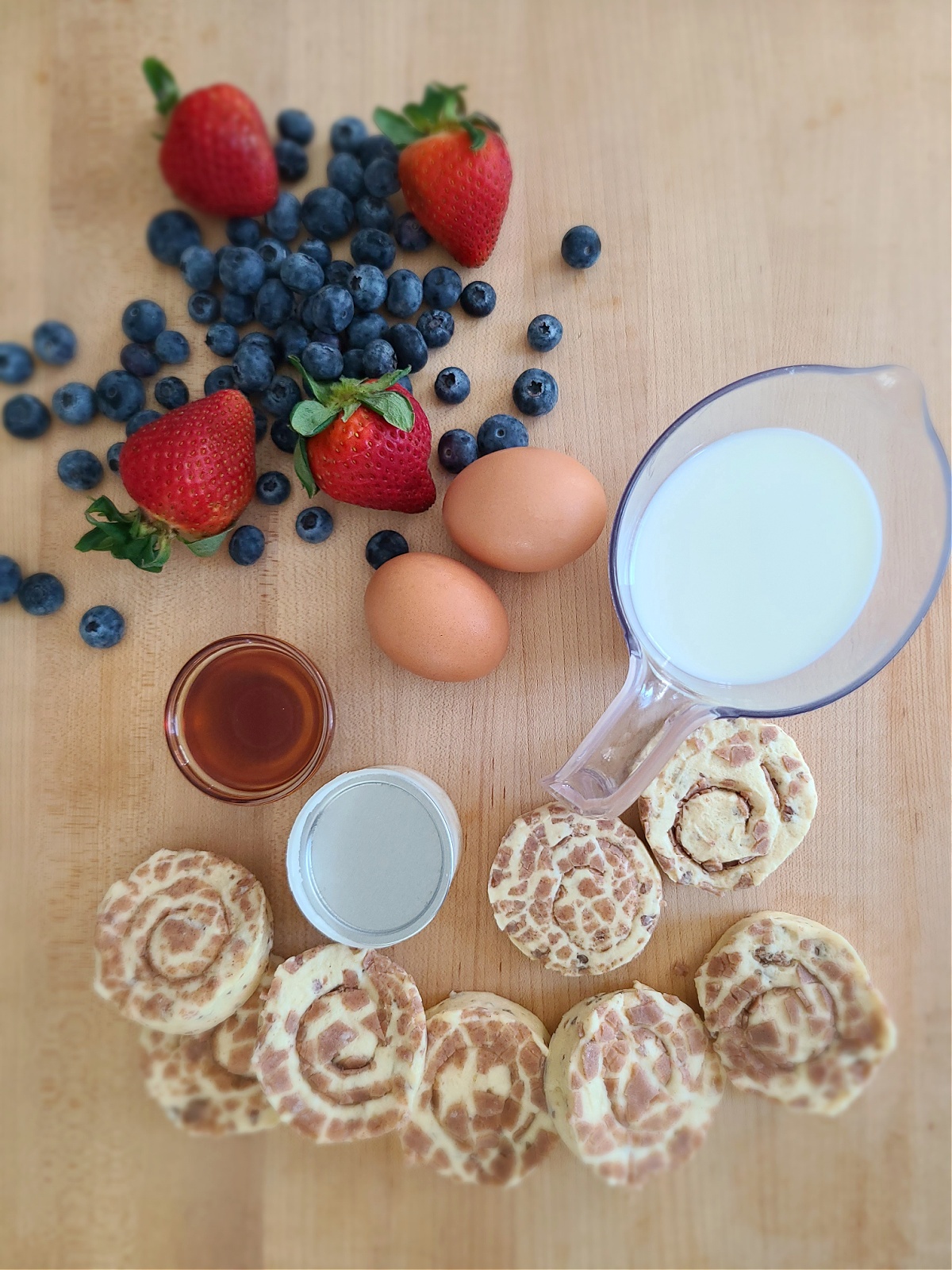 To make our Berry Cinnamon Roll Casserole you will need just a few ingredients:
Your favorite berries – we used Florida blueberries and strawberries
Refrigerated cinnamon rolls
Florida Milk
Eggs
Maple syrup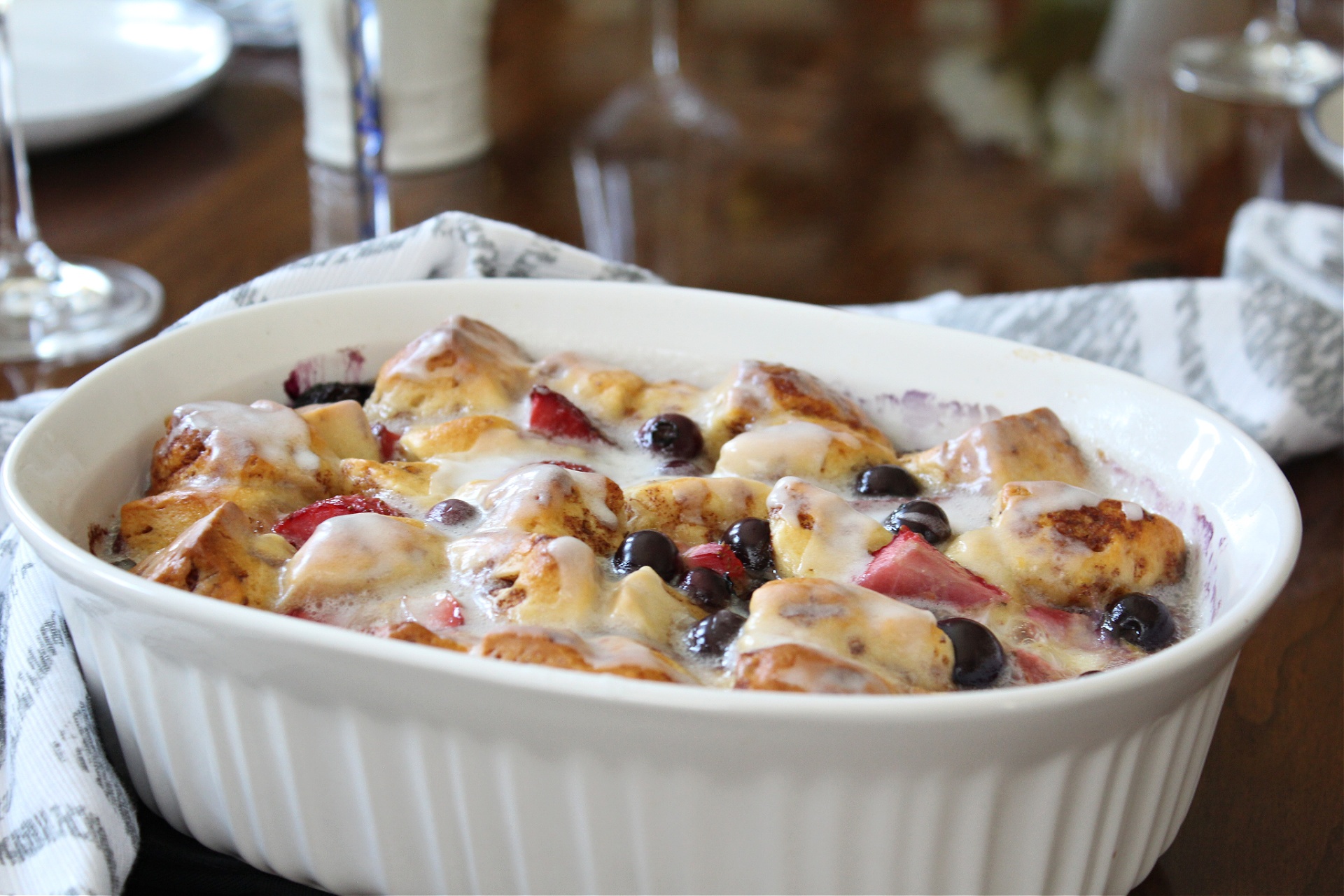 You probably have all the ingredients for this Berry Cinnamon Roll Casserole in your refrigerator right now. I did! I didn't even have to make an extra trip to the store 🙂
The kids make easy chicken enchiladas all the time, it's probably one of the easiest meals we make…well besides frozen pizza night. So for the savory option of our Mother's Day Brunch Menu we opted for a breakfast version of enchiladas. We even made a make-ahead breakfast enchilada so that the kids could make them before they went to bed…they didn't want to be overwhelmed with two dishes to make in the morning 😉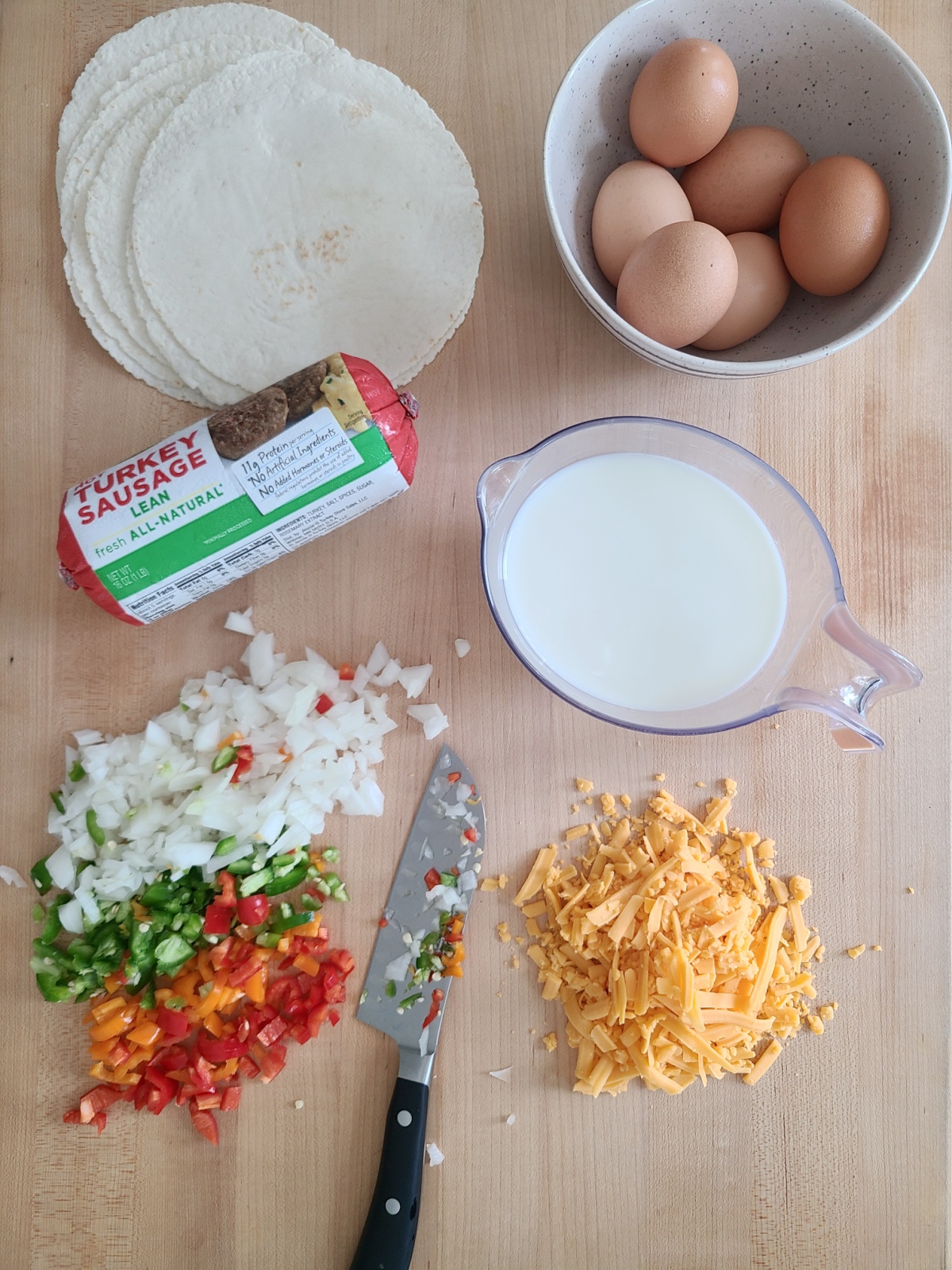 For our Easy Overnight Breakfast Enchiladas you will need a few simple ingredients:
Hot turkey sausage – you can use regular sausage or any variety you prefer, but since joining WW, turkey sausage is all I usually use.
Tortillas – I used the low carb ones, but you don't have to.
Onion
Jalapeno
Mini Sweet Peppers
Eggs
Florida Milk
Cheese
Seasonings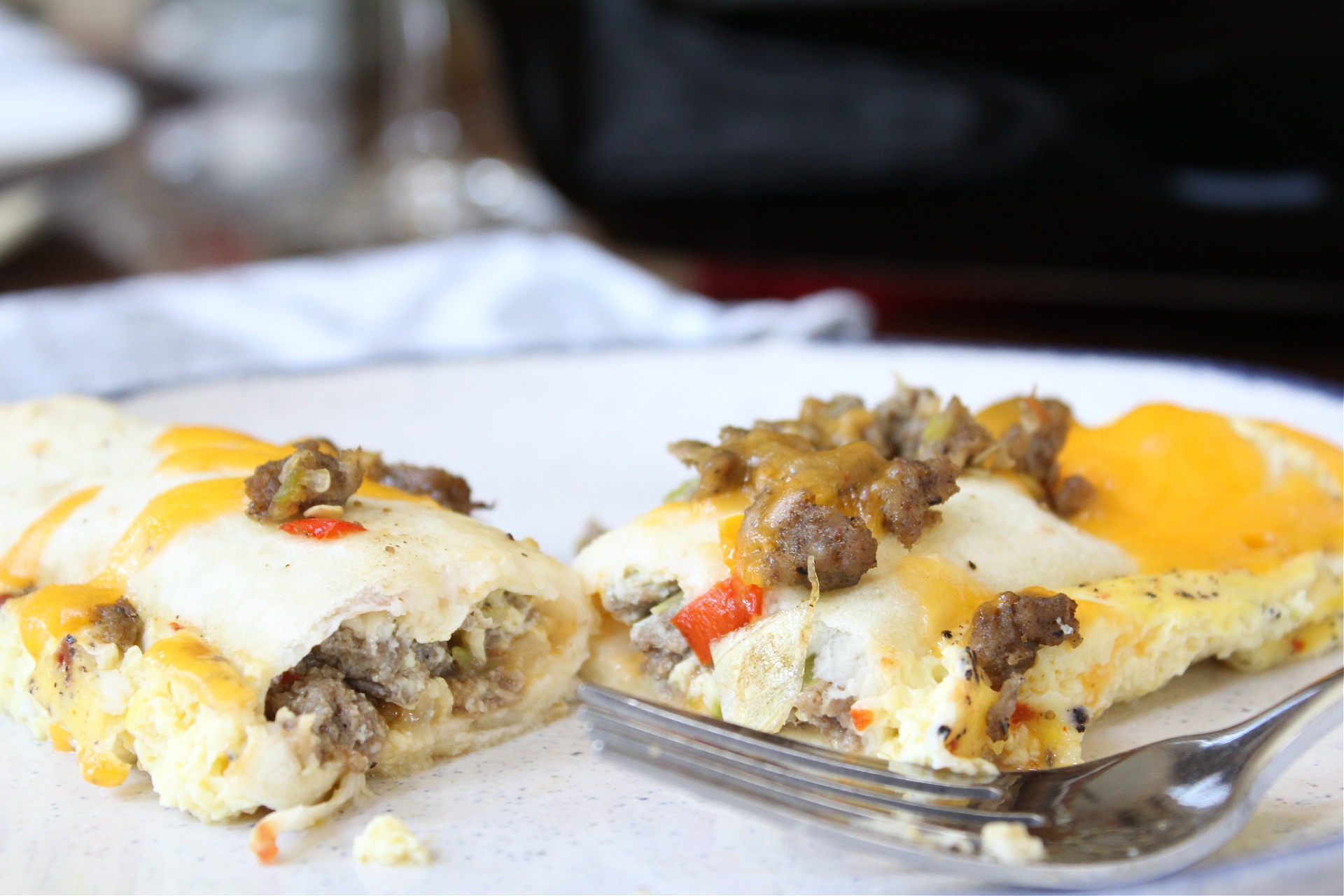 I like a little heat and a lot of flavor in all my dishes, so you will find onion and jalapeno in just about everything. Feel free to leave them out of substitute your vegetables of choice. If you use mushrooms or zucchini, I would recommend sauteing them first so they don't get mushy.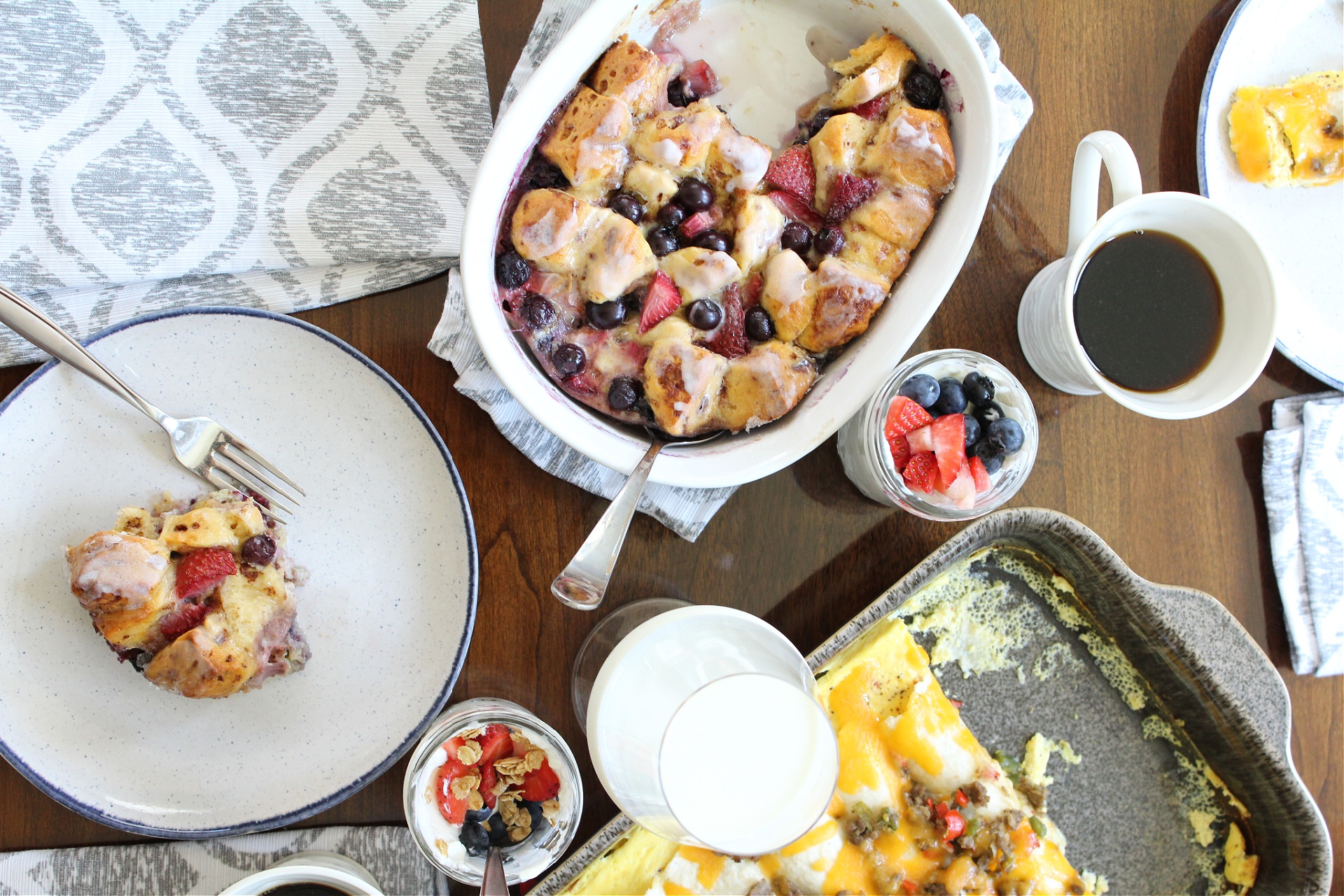 Now for a bit of color and fun on our Mother's Day Brunch table I made my homemade vanilla yogurt and the kids topped them with fresh berries and granola. The addition of the homemade yogurt parfaits were light and delicious. Plus the single serving mason jars looked cute on the table! Grab my homemade vanilla yogurt recipe here. It's easier than you think, I promise! Of course, store bought yogurt will work fine as well.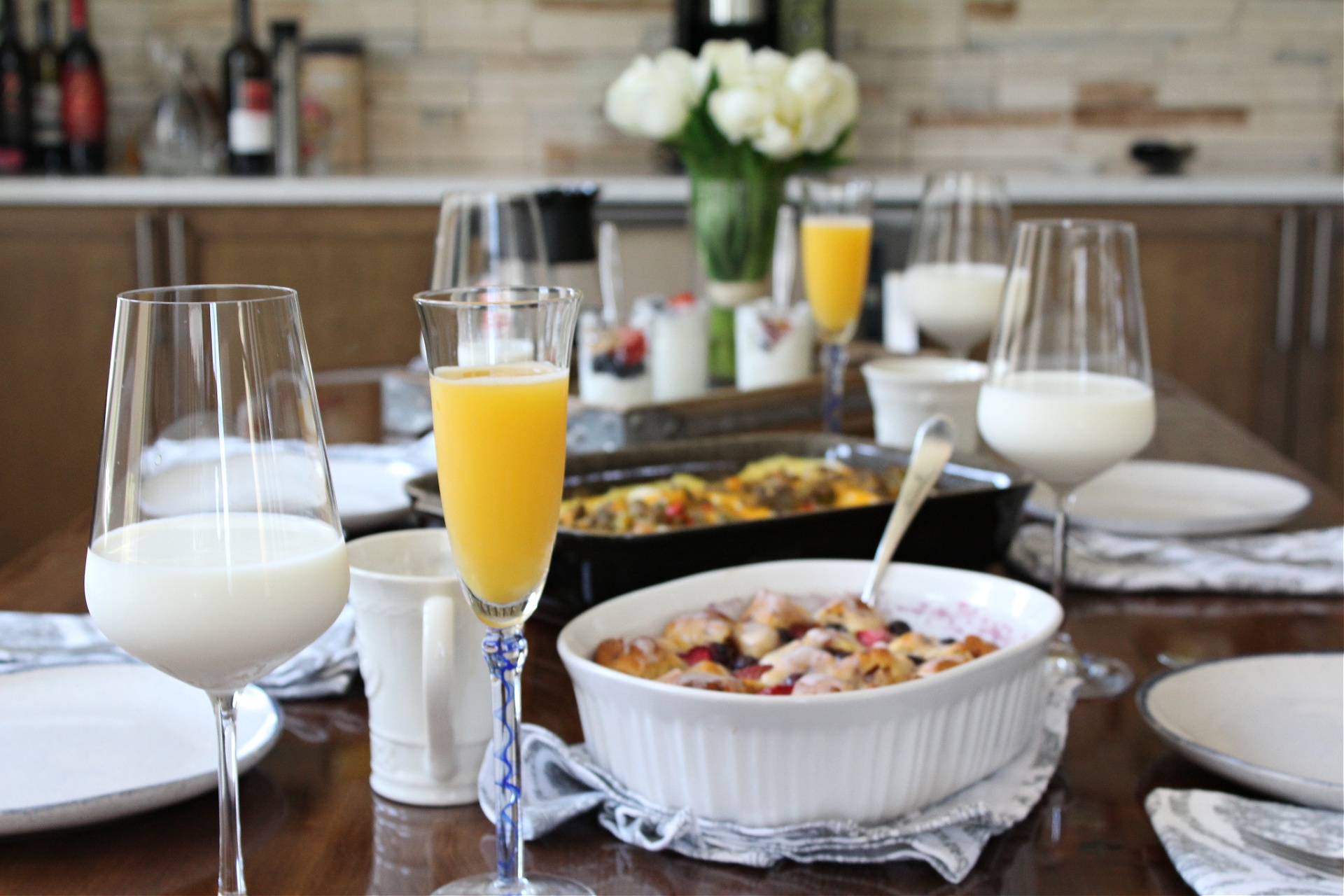 For drinks at your Mother's Day Brunch, I recommend Florida Milk not only because it tastes great and it's great for you, but you need something to wash down all that deliciousness from the cinnamon roll casserole and enchiladas. And a glass of mimosa for mom and dad is never a bad idea.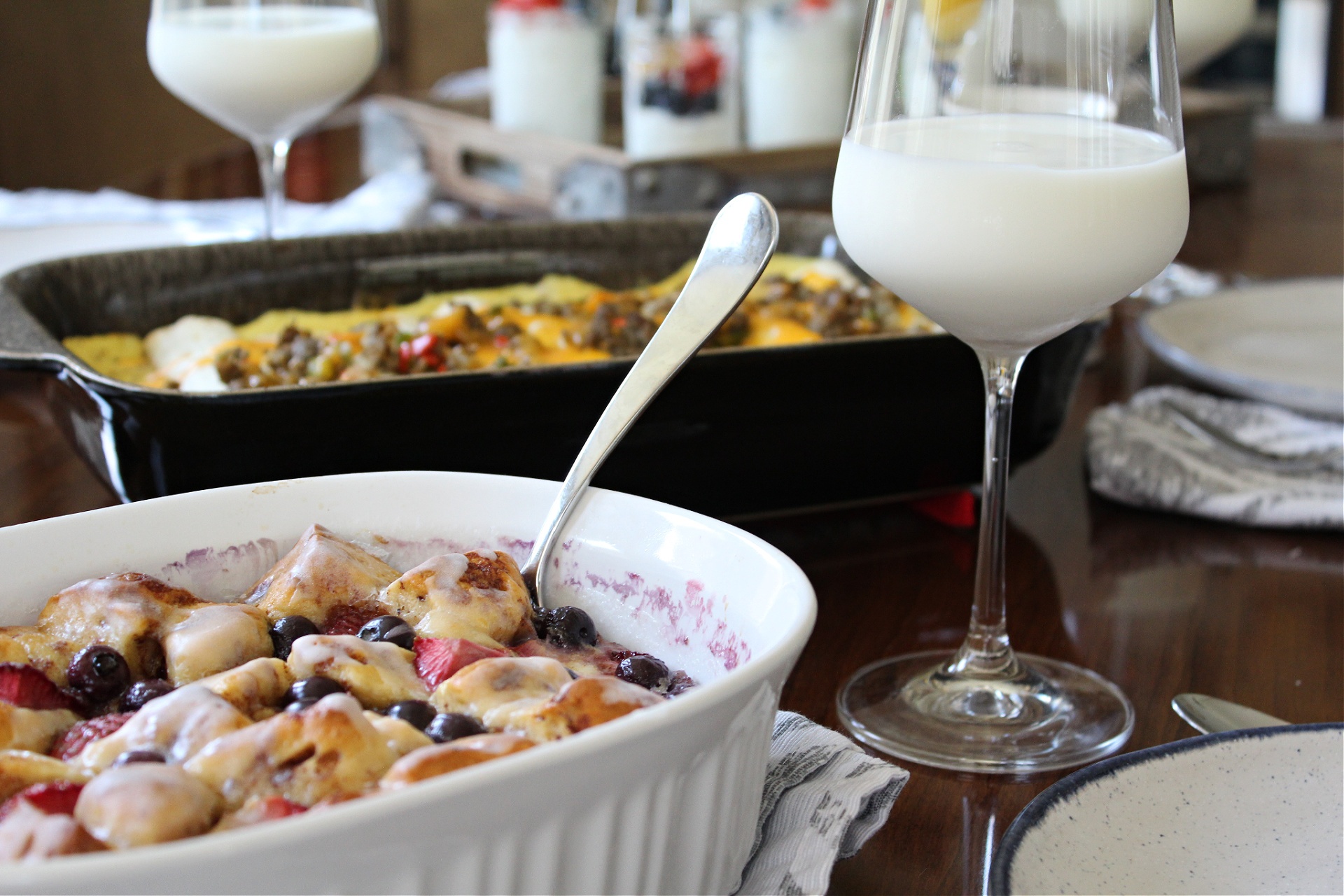 We did it, Mother's Day menu planned!
For our Mother's Day Brunch we will be serving:
Berry Cinnamon Roll Casserole
Overnight Breakfast Enchiladas
Homemade Yogurt Parfaits
Florida Milk
Mimosas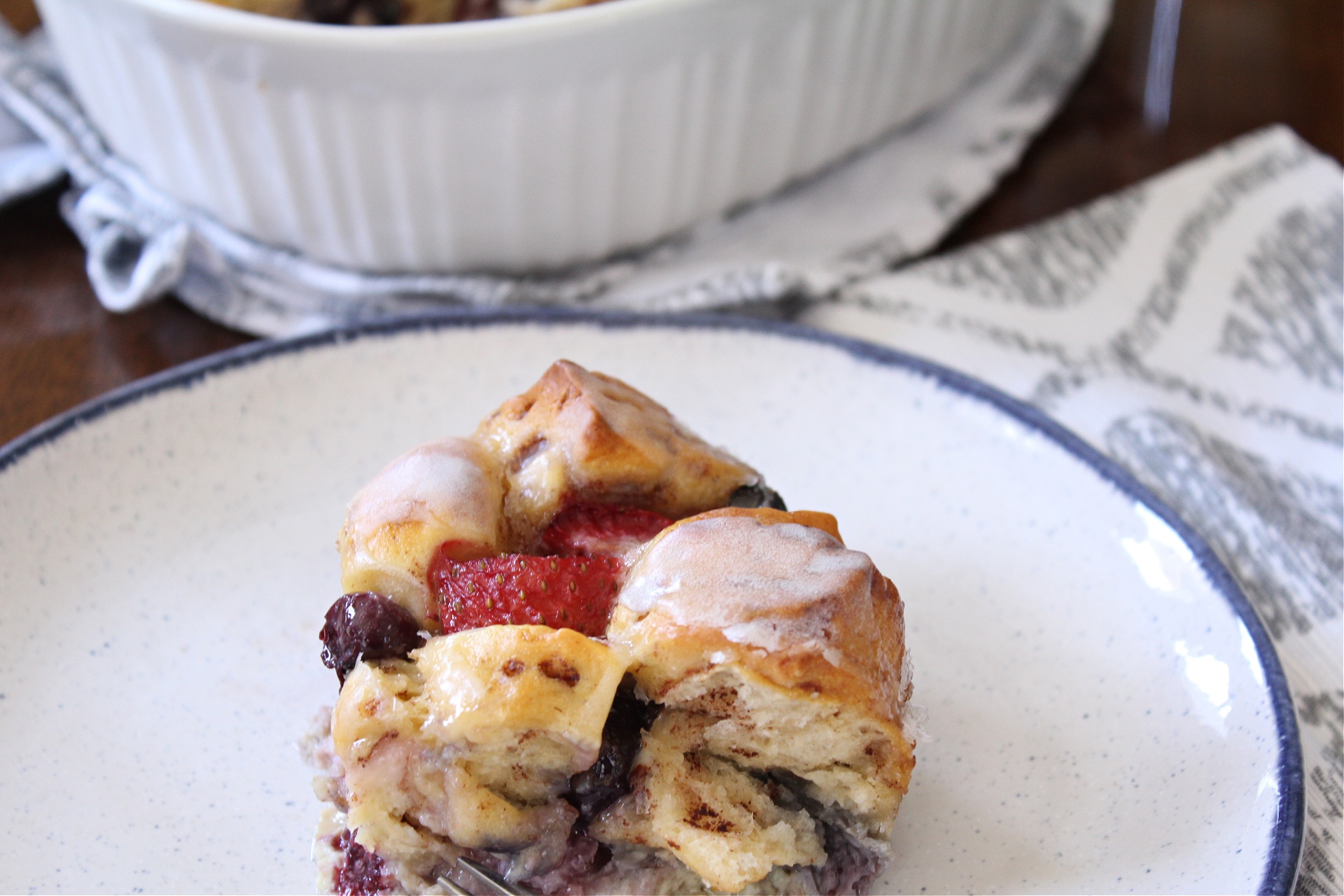 While these easy Brunch recipes are perfect for Mother's Day, they are also perfect for Father's Day, the holidays and any day that you want to enjoy a yummy breakfast.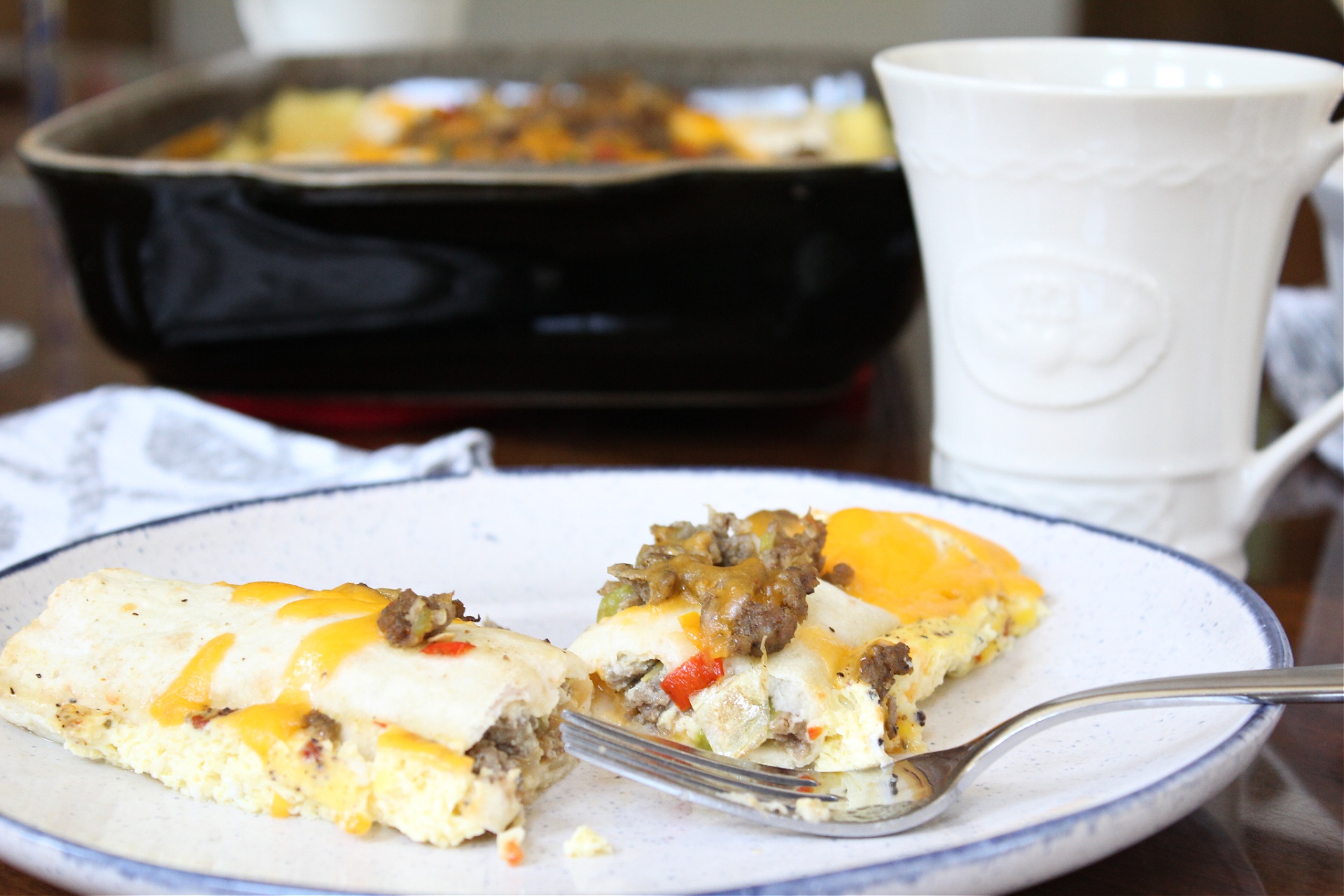 Getting the kids involved in the kitchen can prove to be challenging sometimes, but when it's for mom (and when the recipes are easy and delicious) I bet you can convince them to help. My kids are older, in their teens, so they actually did all of the Berry Cinnamon Roll Casserole themselves and assembled all of the enchiladas. I will admit, I still browned the turkey sausage, I tend to be a bit particular about breaking it up into little pieces when browning.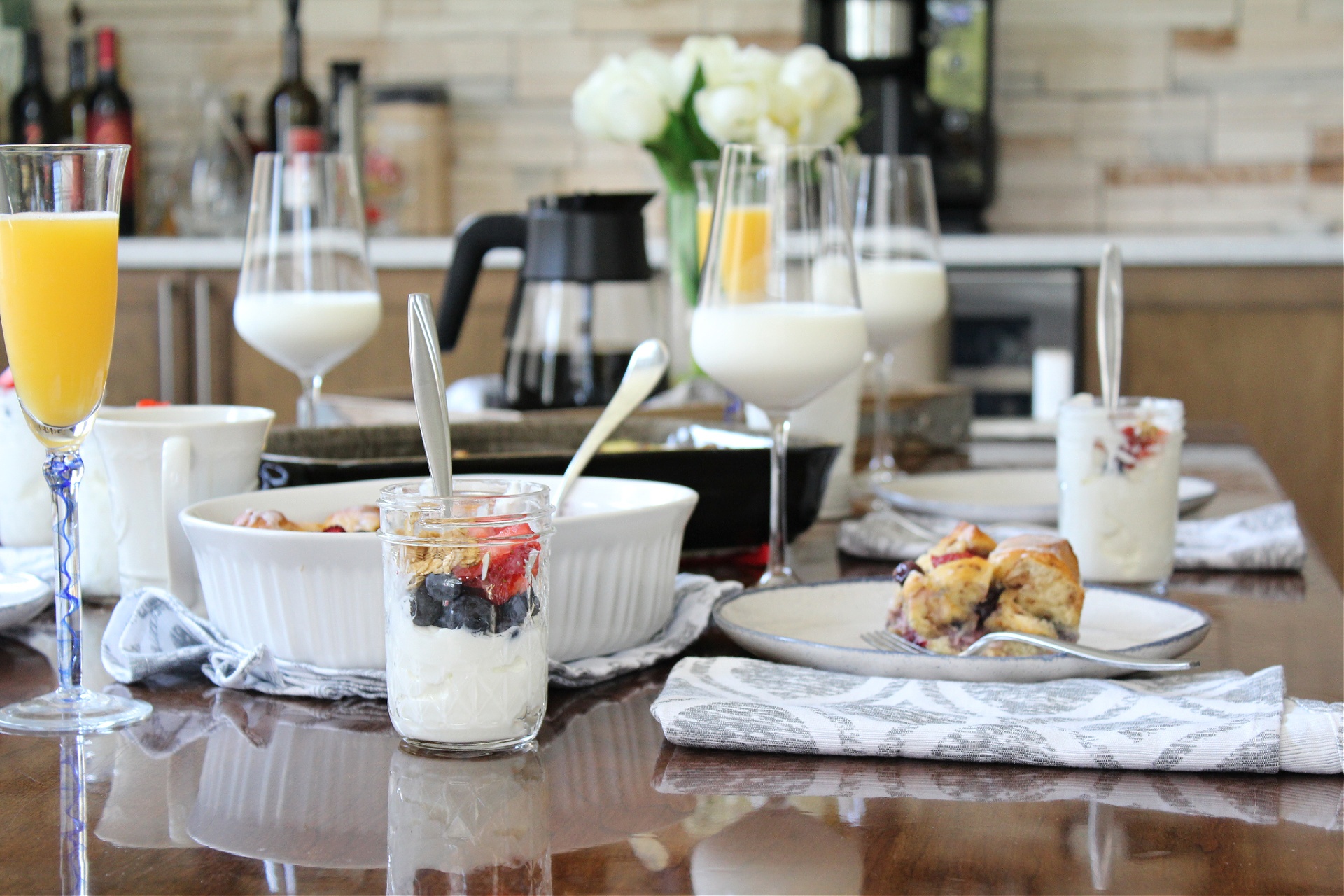 Now, let's get to those delicious breakfast recipes for Mother's Day, shall we?
Here is my Berry Cinnamon Roll Casserole recipe. Be sure to Print It and Pin It so that you can make it again and again.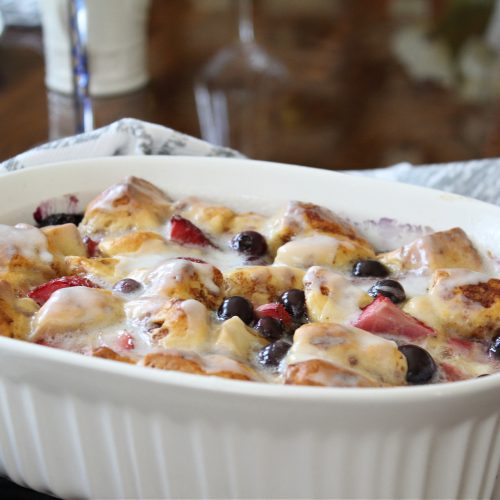 Berry Good Cinnamon Roll Casserole
This Cinnamon Roll Casserole is a "berry" good recipe for breakfast and brunch! Prepped in just a few minutes this cinnamon roll casserole is perfect for Mother's Day...Or any day!
Print
Pin
Rate
Ingredients
1

can

refrigerated cinnamon rolls

1

cup

Florida blueberries

1

cup

diced Florida strawberries

1/2

cup

Florida milk

2

tablespoons

maple syrup

2

eggs
Instructions
Spray an 8x8 baking dish with cooking spray and set aside

Open the cinnamon rolls and cut each roll into quarters

In a medium mixing bowl combine the milk, eggs, and maple syrup. Mix well.

Add the cinnamon roll quarters and berries to the bowl with the milk and egg mixture

Gently stir to make sure all pieces are coated

Pour into prepared baking dish

Bake for 30-40 minutes until cooked throughout

Top with icing from cinnamon roll package
Now for Mother's Day Brunch recipe #2, Overnight Breakfast Enchiladas. Be sure to Print and Pin this one too.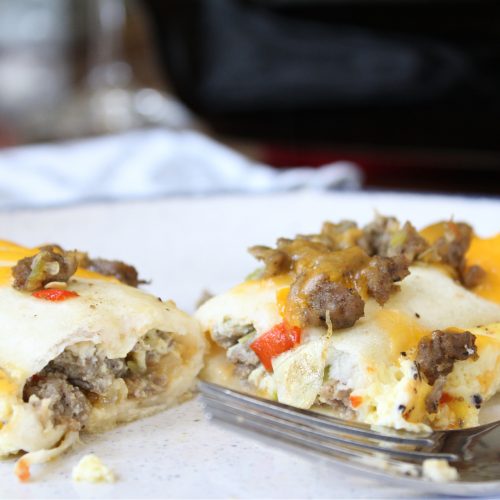 Overnight Breakfast Enchiladas
Make breakfast time a bit easier when you prepare these overnight breakfast sausage enchiladas. I used ground turkey and low carb tortillas so they are even WW-friendly.
Print
Pin
Rate
Ingredients
1/2

sweet onion

diced

1

jalapeno

diced - seeds removed if desired

2

mini sweet peppers

diced and seeds removed

16

oz

hot turkey breakfast sausage

3/4

cup

shredded cheddar cheese

divided into 1/2 cup and 1/4 cup

8

low carb tortillas - medium size

5

eggs

1 1/4

cup

Florida milk

1

tsp

all-purpose seasoning

I used VooDoo Chef Dust
Instructions
Spray an 9x13 baking pan with cooking spray and set aside

Add a touch of oil to a large skillet and warm

Saute onion and peppers until tender

Add the breakfast sausage and cook throughout, breaking apart bigger pieces as needed

Once sausage is cooked thoroughly, shut off the heat and we will assemble the enchiladas

Lay all 8 tortillas out

Divide a 1/2 cup of shredded cheese amongst the tortillas. Sprinkle a little in each one.

Using a spoon, add the breakfast sausage mixture to each tortilla. Save about a 1/4 cup of the sausage mixture for the end

Using your hands roll each tortilla tightly and place in the tortillas in the prepared baking dish seam side down

Repeat until all tortillas are in the prepared baking pan

In a medium bowl mix the eggs, milk and all-purpose seasoning

Pour the egg-milk mixture over the enchiladas

Sprinkle the remaining sausage over the top

Cover and refrigerate for 4 hours to overnight

Preheat oven to 350 degrees when ready to cook

Bake covered for 30-40 minutes until eggs are set

Remove foil, sprinkle with remaining cheese (feel free to add more!)

Place back in oven until cheese is melted - approximately 3-5 minutes

Enjoy!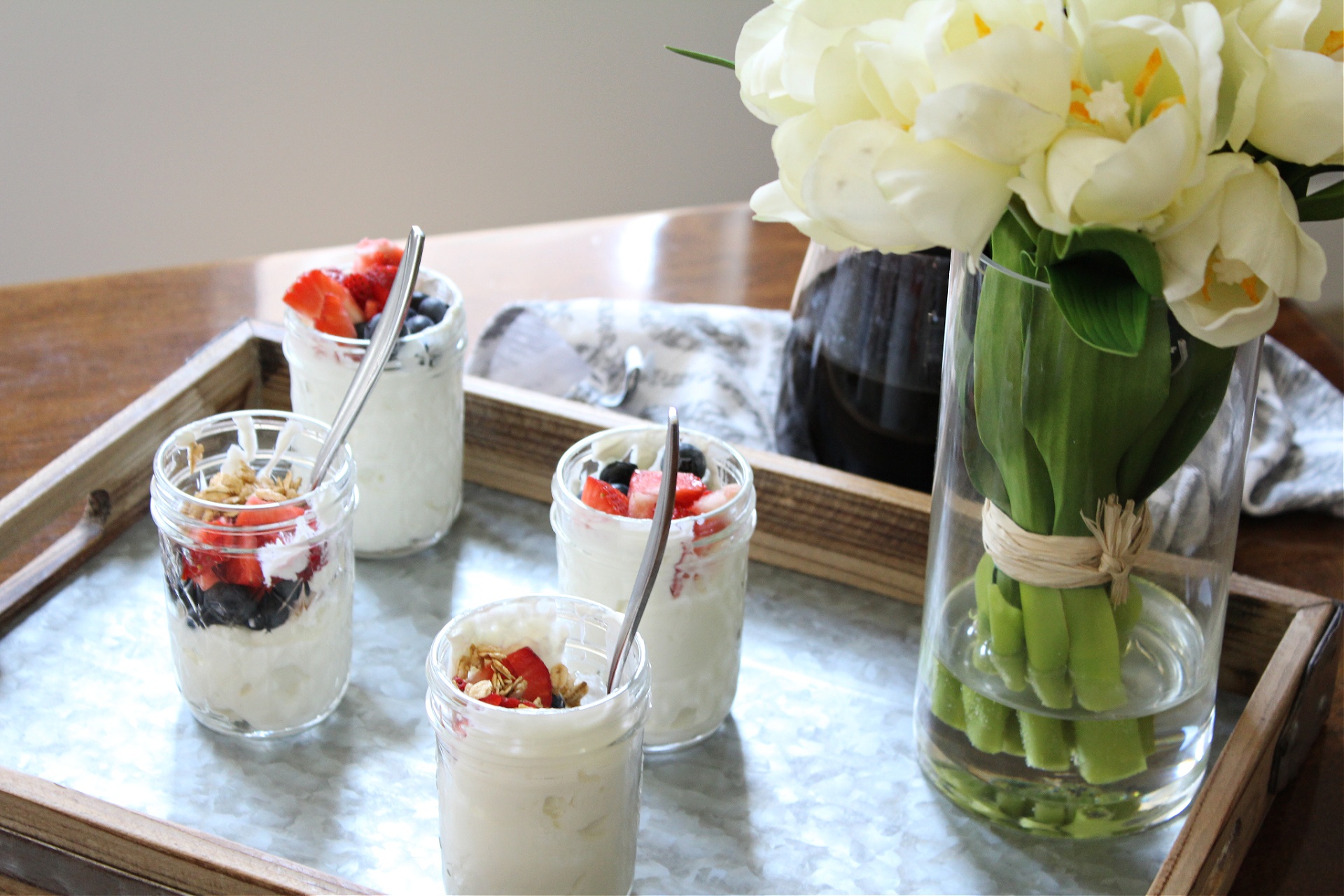 Don't forget to grab the Homemade Vanilla Yogurt recipe for your yogurt and Florida berries.
If you want to add another sweet recipe to your brunch menu, I strongly recommend this Challah Bread Pudding with Homemade Caramel Sauce.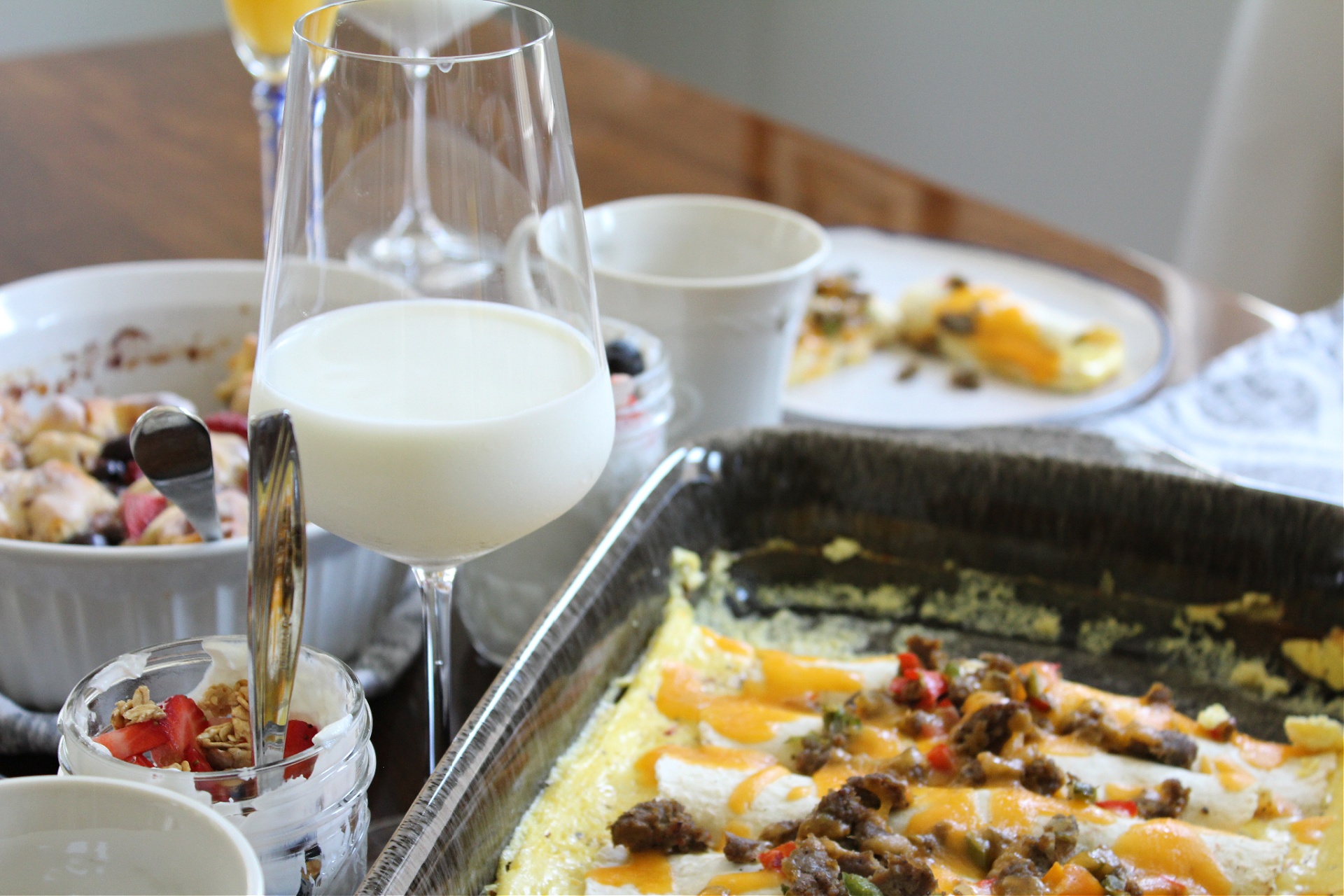 Each of the breakfast recipes on my brunch menu have a very special ingredient. Milk.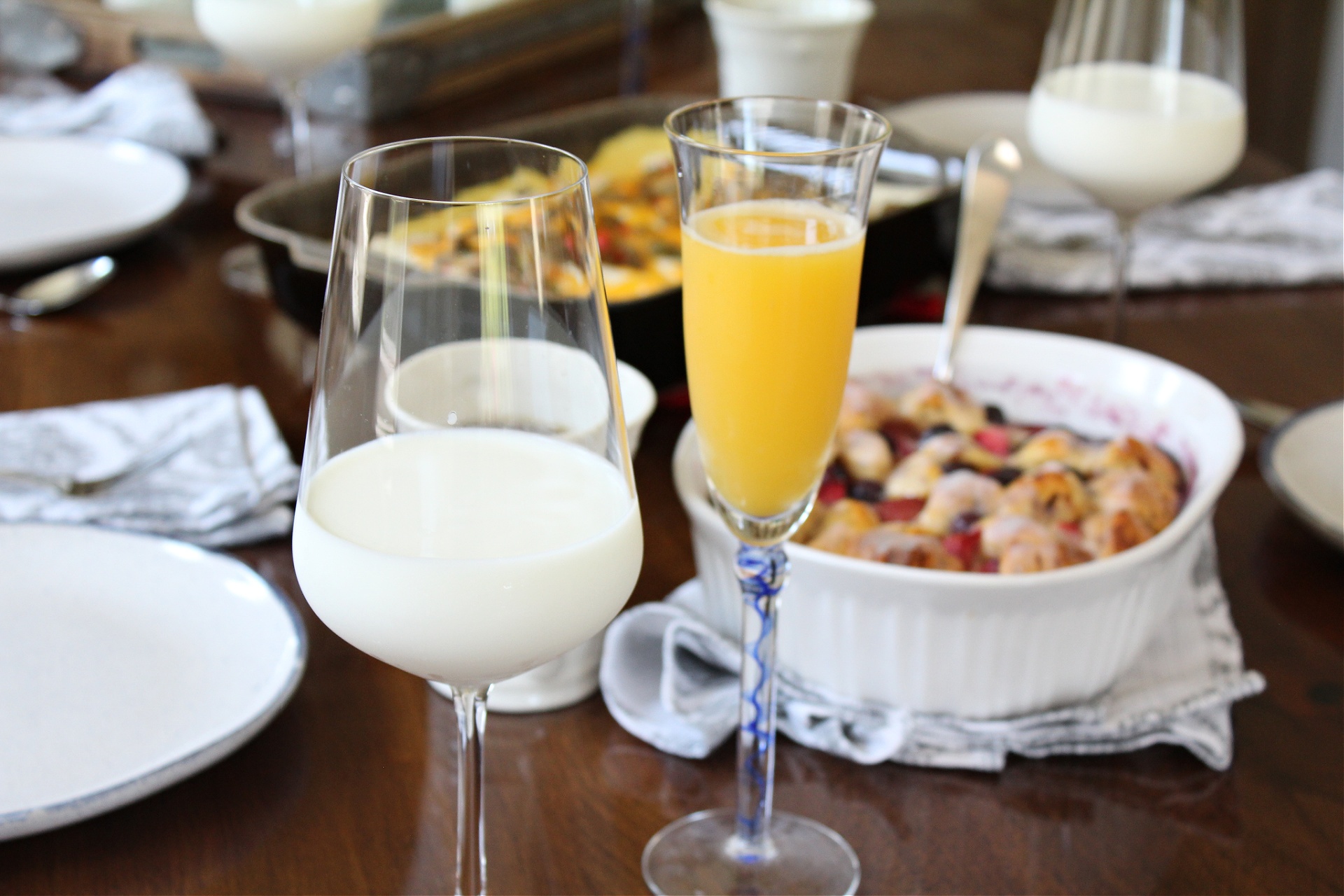 Dairy milk (white, flavored, lactose free and organic) contains nine essential nutrients and 8 grams of high-quality protein in every 8-ounce glass. These are the 9 nutrients found in milk: Protein, Calcium, Riboflavin, Niacin, Phosphorus, B12, pantothenic acid, vitamin A, vitamin D.
Milk is more than just an ingredient, it is an essential part of our diet.
Learn more about where milk comes from and dairy farming sustainability.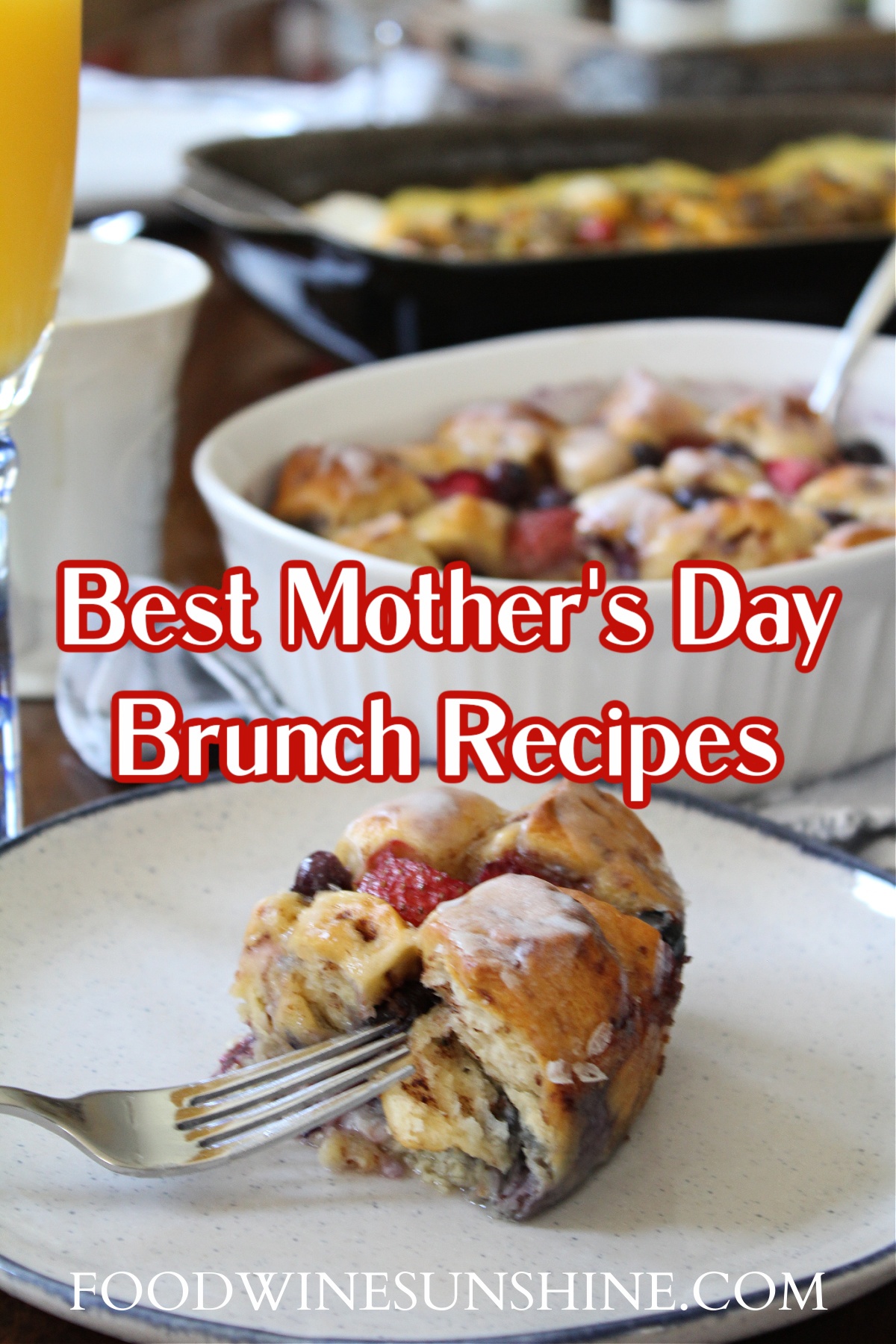 Happy Mother's Day to all the moms out there! May your day be relaxing and filled with lots of love and hugs…and not a lot of time in the kitchen!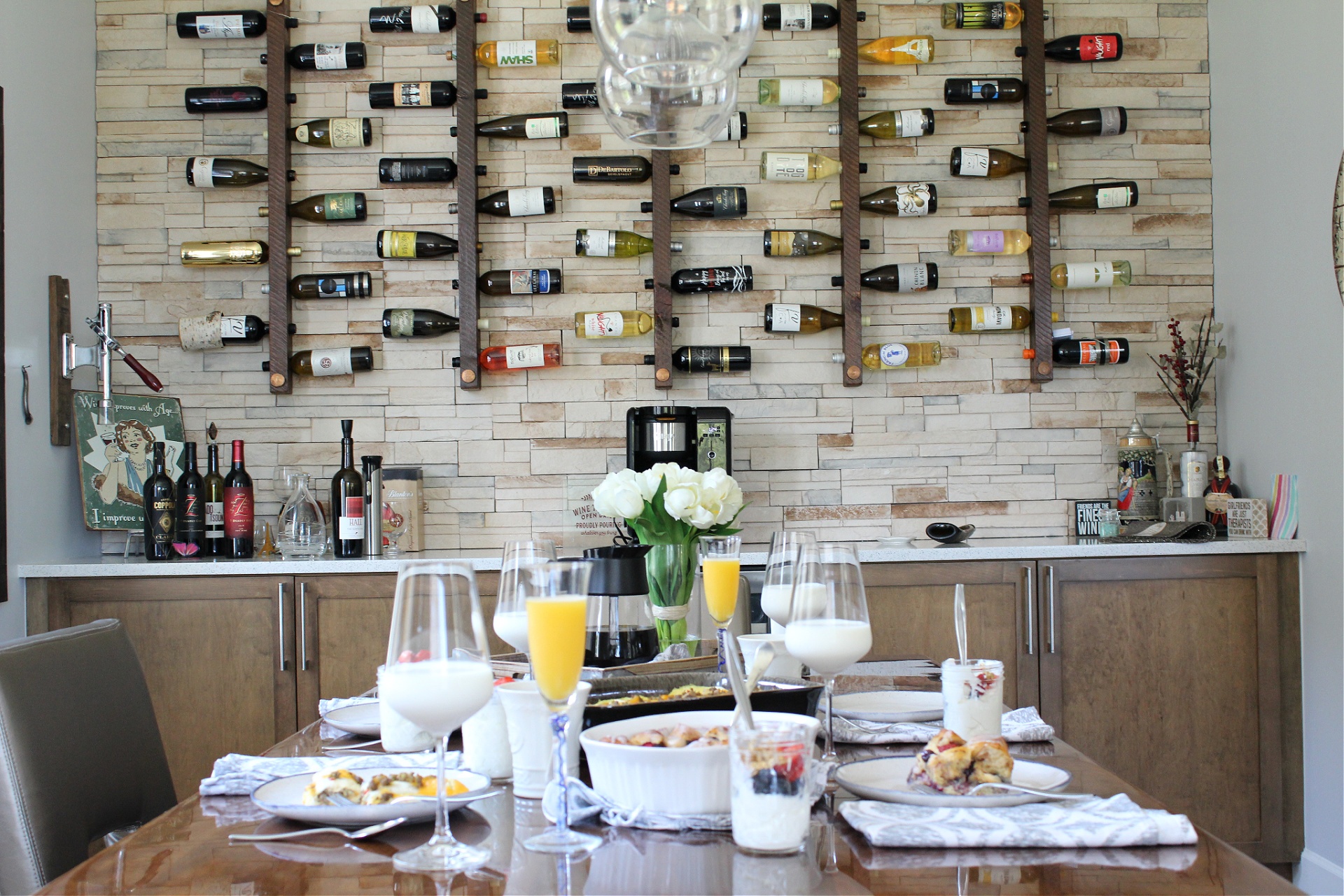 Be sure to check out Florida Milk for more dairy-licious recipes and follow on Instagram, Facebook and Pinterest.
And while you are at it, check out all the healthy recipes on Food Wine Sunshine and follow on me Facebook, Twitter, Pinterest and Instagram for more FOOD WINE AND SUNSHINE.