(Last Updated On: October 4, 2021)
Caramelized Onions are one of those ingredients that are good on just about everything. Learn how to caramelize onions at home. Be sure to make a double batch!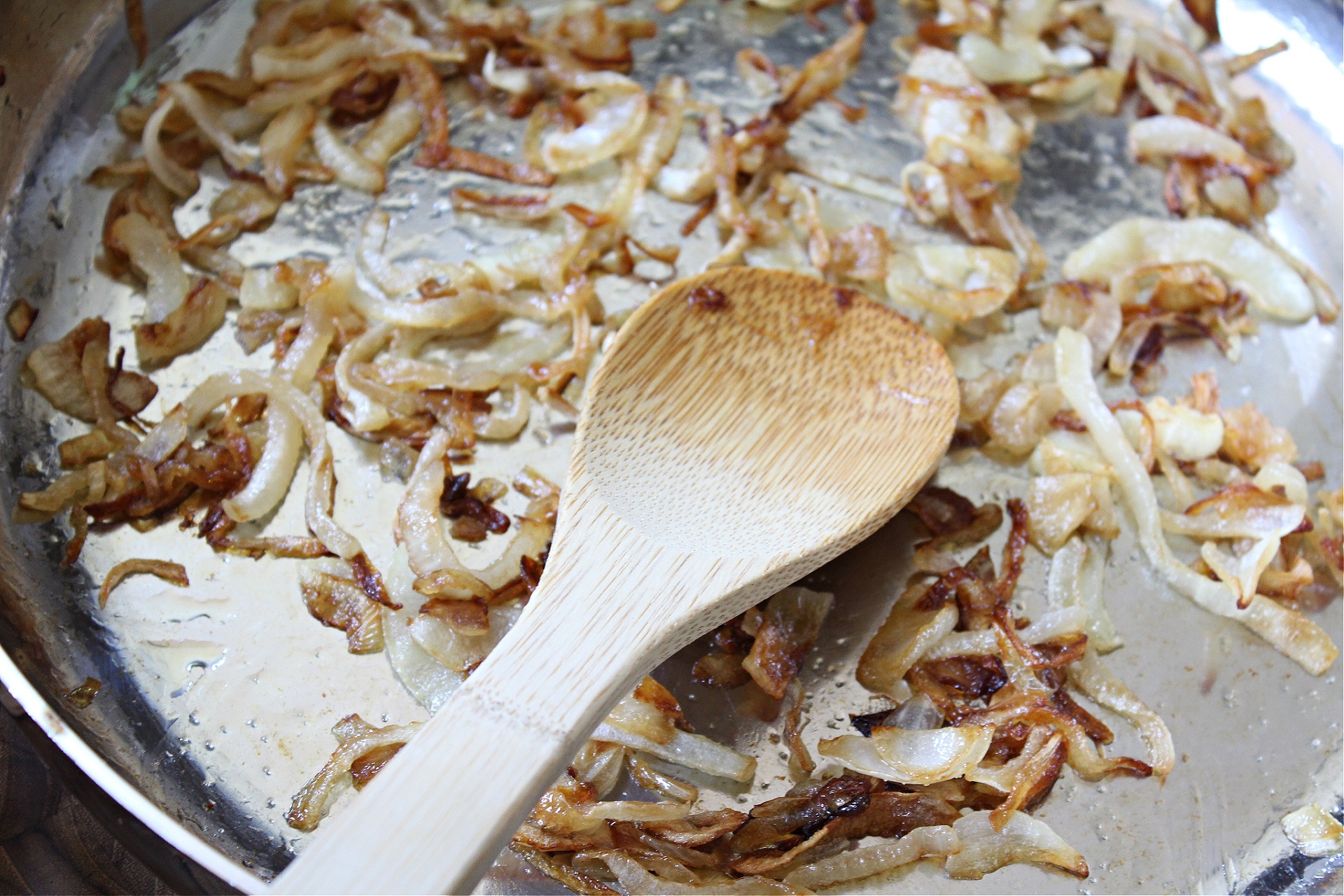 How To Make Caramelized Onions
I love caramelized onions. Caramelized onions are one of those ingredients that can transform ordinary into extraordinary. And caramelized onions are easy to make. So easy, in fact, that they seem hard. But I promise you, caramelized onions are easy to make. All you need is onions, a little olive oil and some time. Salt and water are optional. Seriously you all, that's it.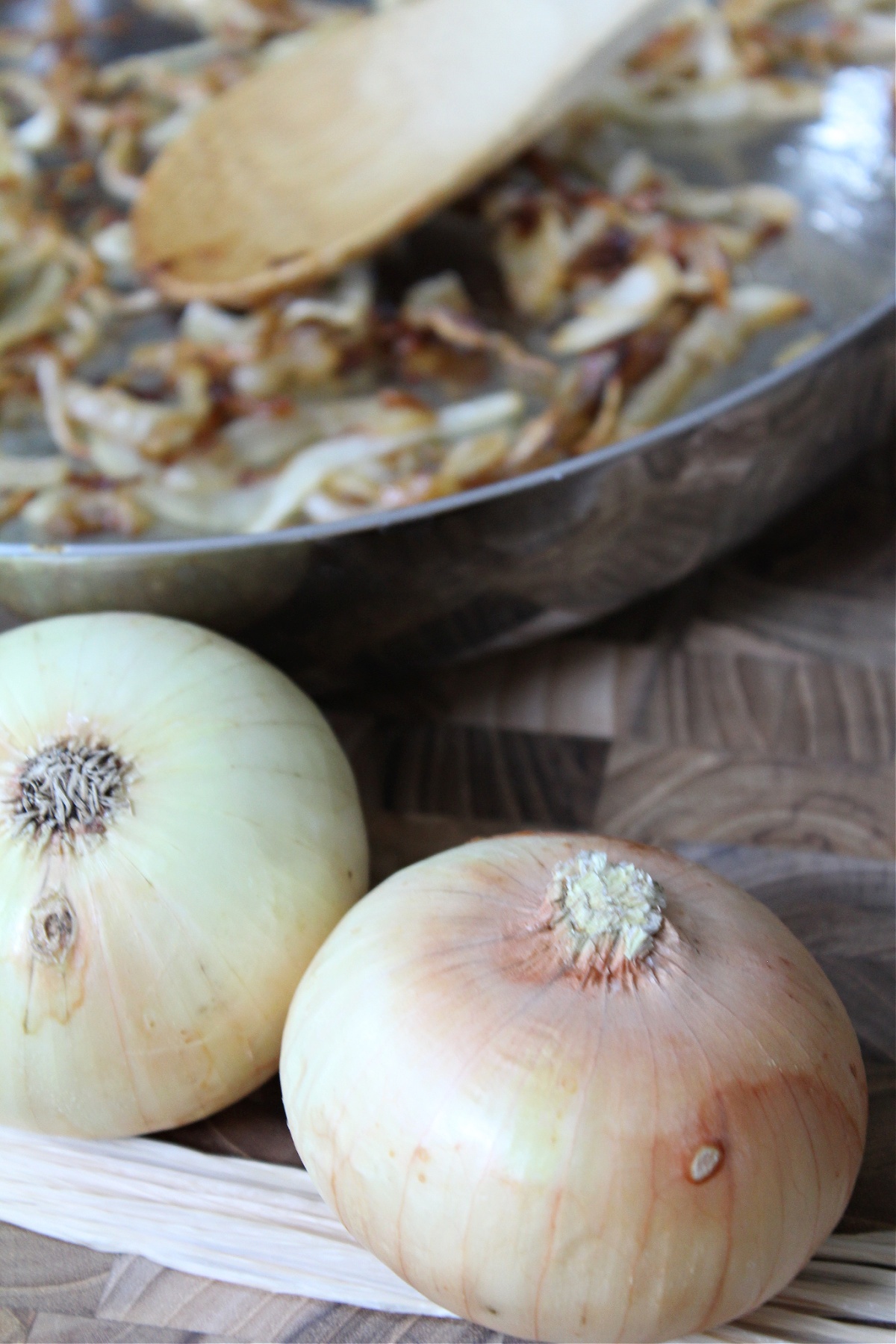 How long does it take to make caramelized onions?
About 40-45 minutes. Not any sooner. You don't want to rush the process and burn the onions. We want delicious caramelized onions, not burnt onion crisps.
What kind of onions can you caramelize?
As far as I know, there isn't an onion out there that you can't caramelize. I used RealSweet Vidalia onions. Not only do I love RealSweet Vidalia onions, but the idea of caramelizing something that is already sweet sounds like perfection to me.
How do you store caramelized onions?
If you have some leftover, which I recommend just because they do take some time to make, you can store caramelized onions in the refrigerator for about a week. You can freeze your caramelized onions. I recommend freezing them in individual size portions so they are ready to go when you are. You can freeze them in an ice cube tray or small freezer bag.
How many onions can you caramelize at once?
I used 2 RealSweet Vidalia onions. When sliced that filled up my pan pretty well, however next time I will do 3 or 4 onions so that I end up with some leftover. My family of 4 happily used all of our caramelized onions in one meal. Your full pan of onions will indeed shrink down.
What temperature should you cook the onions at to get them to caramelize?
Medium heat. And if your onions start to burn, turn the heat down. Don't rush the process.
How do you make caramelized onions?
Slice the onions, add olive oil or butter to a pan and let it warm up, add the onions and be patient. You will a touch of water and some salt later in the process, but really, it's that easy!
Can you use wine or red wine vinegar instead of water to deglaze the pan?
Sure can! Using a darker color liquid will give your onions an even more caramelized look. You can use whiskey or bourbon too!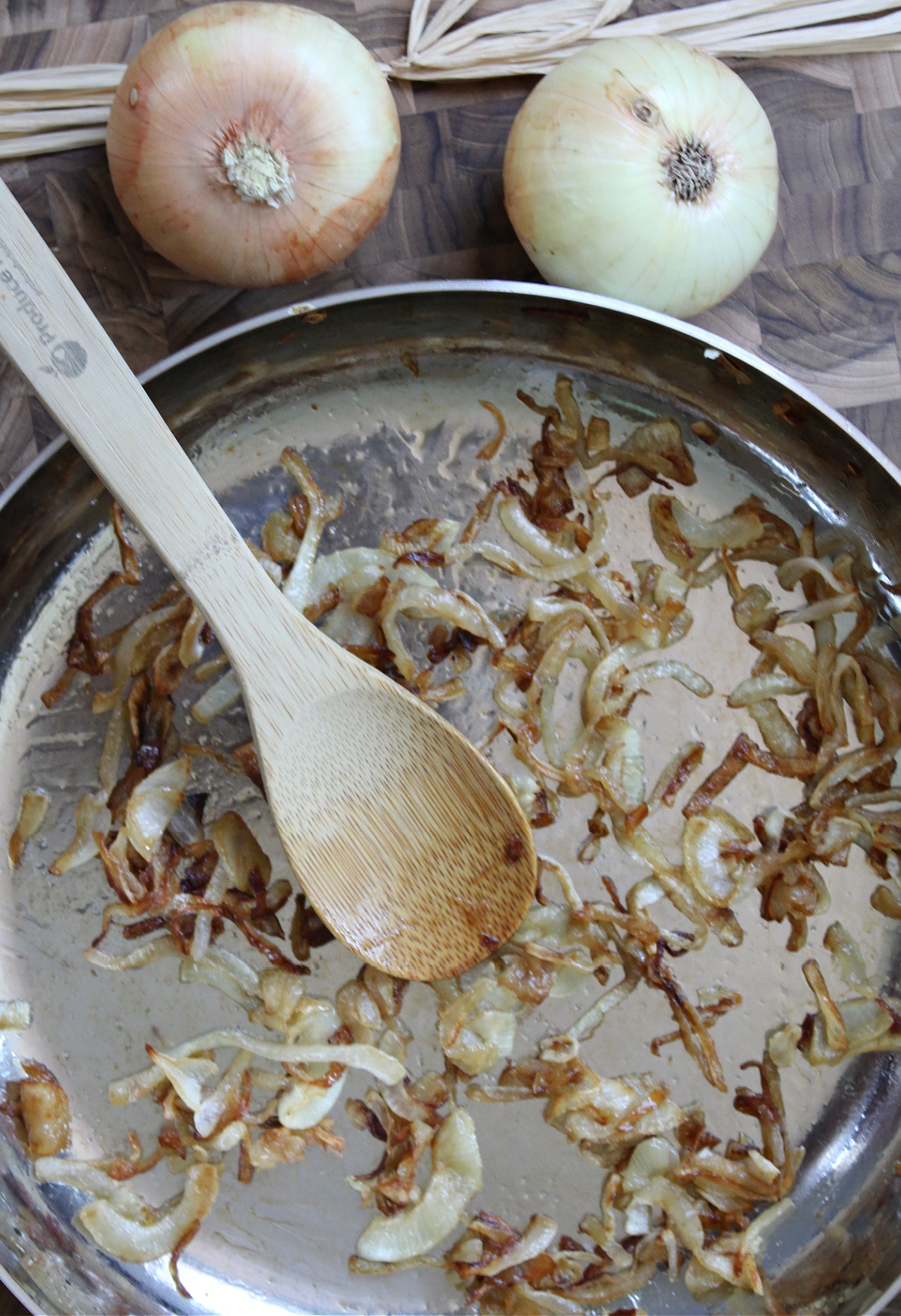 Now, here is step-by-step instructions on how to make caramelized onions. Be sure to Print It and Pin It so that you can make them again and again! You will definitely want to.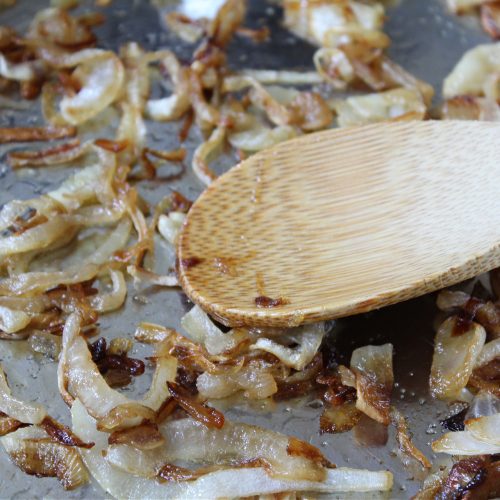 Caramlized Onions
Caramelized Onions are the perfect topping to burgers, steaks, sandwiches and more. Learn how to make Caramelized Onions.
Print
Pin
Rate
Ingredients
2 - 4

onions

I used RealSweet Vidalia Onions

2

tbsp

olive oil

can substitute butter

1-2

tbsp

water

can also use white or red wine or balsamic vinegar

1/2

tsp

salt
Instructions
Slice the onions. Be sure to remove the skin.

Heat the olive oil in a large pan.

Add the onion slices. Stir them gently to make sure they are all coated with the olive oil.

Allow the onions to cook, checking on them every 5-10 minutes. Stir the onions and scrape up any of that goodness that forms on the bottom of the pan with a wooden spoon.

Once the onions are caramelized - taste one to make sure they are to your liking - add 1-2 tablespoons of water to the pan to deglaze it. Get up all that brown stuff on the bottom of the pan. Stir well.
Notes
Refrigerate  any leftovers for 1 week or freeze for up to 3 months.
Nutrition
Calories:
512
kcal
|
Carbohydrates:
62
g
|
Protein:
7
g
|
Fat:
29
g
|
Saturated Fat:
4
g
|
Sodium:
1190
mg
|
Potassium:
964
mg
|
Fiber:
11
g
|
Sugar:
28
g
|
Vitamin A:
13
IU
|
Vitamin C:
49
mg
|
Calcium:
153
mg
|
Iron:
2
mg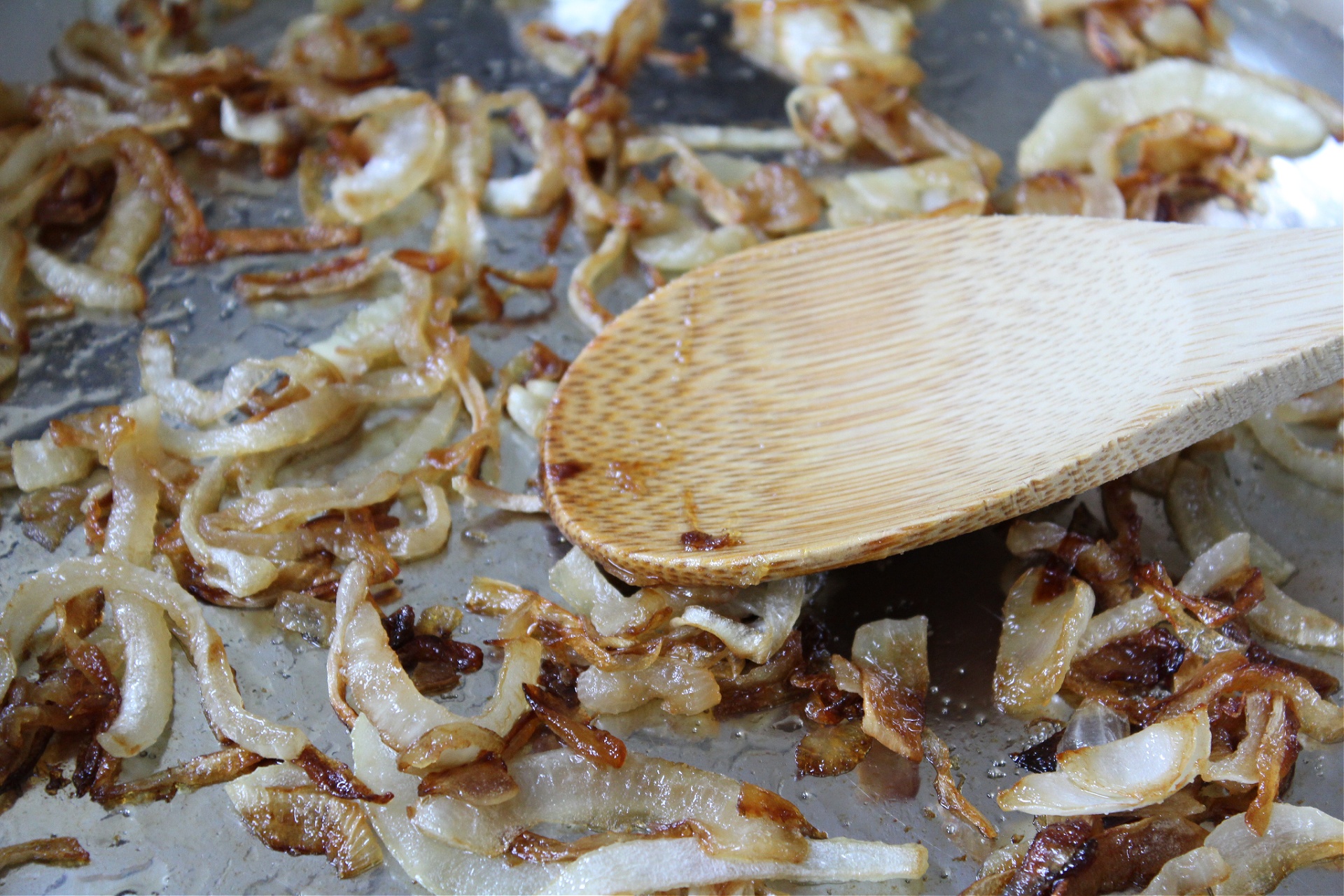 What do you enjoy caramelized onions on?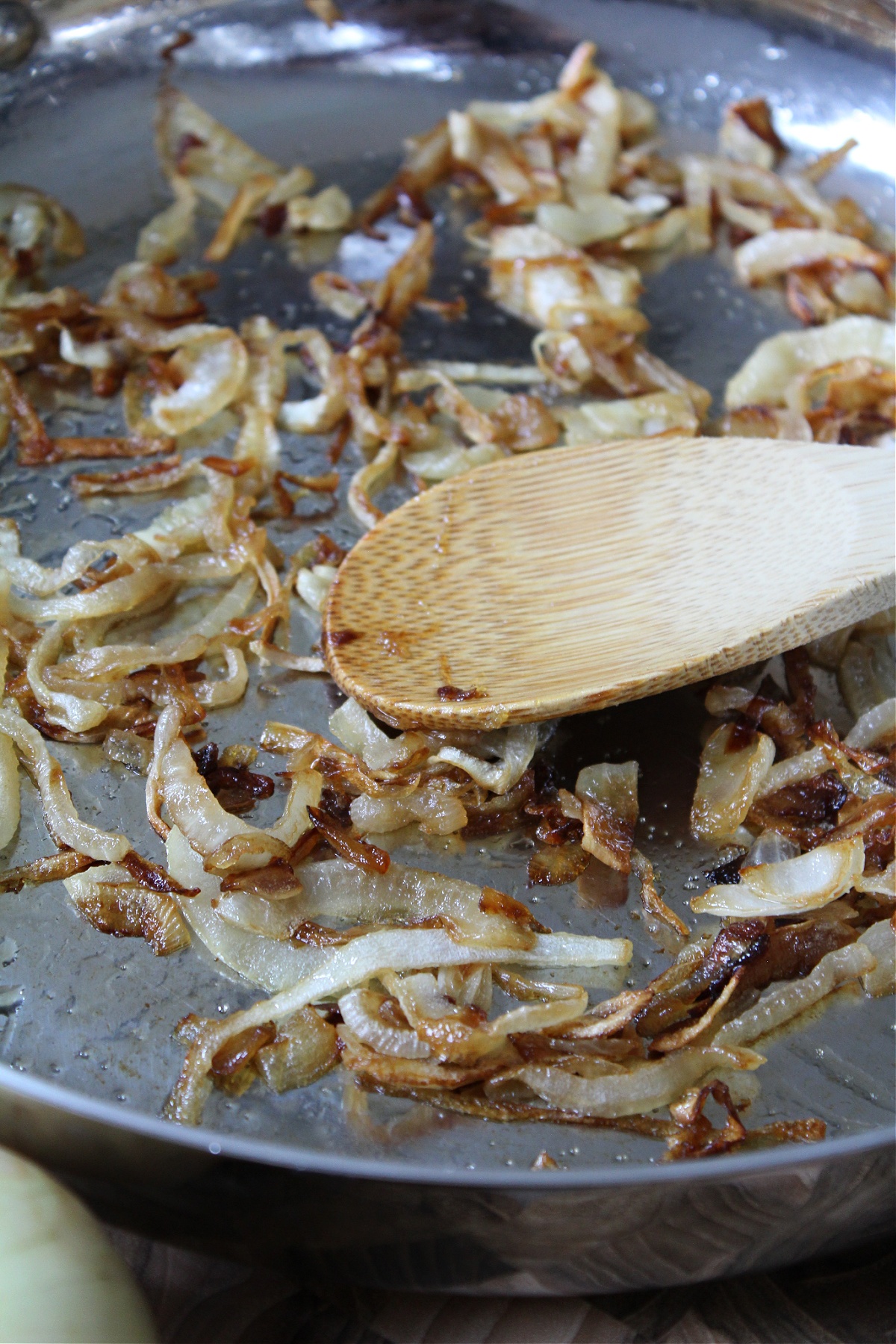 I have a BBQ Cheeseburger with Caramelized Onions TikTok Tortilla recipe here that you will want to make! You know, that TikTok Tortilla craze that went viral? Yep, that's the one. It's so easy to make too.
Be sure follow me on Facebook, Twitter, Pinterest and Instagram for more delicious recipes, travel tips and more.