(Last Updated On: January 10, 2022)
This Creamy Chicken and Caramelized Onions recipe is made in one pan, prepped in minutes and is ready in under an hour. Grab the recipe and learn more about the health benefits of onions. While this post is sponsored by Shuman Farms, all opinions and the recipe are my own.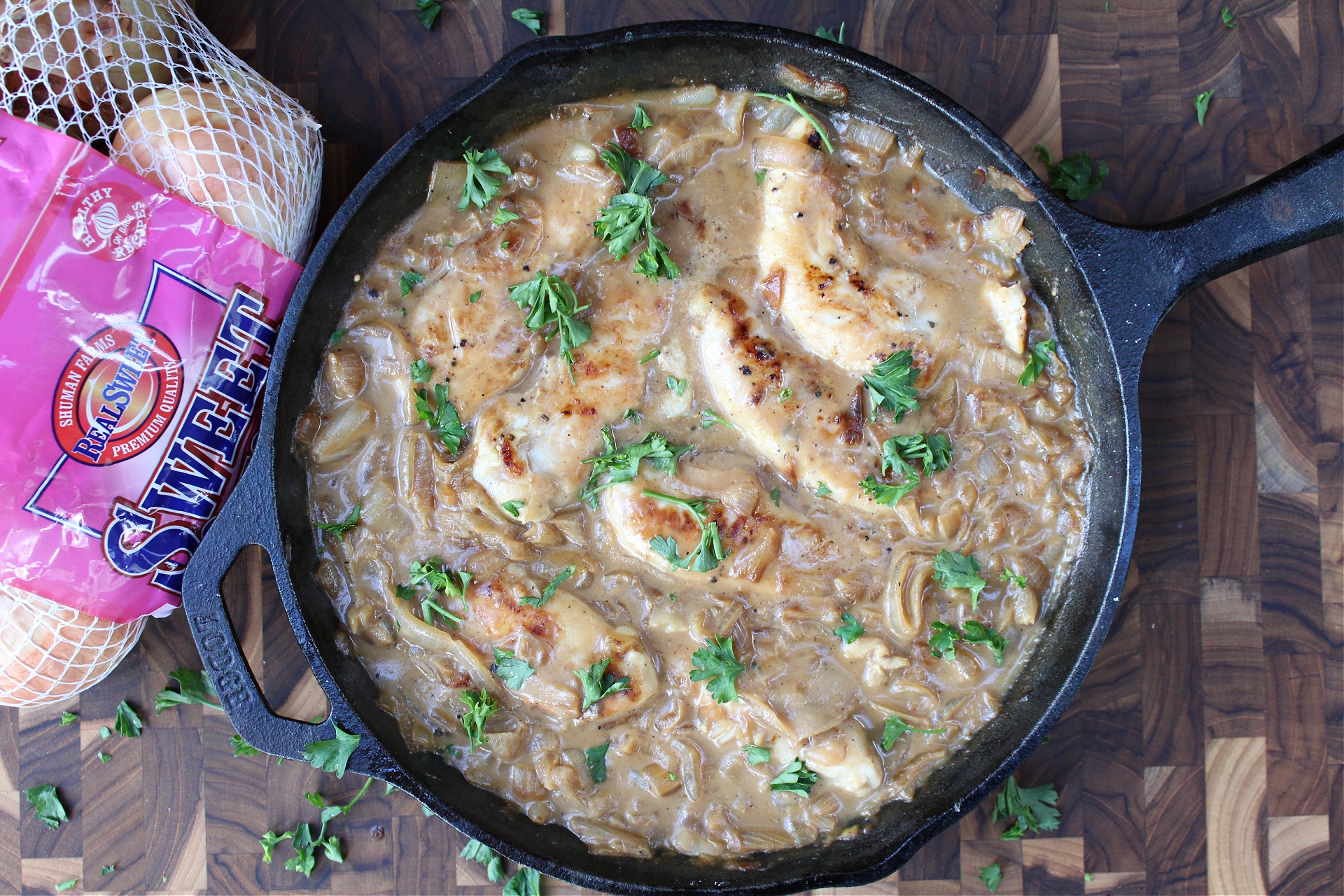 Creamy Chicken and Caramelized Onions Skillet
A little over 3 years ago I was sitting in my daughter's 6th grade End Of Year performance at her school when I got a phone call. I didn't recognize the number, so I sent it to voicemail. In between events, I stepped out and listened to the voicemail, it was from the doctor's office telling me that I needed to come back in for another mammogram because the one I just had showed an irregular mass of tissue.
I cried. Oh my goodness did I cry. I took a deep breath and walked back into the school gym. I sat through my daughter's performance holding my husband's hand trying to hold back my tears.
The prior year I had two surgeries to have skin cancer removed from the inside of my ear (the most painful surgery of my life and I am the mother of 2 kids) and one on my forehead. I was so scared.
I scheduled my follow up appointment as soon as we got home. I sat through the follow-up appointment, got the additional scans, and cried the whole time.
Thank God my results came back normal, it was just a tissue mass.
I was so scared.
I consider myself lucky.
Did you know that about 1 in 8 U.S. women will develop invasive breast cancer over the course of her lifetime? 1 in 8.
Ladies, I can not express enough how important it is to get your annual breast exams. Self check regularly.
Care for yourself. Care for your tatas. Not just in October, because it's Breast Cancer Awareness Month, but all the time. Let October serve as a reminder for you, yes, but don't let it be the only time you think about self-care. About you. About reducing your risk of getting breast cancer. About increasing your survival rate if you did get diagnosed with breast cancer because you caught it early thanks to a self-exam or a mammogram.
Save the tatas.
Besides getting regular exams and taking care of yourself, did you know that there are foods we can eat to help prevent our risk of cancer? YES!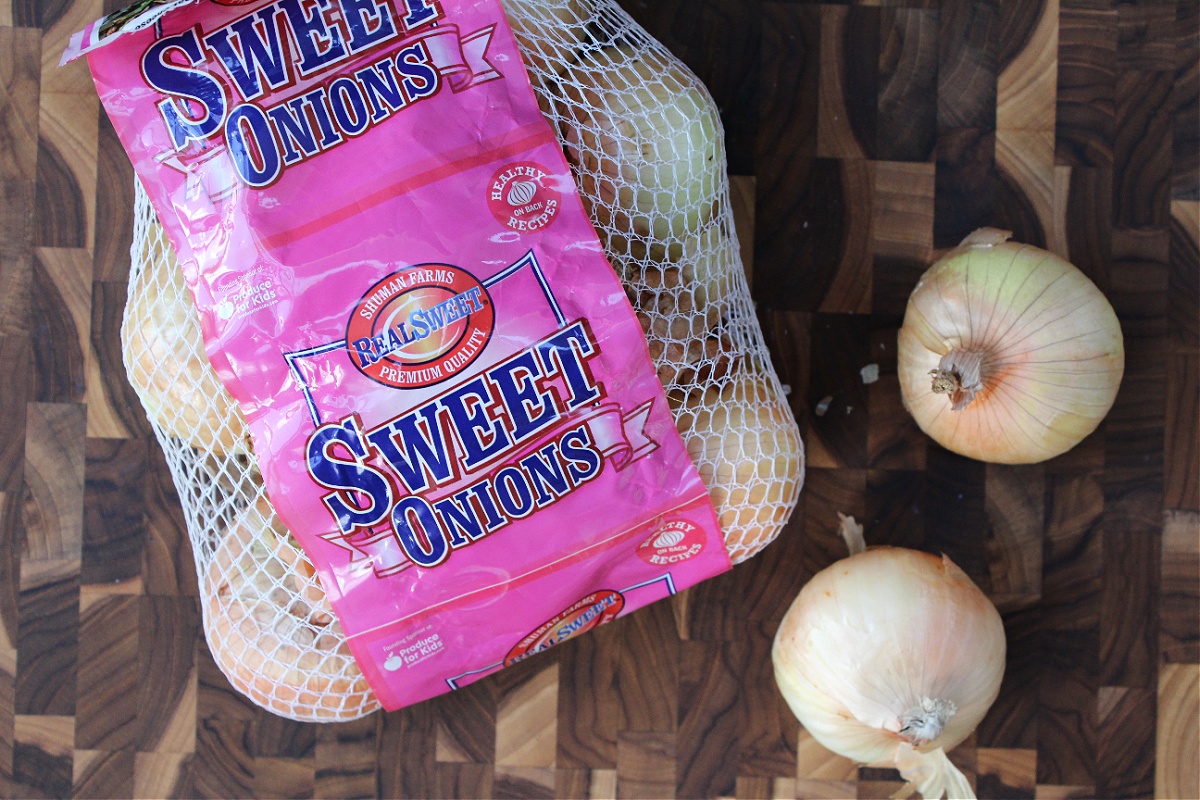 Onions are one of the foods that have cancer-fighting nutrients. Actually, in India, onions were used for their medicinal properties as early as the 6th century. From Greek to Roman times, all through the Middle Ages, onions were a such an important food, that people paid their rent with them or presented them them as gifts.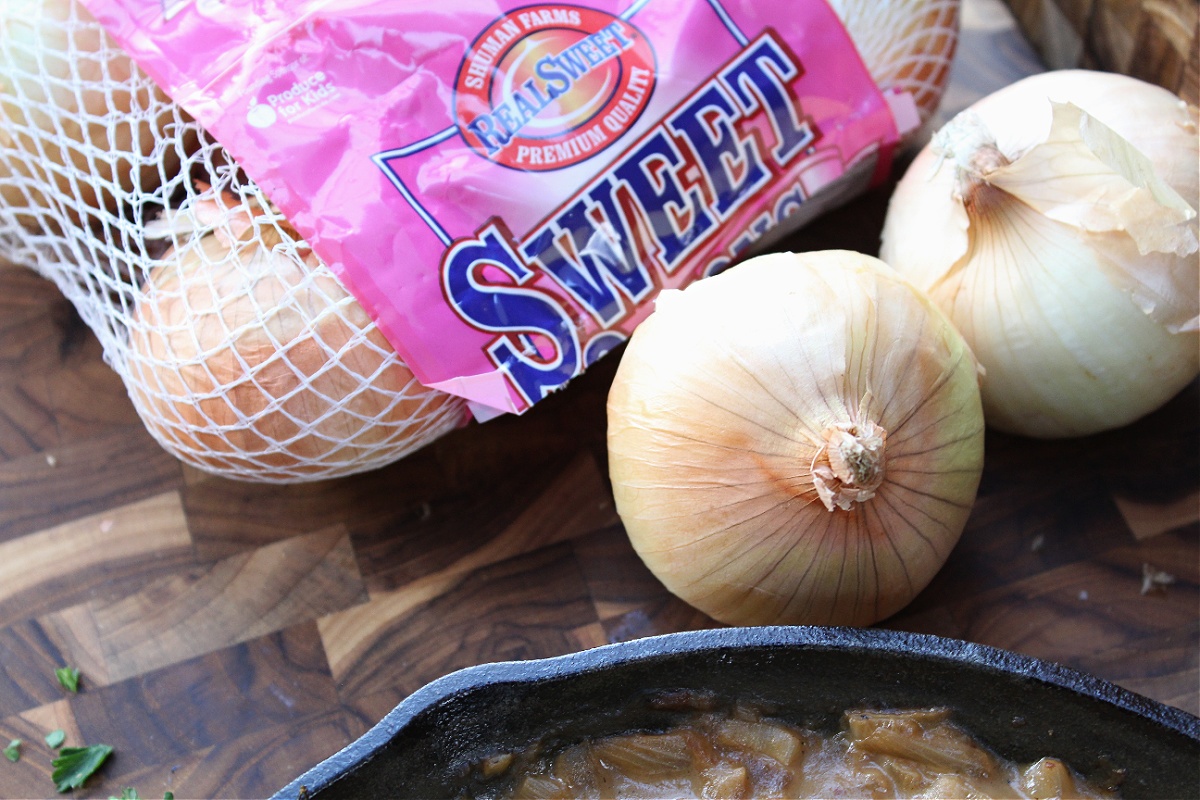 Health Benefits Of Onions
Coming in a variety of colors that range from translucent white to pale green, yellow and red, onions are not only colorful and tasty, they are also said to have many health benefits. Like garlic, which is said to have cancer-fighting properties, onions belong to the Allium family. Their rich in sulfur-containing compounds are responsible not only for their pungent smell, but also for many of their beneficial effects.
Onions can help boost bone health. With an increased risk of developing osteoporosis due to decalcification of the bones, the consumption of onions may be especially beneficial for women, especially during menopause.
With their anti-inflammatory properties, onions are also helpful in reducing the symptoms associated with the swelling caused by rheumatoid arthritis, allergic responses to asthma, and respiratory congestion. Together with chicken soup, onion soup can be very helpful alleviating congested respiratory passages caused by a common cold.
Cancer Fighting Antioxidants Found In Sweet Onions
Sweet onions are an excellent source of quercetin and allicin.
Blood Sugar-Lowering Effects Of Onions
Because onions are rich in chromium, a trace mineral that helps the cells' response to insulin, it is said that they have lowering effects in the blood sugar levels.
A clinical study of diabetics showed that chromium can improve glucose tolerance and decrease "bad" cholesterol levels while increasing "good" (HDL) cholesterol levels. Consuming refined sugars, white bread and lack of exercise conspire to lower chromium levels. A cup of raw onions contains more than 20 percent the daily value of this important mineral.
Cardiovascular Benefits of Onions
As with garlic, the regular consumption of onions can reduce cholesterol levels and lower blood pressure, which help in the prevention of atherosclerosis, diabetic heart disease and strokes.
During a study conducted with more than 100,000 people, it was the ones with diets rich in onions, broccoli, apples and tea (the richest source of flavonoids) who showed a 20 percent reduction in the risk of heart disease.
Ovarian and Breast Cancer Prevention
It has been shown that the women who include onions, broccoli, blueberries, spinach, kale and black tea in their diets (all of these kaempferol and flavonoid rich foods) reduced their risk of getting breast and ovarian cancer.
So, let's eat some onions shall we?! And not just any onions, look for Shuman Farms Sweet Onions this month and every month. But this month, look for the pink RealSweet onion bags.
For the past 13 years, Shuman Farms has distributed special, pink RealSweet onion bags and display bins to support breast cancer awareness. Since 2009, they have donated more than $110,000 to organizations working hard to find a cure. This year, they are be honoring those impacted by the disease while working to educate consumers on the cancer-fighting nutrients found in sweet onions.
So, today I am celebrating my regularly scheduled mammograms with an amazing recipe that is filled with delicious sweet onions. So, make it, enjoy it with your family, share the recipe with your friends and family, and know that you are helping raise breast cancer awareness and you are helping save the tatas.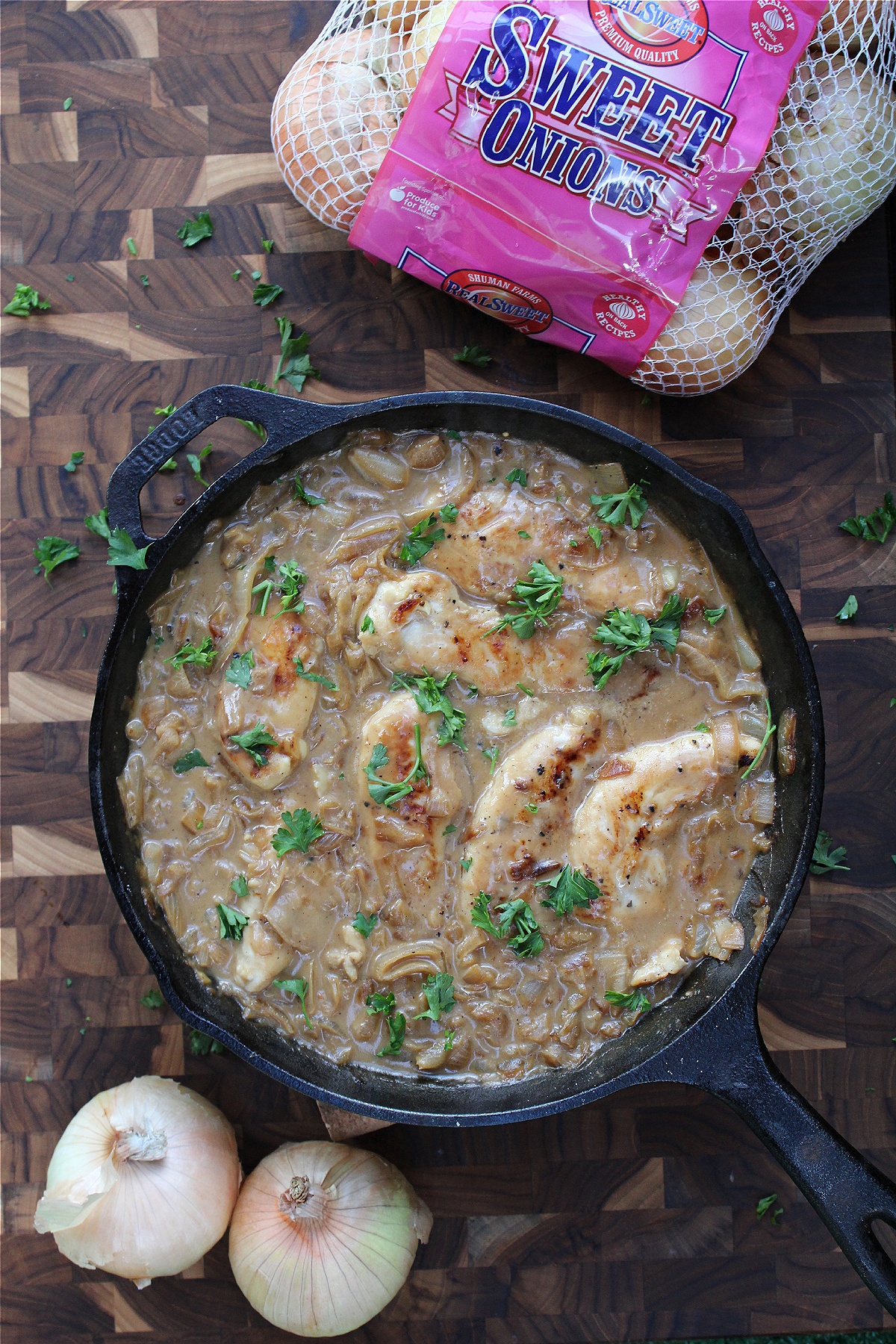 Creamy Chicken and Caramelized Onions Skillet Key Ingredients
Chicken tenders – cutlets would work too
Olive Oil
Salt & Pepper
All-purpose flour
Low sodium chicken broth
2% milk – I recommend Florida Milk, of course
Chopped parsley for garnish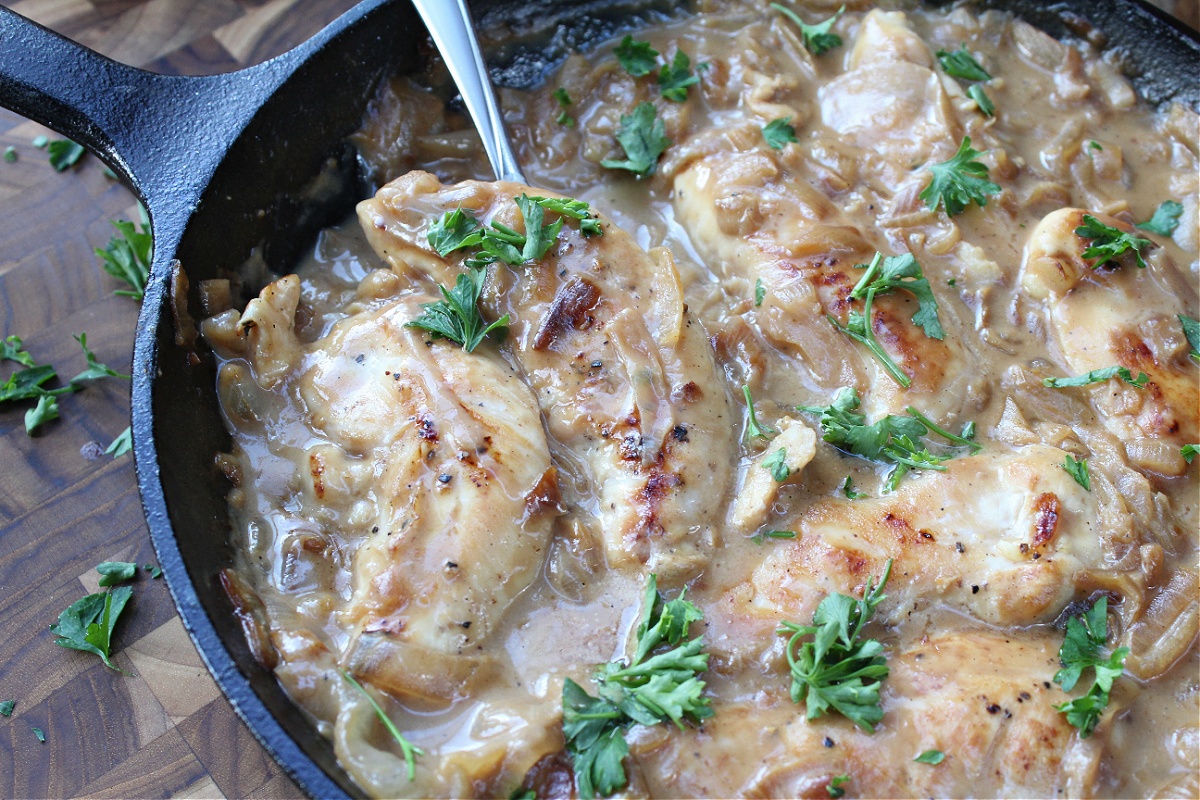 How To Make Creamy Chicken and Caramelized Onions Skillet
Caramelize your sweet onions. This takes a little time, but I promise you, it's 100% worth it.
Cook the chicken, using the same skillet so they get all that delicious flavor from the onions.
Add the broth, milk, some seasonings.
Done baby!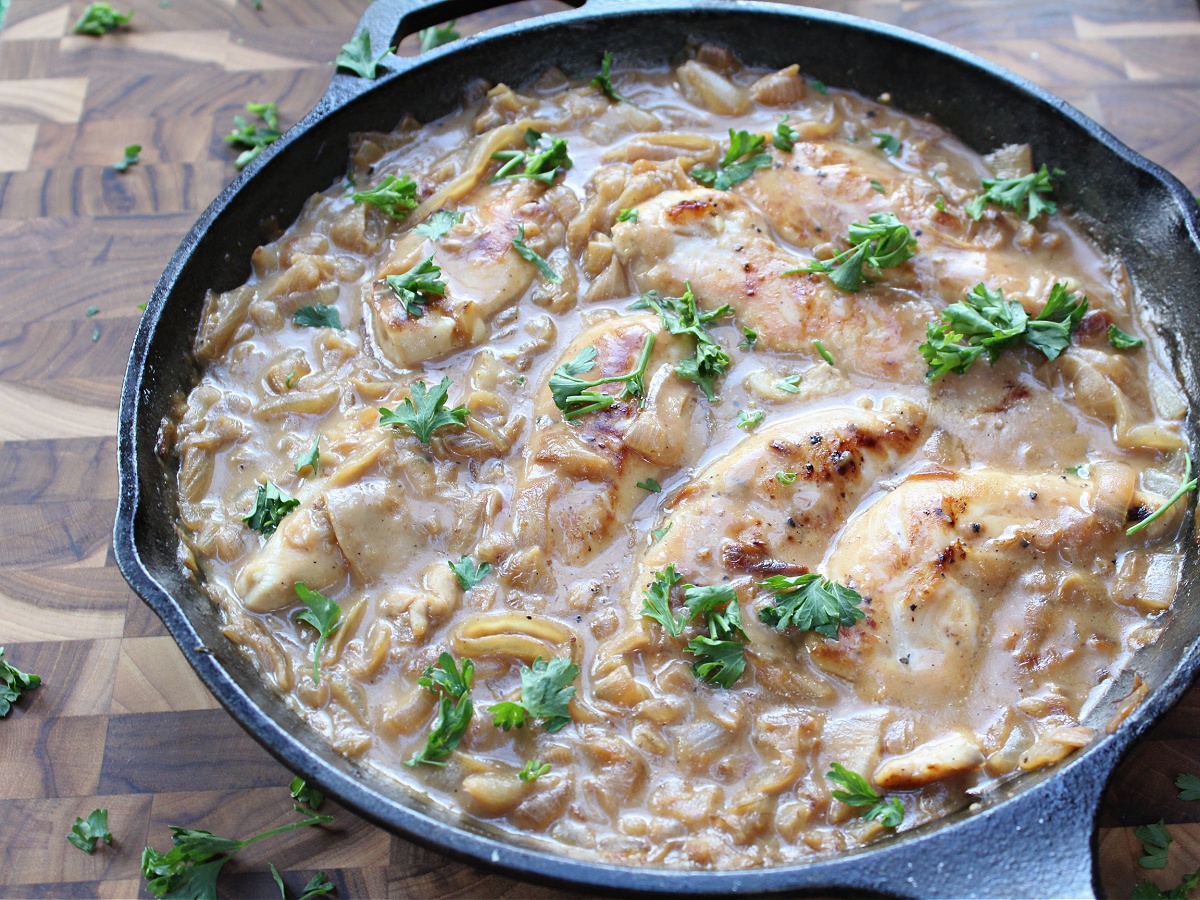 My son requested a baked potato, then he opened it and piled the chicken and onions on top of it. It was so good! My daughter asked for pasta with hers. Also SO good! Me, I just ate it exactly the way it was and had a side salad.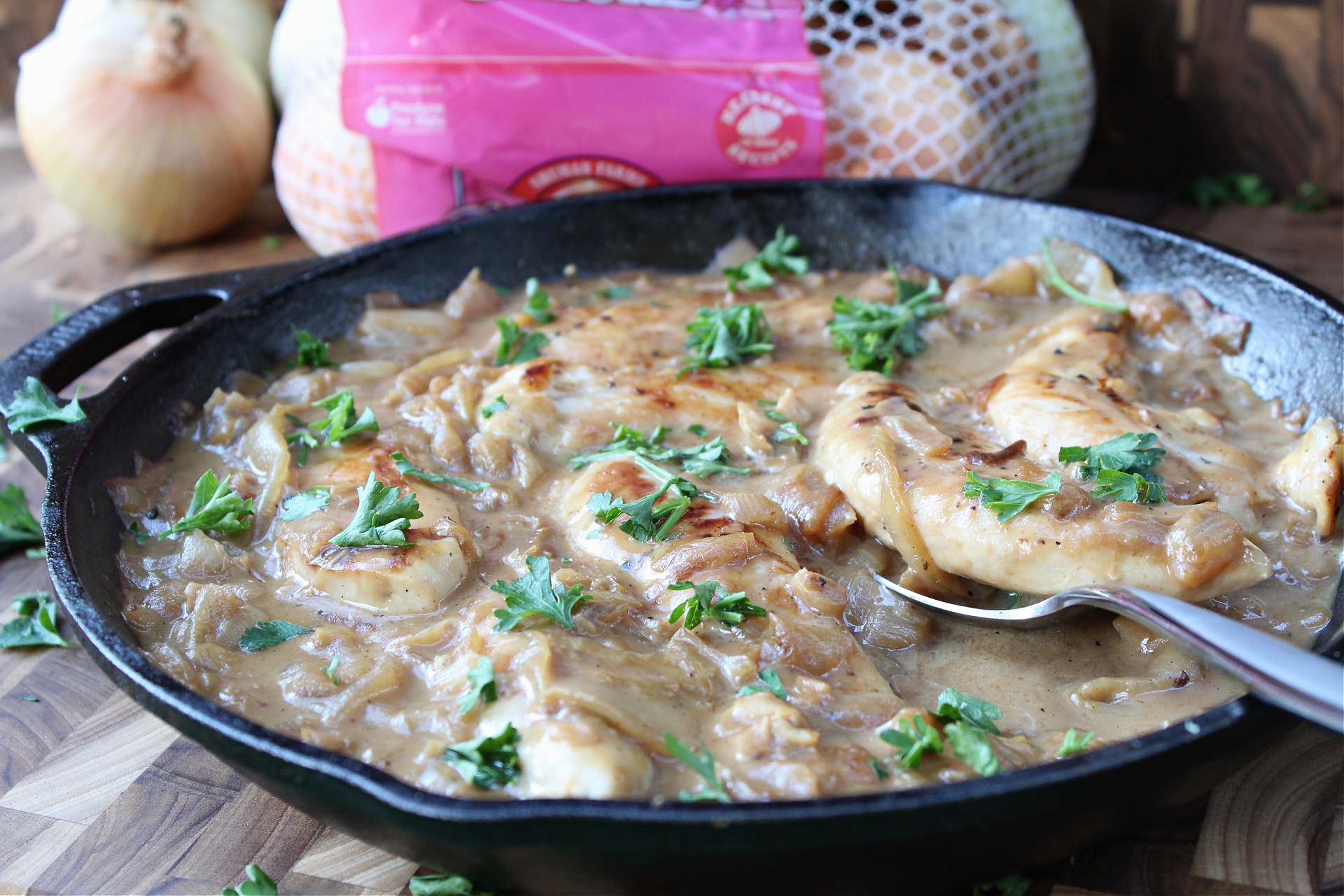 No matter how you decide to serve your Creamy Chicken and Caramelized Onions, I promise, you'll love it! The caramelized onions add so much flavor that you really don't need any other flavors going on…just that little bit of salt and pepper.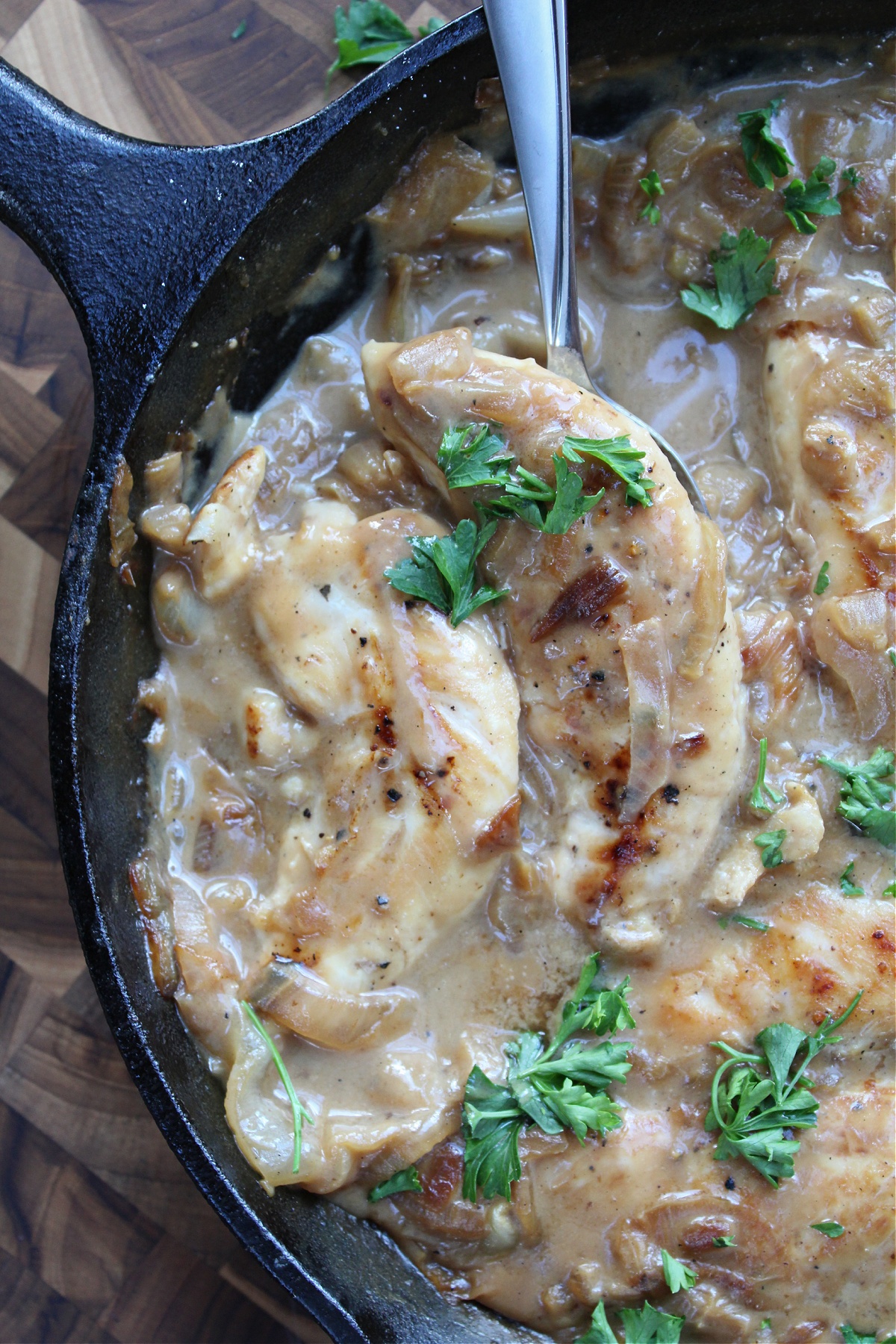 Now, here's my Creamy Chicken and Caramelized Onions recipe, be sure to Print It and Pin It so that you can make it again and again.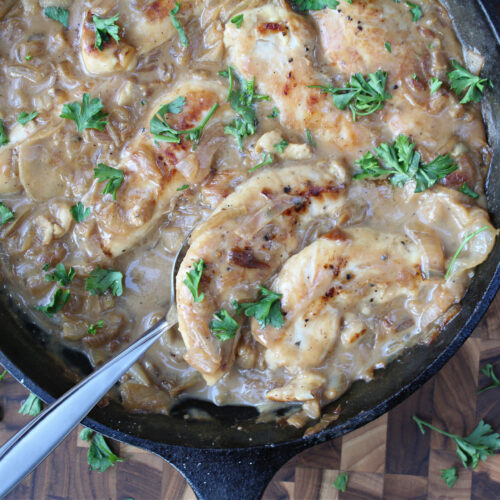 Creamy Chicken and Caramelized Onions
Made in one pan and prepped in just minutes, this Creamy Chicken and Caramelized Onions is a delicious weeknight meal.
Print
Pin
Rate
Ingredients
1¼

lbs

chicken tenders

4

sweet onions

1

tbsp

extra virgin olive oil

divided

1

tsp

salt

divided

1

tsp

ground pepper

divided

1

tbsp

all-purpose flour

½

cup

low-sodium chicken broth

½

cup

2% milk

Chopped parsley for garnish
Instructions
Slice onions into rings

Once onions are done, transfer them to a plate

Season chicken tenders with salt and peppers

Cook the chicken, turning once, until browned and cooked throughout. About 3 mins per side.

Transfer to the same plate the onions are on, or get a new one!

Put the onions back into the skillet

Sprinkle flour over the onions and stir to coat.

Add broth, milk, and the remaining salt and pepper

Cook until bubbling and thickened, about 2 minutes

Return the chicken and any accumulated juices to the pan and turn to coat

Garnish with fresh chopped parsley, if desired

Enjoy!
Nutrition
Calories:
261
kcal
|
Carbohydrates:
23
g
|
Protein:
28
g
|
Fat:
7
g
|
Saturated Fat:
1
g
|
Polyunsaturated Fat:
1
g
|
Monounsaturated Fat:
3
g
|
Trans Fat:
1
g
|
Cholesterol:
74
mg
|
Sodium:
636
mg
|
Potassium:
795
mg
|
Fiber:
3
g
|
Sugar:
15
g
|
Vitamin A:
63
IU
|
Vitamin C:
14
mg
|
Calcium:
90
mg
|
Iron:
1
mg
I hope you enjoy this Creamy Chicken and Caramelized Onions Skillet as much as we do. And don't forget to schedule your annual breast exam and self-check for lumps regularly!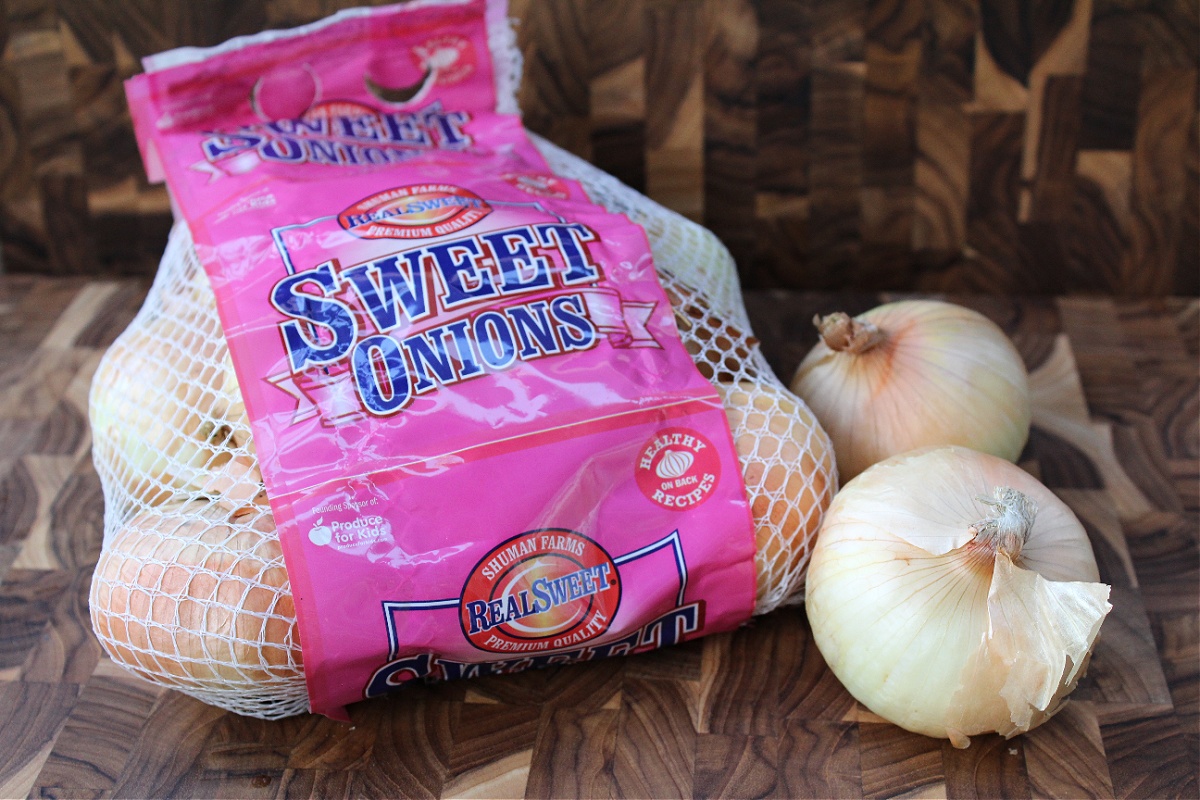 Follow Shuman Farms RealSweet Onions on Instagram, Facebook, Twitter and Pinterest for more cooking tips and recipes ideas.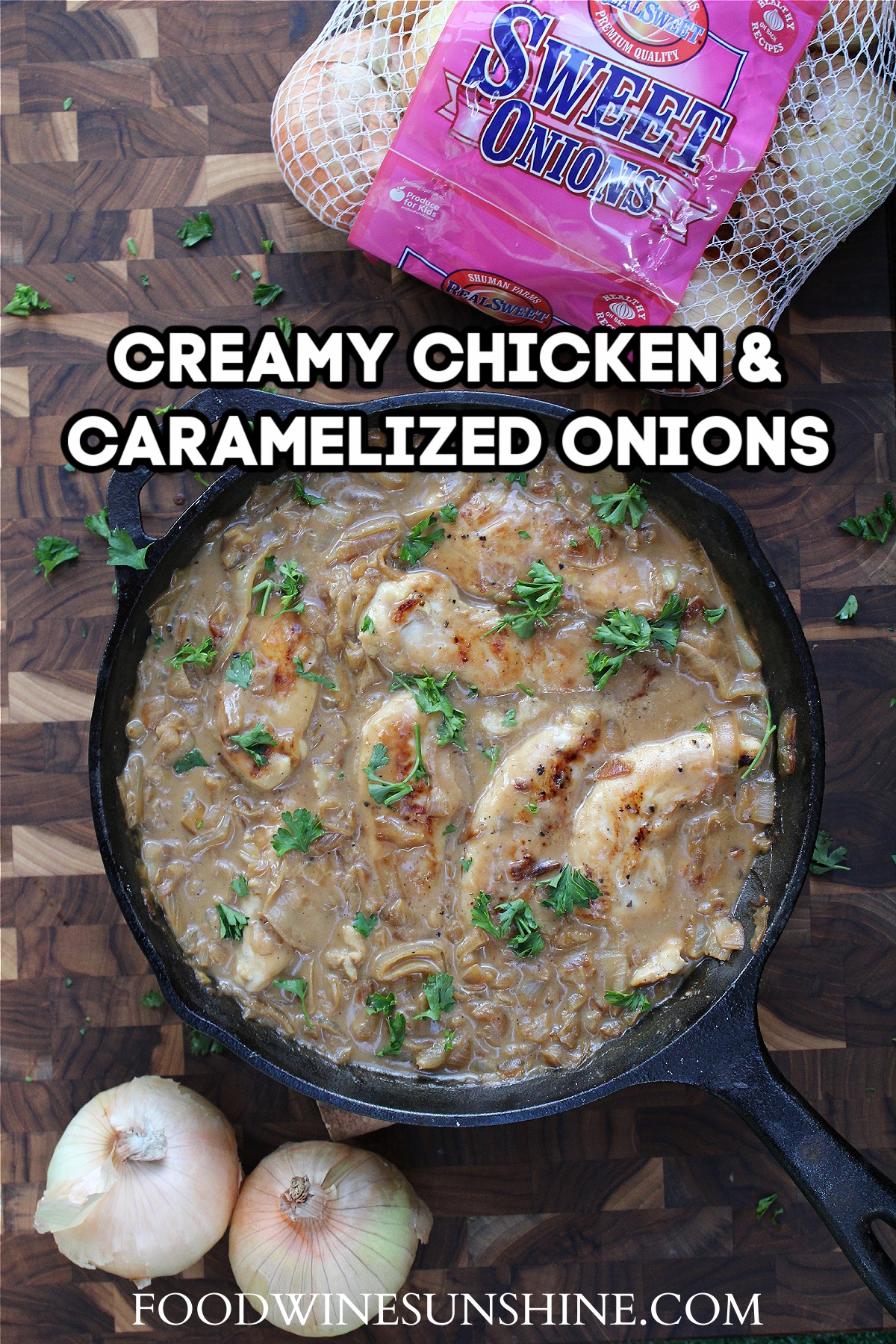 Be sure to follow me on Facebook, Twitter, Pinterest and Instagram for more delicious recipes, travel tips and more.