(Last Updated On: February 1, 2023)
Is there anything better than freshly squeezed juice topped with with some bubbly? Not much! Find out how to make the perfect mimosa and get some other fun sparkling wine cocktail recipes!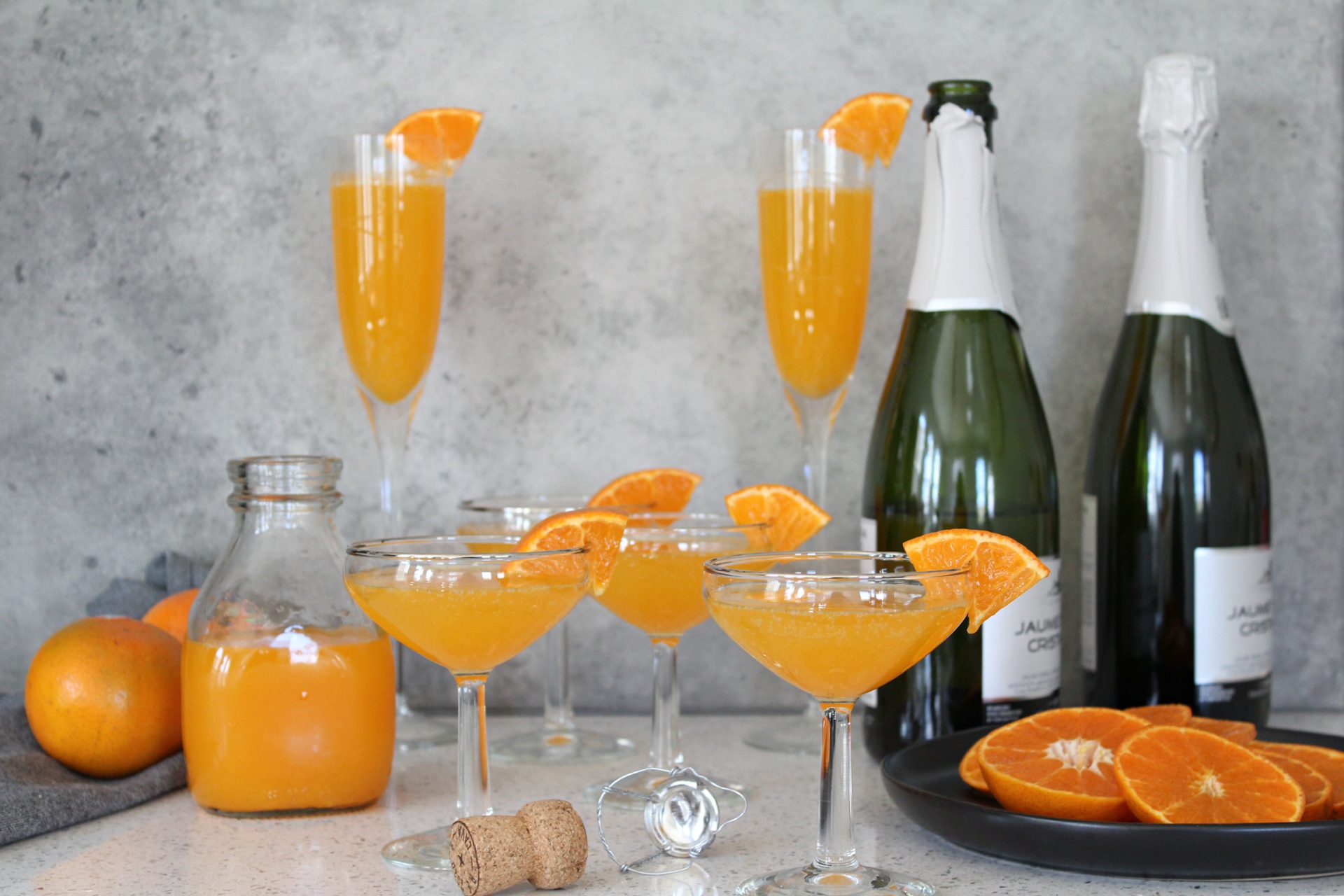 You may think that a mimosa is a simple cocktail. Juice and some sparkling wine or champagne. But no. There are things to consider when making the perfect mimosa. I mean, you wouldn't make your favorite vodka cocktail with just any ole' vodka now would you? Do you have a favorite brand of juice that you like to buy? Are you a die-hard Pepsi or Coca-Cola fan? There's definitely taste differences!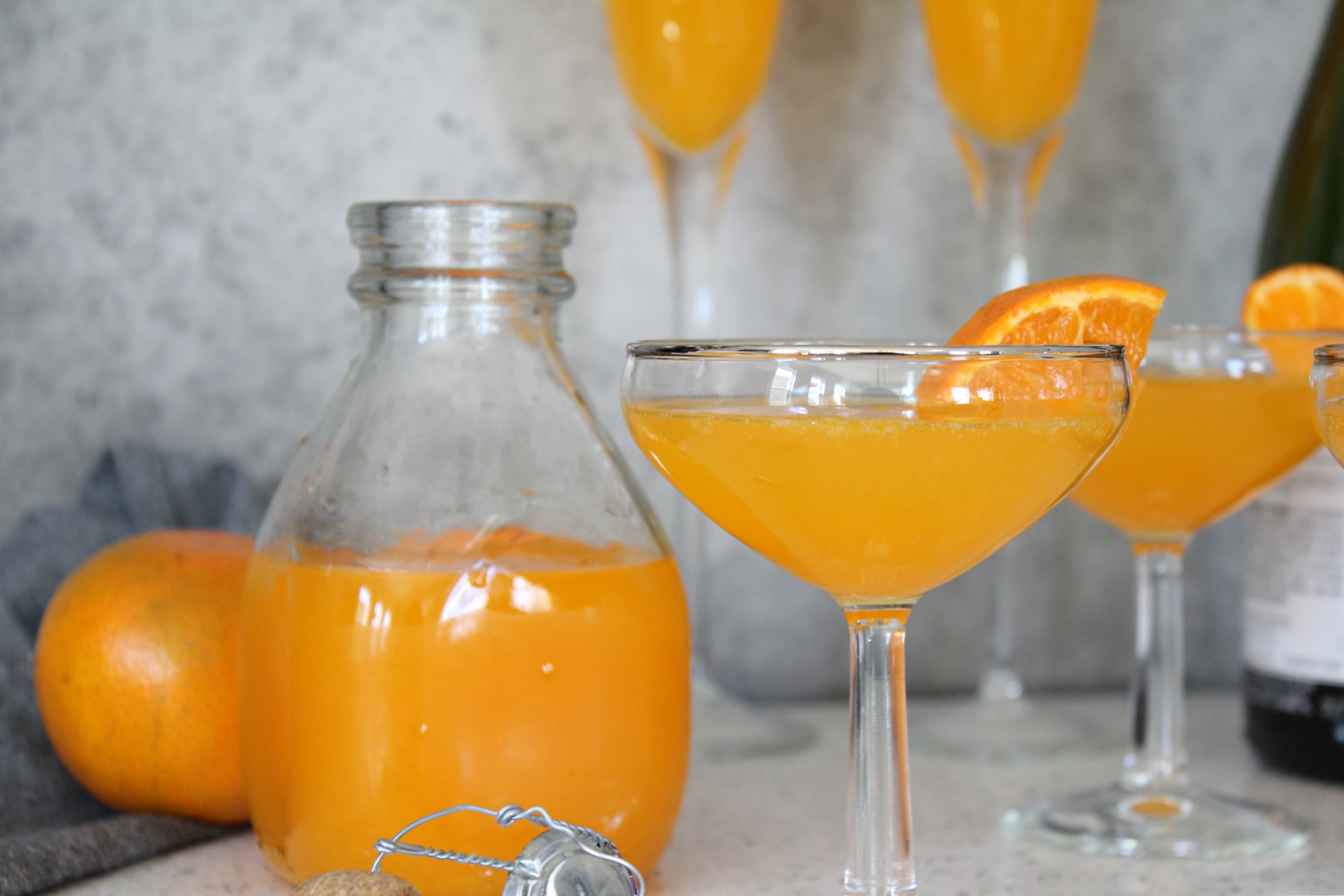 And that's exactly why when making the perfect mimosa, I say you need the perfect juice.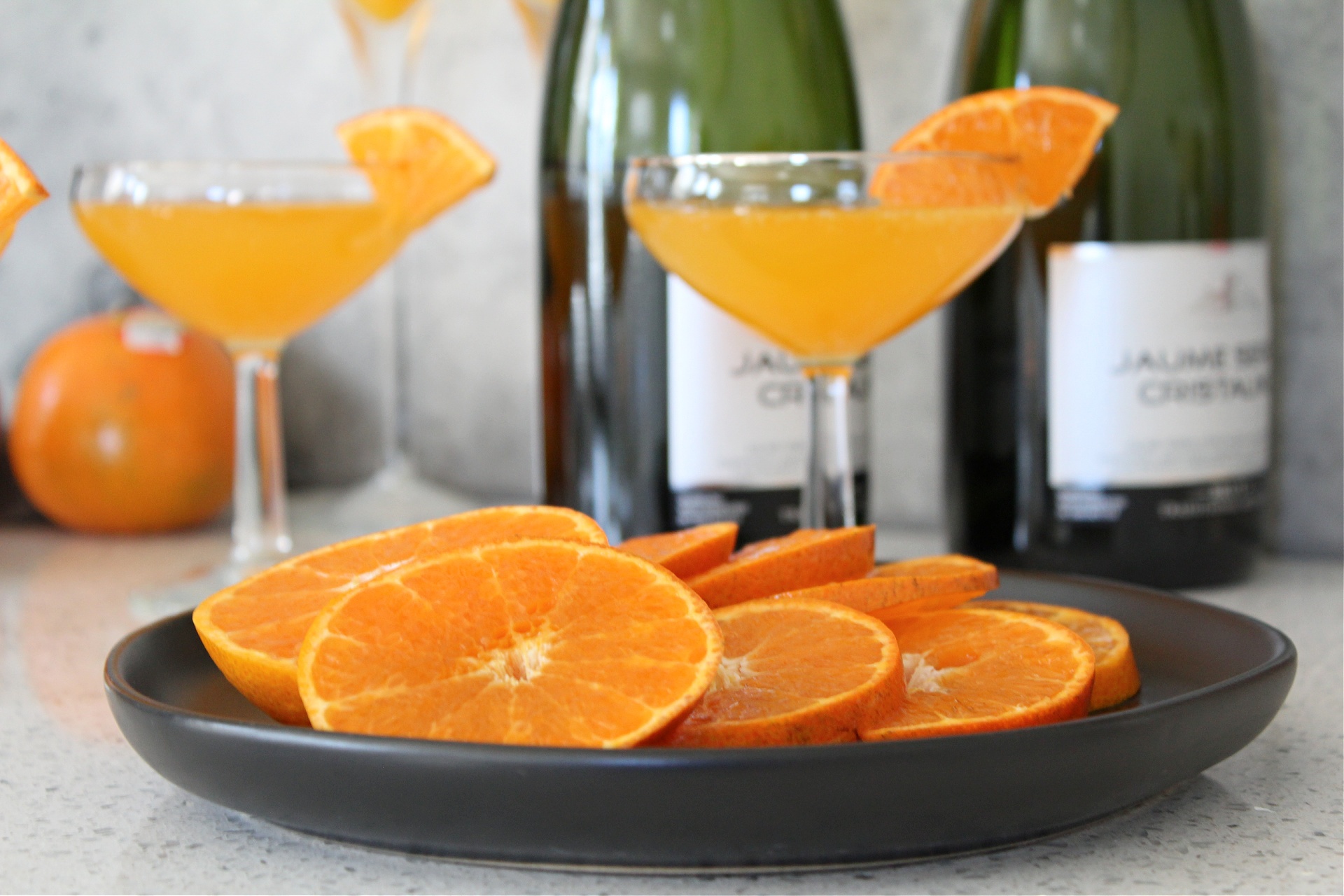 And it's not your typical orange juice.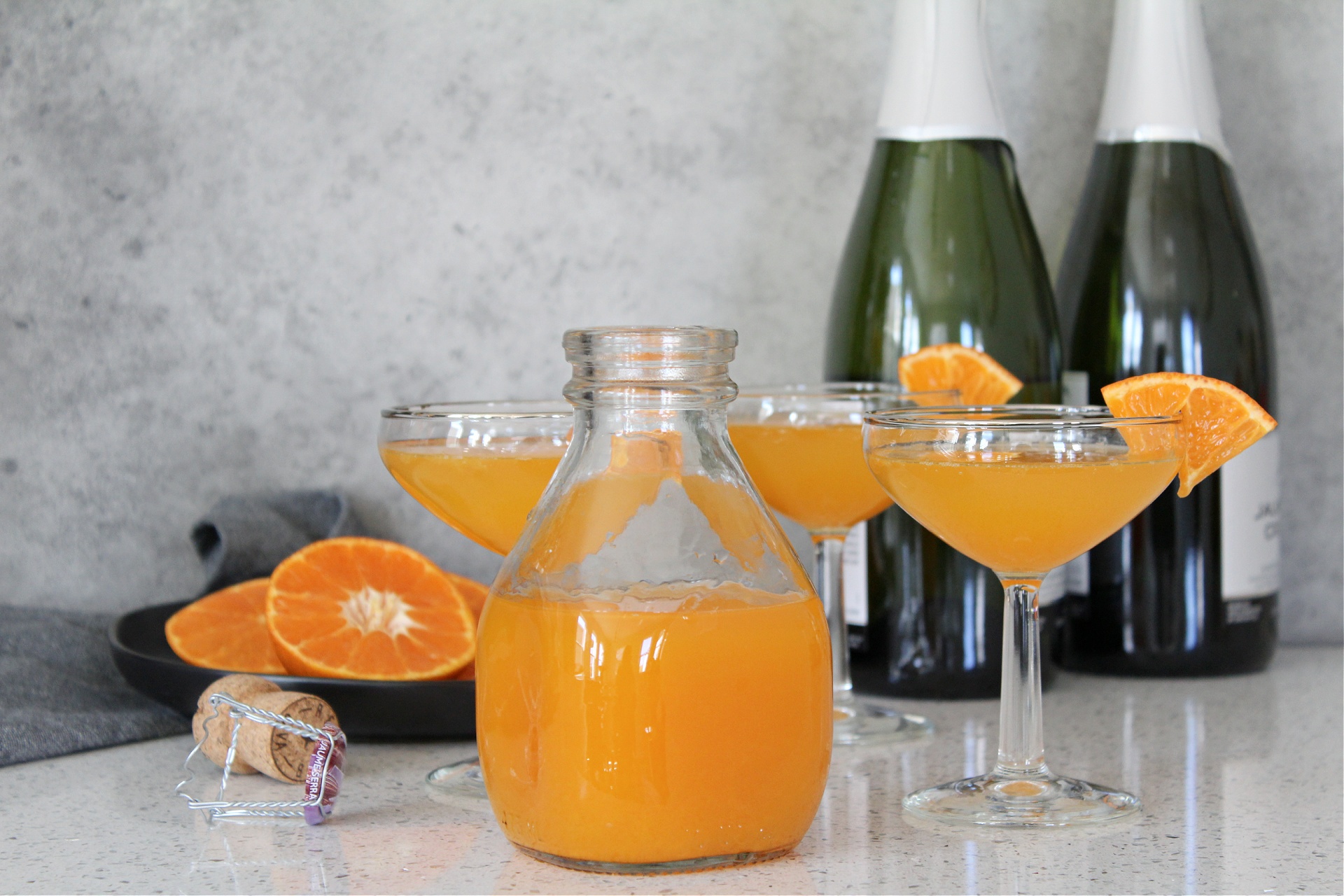 It's tangerine juice.
And not just any tangerine juice.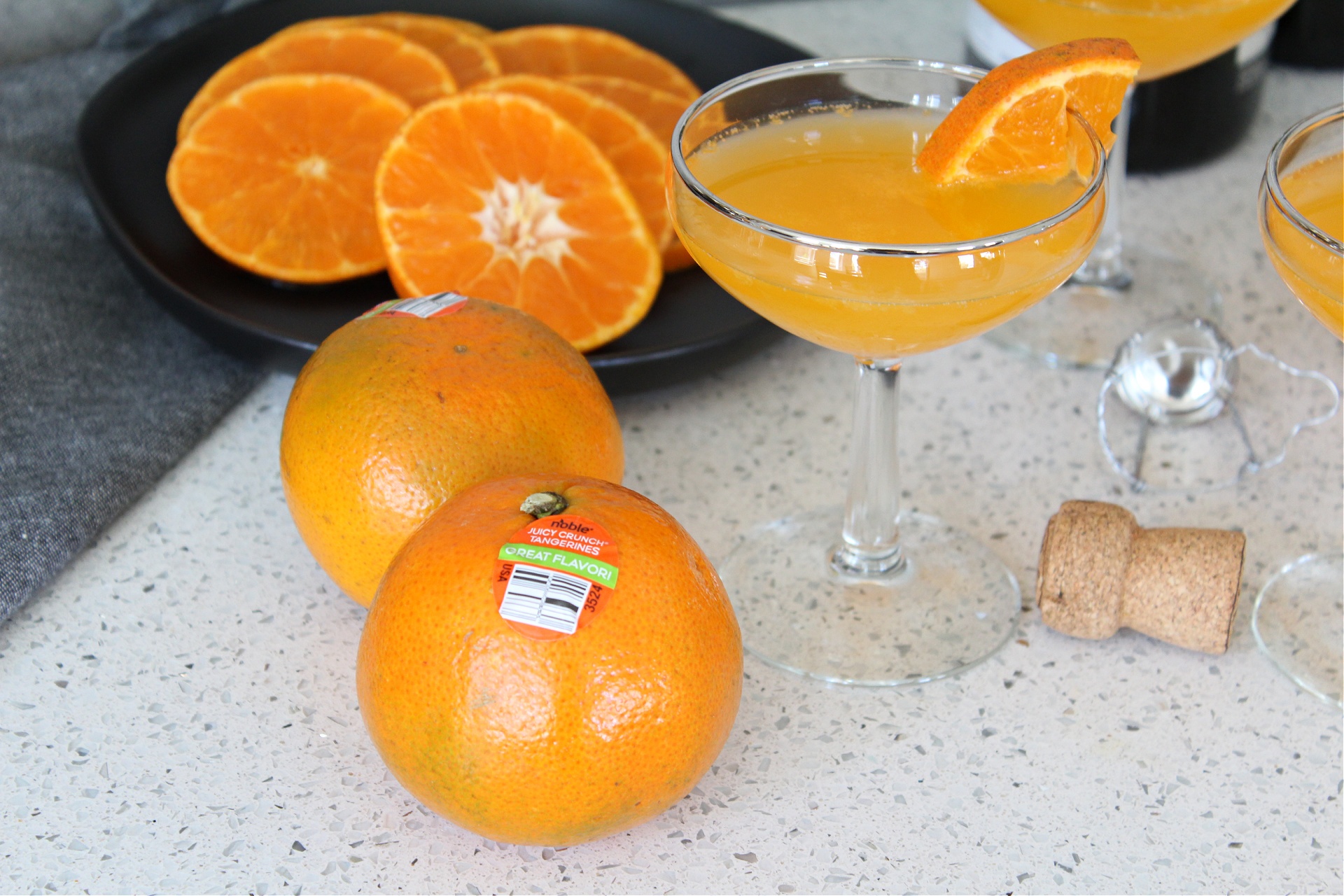 It's the perfect tangerine juice, from the sweetest tangerines.
Noble Juicy Crunch Tangerines.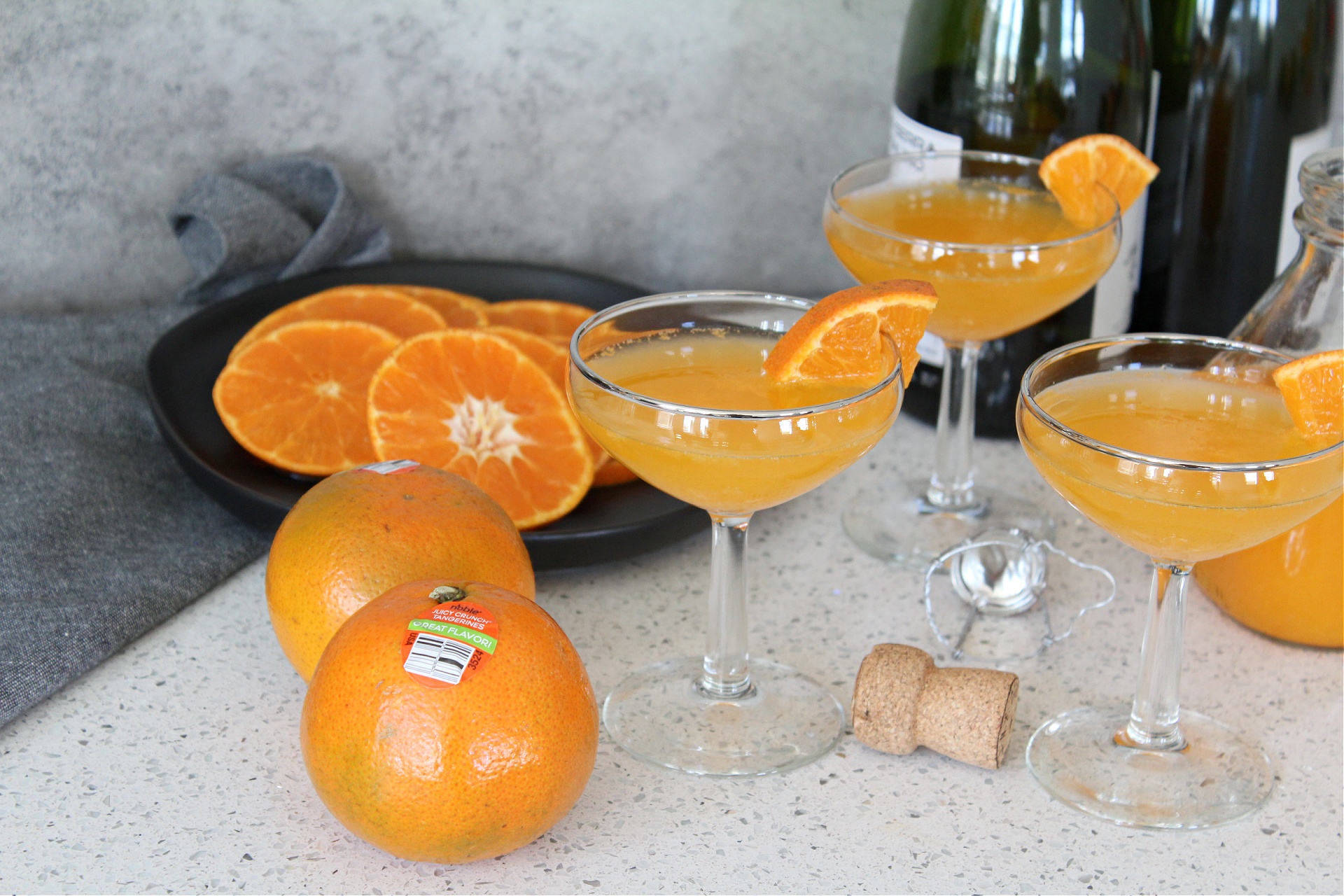 But before I get into the perfect mimosas, I am going to share a little story about Noble Citrus and Juicy Crunch tangerines.
Back in 2021 I got to go on a tour through some amazing farms here in Central Florida with the Florida Fruit and Vegetable Association. Our first stop with Noble Citrus. Quentin Roe, the President of Noble Citrus, stood amongst his tangerine trees and spoke to our group of influencers about the importance of domestic food security and explained in-depth why we should look for that Fresh From Florida label on our produce.
While I have a huge appreciation for our farmers and what they do for us and our families, I learned so much that day. And I continue to learn more and more about the amazing produce that is grown here in the state of Florida.
Like tangerines.
Since then I have learned about the different variety of tangerines that are grown by Noble Citrus. And different ways to use tangerines in recipes. I have created tangerine cocktails, tangerine pizza, easy breakfast recipes, and more. I really never realized how incredibly versatile tangerines were. I mean, they are delicious all on their own, but you can really use them in a variety of ways!
Especially if you use the tangerine juice.
Now, I just used a lemon squeezer to get the Juicy Crunch juice out when I made my tangerine balsamic reduction on for my Sweet & Spicy Flatbread and my Healthy Tangerine Muffins.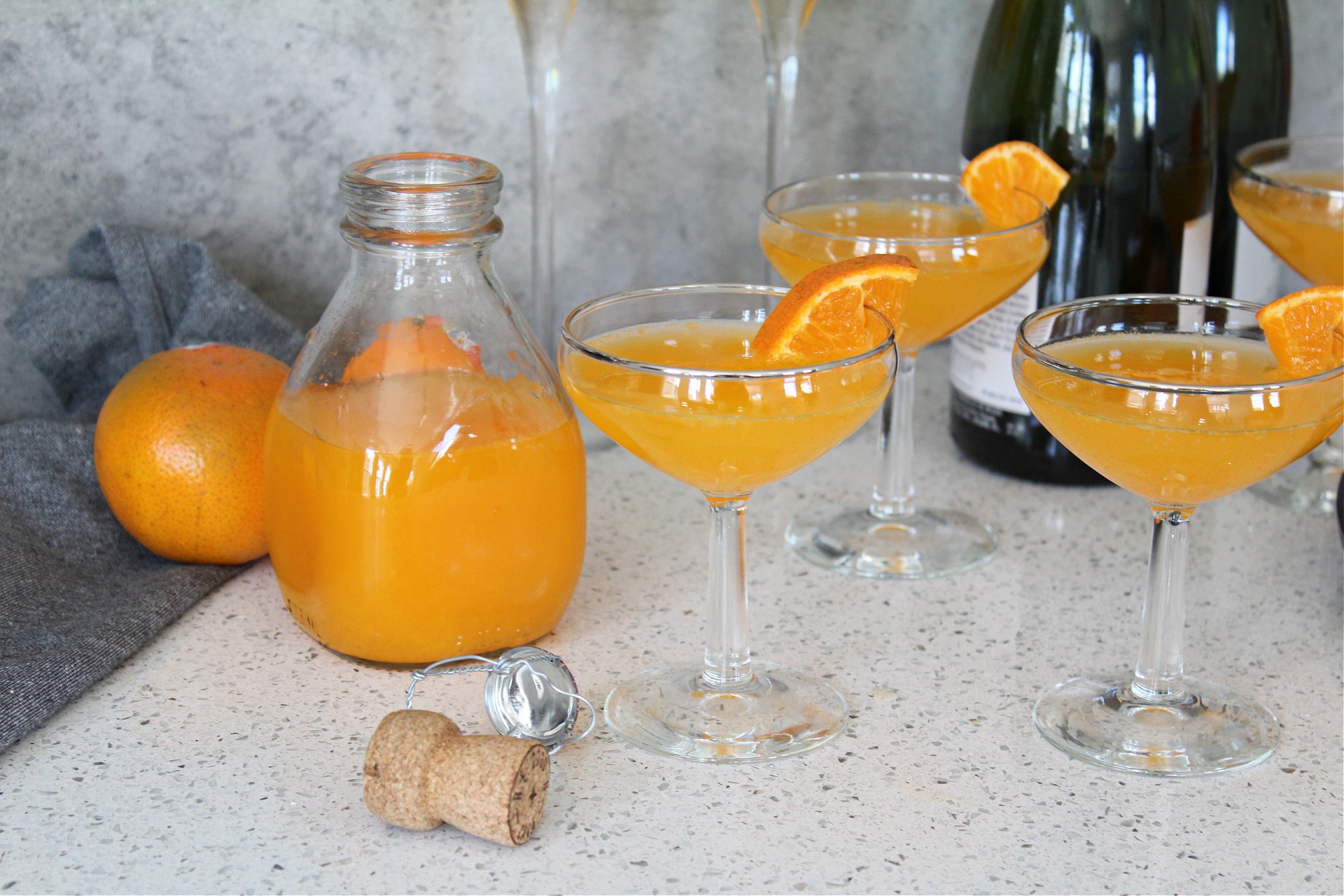 But, the tangerine juice I used for the perfect mimosas….Well, that's another story…So bear with me for a few more minutes 🙂
I had the incredible opportunity to drive out to Citrus America and meet with their insanely friendly staff and Quentin Roe where I got to taste-test some Juicy Crunch tangerines and Juicy Crunch juice.
Now, you may wonder why I drove out there to taste-test something that I have had plenty of times. Well, since I absolutely love Noble Citrus and all their products, I'll be honest, I didn't ask too many questions, I was just excited to go!
Well, I tasted Juicy Crunch tangerine after Juicy Crunch tangerine and they all tasted the same to me. I started to wonder what was going on, when they revealed to me that some tangerines looked different than others.
My momma taught me to not judge a book by it's cover, so honestly that didn't phase me at all. I mean, they tasted exactly the same…so what did I care if the peel was a little different. Lord knows I'm not perfect either 😉
So that day I learned to not judge a Juicy Crunch tangerine by it's peel, but rather by its taste. And the taste of a Juicy Crunch tangerine is always sweet and juicy.
I snacked on Juicy Crunch all morning, then Jay with Citrus America turned on a JUICING MACHINE. Ok, now I have never tried freshly squeezed juice before…I mean, not like it's was JUST SQUEEZED. He dumped in a case of Juicy Crunch tangerines and within minutes we had pitchers full of tangerine juice! Have you seen these fantastic juicers in stores?? OMG, they are too cool! Keep a look out for them at Whole Foods and your other favorite retailers, you can actually learn more about the Noble Stand-Apart Florida Fresh Juice Program here. They even let me taste-test the juice from less-than-perfect Juicy Crunch tangerines to see if the juice tasted different.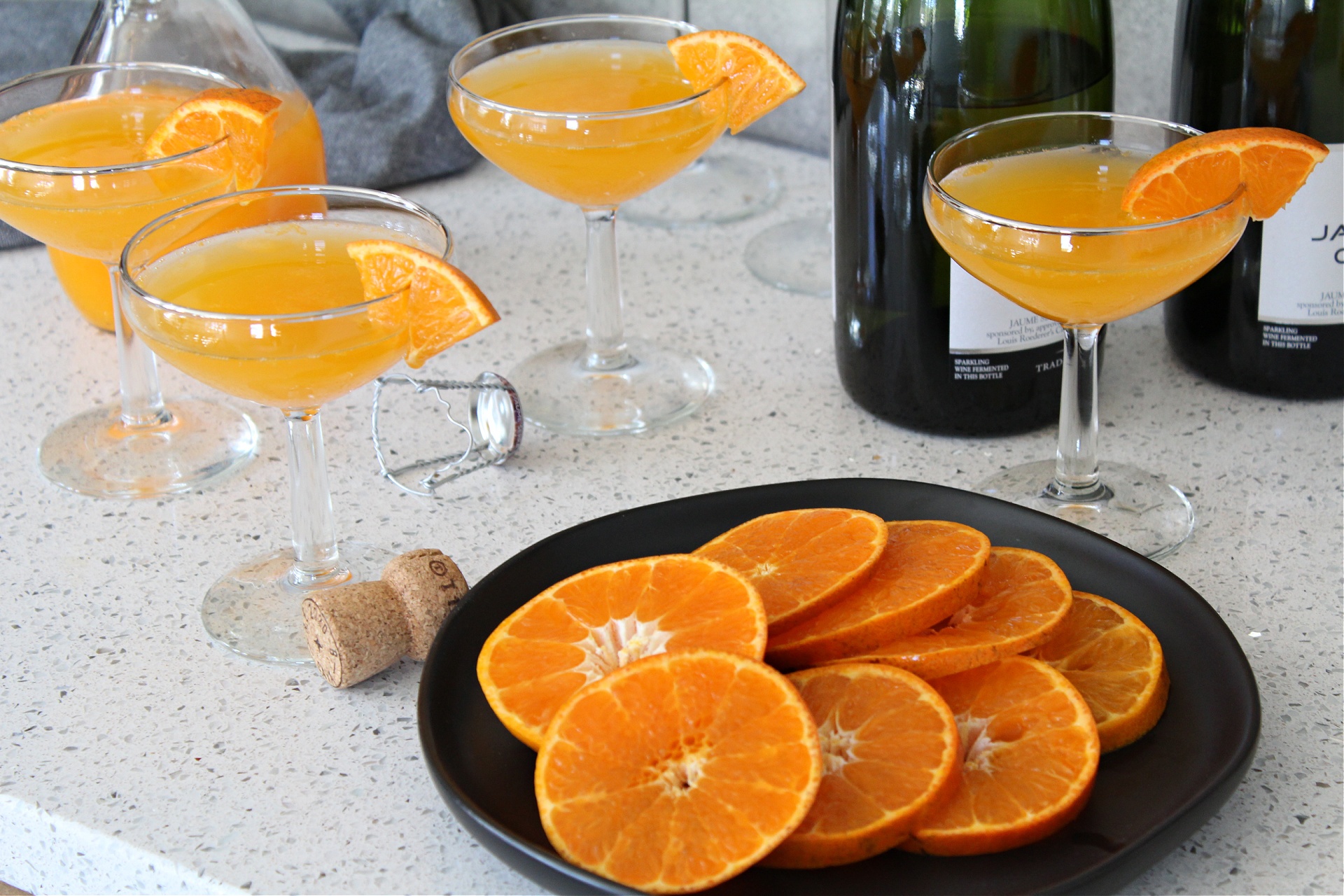 It didn't.
It tasted exactly the same.
Which was PERFECTION.
So, while we sat and chatted about the beauty of Juicy Crunch and the upcoming Florida blueberry season I asked if I could take some tangerine juice home to make the perfect mimosas.
They said yes 🙂
Thank you for bearing with me and my stories….but I guess to make my long story short….to make the perfect mimosa, you need the perfect juice. And the perfect juice is Juicy Crunch tangerine juice.
I had some friends over to celebrate the amazingness, we all toasted to Juicy Crunch and the fact that we learned that not all tangerines look the same, and that's okay…because we don't all look the same either. And that doesn't make us imperfect, it makes us pretty damn special.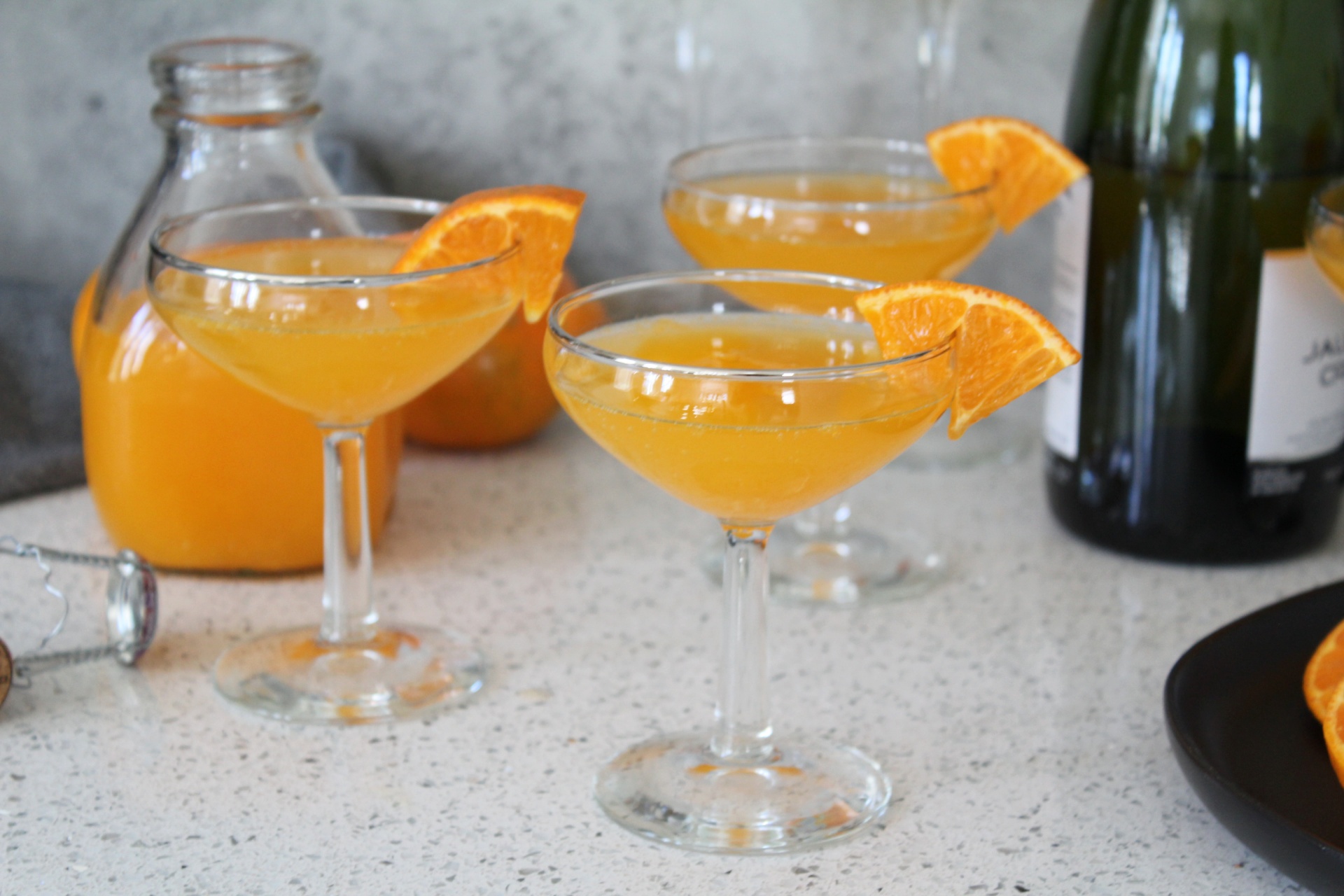 Cheers to being not perfect 100% of the time.
Cheers to being YOU.
Cheers to this damn good mimosa!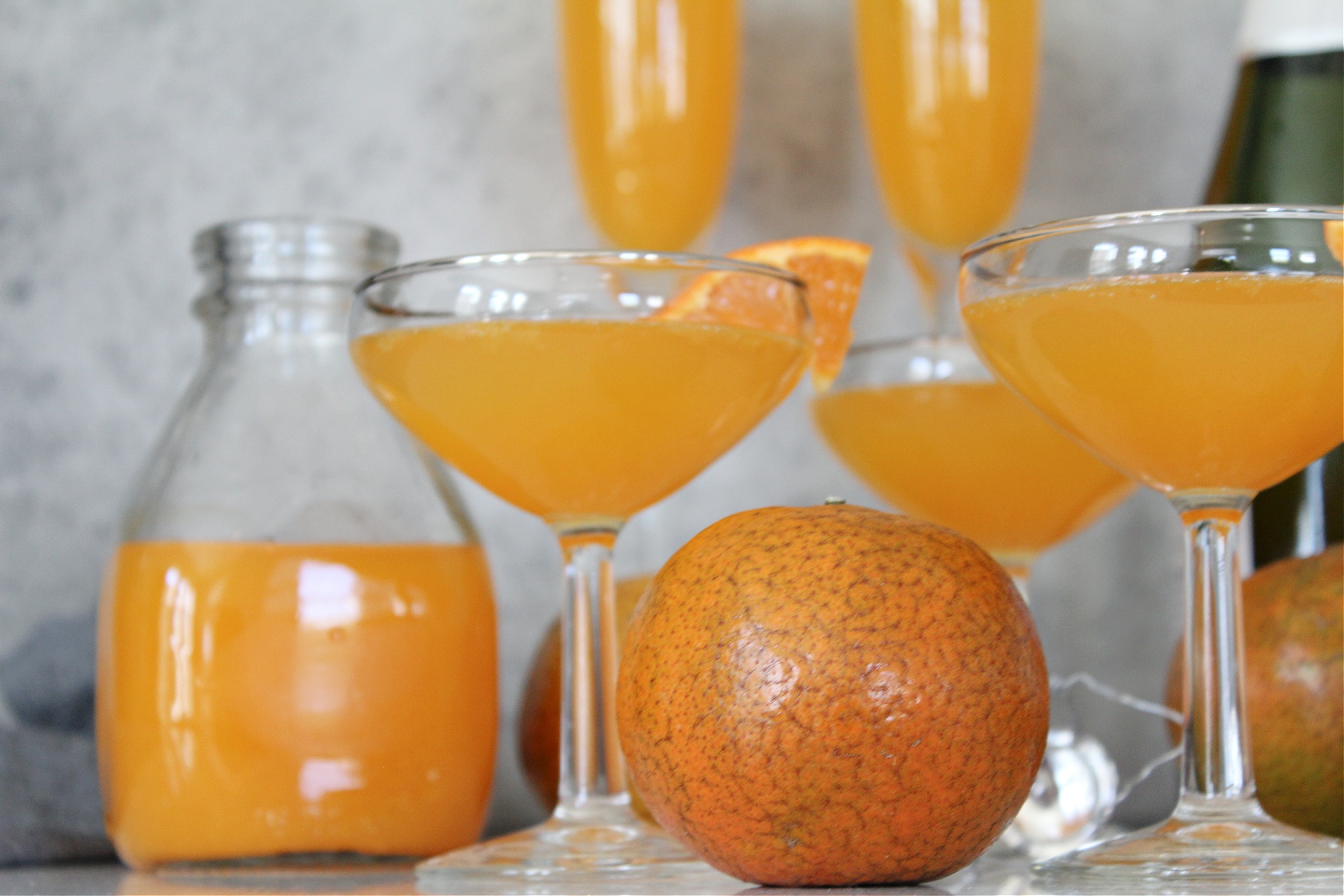 Now, here is how to make the Perfect Mimosa. Be sure to Print It and Pin It so that you can make it again and again.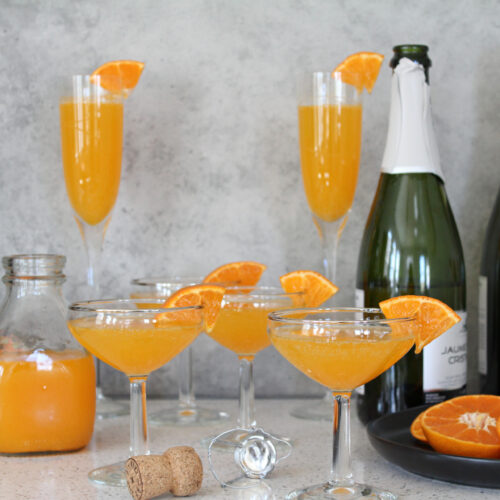 Tangerine Mimosa
You'll never look at a mimosa the same after you try this tangerine mimosa recipe! This is how to make the perfect mimosa! Cheers!
Print
Pin
Rate
Ingredients
2 – 2 1/2

oz

fresh-squeezed Juicy Crunch tangerine juice

3 1/2 – 4

oz

Champagne brut or other dry sparkling wine

Tangerine slice to garnish
Instructions
Pour the freshly squeezed tangerine juice into a chilled Champagne flute and slowly pour the sparkling wine over it.

Stir gently.

Garnish with a slice of orange.

Enjoy!
When the warmer weather hits, or if we are planning brunch, we tend to shy away from the big, heavy wines and reach for something a bit more thirst-quenching. A sip of Champagne, Cava, Prosecco, or other sparkling wine is not only a great way to beat the heat, but it also adds an element of celebration to any occasion.
Ever since the introduction of bubbly wine, people have been experimenting and mixing it with numerous other ingredients. There is now an endless list of sparkling wine cocktails that range from simple and elegant to flashy and elaborate. Any of them will be sure to impress your friends.
Here are a two traditional Sparkling Wine Cocktails that I would recommend switching the juice to tangerine juice for or adding it in:
Bellini
This cocktail was introduced in a bar in Venice, Italy, by Giuseppe Cipriani in 1948 and has now become a classic.
Bellini Ingredients:
Pureed peaches (or peach nectar) – Try Juicy Crunch tangerine juice instead!
1 oz peach schnapps
4 oz Prosecco
To make a Bellini fill a chilled Champagne flute 1/3 full of pureed peaches or peach nectar. Pour the peach schnapps over it and stir it up. Fill the glass with Prosecco.
Sparkling Cosmo
The ladies from Sex and the City made the Cosmo a staple for any party. This fizzy version is a fun alternative.
Sparkling Cosmo Ingredients:
3/4 oz Cointreau
1 1/2 oz cranberry juice – Use tangerine juice instead or add it in as a sweet addition!
3 oz Cava or other dry sparkling wine
To make a Sparkling Cosmo simply pour the Cointreau and cranberry juice into the bottom of a chilled Martini glass. Slowly top off with the Cava.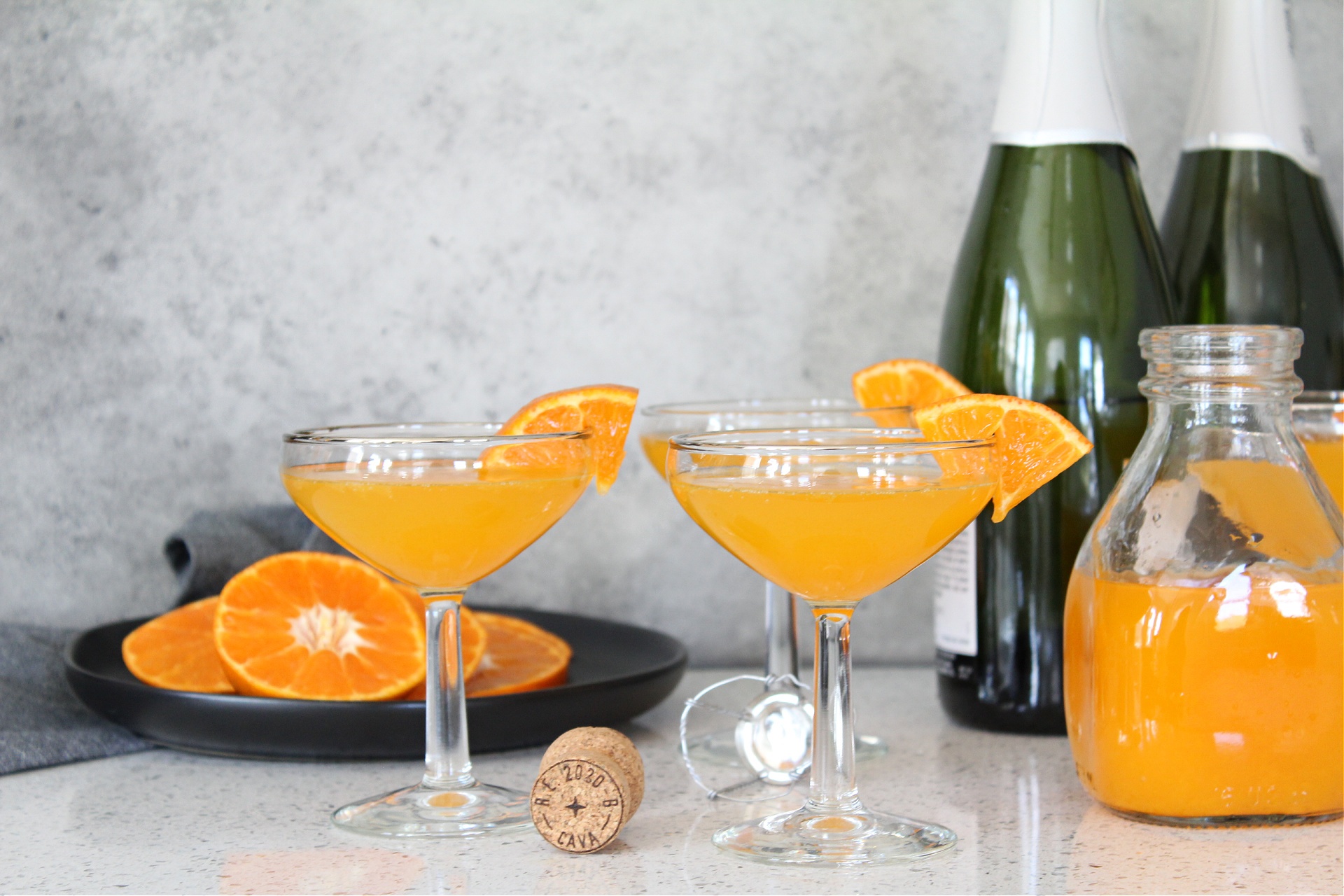 Do you like mimosas? Have you ever had fresh tangerine juice?
Learn more about Juicy Crunch online and be sure to follow on Facebook, Instagram and Twitter to stay up to date with all things Noble Tangerines.
Make sure to check out Food Wine Sunshine on Facebook, Twitter, Pinterest, and Instagram for more healthy living tips, healthy recipes, things to do and more.