(Last Updated On: April 12, 2021)
New York City is filled with so many things to do, but not everything is expensive! Save your money for the food and drinks, and do your sightseeing for free. Add these 20+ Free Things To Do In New York City to your travel itinerary.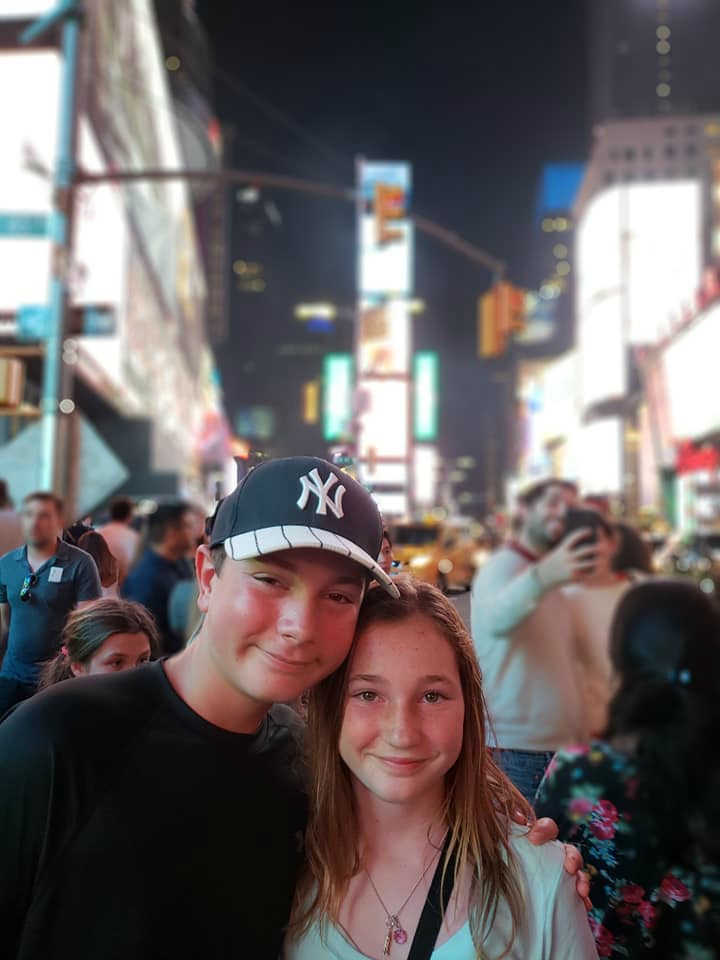 21 Free Things to Do in New York City

The Big Apple is notoriously expensive to live in, but visiting the city on a budget is completely do-able! New York City consists of five boroughs, each with exciting things to offer. The borough that most people are familiar with, of course, is Manhattan. This is where you'll find iconic landmarks like the Empire State Building, Grand Central Station, and the rebuilt World Trade Center. Between Manhattan, Staten Island, Queens, Brooklyn, and the Bronx, New York City has a total population of over 8 million people. That makes it the most densely populated city in America!
We absolutely love visiting New York City and taking advantage of all the free things to do in NYC. There is so much to do and see! You can spend a day there, or a week. And you can go back dozens of times and never see it all. In fact, I am trying to talk my husband into another visit this holiday season 🙂
There's a right way to visit New York City, but there are also plenty of wrong ways to plan your trip. One of the most common mistakes people make when visiting this city is dropping ridiculous amounts of money on tourist traps. When food, drinks, and lodging are expensive enough, why spend hundreds of extra dollars when there's so much to do for free? These things to do in NYC for free will let you experience the city like a true New Yorker without having to spend like one!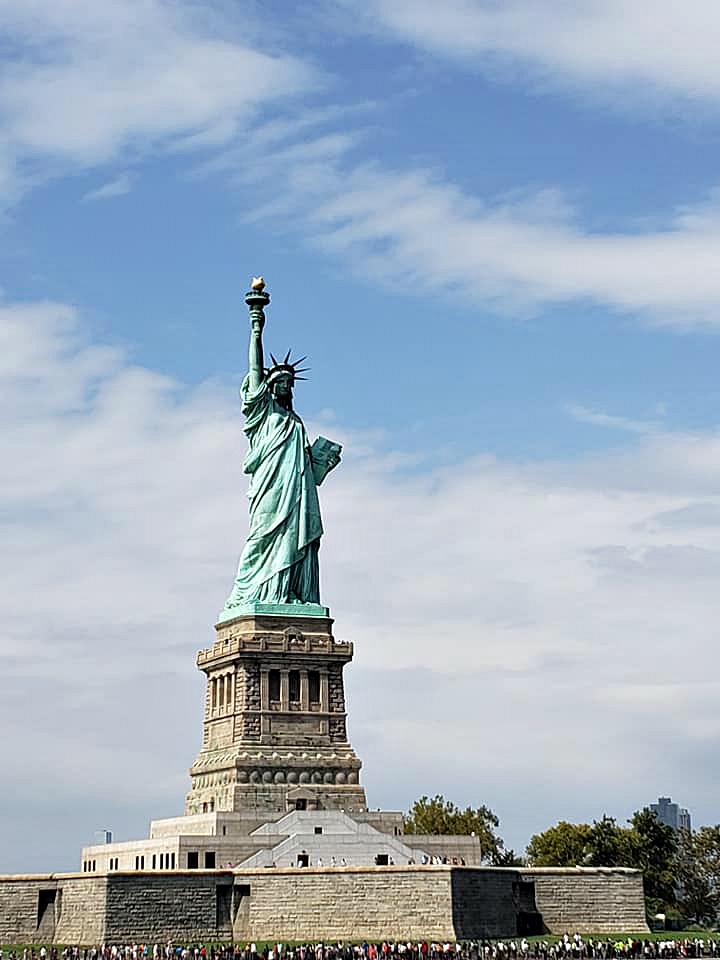 21 Free Things To Do In New York City
Staten Island Ferry
This free boat ride will take you from Manhattan to Staten Island in a little over 20 minutes. Even if you don't have a reason to be in Staten Island, take a round-trip ferry ride to see the Statue of Liberty. You'll get incredibly close to one of New York's most symbolic landmarks!
For an even more memorable experience, ride the ferry at sunset. Your Instagram followers will thank you later once you post pictures of the Statue of Liberty with a beautiful backdrop!
Nintendo New York
Nintendo New York is a game fanatic's paradise. Here, you'll find exhibits that showcase Nintendo consoles from the past, along with playable consoles with the latest games. On the second floor of the store, you'll find a GameBoy that was recovered from the Gulf War. It still works!
If you play Pokémon Go, head to Nintendo New York for exclusive Pokémon and bonus you won't want to miss out on.
Museum of Natural History
New York City makes cultural attractions accessible to anyone, regardless of income. That's why the Museum of Natural History operates on a "pay-what-you-can" model. Even though the suggested donation is over $20 per person, you can get in with pocket change! In fact, the most common mistake that tourists make is buying tickets in advance or paying full price at the door. There is no minimum donation, so you can give the front desk a penny for each family member!
The Museum of Natural History is home to famous exhibits like the giant whale, dinosaurs, and so much more. You could easily spend the entire day in the museum, so plan accordingly!
MoMA
The Museum of Modern Art uses the same admissions model as the Museum of Natural History. For just pennies, you can enter the renovated MoMA with new galleries and spaces for live performances. The installations use a wide variety of mediums that are guaranteed to capture your attention!
The MoMA will re-open in late October, 2019 after receiving a much-needed makeover. If you're visiting New York City at the end of 2019, you'll be one of the first to see the new museum!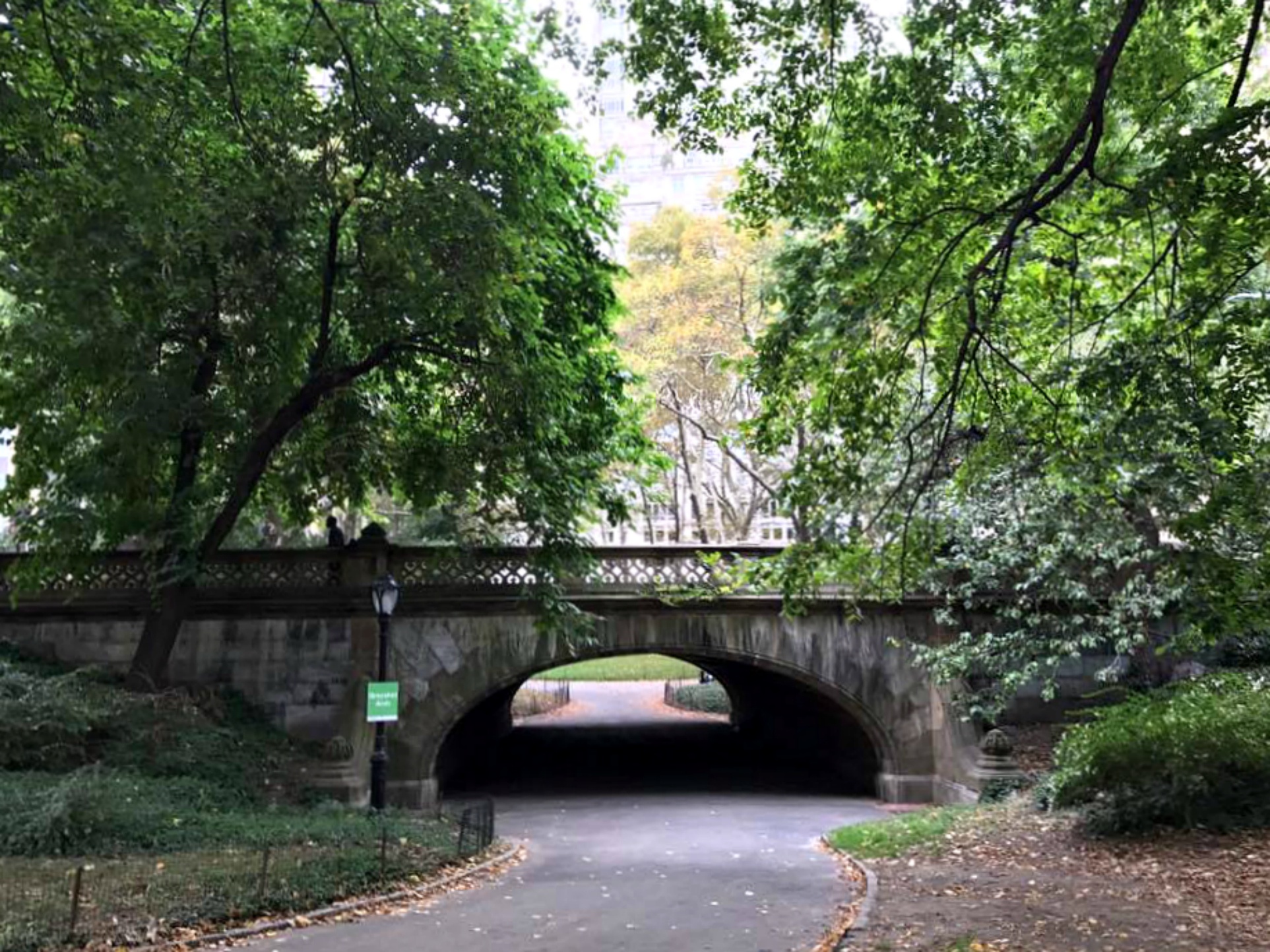 Central Park
Central Park is full of free and fee-based attractions. Although the zoo and ice skating rink charge for admissions, the park itself is free to explore. Take a walk around the park to see castles, cool architecture, and statues. Visit Balto's statue and learn about the wonder dog's adventures, or hop in the pool for free!
If you're traveling with kids to New York City, Central Park has some awesome playgrounds for them to climb on. School-aged kids will love the adventure playground, but their younger siblings can join them at the Heckscher Playground, complete with aquatic features and swings. Walking around Central Park is one of our favorite free things to do in NYC.
Central Park is located at 59th Street and 110th Street South, 5th Avenue East, and 8th Avenue West. The area is divided up into three different sections.
North Central Park offers:
* Charles A Dana Discovery Center
* Harlem Meer
* Lasker Rink and Pool
* Conservatory Garden
* North Meadow and Recreation Center
Mid Central Park offers:
* Central Park Tennis Center
* Reservoir
* Great Lawn Park
* Metropolitan Museum of Art
* Delacorte Theater
* Belvedere Castle
South Central Park offers:
* The Ramble
* Conservatory Water
* Loeb Boathouse
* Bow Bridge
* Bethesda Fountain and Terrace
* Strawberry Fields
* Tavern on the Green
* The Daity
* Central Park Zoo
* Wollman Skating Rink
* Carriage Rides
9/11 Memorial and Museum
Once upon a time, visitors needed a pass to enter this important museum. Now, anyone can learn more about the event that reshaped modern America for free. The National September 11 Memorial honors the lives lost in the World Trade Center, the Pentagon, and the passengers on the United 93 flight that crashed in Pennsylvania. The memorial features the largest man-made waterfall in North America, with the names of every life lost surrounding the pools. This is a great opportunity to educate younger children about 9/11's impact on America.
The museum is on the same property, and it features narratives and artifacts in a 110,000-square-foot space. Visiting the museum gives those who weren't in New York for the attacks an idea of what happened, since it can be hard to explain to those who didn't live through it.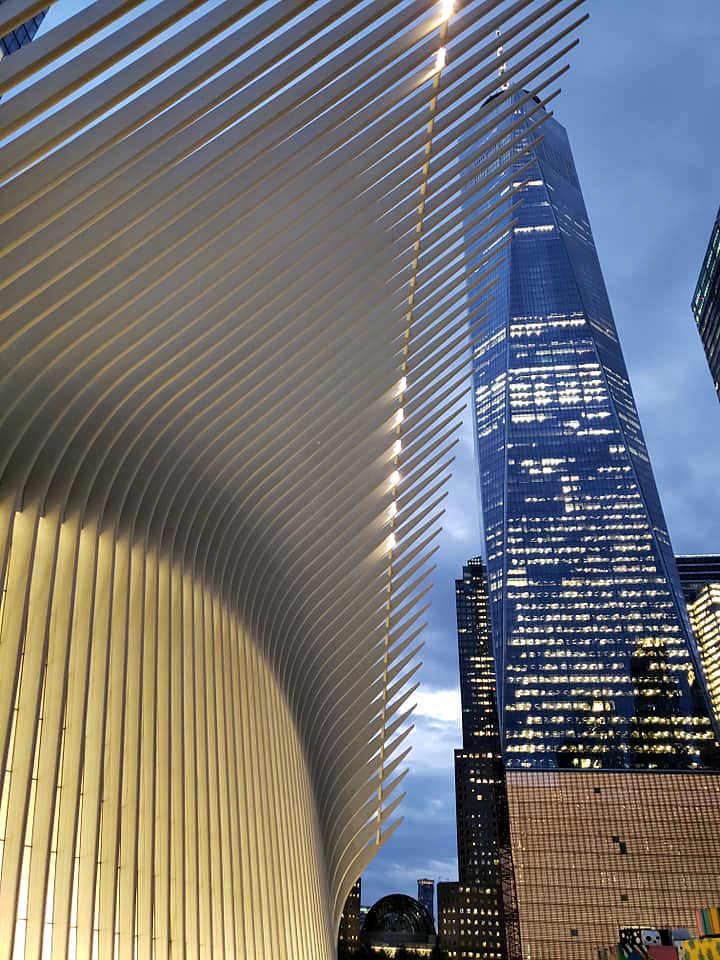 Westfield World Trade Center
The new World Trade Center shopping center is transforming Downtown shopping — with over half a million square feet of retail, you will find just about everything you! The shopping includes boutiques and specialty stores, leading global brands including Michael Kors, Hugo Boss, John Varvatos and Turnbull & Asser. Of course, you don't have to buy a thing while you are there, but I definitely recommend walking around, heading upstairs to Eataly, and don't leave the area without appreciating all out the artwork outside.
Grand Central Terminal
There are two large train stations in Manhattan, but Grand Central Terminal is the one you absolutely have to see. The station boasts phenomenal architecture, and it's overflowing with history. Although you can pay for a guided tour, it's free to explore on your own!
While you're in the terminal, look for the Information Booth Clock and the Grand Central Market. When you're done exploring, take a train to your next activity!
New York Public Library
The The New York Public Library is another landmark. It has been an essential provider of free books, information, ideas, and education for all New Yorkers for more than 100 years. Even if you don't want to sit and enjoy one many free books, you can appreciate the history and architecture. Founded in 1895, NYPL is the nation's largest public library system, featuring a unique combination of 88 neighborhood branches and four scholarly research centers, bringing together an extraordinary richness of resources and opportunities available to all.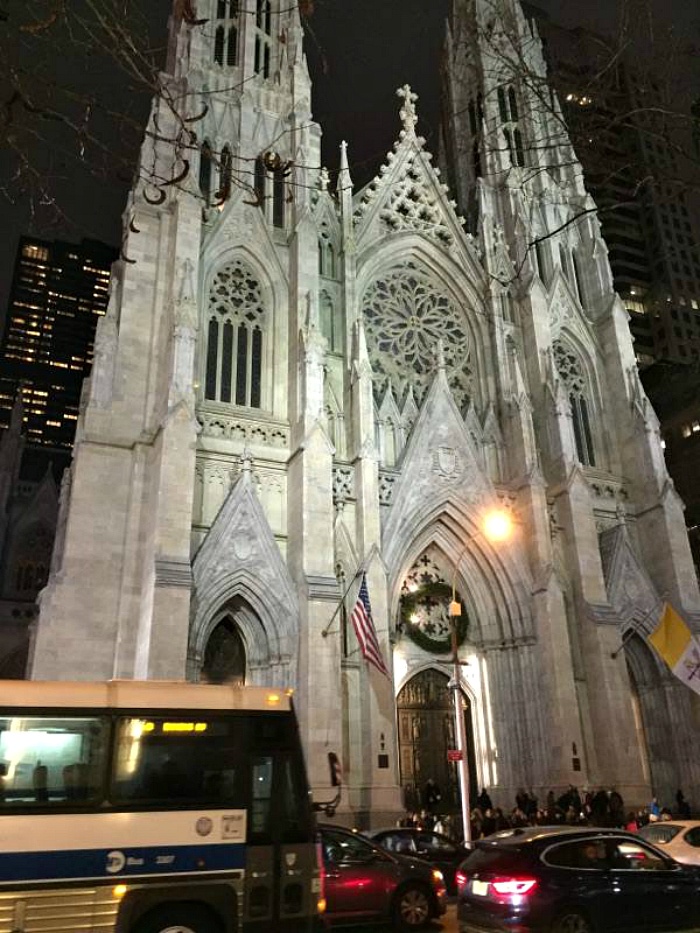 St. Patrick's Cathedral
The Cathedral of St. Patrick is a decorated Neo-Gothic-style Roman Catholic cathedral church in the United States and a prominent landmark of New York City. The architecture is just breath-taking, be sure to take a moment and walk in, you can't help but be in awe. This is just one of the many churches you will find around the city, so keep a look out for others as you walk around.
Macy's Herald Square
Are you ready to see the one of the largest department stores in the United States? Be careful, because you can spend a whole day just walking around this Macy's! This is the flagship of the Macy's department store chain and is 2,500,000 square feet; it is located on Herald Square in Manhattan, New York City.
Window Shopping on 5th Avenue
This is one of the most famous and also most expensive shopping streets in NYC. You don't have to buy a thing! Just walk the streets and check out the incredible window displays. If you happen to be in NYC during the holidays, this is a must see. Feel free to walk in some of your favorites, but don't be surprised if you have to buzzed in by security.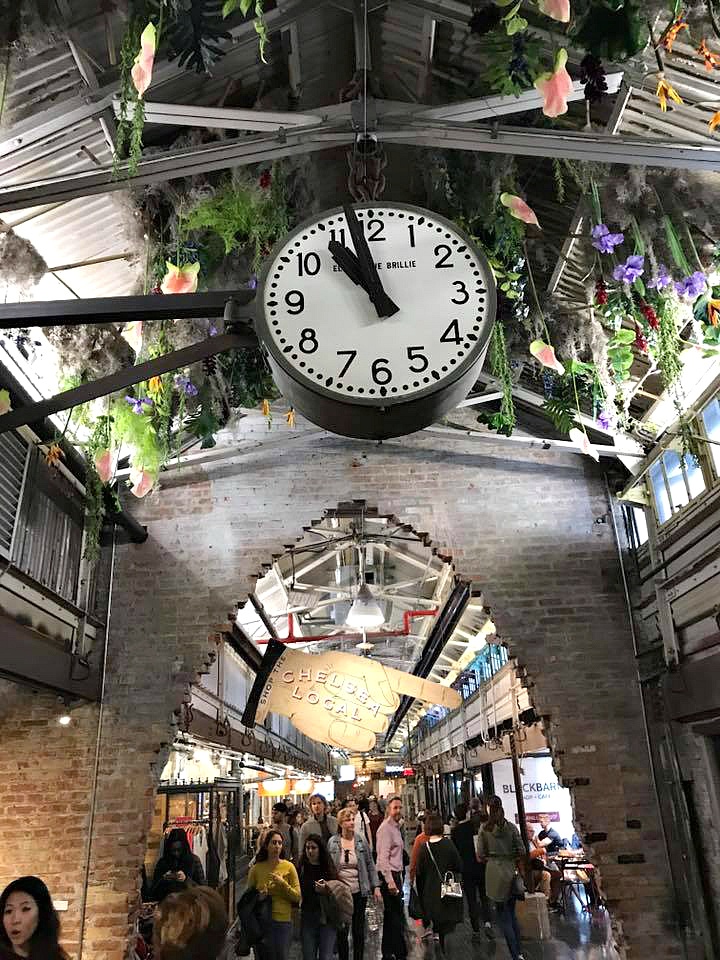 Chelsea Market in the Meatpacking District
I absolutely love walking around markets, let me look at delicious food and handmade crafts and jewelry and I am a happy gal. The Chelsea Market is unique because it is the old Meatpacking District. Markets have existed in the district since the 1840s. The Chelsea Market is a block long and a block wide and just a short walk from the Hudson River. It is one the greatest indoor food halls of the world, with more than thirty-five vendors purveying everything from soup to nuts, wine to coffee, cheese to cheesecake. Attracting 6 million national and international visitors annually, it is one of the most trafficked destinations in New York City.
Time Square
No trip to the Big Apple is complete without a walk down Time Square. You just have to see all the billboards, lights, stores, and people! In fact, you may see a tad more of people that you were bargaining for, so if you have kids with you, be sure to keep a look out for street performers that like to dress…a bit…well, maybe I should say that they aren't that well-dressed at all 😉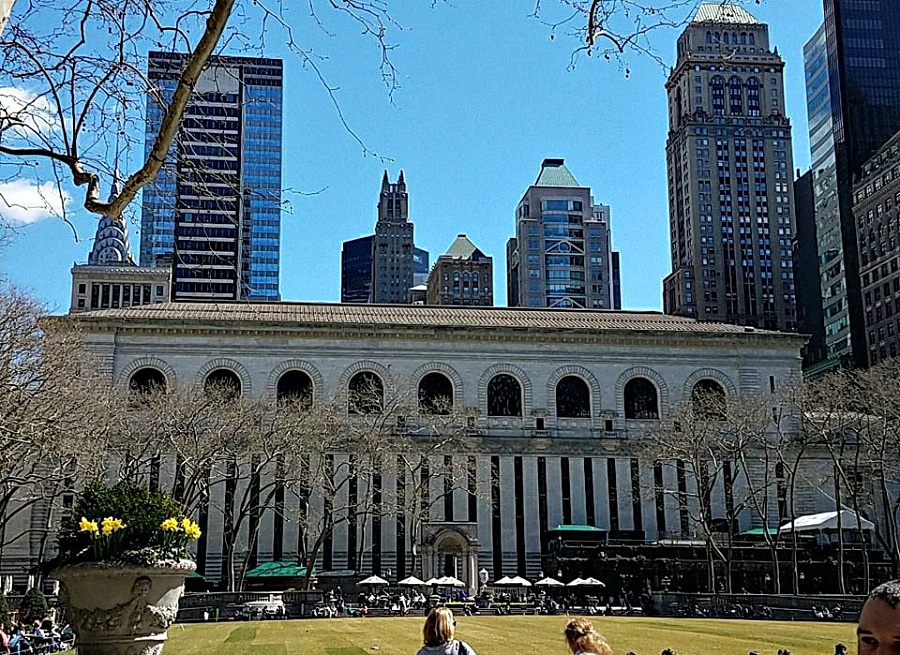 Bryant Park
Not nearly as big as Central Park, but still absolutely beautiful! I love it when you find green spaces in this huge city. And it's right by the New York Public Library, so you can easily visit the park, then head over to the Library. If you happen to visit during the cooler months, I absolutely love the Winter Village, it opens for the season on October 31st. Bank of America Winter Village at Bryant Park is Manhattan's winter wonderland. Enjoy New York City's only free admission ice skating rink, of course, there are things for purchase at the Holiday Shops, and of course there are delicious treats.
Watch a Taping of the Tonight Show Starring Jimmy Fallon
Did you know that you could see the Tonight Show for FREE? Yep, if you area fan of the Tonight Show, you can watch a taping with Jimmy Fallon at NBC's studios in Rockefeller Center with a some advanced planning. Free tickets are released a month in advance, though if you're lucky you can get standby tickets the night of the event. It doesn't hurt to walk by the day of the show to see if there are any available.
Catch a Glimpe of the Today Show
If you are in the city during the week and want to try to get on TV, this may be for you! Monday through Saturday 7 a.m. is when the TODAY Show is filming, but you may want to get there early (like before 6:30 a.m.) for a good place to stand and watch the action, they film outside until 9 a.m. and then move the show into Studio 1A. Watch from the window and still be seen on camera. Peer through the window to see how it all comes together, and watch the live broadcast on our plaza monitors.
National Museum of the American Indian
The National Museum of the American Indian pays tribute to Native Americans and their history. At their New York location, you'll find a mix of rotating and permanent exhibits, complete with fascinating information. Learn about Native Americans' role in the Armed Forces, Native American art, and how today's Native Americans embrace their history.
Brooklyn Botanic Garden
Brooklyn has several cultural communities and public attractions, including the Brooklyn Botanic Garden. Visit the garden during one of their free admissions periods to frolic among the tulips and roses. The nationally recognized botanical garden is free to enter on Fridays before noon, weekdays in the winter, and every day of operation for children under age 12!
On occasion, the Brooklyn Botanic Garden hosts free events for children. Look for events that are happening during free admission periods!
Just Walk
There is so much to see in NYC and it doesn't cost a thing to walk around and look! From the Financial District to SoHo to the Brooklyn Bridge. New York City is filled with people and sites. So, just walk around! Every time we go, we walk an average of 9 – 12 miles a day. Chinatown is always fun to walk through, and so is Little Italy. It's like you can travel the world just by walking around New York City! There's plenty of areas in Manhattan perfect for an afternoon stroll. You'll get to see more of the "real" New York, drink in some of the local flavor everyone's always going on about, and best of all, it's absolutely free. Explore the Village, or the Upper East Side. And of course, Central Park is free, and you can easily spend an afternoon wandering through one of the most beautiful urban parks in the country. Just pay attention to how far you have gone, as you will have to get back. If you end up getting too far from your hotel, Ubers and taxis are just about everywhere, but they are not cheap in NYC.
Brighton Beach
Don't spend money on visiting Coney Island! Instead, head to Brighton Beach during the summer months. This free urban beach has lifeguards on duty, so you can swim in the Atlantic Ocean knowing that you're in good hands. Since there are snacks available for purchase, you'll want to bring some cash with you. Otherwise, Brighton Beach is completely free!
Keep in mind that New York isn't warm all year round. If you try to visit a New York beach after early September, you're bound to be freezing. Plan your beach trips wisely!
As tempting as it is to hop in a cab after a long day's sightseeing, it isn't really cost effective, unless you've got a big group splitting the fare. Instead, take advantage of the city's subway system. These trains are frequent, convenient, and far-reaching. Navigation isn't too difficult, and despite what you've heard, most New Yorkers are willing to help a stranded tourist when asked. Believe me, we'd rather you ask for directions than stand around looking confused blocking the exit.
New York City is only an expensive place to visit if you overpay for attractions. With few exceptions, it's safe to say that you shouldn't drop money on anything that a New Yorker wouldn't pay for so be sure to add these fun free things to do in New York City to your travel plans!
If seeing all these sites is not enough, there are also plenty of tour companies in New York that offer air, helicopter, and balloon rides, there are custom tours that can be taken, shopping excursions, walking or biking adventures, water sports, and more. There is a tour of every kind available to be had.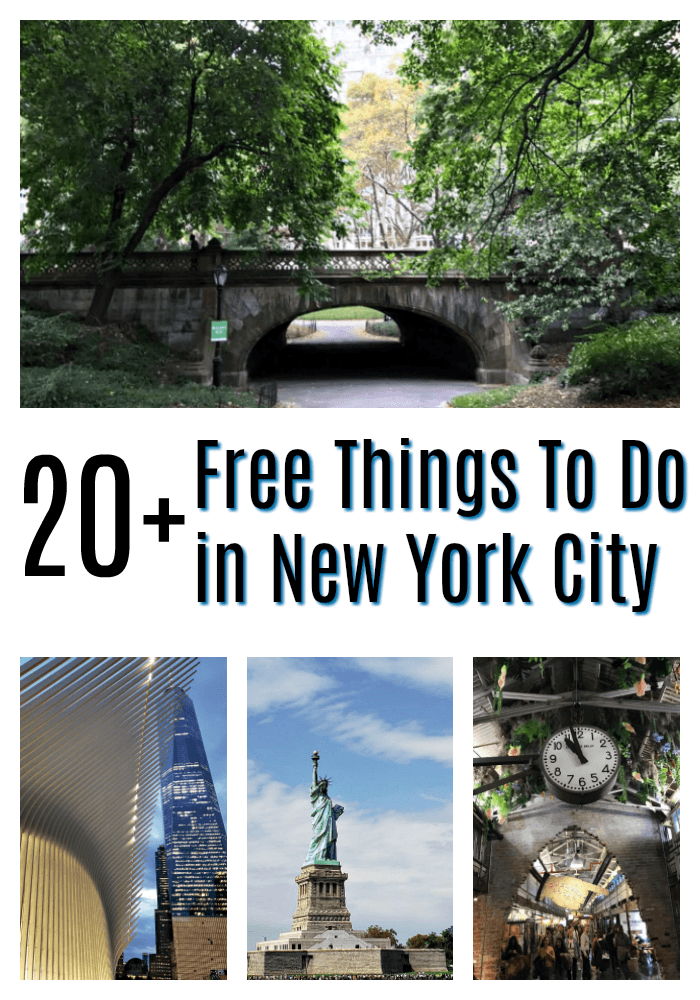 Have you been to the Big Apple? What are your favorite free things to do in New York City?
Like to travel but don't like to spend a fortune when you do? Like to spend time in the city?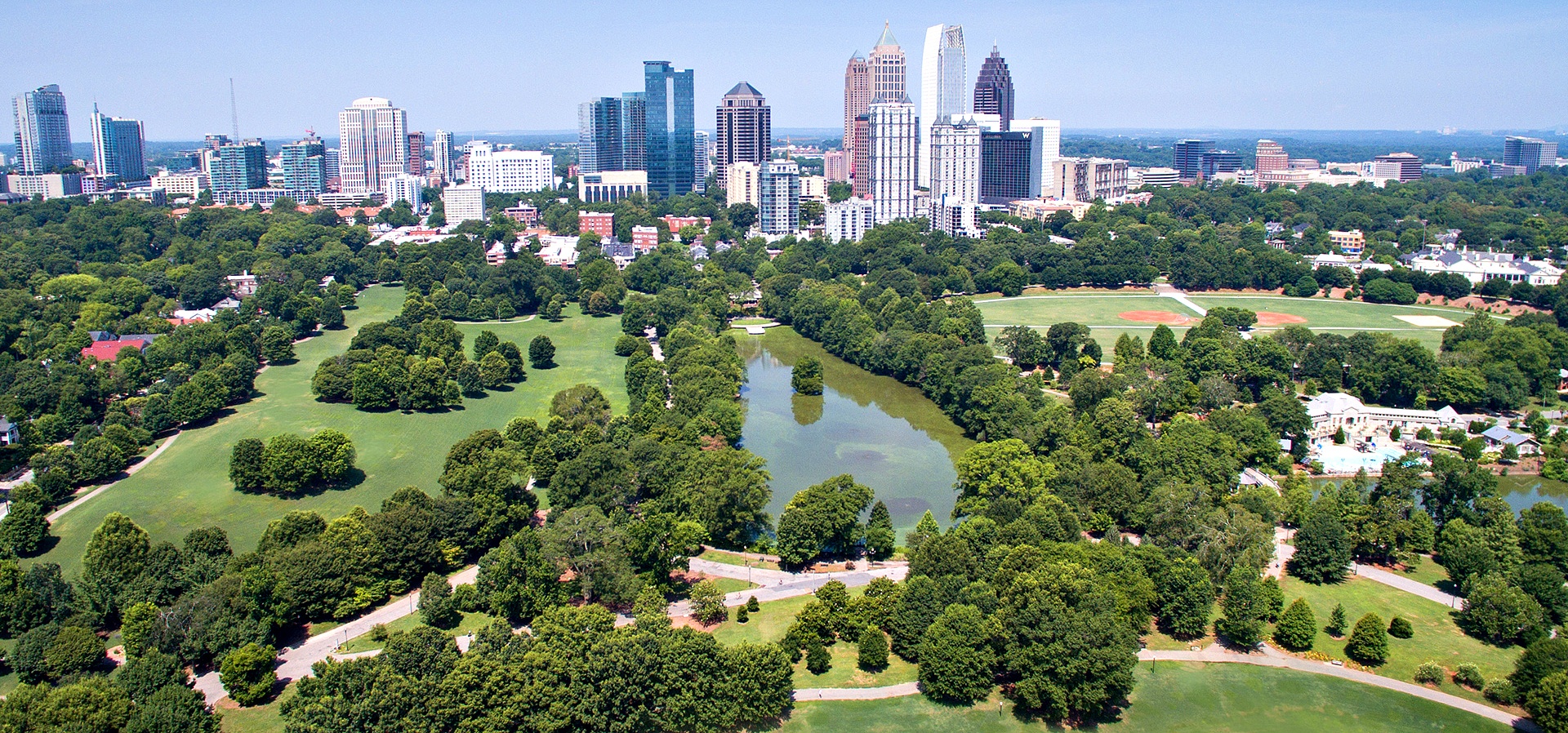 Be sure to check out Food Wine Sunshine on Facebook, Twitter, Pinterest, and Instagram for fun things to do, healthy recipes, and more.